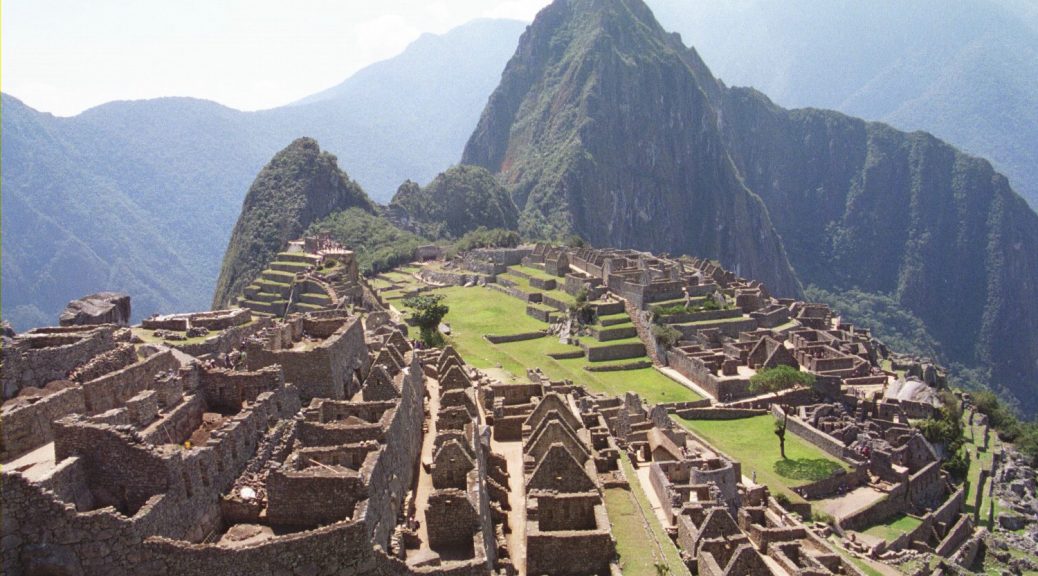 Machu Picchu! Who doesn't want to see the amazing history of Peru and incredible Incan ruins? We booked this trip with Go-Today. I've used them for a number of trips since the early 2000's. They were consolidators and many of their trips initially were just airfare and hotels, sometimes with airport transportation. You could customize by level of hotel or add days. I had used them for a week in London, and a week in London and Paris with Eurorail tickets through the Chunnel and always pleased with their service. They are not group tours but just provide booking and help like an online travel agent. They expanded to build your own tours in the countries they offer.
We customized their Peru trip which started in Cusco. We added a couple nights here to see other ruins in the area, added a second night in Aguas Calientes to see more of Machu Picchu, and also added their 3-day trip to Lake Titicaca and Puno. Kelly, my daughter, Alex, and I left for Peru Friday, August 22 from Chicago with connections in Miami and Lima before arriving in Cusco.
8/23, Saturday – We arrived around 10:30 and transferred to our hotel, Terra Andina. Headed up town and stopped at a restaurant we saw, Tupananchi's, for an excellent lunch. Kelly and I had Alpaca with spring vegetables and great risotto.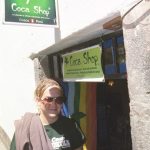 Alex had tenderloin in whiskey sauce. We continued to the main plaza and window shopped and browsed in the stores. We looked at the cathedral, Qoricancha, and some old Inca walls. We bought sandwiches and snacks for dinner in the room. We had lots of coca mate tea for help with the altitude sickness and then went to bed early after a long day of travel. I really enjoyed this tea and wanted to bring some home, but I had heard it would be confiscated by customs. It was "cocaine".
8/24, Sunday – We were picked up at 8:30 for our full day tour of Pisac and Ollantaytambo. We arrived at the Pisac Market around 10:30 and had an hour to shop and browse the wares. We all enjoyed that very much. It was a beautiful drive through the Andes in route from Cusco to Pisac. We had a buffet lunch then went on to Ollantaytambo. Our first Inca ruins, this was the royal estate of Emperor Pachacuti. This was amazing. We had a climb up to the top (hard in this altitude!!) to enjoy the great views.
Heading back to Cusco, we stopped at Chinchero ruins and saw the colonial church, dating from the early seventeenth century, which had been built upon the foundations of an Inca temple. We arrived back to Cusco around 6:30. We found a little Italian Trattoria for pizza and our first taste of local Cusquena beer. Very good!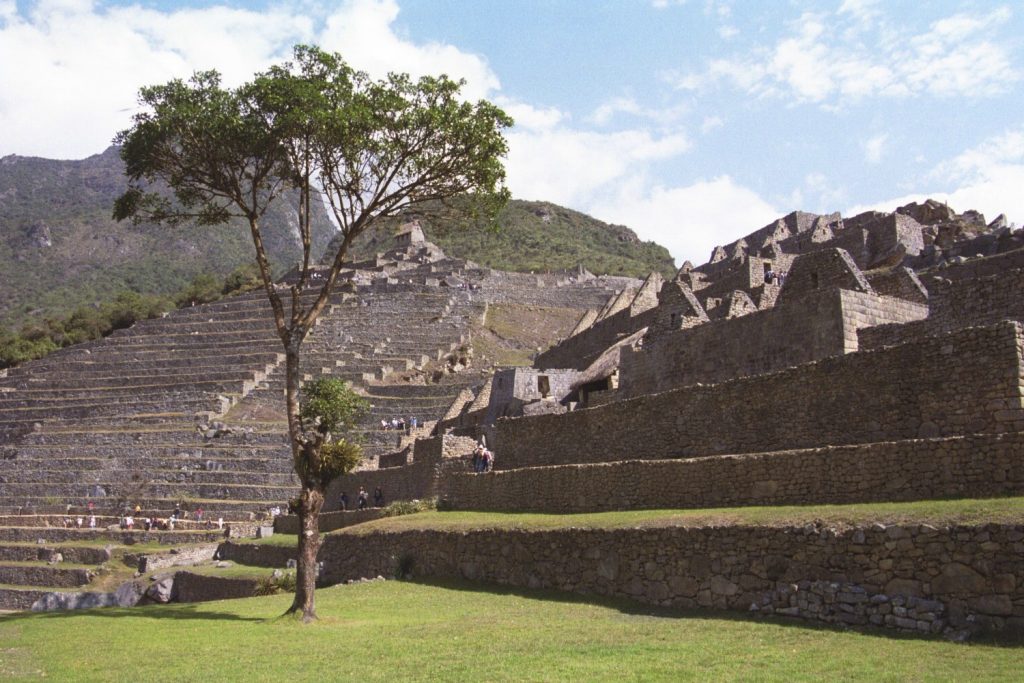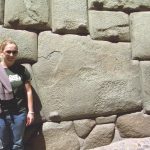 8/25, Monday – We were scheduled to have our half-day tour of the city and ruins at 1:30. That morning we followed the map to take a walk to the San Blas area, saw the little church, did some shopping, and stopped to see the famous 12-sided stone. The Inca walls really are amazing – the shapes they put together and how they used no mortar to build the walls. We had a quick lunch at this little place called Norton's on the balcony overlooking the Plaza de Armas before heading back to the hotel for our pick-up.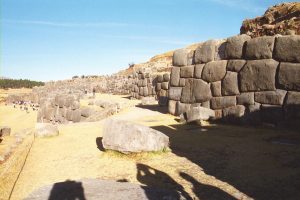 We used our tourist tickets to see the Qoricancha, inside the Cathedral, then went off to see Sacsayhuaman. Sacsay means strong and huaman (also spelled waman) means falcon. It's a temple to the god of lightening, an administration center for the Inca's, and a storehouse; it's also considered a fortress because of the defensive outer walls. A large battle was fought here between the Spanish and Inca's in 1536. Much of it was dismantled by the Spanish to build the city of Cusco, but it is still incredibly beautiful. After, we went on to Q'enko ("labyrinth" in Quechua), Puka Pukara, a royal lodging house, and then Tambomachay, which was the Inca's sacred bathing place. We stopped at a very expensive alpaca store on the way back to Cusco. We found some very nice alpaca items later downtown, at stores that didn't cater to tourists.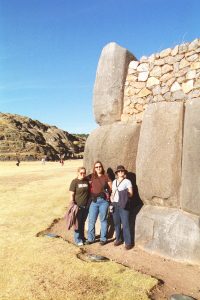 We got dropped off at the Plaza de Armas and had dinner at the Inka Grill. More expensive and not as good at Tupananchi's, but it was okay. We went on to another little place on the Plaza San Francisco for a few more Cusquena's, Sangria for Alex and Pisco Sours for Kelly before calling it a night.
8/26, Tuesday – We had a full free day to enjoy in Cusco. Cusco means "Navel of the Earth" in Quechua. We slept until 8 and enjoyed a leisurely breakfast before walking through the market which was just down our street. All the locals were eating breakfast here and it looked amazing; not a typical American or European breakfast, but rice, piles of lettuce, tomatoes, onions. We stopped and bought our extra day tickets to Machu Picchu (one day ticket was included in the package tour) then went to the history museum, had lunch at Tupananchi's, visited an art museum and the Qoricancha museum. We had a late afternoon snack (dinner?) of chocolate cake or cheesecake at the Trattoria. We went back out around 6 to see a show at the Music, Dance & Folklore Center. This was great. They had about 10 different dances with great costumes and music. After the show we had some Pisco Sours at the Trattoria again. This place had great food/drinks and was cheap, too.
8/27, Wednesday – Up at 6:45 for our pickup in Cusco. We had a taxi to Ollantaytambo where we were going to catch the train to Aguas Calientes and Machu Picchu. You can catch the train from Cusco, but I was told it was a lot more expensive and you save several hours on the train by catching it in Ollantaytambo. After an hour in the taxi, it took about 1 ½ hours to get to Aguas Calientes on the train. It was a beautiful trip, traveling along the Vilcanota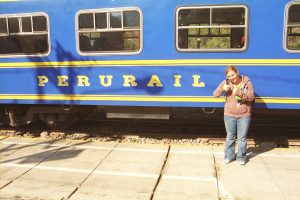 River much of the way. It slowly turned from the high plains of Cusco to the jungle of Machu Picchu. We were met at the train station and waited for several others. We were the only ones spending the night so our back-packs were taken to our hotel (we had left most our luggage in Cusco) and our group all walked to the bus stop for Machu Picchu. The road was narrow and had hair-pin turns up the side of the mountain. We had amazing views as we climbed.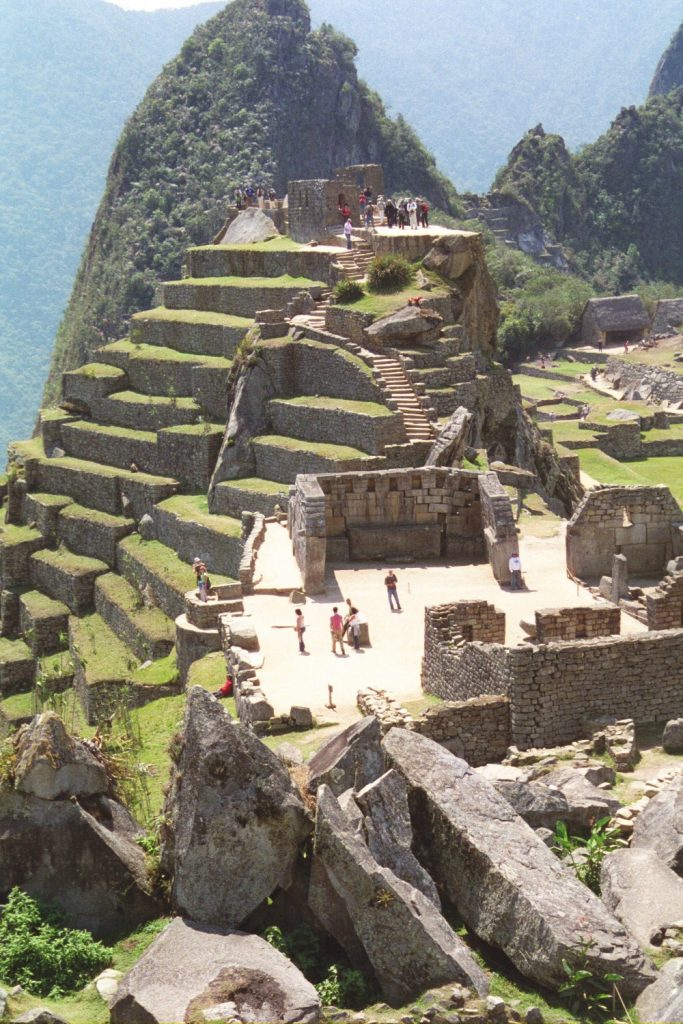 Our guide gathered us and took us into the site and up to the first viewing area; the area that most pictures of Machu Picchu are taken. We looked out on this amazing site as our guide told us about it, how it was found by Bingham and how the locals all call it Machu Picchu. It just means top of the mountain, or old mountain in Quechua. The real Inca name for the site is lost. We spent from 12-2:30 on the tour then had a late lunch at the Sanctuary Lodge. We decided to go ahead and go back to Aguas Calientes since we were returning to Machu Picchu the next day.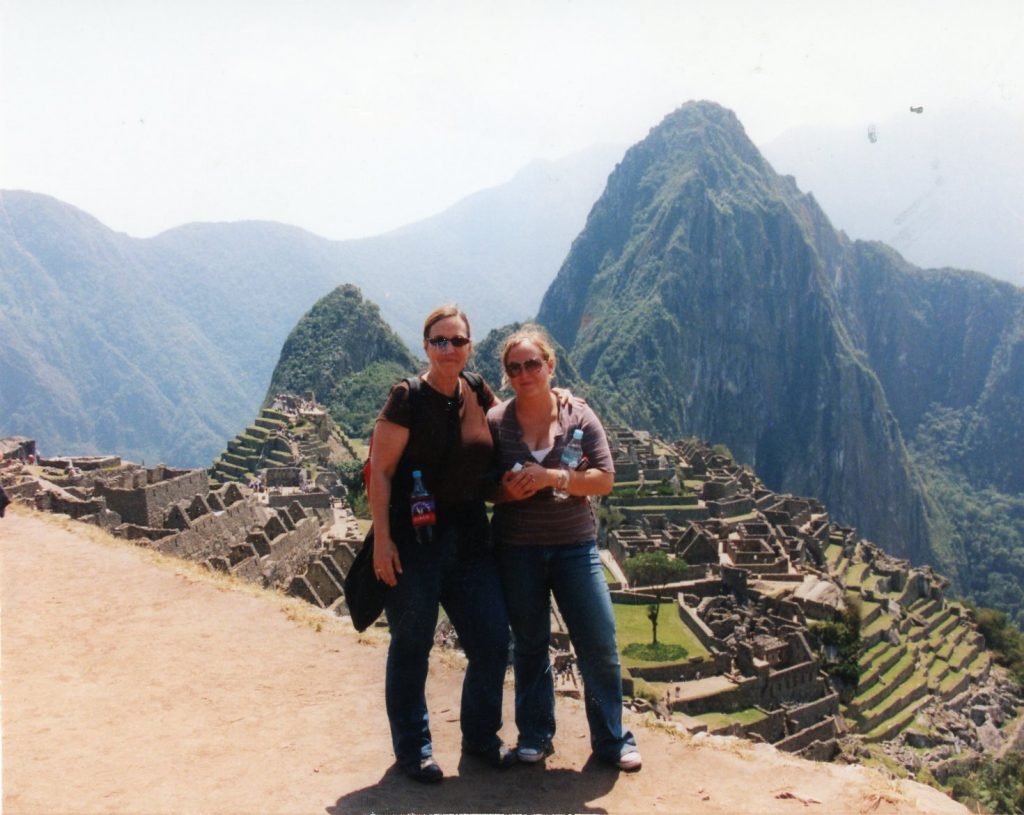 We wandered around a bit to find our hotel, checked in and went back out to find the trail to Putucusi. We had to follow the train tracks for a while then this trail went up and off into the jungle. Hmm.
We went along for half an hour or so before reaching the ladders we had read about. The first was no big deal but the second… Wow. It went up and up and up. We decided we had done enough hiking for the day and went back to town. We stopped for some Pisco Sours, had dinner then walked to the hot springs (what the town is named for: "Aguas Calientes" or hot waters) to soak for a bit. Not as luxurious as the springs in Budapest, they felt good, regardless.
8/28, Thursday – We were up at 4:30. We were told we had to get to Machu Picchu early to get a ticket to climb Huayna (Wayna) Picchu. They is a limit to the number they allow access.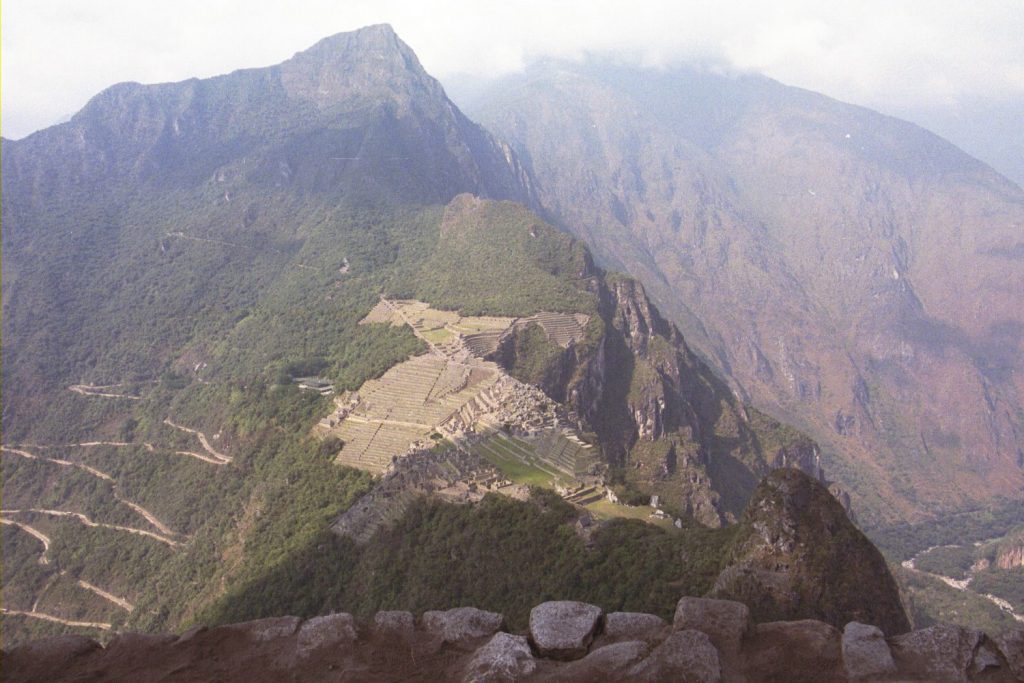 Kelly and I were up getting dressed and packing the few items we brought in our bags. Alex was still laying in bed complaining about getting up so early on vacation, then stopped, stared at a spot on the wall and said, "what the hell is THAT?" We saw a HUGE scary spider so got out quick! Everyone dumped out their backpacks and shook out shoes, just in case.
We had a quick breakfast then got in line to get on the bus. There were hundreds in front of us and we were a bit worried as we counted 10 buses coming down while we were going up but we were 158, 159 and 160 in the first group to climb. It was slow getting started as everyone had to sign in, so we didn't begin climbing until around 8:15. We huffed and puffed (well, I did, ex-smoker, I had just quit in February 2007) but we all made it. It was a GREAT climb, great views, and we were all thrilled to be able to do it. They only allow 400 a day to climb – 200 starting at 7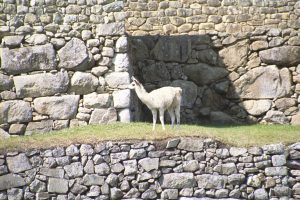 and another 200 at 10. The trail is narrow and steep and hard for people to pass so that's probably a very smart thing. We made it back around 11 then went out to have lunch at the little restaurant at the front gate. After some sandwiches and water we reentered to spend another couple hours seeing the lower section that we hadn't seen the previous day. The views keep changing as you move throughout the complex, every time we climbed or turned a corner, there were new sights. We explored doors and walls and rooms and enjoyed the herd of llamas wandering around. We left around 2.
Back in town we went to the hotel to wash up as we were filthy from the climb. We found a little place right across the street with very, very cold Cusquena's – large ones for only 10 soles (around 3 dollars). We relaxed and enjoyed being off our feet. We munched on some popcorn and nachos. Several hours and several beers later it was about time for our train to Cusco so we headed to the train station. A market is in front of it and you HAVE to walk through, so we did some more shopping… Alex found a necklace, I bought two masks. We slept most of the way to Ollantaytambo and also in the taxi to Cusco. Everyone was very tired from the early morning, the climb, and, yes, the beer, so right to bed when we got back to hotel.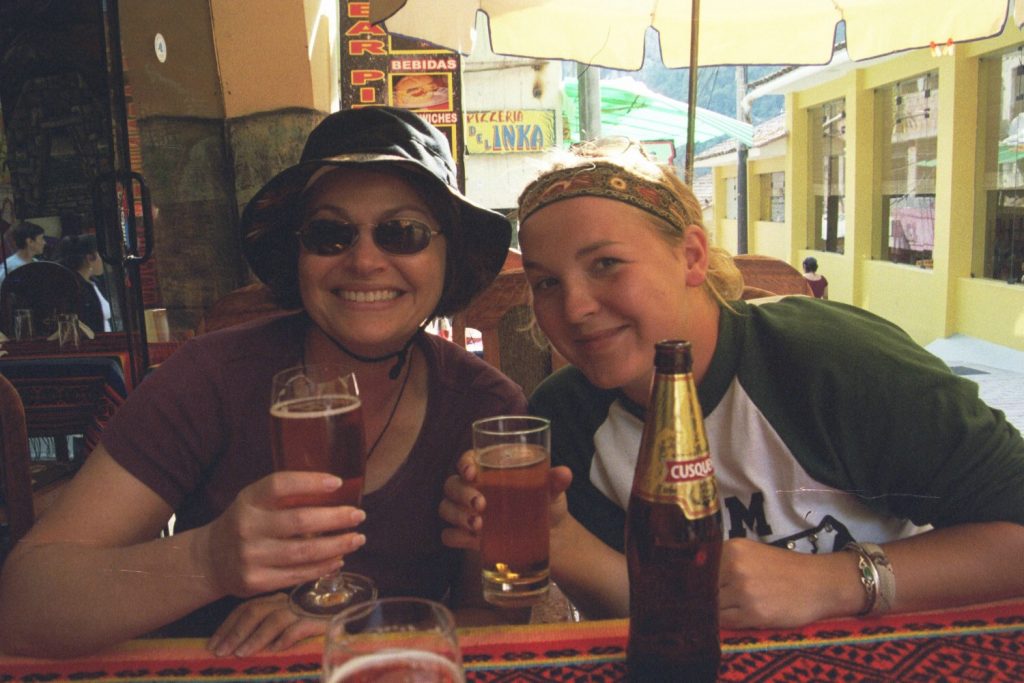 8/29, Friday – We were up at 6 for pickup at 7. We were catching the "tourist bus" to Puno. The bus left at 7:30. Our first stop was Andahuaylillas to see the "Andean Sistine Chapel". Our next stop was Raqchi, the Temple of God Wiracocha. All that is left is the center wall and some of the pillar supports but it is beautiful. A lot of the storage buildings and houses are intact. Surprise – there were vendors in the plaza! Kelly bought a bull.
We stopped at Sicuani for a very good lunch. Then on to La Raya for a short stop. This is the highest spot between Cusco and Puno at 14,218 feet. There are also vendors here. Alex got more alpaca gloves and some socks. Our final stop was Pucara to see a little museum, with their famous bulls on the roof. A few hours later we reached Puno and were picked up at the bus "station" and driven to our hotel, the Casa Andina Tikirani. A very nice hotel, comfortable room. We went back out and found Edgar Adventures to pay for our two tours then did some window shopping and found a place for dinner.

8/30, Saturday – Up at 5:30, with pick up at 6:30 for our full-day Lake Titicaca tour. After picking up a few other people we went to the docks. We left around 7:30 and went to Uros Islands. These floating islands are made of reeds. This was an amazing visit. We got to see how they "built" the islands, the roots they cut to make them more supportive, their huts (they have solar panels and TVs in their huts), and went for a ride on a reed boat. This was one of the best things we saw on vacation. Then we went on to Takile Island, or Taquile, it was a beautiful trip. We climbed up and up and up… it's very steep here. It was worse then climbing Huayna Picchu because of the altitude (over 12,000 feet here). Great views, you could see the snow covered mountains in Bolivia on the opposite shore. After lunch we visited the main square then went down the path on the opposite side of the island. We had a long ride back. We went out for dinner, found a nice little place. We ordered meals plus a half a cuy (guinea pig!) to share. Not much to taste really, it had very little meat. I had some great Lomo Saltado, beef with tomatoes, peppers and onions. We had lots of Pisco Sours, too.
8/31, Sunday – We had a free morning, so we slept until 8. It felt great! We had another great breakfast then went back to the room to "rest". We had been very, very busy. Around 11, Kelly and I went out shopping, to find the markets we had read about. We went to the Plaza de Armas and saw a parade for something. Not really sure what. We couldn't find the Artesian Market but there were plenty of stores and we bought more stuff anyway, I found a great pair of earrings with semi-precious stones that were supposed to represent the Incan flag. We went back to the hotel to get Alex to have some lunch. We ended up just having ice cream at a little gelato stand we kept passing. It was very good. Five or six children came in while we were deciding on flavors. They bought one cone and were sharing it. I told the counter guy to give them each one. Less than 50 cents a cone, if I remember correctly, but the smiles on those kids faces were so sweet. They kept saying gracias between licks.
We went back to hotel to wait for pick-up for our Sillustani tour at 2. There are Incan and pre-Incan burial towers. With beautiful views of Umayo Lagoon, it was an amazing tour. While driving back to Puno we stopped at "typical" house; we saw them grind grain, weave Alpaca yarn, and tried some of the food. Peru is home to about 4000 types of potatoes. We tried a couple. There were also lots of cute guinea pigs… I can't believe I ate one.
We were back at the hotel around 6. We went out for dinner at this little place called La Hosteria. I had the Alpaca again. We went to bed early.
9/1, Monday – We were up at 5 for 5:30 pickup to airport at Juliaca. We were all upset at missing the great breakfast here not to mention being up at 5 on vacation (AGAIN!). We had about an hour drive to Juliaca, then caught the flight to Lima. We arrived around 10:15, and transferred to hotel in Miraflores. It was a fairly long trip from the airport, we arrived at our hotel around 11:30. After checking in we went out to lunch.
Miraflores is the upscale area in Lima and has lots of restaurants and shops. We found a nice little place, La Paz (peace) for lunch, then went back to the hotel for our city tour @ 2. After stopping to see "Lover's Park" on the coast, we went downtown to see the main square, also called Plaza de Armas, the Cathedral, Saint Francis Cathedral where we saw the crypt, then on to the Larco Museum. This is a great museum and we especially enjoyed the "erotic pottery" section, interesting and weird. We got back to the hotel around 5:30. Alex wasn't feeling well so stayed in the hotel while Kelly and I went out to explore the area.
9/2, Tuesday – our last day in Peru, completely free. We slept in, had a leisurely breakfast then walked down to the mall by the ocean that our tour guide had talked about the day before. We did a lot of browsing and window shopping and real shopping on the way. I took a break at the hotel while Alex and Kelly went to the big department store they wanted to visit. We all met up for a late lunch. Alex took a break and Kelly and I went shopping at the art markets. I bought my big alpaca rug and we both spent a lot of money. We picked up Alex and had a late dinner. We went back to the hotel to make sure we could get all our purchases in our suitcases. I only bought the 3×5 rug because I was worried about getting it home but would have liked to purchase a larger one; I loved the woven alpaca and all their colors.
9/3, Wednesday – We had our flight to Miami, then caught an earlier flight into Chicago. We thought it made sense, even though our suitcases were on the later flight. This allowed me to go get the car from Park and Jet and be out front waiting for them when the suitcases came in an hour later. We had our long 2-hour drive home, but what a great trip. Our first visit to South America and it was amazing!
* All photos property of Lisa, not to be copied or reproduced *