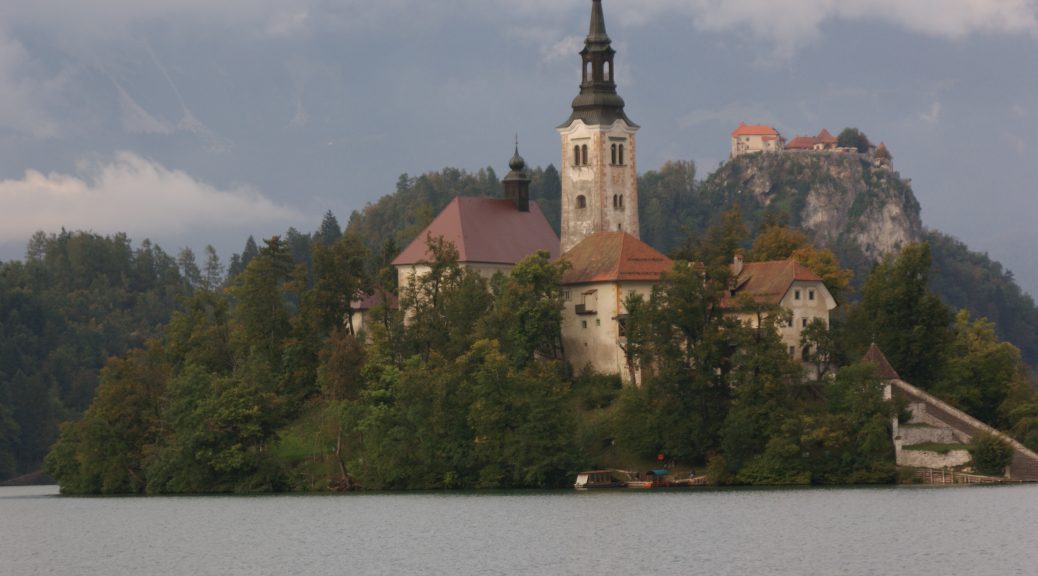 Croatia, Slovenia, and Italy
Croatia, Slovenia, and Italy
Kelly and I loved our visit to Croatia in 2013 and wanted to see more, so we planned several days in north and west Croatia, several days in Slovenia, then a few days in Venice, Italy. We flew out of Peoria to Chicago on Saturday, August 30th for our flight to Zagreb.
We arrived Sunday morning at 1000. After passport control and getting cash (just me because Kelly's card wasn't working, so I took out the max to share with her), we took a bus downtown then found tram #6 to our stop. We walked to our hotel, Rooms Felice. After checking in and freshening up, we went back out around 1500. We decided to stretch our legs and take the long walk to old town. We saw St. Stephens, wandered through town looking at all the great architecture then had greek salad, pizza and some great dark beer, Tomislav! We went back to hotel.
Kelly spent some time online trying to work out her bank card problem. She called her husband, thinking he could call the bank, but then had to have a chat with a bank representative herself. I let her use my computer with the VPN since she was sharing her account number and other personal info. I strongly recommend having a VPN for travel to protect your data over shared or open networks. It is great traveling with a friend, with additional debit and credit cards, you always have a backup, because she's loaned me local currency before, too.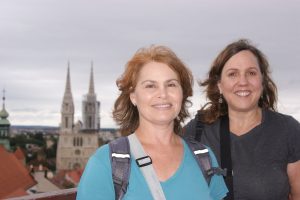 After that, we went to bed and were asleep around 2100. An early night is always great for jet lag. And sometimes a late morning helps, too. We slept until 0930 on Monday.
After dressing and breakfast we were heading downtown by 1100. We wandered old town again, the Lotrscak Tower, St. Catherines, which is a beautiful church from the 17th century, and the wonderfully weird Museum of Broken Relationships. We had a good lunch at Amelie's. We spent late afternoon at Minogaj Cemetary. We had a very dry burek for dinner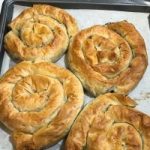 from a street vendor. We had tried burek's, a stuffed bread dish, the previous year on a day trip to Mostar, Bosnia and Herzegovina that was delicious. We returned to Amelie for a treat. We tried their caramel torte and a chocolate torte.
On Tuesday, we were up around 0800-0830 and took the bus to the train station but that wasn't where our car was (it was quite a misleading confirmation). We were directed a bit further to a hotel where we found Fleet rental. After lots of paperwork, we drove to Plitvice for our visit to Plitvice National Park. We arrived around 1300, and checked in to House Pavlic. It was a nice room; very clean and spacious.
We dropped off our bags and went back out to a great lunch, pork, veggies and, our new favorite local beer, Tomislav. We drove to the park around 1430 and hiked about 5 hours. We took tram 2, then tram 3, had a long hike, took boat P2 to P1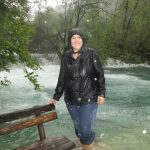 then walked back to entrance. It was raining most of the day but we decided to just embrace the weather and enjoy. Even in rain gear, we were very, very wet when we finished, however. We picked up tomislav and some cherry flavored beer, too, at the grocery store to have after dinner.
We had purchased 2-day passes, so we returned the next morning, and did another tour of the park. It was still raining but beautiful. The lower boardwalks flooded but we had fun splashing through them. We hiked all the way to P3 then took boat to P2 and on to P1. We took a tram back to entrance. We did about 3 hours of hiking.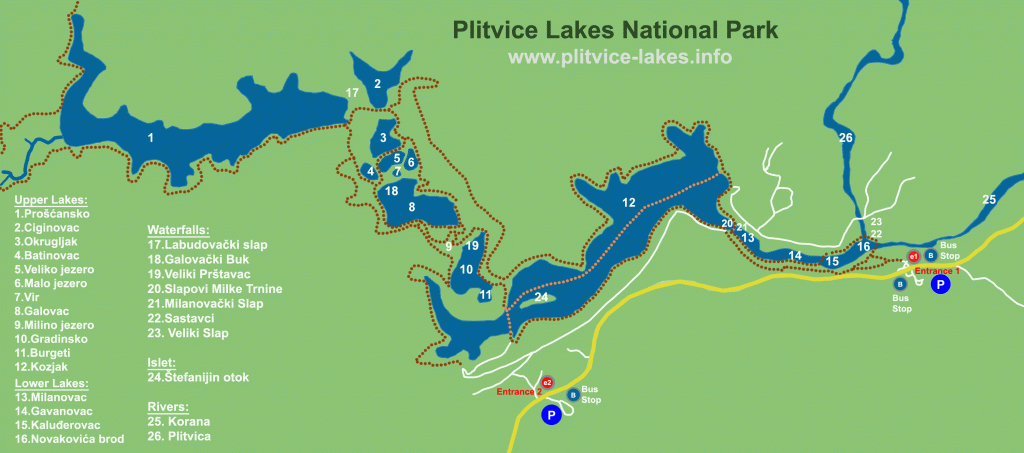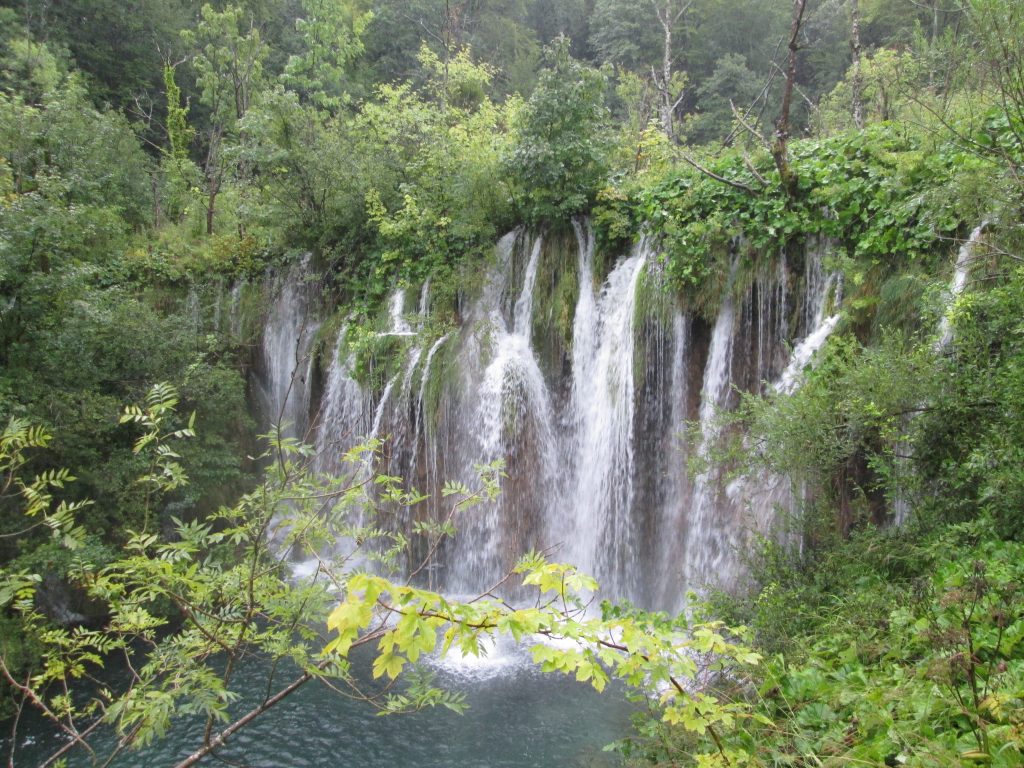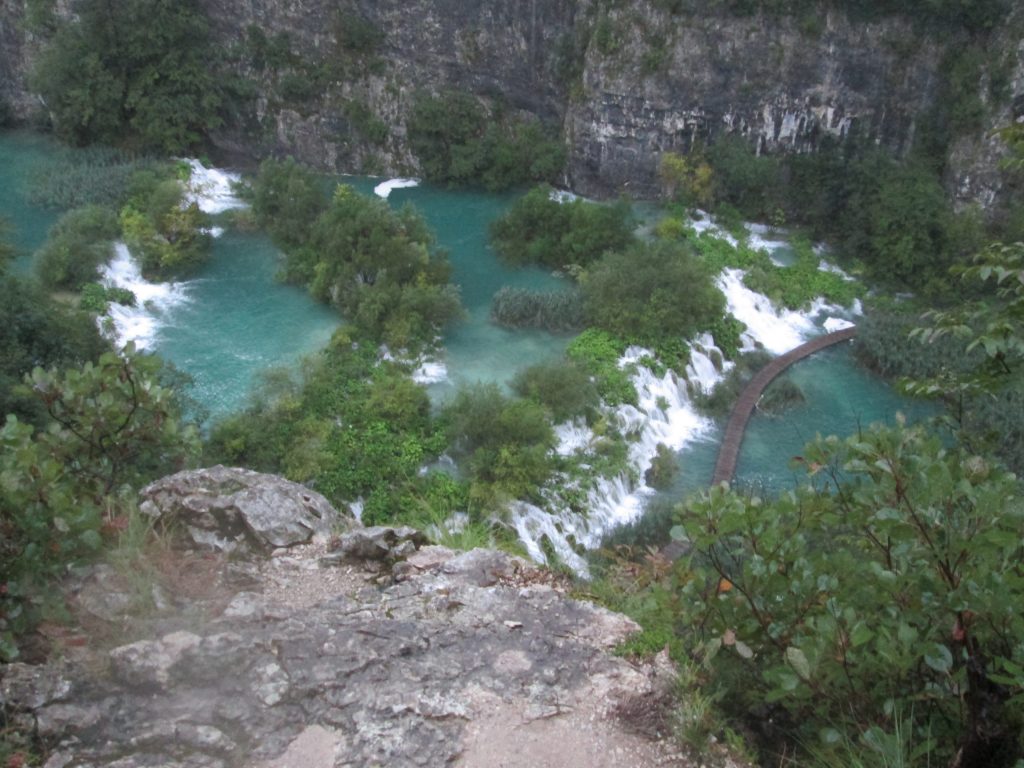 We drove to Ljubljana, Slovenia. We arrived around 1800 and found our hostel, the Pension Pod Lipo. Parking was included but under the hotel. Very difficult parking!! I thought I'd got stuck; it's a super narrow, one way ramp then a very, very tight space for 4-5 cars. I wanted to back in one of the spaces so I could just drive up the ramp the next day but it was very difficult turning even our super small car around. Yikes. After finally getting the car in a space and calming down a bit, we went out walking to old town. We had a very good dinner at Julija, pasta and lamb. We walked along the River Ljubljanica and admired all the beautiful bridges, the triple bridge, cobbler bridge, and dragon bridge. We found some more tomislav to end the day.
We had planned a walking tour of town on Thursday. We were up at 0800. We went to the tourist office, bought a 2-day city pass, the Ljubljana Card, then took the 10-12 walking tour with Simona. We went up to Ljubljanski Grad, stopped for a taste of the traditional Slovenian sausage, walked along the river and visited several bridges, and heard about the city history for two hours. We took the funicular back to the castle. We had a beer with Simona after we finished around 1230. We went back to the sausage place we had tried earlier on the tour for lunch. We had a great sausage, bread, with mustard and horseradish.
After lunch we walked to Preseren Square, stopped to see the old roman wall, then picked up the digital tour (included in pass) from the tourist office and followed that from about 1500-1730, walking all over the city. We returned the ipods and then had a beer at the Human Fish Brewery that Simona told us to try. We stopped back at the hotel to drop off some electronics and charge them; this was when Kelly's plug adapter broke and somehow blew the power upstairs. Oops.
We had an Austrian Gosser beer in our hotel courtyard then had dinner at Druga Violana (we had made reservations earlier in the afternoon). We had heard a lot
about the local Slovenian cheeses, so we ordered cheese as starter – and he brought us cheese for two – a ridiculous amount! It was enough for about eight, actually. We just wanted a few samples. We had potatoes and sausage for the main course. But we had lots of leftover cheese for snacking the next day.
Friday, September 5th, we were up at 0800. The previous afternoon we had met John and Betty, also from the US. The had checked into the room next to us, when there was no power; that's how we met, standing in the dark hallway. While waiting for the power to be restored, we started talking and decide to meet for breakfast the next morning at Le Petit Cafe. John and Betty had made reservations and invited us to join them.
We had great eggs Benedict Florentine, with sun-dried tomatoes, cheese and toast and enjoyed getting to know them a little and sharing travel recommendations. After breakfast, we went back to the tourist center for the boat ride (included in the city card) from 1100-1200. We walked to the funicular and went back to the castle from 12-1400. We visited the penitentiary and saw a special exhibit, the 50 Best National Geographic pictures. We climbed the tower for great views, before heading back to old town. We had an afternoon break with a couple Bevog beers (another local brewery that Simona mentioned). We visited the Slovenski Etnografski Muzej from about 1500 to 1700. This was a very interesting museum, loved all the clothing and other items. We picked up the car and drove to Bled. We arrived around 1830. We checked into Hotel Jazz then walked to the beautiful lake. I had the blejska kremsnita, Bled Cream cake, for dinner but Kelly was good and got a big greek salad.
Saturday morning after breakfast, we walked around the lake in the morning, and saw the start of the triathlon with swimmers and then the cyclists. We took a ridiculous amount of pictures, then took a pletna to the island around 1030. We only spent about ½ hour to 40 minutes there but it was enough time to see all the sights. We visited the church, rang the bell (for good luck), climbed the clock tower, and took many, many more pictures. After taking the boat back to shore we continued our walk around the lake.
We stopped at this little fast food place for kebobs, then went back to Hotel Jazz to pick up our car and drove to the castle, Blejski Grad. What a fun visit. Not surprisingly, the views of the lake and island were amazing, too, so we took even more pictures. I'm so grateful I no longer have to pay to develop all these. Digital photography has save me a small fortune.
From the castle, we went directly to Vintgar Gorge. We did all the boardwalks through the gorge. Beautiful!! Around 1630 we went back to town, and drove around the lake. The sky had cleared off but we couldn't find a place to park so we decided to walk around it again. We dropped off the car and did a clockwise walk this time, another full circuit. Yes, we took more pictures. The sky was a brilliant blue this time instead of overcast.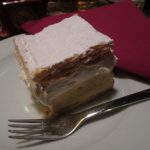 We had dinner at Murka, great pork medallions and beer. Kelly hadn't tried it yet, so we had picked up some Bled Cream cake for desert, from Slascicarna Smon, earlier in the evening. We were too full after dinner, though, so saved it for breakfast.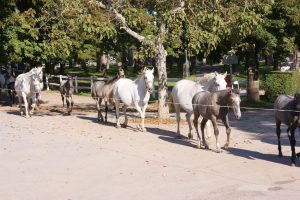 September, 7th, Sunday, we were up by 8. After our delicious and healthy breakfast of cream cake, we were on the road to Sezana, arriving at 1100. We came here to visit the Lipica Stud Farm. We bought tickets for the afternoon but also were invited to the practice session from 1100 to 1145. We left for lunch and found a great pizza place for lunch (leftovers later) with some Teran wine, "famous fiery red thick wine, one of the most important products of the Karst soil."
After lunch, we went to Stanjel Castle for an hour or so. We drove back to Lipica Stud farm for our 1500 show and 1600 tour. We got to see them bringing in the mares and foals after the tour. Around 1730, we headed to Postojna. We bought some beer and wine at a gas station then had our leftover pizza on the balcony at our room at Proteus. We were in bed by 2200, but barely slept as the church next door kept their bells ringing ALL night!!
We were up at 0800 the next morning for a visit to Predjama Castle. Built in a cave opening, this is a fantastic castle. We arrived around 0930 and spent two hours. I loved this beautiful castle and loved wandering through the rooms. We went to the famous Postojna Caves for our noon tour. We were finished at 1330, then tried to get to Avio Pub but it was closed Mondays so found another place outside of town for schnitzel. We went back to the castle for a beer and to enjoy the view, we relaxed just talking for about an hour and half. After a stop at the hotel, we went out to dinner for some great spicy chicken risotto.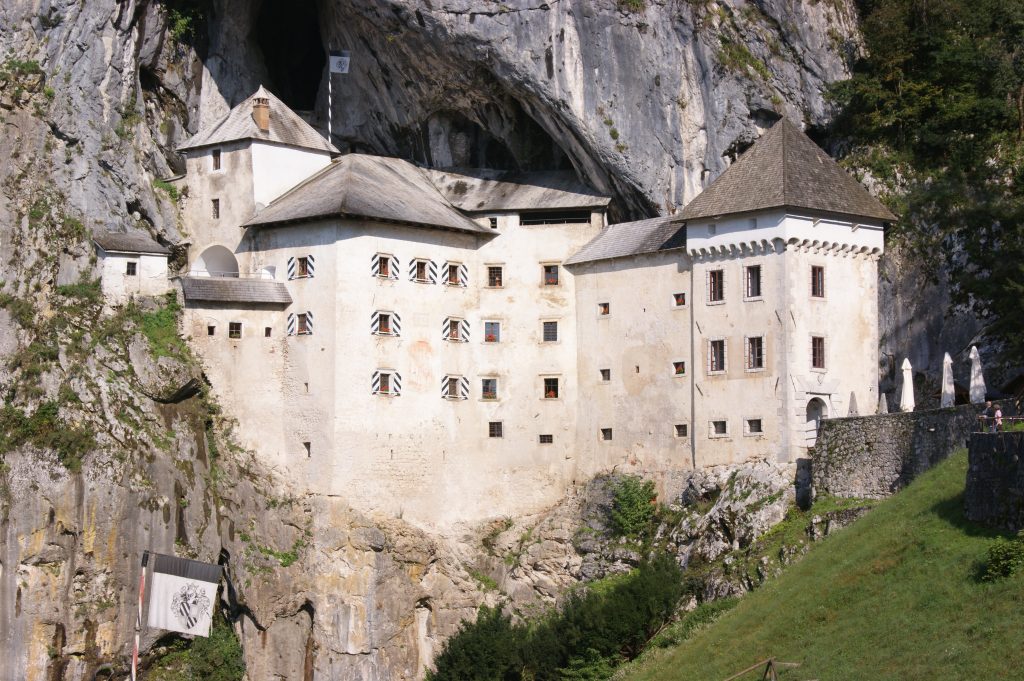 Tuesday morning we checked out before 0900 and started our drive to Pula, Croatia. Last year on our cruise, we had several people recommending a visit to the Istrian Peninsula. Pula is the largest town in Istria, conquered by the Romans about 177 BC, it became a major Roman port.
We drove straight through and arrived around 1100. After we found our hotel, Apartment Sonja, the owner volunteered to drive us back from airport but we forgot to get gas so that was a big hassle with car rental place. We drove back into town to fill up and had to give the rental guy a "tip" of 20 euro, plus what we've already paid the owner. It was cheaper than letting the rental car company fill it up, but it would have been much cheaper to just drop the car off ourselves and pick up a cab.
We walked all over town, we saw St. Nicholas Church, the very interesting tunnels and bombs shelters of Zerostrasse, all the gorgeous arches, including the Arch of the Sergii, the Gates of Hercules, and the Twin Gates, the Temple of Augustus, the archeology museum, and the amazing Roman amphitheater. We bought tickets for the gladiator show then went to Jupiter for some great pizza, greek salad and tomislav. The show was silly, touristy and so much fun. We were both glad we attended. We had been having perfect weather, but we had a hard rain that night, waking us both up.
Wednesday, the 10th, we were heading to Venice! We were up very early to catch our 0625 bus. We had purchased our tickets in advance but made sure we knew where the station was yesterday so we didn't get lost and miss it. It was a long but nice flat walk. We were on the bus about 4 hours. We arrived later than scheduled and at Tronchetto not Piazza Roma; it took us a while to figure out how to get to our hotel from there, and where the bus stop was.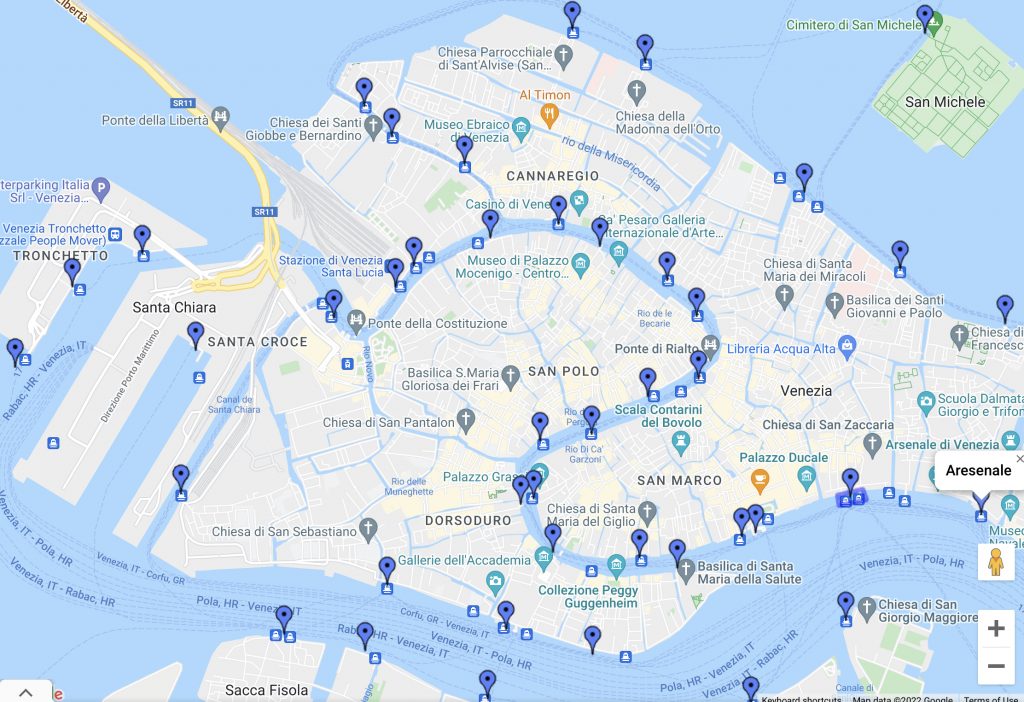 We took a water bus, or vaporetto to our hotel, the Arsenale stop. It was great being on the Grand Canal, and we rode it from one end to the other. Since we had started at the first stop, we were able to get right up against the rail and stayed there the entire time for sightseeing. Getting off at Arsenale, we had to drag our luggage up and over several bridges. We found our hotel, Ca' Della Pieta. We were on the 3rd floor, the bathroom was on the second floor. It was a pretty good location. We spent the rest of the afternoon just walking all over Venice, getting wonderfully "lost", crossing all the bridges over the canals, checking out the beautiful plazas, homes, and churches around every corner. We waited in line to see Saint Mark's Basilica. Sadly, the plaza was flooded and we had to walk over boardwalks to get inside. We went up to the balcony to check out the statues and views of Saint Mark's Plaza. Saint Mark's is a stunning church, the gold mosaic makes it glitter, it is one of my favorites.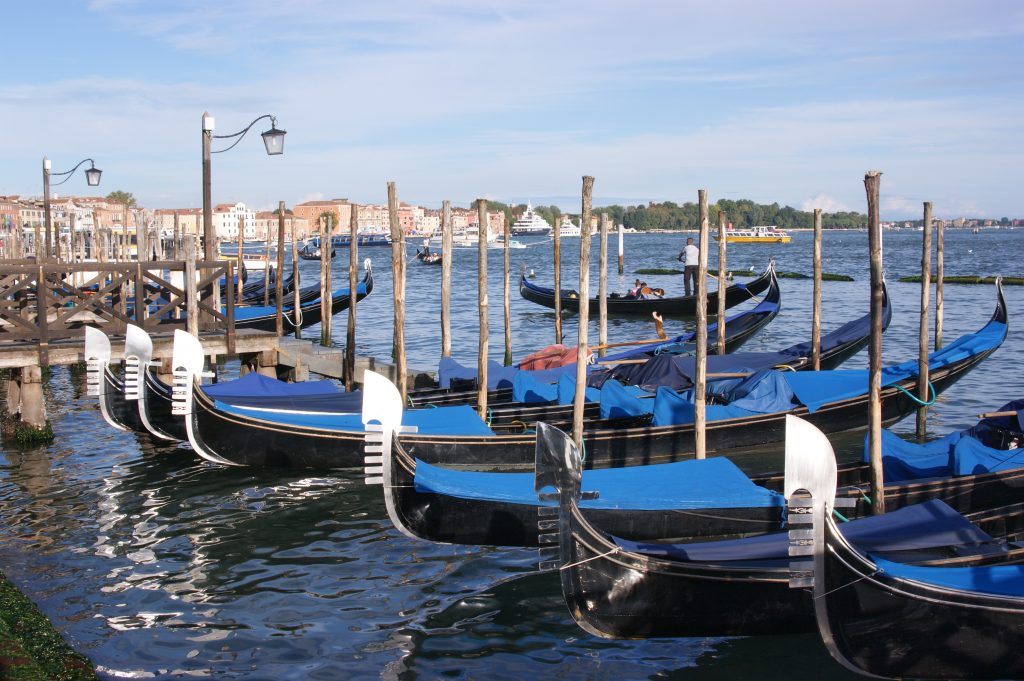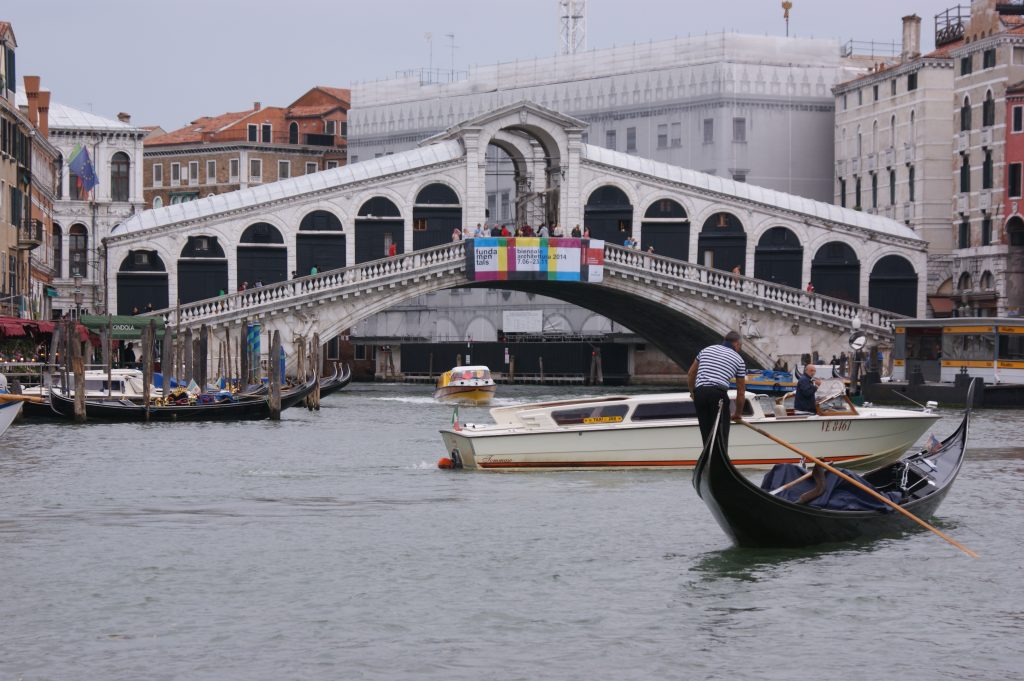 Thursday, September 11, we had breakfast at a little cafe close to the hotel, then headed to our walking tour. We had made reservations online the previous night. We had to meet at 1045 at a fountain in the north part of Venice, quite a distance from our rental, so we left fairly early. The "two hour" tour went from 1100 to about 1530 with our great guide Aida. Originally from Russia, she moved to Venice for art history school and decided to stay in the city. We had a late lunch (cicchetti, like tapas) at Bacarando and their house wine.
We took the vaparetto to see the island and church of San Giorgio Maggiore. After visiting the clock tower and a tour of the building we used our all day passes on the water bus and went up and down the grand canal 3 times. The views are amazing, I think you notice something different each time. Truly a wonderful experience. We got off at Rialto bridge to go back to Bacarando for a late dinner, then went back to our rental.
We had a very full and busy day planned for Friday. We visited the Doge's Palazzo, Bridge of Sighs, Museo Correr, Piazza San Marco again, Museo Storico Navale or Naval Museum. I remembered this from my visit in 1998 and really wanted to return. It was a long day but wonderful. We had some off and on sprinkles throughout the day but we really had good weather considering it was calling for 3-4 straight days of rain when we checked the weather in Slovenia. We had a lovely relaxing dinner at Antico Forno Pizza. Kelly had lamb and I had a balsamic steak, roast potatoes, and we split a caprese salad with 3 kinds of tomatoes and fresh mozzarella.
Saturday, September 13th, we checked out of our AirBNB fairly early and walked to the stop to catch the water bus directly to the international airport on the mainland for our flight home. It's a lovely trip through the islands. I do wish we had an extra day. I visited the Lagoon Islands when I was in Venice in 1998 with my daughter and would have loved time to return to Murano, Burano, and Torcello. There is a lot to see and do in Venice, you could spend days just wandering, admiring the buildings, canals and bridges but there are dozens of churches and museums to see, as well. Hope to return a third time to this wonderful city.
** All photos property of Lisa, not to be copied or reproduced **
Travel Hints:
Being IT people, we're very organized so we put our trip detailed in a spreadsheet with booking numbers. Other than hotels/hostels, cars/trains if needed, we occasionally book events like the Spanish Riding School in Vienna in advance, too, but mostly like to take our trips day to day. You never know what you may find to do and it's great having flexibility. I started adding addresses to have them all together.