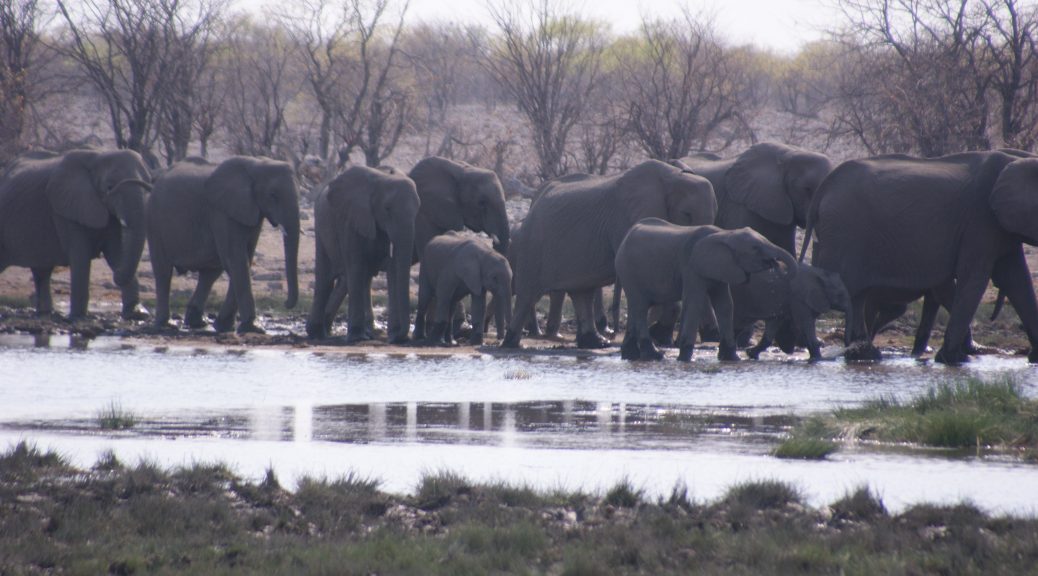 Wild About Africa: Namibia, Botswana, Zimbabwe
Wild About Africa: Namibia, Botswana, Zimbabwe
An African "Safari"! One of many items on my travel wish list. My friend, Kelly, her husband, Manny, my daughter, Alex, her boyfriend, now husband, Mike, and my friend Leslie all went to Africa in October 2015. Kelly, Leslie, and I all worked together and did our research and planning over lunches in the breakroom.
After comparing many companies, reading reviews, and comparing routes, we decided to use Wild About Africa. The specific itinerary we booked is no longer available, but they have plenty of selections. We had great guides and an absolutely wonderful time. I highly recommend this company.
We flew into Johannesburg, South Africa, via London. We had an eleven hour layover in London. We didn't plan that but it was the best value we found for flights and fewest number of connections. We decided to enjoy the day and organized some activities downtown.
We arrived in London around 1020 on October 2nd. It took much longer to get out of the airport than anticipated, going through security, dropping off carry-on's at a left luggage office, so we didn't get downtown until around 1330 after taking the underground to the Westminster stop. Alex and I have been to London three times before, so we decided to find a Harry Potter tour instead of other sightseeing. I've used London Walks for several tours but they didn't have the tour we wanted on a Friday. We found Wizards London Walk – Guided Tour of Harry Potter London with BritMovieTours. Mike came with us while Manny, Kelly, and Leslie visited Westminster Cathedral and other sites.
We didn't have time for lunch with the others so just went to meet our tour guide. Our guide, Rosy, who did a great Moaning Myrtle impression, walked us around downtown and a underground station to visit several of the movie sites. We saw where Ron, Harry and Hermione infiltrated the Ministry using polyjuice potion from the Deathly Hallows, the ticket barriers Arthur Weasley and Harry go through in The Order of the Phoenix, the visitors' entrance to the Ministry of Magic from The Order of the Phoenix, the Millennium bridge destroyed by the Death Eaters in Half Blood Prince, and a store front used for The Leaky Cauldron in The Philosophers Stone (Sorcerers Stone)and Prisoner of Azkaban.
We walked for about two hours, not finishing until almost 1700. We had dinner at Blackfriars Pub then caught the underground back to the airport for our 2120 flight to Johannesburg.

We had a comfortable flight, and everyone said they had a fairly decent night's sleep, despite it being our second overnight flight. We arrived in Johannesburg around 0900. We had been told our bags were only checked through to Johannesburg so we all left customs to get our bags only to find they had been checked through to Namibia, after all. It was quite difficult getting back through security; it's a weird airport with A and B check-in areas that don't match gates. We had a noon flight to Windhoek, arriving about 1400.
Everyone took quite a while to change money at the airport, then we were picked up and taken to Hotel Safari. We made it to the hotel mid-afternoon. It wasn't in a good location for walking around town, but after two nights in planes, everyone decided to just relax at the pool anyway. After we were assigned our rooms, we checked in, changed, and went to pool. It was rather murky, but it felt good and we had a few Windhoek Lagers while relaxing.
Dinner that night was included and we went to Joe's Beerhouse at 1830, with the rest of the group. We met our new travel companions, Gasper (Spain), Fabio (Italy), Cees (pronounced Case) and Marijke (Netherlands), and Ivan and Isabelle (UK), plus our local guide, Sam Kadonzvo, and Jaison Hanga, our cook. Joe's was a very fun atmosphere but quite touristy. I had the game kabob or "Bushman Society" which had crocodile, zebra, kudu, oryx, springbok with mango chili sauce and polenta. Most of the meat was very good. I tried a Camethorn Weizen and a Windhoek Draught.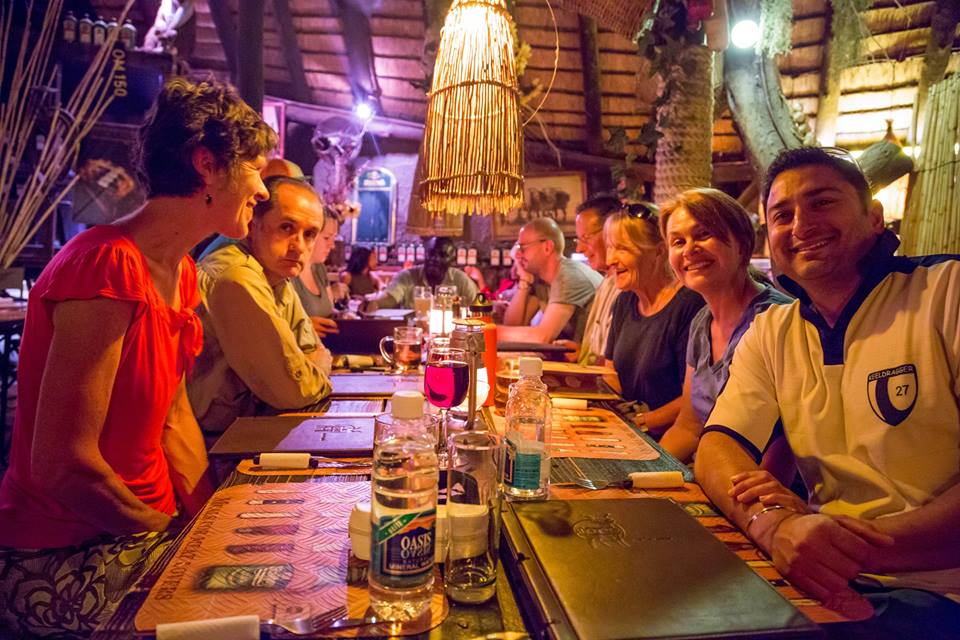 It felt great to lie flat in a real bed after two nights sleeping on planes. On Sunday, the 4th, we were up by 0800 and on the road by 0900, after a good breakfast at the hotel to start our exciting tour. We meet another guide/cook on the bus, Mathias Haindongo. I would have liked time to explore Windhoek, but I guess I will have to return to Namibia some day.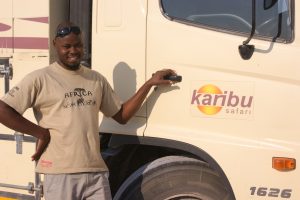 We had a small truck the first few days, the big truck that we were supposed to have was delivered several days later, after some maintenance. Our first stop was Namib-Naukloft National Park. We arrived around 1530, after a flat tire and lunch by the side of the road. We had salami sandwiches and a great salad. Dinner was fish, rice, and roasted vegetables. Jaison and Mathias provided great meals for us the entire tour, with just camp stoves and all meal prep on folding tables.
We climbed the huge red sand dunes at sunset. The big nests we saw in the trees are from "social weavers" or sociable weavers. The nests can get so massive that sometimes they can bring down trees.
On Monday, we were up at 0500 to leave at 0545. We drove about half an hour to Dune 45 in Sossusvlei. We went on to Dead Vlei in another vehicle, as you need a 4-wheel drive for those roads. Dead Vlei is incredible, truly out of the world uniquely beautiful.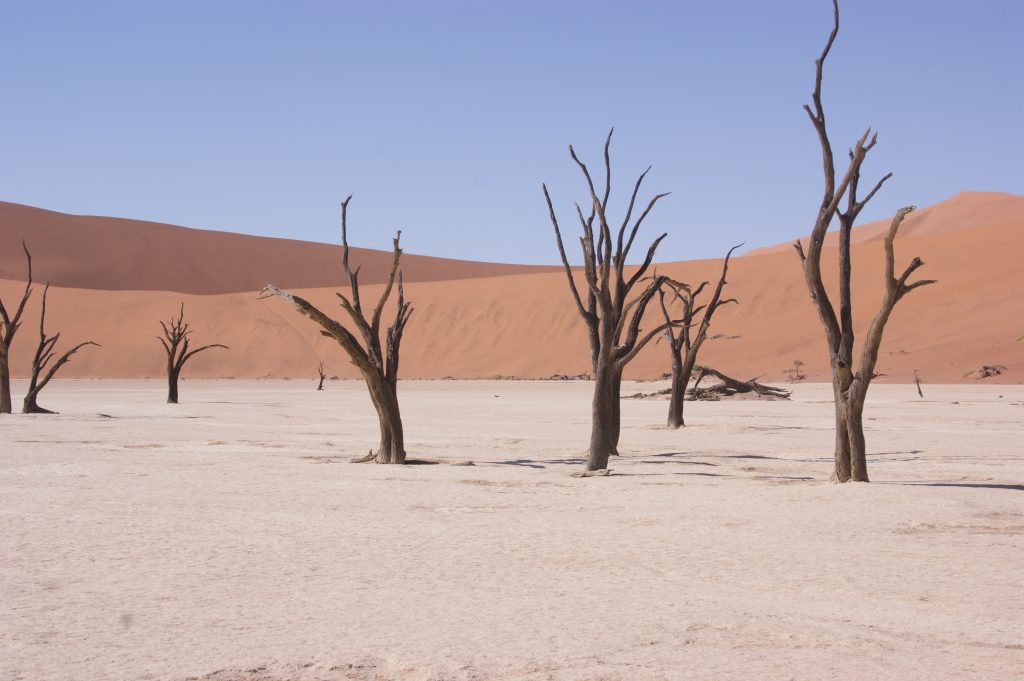 We went back to camp and had "brunch" at noon then spent several hours at the pool. It felt great after the heat to cool off. We washed clothes and sat around in the shade talking and getting to know our new travel companions.
We met up at 1730 to go to Sessarim Canyon. It was a short drive then we walked into the canyon. We spent about an hour exploring the area before heading back to camp. I had time for a nice cool shower before dinner of pork chops, sausage, polenta, and vegetables. Our new truck was delivered by another driver that evening.
We moved all our gear to the new truck, Tuesday morning. It was much bigger and had a built-in cooler for Jaison so he could keep a larger selection of food. We had the other big cooler for drinks. We were up at 0530 to break camp and head to Walvis Bay and Swakopmund.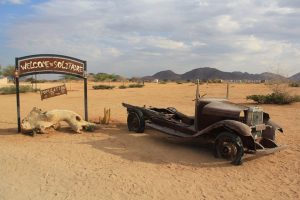 We stopped at Solitaire for a break; this is an interesting little town. We picked up a "hitchhiker", Mike from the UK. His bus left without him but we dropped him off when his tour guide turned around realizing he was missing.
We stopped at the Moon Landscape for pictures then went on to Walvis Bay (or Bay of Whales) to see the Flamingos. We arrived at Swakopmund around 1230. Sam had asked us about activities a few days prior and several of us had made reservations. Alex and Mike were going sky diving in the afternoon. Manny, Kelly, Gaspar, and I were going quad biking.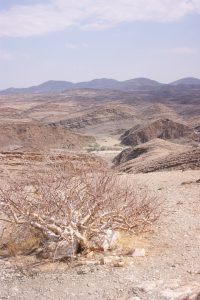 Most of the others were going on a boat trip in Walvis Bay. We did a quick driving tour of town before going to the lovely Hotel Rapomund. Ivan, Isabelle, Leslie, Manny, Kelly, and I went to Village Café for lunch. I had a good oryx wrap. We went back to the hotel to get picked up by Desert Explorers for the quad biking. It was so much fun. The dunes were gorgeous. It was a great afternoon and we spent about 2 hours driving up and down the dunes. We all met for dinner to go to Kucki's Pub, a good German place with schnitzels and Erdingers on tap. They had great bratkartoffen.
Sam hadn't been feeling well for several days and we found out he went to the hospital that night for an appendectomy. But even sick, he made Kelly and me reservations for sky diving after we heard from Alex and Mike how much fun it was. I was scared to death but still wanted to try it. Another bucket list item.
We met Sam's replacement, our new guide, Josia (Yo-see-ah) Haufiku, Wednesday morning, October 7th. Kelly and I heard we were confirmed for sky diving at 1000, later delayed to 1100 due to weather. We wandered around town and went to the grocery store to pick up sandwiches for a late lunch. After being picked up by the sky diving company, we went to their local office to pay and fill out forms, then went to the airfield.
Chris, my tandem partner, got me suited up and in my harness then we were in the tiny plane, six of us plus the pilot crammed in. Kelly and I paid for the cameramen, as we both wanted the photos and video. We flew around for a while then … I had my legs hanging out of the plane and thought, oh, no, oh, f——— … and WOW!! Free fall then drifting down with the parachute was just amazing. Absolutely exhilarating, I had so much fun. I watched Kelly come in then we had a couple beers while waiting for our pictures. Neither of us could stop smiling for hours.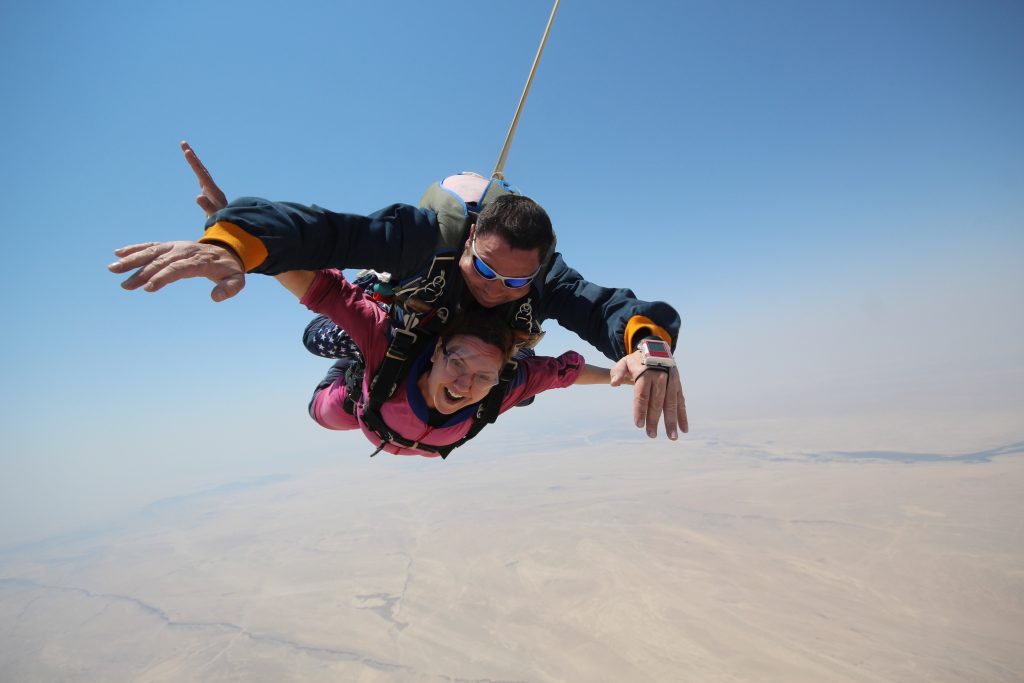 We went back to town. Our group was on the bus by 1400 to go to Spitzkoppe, "The Matterhorn of Namibia". We arrived around 1630 and helped set up camp. We were back on the bus at 1730 to go to Bushman's Paradise and met our local guide Pinias (pin-yas). He took us up a steep rock, with anchors and a heavy metal cable to help us climb. Pinias showed us the rock paintings and a plant that, if you beat it, produced a poison used in hunting. We headed down about an hour later and drove out to the desert to watch the sunset. Dinner was chicken, pasta and vegetables. This was our only night with "long-drop toilets" and no showers. Spitzkoppe is absolutely stunning, and no one minded the "rough" accommodations. We were "explorers" on safari!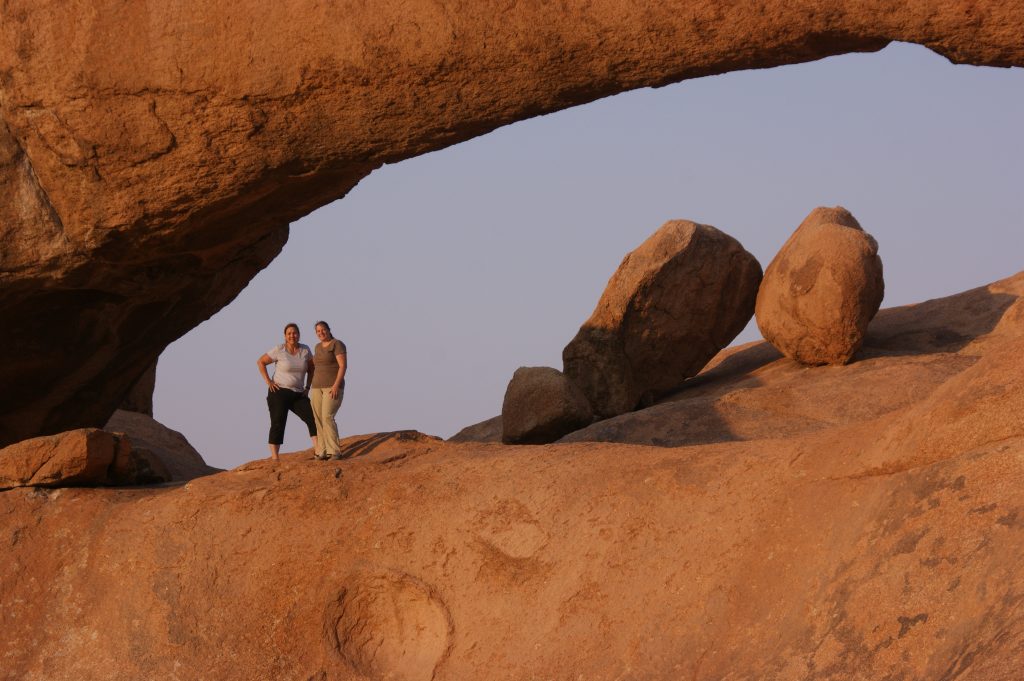 We were up around 0615 on Thursday. We broke camp then had breakfast. I walked to the arch with Alex, Isabelle, and Leslie. We left around 8 for Uis. We stopped for a bathroom break, grocery shopping and ice; then drove on to Khorixas. We stopped here at a roadside shop to see the Herero people in traditional dress. We had lunch on the roadside again, sandwiches, and leftover pasta from last night made into salad with peas, corn and onions, and a good lettuce salad with peppers, cucumbers and tomatoes. I really enjoyed all the fresh vegetables and just hoped they were safe to eat after washing with the local water; but later I heard Jaison telling another person on the tour that the water he used was treated.
We went on to Kamanjab. We arrived at the Himba Village around 1630 after another stop to buy water. We had an hour before our tour and helped set up camp again. At 1730 we met our local guide and walked to the village. We met lots of people, saw the school, learned about the culture, their hair, upbringing, jobs, and how they used smoke to clean their houses. Isabelle had bought oreos earlier and gave them to the kids. They loved them.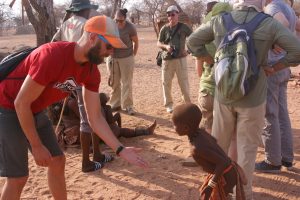 Dinner was great, springbok steaks, potatoes and vegetables. Kelly, Manny and I used the "pool" or pond for a while. It was a great way to cool off. Then we had showers and went to bed early.
We were up early on Friday, around 0600. We could have slept later, but the roosters woke us up. After breaking camp, we had breakfast and were on our way to Etosha. We saw some cute Rock Dassie (rabbit-like animals) on the rocks by camp. We saw many warthogs on the drive but they would run off when the truck slowed down and we tried to get pictures.
We headed to Outjo, stopping for ice and water. They needed to do something to the truck so we were dropped off at the Farm House for coffee/beer and we all used the free internet. We arrived at Etosha National Park around noon. Etosha means 'great white place' and refers to the great salt pan. We did a game drive before going to our camp site at Okaukuejo. We saw the very cute and tiny damara dik-dik, the kori bustard, the heaviest flying bird, plus kudu, zebras, and giraffes.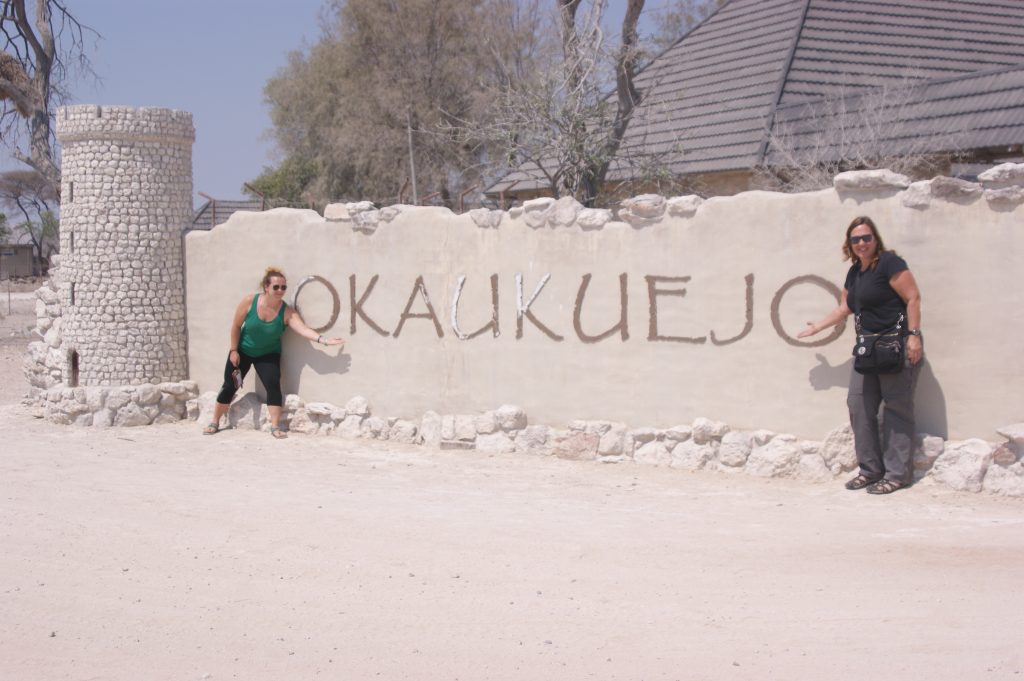 We went to the water hole while the guides set up camp and prepared lunch. We saw herds of oryx and zebras and springboks, giraffes and elephants. I took 77 pictures! Thank heaven for digital. Alex cried, standing there in awe, and I came close. What an wonderful gift to be able to travel our beautiful world and have these experiences.
After lunch most of us went to the pool and/or did laundry and relaxed. At 1630 we did another game drive.
We saw an amazing amount and variety of animals including a herd of zebras, black jackals, kuri bustards, lots and lots of springboks, black faced impalas, martial eagles, ostriches, oryx, and guinea fowl. At another water hole we saw 6 lions, a black rhino, wildebeest, three giraffes, a pack of hyenas and another ostrich.
We got up at 0600 on Saturday, October 10th, to leave for a game drive at 6:45. We saw springbok, bustards, jackals, hyenas, a herd of zebras, white rhinos, giraffes, tawny eagles, oryx, kudu, yellow billed hornbill, black faced impala, red hardebeest, warthogs, wildebeest (gnus), elephants at another waterhole, wild dogs, and goshawks. Our very knowledgable guides, of course, helped us identify everything we saw and provided more information about the animals, their habits, food, migration patterns and more.
We went to the waterhole after lunch. We saw 16 elephants, dozens of zebras, a herd of springboks, 4 giraffes, and oryx. We spent the afternoon in the pool then another game drive at 1630 – ostriches, giraffes, wildebeest, Egyptian geese, lions! A male with a big mane and a female then another male roaring in the distance joined the pair. Josia said the lions were probably brothers based on their behavior.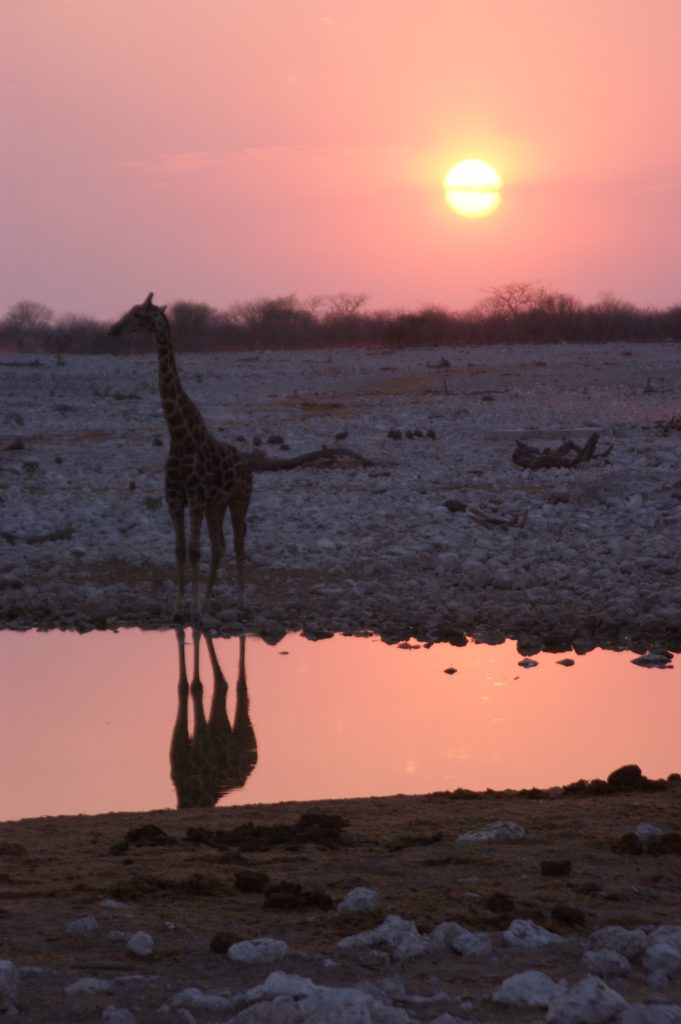 We had dinner at 1930 then had time to go to the waterhole for pictures. Great sunset and I took a stunning photograph of a giraffe reflected in the water, I got lucky as it was the perfect time and place for a great shot. I had time for a shower before dinner, which was great lamb and rice and broccoli. We all went back to the waterhole after dinner, and saw 6 elephants, more giraffes and oryx.  What an absolutely unforgettable day!
We were up at 0600 on Sunday. After breaking camp, we were on the road at 0730 as soon as the gates opened to the park. We got a group photo before getting on the road. We had a long drive across the park to Namutoni where we were going to camp next. We made stops along the way, looking for game. We saw giraffes, wildebeest, oryx, springbok, and later a huge herd of springbok at a natural water hole. We saw a herd of 35 or so elephants at another water hole. Lots of babies, one that ran around bumping into the other elephants, falling over, rolling around, then running in and out of the water. We had so much fun watching them and asked Josia to stay longer so we could watch them play.
We also saw a bateleur eagle, secretary bird (big, beautiful, black and gray, orange beak, long legs), southern yellow-billed hornbill, a herd of wildebeest, and red breasted hornbills. Later, we had one of the highlights of the entire trip, watching 3 cheetahs drag their kill of a springbok under a tree to eat. Many of the guides for the various companies know each other and communicate over radio when they see these types of special sights, so we were one of 4 trucks watching the cheetahs. Like at the watering hole with the elephants, we asked Josia to stay a bit longer as all twelve of us were hanging out of the truck roof watching this live version of a National Geographic special. Leslie has a great camera; with her 600mm telephoto lens she was able to get fantastic photos of the cheetahs and shared those, and many other photos, with the entire group. The close up below is her photo.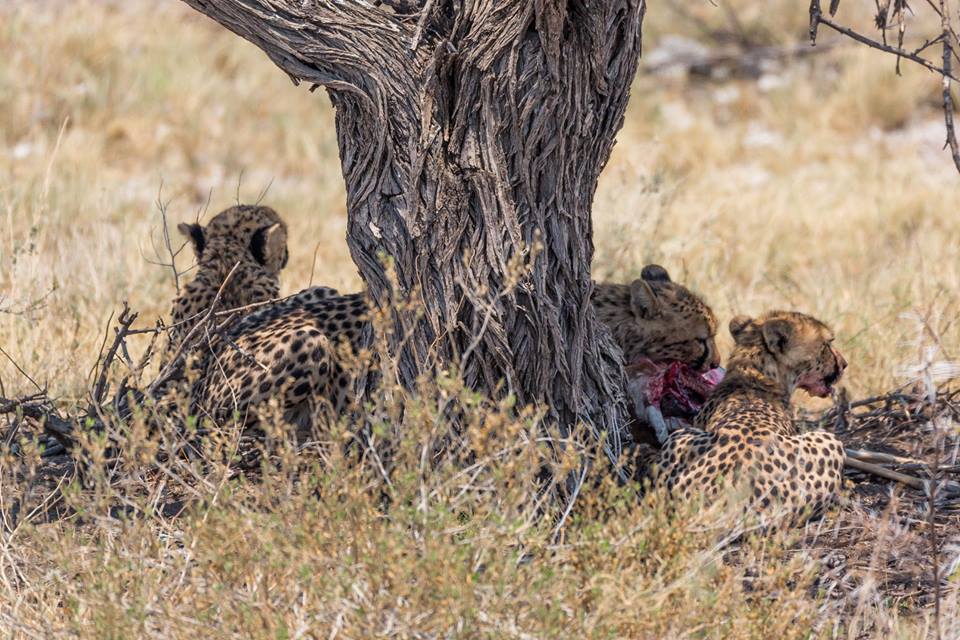 We also saw steenbok, more cute damara dik-dik, gemsbok and oryx, and Hartmann's zebra and Burchell's zebra, black faced jackals, and hyenas. When we got to camp, there were lots of banded mongoose running around camp. We had another nice campsite, with good bathrooms and a pool and a waterhole for viewing. On the afternoon game drive we saw: giraffes, bustards, lilac breasted roller birds, helmeted guinea fowl, wildebeest, springbok, spotted hyenas, jackals, giraffes, rhinos, oryx, more giraffes and baby giraffes, zebras, elephants, damara dik-dik, impalas, more hyenas, and even more giraffes. Giraffes are really beautiful animals. 
On Monday, October 12th, we were up at 0500, broke camp, had breakfast and were on the road by 0630. We drove through the last northeast part of Etosha Park en route to Kavango River. We saw owls, giraffes, dik-diks and guinea fowl. We stoppped at Tsumeb around 0800 for a problem with the truck lights. Tsumeb is a mining town with the biggest smelter in the country. Other countries bring their ore here for refinement. We did grocery shopping then were back on the truck by 1000.
We spent some time having drinks and using the free internet after grocery shopping. We stopped for lunch at the side of the road at 1300. We arrived at Ngepi Camp around 1800. We walked around camp, enjoyed the great scenery, the Kavango River, and the fun signs around the place. I took a shower before our dinner of beef and noodles. This was one of my favorite spots on our trip, camping next to the Kavango River, hearing the sounds of the hippos, the silly signs, the beautiful grounds, and the bar. Yes, they had a bar. That evening, Kelly, Manny, Alex, Gasper, Fabio and I did shots at the bar until around 2300. Humpy hippos, horny monkeys and more. Prost! 
On Tuesday we were up at 0600. After eggs and bacon for breakfast, we were on the truck at 0800 for our tour of Mahango National Park. We saw baboons in the trees, roan antelopes, common impalas, 6 giraffes, a small herd of sable antelopes, 2 white backed vultures, crimson breasted shrikes, damara dik-dik, tsessbe antelope, vultures, bee-eater birds, two hippos, then 15-16 hippos later, a jacana bird (also called a jesus bird because it can walk across water … on water lilies). We saw many more hippos and a lappet-face vulture, lilac breasted roller birds, burchell starlings, bateur eagles, then a tree full of white backed vultures. Finally, we stopped and saw a giant baobob tree. I had seen hundreds of these amazing trees in Madgascar when I visited in April 2014; most varieties of this tree are limited to that island but there is one on mainland Africa and one type in Australia, too.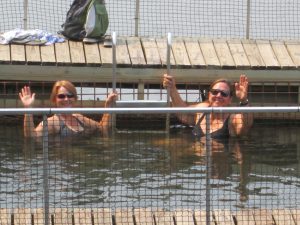 After lunch back at camp, we had a free afternoon from 1300 to 1600. Kelly and I were the only "brave" ones to go into the "hippo/croc diving cage". It's fully caged in so we didn't actually have to worry about the hippos or crocs, just another fun sign around camp. At 1600 we meet up for a mokoro (they called it wato) canoe trip up river. We saw water buffalos, many, many hippos, and a crocodile. Did you know hippopotamuses are responsible for about 500 deaths a year in Africa and considered the deadliest land animal there?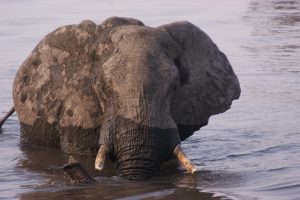 The next morning we were up at 0600 again. After breaking camp and breakfast, we headed to Chobe National Park in Botswana. We left behind Cees and Marijke as they were taking a side trip to the delta on their own. We saw a herd of water buffalo and several San (Bushman) villages. We stopped in transit at Katima Mulilo for groceries.
We left around 1320 then stopped about an hour later for lunch under a shade tree, about 30 minutes before we got to Botswana. After getting through Botswana customs we reached the park around 1600. We spent some time in the pool, which felt great after a hot long day of being in the truck. We saw some adorable monkeys playing, and lots of warthogs running around the grounds.
Once again, up at 0600 for early game drive. We saw cape buffalo, red billed horn bill, ground hornbill, African fish eagle, yellow billed stork, open billed stork, impalas, African jacana, Egyptian geese, spray winged geese, helmeted guinea fowl, tsesseb, impalas, chacma baboons, 6 female lions, then 2 more female lions. We returned to our camp around 0900, then went to the pool to cool off. After lunch we went back to the big pool.
We left at 1500 on a large boat for river cruise. It was a great 3 hours. We saw red leche antelope, marabou stork, crocodiles, lots of hippos, herons, Egyptian geese, and waterbuck antelopes. They have glands under their skin that stink and prevents crocodiles from eating them. We also saw jackals, cape buffalos, jacana birds, red-winged, or collared, pratincole comorant, goliath herons, and fish eagle. We watched a "dramatic scene" when a monitor lizard tried to steal a fish from the fish eagle; the eagle saw the lizard and took off with the fish to go eat elsewhere in peace. We jumped right in the pool after getting back. Jaison and Mathias fixed us lamb and potatoes for dinner.
On Friday, the 16th, we were awaken by a thunderstorm at 0200. Everyone jumped up to close tent flaps and pull clothes off the lines. We were back up at 0600 and on the road by 0700. We made it to the border by 0730, and through customs with our visas by 0830.
Welcome to Zimbabwe!
We were dropped off at the falls around 0930. Called Mosi-o-Tunya, "The smoke that thunders", by the locals or Victoria Falls. It was named by explorer David Livingstone for Queen Victoria. We walked to all viewpoints then left around noon. We crossed into Zambia over the Zambezi bridge. We had lunch at the Bridge Café, and the cold beer and cold water was great after a hot morning hiking along the rim.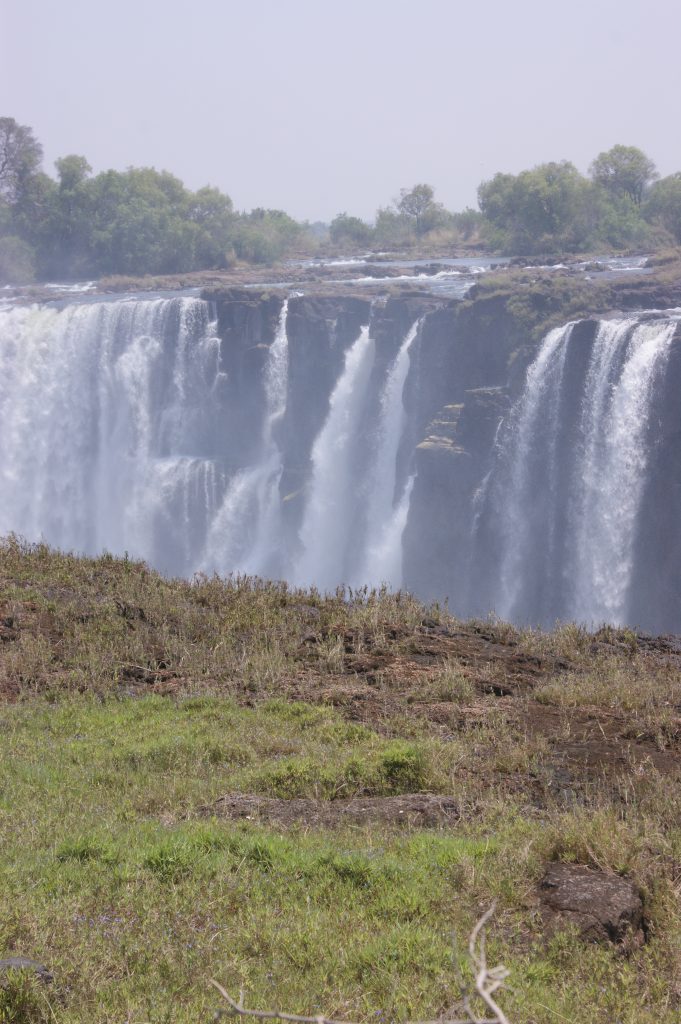 We continued on to Zambia. Manny, Kelly, Alex, Mike, Leslie and I wanted to visit the Devil's Pool but didn't make it. Each of us had read slightly different information about this, some saying you need a boat to get there, some saying you have to have a guide, other websites saying the guide is a scam, just go. So we didn't think we needed a guide but couldn't get out to it and had a long difficult walk back across large rocks. Still an adventure and beautiful. I would have loved to experience that pool, however.
Everyone split up, Kelly and Manny stopping for more water, Alex and Mike went ahead to the hotel, and Leslie and I wandered through Elephant Walk Craft center. After making it to the hotel, we all spent a couple hours in their large pool, with swim up bar. It felt great. We met for a final group dinner at Mama Africa.
Saturday morning, October 17, we were up early to do our final packing and were on the bus to airport by 1030. It was a long, long trip home, also via London. The most undesirable part of travel, the actual travel.
What an amazing, unforgettable experience. I hope to return to Africa to see more. Would love to go to Kruger in South Africa and I also want to visit Tanzania and Zanzibar one day.
*** All photos property of Lisa (or her friends, thank you, Leslie!) and not to be copied or reused without permission ***