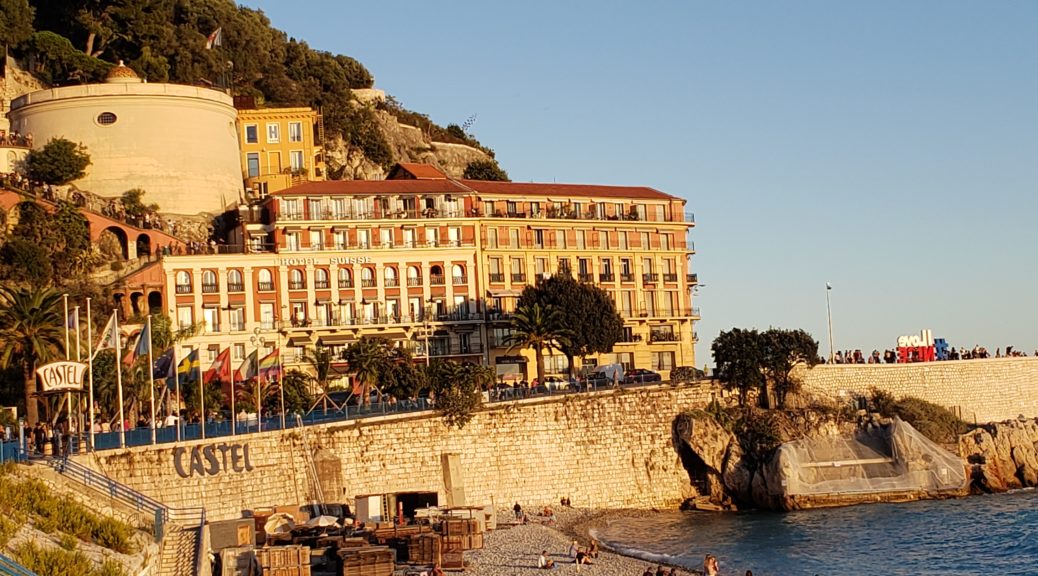 Nice, France
Nice, France
I've visited Paris twice, once when I was living in West Germany in the 80s and my daughter and I visited London and Paris for about two weeks in 2001. We flew into London and took the Eurostar to Paris. We visited Versailles for a day, but I've not been to any other part of France until this trip.
After deciding to visit Cinque Terre, Kelly and I discussed "where else?" There was talk of some time in Tuscany or other parts of Italy, but then we checked Go-Today and saw their Nice trip. We called them and they said they could easily add Cinque Terre to the Nice trip. We did have trouble with some flights, instead of flying into Genoa, much closer to Cinque Terre, we flew into Milan. After our visit to Cinque Terre we took the train to Nice. Train travel is so easy and comfortable in Europe, I wish we had as good, affordable train service in the US. We left from La Spezia about 10:30 and arrived in Nice about 4pm.
Our hotel, IBIS Styles Nice, was just a few blocks from the train station. After checking in and dropping our bags, we went back out and walked to Old Town or Vielle Ville. We had a fairly direct route from Avenue Durante, with several options to get to downtown. We walked down Jean Medecin and through Place Massena to the Promenade des Anglais. We walked along the seafront enjoying the sights of the sea and beach.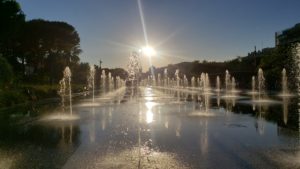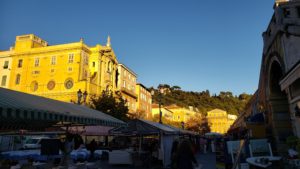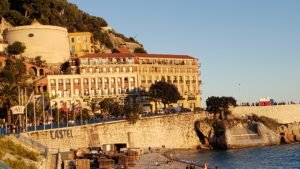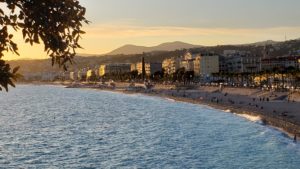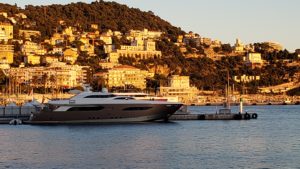 From Old Town we went north, passing the "I Love Nice" sign, and continued to the port, circling around castle hill. We stared in awe and a little bit of envy at all the amazing yachts. After stopping at the port, we headed back toward central Nice taking random streets. There is a lot of construction and tearing up of the roads as they expand their tramways, so we adjusted our paths dependent on open sidewalks.
We found our way to a large square, searching our map we realized we were at Place Garibaldi. There was a nice fountain and a large statue of Giuseppe Garibaldi, an Italian general. The square dates back to the 18th c. and is located between the old town, central Nice, and the port. The tram runs through it and it does have a road but the large square is very pedestrian friendly. It has a large number of cafes and restaurants so we checked out some menus; Kelly liked the choices at Giuseppe et Pepino. We sat outside and enjoyed some drinks and people watching before ordering dinner. We had some chicken, in a great sauce, and a veal escalope and split the dishes. The service here is great, and sitting outside is very comfortable. They have glass partitions and some heaters, that they turned on as the sun set and it got a bit cooler; although the weather was great and the heaters weren't really necessary.
Tuesday morning, after a good breakfast at the hotel, we went down to the famous Marche aux Fleurs or flower market. We had walked through this area, the Cours Saleya, the previous evening; it's a pedestrian zone running parallel to the Promenade des Anglais, from castle hill east to the Nice Opera. It has a lot of restaurants and bars that fill the area with tables after the market closes.
Much of the information I've seen online states it's open until 1730, but most of the vendors closed up around 1330-1400 the days we were there. This is a beautiful market. We came from Place Massena again, down the Rue Saint-François de Paule. This street leads into the Cours Saleya. We were greeted with colorful striped awnings and hundreds of flowers, Gerber daisies, dahlias, geraniums, roses, lilies, potted plants, cacti, floral arrangements in vases; so beautiful and such wonderful fragrances.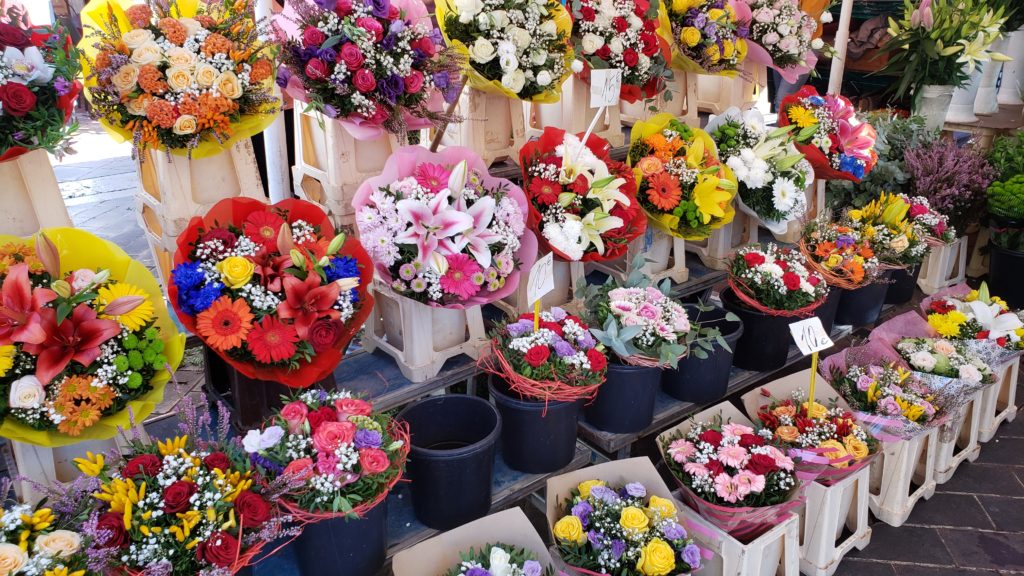 The market is much more than "just" flowers, however; fresh vegetables, cheeses, meats, both fresh and cured, spices, olive oils, soaps, tourist items fill the stalls. I found a number of things I wanted to purchase but we decided to come back Friday, neither of us wanted to carry heavy items while we continued sightseeing.
After leaving the market we took the lift to Castle Hill, or Colline du Chateau. We spent a few hours here, wandering the ruins, enjoying the views of the city and port, then walking down the north side of the hill to visit the Jewish and Catholic cemeteries.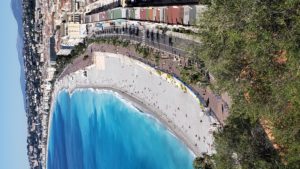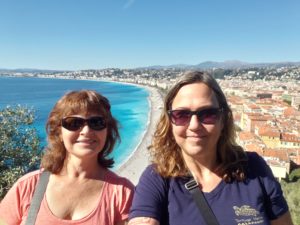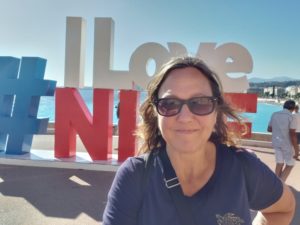 '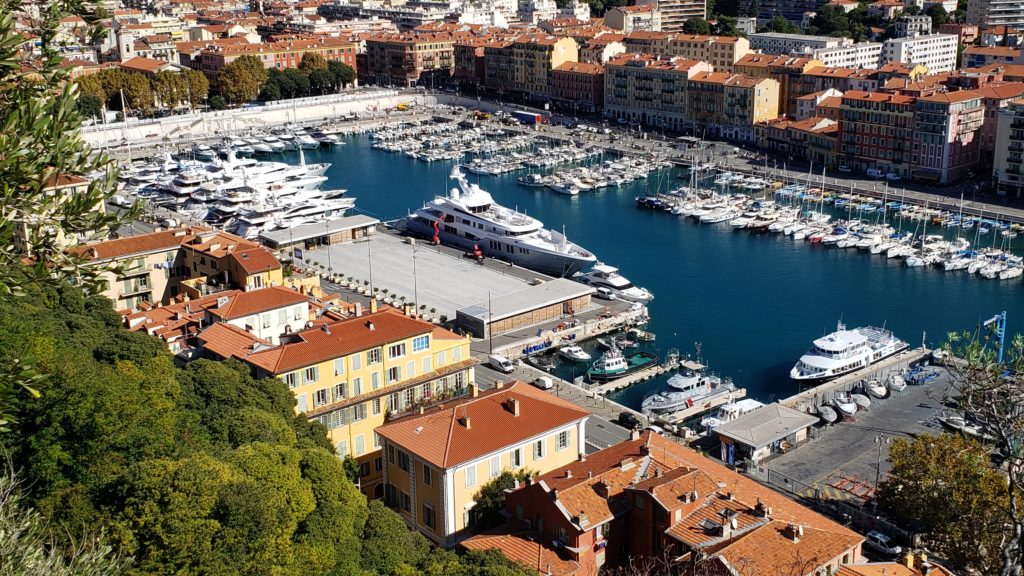 We made it back to the market to pick up a quick lunch, delicious socca, a flatbread made from chickpea flour, and pissaladiere, or caramelized onion tart, from Chez Theresa Socca. Earlier that morning, there were hordes of people around her cart in the market, including a large group from a guided tour. When we went back around 1300 we didn't have to wait. The socca is served in paper cones and the onion tart was wrapped up. We went down the street to a bar and they let us sit outside with a couple beers while we ate our simple lunch. The market was already closing up and the bars and restaurants were setting up their tables in the square. Both the socca and pissaladiere were delicious.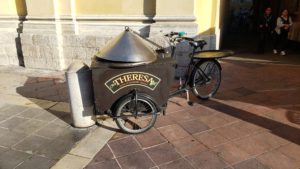 We went back to the port area, we wanted to see the WWI monument just west of castle hill. Built into the rock, this 32 meter high monument was constructed between 1924 and 1928. The monument was built for the 4000 residents of Nice that died in the First World War. It was later updated to to include WWII and French conflicts in Indochina and Algeria.
Kelly and I made our way back to the streets of old town, stopping for gelato later at Fenocchio. It's always a tough decision choosing the flavor(s) since there are so many amazing varieties. Kelly likes the nut flavors and I tried different types of chocolate and caramel and berry flavors while in Italy and France. All were wonderful.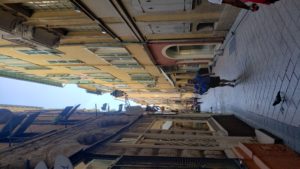 We did a lot of sightseeing in different parts of the city. On the way to the hotel Monday night, coming from Place Garibaldi, we had walked past the Museum of
Modern and Contemporary Art and notice the "Square head" building. So we went to find the museum and the Promenade Des Arts with many other sculptures. We had to walk around the entire block to find a way in, there were multiple stairs and gates but all were closed and locked. We finally did find an opening. We wandered through the square enjoying a variety of sculptures. It was equally hard finding a way out, we saw the way we came in but had a really hard time getting to it as the paths meander and dead end. I guess they really want you to stay? We also walked out to the Acropolis area and around that complex.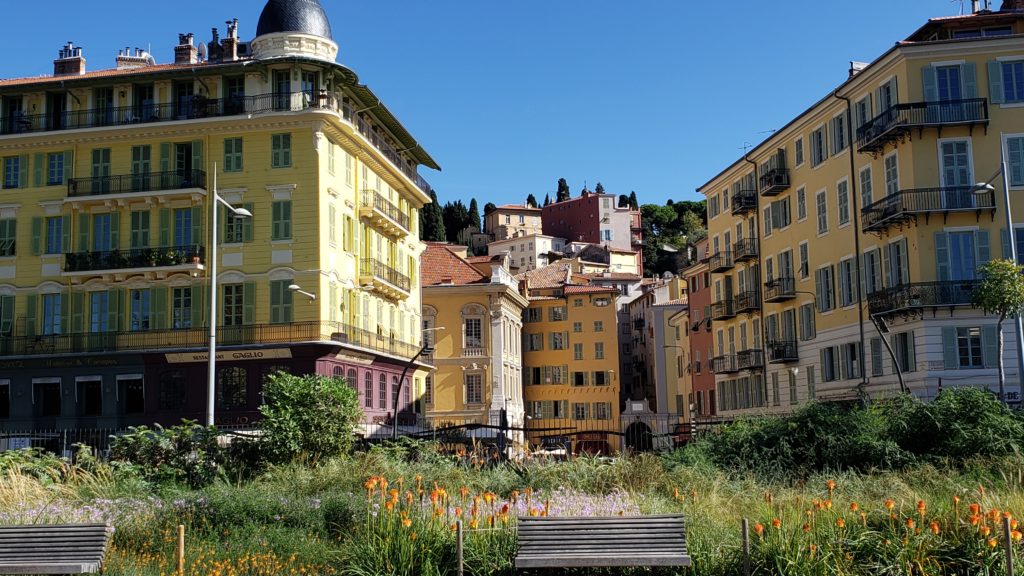 We were going to try to go to La Merenda for dinner. This is a small restaurant, only holding 24 people, run by a former Michelin chef. Cash only and no phone so you have to stop by when they are open to make a reservation. The menu varies daily based on the fresh ingredients he buys, so the waiter pulls the small chalkboard out of the window and brings it to your table to discuss the options.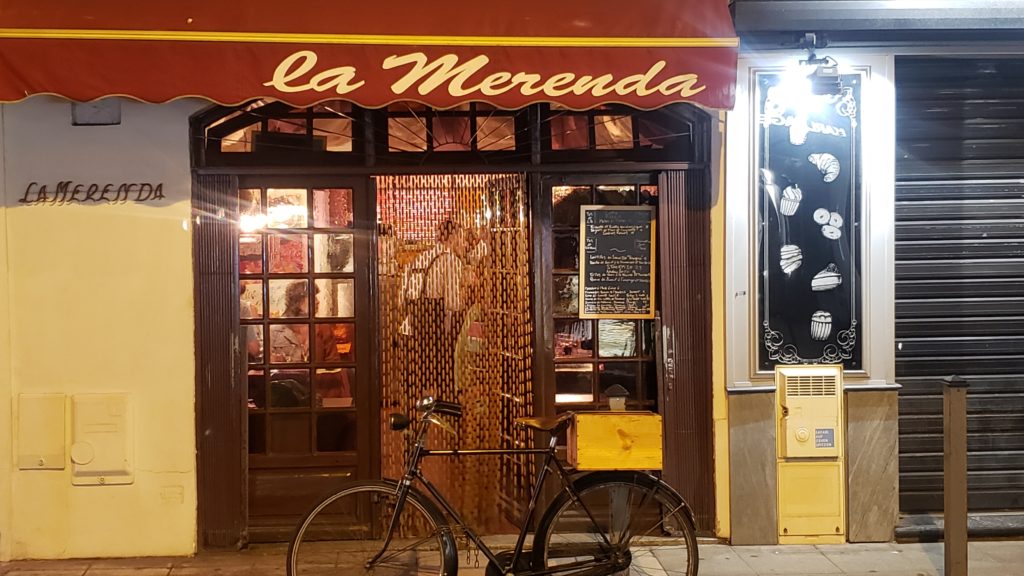 We stopped by shortly after they opened at 1900 and asked about a table. He asked us to wait 5 minutes and he'd let us know. They had a table for 2; it was reserved but they hadn't showed up yet. When they were 15 minutes late, just a few minutes later we were seated. We ordered the beignets de fleurs de courgette, or zucchini flowers, as a starter. They are lightly breaded then fried. Some can be stuffed with meat or cheese but ours were just the flowers. They brought a small bowl of sea salt to sprinkle over them. Delicious! Kelly ordered the ox tail and polenta and I got the stewed beef. We both loved our meals. There was one waiter and two people in the kitchen. Great service and food.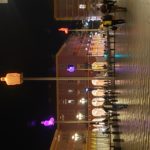 We walked back to our hotel through the Coulee Verte to Jardin Albert 1er then sat in Place Massena with some gelato while enjoying watching the Seven Continents changing colors. I had noticed the statues earlier in the day, several kneeling men on pillars, but they are especially noticeable at night as they change colors. They are 'meant to represent the seven continents coming together in harmony and are called "Conversation in Nice".' The fountain in the Jardin Albert 1er also has a light display that is beautiful at night.
Wednesday we took the train to Monaco where we spent about 6 hours exploring this lovely little country. We got back around 5 and went to the hotel for a bit and rested our feet. Kelly had done some internet research and found some places for happy hour, so we walked down to old town. We went to Ma Nolan's and had a couple beers, Grimbergen Blonde and a 1664 from Kronenbourg. Despite the absolute horrible service, we were hungry, we hadn't had lunch in Monaco and the menu sounded good, so we stayed. We both had the goat cheese tartlet, with roasted vegetables, sun-dried tomatoes and some wonderful wedge potatoes. The food was great, and the drink selection is good, but again, the service is really bad.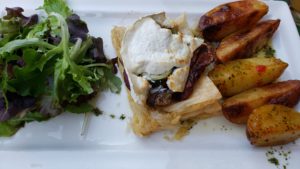 We were seated outside at one of several long tables. Another couple took seats at the other end perhaps 5 minutes after we did. Both of us were brought menus at the same time. About 10 minutes later, the waitress came and took their order, but didn't even look in our direction. I waited another 5 minutes then got up and went inside for a beer. When I came out with my beer the waitress had finally come around to get Kelly's order, so I went back inside to order my food. It took about 15-20 minutes for dinner, and I had to literally wave the waitress over for some vinegar and oil for our salads. I don't recommend this place at all unless you have a lot of time to waste and aren't very hungry.
After dinner, we walked out to Boart Boissons Artisanales. This is a long walk west of the town center along the Promenade des Anglais. We enjoyed the sunset over the water but it was quite a distance. When we read about it online, it was listed as a brewery, but it was a bar with a variety of craft beers on tap. The owner (?) or bartender was very friendly and obliging so we had several samples of various beers. He kept bringing us little bowls of snacks, pretzels, peanuts, that we didn't really need after a big dinner, but it's a nice place for a drink if you're in the area even if not what we expected. The nice long walk did help burn off some of the calories we drank. We also passed the famous Hotel Negresco on the walk.
We had talked about visiting both Monaco and Eze in one day, taking the train to Monaco then a bus back to Èze before returning to Nice. It would have been a very busy day and we decided against it, so we could take our time in each location and not rush to catch a bus or train. The train does stop at Èze Sur Mer, or Èze by the sea, but you would still need to catch a bus to the village or have a very long walk.
After visiting Monaco by train Wednesday, we caught the bus to Èze Thursday morning. Èze is one of the 16 'villages-perchés' scattered throughout the Côte d'Azur. There are many perched villages that sound interesting if you have more time to explore.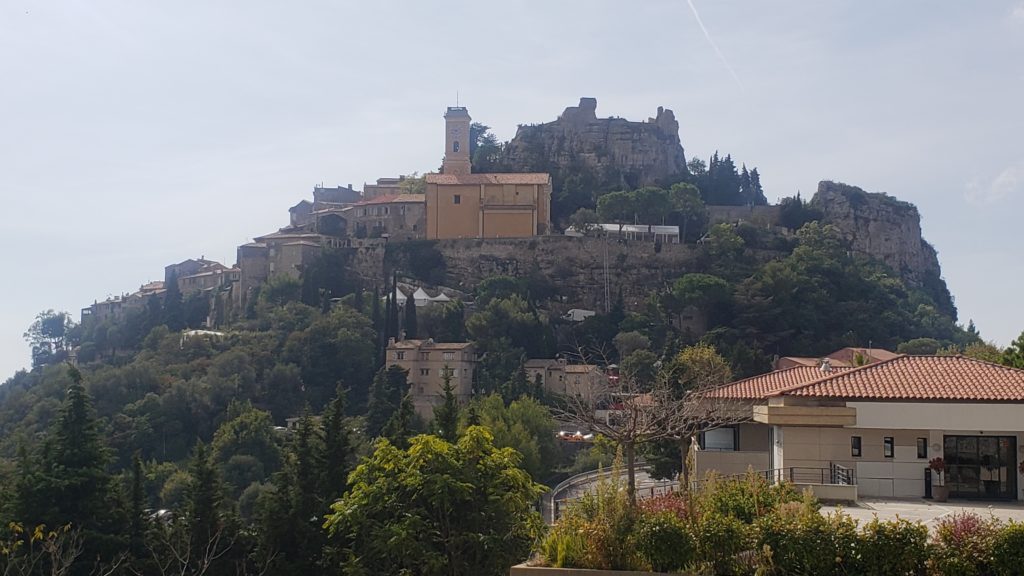 We asked at our hotel desk where to catch the bus to Eze and they nicely put it on the map for us. We used the tram for the first time since it would have been quite a walk and it saved us a lot of time. There are ticket stations for the tram and bus by all the stops, taking credit cards or euros. We didn't always have the correct change but we learned it was also very easy to purchase the tickets from the driver on the tram or bus.
We picked up the tram on Jean Medecin and went to the Vauban stop. It took us a few minutes to find the bus stop after getting off the tram, it's down and around the corner a couple blocks. We had about a 20 minute wait for the bus. We were lucky to get seats. There was quite a crowd but we had gotten there early. The 30 minute drive is beautiful, with a steep road heading north from the coast before crossing the "Devil's Bridge" to Èze. The bus lets you off in the new town residential area. It's an easy walk up the hill to the 14 c. gates of the old medieval city.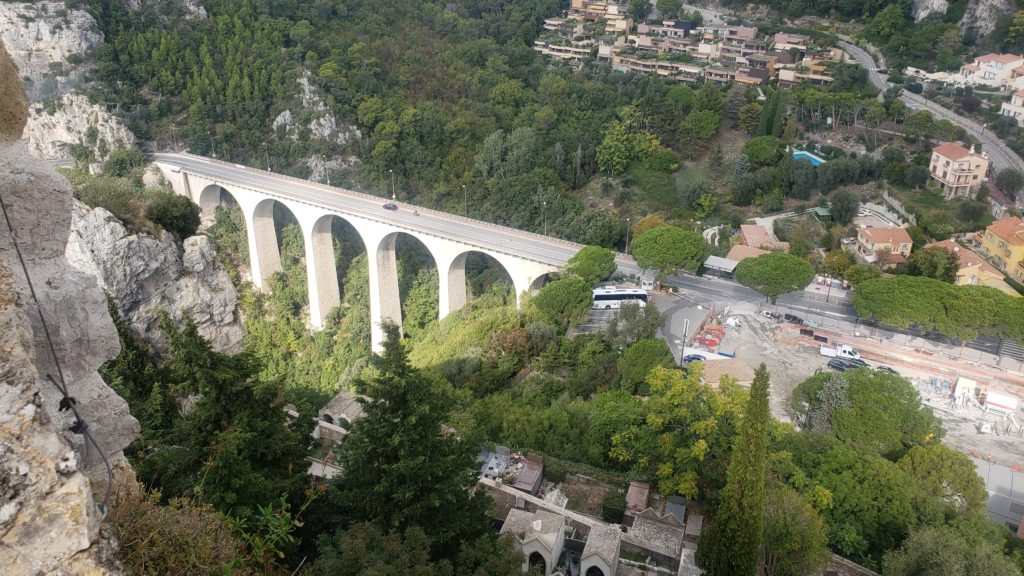 Walking through this town is very enjoyable; around every narrow alley and building are amazing views. Along the coast you can see the Mediterranean all the way to Nice in one direction and Monaco in the other.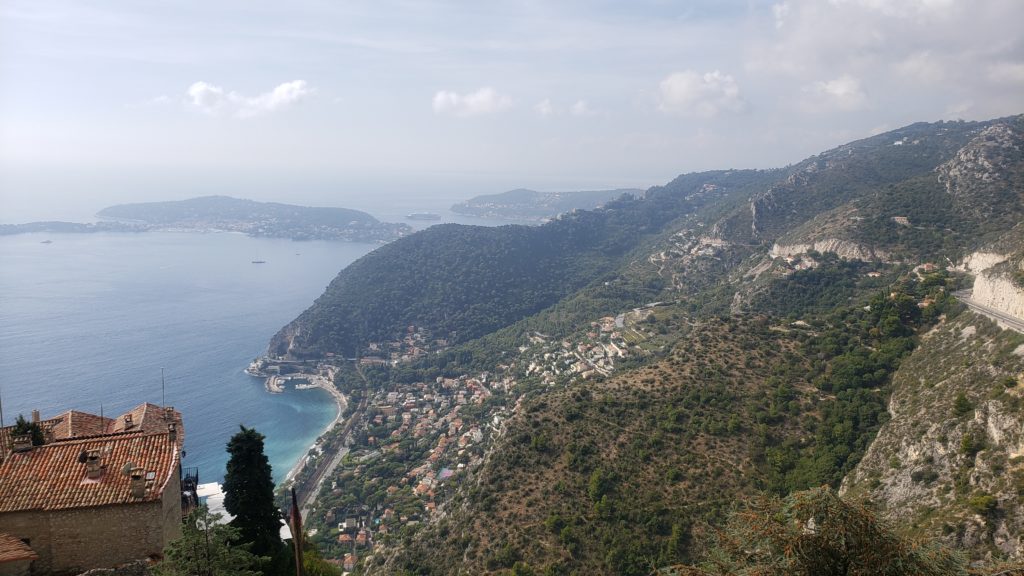 First populated about 2000 BC it was later colonized by the Romans in the 2nd c. and occupied by the Moors in the 8th c. In 1388, Èze was under the authority of the House of Savoy and it was built up as a fortified stronghold. In 1543 French and Turkish troops seized Èze. Louis XIV dismantled its fortifications and the castle during the war of Spanish Succession in 1706. In 1860, it officially became part of France. There is a lot of history in this small village.
We walked through Èze enjoying the buildings and views before going to the Exotic Garden of Eze. The garden costs 6 euros to enter. It is absolutely stunning, with a variety of plants, beautiful landscaping, and some amazing statues by Jean-Phillipe Richard. We spent about an hour or more here, wandering all the paths. It's much bigger than expected, and we followed paths down the back, north side of the garden to several waterfalls and caves.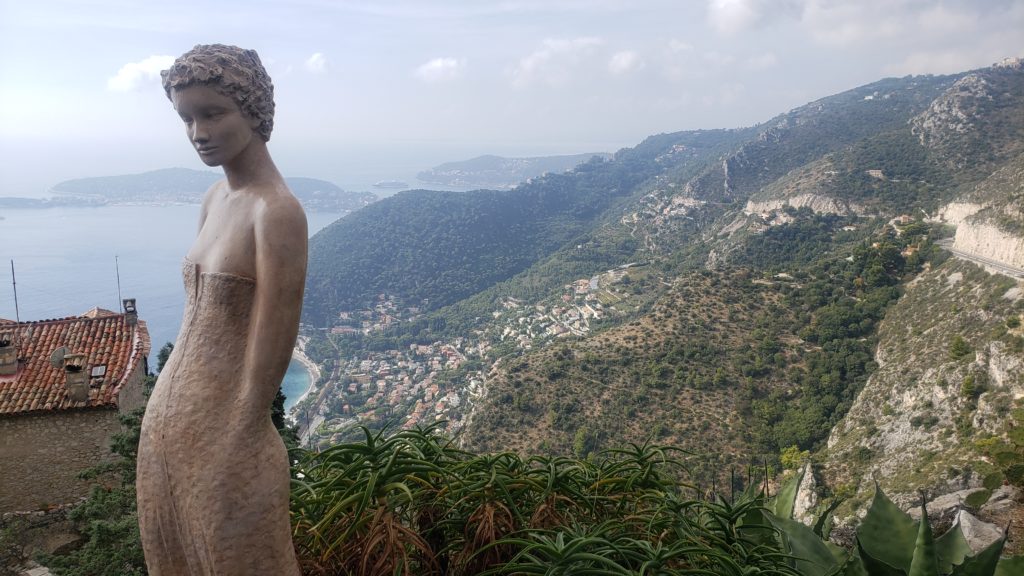 After leaving the garden, Kelly and I stopped by to see the oldest building in town, Chapelle de la Sainte Croix, dating from 1306. The chapel is a small place, while open for viewing from the doors it was blocked off from entry. We also ventured through the two hotels in the village, the Chateau Èze, formerly the 400 year old castle, and the Golden Goat, or Chateau de La Chèvre d'Or. We were going to get a drink at one of these hotel restaurants but, like in Monaco, we looked at the menus and saw prices in the 100s of euros. We kept walking and found a little cafe overlooking the sea where we had some wine and relaxed for about half an hour. We window shopped at all the beautiful art stores as we continued to explore. There were lots of people hanging signs all over the village, pointing to various galleries and shops. Down in the residential area, we noticed larger signs being hung for the upcoming art and food festival on Saturday, October 12th. Sounds like a great day if you're in the area during this time of year.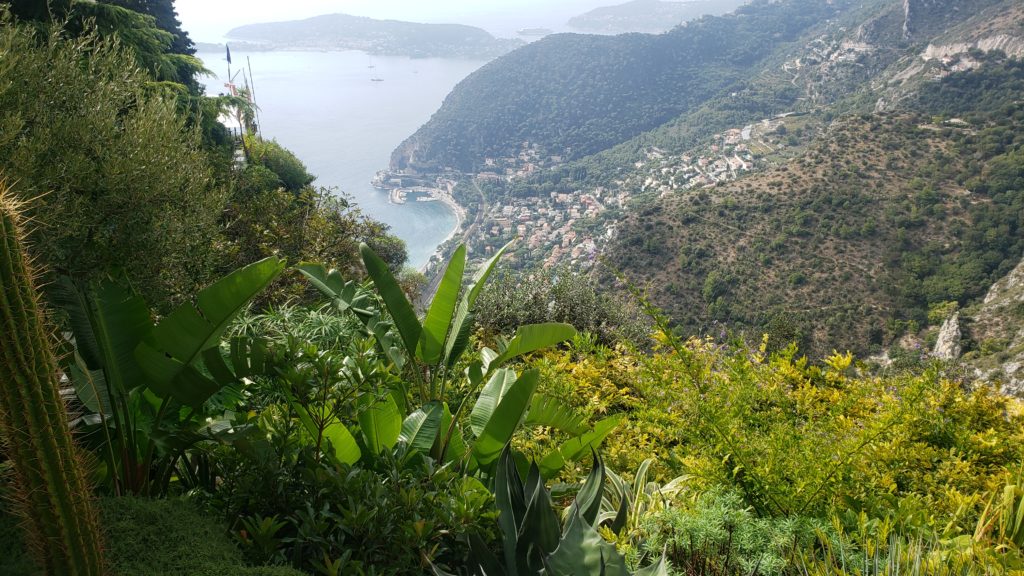 I wanted to have a late lunch at one of the cafes in the new town when we returned to the bus stop but we were concerned about the buses and crowds. We had been told that the #82 bus started in Monaco and was packed from about 1500 as both tourists and employees headed back to Nice and we may have to wait for multiple buses to be able to get on. So we skipped lunch and stood in line for the bus, trying to catch the 1530 but it was late, arriving about 1600. We stood the entire time back to Nice, getting off again at the Vauban stop then catching the tram.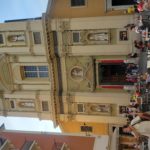 Despite splitting up our visits to Monaco and Eze so we wouldn't be rushed, we still felt rushed because of transportation. We should have just taken more time in both locations.
Back downtown we visited Cathedral Sainte Reparte and Palais Lascaris, which had an interesting old musical instrument exhibit. We made time for some gelato, of course.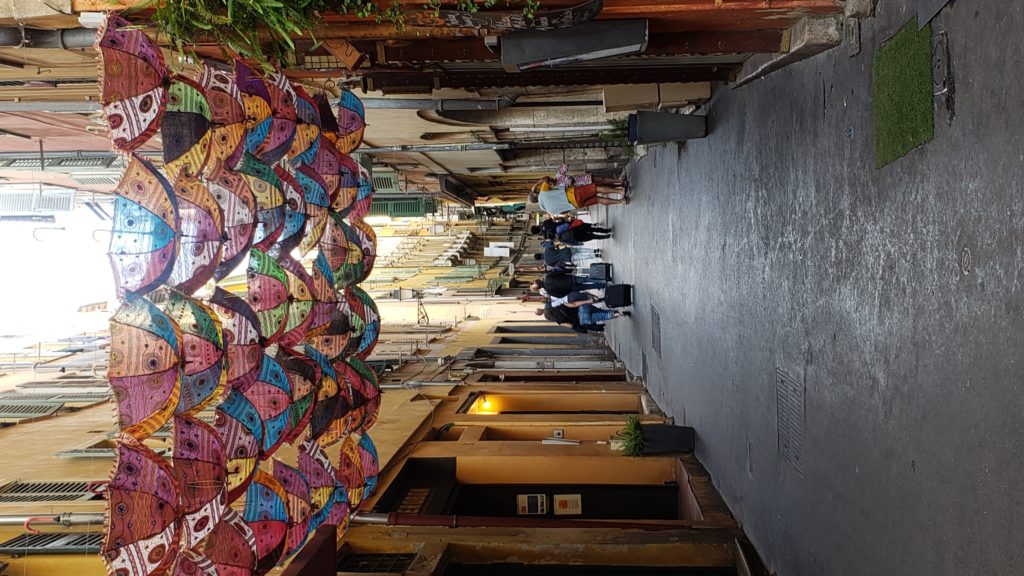 Since we hadn't had lunch, we started looking for a restaurant around 1800, rather early for France. We wanted to try Neuf-50 so walked out to Rue Lascaris, but it was closed. The signs stated it should have been open at that time, but there was no indication of why it was closed. We saw a different area of town and Kelly stopped in a wine shop and picked up a bottle of rose she really enjoyed, so not a complete waste of time.
We headed back towards central Nice. We were coming from the port area, walking towards Place Garibaldi. There were lots of restaurants I thought sounded good from their menus, but Kelly wanted to go back to Guiseppe's which was just a block away. I thought the food was good the other night but would have preferred to try something new. I had some good but overpriced pasta. Kelly enjoyed her pork and lentil dish, though.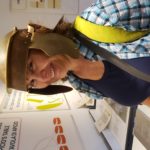 We had a few things we wanted to see Friday in the Cimiez neighborhood. First, we went back to the flower market. I purchased the Provence herb infused olive oil and wine infused rock salt I had wanted Tuesday. 
Then we picked up the #5 bus to the Cimiez stop. We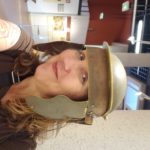 walked through the old amphitheater after getting off the bus, it leads to the Musee Archeologique. We spent time inside the museum looking at the exhibits (most information only in French, unfortunately) then went outside to the Roman ruins of Cemenelum from the 1st c. The museum is very "hands on" and you can touch a number of the exhibits. See the pictures with us in the helmets! The ticket we had purchased the day before, at Palais Lascaris, was a multiple museum pass, and good for 24 hours, so we used it for entry to this museum.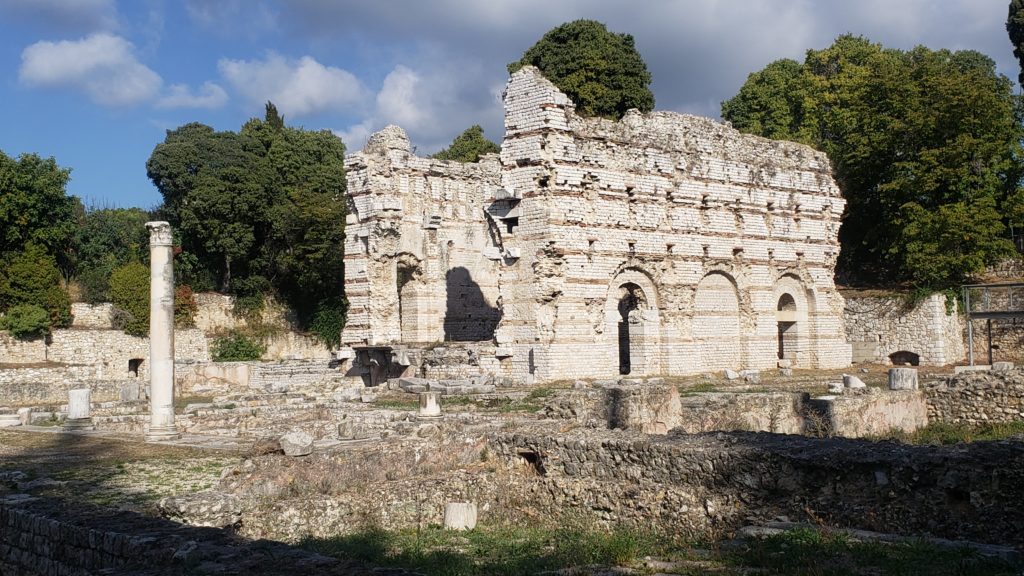 It was also good for entry to Musee Matisse, right next door, where we went next. I really enjoyed seeing all Matisse's art and learning more about his history. When I hear "Matisse" I think Tahiti and that art period, but there is so much more to his work. Many styles and pieces were on display. There is also a great little area in back for art classes for kids.
After visiting both museums we went to see the 16th c. Franciscan Monk Monastery and of course, the beautiful monastery gardens. I loved this garden and we sat one one of the benches for a while enjoying the sunny day and views.We took the bus back to the Parc Imperial/Gambetta stop then walked to Saint Nicholas Cathedral. We could see it on our approach but had to wander around a few blocks to get to the entrance. What a beautiful church! The Russian Orthodox icons are stunning. Definitely worth going out of your way for a visit if you enjoy old churches. By this time, it was late afternoon, so it was beer/wine break time. I had thought Brasserie Bleue was in the area, close to the hospital, and we wandered around for about a half hour trying to follow my google map print out. We didn't find it. So we went back to the hotel to rest up, Kelly had a glass of wine from her bottle in our room and I picked up a beer from downstairs at the hotel.
It felt good to get our shoes off for a bit. I was annoyed I couldn't find the brewery so used WiFi to check maps (yes, I really like visiting new craft breweries!). My printed map was accurate but wasn't detailed enough to show the city streets we needed to follow. After relaxing for a bit, we went back out. I talked Kelly into going to the brewery with me. This time it actually was a brewery but very different than breweries in the US. They only had one beer on tap and it wasn't one of theirs. We both had a draft, from a local brewery in Provence, Colgan's Brewery, Pirate Pale Ale. They did have a large selection of beers to purchase on the wall and a good selection in a cooler. They had a variety of their beers for sale but only had one of them cold, Ephemere, Blonde Ale. I tried one of those, then had a beer from La Crafterie d'Azur, Antibiere Riveria Pale Ale.
We walked by La Merenda on our way to Old Town to check the menu for the evening. I thought the items sounded good but Kelly didn't want to wait until 1900, so we continued to Old Town. She went back to Ma Nolan's but I didn't want to stay there; the food was okay but I wasn't willing to put up with their service. So we decided to split up and meet back at the hotel. I stopped in a little place for a quick sandwich on the way to Place Massena. I took a long way to the hotel, as I wanted to see the area west of Jean Medecin, so I arrived back about the same time as Kelly after her long wait for dinner. We did most of our packing to be ready for a very early flight the next day. We had a 0700 flight out of Nice to London so got up at 0430 and caught a cab to the airport about 0500. It was a LONG day home. Our flight from London to Chicago had been changed by British Airlines several weeks before we left. Instead of flying from London to Chicago, we flew London to Dublin and Dublin to Chicago with a long layover in Dublin. I've not been to Ireland to visit, yet, but certainly hope to return and actually leave the airport. After getting through security, again, despite just getting off a plane, and an additional "TSA pre-check" for flights to the US, we had a good lunch at The Slaney and a couple of Guinness's before getting on the long final flight home. The only good thing about the 7-hour flight? Toy Story 4!
It was a wonderful trip, perfect weather. Glad to be home but already planning our next trip… Easter Island, Atacama, Chile and Bolivia!
 ** All photos property of Lisa, not to be copied or reproduced **