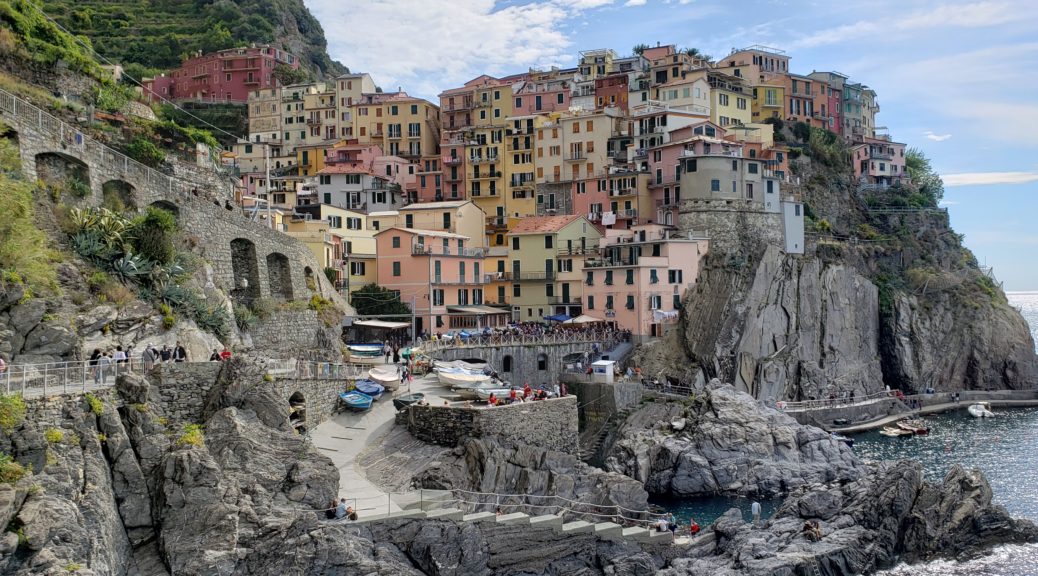 Cinque Terre, Italy
Cinque Terre, Italy
I've been to Italy several times. My daughter and I spent a week in Florence and Venice in the late 90s. We returned in 2001 for a week in Rome. Rome needs more time, there is so much to see in this amazing, ancient city. I definitely hope to visit again. I did returned to Venice a few years ago with my friend, Kelly. We visited at the end of a trip to Croatia and Slovenia in 2014. We stayed in Venice for 3 nights before flying home after visiting Zagreb, Plitvice, Pula, Ljubljana, and Bled. This was our second visit to Croatia; we had visited Split, then taken a cruise from Hvar to Vis to Mljet, and spent 4 days in Dubrovnik, in 2013. Croatia is highly recommended as well. So beautiful.
Florence, Venice, and Rome are amazing but there is so much more to see in Italy besides these cities and I was very happy to be able to return to a different part of this beautiful country. Kelly and I booked this trip through Go-Today, a consolidator who pulls together hotels and airfare, making it easy to plan. I've used them a number of times with my daughter and also with Kelly. We don't like group tours but companies like Go-Today or trip.me, which I used for Myanmar and Morocco, make booking hotels, air, trains, easier.
We used one of their packaged Nice trips for a start, but flew into Milan to visit Cinque Terre for 4 nights. We booked an AirBNB in Riomaggiore on our own. Go-Today booked our airfare, the trains from Milan to La Spezia and from La Spezia to Nice, and a hotel in Nice for us.
We left Wednesday from Chicago, via New York to Milan. After getting through passport control and customs at Milan Malpensa airport Thursday morning, we went to the train station in the airport. We purchased our tickets at the machine at the top of the stairs then went down to the tracks. Kelly remembered we didn't validate.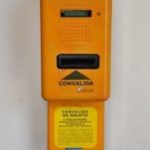 We looked around for one of the yellow machines we had read about but couldn't find it, so I went back upstairs while she watched our bags. It was right at the top of the stairs; I validated both our tickets and made it back downstairs just in time to catch the next train. Right after getting on the train at the airport, the police came through checking tickets and fined a couple sitting next to us. They told us later it was 35 euro.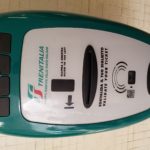 Later that day, I saw two couples getting a 52 euro fine (each!) on the train from La Spezia to Riomaggiore. They tried arguing with the police, he just kept telling them they owed 208 euro and to give him a credit card. So… remember to validate and save your money for wine! Look for a machine similar to one of these, some are right by the ticket machine but sometimes you have to look around.
It's about a 4 hour trip to La Spezia. We walked around town for a while. After visiting La Spezia Brewing Company for a beer, we picked up some sandwiches from a little shop, then purchased our Cinque Terre card at the tourist information point in the La Spezia station.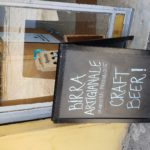 We bought the 3-day card for the paths and trains. We also purchased round trip tickets to Riomaggiore for Thursday and Monday, as we specified our card was valid from Friday to Sunday. It's a very short train ride from La Spezia to Riomaggiore, and we made sure to validate, of course.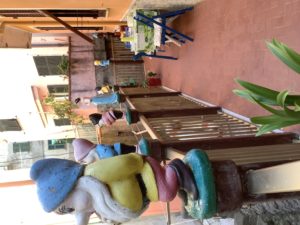 We had taken an earlier train from Milan Centrale to La Spezia than we originally booked, so arrived about 3 hours earlier than planned with our AirBNB host. She was unable to meet us then so we spent a while trying to find our apartment. We definitely took the long way around, we found a better, shorter route when exploring the city later. We had a lovely little apartment, called Casa dei Sette Nani, or House of the Seven Dwarfs, with one bedroom and pullout/fold-down couch in the living room. It had a nice kitchen (and they left us a bottle of wine we shared a few nights later) and a private patio that I spent several mornings on.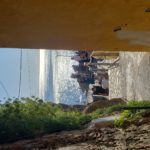 After dropping off our bags and cleaning up, we went back out and walked down to the waterfront. We were just a few steps away from the lagoon and ferry stop. We enjoyed the beautiful views everywhere as we wandered through the city.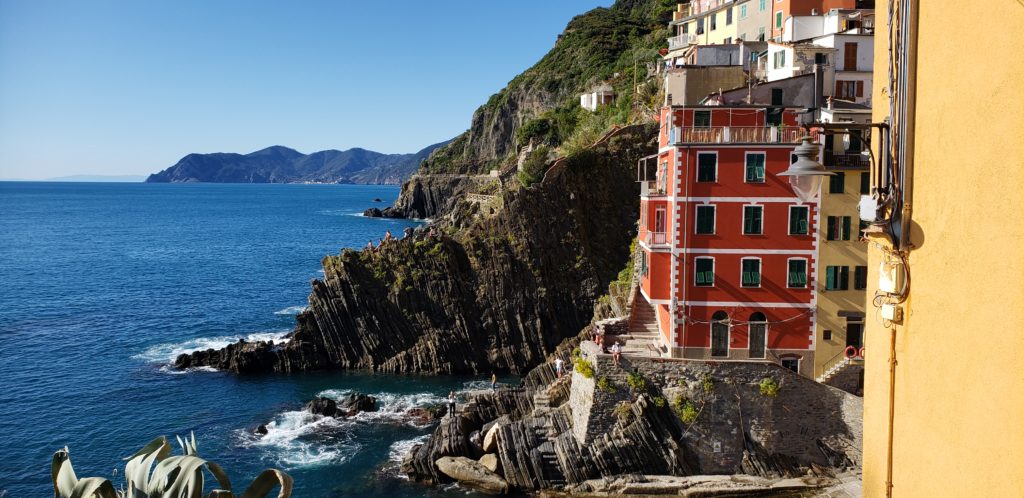 We found the wonderful A Pie de Ma, just north of the train station, and spent the early evening here. This is a self-service, cash only, restaurant and bar. It was lovely to relax on their patio after a long, long day of travel enjoying their fantastic views of the sea and coast. We started with some bruschetta, a glass of wine for Kelly and a Forst beer for me. An hour later, after deciding we had no desire to move anywhere else for dinner, we ordered their pesto tasting plate with crudités, some delicious Parma ham and mozzarella di bufala, and focaccia bread with more wine and beer, of course. After a few hours, we were ready for bed! We found our way back to our apartment easily, now that we were familiar with the the town.
Friday, I woke up around 9, after a much needed night sleep. I spent some time reading on the lovely little patio, with its Snow White and the Seven Dwarfs statues. Kelly stayed in bed until almost 11, I hesitated to wake her up but I wanted to get out and explore! She thanked me, so I guess we're okay. We had a very late start on our first full day in Cinque Terre. We took the train to Manarola. Since it was almost noon, we had skipped breakfast, but we stopped for lunch at Ristorante Il Porticciolo on Via Renato Birolli, which is the main thoroughfare coming from the train station. I had some wonderful gnocchi with pesto and Kelly had rigatoni with swordfish and olives, and, of course, some wonderful crusty bread to soak up the sauces.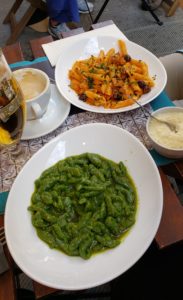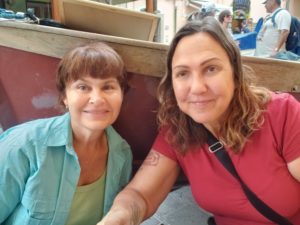 After lunch we went down to the waterfront. Many of the park paths are closed due to landslides, so much of the path from Riomaggiore to Manarola is closed until 2021. There are heavy gates blocking the start of the path in Riomaggiore but there is supposed to be 100 meters open on the Via dell'Amore, or Lover's Lane, in Manarola towards Riomaggiore. We wandered down to what we later realized was the path to the ferry but never did find the Via dell'Amore.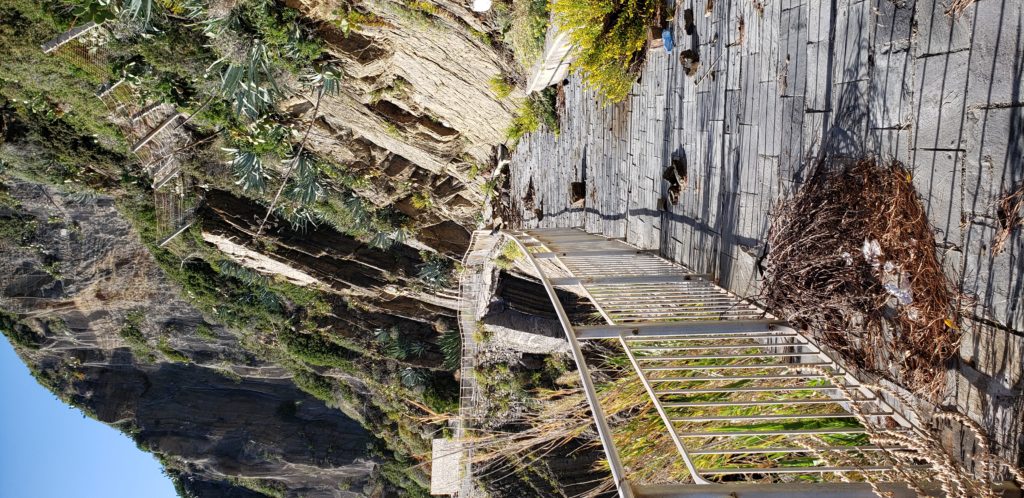 The seaside path from Manarola to Corniglia is also closed, so we headed up the 502 that took us to Volastra. This is rated "low" difficulty online, but their ratings are based on "well indicated paths" with signs. It may have good directional signs but it is a difficult path! Steep and lots of stairs but beautiful views. We both took many, many pictures of Manarola as we climbed. We took a beer break in Volastra, and I had some strawberry gelato. We met a nice couple from Canada also taking a break from their hike, Kate and Pax. They are from Vancouver and were enjoying their first trip to Europe. Kate has family in Switzerland and they were going to visit some cousins after Italy.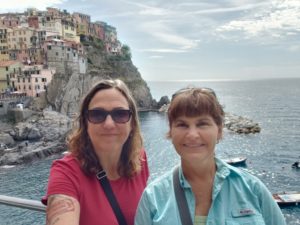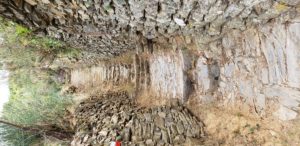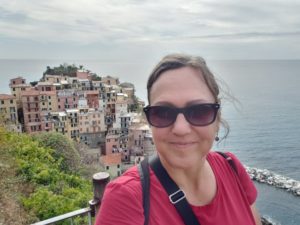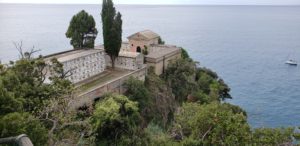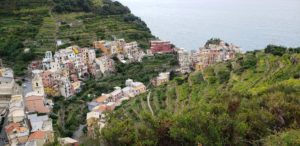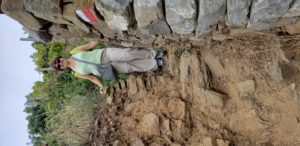 We continued on the 586 from Volastra down to Corniglia. There are great views of the town as you come down the trail. We visited Chiesa di San Pietro when first arriving in town.

In Corniglia, Kelly had some gelato since she didn't have any earlier. While she was enjoying her double scoop of pistachio and hazelnut, I found a place that sold the La Bireta Della Cinque Terre beers. This is a micro brewery in Volastra that produces beers named for each of the 5 lands. I started with a Corniglia since I was there; it's a Hefeweizen. We sat there enjoying the incredible sunset over the water and split the last four beers between us so we could both try all 5. Manarola and Riomaggiore are both blonde ales, Monterosso a brown ale and Vernazza is an IPA. The Corniglia is only average, but the others were pretty good.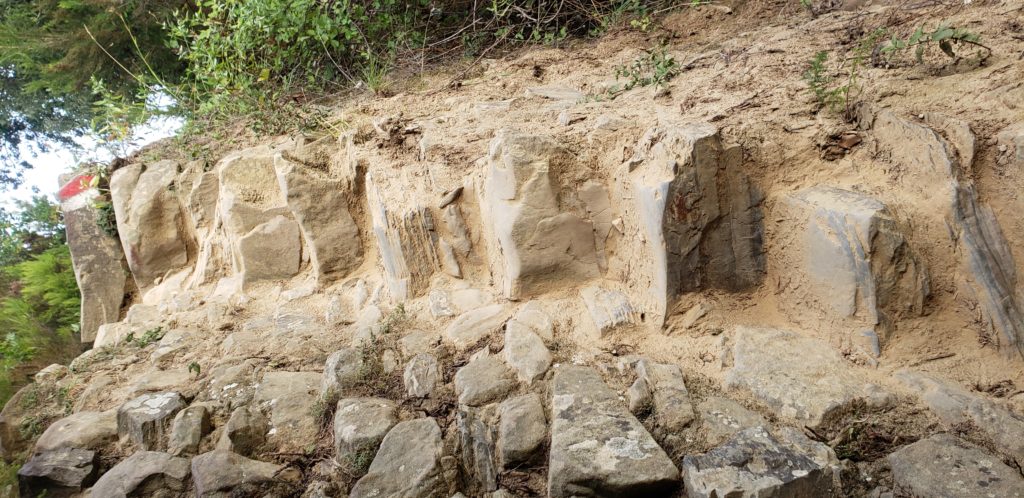 We were waiting for Cantina da Mananan to open at 7, but we didn't have reservations and couldn't get in. We found another little place on the waterfront, Le Gabbie/Bar Nunzio. Kelly had the trofie pesto and I had some seafood risotto, both were very good. After dinner, we had a long walk to the Corniglia train station and then a long wait for our train to Riomaggiore. Still a bit jet lagged, we took showers, washed out some of our hiking clothes and hung them on the clothesline off the patio, then headed to bed early.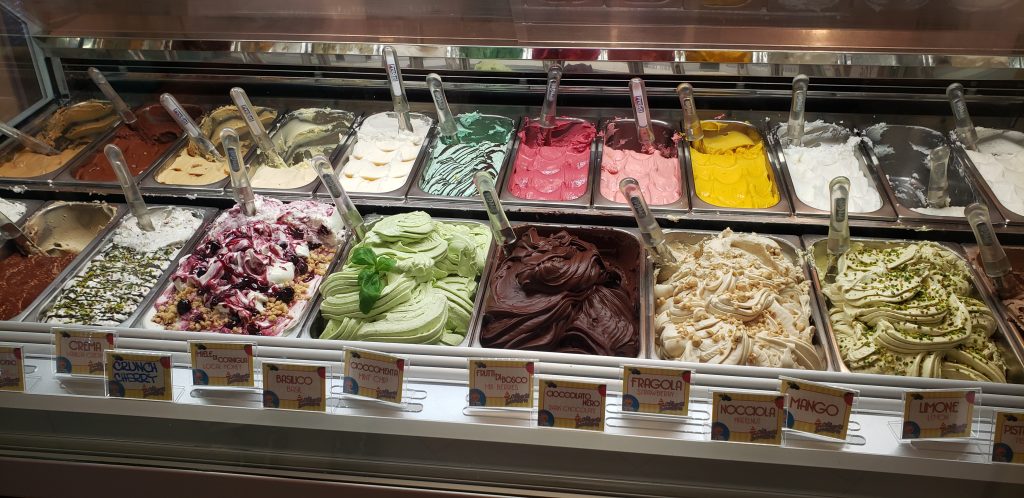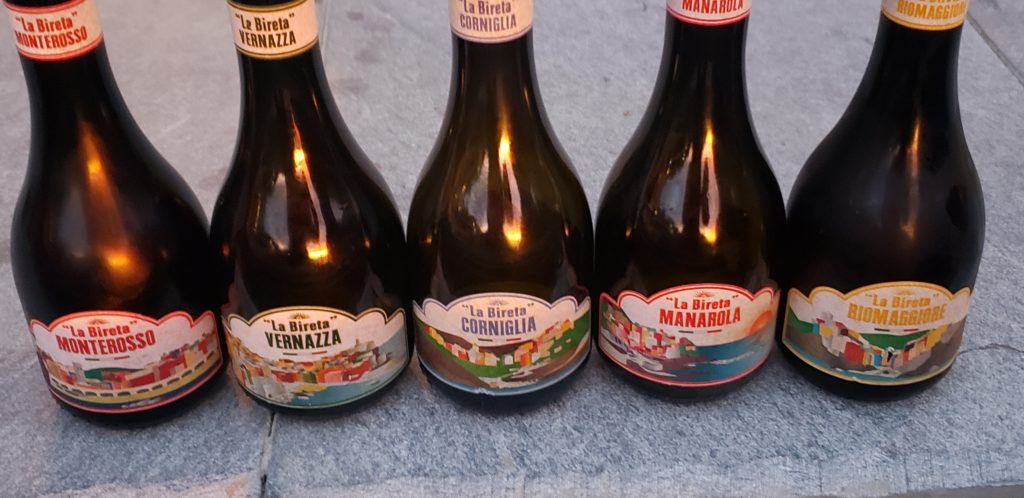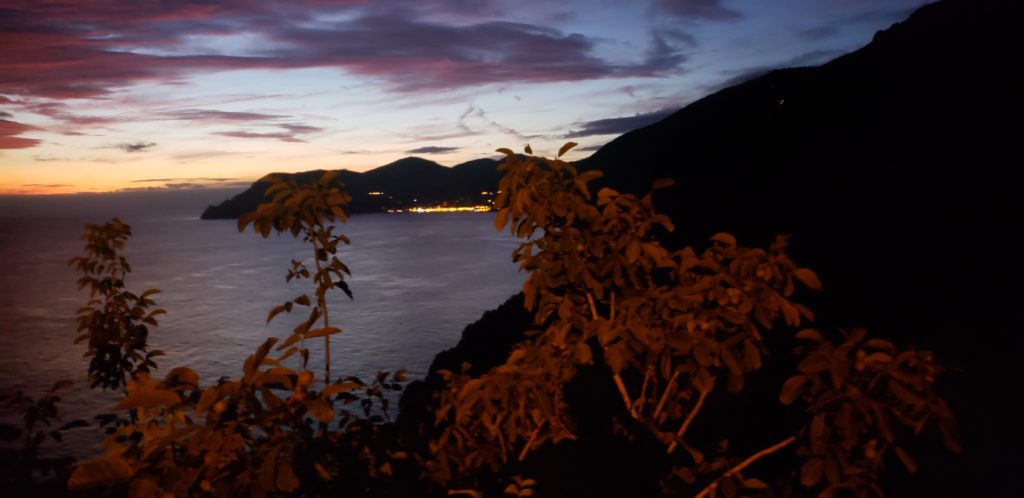 Saturday morning, after another good night's sleep, we took the train to Vernazza. What a beautiful city! We had picked up some spinach and ricotta tortes for breakfast on the way to the train so were ready to hike.
First, we visited the Church of Saint Margherita of Antiochia, an incredible location on the waterfront. I did not see any Holy Hand Grenades but it didn't stop me from doing a very bad impression of Michael Palin in Monty Python and the Holy Grail: "First shalt thou take out the Holy Pin. Then, shalt thou count to three. No more. No less. Three shalt be the number thou shalt count, and the number of the counting shall be three. Four shalt thou not count, nor either count thou two, excepting that thou then proceed to three. Five is right out. Once the number three, being the third number, be reached, then, lobbest thou thy Holy Hand Grenade of Antioch towards thy foe, who, being naughty in My sight, shall snuff it."
Then we climbed up to Castle Doria, for beautiful views of the city and lagoon. We made sure our water bottles were full and started on the path to Monterosso. There are myriad fountains all over Italy for potable water for free, a lot of it is nice and cold as well. Take a refillable bottle and save your money and avoid single-use plastic.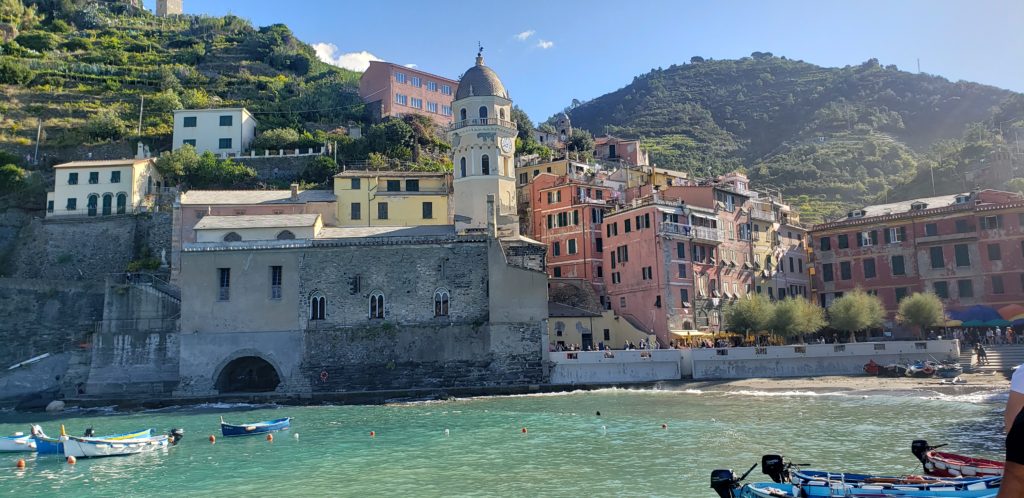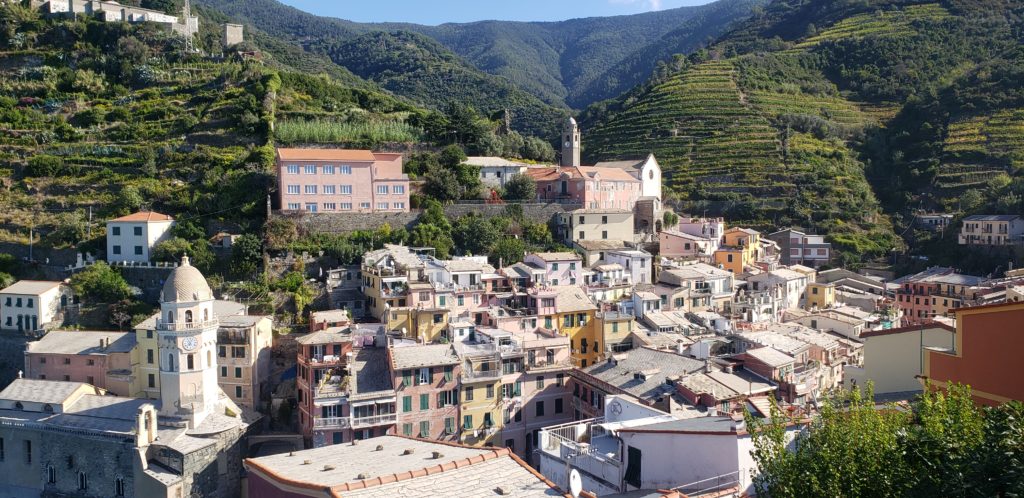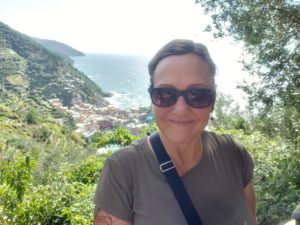 This is another tough path, and it was a bit warmer than Friday. We did lots and lots of climbing, stairs up and down, and single lanes where you have to wait to pass. Even early October, it was still quite crowded, but I am sure it's much better than the height of tourist season. We made it over the hills and had some beautiful views of Monterosso as we headed down.Of course, it wasn't all down even then. I thought most of our climbing done for the day, and then we had to head back up, down, back up, down, and back up before finally coming into Monterosso by the old town beach. My old knees were happy to be on mostly flat ground for a bit. We wandered through the old town, the narrow streets and multi-colored houses are very similar to the other towns but still lovely to explore. We stopped for some sandwiches and drinks at Wonderland Bakery, then picked up some limoncello-type drinks we drank on the beach. Monterosso is the only one of the 5 towns with a sand beach.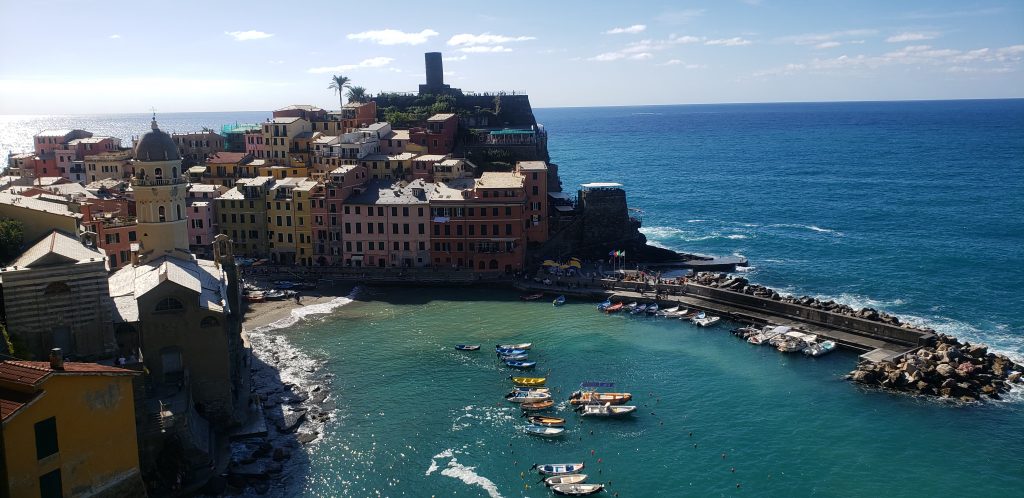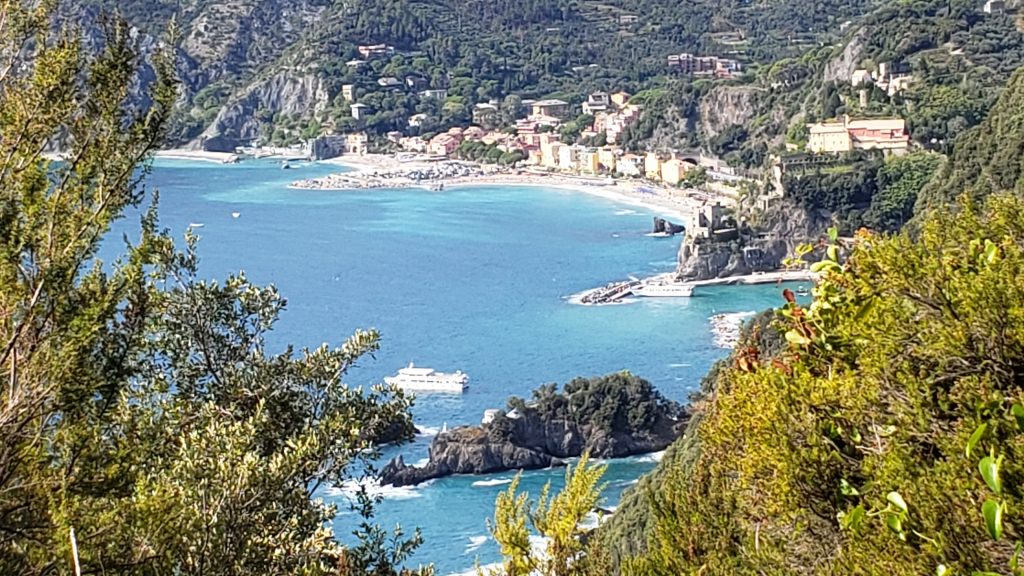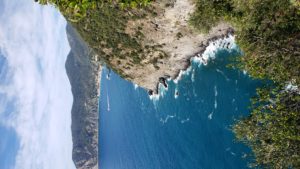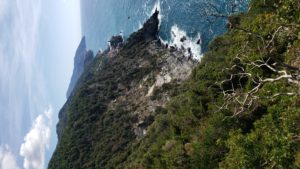 We visited the Church of San Giovanni Battista and found the interesting little church, Oratorio of the Brotherhood of the Neri Mortis et Orationis. We kept trying to find the "Giant's Statue", or Il Gigante, but never did see it. We thought the statue of San Benedetto d' Assisi in Old town was the giant statue when we first came into town but realized our mistake as we left old town for the train station. Checking pictures when I got home, we walked by it on the way to the train station, since it's by the beach in new town, but we just didn't notice it.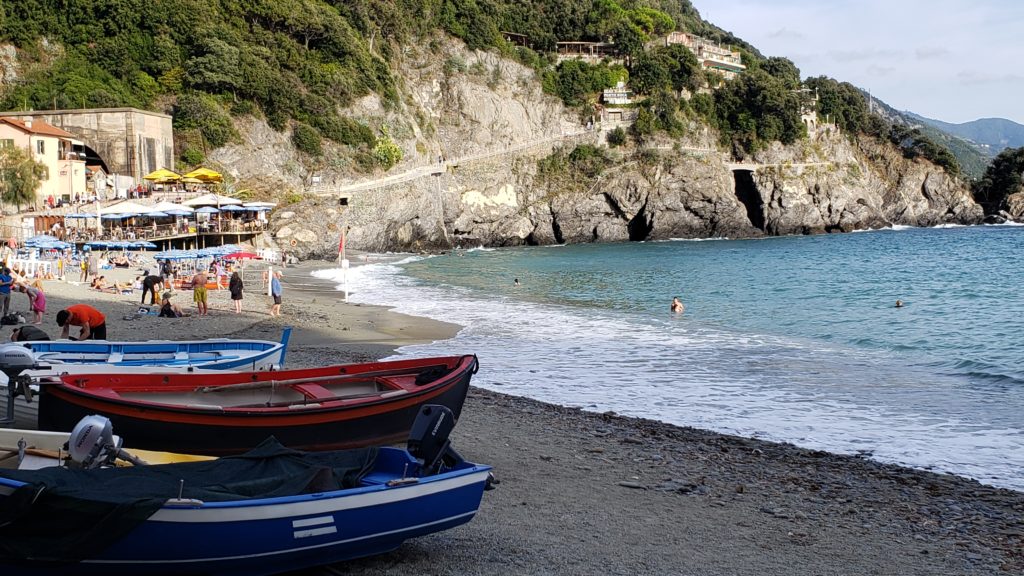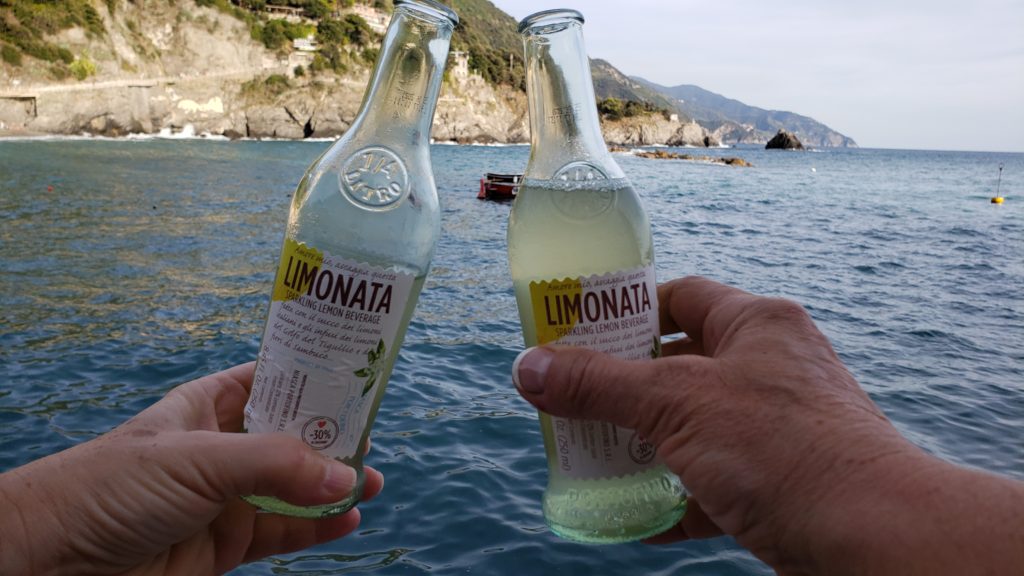 We walked through the tunnel then along the Beach of Fegina to catch the train to Riomaggiore. We went back to A Pie de Ma for dinner. Besides being steps from the train station, we loved the food and view. It was much more crowded than it had been Thursday but we found a table and ordered drinks to relax before ordering any food. We saw Kate and Pax come in later. We joined them after finishing our food. I tried some sciacchetra (SHOCK-e-tra), dessert wine that Cinque Terre is known for, and a fantastic piece of berry torte. I don't know a lot about wine. I don't really drink it much but this wine was delicious, complex and not overly sweet. It was a lovely evening getting to know some new friends and enjoying more great food; we were some of the last to leave the restaurant that night.
We had stopped in the Cinque Terre tourist information point at the train station when we had first arrived in Vernazza that morning to ask about the tours included with the card. The times and locations vary by day. We had missed Saturday's guided tour, which had been in Manarola. I am sorry we didn't check the tours when we first purchased our park card as the one in Manarola was "Strolling Around the Vineyards of Fondazione Manarola" and sounded great. Sunday was going to be a walk in Riomaggiore, a trekking and bus tour. We decided to do this walk before going to Corniglia for the day.
We met the guide at the Cinque Terre Point at 9. There are several in Riomaggiore; we went to the one by the train station and had to rush to the one at Lavaccio, up the hill from our apartment, on the road to La Spezia. We took the bus up to Telegrafo with our guide and 4 other people. It's a beautiful drive, winding roads along the coast, and very steep. In Telegrafo, we got off the bus and headed down to Riomaggiore. Neither Kelly or I heard the guide mention her name but she was very interesting, and we heard lots of great information on the walk, about farming in the area, the special climate, grapes and wines, and family names specific to each town. It was a fairly easy walk, mostly downhill, but steep and rocky. We paused a lot to let others pass as they headed up from Riomaggiore, but our guide would take the opportunity to share more information on Cinque Terre. It was only supposed to be a 2 hour tour but because of all the stops and questions from others in the group, we made it back to town around 12:30. I had gone on ahead, however, after stopping with the group at the Santuario della Madonna di Montenero for its amazing views of the coast.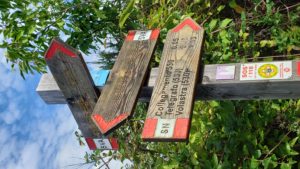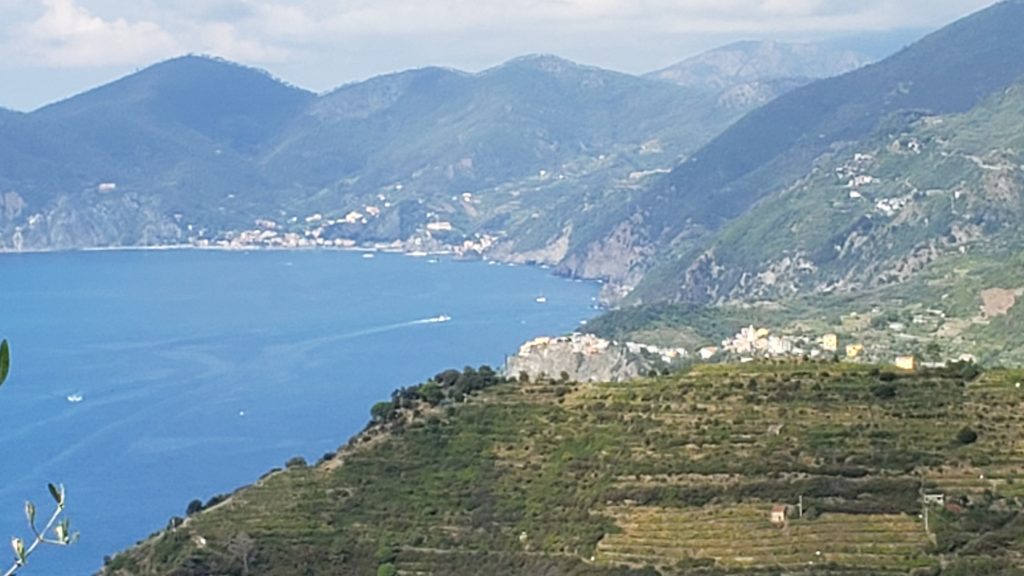 I went to visit the Riomaggiore Castle while waiting for Kelly to return. It was closed for a private event, so I couldn't enter but did walk around the 13th c. castle walls and enjoyed the views of Riomaggiore from the hill.
After meeting Kelly back at the tourist point, we headed down to the waterfront. We had planned on hiking from Corniglia to Vernazza, then taking the train to Monterosso and getting the ferry back to Riomaggiore.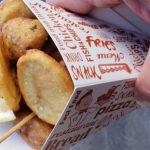 But because it was so much later than we planned after the hike from Telegrafo, we didn't think we could finish the second hike and still make the last ferry around 5. So we decided to do this in reverse and take the ferry to Monterosso. On the way to the ferry we stopped for some fish and chips at Il Pescato Cucinato for lunch, and also picked up some take-away pasta for the next day. Love all the wonderful pasta choices!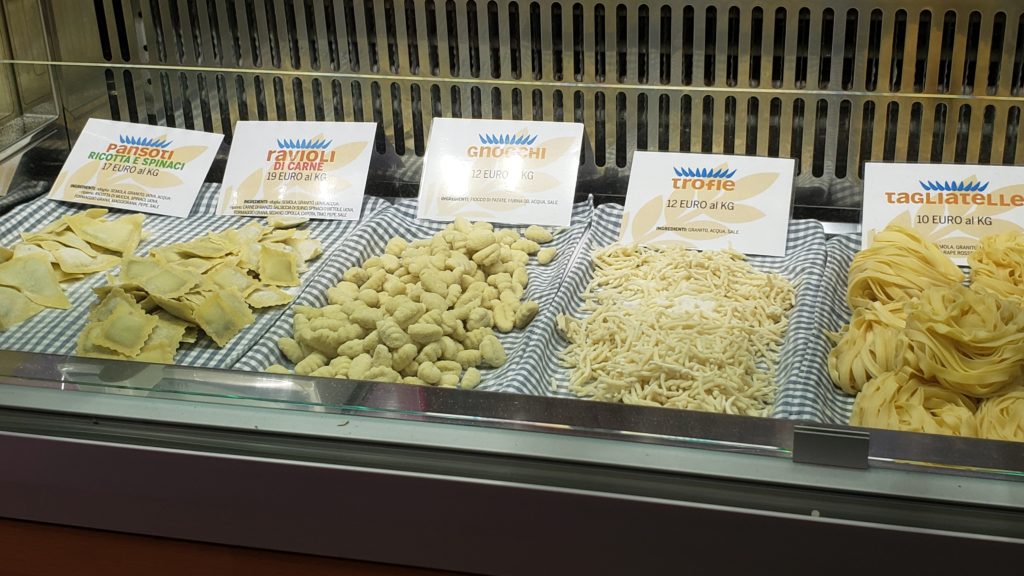 We got lucky on timing, purchasing our tickets from Riomaggiore to Monterosso and immediately getting on the ferry.
We had a perfect day for being on the sea. Actually, every day since we had arrived was sunny, clear and mid-70s. We couldn't ask for better weather. The ferry runs between Riomaggiore and Monterosso with stops at Manarola and Vernazza. There is no access at Corniglia. We stayed on the ferry, on the right side, for the views of the towns and to take many, many pictures.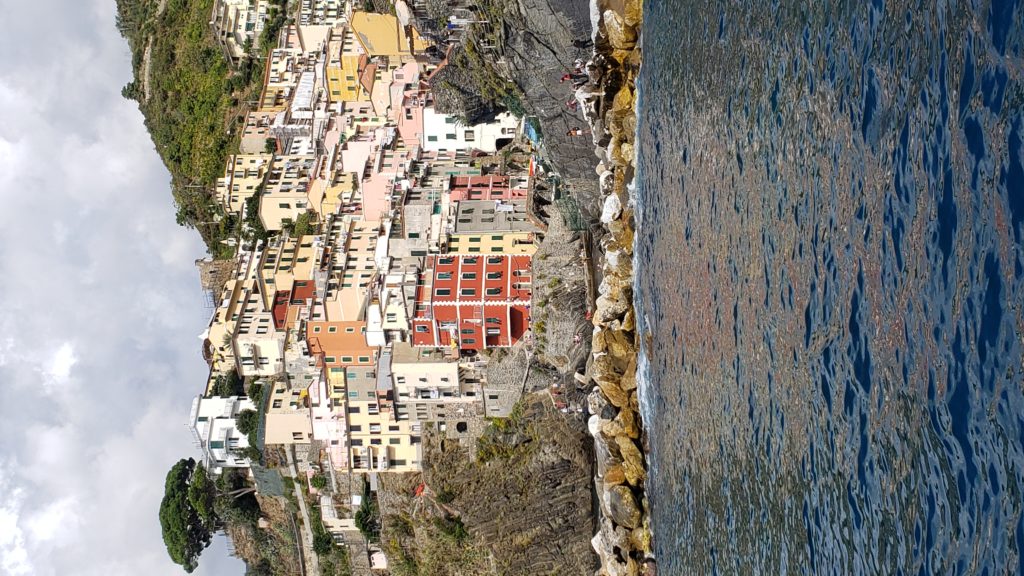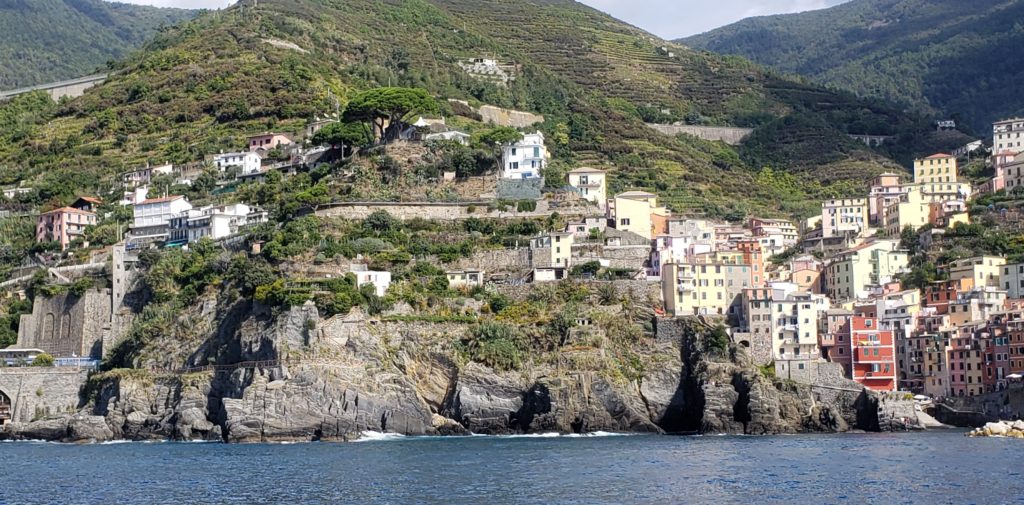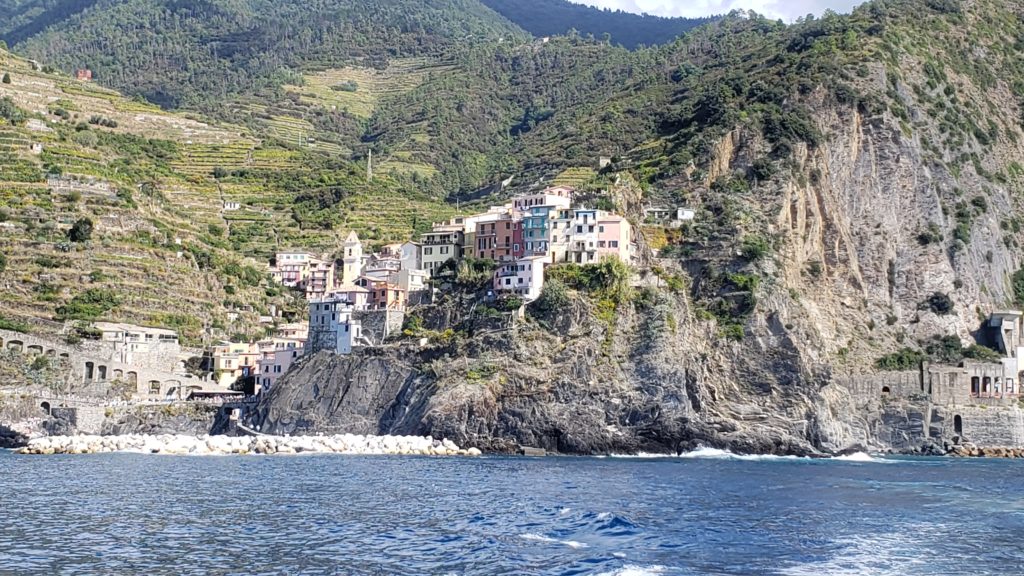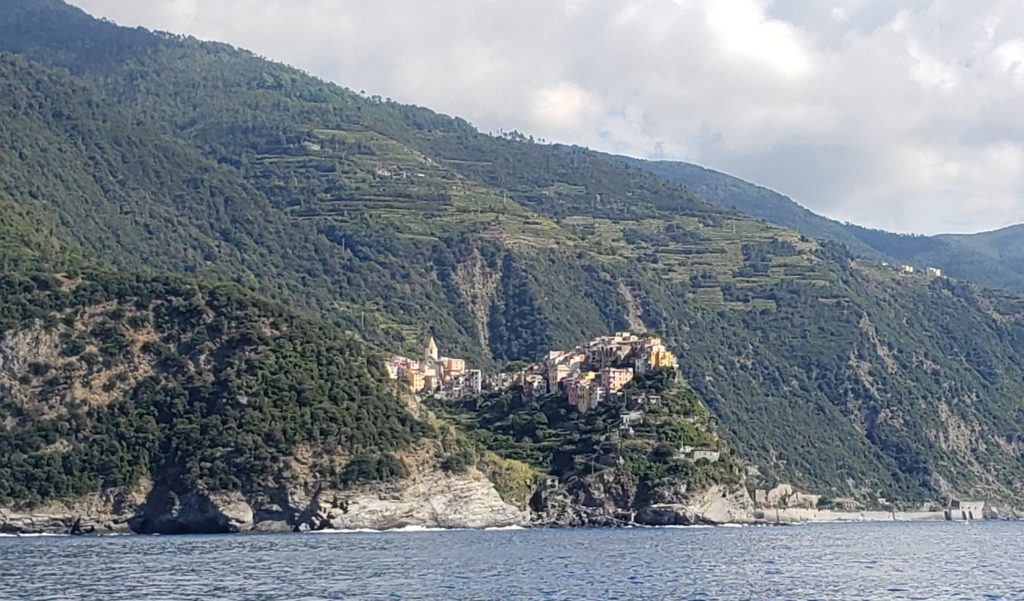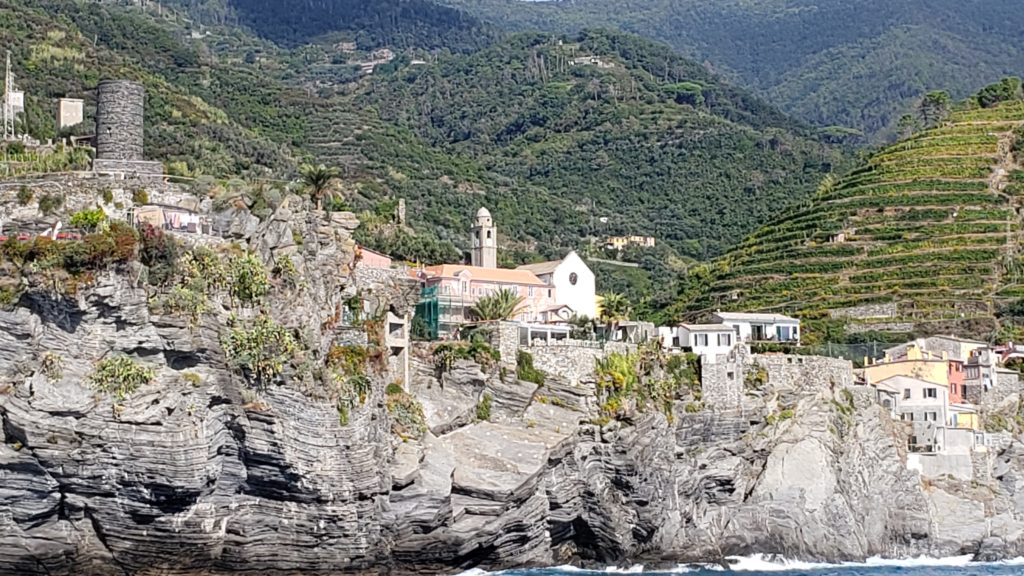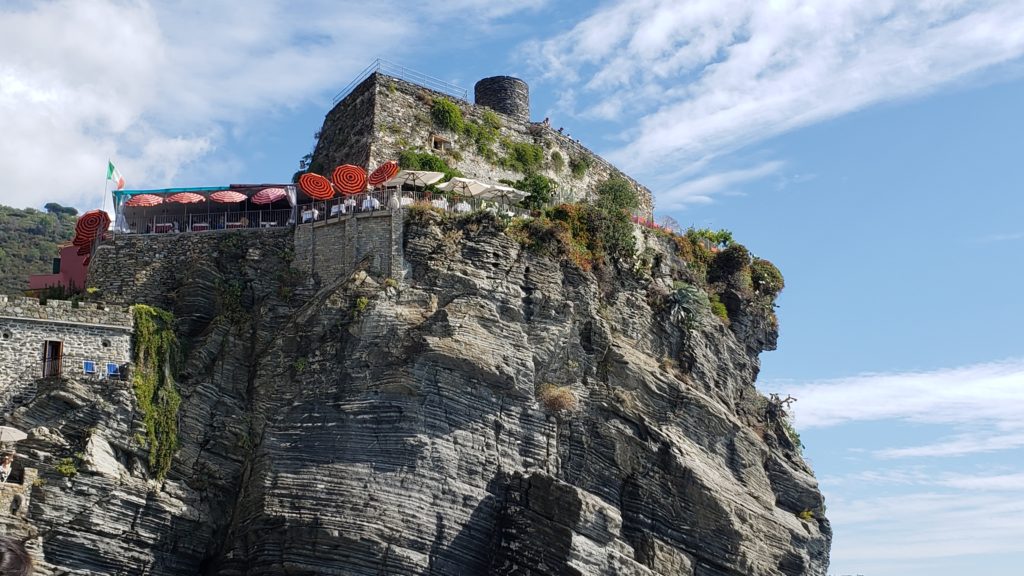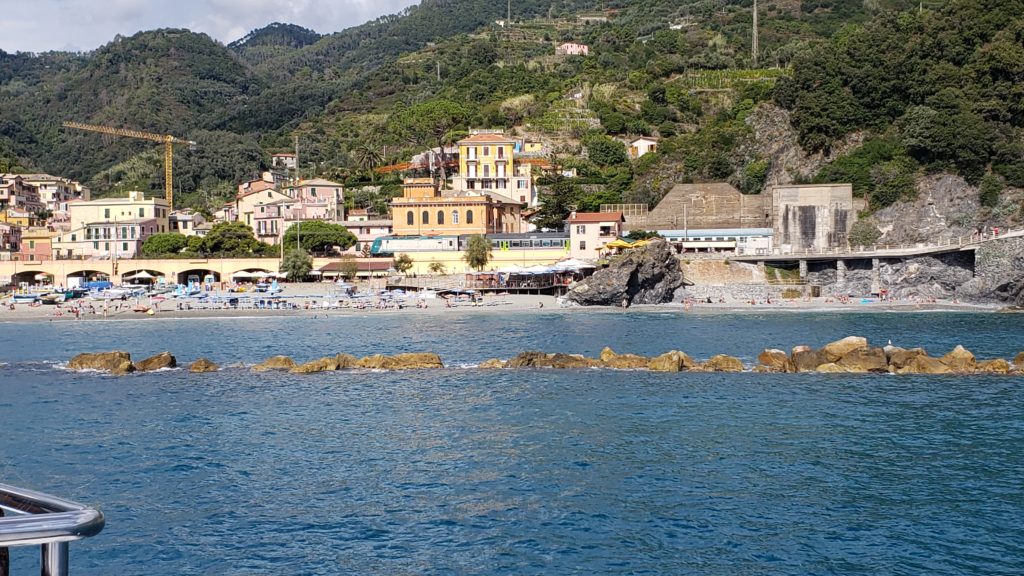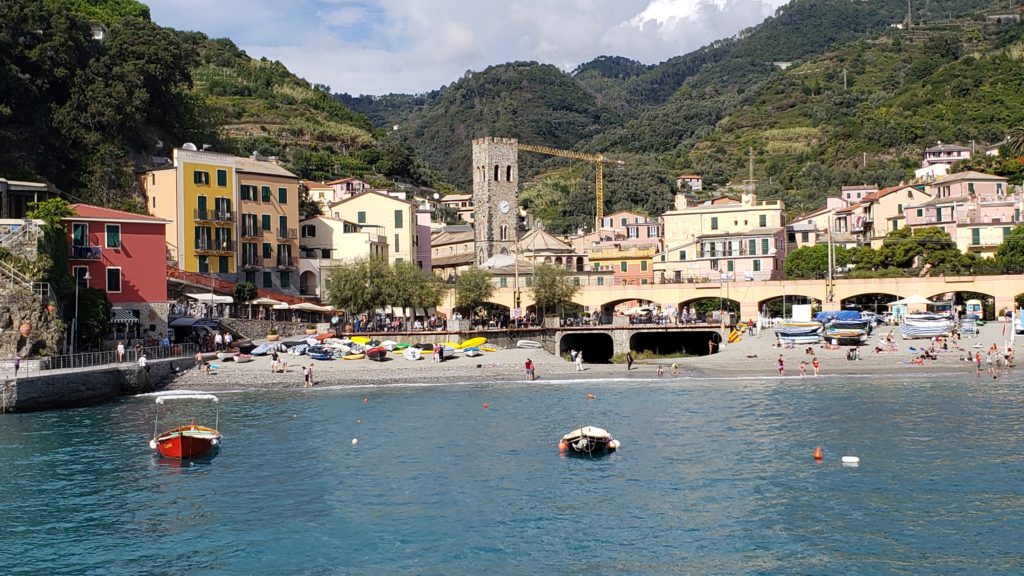 After arriving at Monterosso on the ferry, we headed towards new town and the train station. We stopped for a drink at a beach front cafe before catching the train back to Corniglia. We had caught the train in Corniglia a few nights prior and I remembered that was a long walk down, but it is an even longer walk UP. They do have a shuttle, and the cost is included in the park card, but the line was very long for a small shuttle bus. It would have been many round trips before we made it on, so we climbed the 381 steps (according to a group of young girls with a FitBit) to town. Ugh. We filled up our bottles as we walked through Corniglia to the start of the path to Vernazza.
The day before, while on the train to Vernazza, Kelly and I had talked about our park card; we thought it was required to use the trains and paths but hadn't been asked for it once. We wondered if it was really necessary as it was a 41 euro card. Literally, minutes later, when leaving the train at the Vernazza station, several police officers were stationed at the exit asking for tickets. Great, glad we had them. We also had to show them at the start of the path in both Vernazza and Corniglia. Get your card! Cheaper, I am sure, than a fine.
Like the other trails, the path from Corniglia to Vernazza offers gorgeous views of the coast. We headed out of town in the northeast corner, heading up on narrow stairs for views of Corniglia before continuing up the cliffs. Despite Corniglia already being about 250 feet above sea level, the only town that is not on the coast, the trail between these two towns reaches the highest point of the coastal trail, rising to about 700 feet, before descending to Vernazza. It still seemed somewhat easier to me than the Vernazza to Monterosso hike, perhaps just because it was a bit cooler or I was better rested.
Arriving at Vernazza, we did a little shopping, purchasing some olive oil/lemon scented soaps that we had seen earlier. All of these towns are just so lovely, they are very enjoyable to wander through so we went up and down some narrow streets exploring before settling in at E Vulneti for dinner. We split a Quattro Stagioni pizza and some seafood lasagna. The pizza was described as "tomato sauce, mozzarella, artichokes, mushrooms, olives, and ham", and I expected all the ingredients evenly spread so it was a surprise when it came out with each ingredient on it's own quarter. I should have remembered this as I have had a pizza like this before, it represents the four seasons. Regardless, very good pizza as well as lasagna. E Vulneti is on the main square so we enjoyed the view of the sea and people watching as well as the food.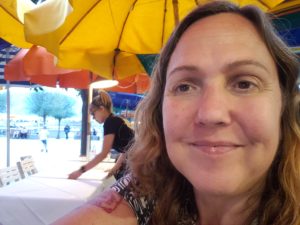 It was getting late as we took the train back to Riomaggiore. We wanted to return to A Pie de Ma for some wine, so went there immediately after leaving the train station. Since it was Sunday, they close a bit earlier and initially turned us away, saying they were closing up. When we asked, "please", could we just have a couple glasses of sciacchetra from Terra di Bargon they agreed. They poured us two small glasses then asked if we wanted something sweet or would we prefer cheese. They gave us a piece of apricot torte cut in half. Delicious. We only stayed about 40 minutes sipping our wine and made sure to take our plates and glasses to the counter as a thank-you before they were finished cleaning up the restaurant. Kelly hadn't had a glass of this wine yet, just a sip of mine from the other night, and I was recommending it, so we had to stop in.
Returning to our apartment, we opened the wine Daniela had left us as we packed up. We had to catch the train to La Spezia the next morning, Monday, then the train to Nice.
I've read that many people will do Cinque Terre in a day trip from Florence or just spend a weekend, but I highly recommend more time. I thought our 4 nights, 3 days just about perfect. We wanted time to do the hikes but also time to sit and relax and enjoy the views and some good food. It was an absolutely perfect visit to Cinque Terre.
I also recommend good shoes, closed toe, with good soles, and, if you have them, hiking poles, if you plan on walking the trails.
** All photos property of Lisa, not to be copied or reproduced **