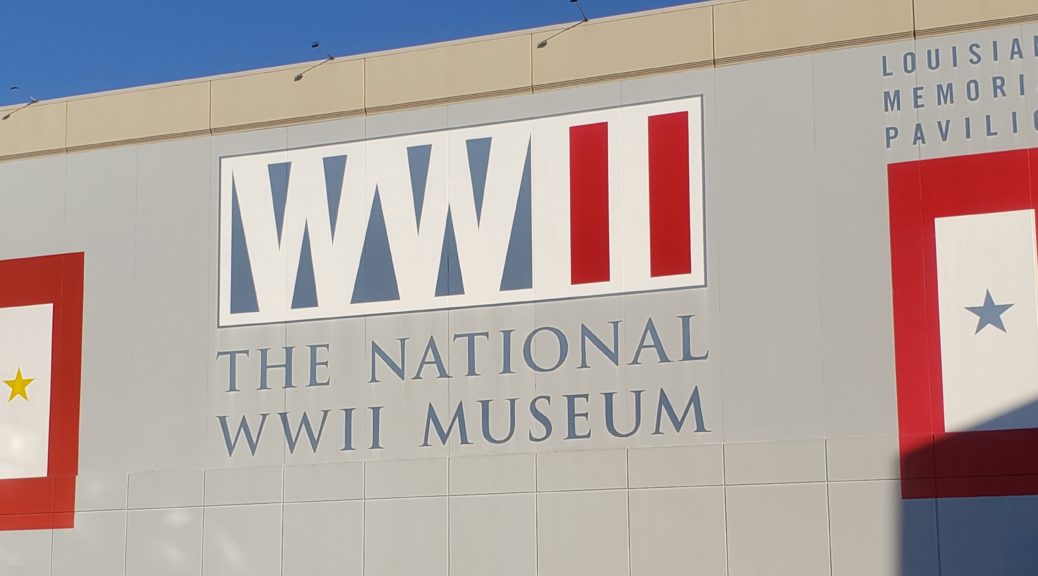 I went to New Orleans after visiting Savannah just to see the National World War II Museum. Yes, seriously. I even checked Mardi Gras dates before booking because I did NOT want to be there during that season. Those crowds? No thanks.
I have been wanting to see the WWII Museum for years. I purchased a brick for my Dad, a US Marine Corps veteran of WWII, years ago but have never seen it. I have visited New Orleans previously, but it has been over 30 years. I went for a weekend with friends when I was stationed at Redstone Arsenal. There was a lot I looked forward to seeing.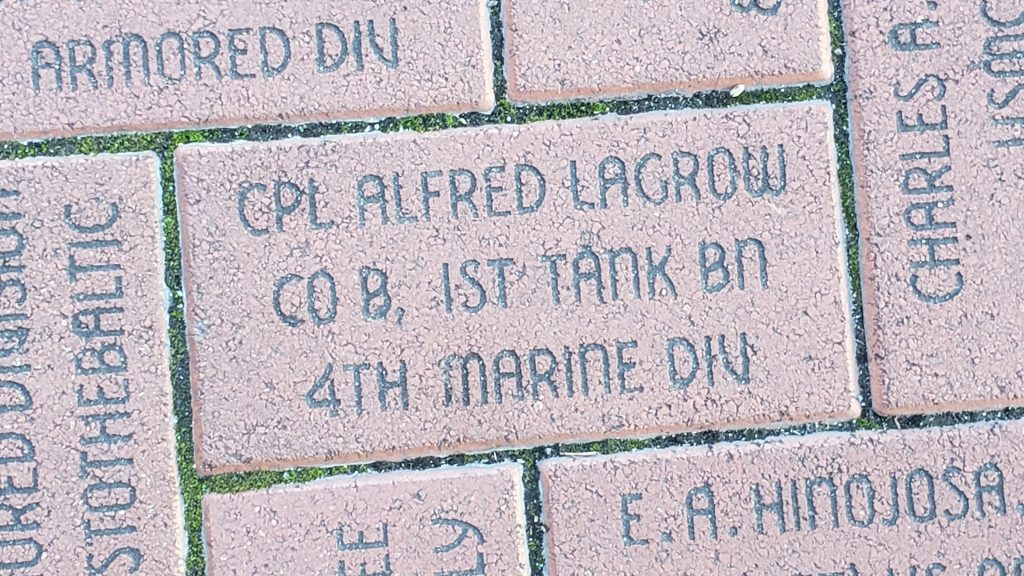 I was happy to extend my time down south for another week. I visited my daughter for several days between Savannah and New Orleans. She and her husband recently moved to northern Florida, northeast of Orlando, with new jobs. It was convenient to stop and visit her before driving on to Louisiana. Plus we visited Universal Studios together to go to Harry Potter. Lots of fun!
I had another AirBNB, not a great place. Quite dirty. I may need to stop staying in AirBNBs I think; you can't trust the reviews. I was staying in Algiers Point across the river. I did check the various transportation options to get to downtown before booking. I was just a half mile from the Algiers Point-Canal Street Ferry, an easy walk up the street. The ferry is only $2 each way. Much better than driving every day, with the traffic on 90 across the river then trying to find parking. Dogs are allowed on the ferry so I could take Boo with me. The house may not have been great but the location was pretty good.
I arrived late Friday after a nine hour drive. Saturday I went to the French Quarter and just walked all day enjoying the town. I had Boo so didn't visit any sites. I had some beignets from Cafe du Monde that morning and a Shrimp Poboy for lunch at Tahyo Tavern.
There was an early Mardi Gras parade that night, Krewe of the Chewbacchus, @ 1900. I had some beers at Gordon Biersch Brewery then a late dinner before walking over to Conti Street a little before 2000. That was where the parade was due to end about that time. I learned these parades often run late so Boo and I had to hang around for another hour to see it. Glad I waited, though, because it was fun to see all the dancing Leia's and stormtroopers.
Sunday I had scheduled two walking tours with Free Tours by Foot. I had booked the Saint Louis Cemetery Number 1 tour @ 0930 then a walking tour of the French Quarter @ 1400. The cemetery tour had about 20+ people so there were two guides that morning and we split into two groups. I went with Elizabeth. Great guide and interesting tour. You cannot visit St Louis Cemetery on your own; because of vandalism you have to have a guide. There are a variety of tour groups and guides authorized to enter the cemetery. It was a very interesting history, we learned about other cemeteries, how they moved the cemeteries when expanding the city, saw Marie Laveau's grave, the New Orleans voodoo queen, Nicholas Cage's pyramid tomb, learned about restoration of the tombs, and much more.
I went to Pierre Maspero's for lunch. I finally tried the chicken and waffles combo, which I always thought an odd pairing. My daughter loves this, especially at her favorite Waffle House. It was served with a Tabasco Honey sauce which made it pretty good. Still a weird combo and not something I'd go out of my way to have again.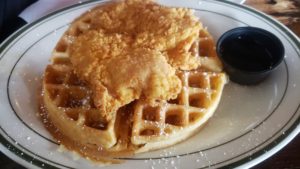 That afternoon I met Melissa for the French Quarter Walking Tour. We started at Jackson Square and walked all over for two hours seeing the highlights of the historical district: the cathedral, the Presbytere, Jean Lafitte house on Bourbon Street, the old Ursuline Convent, and more.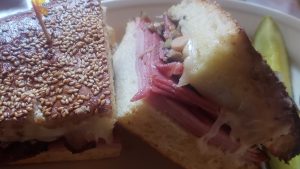 After finishing up around 1600, I stopped in Crescent City Brewhouse, on Decatur Street, for a flight, then went over to Napoleon House to try their Muffuletta. I had had several people, including waiters at other restaurants, tell me that Napoleon House had the best Muffuletta's in the city. I sat in their courtyard and ordered a half sandwich. They are huge, so 1/4 was plenty and I took the other 1/4 to go. It made a great lunch the following day.
Monday I had booked Whitney Plantation for a tour at 11. It was about an hour drive from the city.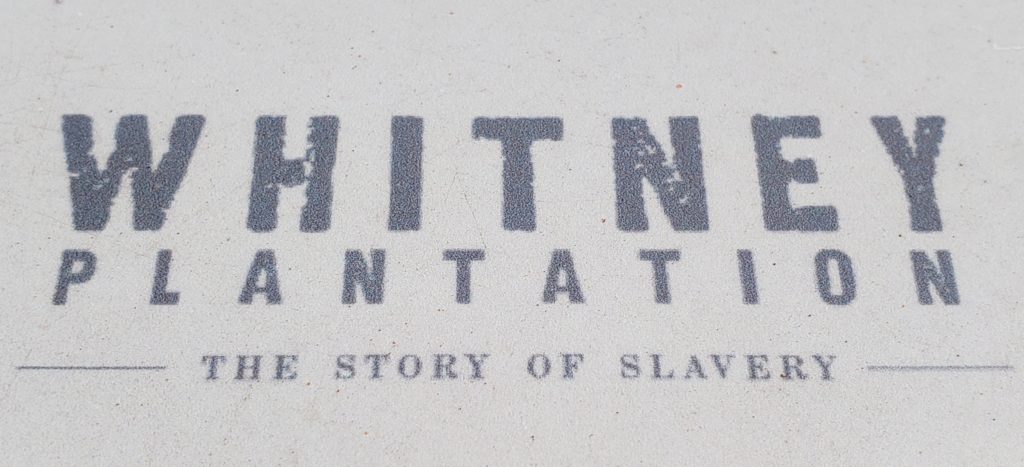 If you don't have a car, there are multiple tour operators that offer transportation in combination with the entrance ticket. I arrived around 1030 and took Boo for a walk on the grounds before going in. I was still about 10 minutes early so started with the display out front, a sad timeline of slavery from Africa to Europe and North and South America. At 11 I met Sydney, our guide, along with the rest of the group, outside by the church. After a brief history of the museum in the church, we visited the two memorial gardens and talked more about the history of this sugar, rice and indigo plantation, the 350 enslaved who labored here, another memorial with names of all the children who died here, and a fascinating memorial to the 1811 German Coast Uprising. I highly recommend a visit. I revisited the memorials to read more of the stories after the tour ended. I had packed my leftover muffuletta so had lunch on the grounds and headed back to the city late afternoon.
I had dinner that night at Tavolino Lounge in Algiers Point, a great red goat pizza. It was big enough for 3 meals throughout the rest of the week.
I spent all day Tuesday at the National World War II Museum. I didn't realize they gave all veterans discounts, which was a nice surprise. If you are a WWII veteran you get in free. Sadly, there are few of our Greatest Generation still alive. I purchased the entry ticket plus the extra tickets to Beyond all Boundaries and Final Mission. Beyond all Boundaries is excellent and worth much more than the $7 entry. Absolutely brilliant 4-D history of WWII. Final Mission was interesting but not worth the extra fee, in my opinion. I did both these almost as soon as I arrived, since you have to schedule specific times. I scheduled them back to back. I did have time for the train experience, registering a dog tag to follow a story, and seeing the Merchant Marine exhibit on the way to the Solomon Victory Theater before seeing Beyond all Boundaries @ 11.
After finishing the Final Mission, I stayed in the US Freedom Pavilion, seeing the Medal of Honor exhibit and the Flying Fortress "My Gal Sal". I went over to the Campaigns of Courage next, with Road to Berlin on the first floor and Road to Tokyo on the second. Because of Dad, who fought in the South Pacific, I started with the Road to Tokyo. I spent the next several hours there until closing.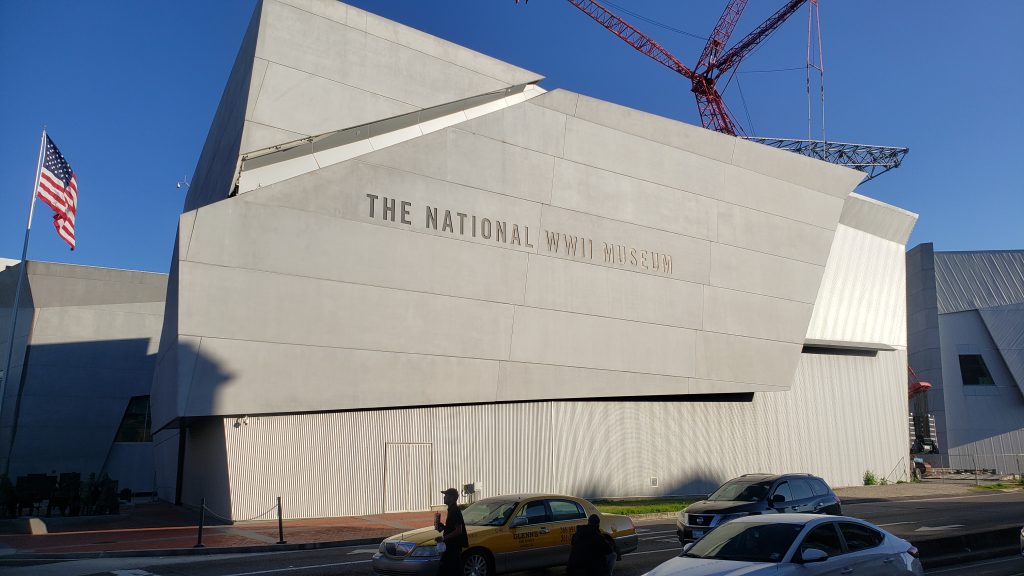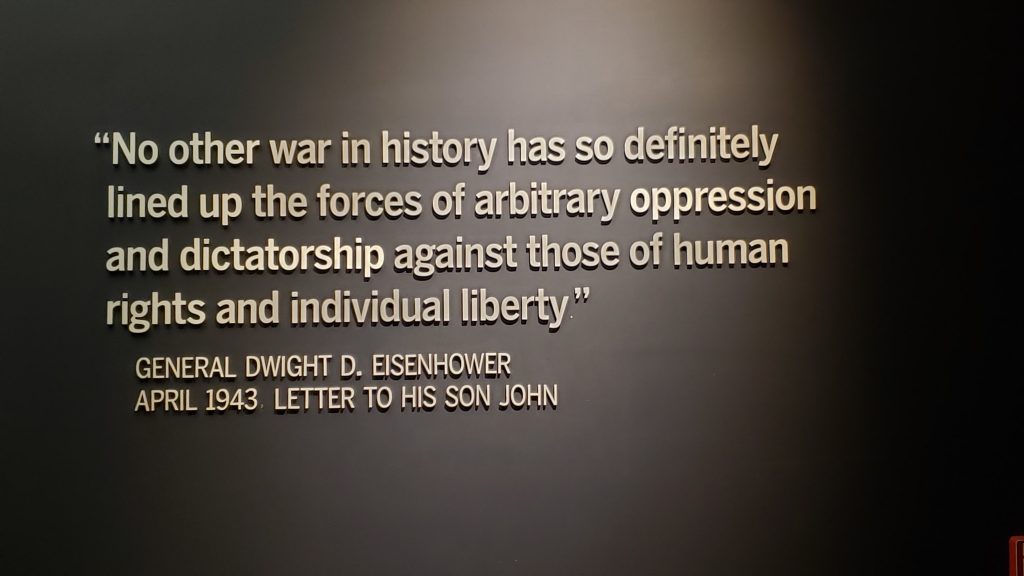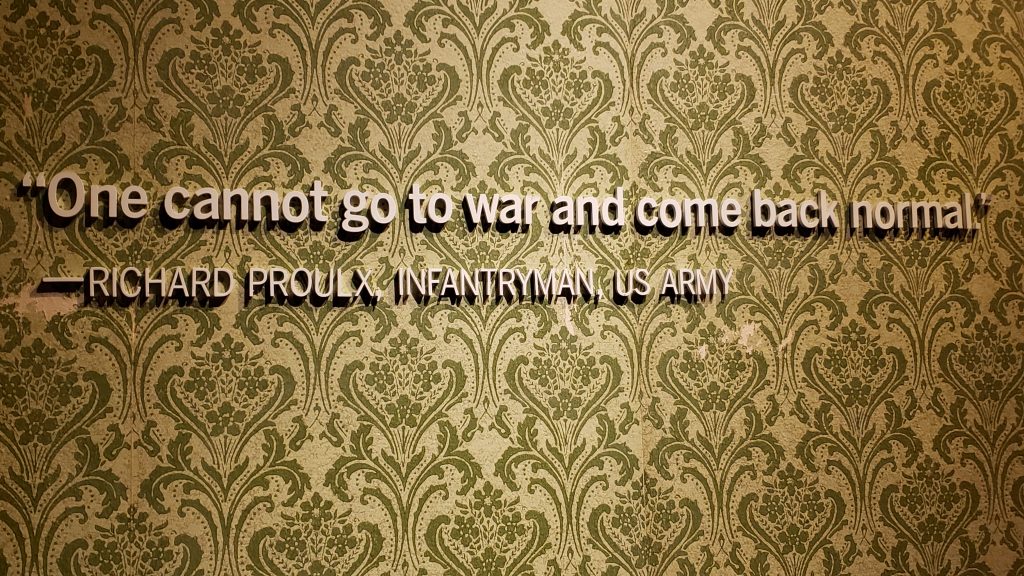 I had dinner at K-Pauls. Not being that hungry I skipped their very large entrees and, at the recommendation of the waiter, had a cup of turtle soup and then the roasted pear salad. Delicious! A couple beers plus a small crème brûlée with the meal set me back around $50 including tip so it was expensive.
I had driven over that day since I was taking the 1930 Ghost Tour. The last ferry to Algiers Point was at 2130 and I would have missed the return. Like the other walking tours I had taken with Free Walking Tours, the Ghost Tour was very interesting and I recommend taking this or one of the other many, many ghost tours New Orleans offers. We heard about Delphine LaLaurie and much more. Nicholas Cage came up again because he had purchased the old LaLaurie house, the "most haunted house in New Orleans". The house was foreclosed on and is now owned by a family from Texas.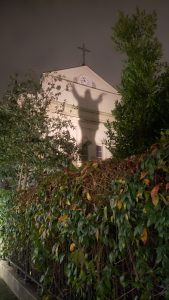 I returned to the museum the next morning, Wednesday, to finish up the final room in the Road to Tokyo exhibit, on the Nagasaki and Hiroshima bombings. I spent another two plus hours in the Road to Berlin. I headed back to the entrance to visit the Arsenal of Democracy. I rushed through this, not spending enough time, but I was burnt out by this time after a day and a half in the museum. I was going to leave and head uptown but it was pouring again so I wandered over to the special exhibit, "Remembered Light: Glass Fragments from World War II, the McDonald Windows", a collection of 25 art pieces produced by Atelier Le Roux in Oakland, California. Very glad it was raining otherwise I would have left and missed this. Chaplain McDonald, during his time in the European theater, collected glass shards from all the bombed out churches, temples, synagogues, and other places of worship he visited throughout England, France, Belgium, the Netherlands, and Germany.
From the museum website:
In 2003, 25 works of stained glass art were crafted by 13 artists using the small fragments collected by McDonald.
Remembered Light has traveled the country since 2007. The exhibit contains graphics explaining McDonald's journey and includes a booklet of his stories, a lit display case of the remaining shards, various archives, and even a video produced by McDonald's family in which he tells the story of his life and what he saw and felt during World War II.
The exhibit was organized by the Interfaith Center at the Presidio, San Francisco, California, where the stained glass art pieces from Remembered Light will be incorporated into and permanently displayed in the planned renovation of the historic Post Chapel. Lead Artist, Armelle LeRoux.
Brilliant and beautiful, amazing art and history.
I went back to the French Quarter and visited the Saint Louis Cathedral then the Mardi Gras Museum of Costumes and Culture. I had a $2 coupon off the $12 entry fee. Beautiful costumes but not much more. Definitely not worth the $10 ticket.
I took the ferry back to my place late afternoon. After dinner of leftover pizza, I drove out to the Garden District to have some beers at Port Orleans Brewing. I had a flight here then went to have another flight at Urban South Brewery. I had a few of their beers at various restaurants earlier in the week but wanted to try more styles. They both have nice tap rooms and a great selection. Boo was welcome both locations.
Thursday I drove to the city again since I scheduled a cooking class at NOCHI, the culinary institute in town. I started the day with the Free Walking Tours Voodoo Tour with Melissa. Fascinating! Great tour. After the tour I walked over to the Marigny district to have lunch at Dat Dog. This made several guides but I didn't think it was that special, quite ordinary and overpriced. If you want a superb dog, Biker Jim's Dogs in Denver is still the place to go!
After lunch I visited the Cabildo and Presbytere museums, these are directly east and west of the Cathedral. Both are $7 entry but if you buy both you get a discount. The Presbytere has an exhibit on Hurricane Katrina on the bottom floor and a Mardi Gras museum on the second. This covers the history of Mardi Gras in the city, parades, balls, floats, costumes, bands and much more. Lots of information and displays. If I had gone here first, I would have skipped the Mardi Gras Museum. This is much better. The Katrina display is very interesting and sad. It goes into detail on the geography of New Orleans, previous hurricanes, and the storm and its cleanup and recovery.
The Cabildo has a display on the Battle of New Orleans and other history of the city. By this point, after spending so much time in the WWII museum and the Presbytere, I was rather museumed-out so didn't spend much time here, not to mention you could hear the street performers from inside and it was quite loud.
There always seem to be a crowd on the steps of the cathedral, and people using microphones, bull horns, or blaring music. I am rather surprised the city allows them to block the church entrance, but there are groups of street performers or musicians, some just playing drums of overturned buckets, some with tubas and trombones, seemingly everywhere in New Orleans. That will be one thing I remember most about my visit, the constant, unceasing noise everywhere. I only lasted about 10 blocks walking down Bourbon Street my first day, because every bar had their music at top volume. Dozens of songs all playing, it was an assault on your hearing. Trying to sit outside at a few restaurants and there was no peace, either, just noise. I like music and I like jazz, but not multiple, discordant songs at once.
I walked back up town to the Central Business District (CBD)/Warehouse District where I had parked to drop-off some items in my car then went to NOCHI. We had Erich Ogle, the resident chef-instructor, demonstrating how to make Creole Shrimp Toast, Chicken and Andouille Gumbo with Rice, and King Cake Cannoli. After watching his techniques, Erich and two student chefs, Eric and Patrick, helped the nine of us make our own. I learned how to made an awesome dark roux for my gumbo. After we all finished our items, we sat out front in the cafe and ate our delicious meal. They served some great red and white wine to complement the gumbo. I really enjoyed my night. I hope to pick up more cooking classes during my travels.
Friday was my last full day in town. I had seen everything I wanted to see but took the ferry back downtown and spent a few hours walking through the CBD enjoying the architecture. I took the ferry back to Algiers Point early afternoon and had some leftovers from NOCHI for lunch then drove to the city. I wanted to visit Audubon Park and the Lafayette Cemeteries in the Garden District. Both cemeteries were closed for the day but I walked around the walls and peeked through the gates then went on to the park for long walks with Boo. It was a nice relaxing day. There was another parade that night, the Krewe of Boheme, that I wanted to see. I had checked the route that morning. Because I was told these parades do get delayed and often run very late, I decided to try to see it close to the beginning of the route and parked in the Frenchman/Marigny district. I had a few drinks at Marigny Brassiere then stayed for dinner. Nice location but overpriced. I had a table outside, even if it was a bit cool that evening, because I had Boo with me. The parade was due to come right down Royal Street in front of me, so I was planning on staying at the table with a beer but lots of people were crowding the sidewalk by this time. I went to the other side of the street for viewing the parade. Lots of fun music and great costumes. I may not want to attend Mardi Gras itself but it was interesting and enjoyable to be here for the early season. I am very glad I saw the two parades.
I left for home Saturday morning and drove straight through to Illinois. Quite cold back home, and I was not glad to be here… I should have planned another location somewhere south until spring! I am just going to keep emptying the house and downsizing and then maybe I won't be here at all next winter.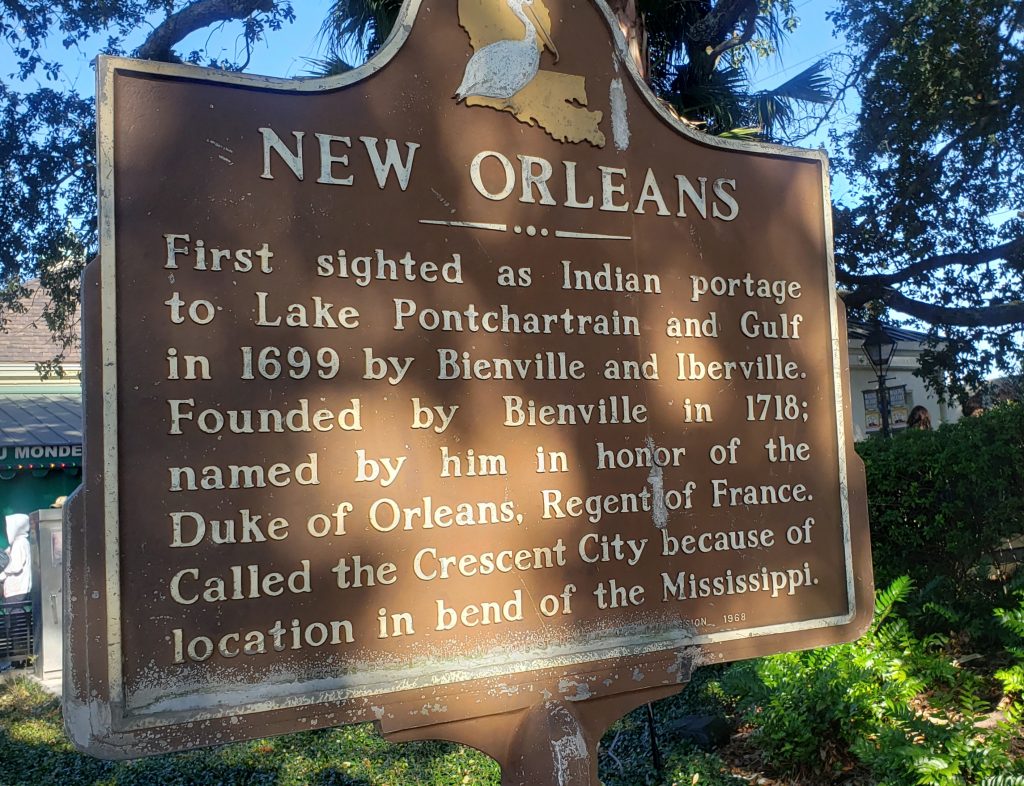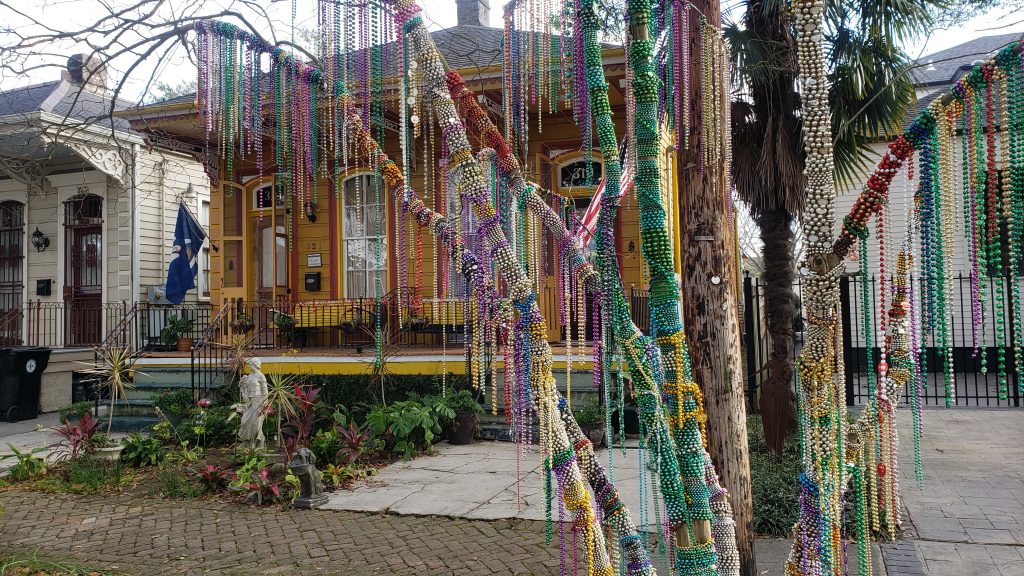 ** All photos property of Lisa, not to be copied or reproduced **