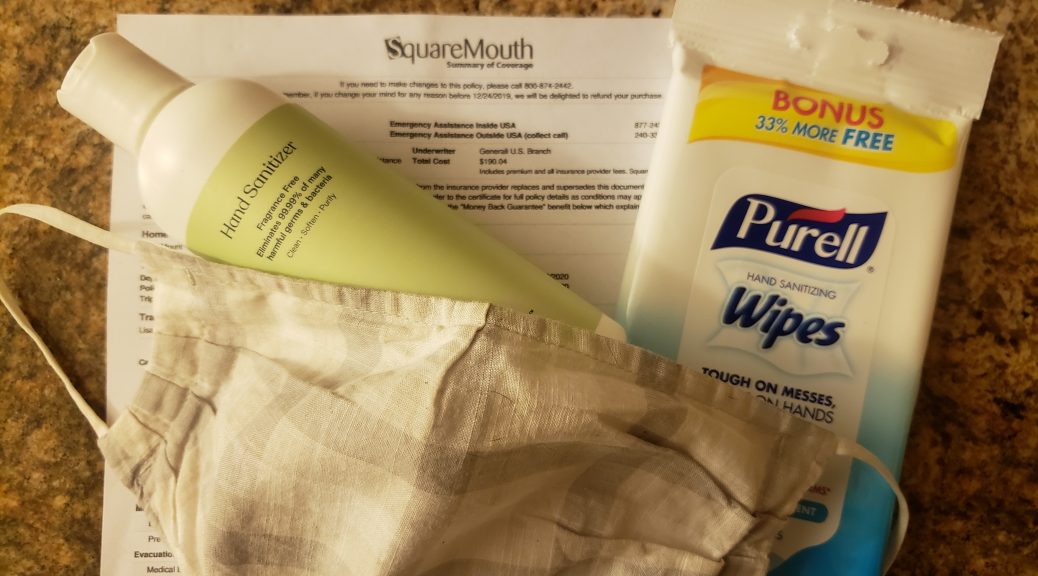 Don't Worry! Be a Safe Traveler
Don't Worry! Be a Safe Traveler
Travel Insurance – Yes you need it!
My daughter and I have been traveling internationally since 1997 when we went to Hong Kong, Bangkok, and Singapore. My friend, Kelly, and I took our first trip together in 2005, attending Oktoberfest in Munich. I didn't purchase travel insurance until 2009 when I got sick and thought I want to be covered for my trip to China … just in case. Kelly and I used our insurance that trip for a different reason, a death in her family, sadly. I've purchased it every year since. Spending $100-200 dollars for coverage for a trip that costs thousands is well worth it. Like most insurance (car, home owners, etc) I am happy not using it and consider the premiums part of the travel cost. However, I have used my travel insurance several times over the past decade. I had an expensive camera replaced when it was lost on my trip to Antarctica and used the health insurance portion when I fell crossing a rock fall while hiking in Fiordland National Park, New Zealand in 2012 and needed stitches across the bridge of my nose.
Last November, I had booked a two-week cruise out of Grenada with Sail Windjammer for my 60th birthday. Unfortunately, a week prior to my departure, I was out walking my dog on the snow and fell and broke two ribs. I was still planning to go and asked my doctor for "stronger pain pills", telling her "I'll be fine". Shades of the Black Knight, "it's just a flesh wound". She asked if I had travel insurance, and when I said yes, but … she interrupted and asked if it included air evacuation, "because you'll probably need it if you go". I cancelled.
After a couple of days of self-pity, I gathered the necessary documents and submitted a claim. In just a few weeks, I had all the money back for my cruise, flights, and lodging. I rebooked with Sail Windjammer mid-December before leaving for my time in Georgia. The same Grenada cruise wasn't available in the spring when I wanted to go but they had a Saint Martin to Saint Lucia two-week cruise leaving late March. It sounded wonderful! I booked some AirBNBs for a few days before and after the cruise.
After getting back from Savannah and New Orleans in February I only had a month to wait for my second trip of many planned for 2020. During that month, COVID19 spread around the county and world. A week prior to my departure, I got a call from American Airlines cancelling my flights. They offered flights earlier in the week, but I couldn't make those dates. I tried other airlines for a day or so before giving up. It was good that I did because by the time the ship would have docked in St. Lucia, they had closed their borders to all visitors. I would have been stuck on a small ship with no way home.
American Airlines refunded my money very quickly and, because of the pandemic, AirBNB had implemented very generous refund policies. I had all my money returned except the cruise. I had travel insurance so filled out the necessary paperwork to get the money for my cruise refunded. Again.
I use Squaremouth to compare and purchase my travel insurance. I like that you can enter many different filters: cancel for work reasons, illness of travel companions, pre-existing illness, extreme sports, cancel for any reason (CFAR), and compare prices with multiple companies. I had purchased a policy with Generali Global Assistance. They denied my claim, stating that because AA had cancelled my flights it wasn't covered; it was down in the legalese that if a travel provider cancels and it's not due to financial reasons it's excluded. I argued back and forth for a while. They offered a "voucher". I put it aside for later, maybe. It had quite short timelines for rebooking and traveling so not at all useful.
A few months later, after selling my house and booking an AirBNB I decided to try to use the voucher in case I couldn't travel to New York. I didn't really care about COVID19 coverage, I was more concerned with my house sale falling through or dates changed for the closing. I called them to confirm coverage. I was told those reasons would not be a covered claim and they weren't offering CFAR "at this time". I found a company on the site that was offering CFAR. I called to confirm my needs and then paid for a policy with Travel Safe.
I also decided to file a complaint with Square Mouth. They have a zero complaint guarantee policy. Unfortunately, after providing all the documentation and email exchanges, Square Mouth declined to intervene and did not consider this a "valid" complaint. Despite the explanations and the insistence that Generali Global is a respected company I am disappointed in Square Mouth, too, and no longer trust the zero complaint guarantee.
I will continue to use the site to compare policies but I will not buy insurance from Generali Global. I've had great luck with John Hancock, Seven Corners, and Travel Safe. During these uncertain times, I will also call a company to ask specifics before buying a policy directly on Square Mouth.
Go Paperless
In December of 2005, Alex and I spent about 24 days on a trip to Australia and New Zealand. I had not been gone that long before and was worried about paying bills and getting late charges. I logged on to all my utilities and credit cards to check bill cycles and pay bills right before we left.
I continued getting my bills in the mail for years after that trip. Every time I logged into one of these accounts I'd get a reminder about going paperless but out of laziness/inertia and just a bit of worry about overlooking a electronic statement in my cluttered email inbox I continued with paper. About 8 years ago, I finally got tired of filing them (I kept a rotating year of most of my bills. It's an old person thing.) and shredding them. As a Lifetime Member of the Sierra Club, I was also feeling very guilty about the waste of paper.
I was still worried about a bill getting overlooked in my inbox so one rainy Saturday, I created a new email account for my bills. I logged on to all of my financial accounts and utilities and updated my email and went paperless. Took about 3 hours all together but it was time very well spent. I see all my bills in one location and go right to my bank to schedule the payment. I can check them anytime or any place. It's great, and wish I had done it sooner. If you're under the age of 40 I am sure you've never had paper bills but if you get paper by default, make time for this! It's very helpful and you're free from your physical address limitations. This is even more necessary now that I am traveling full-time.
Electronic Security – Why you need a VPN
Speaking of checking bills online, you need to make sure you're secure while traveling and checking your financial accounts. I hope everyone has a password protected network at home, but when traveling most of us use free open networks. These open wireless networks have no password protection or are shared, anyone can use them and your information can be easily compromised.
I had a problem with my credit card on one trip and had to log on to American Express on a public network at the hotel in Athens. I was worried about entering my ID and password. I came home from that and researched VPNs (virtual private networks) for travel. I found a couple sites that compared speeds, prices and features for the best VPN services.
I chose ExpressVPN and keep it on my phone, iPad and computer. I use it even at home since it protects your data and privacy from your internet providers. I feel a reliable VPN is a necessity for travel.
Stay Healthy
I still have my BC/BS as a retiree and feel pretty confident I will have good care in the US when I travel. However, when traveling out of the country, I make sure to purchase medical coverage. I usually include this in my travel insurance, in addition to cancellation and other coverages, but you can purchase medical insurance without all the extra coverages. As I mentioned, I've only needed once, in New Zealand, but don't want to need it and not have it. Although, in most countries the cost for care is quite affordable, unlike the US.
Even before a global pandemic, I wanted to make sure I stayed healthy. I am up-to-date on all the various vaccines: Hepatitis A and B, typhoid, tetanus, even yellow fever for one trip. I get malaria drugs whenever recommended by the CDC Travel Destinations. Depending on where I am traveling, I sometimes carry water purification tablets and other OTC meds that could be hard to find.
I never used to be germaphobe but started carrying my own blanket/towel on the plane with me after reading how they don't wash the blankets between flights. I picked up a Turkish towel from Etsy to use as a blanket for the plane and it has come in handy for the beach as well. Very small and lightweight, easy to pack in my carry-on, dries quickly. I bought two extras as gifts for some traveling friends and they both love them.
Now, of course, we're all worried about germs. Or at least most of us are. I've always carried small packages of hand sanitizing wipes or hand sanitizer when traveling. In some places it's hard to wash your hands prior to eating so it's great to have in the backpack. Now I have extras and, of course, the required masks.
Finances
I always notify my bank(s) and credit card companies when I am traveling. Most of the cards I've had over the years (Bank of America, Capital One, Chase, American Express) had an option online to record travel dates and countries. With updates to card security, chips and PINs, most of this is no longer "needed" or even offered on their websites. I still call my local credit union, however, as they seem to have some different security procedures.
I've been using the same credit union since I was a teen and had my first job. It's a local company and it's fine for a majority of my financial needs. My paycheck was deposited there but over the years I paid a lot of fees for out-of-network ATM charges. I have had a Capital One Venture credit card to avoid foreign transaction fees for years but realized I was still paying too much in fees getting cash when I traveled. After a little research, I opened a money market and checking account with Capital One, too. My ATM/Debit card has no fees and I use this exclusively when traveling now. They make it easy to manage accounts and move money around.
I also recommend taking a second credit card and debit card if you have them. When traveling with Kelly, we've been lucky to have each other as backups. On one trip, Kelly's bank card was declined multiple times when she tried to get money out of the ATM. She called her husband in the states so he could try to resolve the issue but it wasn't one of their shared accounts and the bank wouldn't let him make any changes. She had to do a live chat with the bank to deal with her card being locked – and I let her log on with my VPN, too. Fortunately, I could get money out and loaned her cash for our first couple days.
I also keep all the phone numbers for my accounts in my phone or another safe location, so I can call them as needed if my cards are lost or stolen. Most offer toll-free numbers for calling outside the US.