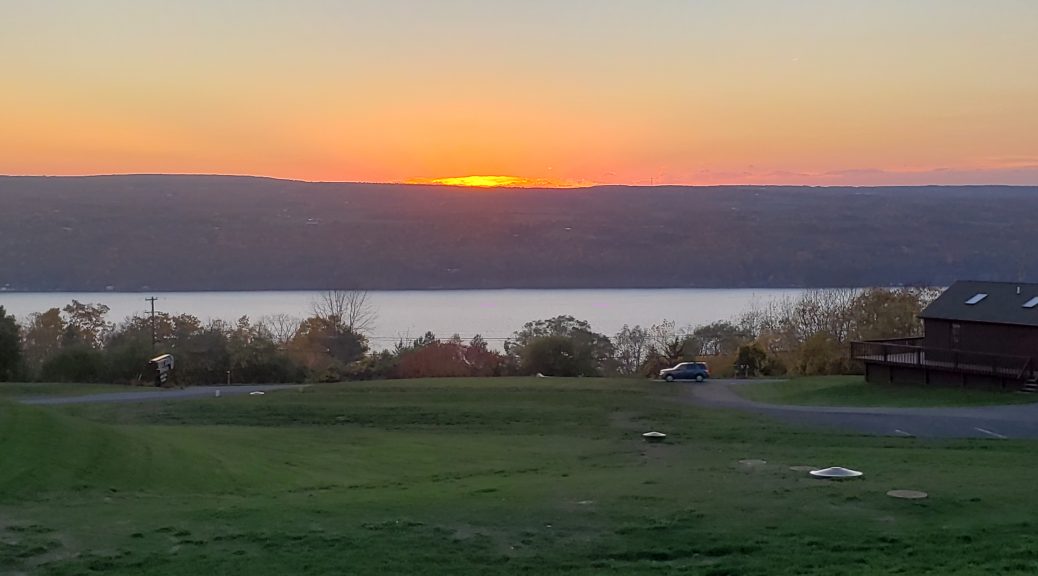 Finger Lakes of New York
Finger Lakes of New York
I've heard a lot about the Finger Lakes region of New York over the years but other than a visit with my family to Watkins Glen as a child I've not visited the area. I thought it would be an excellent start to my year of travel and October would be perfect weather.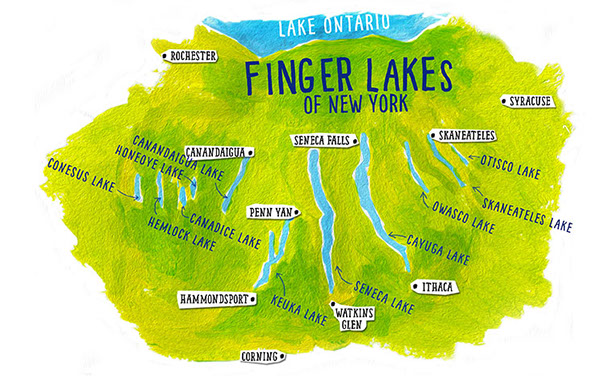 When I looked for a place to stay, searching on "Finger Lakes" in Booking and AirBNB and VRBO, almost too many options came up. It's a large area. I started searching on individual lakes and cities or towns with a map in front of me. I found some great stays across the region, Penn Yan, Ithaca, Geneva, Auburn. I selected a place in Auburn, just 3 blocks from the downtown area. But when visiting these other cities, I know I would have been happy staying in any of them.
I closed on my house late September and had 5 days before my month in the Finger Lakes. I also wanted to break up the long drive so went to western Pennsylvania for several days to see the amazing Fallingwater, Frank Lloyd Wright's masterpiece. While at Fallingwater it was recommended I also visit Kentuck Knob. Both houses are beautiful and I was glad for the opportunity to see more of Wright's work.
Auburn
There is so much to see and do in the Finger Lakes. There are eleven lakes across the region. I stayed in Auburn which is on the north shore of Lake Owasco. It's a great little town, very walkable, great historic houses. Many of the sidewalks are big pieces of slate and many of their curbs were cut pieces of granite. Fancy! I really enjoyed just looking at all the huge houses and amazing facades when walking Boo.
Whenever I visit a new city, I like to get out and explore right away and walking is the best way to see a new place. I was out walking the first night and I saw a sign just up the street at the historic Seward House for a First Friday event, with live music and attended that the day after I arrived. I took a tour of the house the following week. I also discovered Fort Hill Cemetery. Lots of history, here, as well. Harriet Tubman, William Steward, Theodore Case, and a monument to Native Chief Logan.
I visited the Willard Memorial Chapel with its gorgeous Tiffany design and windows. I read about this lovely chapel when looking online for historical things to do in Auburn. Formerly part of the Auburn Theological Seminary, it was funded by the Willard daughters to honor their parents, and designed by Louis Comfort Tiffany. It is the only complete and unaltered Tiffany Chapel known to exist. It contains a 9 panel rose window, a 3 panel window of Christ, 14 nave windows, and 9 leaded glass chandeliers.
I didn't realize Tiffany had done so much experimenting with special handmade glass that didn't need painting. Talking with the guide I learned that Tiffany did not design all his windows or most of the lamps he is famous for. I heard about Clara Driscoll and they loaned me this great book, Noon at Tiffany's. I read this over the next couple weeks so I could return the book before I left town. It's historical fiction, but based on a series of letters from Clara to her family discussing her designs and her work for Tiffany. She's finally getting credit for her work.
I visited the Schweinfurth Art Center and saw a showing of beautiful quilts.
Boo and I enjoyed walking downtown and through Hoopes Park and Emerson Park in the city many times over the month.
Seneca Falls
I spent several days throughout the month in Seneca Falls, just a short drive from Auburn. It is the center of the Women's Rights Movement. The NPS runs the great Women's Rights National Historical Park, and has ranger talks at Elizabeth Cady Stanton's house. Hours were cut back due to COVID, so check their opening hours before visiting. The site consists of the Wesleyan Chapel, site of the First Women's Rights Convention held on July 19 and 20, 1848, the visitor center with lots of great displays and information, the Waterwall at Declaration Park, with the Declaration of Sentiments ("We hold these truths to be self-evident: that all men AND women are created equal") and several historic houses, like the Cady House and M'Clintock House (both closed due to COVID19). Despite the houses being closed, the outdoor ranger talks are still scheduled.

After my visit to the historical park, I walked along the river on Water Street and crossed Bridge Street. This is locally called the "It's A Wonderful Life Bridge". There is a plaque to a man who jumped into the river to save a young girl who was attempting suicide. Frank Capra visited the bridge and updated his script to have Clarence save George after seeing the plaque.
Across the river, I visited the Ludovico Sculpture Trail and saw the "When Anthony met Stanton" statue. I returned a few weeks later to visit the It's A Wonderful Life Museum. This is only open on Fridays and Saturdays so I had to plan to get back over as I really wanted to see this. It's my favorite Christmas movie and I enjoyed all the artifacts and information about the movie, the script, and the actors.
Another day I went to Cayuga Lake State Park just south of Seneca Falls and spent a few hours walking the trails. I stopped in Seneca Falls for a flight at Fall Street Brewery before visiting the Montezuma National Wildlife Refuge.
Penn Yan
I wanted to visit The Windmill, a big outdoor market/farmer's market, open Saturdays through November, located in Penn Yan on Lake Keuka. Lots of shops, restaurants, wineries to browse and very pet friendly. I didn't buy anything other than tomatoes and some beef and parmesan treats for Boo. We went downtown and walked around the historic district for a while before having lunch at Silverbird. We had a nice lunch, outside, despite being a bit cool. I'm just not ready to eat indoors right now. The server was great and came out multiple times, despite the chill. She was tipped well, of course!
After lunch we went to the beautiful Lake Keuka Outlet Trail. We did 3 of the 7 miles, to see Cascade Mills Falls and Seneca Mills Falls. Both sites of former mills, this is a lovely walk. Then we did a short visit to Indian Pines. This is just a local park on Keuka Lake, not a state park so no trails but a great view of the lake. Late afternoon, we made stops at Climbing Bines Brewery, Red Tail Ridge Winery, and Fox Run Vineyards on the way back to Auburn.
Lake Ontario
I was told by my host not to ignore Lake Ontario and many sites there just because I was in the Finger Lakes. So one day I drove to Oswego to see Fort Ontario. Originally built by the British in 1755, it was destroyed by the French during the French Indian War. It was rebuilt, then destroyed again by the Americans during the Revolutionary War. It was given by the British to the US in 1796 after the signing of Jay's Treaty. It was attacked by the British in 1814 during the War of 1812. There was new construction to use the fort during the Civil War. During WWI it served as a hospital, for training in WWII, and served as a refuge center from 1944 to 1946. It's still used by the Army Reserve and has been on the national register of historic places since 1970. I saw multiple guides in various uniforms doing musket and rifle firings.
Another day I went to Chimney Bluffs State Park, also on Lake Ontario. Another recommendation and well worth the drive. Gorgeous and a great walk along the lake.
Watkins Glen
The highlight of this area is, of course, the famous Watkins Glen State Park. I parked at the upper entrance and did the Indian Trail with Boo, 2.4 miles. It has lots of steps. Dogs are not allowed on Gorge Trail so I drove down to main entrance and left Boo in car with windows down and did the 3 miles round trip, lots more stairs but beautiful. So glad I could return and enjoy this beautiful park. We enjoyed a late lunch in town then stopped at a winery (or two) on the drive back.
Skaneateles
I visited Skaneateles several times, it's just minutes from Auburn. I wasn't sure how to say this, locals make it sound like SKANNY-atlas. I visited Clift Park on the Lake and then walked the Charlie Major Nature Trail. This is another attractive little town right on the lake. We walked along the lake for quite a while, visited the pier, and walked through town. I found a pet store and took Boo in for some treats. This entire area of the Finger Lakes is beautiful no matter which town or lake. I love being here in the fall with the amazing colors. I went over another time to visit the Skaneateles Brewery one day, and back again just to visit the downtown shops. Great little town.
Geneva
I visited Seneca Lake SP early in the month but didn't go into downtown Geneva that time. I went back one day to visit the city. We went back to the park then to downtown Geneva. It has a great downtown, lots of historical buildings and amazing views along the lake. I stopped by to see Geneva on the Lake Hotel, which is a landmark on the National Register of Historic Places, saw the Smith Opera House downtown, then had dinner outside at Twisted Rail Brewery. I finally tried the "Beef on Weck" I've been seeing on many menus. Weck is a specific kind of bread. It was okay, but their beer was better.
Ithaca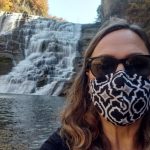 I wanted to visit Robert Treman State Park one day so looked up other places to visit in Ithaca on the way to the park, which is southwest of the city. I stopped in town before visiting the park in the afternoon, seeing Ithaca Falls, then did the Gorge Trail at Cascadilla Falls where Boo and I enjoyed the lunch I packed for us. We went to the state park and did the great Rim Trail at Robert Treman SP.
Canandaigua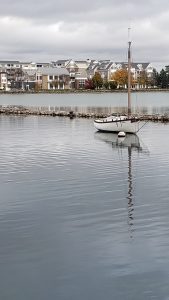 I really enjoyed my visit to Canandaigua (Can-ANN-day-gwah). So glad I made the time to drive over here. I picked up a super spicy sub from Macri Deli and ate in Kershaw Park before walking along the lake. We also visited Lakefront Park, Canandaigua pier, and a great little main street. I found a birthday cake for Boo at Bad Dog Boutique to celebrate his 13th birthday and I picked up some great truffles for me at Sweet Expressions. I wanted to visit Sonnenberg Gardens and Mansion State Historical Park. I knew the house was closed but thought I could still visit the gardens, however the entire complex is closed. I stopped by for a tour of Granger Homestead but it required advance reservations. I am sure I would have love staying here as I really enjoyed wandering through this town. There is certainly much more to see.
Corning
I wanted to visit the Corning Museum of Glass while in the area. It would have been quite a drive from Auburn so I decided to wait and see it on my way to Gettysburg. Advance reservations are required and tickets limited due to COVID19. They can be purchased online. I love glass art, blown glass, stained glass and spent 3 hours in the many rooms of the museum. You could actually spend much longer but I had another 3 hours of driving so kept it "short". Lots of history about glass making, historical glass artifacts millennia old from Africa and the Mediterranean area, blown glass, etched glass, poured glass, glass trends like milk glass. You can visit the studios and see glass-blowing demonstrations or even make your own.
State Parks/Historical Sites
Restaurants/Food
Downtown Deli, Seneca Falls. Had a great grilled cheese with bacon, blackberry jam and jalapeño.
Silverbird, Penn Yan. Had a roast beef sandwich, I think, not that memorable, but some really great Napa slaw.
Prison City Pub and Brewery, Auburn. Can't even have your dog on the patio so had to leave Boo at home.
Osteria Salina, Auburn, had a good pizza to-go.
Macri Deli, Canandaigua
Kookalaroc's Bar & Grill, Watkins Glen. Nice outside eating area after visiting the park.
Muranda Cheese, Waterloo. Just SW of Auburn. Go for the cheese tastings. Amazing! They have 19 cheeses available, we tried 12 for $6 I think, and they have wine to pair with their samples.
Sweet Expressions, Canandaigua, delicious truffles!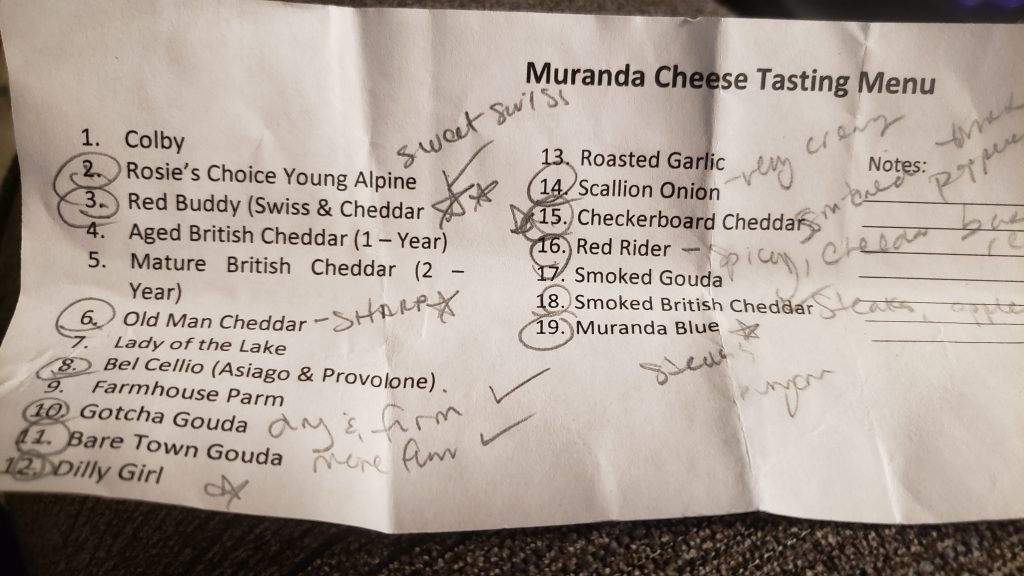 Breweries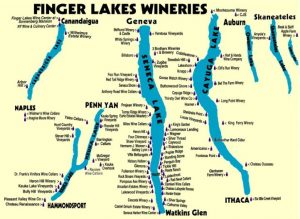 Wineries
Montezuma Winery & Hidden Marsh Distillery. I saw a truck outside the winery with a big sign "W

ine slushies", had to stop in for a red and white wine slushie after coming back from a hike. They were offering tastings inside. 

Chateau Lafayette Reanau. Loved this winery, nice place to sit and look over Seneca Lake. I had an semi-dry wine flight: frizzare riesling, 2019 unoaked Chardonnay, seyval Chardonnay, northern white, cuvée rouge then a red wine flight: cuvée rouge, 2018 Pinot noir, 2017 Cabernet franc, 2016 Syrah, 2016 Cabernet sauvigon and 2014 Cabernet sauvigon.
Standing Stone. Had to make a reservation for my visit. This place was recommended by several people, unfortunately they no longer had the wine and cheese pairings daily, just Saturdays. Had the estate overview flight: Chardonnay 2018, teinturier dry rose 2019 and farm red and then a small taste of their dessert wine, that the waiter said paired very well with bleu cheese.
Hector Winery, Hector, tried the Riesling 2017 and Syrah 2019
Fox Run Vineyards, Penn Yan – glass of chardonnay and some French bread and cheese
Red Tail Ridge Winery, Penn Yan – one of everything, white, rose and red. Sans oak Chardonnay, cab franc dry rose and 2017 Pinot noir
Wagner Vineyards, Lodi, Seneca Lake – Semi-dry flight: semi-dry Riesling, semi-dry gewurztraminer, cayuga white and sunset red plus tried their Daybreak Pilsner, Dockside Vienna, fuzz life, triple bock.
** All photos property of Lisa, not to be copied or reproduced **