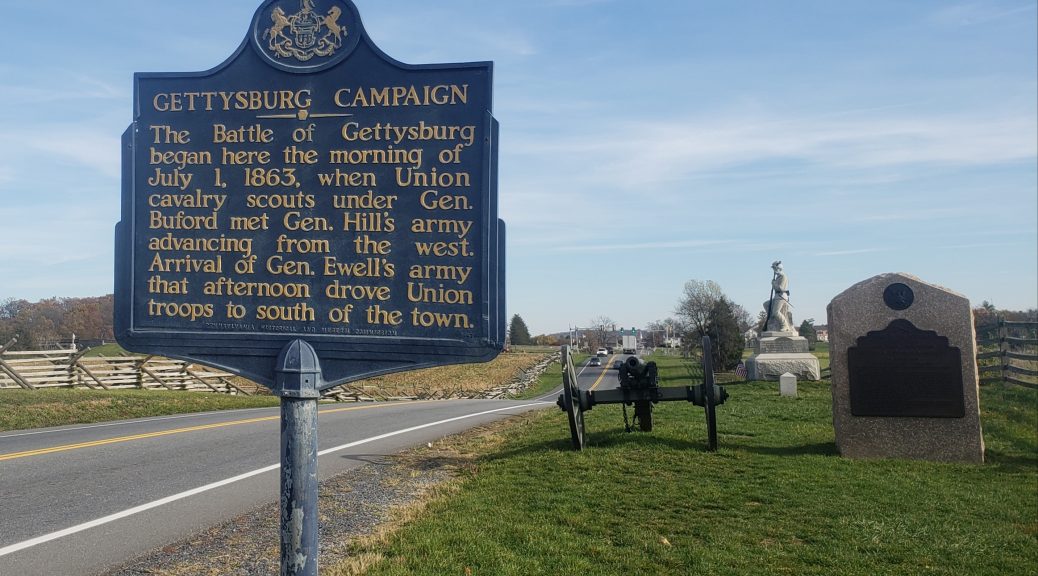 Gettysburg National Military Park
Gettysburg National Military Park
I have wanted to visit Gettysburg for years. I almost added it to the Washington DC, Chesapeake, Philadelphia trip I took with my daughter, Alex, in 1998. She enjoyed touring the White House, visiting both the Washington and Lincoln monuments, and seeing the Constitution and Declaration in the Archives. We went to the Air & Space Museum for a few hours, where we saw the moon lander and moon rocks. She even thought it was fun to tour the Philadelphia mint to see how money was made and liked seeing the Liberty Bell. But I thought taking an eleven year old to Gettysburg for a visit to the museum and battlefield would be a bit too much. She wouldn't enjoy it at all and I wouldn't be able to spend the time I wanted. She had been great about all the history and other places I dragged her to so I thought she deserved something more fun. We went to Hershey Park on the way home, skipping Gettysburg.
I went right to the NPS Gettysburg National Military Park page for information and learned that while the NPS manages the visitor center, museum, and gives ranger talks like expected, the Gettysburg Foundation handles the tickets and tours.
I checked my calendar, their opening hours, and the weather for the week. I wanted nice weather for my battlefield tour. They are closed Tuesdays and Wednesdays, so I booked the Film, Cyclorama, & Museum experience for Monday then a private car tour of the battlefield for Thursday. Prior to COVID19 the guide would drive your car around the battlefield, now you follow the guide in their own car.
I arrived in Gettysburg around 2000 Saturday night, October 31. I was in a great little AirBNB just a block from the main square (it's a traffic circle at the intersection, so perhaps "main circle"?)
After unpacking, I took Boo for a walk down the street to check out the lights and restaurants and bars and people dressed for the holiday. It's a beautiful little square; with lights in the trees and the cafes and tables on the sidewalks, it reminded me of a city in Europe.
The next morning, we took a nice long and very slow walk. Usually we're slow because Boo has to stop and sniff something every 2 feet, but this time it was my fault. The city is full of historical markers and signs and I stopped to read every one I passed. Our short 3 mile walk took about two hours.
Later in the afternoon, I drove out to the Round Barn, picking up some great apples, caramel sauce, and fresh greens. I saw a brewery, Thirsty Farmer Brew Works, across the street but never did get back out to try that. Looked like a nice location to enjoy a drink.
I also visited Seminary Ridge Museum. This was only open weekends when I was there, and now it's closed for the winter. But I highly recommend this interesting museum. Seminary Ridge was the site of the first day's fighting. The museum is three floors of information, artifacts, and videos about the soldiers who fought, and were wounded or died here, the doctors who worked non-stop to save their lives, and the civilians who turned this building into a hospital and helped care for them. It was the site of the battle's largest field hospital. It is a very well-designed museum. I hadn't read a lot about this museum in advance so didn't book the separate ticket needed for the Cupola. This was used by Union General John Buford and his staff to survey the terrain before and during the battle until the building was taken by the Confederate Army on the second day of fighting.
The next day I had tickets at 10 to visit the museum. As soon as I picked up my will-call tickets, they directed me to the theater to watch "A New Birth of Freedom", narrated by Morgan Freeman. It is a great overview of the Civil War and Gettysburg battle. After the film, you exit up the stairs to the 136-year-old cyclorama. I thought I heard that wrong at first but no, the painting was completed by French artist Philipoteaux in 1884. Cycloramas were invented in Scotland in the 18th century, and became very popular in the late 19th century. They allowed viewers, surrounded by the panoramic image, to feel like they were in the middle of the image. The Gettysburg painting depicts Pickett's Charge. The experience is great, the painting has been restored and lights behind the painting highlight specific locations during the narration.
After the film and cyclorama, I spent another 3+ hours in the museum. It depicts troop movements and artifacts day by day, and there are videos discussing each day of the battle. It has weapons, uniforms, doctor's instruments, soldiers kits, photos, letters home, and much more. It continues with dedication of the cemetery, the Gettysburg address, and the last few rooms were the final two years of the war, reconstruction, Jim Crow laws in the 1920s up to the Civil Rights Movement of the 1960s.

Did you know Lincoln was not the main speaker at the dedication for the cemetery grounds? David Wills, who suggested the need for the Soldiers National Cemetery to the governor of Pennsylvania, had invited Edward Everett, former senator and Secretary of State to give the main address. President Lincoln was asked just to dedicate the grounds, "It is the desire that, after the Oration, you, as Chief Executive of the Nation, formally set apart these grounds to their Sacred use by a few appropriate remarks". Everett spoke for two hours, Lincoln for two minutes. His Gettysburg Address is one of the most famous speeches in history. Everett later wrote to Lincoln "I wish that I could flatter myself that I had come as near to the central idea of the occasion in two hours as you did in two minutes."
I learned so much at the museum. Some minor trivia: Mary Todd Lincoln's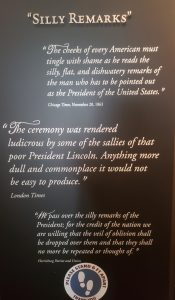 brother, George Todd was a surgeon in the Confederate Army, there were a great number of deserters in both armies, many were captured and shot, there were large POW camps in both the north and south where many died of starvation, the Confederate Army refused to return black Union soldiers, instead using them for slave labor, and the Gettysburg Address was called "silly, flat, dishwater remarks" and "ludicrous by some of the sallies that poor President Lincoln" made, and that even Lincoln felt his remarks failed.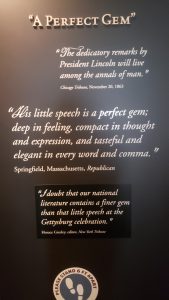 Tuesday, Election Day in the US. I wanted to remember one of our greatest presidents, so took a "Walk in President Lincoln's Footsteps". I started just a block down the street from my AirBNB at the Gettysburg Lincoln Railroad Station where the President arrived from Washington. It is closed due to COVID19 but you can peek in all the windows. I walked just a few blocks down Carlisle Street to David Wills House. This was also closed, unfortunately. I would have loved to visit both. Wills was instrumental in the creation of the cemetery. He invited both speakers and they stayed in the Wills home overnight. In front of the house, there is a statue of Lincoln gesturing to the bedroom where he spent the night.
The next morning, Lincoln and all the dignitaries took horses up Baltimore, then Steinwehr (previously Emmitsburg) and Taneytown Road to enter the cemetery grounds. While the monument to the dedication and speech are by the entrance to the Soldiers Cemetery, the speech was actually given in Evergreen, a private cemetery next to the new Soldiers Cemetery. Boo and I walked the four miles out and back, and walked through the cemetery to look at the monuments and graves.
Later that evening, I stopped by the Appalachian Brewing Company. They have a comfortable outdoor patio where dogs are welcome. I ordered a flight and a "small plate" of cheese and potato pierogies. Delicious.
The next day I saw some of the other sights in the area. I went out to the Sachs Covered Bridge, used by the Army of Northern Virginia during their retreat. I also went out to Eisenhower National Historic Site. Eisenhower was assigned command of Camp Colt, the US Army Tank Corps Training Center, during WWI. After WWII, he and Mamie bought the house and farm for their retirement but after Ike became president they used it as a weekend retreat from Washington and occasionally hosting world leaders. The buildings are closed but the site is open and there is a phone tour that provides great information. It has numbers to enter for each of the outdoor sites, the barn, BBQ grill where Eisenhower made steaks for his family, the greenhouse, gardens, guest house, and putting green, just like other audio tours you find at museums. Even not being able to go into the house, still a great tour. I visited the house "virtually" via the NPS site later.
That afternoon I drove around the battlefield, checking out specific sites I had read about, Devil's Den, Little Round Top, Slaughter Pen, the Wheat Field, getting to understand the "lay of the land" before my tour the next day.
I also visited the Jennie Wade House, the only civilian killed during the battle, and the Shriver House. The Shriver House was used by Confederate snipers to fire on Union troops. There are still many bullet holes in the brick walls.
I briefly stopped in the Gettysburg Museum of History. And I do mean briefly, about nine minutes. And I was only there that long because it was so crowded it was hard to get out. They have a collection of over 4,000 Civil War relics, exhibits and more. But it's packed into 5 small rooms and they let way too many people in at once. Free admittance but I really don't understand why it has such good reviews on various sites. Overcrowded with items, odd items like Eva Braun's slip and Marilyn Monroe's bra and little to no information. Go to the museums at the Military Park or Seminary Ridge. They are worth your time and money.
After a busy day, I stopped by Reid's Winery and Cider House. I am very impressed how so many businesses have adapted to COVID19 restrictions. They have a walk-up window for ordering and lots of tables out back, plus a big tent set up if you want some shade. I sat on their patio with a flight of hard ciders, some a bit too sweet but still very good; they have a variety of choices including apple, raspberry, red currant, blueberry, ginger.
On Thursday morning I went back to the museum to meet my guide. I had booked a three hour tour. They offer two and three hour tours and I knew I would appreciate the longer tour. I had asked on Monday where I was to meet and was told to come back to the same window where I picked up the will-call tickets.
I was there to meet a Mr. Fowler, the guide listed in my confirmation. Instead I had William Griffin IV. I had just met him outside while we were waiting for the doors to open at nine. I saw his badge with "Gettysburg Licensed Guide" hanging around his neck. I told him I was here for a battlefield tour and asked if he was Mr. Fowler. No. I said while we are waiting do you mind a question? No, not at all. So I started with something I had been wondering as I drove around the battlefield. There are hundreds (I found out there are 1320) of statues, plaques, monuments everywhere. I wondered about their placement; they seemed to just be randomly placed all over the fields. William said no, they are very specifically placed and have to be approved by historians. Each unit, company, division markers are placed at initial starts of battles. There was actually a lawsuit over placement of one marker that went all the way to the Pennsylvania Supreme Court over a unit statue on the field of Pickett's Charge. The historians said it belonged back behind the initial line but the unit veterans insisted they were about 100 yards further toward the Army of Northern Virginia.
I learned how lucky we are that veterans of this battle fought to preserve the location and history within years of the end of the war. As I looked around, I marveled it has been protected and we haven't covered it in subdivisions or condos or strip malls. I learned how the Union veterans fought to keep Confederate monuments off the battlefield, and the southern states have just their state monuments. We drove to specific spots over the next three hours and discussed the three days of the battle, the generals, troop movements, and much more. William said we know more about this battle because it was two of the most literate armies in history. We know to the minute most troop movements, which unit, and who was in command because of the detailed journals and notes. Fascinating tour, highly recommended.

I took the Savor Gettysburg Food Tours downtown food tour on Friday. They were great about keeping the group small, everyone had to keep masks on unless sitting at their table and they kept every group at separate small tables instead of one large one like they usually have for their tours. Savor Gettysburg did a great job.
All the restaurants were wonderful. We visited:
I was so full I could barely walk home! But the mile walk helped a bit.
I wanted to take one or more walking tours and found several sites offering historic walking tours, ghost tours, and much more. I emailed several of them. One just emailed back and told me to call. I did and left a message and never heard back. Another called me back and in response to my questions on COVID19, if masks required, group size limitations, I was told, "no but you can wear a mask if you want, we're not going to enforce that". I didn't take any of the tours.
Recommended food/drinks
All the above places I visited on the food tour are recommended. The food was delicious and of very high quality. If I had taken the tour earlier in the week, I would have made sure to return to Food 101 and Thai Elephant Walk, definitely. George's was wonderful and I would have loved to have a full serving of their Lemon Chicken! The Swope is a beautiful location, an old restored home, and they do have an outside patio for dining.
I had visited Reid's earlier for a flight of their ciders and was glad for the opportunity to return for some of their wine.
Appalachian Brewing Company Good beer, good service, nice place to sit with your dog. Very good pierogies! As good as some I had in Krakow or Warsaw.
Fourscore Beer Company. I had a couple really good beers, but just horrible service. I asked for a flight. We don't offer flights. Okay, how is the black lager, may I taste it? No, we don't offer tastes. I literally have never been in any bar/brewery that won't offer you a sip of a beer. Usually, if I just ask the bartender, how is the pale ale or whatever, or even just a recommendation, they turn around and pour a half ounce or so and let you try a beer. I asked if I could fill a growler with the sour I had ordered? No, we don't have a sanitizing station, but you can buy our crowlers. I made the statement oh, that's too bad, I like to be able to fill my growler to be able to reseal it. Then the comment "If you don't like it, you don't have to come back". Well, okay. I didn't like their service and didn't go back. Good breweries are getting easier and easier to find, fortunately, but good service is rare.
Gettysburg Baking Company I went past this place on the main square dozens of times when out walking. I really wanted to peek in and see what they had. I attached Boo to a bench one quiet afternoon and went in quickly. I ordered a delicious type of chocolate cake with cream cheese. So big I saved half for the next day. Their sandwiches and breads looked amazing. I was sorry I didn't try it earlier in the week to purchase some bread.
Battlefield Brew Works The service was good and everyone friendly. The beer was just okay beer. I had a flight, I didn't like the IPA I had, the Pennsyltuckey and Marzen were average, the Tardy Tart Sour was the best of the four. They don't have their own food, but offer Dickie's BBQ. The menu displayed online is not being offered, they have just a small selection due to limited hours.
** All photos property of Lisa, not to be copied or reproduced **