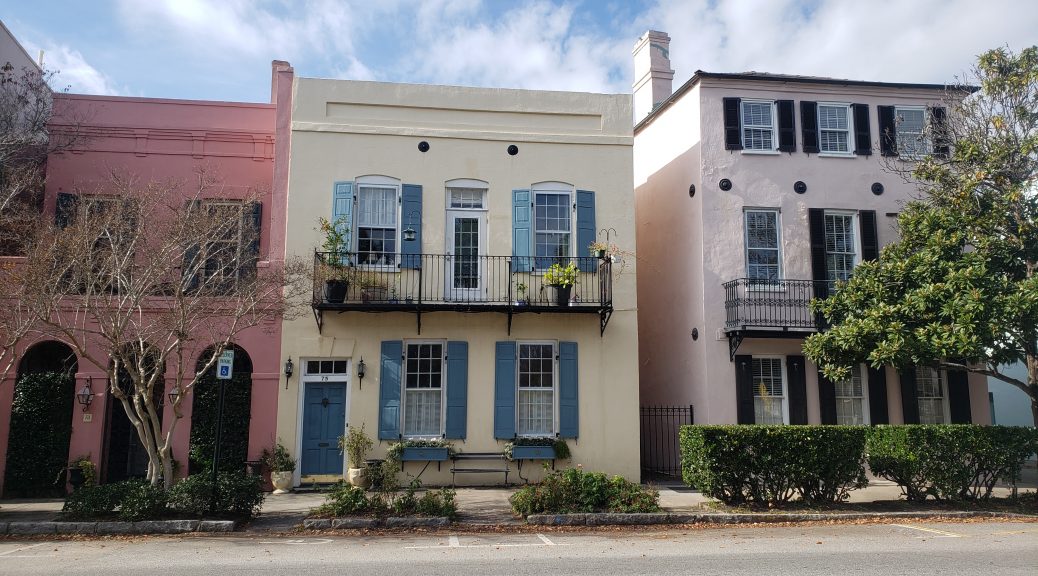 Charleston, South Carolina
Charleston, South Carolina
I knew after visiting for a day last winter, I wanted to spend more time in Charleston. After my stay in Asheville, I continued south to Charleston. I couldn't find any place I liked and was affordable in downtown but I found a place in North Charleston. It was a nice neighborhood, up by the lovely Park Circle and just a block and a half from lots of restaurants, bars, stores on Montague and Spruill. It was a great neighborhood for walking with Boo, there were several other small parks as well as Park Circle. It did mean a drive of about 8-10 miles to get to the historic center, however, and dealing with expensive parking. I easily spent well over $150 in parking, $5 or $10 every time I went down to tour, but it was probably still cheaper than places downtown.
Last year, I only had time to walk through the city at Waterfront Park, down East Bay Street along Rainbow Row to White Point Garden and the Battery and a visit to the Old Slave Mart Museum. I returned to all of those locations and had time to see much more of this beautiful, historic city.
I arrived mid-December and stayed for 5 weeks. Because I was there during the holidays, there were lots of decorations and holiday markets to enjoy. There is a weekly farmer's market at Marion Square and they had a holiday market for the first two weekends of December. Park Circle has a yearly display of lights, "The Lights at Park Circle", up for the entire month of December. Boo and I walked the four blocks to the circle most nights and around the perimeter enjoying all the decorated Christmas trees and other light displays. Most of the houses downtown had beautiful decorations, greenery draped over their verandas, huge wreaths and many lights. It made for many beautiful walks. I checked for weekly events on the Charleston Visitor Bureau page.
Like Park Circle, White Point Garden and Waterfront Park are both great locations. I visited over and over, to enjoy a picnic lunch from one of the many great restaurants in the city or just sat and enjoyed the scenery. There is free 2-hour parking along the battery if you can find a space. Closer to North Charleston, I would go to the Riverfront Park to enjoy some nice paths along the Cooper River. There is an interesting Charleston Naval Base Memorial and a dog park.
I enjoyed going downtown and just walking. I'd park and walk to the various houses or museums I was visiting but found it very pleasant to just wander the streets many days. I stopped to read all the historical signs and markers or to admire the wrought iron gates, fences, and balconies or peeked in at the gardens I could see down the walkways between homes.`
I took a self guided walking tour I found on Condé Nast Travel my first week in town. I had walked through this area on my previous visit but it was a good overview. The Battery, the sea wall along the harbor, bordered by the Ashley and Cooper Rivers is a popular area for walking. I loved strolling along East Bay, Murray, and South Battery Streets to admire the expensive and beautiful facades. I walked up and down Meeting Street, Church, King and Legare several times. One day I started at Waterfront Park and walked all the way up East Bay to Liberty Square, down Calhoun to see the Mother Emanuel AME Church to Marion Square, and visited Wragg Square and Wragg Mall before coming back downtown along King Street. Shoppers will love King Street.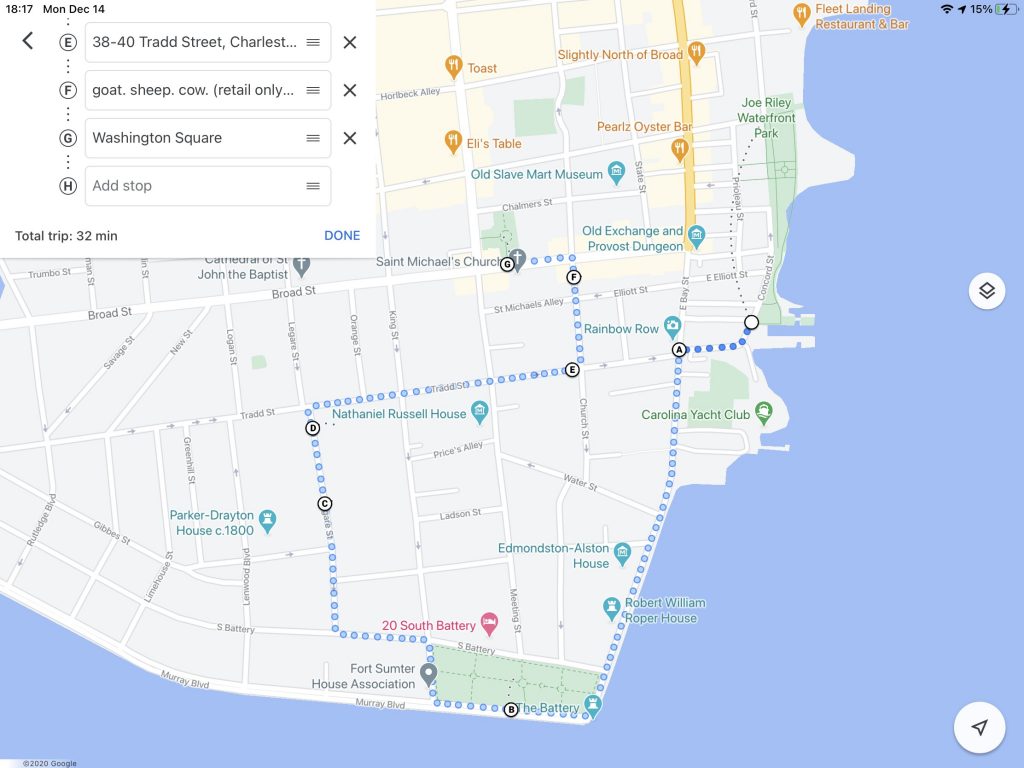 I wanted to see the Old Charleston Jail, so another day I walked across town on Queen Street to visit the site. You can go inside on a ghost tour but I was okay with just seeing the outside. It's a very creepy place. I continued to Colonial Lake Park and to the waterfront on the Ashley River then returned along Broad Street. I don't think many people spend time on the west side but walking all the way across from river to river on Murray or South Battery or Broad are great walks. There was always something new to explore downtown.
I visited both last year, but I made sure to find Longitude Lane and Stoll's Alley again, they are both fun to wander down. One of my walking tours also visited Longitude Lane. I stopped by 58 Church Street to visit Mrs. Whaley's Garden, a private garden open to the public.
I visited Washington Square, with its monuments. I would have loved to see inside some of their historic churches, like St. Philip's, St. Michael's, or the Circular Congregational Church, and many others in town, but all were locked up, no matter the day, probably due to COVID. I was able to wander through several of their graveyards, however.
I visited Sullivan Island and the Isle of Palms many times over my stay. I saw the Sullivan Lighthouse (not open), the grounds of Fort Moultrie, Sullivan Beach, Isle of Palms Beach, Isle of Palms County Park. There is a short trail by the beach, Sullivan Island Nature Trail. I had many sunny warm days to enjoy long walks on the beaches with Boo, or just to lay on the sand enjoying the day with a good book.
350 Years of History
Charleston was founded in 1670. There is a lot of history in the town. Literally layers of history with buried walls and ramparts of the original British walled city, and lots of archeological finds in the various museums. There is Colonial, Revolutionary, Antebellum, Civil War history and architecture, and much more.
I took the ferry to Fort Sumter one afternoon and highly recommend this trip. Besides a great ferry ride across the harbor, a ranger tour and history of the site is included. I spent about an hour at the visitor center at Liberty Square prior to my scheduled tour of the fort.
There isn't as much to see at Fort Moultrie because the fort and visitor center are closed but it was worth wandering the grounds and seeing the cannons. I drove to Summerville, a few miles north of town to see Colonial Dorchester State Historic Site.
History buffs will enjoy a visit to the Hunley Submarine. On February 17th, 1864, the H. L. Hunley became the first successful combat submarine in world history with the sinking of the USS Housatonic. It went missing after the mission. It was finally found in 1995 and recovered in 2010. It's an interesting visit, I saw lots of items found on the submarine, read about the history, the three separate missions, how it was finally recovered, and saw the submarine on a guided visit. One negative, they have overlapping tours so it makes it rather hard to hear if you have a soft-spoken guide. My guide was standing 6 feet from me but the guide 30 feet away was quite a bit louder, unfortunately. I heard him over my own guide. There are lots of great exhibits to read on your own after the tour, though.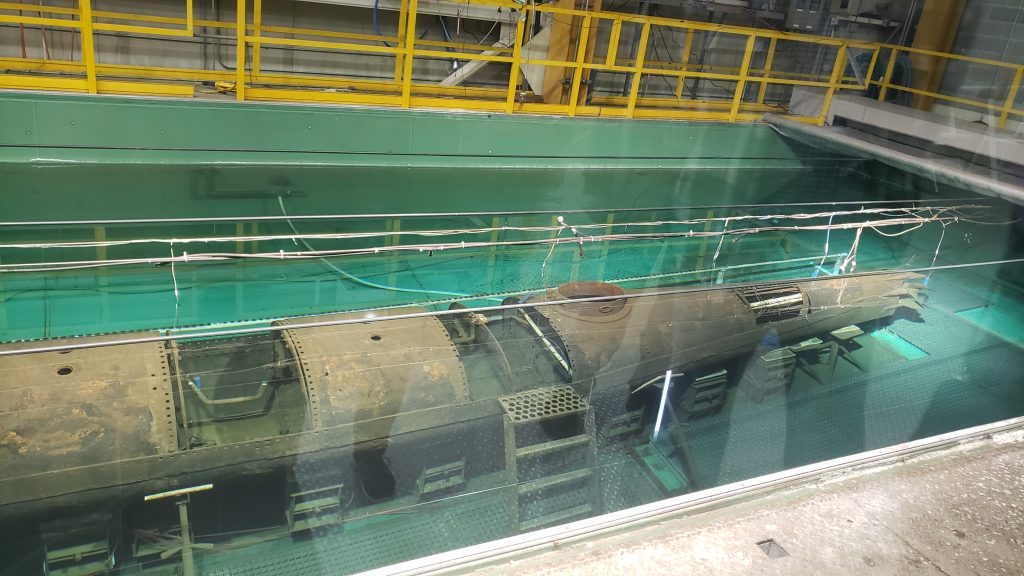 I heard a lot about Robert Smalls while in Charleston. There is a historic plaque about Smalls on East Bay Street, several guides talked about him, and I saw his home and grave in Beaufort. Born into slavery, he was hired out to work in Charleston. During the war, he worked as a pilot aboard the Confederate ship, Planter. On May 12, 1862 he and other enslaved members of the crew planned to take the boat, loaded with six cannons, to the Union ships barricading the harbor. Smalls put on the captain's straw hat and first went to another wharf to pick up his family and friends. He had memorized all the signals to safely leave the harbor. Once out of range of Confederate guns, he raised a white flag and surrendered to the Union. He became a pilot for the US Navy. After the war, he learned to read and write, and was elected to the US House of Representatives from South Carolina. He fought for equality and against segregation. He helped establish Parris Island Marine Corps Base. After state Jim Crow laws prevented him from holding office in South Carolina, he was appointed to Collector of Customs, a federal appointment, by President Harrison. He bought his former owner's house in Beaufort and lived there the rest of his life. He also took care of his former owner's wife, letting her live with his family when she was sick. This man needs to be in all our history books. Truly a great American.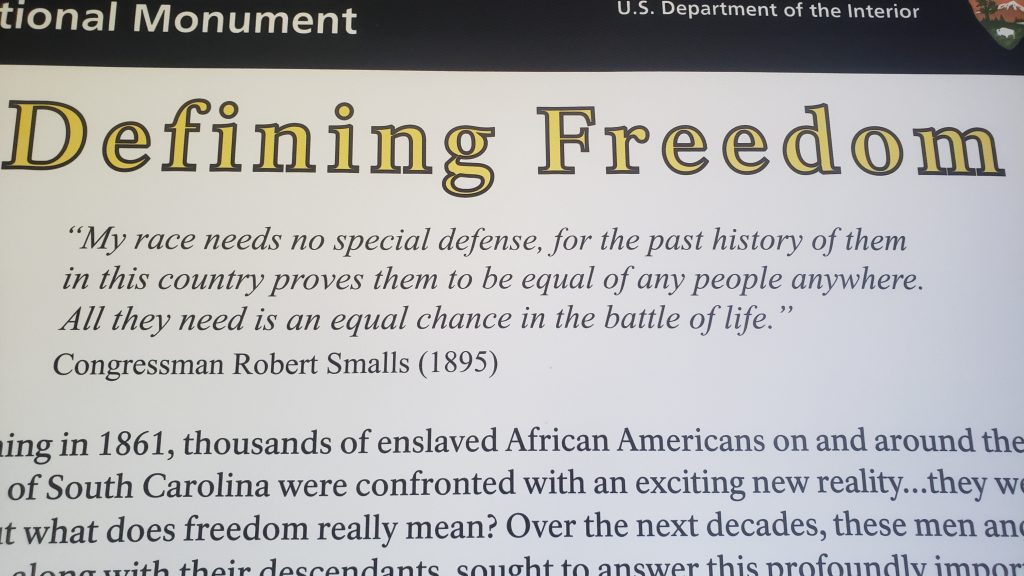 Tours
Want more history? There are many plantations in the area but not many focus on the enslaved. I visited McLeod Plantation Historic Site, run by the Charleston County Parks. I had a great visit, wandering the grounds for about an hour before my tour with Paul. Each of the guides has a different focus, a different talk. Paul focused on the enslaved and their history at this site. If you're lucky you'll get Paul! I overheard some of the other guides as I wandered on my own and I would rather hear about the enslaved and their lives than growing cotton, for example. A ticket includes a visit to the McLeod Home, several homes of the enslaved, a worship house, dairy, kitchen, and the guided walk. The plantation was also used by Union soldiers occupying the site during the Civil War.
I took the Gullah Tour with Alphonso Brown. This tour is quite different than some of the other tours as it focuses on the Afro-American sites and stories. I saw a story about Mr. Brown on either CNN or the Travel Channel and looked him up when I came to town. Besides lots of information about the Gullah culture and language, we heard about the Mother Emanuel AME Church, black slave owners, free blacks in Charleston, Porgy & Bess on Catfish Row, the Underground Railroad, and Philip Simmons, the iron worker. We visited the Simmons home and workshop. His work is all over Charleston, gates, fences, balconies, and even in the Smithsonian.
I really enjoyed my Spirits of Magnolia Cemetery with Bulldog tours and returned a few days later to see the cemetery in the daylight to see more of the monuments and memorials.
I took a walking tour of downtown with Lowcountry Tours, their great Charleston's Alleys and Hidden Passages. The last week I was in Charleston I picked up another tour with Bulldog Tours, the Dark Side of Charleston. It talks about prostitutes, madames, pirates, Al Capone, gangsters, prohibition, and much more. The guide, Bruce, also leads some of the ghost tours so we heard the story about John and Lavinia Fisher and the haunting of the old city jail. Very interesting tour.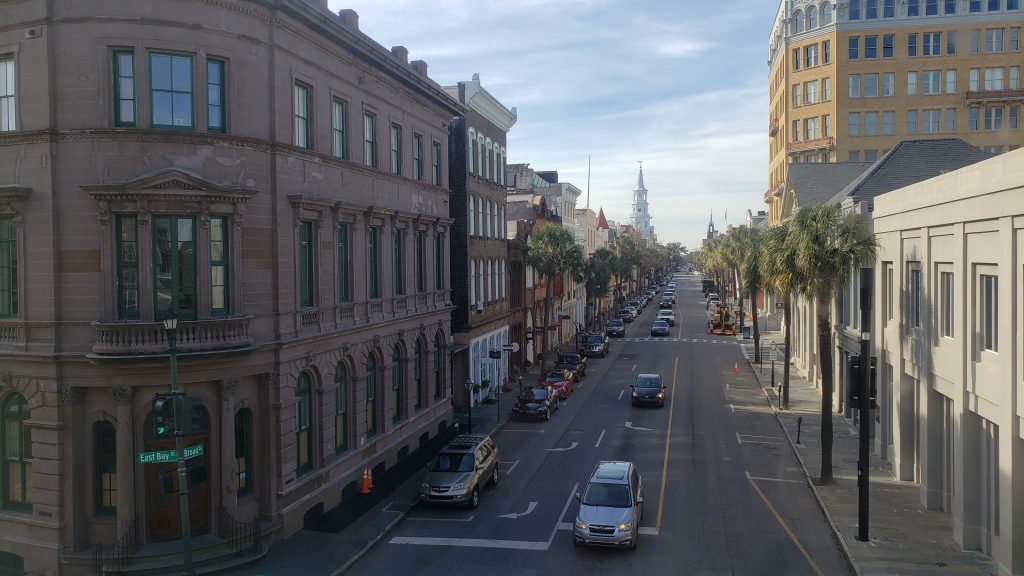 Museums and Historic Houses
There are dozens of historic sites to visit, restored houses, museums, and more. I was going to purchase the $25 ticket package to visit the Charleston Museum and their two houses, the Joseph Manigault House and the Hayward-Washington House. However, one of the employees at the Charleston Visitor Center on Meeting Street told me about the Museum Mile Month pass. For just $35 you can visit 13 sites during the month of January. It's mostly to encourage locals to support their museums during a slow season but I was lucky to be here to benefit from this great deal. Visiting each of the locations individually would easily cost over $150 so this is quite a bargain.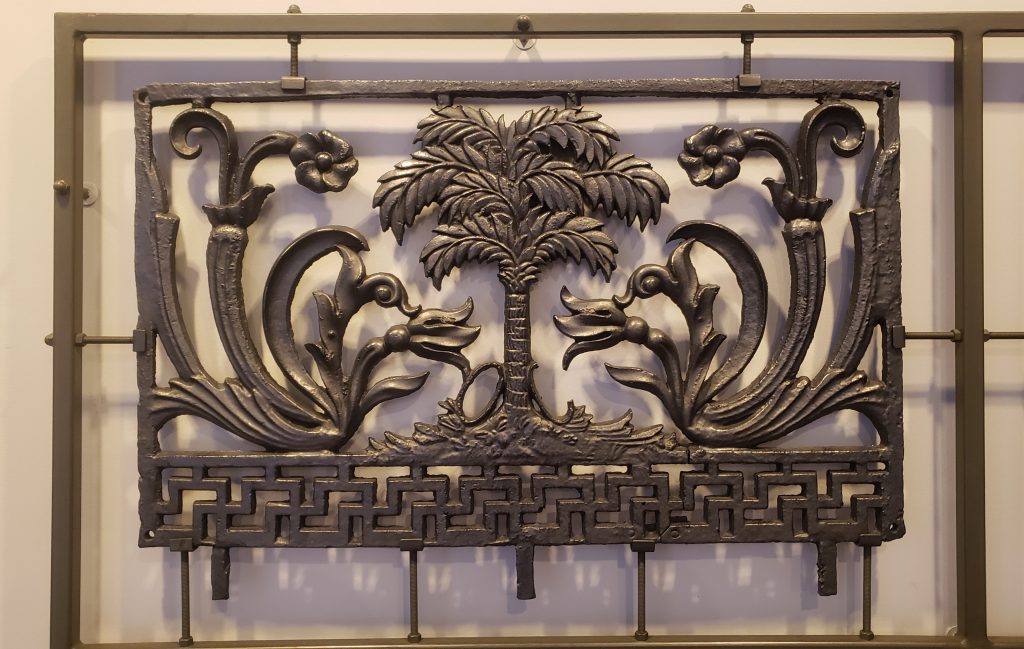 Participating sites include:
Aiken-Rhett House Museum – not restored, just "preserved", I thought this was one of the more interesting houses to visit. Beside the two floors of the house open to visitors, I saw the courtyard, stables, enslaved quarters, kitchens. They have a web site for a self-guided tour. My phone died about half way through, so make sure you have a good charge. I came home and listened to the rest, still interesting.
The Charleston Museum – This is the oldest museum in the country. There are many great items to see, lots of information. Their focus is on the city and its history and artifacts, but there is one room from pre-Civil War when more eclectic items were collected. There is parking behind the building which I was unaware of so paid for parking across the street at the visitor bureau. Save a few dollars and use their free parking.
Children's Museum of the Lowcountry – Must be with a child, 10 and under.
Joseph Manigault House – Just across from the Charleston Museum. Built in 1803 for the Manigault's, rice planters and merchants and one of South Carolina's leading families. Joseph Manigault inherited several rice plantations and over two hundred slaves from his grandfather in 1788.
Museum at Market Hall – confederate artifacts, weapons, money, uniforms, and history. Above the City Market. Most documentation, including the museum mile month pass, calls this the museum at market hall. I only saw "The Confederate Museum" on one site. There is a video to watch about the start of the "War between the states".
The Powder Magazine – Completed in 1713, it is South Carolina's oldest government building. Used as an arsenal from 1713-1748 and during the American Revolution in order to defend the city. After 1780, it was retired and privately owned. It was used as a print shop, livery stable, wine cellar, and carriage house. There is information about the building, architecture (sand in the ceiling), and history of the building and site. Small, one room, so doesn't take long to read all the displays.
Gibbes Museum of Art – sculpture, paintings, a room of interesting miniatures, and some beautiful locally made furniture. Mostly local artists or subjects.
Old Slave Mart Museum – I visited last year and it was still worth going back. Unfortunately, the audio stories of the enslaved have been taken out of the museum but are still available online. There is so much great information in these small rooms, a sad and depressing history more Americans should learn.
The South Carolina Historical Society Museum – On Washington Square. Five rooms of history in the old Fireproof building, a National Historic Landmark. They have many interactive exhibits on the people and places of South Carolina and Charleston.
The Old Exchange and Provost Dungeon – Built in 1771 as the Exchange and Custom House. When the British held Charleston during the Revolutionary War, 14,000 pounds of gunpowder was hidden behind a false wall in the cellar by General Moultrie. The British used it as their provost for Patriots and other prisoners. One of three buildings left in the country where the Constitution was ratified or signed. Washington visited here during his country tour in 1791.
Heyward-Washington House – Home of Thomas Heyward, Jr., one of four South Carolina signers of the Declaration of Independence. Built in 1772. During Washington's tour of the country in 1791, he had dozens of invitations to stay but asked the City to choose his lodging. They rented this house for the President's week-long Charleston stay. You can visit the courtyard, beautiful gardens, and old kitchen and laundry.
Nathaniel Russell House Museum – built in 1806 for Nathaniel Russell, slave trader. Lots to see, beautiful furnishings. An impressive 3 story staircase. Self-guided tour; there is an app for Apple or you can use their web tour for any device.
Edmondston-Alston House – privately owned. Right on East Bay, great location and view from their verandas. A B&B occupies the back part of the house, the former kitchen, laundry and slave quarters. You can visit the first and second floors with a guide. The family still lives on the third floor.
Other Sites of Interest
Charleston City Market – everyone who visits the city needs to walk through the market. Lots of items to purchase, typical souvenir items, as well as the local grass baskets, lots of food items (great relishes and jams) and more. It's just enjoyable to walk through this historic building. Several public restrooms make it a convenient stop if you're out and about downtown.
Charleston Tea Garden – beautiful location! They have an interesting video on growing, harvesting, and processing tea leaves. Samples available. On the drive back to town I stopped in to see the historic Angel Oak on St. John's Island. I had seen it last year on my day visit to Charleston but saw the sign on the drive out and thought worth stopping again since it was on my way.
There are many things to see in Mount Pleasant, across the Cooper River. There is an interesting Cold War Submarine Memorial, Patriots Point Naval Museum, which includes the Yorktown, and a few short trails, the Patriot's Point Nature Trail and Hog Island Trail.
Beaufort
I drove over to this lovely city twice during my stay in Charleston. Once before Christmas, but I only spent about 5 hours in town after getting a late start. I walked along Waterfront Park, had lunch at Panini's on the Waterfront, and took a great walking tour with Bill and Beaufort Tours. I also walked down Bay Street to look at all the houses along the bay and visited the Beaufort National Cemetery.
I wanted to see more so drove over a few weeks later. I made sure to get up earlier so I could spend all day. I went out to the Chapel of Ease on St. Helena, before going downtown. I wanted to visit Fort Fremont but the location is closed.
I visited Penn Center National Historic Landmark, the first school in the south for formerly enslaved, opened in 1862. The site also houses Darrah Hall and Brick Church, two of the buildings of the NPS Reconstruction Era National Historic Park. There is a great museum and video about the school in the visitor center.
Back in town, I walked through the historic district and the Old Point again. I returned to Robert Small's house and visited the Chocolate Tree for some dark chocolate, caramels, and a yogurt dipped crunchy bone for Boo. After visiting town, I drove out to the Spanish Moss Trail and did several miles on this lovely old railway site.
Restaurants/Breweries
Sesame Burger (North Charleston) – the Napa Valley, Fig and Bacon Jam with Blue cheese and wine reduction sauce was great.
Basil Thai (North Charleston) – good Thai food.
Panini's on the Waterfront (Beaufort) – delicious Shrimp panini and they have a fur baby menu for your dogs.
Munkle Brewing – Great Belgian style beers and dog friendly.
Rodney Scott's BBQ – had a pork sandwich last year during my visit with a side of beans, went back and had a plate with some hush puppies and cole slaw. All delicious, as is their BBQ sauce.
Lewis BBQ – Brisket and corn pudding. Went back a second time for another sliced brisket sandwich and tried their beans. The corn pudding much better than the beans, but regardless, the brisket is incredible. Thick cut and piled high but so tender.
Acme Lowcountry (Isle of Palms) – Whistlestop Shrimp and Grits with fried green tomatoes.
Page's Okra Grill (Mount Pleasant) – Tried their fried chicken and savory waffle stuffed with corn and sausage.
goat.sheep.cow – cheese. Lots and lots of cheese. Everything you could want and more.
Palmetto Brewing – Nice patio, good beer. Flights! And dog friendly.
EVO Pizza/EVO Bakery – not recommended. Tried a pizza, they do have interesting toppings. I like thin crust but this was too thin, limp, and greasy. I was out walking a couple weeks later and wanted something sweet so stopped in the bakery for a cookie. Got a chocolate chip cookie, just okay, a brownie for later (quite good, very large so two treats) and a loaf of French bread. I like crusty bread but this was just tough, not good at all. Even toasted it was inedible.
Revelry Brewing – lots of outside seating. No flights but half (5 ounce) pours and dog friendly.
Fatty's Brew Works – friendly place, will give you a small taste before pouring a beer. Big TV screens where I watched the coverage of the insurrection on the evening of January 6th with a couple of the employees as we drank a lot of samples and talked about the craziness. Dog friendly.
Edmund's Oast Restaurant/Exchange – nice heaters on the patio to sit out side even in cooler weather. Dog friendly. Nice selection of both draft and cans. You can buy mix 4 or 6 packs from the Exchange. I never did make it over to the brewery on King Street.
Jackrabbit Filly (North Charleston) – the Singapore rice was excellent! Liked it so much I wanted to try the restaurant again and got their pork and cabbage dumplings and the spicy karaage chicken. Both were delicious.
Chocolate Tree (Beaufort) – some great caramels, a large selection of milk and dark chocolates, even dog treats. Boo loved his dipped bone!
Tradesman Brewing – good selection and service. Nice patio and dog friendly.
Final thoughts: After spending 6 weeks in Savannah last year and 5 weeks in Charleston, I've had friends ask, which do you like better? Both are beautiful and have great locations, lovely parks and squares and riverfronts, historic houses, museums, and barrier islands like Tybee or Sullivan to visit. But… I don't like South Carolinian/Charlestonian drivers. They all are staring at their phones, run red lights, no one uses their turn signals, lane lines seem to be a suggestion. All of that, combined with narrow streets and lanes that end without much warning, make it difficult to drive downtown. Most of the same reasons, along with lack of respect for walk signals, make it rather scary to be a pedestrian, too. I guess I would say it was a tie if you didn't have to drive or walk in downtown Charleston. Still a great city, just make eye contact with drivers before crossing the street, even if you have the walk light. Definitely NOT kidding. Be careful crossing streets!
** All photos property of Lisa, not to be copied or reproduced **