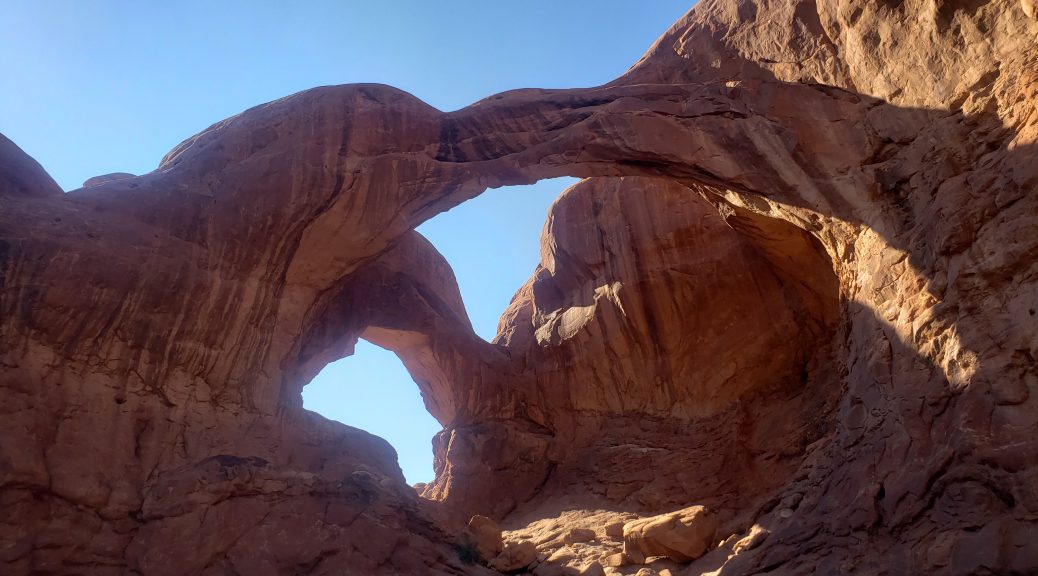 Arches National Park
Arches National Park
Despite booking a "pet friendly" hotel, when I checked in Saturday night, I was given a form with all sorts of rules. The first rule: If I left my dog alone, they would call animal control. Absurd. So I quickly went online trying to find a true pet friendly place to stay. I called other hotels, filtered by pets allowed, but all of them said the same, no pets left in room. One even told me "no hotels allow you to leave your dog", which is definitely not true. I found an AirBNB where I could leave Boo and confirmed I could check out early from my hotel only paying for my first night.
Neither Arches or Canyonlands are pet-friendly parks, they're not allowed on any trails and the weather the first few days was in the high 90s or over 100. I needed a place for him to stay safe and cool. You can see he's super upset about me leaving. But he is always waiting at the door for me.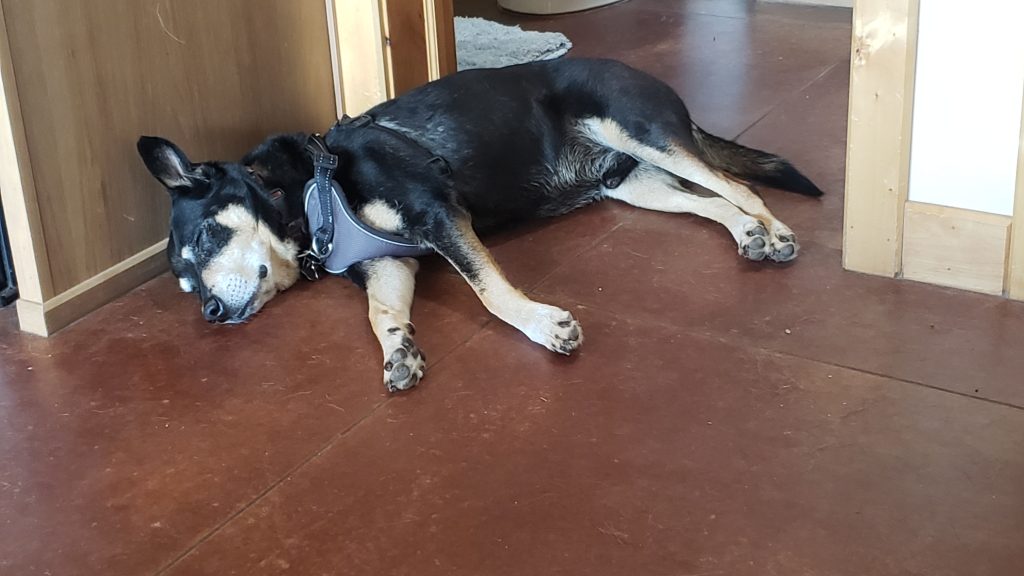 Sunday, my first full day in Moab, since I still had Boo, we just drove the 18-mile, 36-mile round trip, scenic drive of Arches National Park. I made a number of stops for photos but only did the short 700 foot walk to the view for Delicate Arch. It was too hot for dogs to be left in the car even for a few minutes.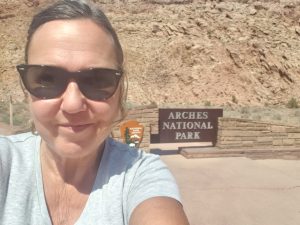 I returned Tuesday afternoon about 1500, when it had cooled down to only 98 or so (from 105).
I started at the visitor center and did the short Nature Trail to see the desert plants. I went to the Windows Section and walked the primitive trail to Turret Arch following it behind the South Arch and North Arch. I also did the trail to North Arch from the parking lot since the arch can be viewed from the primitive trail but not reached easily. I walked down to the Double Arch trail (you can stay in the same Windows parking lot) and did the short 1/2 mile trail. The featured image for this post is the Double Arch. Truly unique and beautiful!
I drove north, stopping at Sand Dune Arch and walking out to Broken Arch. This is a beautiful trail across a large meadow. The trail to Sand Dune Arch is just 0.3 miles, continuing to Broken Arch is 1.3 miles roundtrip, taking about an hour. It was a lot of fun climbing up through Broken Arch. You can continue this path to get to Tapestry Arch. I would have like to do this but would have wanted a ride back to my car from the Devils Garden campground where the trail ended.
I returned for a third visit, Friday. I arrived around 0700. The weather had gotten better and Wednesday, Thursday and Friday were only in the 80s. When I arrived Friday morning, it was still nice and cool, only mid-60s. Perfect temperatures for a hike!
I stopped at the Park Avenue lot. I had driven past here 4 times on my other visits and knew I wanted to do this 2-mile walk. The scenery looked great and it was a beautiful walk, descending steeply at first down a canyon and then walking through nature's skyscrapers. I returned the same way but there is a path along the road to return to the Park Avenue lot from Courthouse Towers where the trail ends.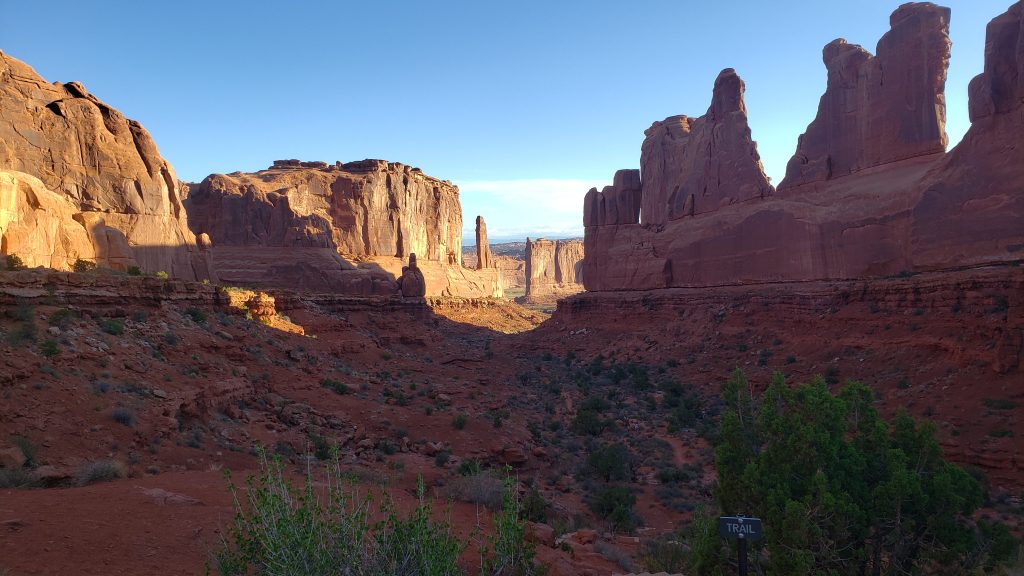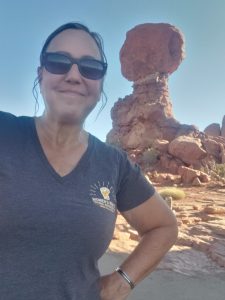 I drove toward the Devils Garden Trailhead, stopping to do the Balanced Rock trail. This is a short 0.3 mile round trip around the rock. I could see it from the road whenever I drove past but I recommend getting out and doing the walk, there are different views around the loop and you can see all the way to the Windows Section.
I arrived at Devils Garden before 9 but the parking lot was already full. I circled it a second time to find a space to park.
The path to Landscape Arch, a 2-mile round trip, while lots of ups and downs, is a hard packed trail that is easy to walk. The path continues on a primitive trail to several more formations. I would have liked to see Double O Arch but it's a very difficult trail, over rock slabs and narrow ledges with steep drop offs. I went past Landscape Arch several 100 feet, to see the viewpoint and what the trail was like. Past Landscape arch the trail turns to sand and I could see the immediate climb required over several slabs of steep rock. I turned around and did the short detours to see Tunnel Arch and Pine Arch before returning to the parking lot.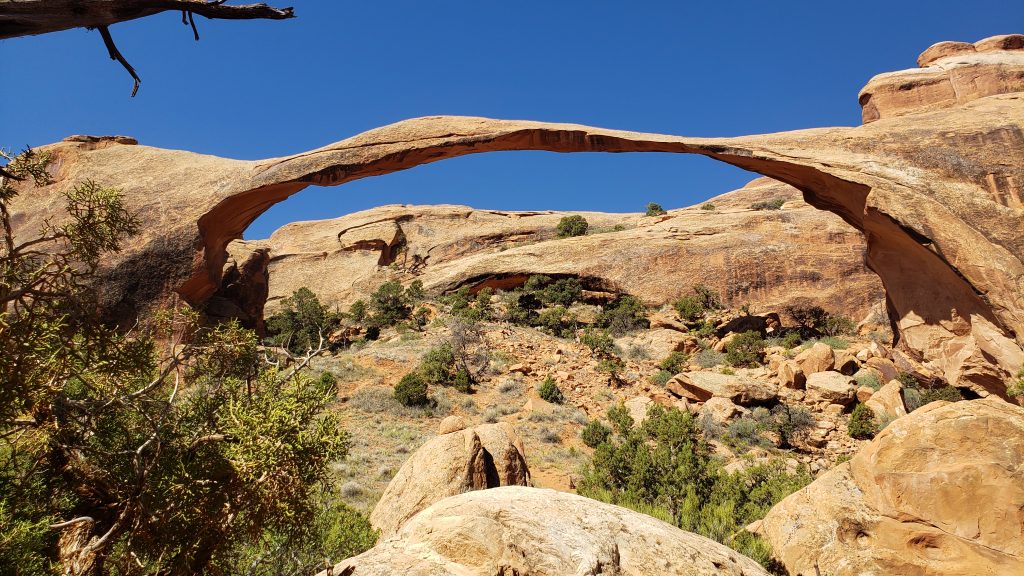 Back in the car I stopped at Skyline Arch and did that 1/2 mile (1 mile roundtrip) hike as well. Easy and flat. Another beautiful arch and great views.
I finished up around noon, and when leaving the park saw about 60 cars lined up at the entry station. Arrive early! Parking and temperatures are better, less crowds. Or even better, don't come to a popular park like Arches in the high season. I enjoyed my visit very much, however, and arriving early, or late afternoon, makes for a great day.
** All photographs property of Lisa, not to be copied or reproduced **
—————————————————————————————————————-—
Arches has had problems with graffiti. The park paper had an article about a 6-foot "Andersen" carved into Frame Arch, found in April 2016. It was too long and deep to grind away without permanently damaging the arch. It took almost two years, testing various methods and treatment to infill the damage.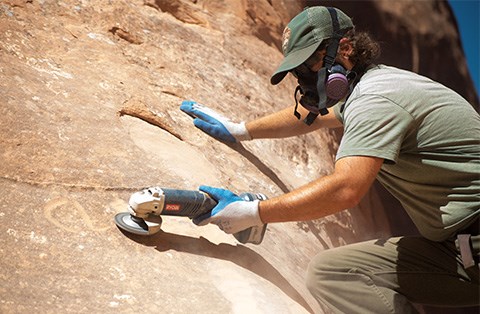 Source: NPS.gov
Remember, take only photographs and leave only footprints.
"Leave no trace"
** all photos property of Lisa, not to be copied or reproduced **