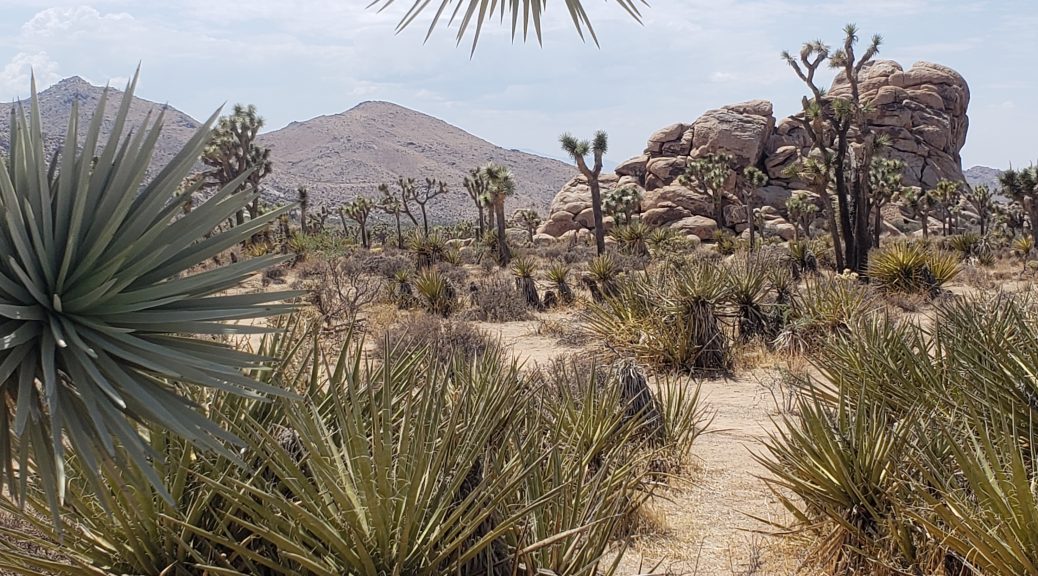 Joshua Tree National Park
Joshua Tree National Park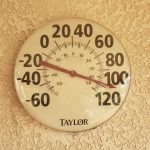 After leaving the San Diego area, I headed east to spend 3 days and nights at Joshua Tree. I've been wanting to visit this park for decades and finally made it out here. Wrong time of year, definitely, with temperatures in the 100s but …
I loved this park.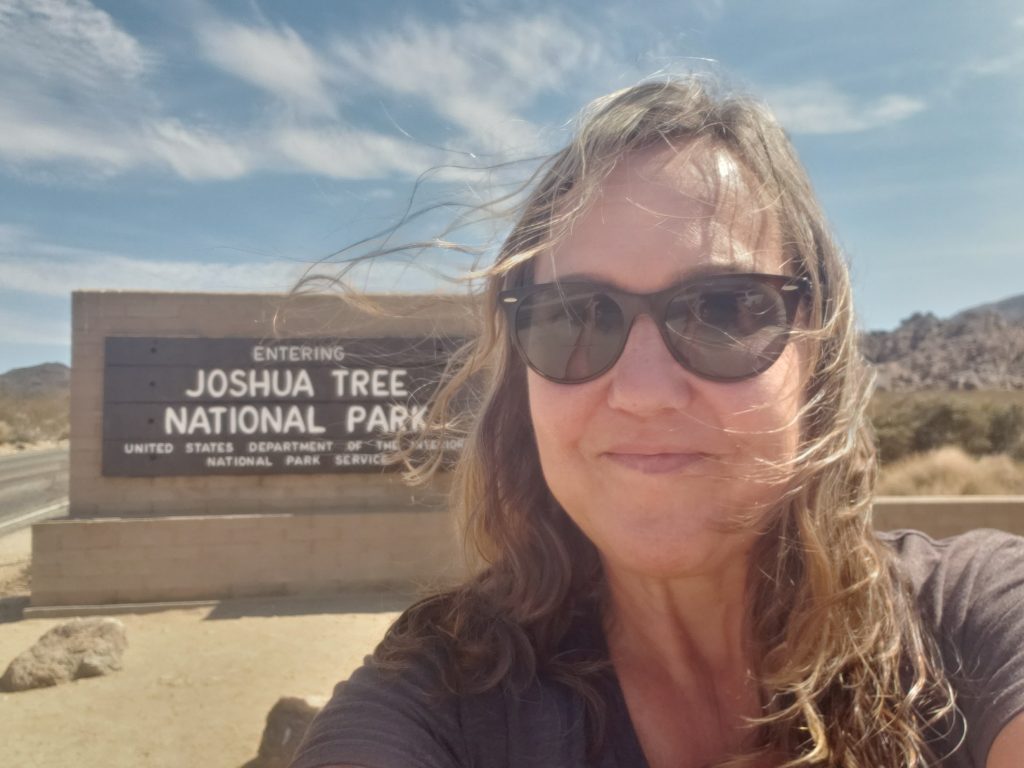 I just wanted to see the trees but the park is so much more than that. There is amazing scenery, rock piles, mountains, "gardens" of cholla cacti, plus, great trails, historic buildings, petroglyphs, roadrunners, lizards, ground squirrels, coyotes, cactus wrens, and jackrabbits! I entered the first day at the West Entrance Station, and highly recommend coming in this way if possible. Driving down Park Boulevard I saw 100's and 100's of the weird, wonderful namesake trees.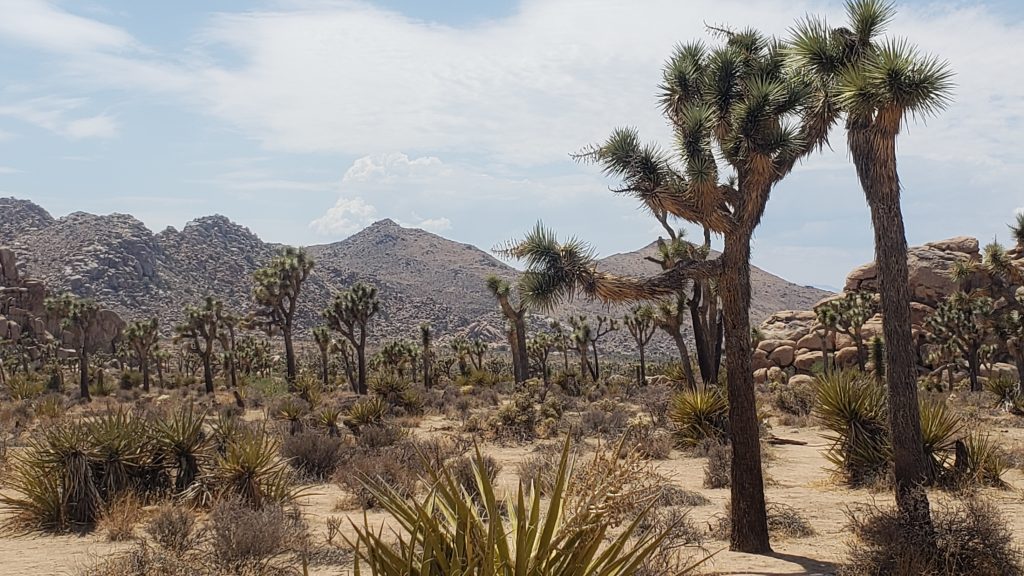 Since I had Boo and wasn't going to leave him in an oven of a car, we just enjoyed the views the first day. We stopped at Hemingway for a short walk then continued our drive to Keys View. This is a great overlook of the Coachella Valley, San Bernardino Mountains, and Salton Sea.
Boo was allowed out here but it was mid-afternoon and I was concerned about his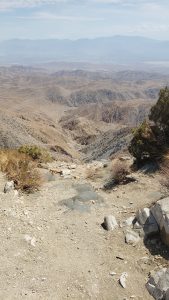 paws on the sidewalks. We did a quick walk though on this short quarter mile trail and I let him walk in the dirt which was slightly "cooler".
After Keys View, we drove north then took Park Boulevard east to the North Entrance. This is just south of Twentynine Palms where we were staying. On proof-reading those sentences later, I wanted to add the word "west" in there somewhere but just couldn't make it work.
I checked in to my hotel, fed Boo, then went back to visit the exhibits at the Oasis Visitor Center since they were open until 1700. This is outside the park and fairly close to town, so it is a quick drive.
The exhibits are open and have information on the geology and flora and fauna of the park. I heard an entire family, parents, two kids and possibly their grandmother, giving their oaths and earning their junior ranger badges, so that was my incentive to also pick up a booklet.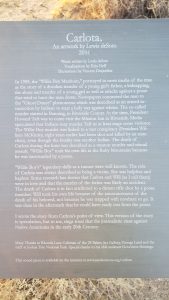 I didn't quite finish a few of the exhibits before they closed but went out to do the Oasis of Mara trail after leaving the visitor center. It's just a half mile loop, exploring the history of a desert oasis. There is an installation there, Carlota, by Louis deSoto, part of the Sand to Stone, Contemporary Native Art in Joshua Tree. He reimagines the story of "Willie Boy" telling the story from the point of view of Carlota. It makes for an enjoyable walk as you stop to read the story. I reread it a couple days later when returning to the Oasis to walk Boo late one evening when it was not quite-so-hot.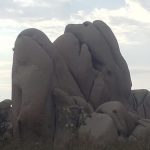 The next morning, I was up by 0600 and in the park by 0645. I wanted an early start to somewhat beat the heat. Even then it was already 89! I stopped at Live Oak, then did Skull Rock trail, 1.7 miles. I continued to Jumbo Rocks and wandered through this area for a bit, enjoying the views. I sat with my Junior Ranger booklet and did some sketches of the great rock formations. I saw a triceratops and giant tortoise head in the rocks.
I took the dirt Desert Queen Mine Road north off Park Boulevard, then picked up Queen Valley Road west to Barker Dam. This is a 1.1 mile loop around the dam built by cattle ranchers in the early 1900s.
I saw the petroglyphs at the west side of the Barker Dam trail and started down the Echo T Rock trail, only 0.7 miles. But I wasn't sure where the Echo T Rock parking lot was, or where I would end up, so continued on the Barker Dam trail to my car.
Back on the road, I pulled off at the Echo T parking lot as I drove by and did the trail from that end. There is a lot of climbing over rocks at the end of this trail, be prepared and wear good shoes! I am amazed by the number of people I see in sandals or flip flops.
I followed the spur road from Barker Dam to Hidden Valley campground looking for the trailhead but, fortunately, there was a ranger there who told me the trail was back out and across the main boulevard. Hidden Valley trail is a beautiful, but poorly marked, 1 mile loop. There are multiple forks on the trail without signs indicating direction. I went off trail a couple times and had to retrace my steps. I felt guilty about being off trail since there are many signs everywhere about staying on marked trails so not to damage the soil. I mentioned this later to a ranger when visiting Oasis again. I started by saying the trails were great but some could use some additional signs, and she interrupted, "Hidden Valley? Yes, we hear that, frequently." Okay, so the NPS needs more funding!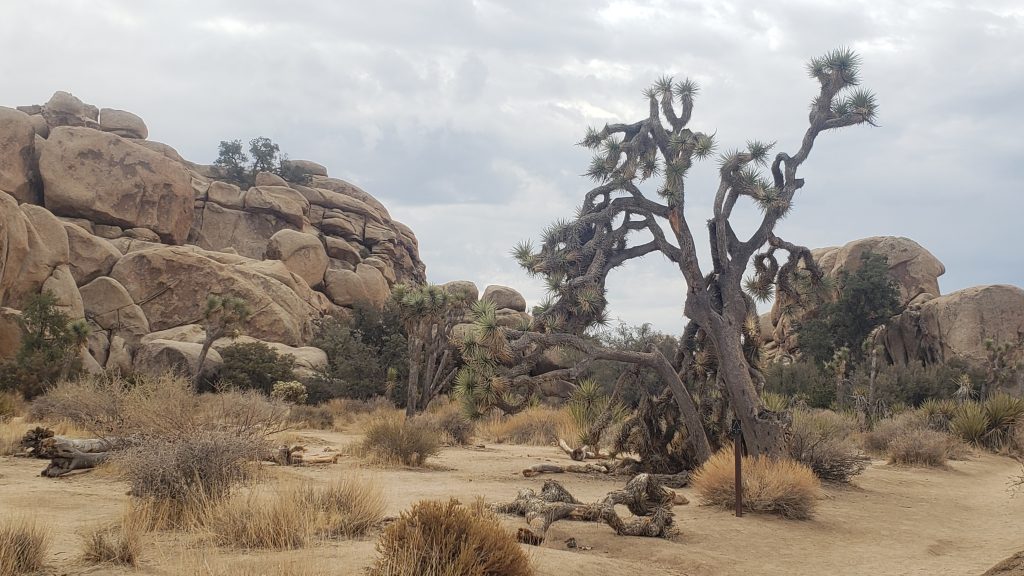 By then it was after 1300 and I was out of all my extra bottles of iced tea and water. Time to head back. I did stop for a quick photo of the Skull Rock. I thought I had just missed the formation on my walk that morning but the rock itself is on the opposite side of the street from the trail which I saw as I was driving east out of the park.
I stopped at Oasis Visitor Center on the way out to turn in my completed Junior Ranger booklet and get my badge plus finish the exhibits I had missed the previous day.
Later that afternoon, around 1630 I was going to stop by the visitor center again and do the Oasis of Mara walk with Boo but it was still too hot for him, so we continued down Pinto Basin Road to visit the Cholla Cactus Garden. There is a short quarter mile trail here, no pets per the sign, but I left all the windows down and could see the car from the very short loop through the cacti. There are 100s maybe 1000s of cholla cactus grouped together here and it's an amazing sight.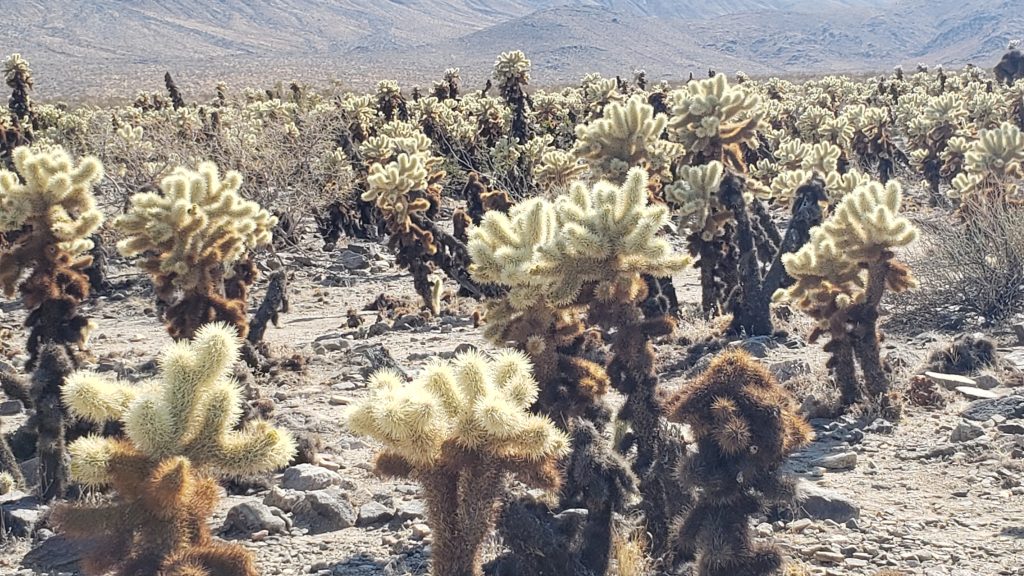 I walked quickly and was back in about 5 minutes. I thought about continuing all the way to Cottonwood Spring but two different rangers had mentioned this part of the park, the Colorado Desert, wasn't as beautiful as the Mojave. There are no Joshua Trees and it's much more barren. There are a couple short trails at the visitor center, the Cottonwood Spring trail and the Bajada Nature trail.
The next day, I woke at 0600 again and went back to the park. I drove down Pinto Basin to do my first hike at Arches trail. A beautiful 1.4 mile trail out to the rock formation. It's across the street from the parking lot at Twin Tanks. Then I drove back to Park Boulevard and stopped at Ryan Ranch, a 1 mile trail, out and back to see the Ryan's farm and old adobe buildings. A great walk.
I went to the Cap Rock trailhead at Park Boulevard and Keys View Road. This is only a half a mile with interpretative signs through the desert and some rock formations. Finally, I went back to Wall Street Mill. This is a 1 mile out/2 mile round trip hike. I had done half of this trail the day before, thinking I made it to the end when seeing the windmill, but a volunteer ranger I spoke with at Barker Dam told me no, I needed to go further and see the gold "mill" (made for crushing gold ore) and some old abandoned vehicles.
You can get to this trail coming from the east just off Queen Valley Road or continue past the paved road from Barker Dam. It's not listed on the maps and not even on the park trail guide for some reason. The mill is interesting and there is supposedly some other buildings, a bunkhouse and outhouse, but I didn't see those.
It was easy to find my way out to the mill; coming back, however, there are multiple paths leaving from the mill and it's easy to go astray. I kept heading towards the rocks for Barker Dam because I was way off trail otherwise. I finally saw the Wall Street Mill parking lot with my car but was pretty far off to the west and had to go across the desert, again off trail. I felt guilty but there was only ONE directional sign that I saw on the whole path.
I thought I'd enjoy the view on Park Boulevard again so drove out to the West Entrance Station and stopped at the main Joshua Tree Visitor Center in downtown Joshua Tree. The ranger I had spoken with twice at Oasis was working there, and I said hi again, and told her I picked up a bunch of trash I found at Cap Rock in honor of my junior ranger badge. I spent time talking with another volunteer ranger, too. She's an Army Intel specialist stationed at Twentynine Palms and volunteers at the park on weekends.
They had some great exhibits; different than those at Oasis. Some talked about paleontology and the mammoths and other animal fossils found, but most of the exhibits were about the geology of the park. They were showing this video at the center, too.
After leaving the visitor center, I drove down highway 62, planning a stop at Indian Cove for a final hike of the day. Unfortunately, the nature hike starts back at campsite 90 and that area of the campground was closed off to cars. I, stupidly, thought I'll walk back there and do the hike. Mistake! It was after noon at this point and 110 degrees. It was a mile walk back from where I left my car. I made it to the start of the trail, a couple hundred feet down the short 0.6 mile trail and thought, I can't do this, I'm too hot and have a long walk back. So I turned around, found some shade by a large rock, drank one of the two bottles of water I had in my pack and made it to my car. WAY too hot!
As I said, loved, loved, loved this beautiful park. I just suggest coming when it is NOT 100 degrees in the shade. I didn't realize this was a rock climbing mecca but when visiting you can see why, just walking the trails you want to start climbing those rocks. Would be great to come back and try some of the easier climbs. You have to do SOME climbing just hiking the trails, however. At Barker Dam and Arches and Echo T, there are plenty of rocks you have to climb up and over.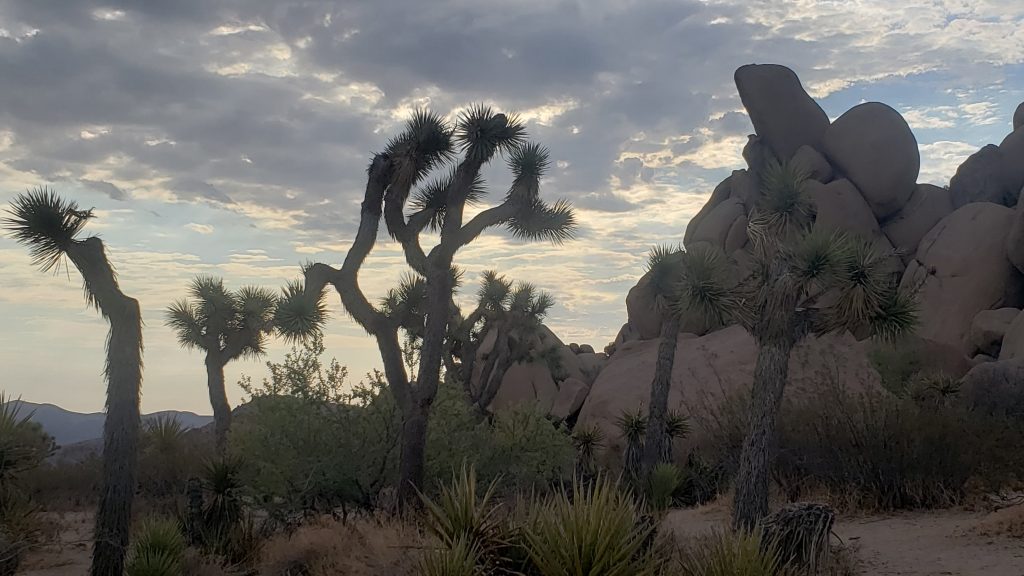 Some of the various climbs are marked at the start of trails; they have places called Hall of Horrors, Jumbo Rocks, and others to climb. Be safe, don't die, and leave no trace.
I saw this quote in the Joshua Tree Visitor Center, I thought of my favorite band while there, of course, and one of the best albums ever.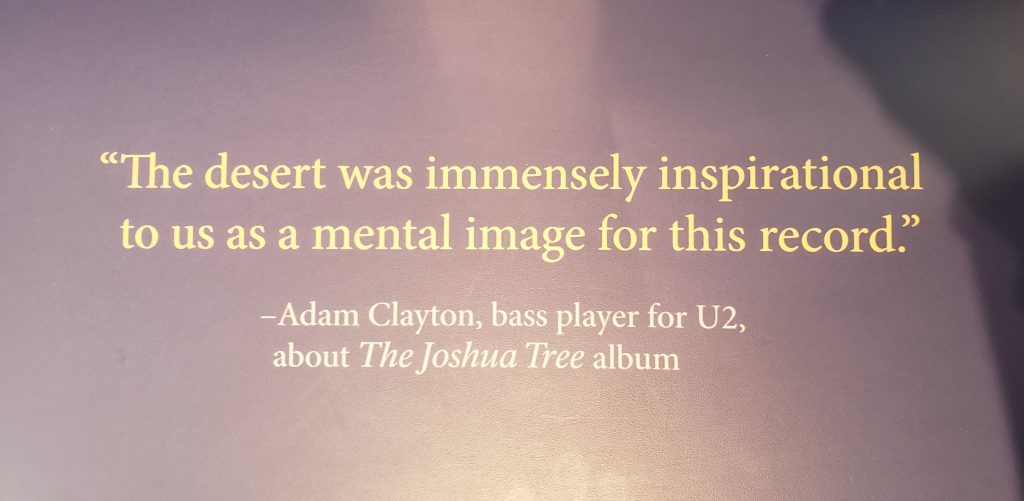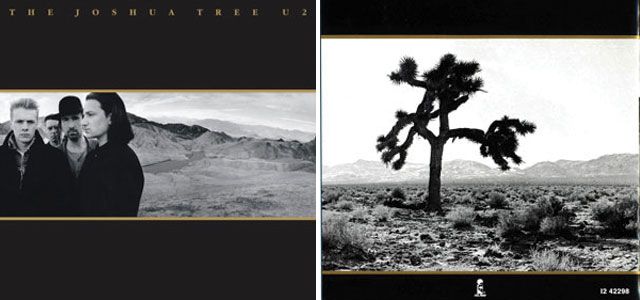 Restaurants
I didn't eat out much, I had purchased some sandwiches, salads, and other items at Stater grocery store, but did pick up some great tacos from Mexican Street Tacos for lunch Friday and then had some Pad Thai at Thai Cafe for dinner Saturday night. Again, like the last Pad Thai I had a few months ago, nothing like the excellent Pad Thai at my beloved Thai House in Bloomington.
** all photos property of Lisa, not to be copied or reproduced **