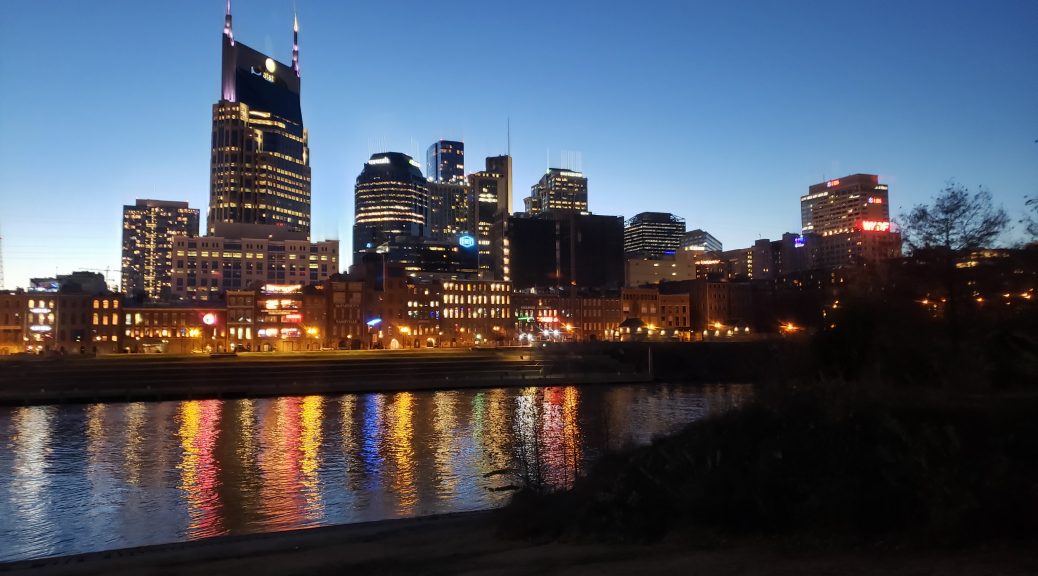 Nashville, Tennessee
Nashville, Tennessee
I've never been to Nashville so on my next leg of travel I decided to come to Music City for several weeks. The late fall, early winter weather is fairly mild (is supposed to be) and I thought there'd be a lot to see both in town and around the area.
Recommendations
Activities
My first day in Nashville, I went to the downtown area to pick up guides and maps from the visitor center. It's conveniently located right on Broadway but I drove around trying to find parking. I ended up paying quite a bit that first day but when out walking took note of places where I could park for free, or at better rates than $15 for 90 minutes (I added time, and stayed 6 hours for $30).
I found parking in East Nashville, by Nissan Stadium (Tennessee Titans) and walked across the John Siegenthaler Pedestrian Bridge many times to visit downtown. Free parking!! There is also parking by Centennial Park, Bicentennial Park, Music Row, and most places out of the city center. If you want to park right downtown, you'll pay high rates for expensive lots and parking decks.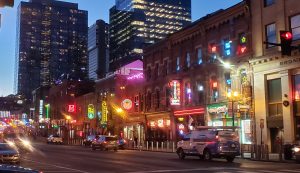 Broadway, from the river to 5th, is called lower Broadway or Honky Tonk Highway. The area is crowded, loud, full of tourists and bars with famous names like Johnny Cash, Jason Aldean and more.
My friend, Kelly, had never been to Nashville so flew down for a week to visit at the end of my 6-week stay. When she was visiting we went to a few of the bars to enjoy some music. None of them were places I wanted to visit alone, but many are dog friendly!
I visited Fifth and Broadway, saw the Walk of Fame, Ryman Theater, walked over to the Capitol complex and Victory Park, Music City Center, the Schermerhorn Symphony, SoBro (South of Broadway) and much more.
I enjoyed walking along the riverfront and the parks. I found Fort Nashborough, the former Bluff Station. Established in 1779, it is right on the river front. There are a number of historical markers and a statue nearby of the town founders, James Robertson and John Donelson. I walked down part of 2nd Street to see the damage from the Christmas Day 2020 bombing, but it's blocked off just north of Commerce. It opened for single lane traffic and had a narrow pedestrian walkway right before I left.
On other visits downtown, I stopped by Printer's Alley again, the Arcade, and the War Memorial Building and Legislative Plaza to see the huge WWI memorial building, Korean and Vietnam War memorials around the plaza, as well as some plaques for the Iraq Wars. I also returned to walk around the Capitol to see Polk's Tomb, and the Andrew Jackson, Alvin York, and Sam Davis statues on the grounds.
I've done Old Town Trolley Tours in Washington, D.C. and San Diego. They are usually fun, interesting, and a good overview of the town. Nashville has 14 stops throughout downtown. We started in downtown and went out through Bicentennial Park, to Marathon Motor Works, Centennial Park, then drove out Music Row seeing many of the studios, past Belmont Mansion, then back downtown. It's a great way to see a lot of a new town and hear stories and information you might not hear elsewhere.
On the trolley tour, one of my stops was Marathon Village. An interesting old building, still full of old equipment from the auto factory. I tried a few whiskey and moonshines at the Tennessee Legend Distillery and enjoyed browsing a few stores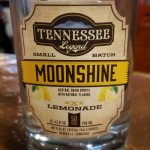 then saw the museum across the street with 6 Marathon Auto cars. I had never heard of Marathon Motor Works. The company started in Jackson, Tennessee in 1907 and operated from 1910 to 1914. It was the first factory to totally manufacture automobiles in the southern United States. Very interesting.
Michelangelo's Sistine Chapel: The Exhibit I've been lucky enough to visit Vatican City and the Sistine Chapel when touring Rome. I visited in November 2001. I had actually booked 9/11, right before the planes hit the towers. Although the plane to Rome was almost completely empty, the Chapel was still quite crowded. But I loved my visit and looking at all the amazing art; wandering the large room staring at the ceiling, looking at all the creepy images in The Last Judgement, trying to name the various prophets and saints around the edges. I found this exhibit online, as a recommend activity in Nashville, and my original thought was, why? I've seen the real thing. But being able to see all the paintings close up, actual brush strokes, and even the flaws in the walls of the chapel? Intriguing. So I bought tickets. Loved it! The audio tour for $4 was great, I learned a great deal about Michelangelo, the paintings and their subjects, the history of the painting of the ceiling, how the Last Judgement was painted 25 years later when Michelangelo was over 60, and various controversies (all those nudes!).
I drove over to the Midtown area one day to walk along Music Row Square East and West (16th and 17th Avenues between Grand and Division) seeing all the studios including RCA Studio B, the "birthplace for Nashville sound", where Elvis recorded. We saw the Musica statue and the small Owen Bradley Park, who founded the first  studio in 1955. There is a statue of him playing the piano on the corner. Musica was controversial when first unveiled and locals would put clothes on the nude statues.
When Kelly was visiting, we booked a tour of the Belle Meade Plantation.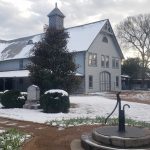 We learned about the Harding and Jackson families and this beautiful home. We enjoyed walking the grounds and seeing the dairy, ice house and Robert Green's home. Bob Green, the family "hostler", made the decision to buy Bonnie Scotland, sire for a long line of famous horses including Secretariat.
I attended the Holiday Lights at Cheekwood Estate and Gardens. There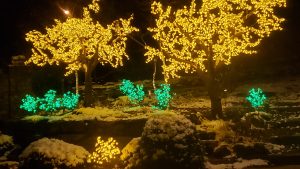 was a 50% discount for military, but for some reason it was only the lights/gardens and didn't include a visit to the mansion. I would have liked to see the mansion too, but that discount was too good to pass up! Normal tickets cost $26, I wouldn't have paid that and don't think it would be worth it. I actually think even $13 slightly overpriced for just walking through the gardens.
Unfortunately, I didn't book early enough so my visit was January 3rd, but it was a lovely way to light up the new year; I'm definitely hoping for a much brighter 2022 for all of us. The lights were very enjoyable and I am sure the gardens are gorgeous in spring, summer, and fall.
Kelly also wanted to see the Gaylord Opryland Hotel and Resort. We went out one evening after visiting Franklin and Murfreesboro. The Christmas/Winterland lights were up. The atrium and fountains are beautiful. We drove back out the next day to see the hotel grounds in the daylight.
Museums
The National Museum of African American Music is fantastic! There are plenty of artifacts like clothing and instruments, and lots of information on the history of African music from the first enslaved people on plantations to modern hip/hop, including spirituals, gospel, rhythm and blues, the influence on rock and roll, and more. I loved all the interactive displays, being able to listen to so many artists, explore their peers and influencers, I even remixed a song in a studio.
Andrew Jackson's Hermitage When I hear his name, I immediately think, racist, "Trail of Tears", Indian removal policies, and, of course, like most of our first dozen presidents, a slaveholder. Like all of us, he was complicated, good and bad. This is a fascinating visit. I booked the 'In Their Footsteps: Lives of the Hermitage Enslaved Tour'. I walked the grounds with Boo before the tour. After the tour, I walked the grounds to read the signs throughout the property and visit some of the other buildings including the Jackson's original log home later turned into enslaved quarters. I also had time to view the great video in the visitor center.
I went out a second time with Kelly. They were having a special event to commemorate the Battle of New Orleans. There was free access to the grounds and museum and it included a wreath laying by the Tennessee Secretary of State at the tombs of Andrew and his wife, Rachel. There were several speeches, we listened to the first two then walked over to the gardens and cemetery before the ceremony. We found another longer path to the Field Quarter and I had time to visit the museum this time.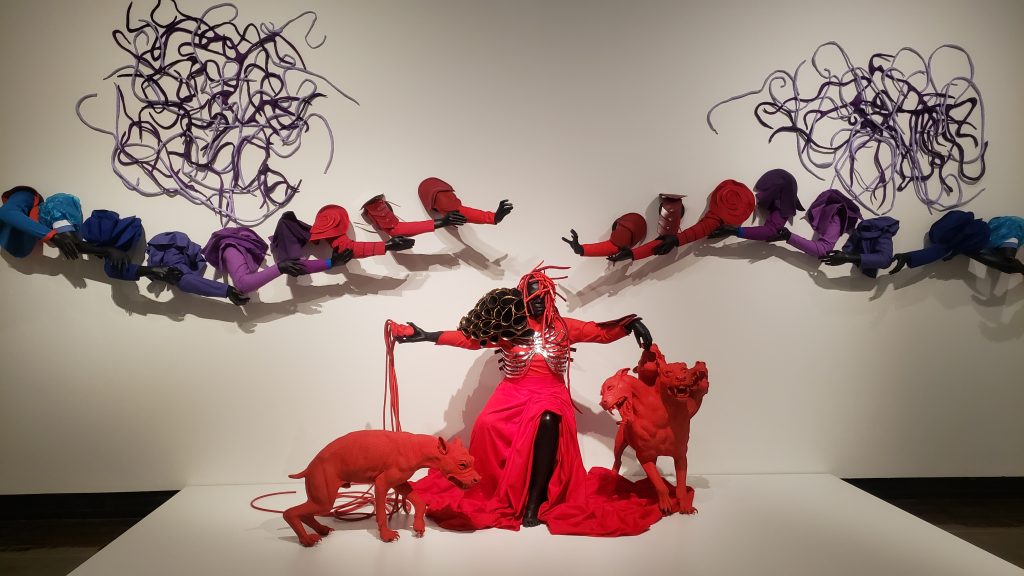 The exhibits at the Frist Art Museum were great. There were three main exhibits when I visited: American Art Deco, Designing for the People 1918-1939; Mary Sibande, Blue Purple Red; and Medieval Bologna, Art for a University Town. All of these were wonderful.
The Tennessee State Museum, part of the Bicentennial Park, is free. They have a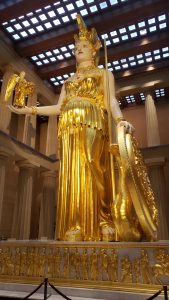 fantastic display of history, and a special craft exhibit as well. I returned several times as there is a lot to see here. From early Native American history though early settlers, the Civil War, segregation, Jim Crow laws, WWI and WWII and after.
I had visited Centennial Park a couple times for the trail and monuments but returned when Kelly was visiting, without Boo, to visit the museum in the Parthenon. The 42 foot statue of Athena is quite unique, and there is a lot of other local art displayed on the first floor.
I would have liked to see a few more of the museums like Johnny Cash, the Musicians Hall of Fame & Museum, the Country Music Hall of Fame, and take tours of the Ryman Theater and Grand Ole Opry but all were very expensive, $20 to $30 for each. Not being a country music fan, it was just not worth the cost for me. I wanted to see the Hatch Show Print studio as well. I waited until Kelly was visiting then we had bad weather and it was closed for several days so I never made it.
Parks
Centennial Park has a nice walking trail, the Tennessee Women's Suffragette Monument, and a life-size replica of the Parthenon that was built for the 1897 Centennial exposition. The celebration was a year late, should have been 1896, because of building delays. There is a great audio tour giving information about the original building in Athens, all the Greek gods on the pediment and frieze and the architecture, as well as the replica free from scanning the QR code at the site.
I stopped by Fannie Mae Dees Park to see the "dragon". I wasn't expecting something this unique, a beautiful mosaic that looks like it was designed by Antoni Gaudi. When I read about the dragon I was thinking there would be a small statue not something this large, undulating through the park.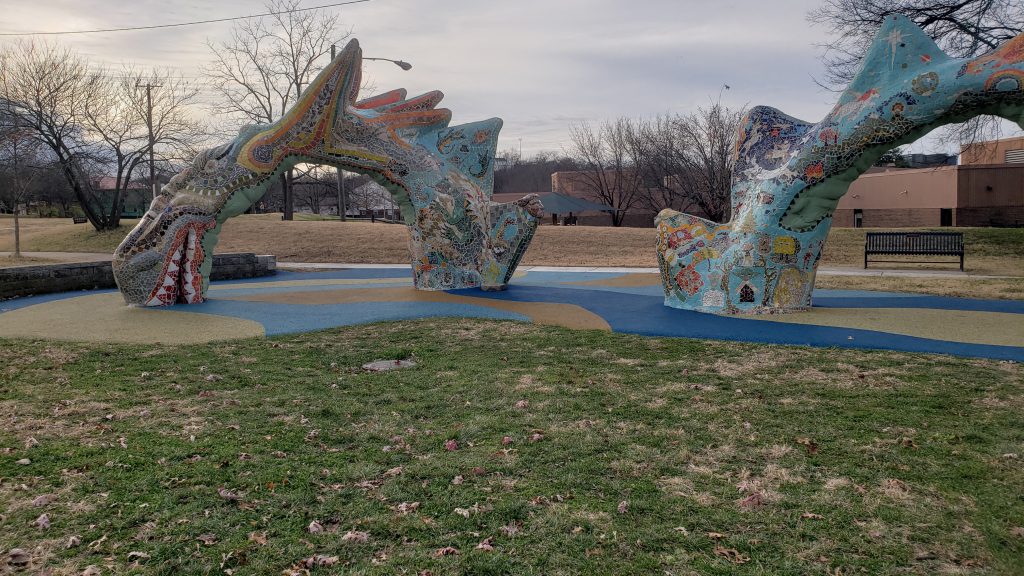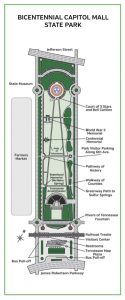 I visited Riverfront Park, Victory Park, just north of the Capitol, and Legislative Plaza with the War Memorial Building my first day downtown. On the other side of the river is Cumberland Park, with easy access across the John Seigenthaler Pedestrian Bridge. The bridge is a great walk and provides excellent views of downtown.
I drove through Bicentennial Capitol Mall State Park on the Old Town Trolley tour, hearing a little about the history from our driver. I went back for a long visit the next day. What a gem. Lots to see, great trails with a billion years of history, a 200 foot map of Tennessee, 95 bell carillons for each of the counties, a WWII memorial, access to the Tennessee State Museum, and the Farmer's Market; lots of booths on the weekend with produce and fresh products outside and a dozen or so restaurants in the building. There is also stair access to the back of the Capitol for great views of the park and seeing President Polk's tomb. On one side of the park there are 95 time capsules, one for each county, that are to be opened in 2096 for the tricentennial. I made repeated trips to the park as it was only a 6-8 minute drive from my rental, and Boo and I loved walking around here. Unfortunately, for about 3 weeks a lot was blocked off for the New Year's Eve celebration as they were setting up fencing, lights and more. I was still able to walk all around the park even if not through it.
Boo and I went out to explore Stones River Bend Park. My GPS took me to a road that led to a private driveway to the right and a road that was blocked off on the left, so I kept going for a bit looking for another entrance or park sign before turning around. When heading back towards where the park should be, I saw several "greenway trail" signs. I thought fine, I can't find this park but we can still enjoy a nice walk. I pulled in at one of the stops, by the Kohl's, and started a great trail. It went across the Stone River then up into the same road that was closed to cars, so I did find the park. There are just no roads into it. We did about 5 miles here, there are plenty of trails to enjoy and we had a lovely sunny day even if only in the mid 40s.
The Civil War in Middle Tennessee
I spent a morning at Fort Negley, they have great walking trails and a small visitor center with a 20-minute video and exhibits about the war and General Negley. Dog friendly trails.
I was expecting more historical markers and information at the Battle of Nashville Monument and Park but it was just a monument. I had just come from the Tennessee State Museum, however, so had some of the history of this battle there. I don't recommend unless you're in the neighborhood, this was a long drive from Bicentennial Park though the crazy Nashville traffic and not worth it for me.
I visited Franklin to see the houses managed by Battle of Franklin Trust. I visited the Carter House and Carnton Plantation. They have a combination ticket that is $30. I was also planning on visiting the Lotz House the same day but their hours had changed and I missed the last tour. Boo and I did some errands then stopped a a park to allow him to have his dinner. I saw a sign for Fort Granger so after Boo finished eating, we walked up the hill to see the old trenches, embattlements and had a great view of the city. It was a lucky place to stop, I had seen the picnic tables and nice walking trails when driving past but I hadn't heard of Fort Granger.
I learned about the Battle of Franklin from both the Civil War exhibit in the Tennessee State Museum as well as the NPS site; this was one of the worst defeats of the war for the Confederate Army. I booked a battlefield tour through the Carnton House for the afternoon, on my third visit to town. This covered the "Eastern Flank" of the fighting at Franklin, called "one of the greatest single assaults of the Civil War". I was going to try to visit the Lotz House again on this trip to Franklin but it seemed like just another old house so instead I booked the Carter battlefield tour for the morning. Both were great tours and focused on different parts of the battle, both guides were excellent and well informed.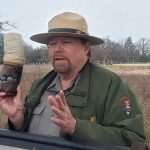 I also found information about the Stones River National Battlefield, in Murfreesboro, on the NPS site. There were several special events for the 159th anniversary of the battle, one of the bloodiest of the Civil War (yet one I had not heard of until finding it under things-to-do in Nashville). I booked a ranger guided battlefield "caravan" tour one day then went back out for some ranger walks and talks for different perspectives on various areas of the battlefield, including the Slaughter Pen, Hell's Half Acre and the Nashville Pike. I visited the Hazen Brigade Monument, the oldest Civil War monument in the nation.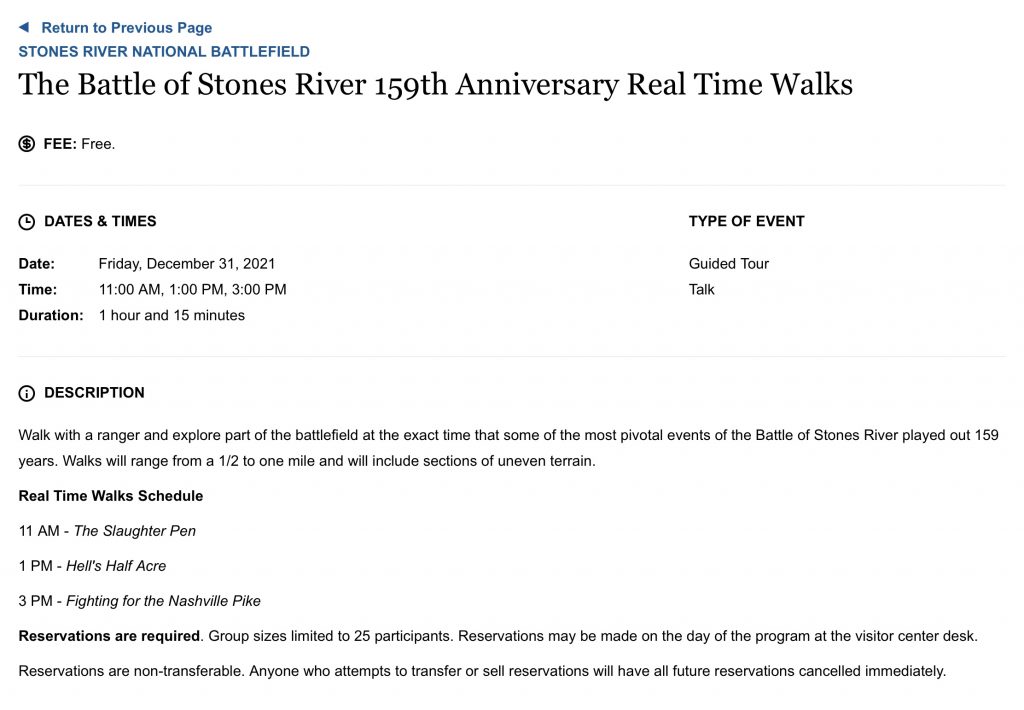 I returned a third day for a "living history" program on "Stones River's Bloody End" when I heard about some reenactments planned for the weekend from the NPS ranger during the battlefield tour. It included a rangers talk focused on the 45 minutes of deadly fighting that brought the Battle of Stones River to a close on January 2, 1863 and firing demonstrations by Union and Confederate infantry as well as Union artillery. In Murfreesboro, I also visited Fortress Rosecrans and Redoubt Brannon, built after the Stones River battle. Both areas have nice trails and historical markers. I stopped by both Rosecrans and Bragg's HQ and Boo and I did a nice walk on the Stones River Greenway one day.
Outside Nashville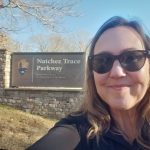 I drove part of the Natchez Trace earlier this year, when traveling from Vicksburg to Natchez. I was at the start of the trail so had to get back out and see some more, even if I wasn't going to drive the entire 400 miles.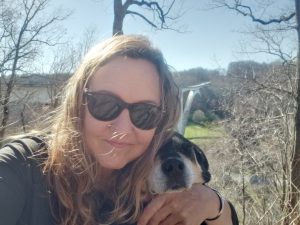 Lovely. I started at the end, mile marker 444 and drove down to the Merriweather Lewis burial site, about 60 miles with a number of other great stops to see some waterfalls, historic houses and do some nice trails.
I didn't attend the parade but did make it for the tree lighting at the Hendersonville event: Christmas Parade and Tree Lighting. They had several food trucks and live music.
While visiting Murfreesboro for Stones River, I also hiked a few sections of Stones River Greenway and visited the lovely Public Square with the old antebellum Courthouse (occupied by Union troops), and had lunch on the square.
Franklin hosted the 36th annual Dickens of a Christmas. The celebration included a variety of musicians, dancers and Dickens characters like Jacob Marley and Ebenezer Scrooge and Tiny Tim. They had a Victorian Village, dancers, food trucks, music and a beer garden and lots of crowds! Nice weekend.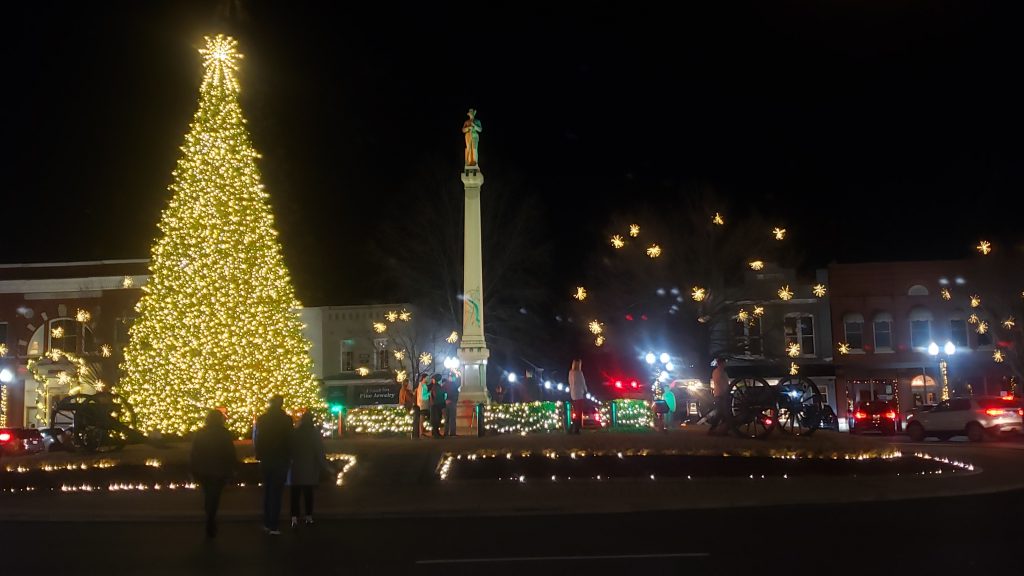 I had booked a ghost tour with Franklin on Foot, but they cancelled last minute. I had talked with them previously about trying to book another walking tour, a Civil War tour, the same day, and despite two phone calls and an email, never got the information I wanted because the civil war tour wasn't available online. So I found other battlefield tours then booked the ghost tour; after the cancellation, and their lack of response to my previous request, I didn't bother with them again. They seem to get good reviews IF you can take one of their tours. I was told that it recently changed ownership.
Restaurants
I found The Rolling Recipe food truck at the East Nashville Marketplace. Everything on the menu sounded great, I was tempted by the Southern Banh Mi but ordered the Southern Nachos with barbacoa beef. Oh my. Delicious! I wasn't impressed at all with the "Marketplace" (flea market) even with their "holiday market" day.
Assembly Food Hall I walked through a couple times to see the variety of restaurants and had intended to try several places. I had a very average burger at Pharmacy Burger but never did get back over to try anything else.
The Farmer's Market at Bicentennial Capitol Park has a large choice of restaurants, like the Assembly Food Hall. During one visit, I had a great BLT dog at Picnic Tap. The "sheds" with produce are open on the weekends. I went several weekends and picked up some great lamb, cheese, greens, fresh breads, whipped flavored butter.
Walking distance from my rental in East Nashville was Red-headed Stranger. They have some great, reasonably priced tacos and I loved their spicy queso.
Bill's Sandwich Place, only open on weekends when I was in town, and only for pickup. Fairly close to my rental, even if not quite walking distance like Red-headed Stranger. Fantastic tenderloin! I had read about them in a magazine, "Edible", in my AirBNB. I went back a second time 3 weeks later. Their menu was different, with 4 different sandwiches, and since Kelly was here at the time, we tried their French Onion Shroom and Blue Ribbon Chicken and split them. Both were excellent.
Just a few blocks from Bicentennial Park, Van Elrod's Beer Hall has some good food, a variety of sausages and sandwiches, and 36 beers on tap. Boo and I walked over one afternoon after visiting the Tennessee State Museum. They are dog friendly on their outdoor patio, which has plastic walls and space heaters making it very comfortable.
I had a great chicken PBLT (p for pimento!) sandwich at Americana Taphouse when in Franklin. Definitely recommend.
I had lunch at Red Bicycle on Public Square, a great TBA/Turkey, Bacon, Avocado, while in Murfreesboro one afternoon. Delicious! There are Red Bicycles in Nashville, also.
I picked up some good Thai from Koi Sushi & Thai one evening when I didn't feel like cooking and didn't have leftovers in the house.
Kelly wanted some barbecue and had heard about Peg Leg Porker. I had some excellent Southern Nachos (pulled pork). Kelly loved her plate of pork and sides as well.
We tried Puckett's in Franklin, they have locations in Nashville and Murfreesboro, too. I had their smoked meatloaf, enough for two meals.
Breweries
Southern Grist Brewing Great sours! They have an outdoor patio, dog friendly.
Tailgate Brewery Two locations, one in East Nashville not too far from my rental, another downtown. Dog friendly on the patio.
Black Abbey Brewing Company In South Nashville, a bit far to go for just a beer but I stopped in after some other site-seeing at the Battle of Nashville park.
Crazy Gnome Brewery Behind a liquor store, my GPS took me down the alley behind the store but you can park out front. They also have a patio, dog friendly.
East Nashville Beer Works has a nice location with dog-friendly patio and heaters. Flights are $13 for four. I didn't ask until I ordered my second flight, so $26 for basically two pints. I know flights are a bit more work but ouch, too expensive!
I finally made it down to Tennessee Brew Works when Kelly was in town. Flights were $15 so I ordered a marzen with lunch then had a wit later. The bartender also gave us tastes of the unique and delicious Queen's Legacy. The menu was quite simple. We went back a couple days later when downtown to have full pours of Queen's Legacy.
Other Sites
Some helpful sites:
Boo and I enjoyed a few of these places when weather permitted, like Red Headed Stranger in East Nashville and Von Elrods: Dog Friendly Nashville Restaurants and Bars. This site is organized by neighborhood: Nashville Guru, Dog Friendly Restaurants.
For dog owners, Bring Fido is always a useful site. Not 100% accurate. I tried a place in Santa Fe that was on Bring Fido and told "no dogs" so still good to verify on the restaurant's own website.
** all photos property of Lisa, not to be copied or reproduced **