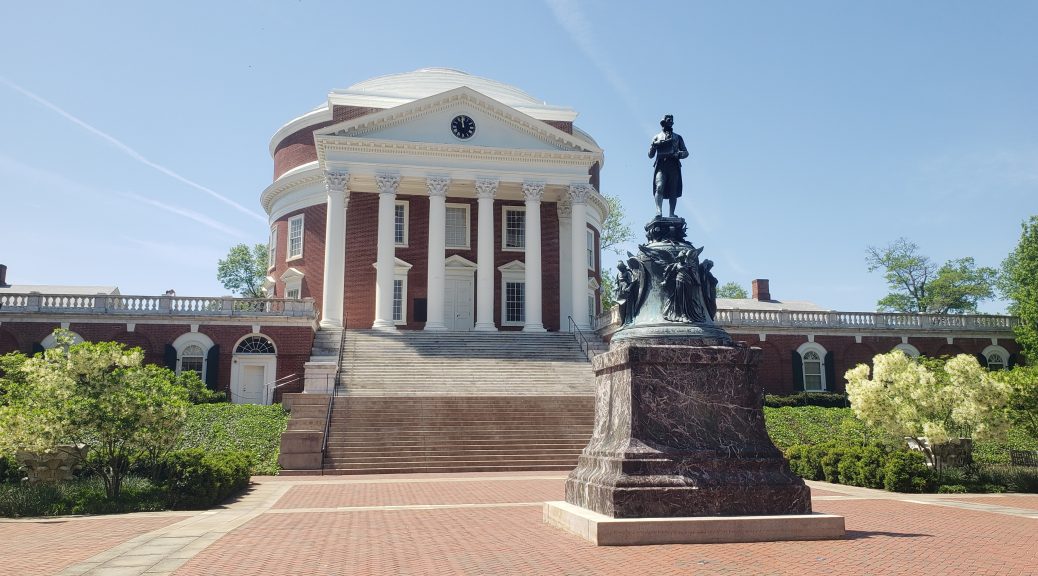 Charlottesville, Virginia
Charlottesville, Virginia
I stayed in Charlottesville about 18 months ago when visiting Shenandoah National Park. I did make a short, too short, visit to Monticello. I booked the house tour but left it to the end of the day, without time for visiting the grounds, the other buildings or exhibits.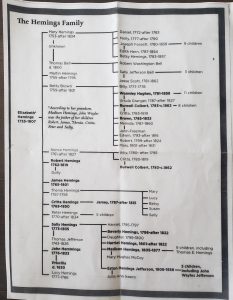 So when returning to the area, I booked two speciality tours at Monticello. The Hemings Family tour was very interesting. We started with Elizabeth Hemings, daughter of an English sea captain and African woman. She was enslaved by John Wayles, a widower. He had 6 children with Elizabeth. His daughter, Martha, married Thomas Jefferson. After the marriage, Elizabeth and the Hemings children, all Martha's half-siblings, including Sally, were brought to Monticello.
Afterwards, I picked up the free 'Slavery at Monticello' tour, then visited the stables, houses, and buildings on Mulberry Row. I walked down to the cemetery, seeing Jefferson's tomb then continued down the path to the visitor center. I saw the video and spent an hour in the exhibits.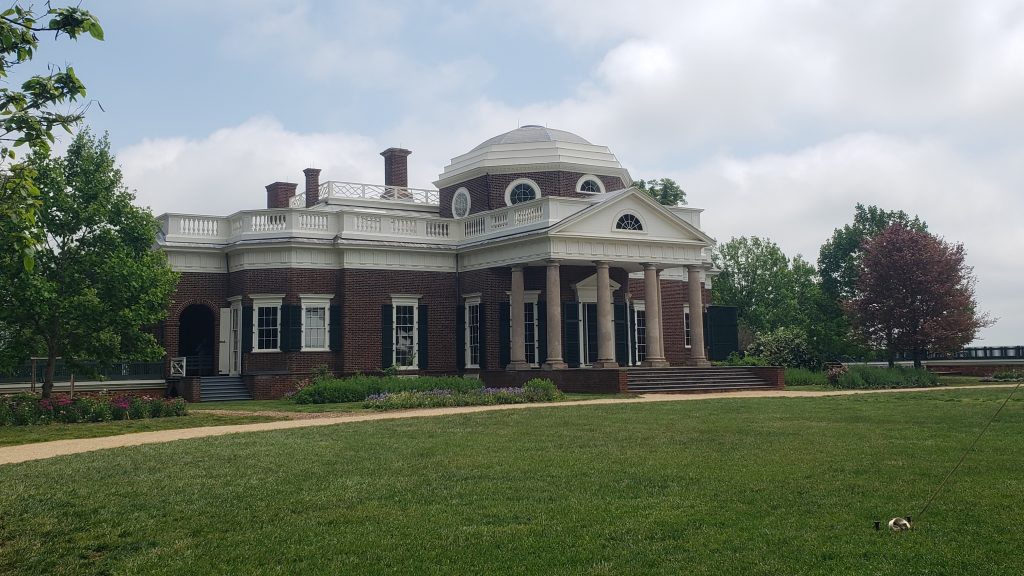 I returned a few days later for the Behind the Scenes tour. I visited the house again, all three floors, including the dome and more. Jefferson continued changing the house over many years. He added the dome after seeing buildings with domes in Europe, but the room was never used for anything other than storage.
I also visited the other rooms in the north and south pavilions, including a short video on Sally Hemings, and walked through the gardens and cellar passage seeing the wine and beer storage rooms and ice house.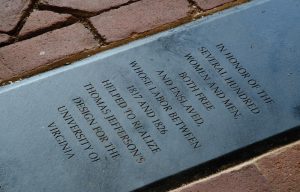 I visited the UVA campus when I was here in 2020, but tours were cancelled due to COVID. This year the tours were running again and I took the historical tour led by a student volunteer. We started in the Rotunda and heard a little about Thomas Jefferson's design but more about the history of the university, the enslaved workers, eugenics and more. I saw the original plaque acknowledging the enslaved laborers who built the university installed in 2007 under the rotunda walkway.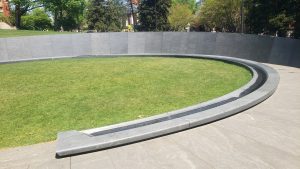 The students and other groups were not satisfied, saying it was literally the least they could have possibly done. Definitely agree. A group on campus raised funds for the Memorial for the Enslaved Laborers (MEL) that was built to the east of the Rotunda. I saw it in November 2020 when I briefly visited the campus but didn't realize how new it was; it was supposed to be dedicated in April of 2020 but that was delayed due to COVID to April 2021. There are names of the enslaved, if known, and many are not, around the outer wall, significant events on the inner walk. It's sad and interesting.
I did spend a day in Shenandoah National Park. I loved my visit in the fall but definitely wanted to return since I was so close. I started at the southern entrance, Rockfish Gap, and drove the entire Skyline Drive. We made several stops, and did 3 hikes for about 6 miles. The trees were in bud, lots of flowering trees and wildflowers on the trails. It was a lovely spring day, glad to see it in a different season.
I had seen James Monroe's Highland in 2020 so decided to visit James Madison's Montpelier. We saw the library where he wrote the Constitution and Bill of Rights. We heard about the very large parties Dolley threw here and at the White House, the six generations of enslaved, and how Madison, like Jefferson, died in debt. Dolley had to sell the house a few years after he died, selling the enslaved and breaking up many families. After the house/grounds tour I visited the other buildings, the formal gardens, and walked out to the Madison cemetery and slave cemetery before leaving. Boo was allowed on the grounds with me and all trails.
On the drive back to Charlottesville, I stopped to see the Barboursville Ruins. The house was designed by Thomas Jefferson for his friend, James Barbour, Governor of Virginia. It was built between 1814 and 1822. It was destroyed by a fire on Christmas Day, 1884.
The ruins are part of the Barboursville Vineyards. Being polite I didn't want to stop and see the ruins without visiting the winery. For $15, I had a choice of 6 one ounce pours; they have automatic wine stations with 8 red and 8 white/rose wines. I choose 4 of their reds and two whites. One of the whites was too sweet but I liked their red blends very much.
I wasn't in a great neighborhood for walking but Riverview Park was close so I drove over morning or afternoon several days to take Boo for a walk. Boo and I also liked the Downtown Mall, a pedestrian area with shops and restaurants. It's a nice place to walk and people watch. Their "Freedom of Speech" wall, a large chalkboard, where anyone can share their thoughts, is a modern day speaker's corner.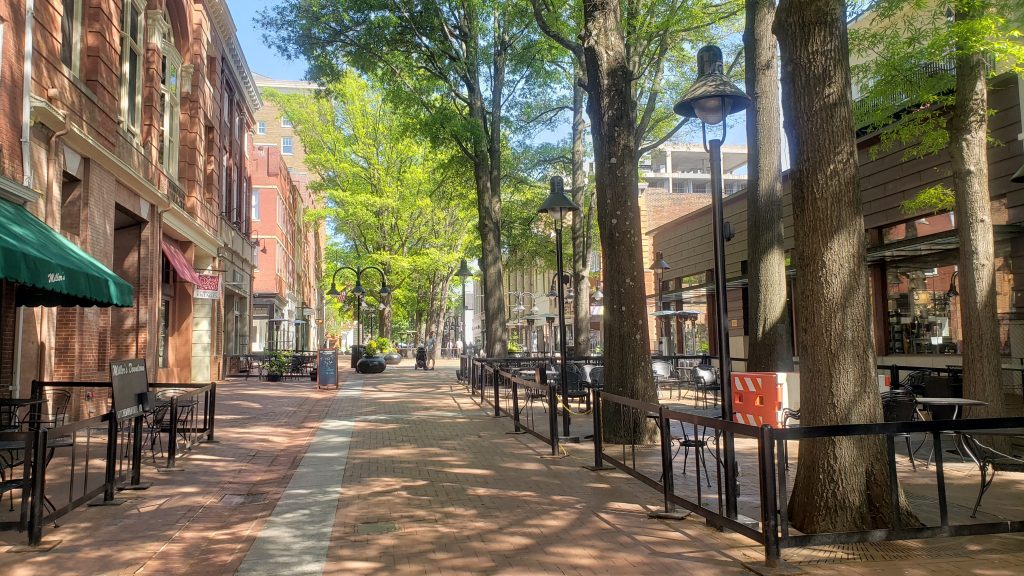 Restaurants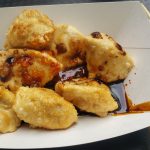 I picked up a quick order of dumplings from Marco & Luca Dumplings when I was on the downtown mall. Six dumplings with a great soy and sweet chili sauce, they were very good.
I had a Villy sandwich and some cole slaw at Ace Biscuit and Barbecue. I was expecting more peppers and onions and less cheese but it was okay.
I read about the Albemarle Baking Company in a visitor guide and wanted to try some of their desserts which sounded great. I picked up a lemon tart and a chocolate ganache one afternoon.
There are a number of other stores in the same market as Albemarle Baking so I wandered through the Spice Diva market and Feast! I would definitely be a regular shopper here if I was a local, lots of cheese, wines, gourmet spreads, artisan chocolates. I don't want to carry around a lot in my car but picked up a jar of Vidalia Onion Jam plus a chicken and fig sandwich.
I had eaten at Chimm Thai last year and wanted to try more of their menu. I got both the Basil Stir-fry and Drunken Noodles. Delicious, plus I had leftovers for several days; it's a lot of food.
South Street Brewery has a nice selection of beer and guest taps. It's a restaurant so Boo couldn't join me in the tap room.
** All photos property of Lisa, not to be copied or reproduced **