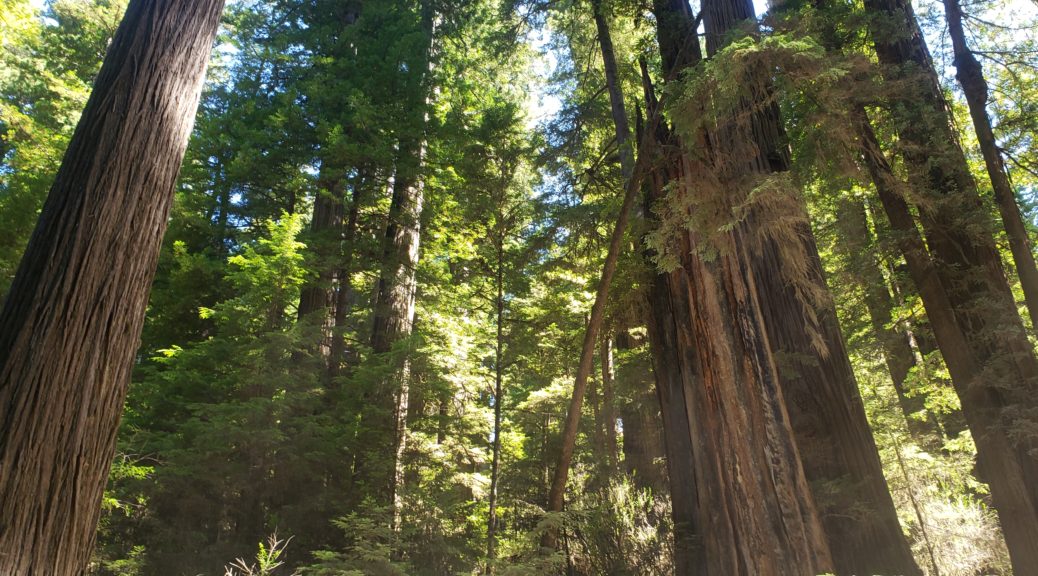 Redwoods National Park
Redwoods National Park
I thought Redwoods was "just" another park in the National Park System, but was surprised to find it's a combination of 3 California State Parks and a National Park.
California created their protection for the redwoods in the 1920s but it took until 1969 for the federal government to create a National Park. California fortunately acted "early" to protect these forests saving some of these trees, but outside the state parks, 95%, NINETY-FIVE PERCENT, of the trees were logged before we acted to save the rest. It took just a generation or two to cut down most of these century old trees and it will take twenty generations to recover these slow growing trees.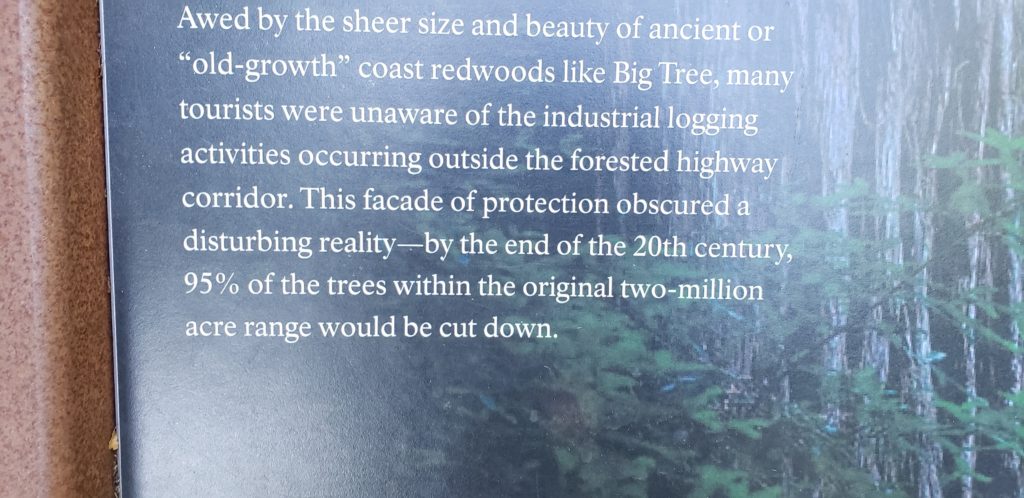 Redwoods, like humans, look strong, but these tall trees are very fragile. They also have a shallow root system and logging in adjacent lands were impacting the trees in the State Parks. This was when the federal government finally acted and purchased surrounding lands.
Redwoods State and National Parks are the only park jointly managed by both the federal and state government. They run for 50 miles along the coast of Northern California.
I stayed at Crescent City for a couple nights and drove through the park(s) and did multiple walks and hikes. There is a northern area, consisting of Jedediah Smith Redwood State Park and Del Norte Coast Redwoods State Park and the southern area consisting of Prairie Creek Redwoods State Park and the Redwood National Park. I drove south from Crescent City on 101, taking exit 765 to the beautiful Newton B. Drury Scenic Parkway. This is a stunning drive through a redwood forest. It was hard to keep focus as I wanted to gawk at the huge trees lining the road.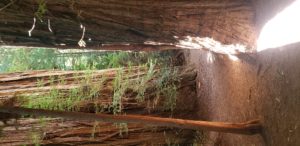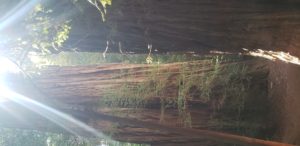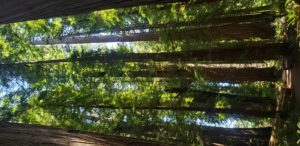 I drove without making stops to the Prairie Creek Visitor Center for more information first thing in the morning and met a great volunteer, Lori, who gave me brochures and a map and some recommendations.
There are no trails in the parks for pets, but you can walk your dogs along the roads. After the visitor center I kept heading south and went to the Bald Hills Road to visit the Lady Bird Johnson Grove. This is also the most recommended walk in my National Geographic National Park book. Because of this, it's a very popular walk, and there was no parking anywhere at that time so I kept going along Bald Hills Road out to Redwood Creek Overlook, then Dolason Prairie, where I saw some eagles and peregrines (I think??) soaring overhead while we did a walk along the road. We continued along this beautiful drive until the road turned to dirt where I turned around.
When I passed Lady Bird Johnson Grove on the way back, it had emptied out so I pulled in and left the windows down for Boo while I did the one and a half mile trail. Lady Bird is credited with helping gather support for creating the National Park. She visited the area as First Lady and promoted support for the park. Richard Nixon signed the bill for the creation of the park in 1969. Lady Bird was on-site for the dedication of the park at this location.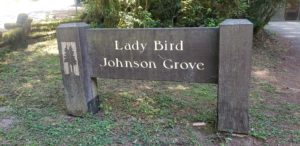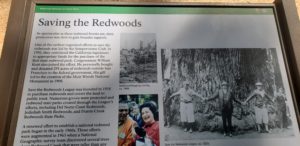 It's an easy trail and you see a lot of gorgeous scenery and redwood trees. There is a brochure available at the trailhead with information for various stops on the path.
After returning to Route 101 I turned south to see more of the coast, stopping at Stone Lagoon for a picnic lunch. We walked along the beach and the waves seemed to both delight and confuse Boo. He walked towards the waves then skittered away as they approached him. He tried drinking a bit like he does with streams and rivers we cross but after a lick or two looked up at me and shook his head. What is going on here?
When going back to our car we saw this magnificent elk in the pasture just south of the car.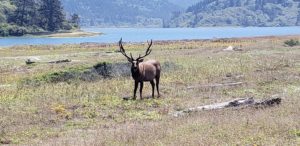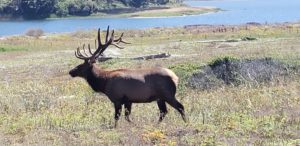 We continued driving towards Patrick's Point State Park but they wanted $8 to enter and I just wanted a quick visit, so turned around and turned north on 101 to return to the redwood parks.
I took the Newton B. Drury Scenic Parkway again, off 101, then did the Cal-Barrel drive/walk. This is a 3-mile dead end road off the scenic road. Since it's a road, not trail, Ranger Lori said I could walk the dog here, so Boo and I parked about halfway down the dirt/gravel road and walked to the end and back. Beautiful views, although a bit dusty when cars would pass.
Continuing up the scenic parkway, I stopped at Big Tree Viewpoint, a short walk to the Big Tree, and "Even Bigger Trees" on the Circle Trail, a half mile easy trail. I got back on 101 then did the Requa Road drive to Klamath River Overlook for beautiful views of the ocean.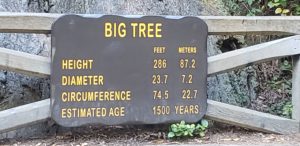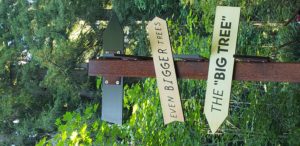 I headed back to my hotel in Crescent City around 1800. I fed Boo then we drove down to Sea Quake Brewing It was walking distance from my hotel, under a mile, but I had walked down the night before just for a beer and the wait was too long so I just walked back. I drove down with Boo, and asked for a table on the patio so Boo could join me. They said it would be a bit longer for an outside table, but I had a couple tasters at the bar while I waited, and when they paged me I got Boo from the car and went to the patio. They have huge portions but I had seen another couple with the house salad and wanted one, so ordered the salad with balsamic vinaigrette and a veglio pizza. Both were delicious and I took half of both to-go for dinner the following night. So I had two full dinners.
We got up late and took a long walk along the beach. I bought some groceries and made some scrambled eggs in my room before heading north on 101 to Oregon.
I had planned on taking the Howland Hill Road scenic drive through Jedediah Smith Redwoods State Park but forgot about it until I was a few miles outside of town so had to backtrack a bit on 101 to get on Elk Valley Road to pick up Howland Hill. Totally worth it, the time and effort. The drive is stunning. It is a dirt and gravel road, mostly one-lane but lots of pull outs to allow passing. I averaged about 10mph. But that is perfect for enjoying the scenery. It's a beautiful, beautiful drive. Stout Grove is a great half mile walk off the road. There is a short access road to the trailhead but I parked on the main road and walked down to the trail. The floor of the forest is carpeted in thick growth of ferns and other plants with the redwoods soaring to the sky. The sunlight peeks through the tall trees allowing for gorgeous photos.
After getting to the main road, Highway 199, I headed south to pick up Highway 101 north to Oregon. Take time to visit these parks, stop in to talk to the rangers. But make sure you don't just drive through. Yes, you can see a lot of the park that way, but get out and walk among these trees and admire their beauty and strength.
 ** All photos property of Lisa, not to be copied or reproduced **