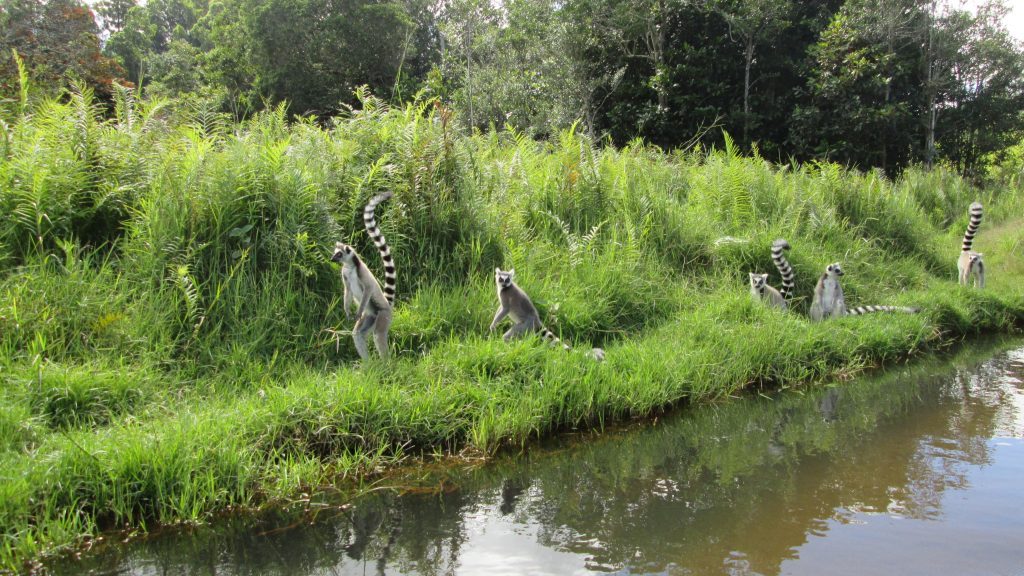 My daughter's college roommate, Kim, spent two years teaching English in Madagascar as a Peace Corps Volunteer (PCV). I wanted to visit Madagascar, so Kim invited Alex and me down during her school's break, April 2014, just a few months before she was due to finish her two years of service. Unfortunately, Alex couldn't get time off her job, but I wasn't going to let that stop me. Sorry, Alex.
I booked round-trip flights to Antananarivo and Kim did all of the other planning. It certainly helps to visit with a "local", someone familiar with the country and speaks the language. I left for Madagascar the 9th, with a suitcase full of school supplies for Kim's classroom and a lot of food she requested. I had a connecting flight in Paris. Kim picked me up from the airport, April 10th, and we drove into Antananarivo (also called Tana). It took over an hour. We shared a hotel room in town that night.
Kim had arranged with a driver to pick us up around 0800 the next morning. Hery and Matuky (ma-tuk-ee) drove us around for two weeks. They were late (definitely something to get use to here), and then we had to stop to get gas. It cost 380,000 Madagascar Ariary (r-e-r-e), abbreviated MAR, or about $164 to fill up. We didn't have that much and neither did they so then we had to do a long drive to find an ATM to get money to pay for the gas.
Andasibe National Park
It was almost 1000 by the time we actually left town, very late to be leaving for Andasibe (ahn-das-ee-bay), four hours east of Tana. We didn't get to the park until around 1400. For some reason they said, oh, go to Lemur Island first, it will only take ½ hour, then come back after that, despite the fact they close at 1600 and we wanted the 2 hour hike. So we left for Lemur Island and Vakona Lodge. It was lots of fun, we saw all sorts of lemurs with our guide and fed them bananas to bribe them for photos. Not super healthy for them and I know that kind of animal tourism isn't great for the animals, but we did both enjoy it. We saw the crocodile enclosure, too. By the time we got back to Andasibe National Park it was 1530.
"Sorry, you can't go in", but the guide took us to a community park. We spent some time there but should have skipped it and gone to Madagascar Exotic. Oh well. Not a great start to our itinerary. We arrived back to Tana fairly late and stayed at Sakamanga for a second night.
Morondava
We left for Morondava on the 12th. Leaving at 0500, we picked up Kim's friend, another PCV, Katya, who was going to travel with us for the next couple weeks. On the way out of town, when we were stuck in traffic, Kim bought rice cakes, or mokary, from a vendor. Not crunchy rice cakes, but soft boiled. They were interesting. We stopped for an early lunch in Ansirabe (an-seer-a-bay), and had some good miso around 1030-1100. There are not many other places to eat between there and Morondava. We stayed in a bungalow at La Bougainvilla; it was 60,000 MAR for the three of us (about $24).
We spent Sunday just relaxing in Morondava, very nice after days of flying and hours in a car. We went to the beach for a few hours in the morning. Kim wasn't feeling well but Katya and I had the GoPicnics I had packed from the US for lunch. We spent a few hours walking around town then had a boat tour of the mangroves we had booked that morning from a local vendor.
After a few beers on the beach, we returned to the hotel and had dinner. Katya had bought a baobab fruit in town and we had that for desert. We all wanted to try this strange looking fruit, but not something any of us would have again.
Kirindy and the Baobabs
Monday we left around 0600 for Kirindy. We arrived midmorning after a stop at Avenue of Baobabs. We had Hery stop at one end so we could walk through the trees. Absolutely amazing! We all bought baobab souvenirs, I still have my metal baobab tree.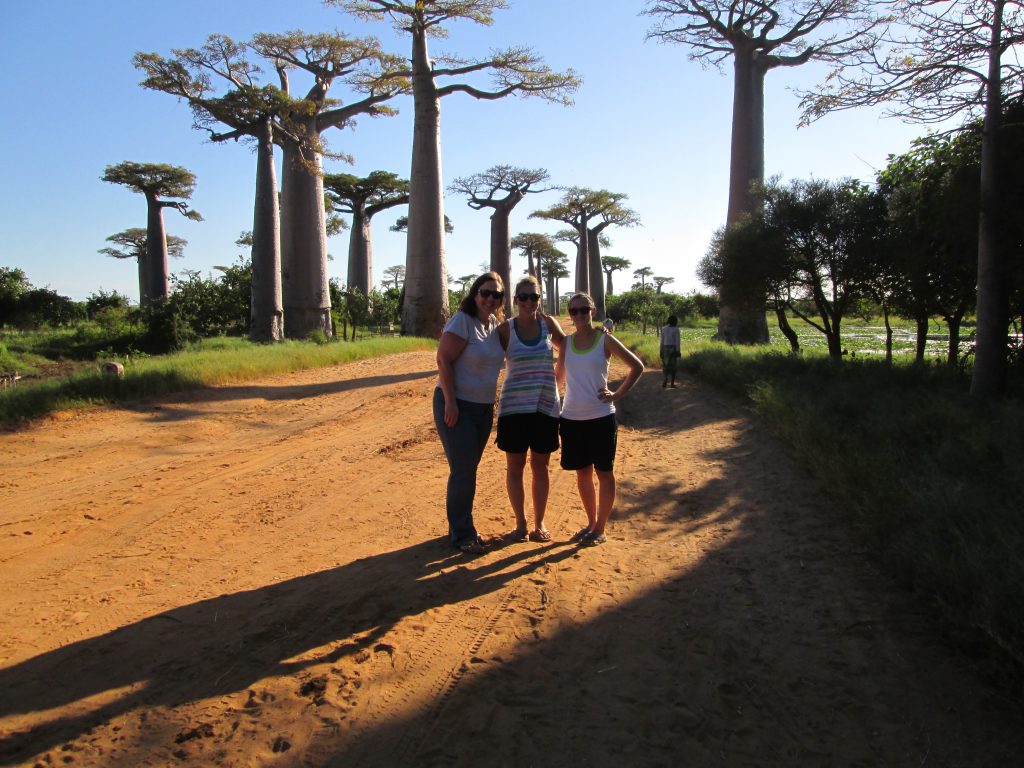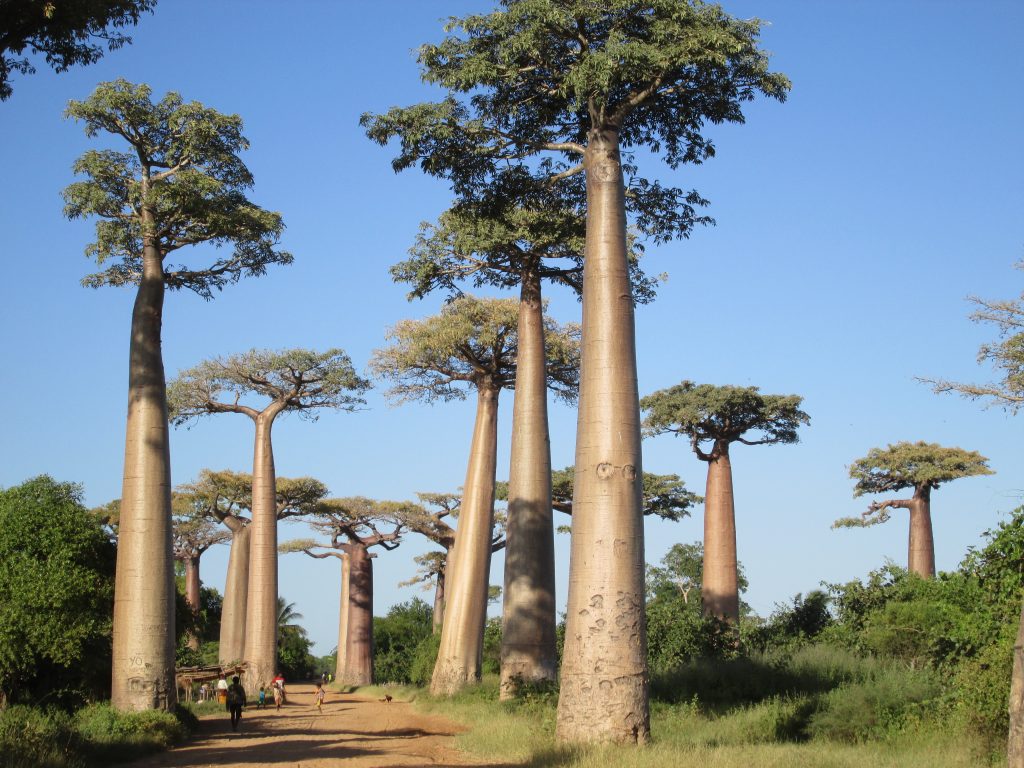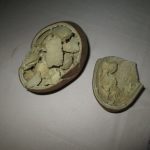 We had horrible roads but made it to Kirindy by 0930. Kirindy is also known as the Swiss Forest or Kirindy-Nord; it is part of a former Swiss forestry concession located northeast of Morondava.
This was the start of two weeks of being over-charged by Malagasy because we were 'vazaha' or foreigners. Kim's guide book said you could camp and they had rooms ranging from 40,000 MAR up. The owner said "books lie", rooms are 125,000 MAR. Kim and Katya did a lot of arguing, they both speak Malagasy well, and I guess Hery also intervened. We got a 40,000 MAR cabin for the three of us. No attached bathroom but it did have the mosquito nets.
We did a morning hike, seeing both sifaka lemurs and brown lemurs, then had a very overpriced lunch (plain spaghetti noodles for 20,000 MAR or $8). We had all afternoon free. Kim took a long nap.
We had a night hike @ 1800, lasting until 2030. We saw a fork-marked lemur, red-tailed lemur, grey mouse lemur, and a fat-tailed dwarf lemur plus a Malagasy ground boa and collared iguana. Our guide had a small light to be able to find the animals and show them to us but I was worried about running into a spider web in the dark. I had seen some large ones, both webs and spiders, that morning. So I had a stick I was waving around so I wouldn't walk into a web as we wandered in the dark. Kim laughed at me, saying I looked like a drunk Harry Potter. Years later, that comment still makes me smile. After our hike, we had rice and beans for dinner, a standard Malagasy (and PCV) meal.
Katya was up in the middle of the night as she heard a mouse, and it went in her suitcase. This is why I always zip up my bags. I needed to use the bathroom in the middle of the night but didn't feel like wandering across the compound in the dark so waited until morning.
On the "Road" to Tsingy de Bemaraha
Tuesday, the 15th, we were on the road by 0630. We had even worse roads than coming from Morondava. At Belo sur Tsiribihina, the first river crossing, they tried scamming the foreigners by charging us 140,000 MAR (or 70,000 each direction), much more than estimated in the book. Kim and Hery bargained them down again but it took a lot of work. We drove the truck onto the very scary "car ferry" then sailed down river to the other river crossing.
After driving a short distance to the town of Belo sur Tsiribihina, we stopped for brunch. Very early again, but there were no other places to eat further on the road. We had some interesting egg sandwiches with carrots that were very good. We purchased three sandwiches for 4000 MAR. We bought snacks, crackers, and fruit for later. They had to get a tire fixed (this happened repeatedly due to the condition of the "roads") but we were on the way by 1045.
We had a long, long drive. We were stuck in this massive mud hole just like two other trucks. We all helped each other, pulling each other out. Everyone carrying cables and ropes, so seems to be a regular occurrence. We made it to the second river, Maintirano, and crossed on another ferry. We had a lot of trouble getting up the other side, it was very steep and muddy. During our wait, Kim looked at me and said, "I told you the roads were bad". I responded, "I expected gravel, potholes, sure, but these aren't roads!"
Total time: 14 hours to travel 126 miles.
We were stuck 3 times and had two flats.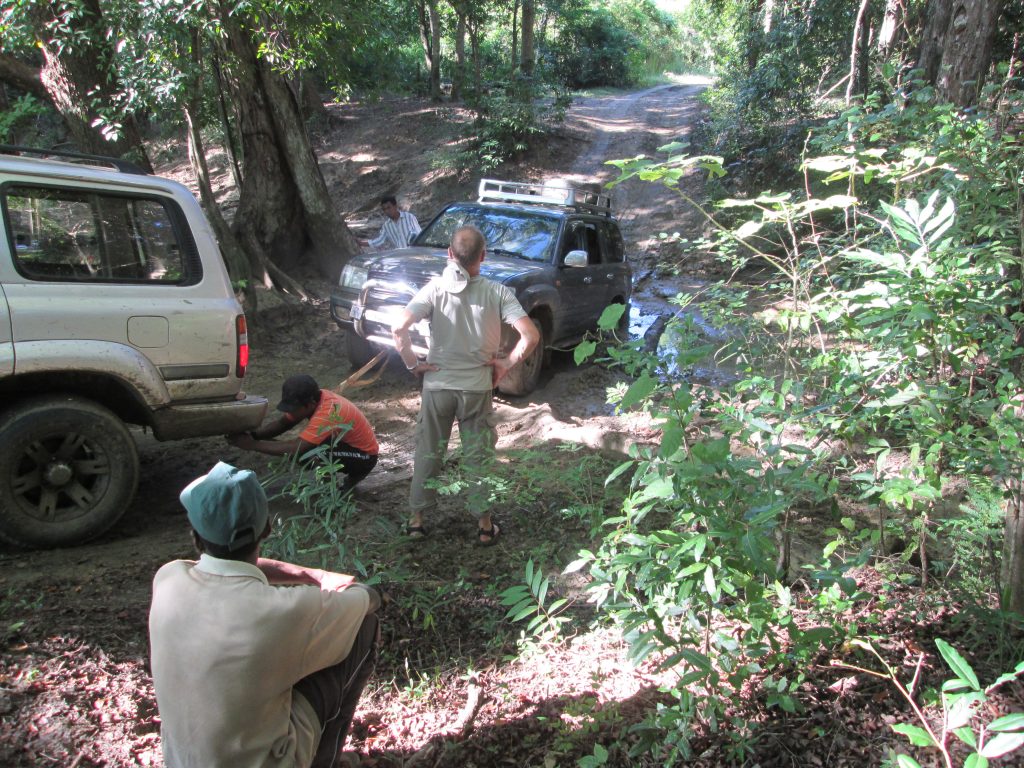 We arrived very late to Bekopaka, staying at the Le Orchid hotel. They weren't officially open yet as it was too early in the season, so we got a room for cheap without any bargaining. We had nice rooms, bathrooms, etc. But, because it's before tourist season, the restaurants weren't open and there is "no food here".
The rooms had tight shutters but we were told not to open them for air as people could get in. I sweated all night in the brick room. There were no fans but it wouldn't have mattered anyway since they only provided electricity from 1700-2200.
We went into town for dinner. The "restaurant" we went to didn't have much food, either. Katya and I ordered miso. I was expecting something like I had the first time, noodles and chicken and vegetables in a broth, Asian-like, but this was basically spaghetti noodles with carrots, which was the only vegetable she had. There was no meat, no seasoning, anything. We finished it because we were both hungry however. Kim had duck.
The next day, April 16th, Wednesday, we visited the amazing Tsingy de Bemaraha National Park and Nature Reserve. Also called the Tsingy Stone Forest, "Tsingy" is Malagasy, and can be translated as "where one cannot walk barefoot". This area was formerly part of the ocean, you can still see coral fossils. It was raised up millions of years ago.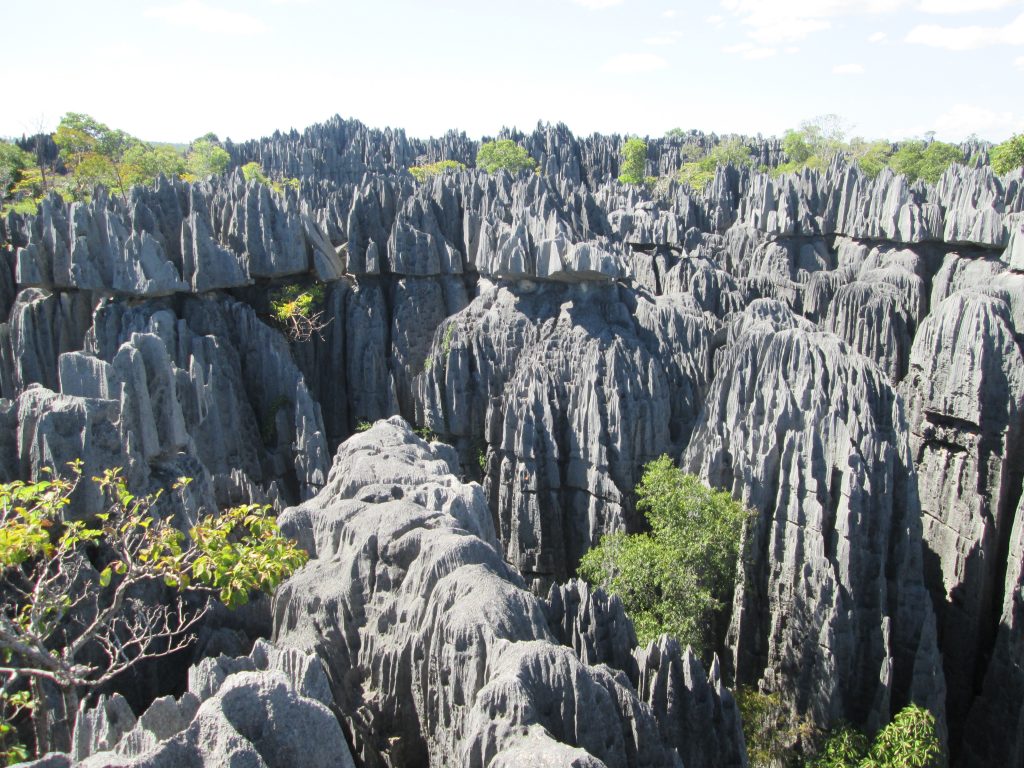 We went to the park headquarters to purchase our entrance tickets. Despite their Peace Corps IDs and being able to prove their addresses, Kim had to bargain hard to get her and Katya the resident discount. She finally convinced the guy she deserves the discount and they paid 1000 MAR, I paid 25,000. We also hired a guide, Velo. He only charged us for the 4-hour hike but we figured that out before we left for the park so arranged the longer hike that we wanted. Not all 3 areas of the park are open, so we booked the 6-hour hike not the 7-hour.
Velo set us up in the harnesses that we needed for the bridges. The drive from Bekopaka to Tsingy takes about an hour; more difficult roads. We hiked the Grand Tsingy that morning. We walked through the woods before we got to the stone forest. It is so beautiful and unique. We went through little caves, up metal ladders, across cable bridges. The park had bolted "steps", rocks that look like they belong in the area, to climb some of the rocks. There were also cables in tough spots that we harnessed ourselves to for extra protection.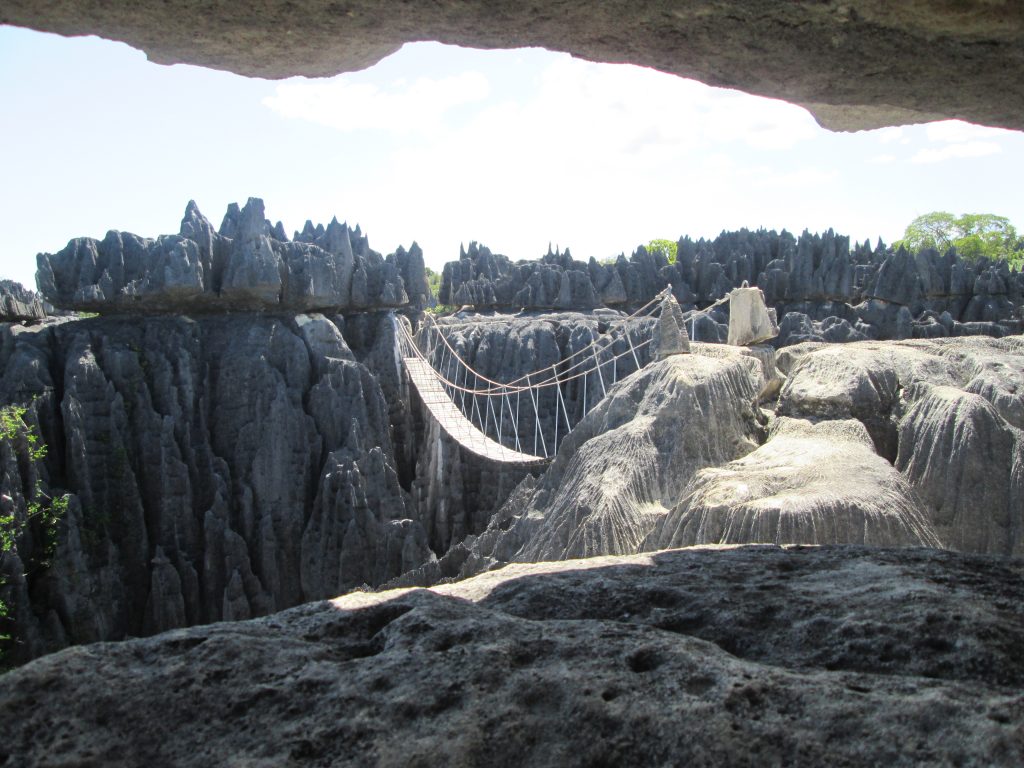 The views were amazing and we all had a great time. We hiked back to our starting point and had a lunch there of oranges and crackers and we all drank about a liter and half of water. It's very hot in the "forest". We drove to the second spot in the park for another hike. The heat had tired me out so I made the hike into the woods and to the start of the stone path but then sat and waited. I just couldn't make it the rest of the way. It was a short hike compared to the morning, so they were back quickly and we returned to the car. We did get stuck again on some very deep ridges in the road on the drive back to town. There were some kids nearby and they were sent off for strange little tools to dig us out.
We had dinner in Bekopaka at the same restaurant before going to our hotel. They had cleaned the pool and it was refreshing, so we all spent time there before showers and bed. It was another very hot night.
We returned to Morondava on the 17th. I was very concerned about the drive back. Hery had "hired" a couple guys to go with us to the really bad spot. In addition, while waiting for the ferry for the first river crossing, the Maintirano, he asked us if we minded taking another passenger, a policeman (a Gendarmerie or military police) with us to Morondava. His father had just died and he needed a ride back. Of course not. But with eight of us in the Toyota Land Cruiser we got quite close for several hours.
We made it across the river and did have a tough time getting up the steep slope, again. Then on to that spot, the mud hole. Both the extra guys, the gendarmerie, Matuky, all worked on filling in deep muddy spots so we can get across. We tried helping, but mostly got in their way. They searched for rocks, cut down branches and pretty much dumped anything they could find in the mud. We started across but our front tires were sinking so we backed off to fill it in more. Kim, Katya and I walked through the trees, around the edge of "the road", to the other side to wait for the truck. They made it. Hallelujah! Seriously.
The two guys Hery hired just stayed there, in the middle of nowhere. I was surprised but he told us they will get a ride back to Bekopaka with a car coming the other way. By this time, it's looking pretty good. I was very concerned with that spot; what if no one else came along and we were stuck? But we saw 3-4 big trucks heading towards Tsingy after we were past.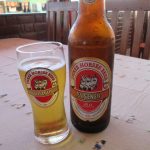 We stopped in Belo sur Tsiribihina again for lunch. I had a great zebu steak and vegetables and a cold THB at the "Mad Zebu". I felt bad as Kim/Katya said they couldn't afford it and wouldn't let me buy for them. It was 16,000 MAR (about $7) but they had some good fresh stir fried veggies and rice for $2.
Morondava
On our way after lunch, we made our second river crossing and arrived back in Morondava around 1900. Unfortunately, we hadn't made reservations at La Bougainvilla and all the bungalows were full. They did have two rooms and Kim/Katya stayed in one and I had the other. It was quite warm even with the fan, but it moved the air a little.
We had dinner with Hery, Matuky, and the gendarmerie at a hotel that had no lights. We had chicken noodle soup and fries and a couple cold beers before checking in.
We were up at 0600 on April 18th, Good Friday. I took a swim but the tide was so powerful it kept pushing me into the submerged rocks so I gave up and went and took another shower then joined Katya and Kim for breakfast in the hotel dining room. It's open to the ocean and a great place to sit with beautiful views.
We were supposed to leave at 0830 but they kept calling and delaying. We didn't get picked up until 1230 then they dropped us off for lunch downtown where we had eaten the first night in Morondava, we had rice and beans again.
They were doing more work on the car which had suffered a lot of damage from the 'road' to Tsingy. We didn't get out of town until after 1330. When they came back from the mechanics they wanted to eat before getting on the road. We stopped for gas, with another expensive fill-up, 380,000 MAR.
Hery and Matuky made several stops during the day too, stopping for cokes and other items repeatedly, so we were running very late. We were stopped in a town by the police who told us there were bandits on the road and we had to wait with other cars and taxi brousses to continue in a group.
While we were waiting a bunch of us went into the nearby hotel. Katya and Kim had rice and beans. I didn't want it again so just passed and had some crackers later. We were stopped around 2030 and didn't get going again until 2230. We went with several other cars and drove for about an hour, then stopped again waiting for more cars. I was so so tired from my previous 3 nights of not sleeping I just wanted to get there. Lack of knowledge and tiredness both contributed to my indifference about the bandits but Kim told me later she was very worried. We ended up getting to Ansirabe around 0030 and checked in to La Trianon. They were ready for us and took our bags right up to a very nice, comfortable room. I took a shower even though it was late.
Ansirabe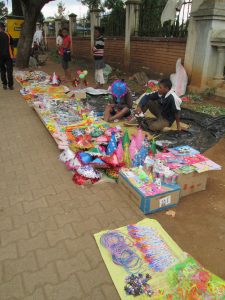 Saturday, the 19th, we spent the day in Ansirabe. It was the day before Easter. We slept in after several early days then went to Chez Billy for omelets. It was a great breakfast. We were done around 1000-1030, and wandered around Ansirabe. Malagasy really celebrate Easter, but very differently than I am used to. Festivals, all sorts of decorations, masks, parades, rides. It was interesting. The town was very, very busy, lots of booths and people.
We did some shopping then stopped in the square to people watch for a while. We dropped off our purchases at the hotel before meeting Kim's friend Dan, her 'site mate', and his girlfriend, Sam. They both were 'CoS', they had completed their service. They were heading to Asia after a week of traveling in Madagascar. We met at a little bar and had a few beers. They were a very nice couple. We returned to the hotel to relax before meeting a big group for dinner, including their friend, Nick, who was going to join us on our trip the next day.
We went to a Karaoke bar and after several more beers, most of them got on stage and sang a couple songs, Ace of Base and the Beatles, I think. We returned to the hotel after midnight.
Isalo National Park
Easter Sunday, April 20th. We were up at 0530 and left at 0600. We picked up Nick, got gas, and were on the road to Isalo National Park. We stopped in Fianarantsoa for lunch at Hotel Cotyannis. I had another good zebu steak and veggies. We made it into Ranohira about 2030, staying at Hotel Momotrek. The four of us shared a room for 55,000 MAR.
After breakfast at the hotel, we went to the park office and bought two-day tickets. We went to the Piscine Natural hike. Gorgeous, similar to an area like Utah or some other south-west state. The natural pool is beautiful.
We had lunch then did an afternoon hike to the black and blue pools and the cascades. Easter Monday is a holiday in Madagascar and the trails were very, very busy with locals enjoying the day and crowding past us on the hikes. We saw many lemurs. Despite being in our suits, we decided not to swim because there were literally dozens of people in both pools and there was barely room to move.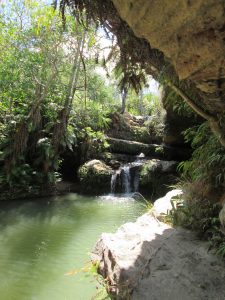 We were going to do the canyon tour the next day and then the 4×4 tour. But over dinner at a good Chinese place we decide to head out to Anja Reserve (An-za) the next day and spend the night in Fianar. That would make a shorter drive back to Ansirabe the following day. I wasted my 2-day ticket but it wasn't that big of cost. The guide had told us the roads really bad for the canyon tour so we decided this was a good plan. The "kids" partied late with a bottle of rum. A big group had left today so I booked a separate room and went to bed early.
Anja Reserve
Tuesday the 22nd, we were up at 0600 to leave at 0700. Nick slept in with all his partying. We left late, as usual. We stopped at Isohy for gas. We arrived around 1130 at Anja, and had a 2-hour hike on the Ankaramshalamina circuit. We went through the woods first and saw tons of Maki (ring tailed lemurs ) running everywhere. It was great. Then we climbed up the boulders.
We drove to Ambalavao to try to find lunch. It was after 1430 when we got there so 'no food left'. We picked up snacks, crackers, samosas, and more water from street vendors and got back on the road.
We stopped at Fianar for the night, Kim, Katya and Nick all stayed at the Mava and I stayed at the Hotel Cotyannis. It was a very nice room especially after the places we've been staying. We went back to the Mava and met lots of other PCVs, including Kathryn, Zack, Matt.
I traded the books I had finished for three others in their library. Later we went to dinner with the other volunteers to Chez Domm. I was dropped at the hotel; I had a good shower, charged all my electronics and went to bed.
I was up by 0600 on the 23rd. I repacked and even did hair and makeup, a first for this trip. I had breakfast downstairs, an omelet and tea. Hery and Matuky had stayed in the hotel, too, so when they were ready, we picked up Kim, Katya, and Nick.
Ansirabe
On road to Ansirabe, we stopped at the Douglas Hotel in Ambositra for lunch. It took quite a while for the food. We finally made it back to Ansirabe, arriving around 1600. We wandered around town for a short while, enjoying the emptiness after the crowds earlier that week. We stayed at Chez Billy, a 30000 MAR room, with shared bath. I skipped the shower. I wasn't feeling well, something I ate for lunch I believe. I shouldn't have had the burger for dinner, it made me feel worse, and I left most of it.
Antananarivo
We slept in the on the 24th. We were joined by two PCVs, Zack and Andrea, for breakfast at Chez Billy. Kim and Katya had omelets, still feeling bad, I had bread and tea. We headed back to Tana with a number of stops on the way, including several markets on the sides of the road. We also stopped at a pharmacy. Madagascar allows for a great variety of medicine to be sold OTC, and Kim found antibiotics and some other medicine that would have required prescriptions here. Thankfully, cheap and easy and I was feeling a bit better by evening and much better by the next day.
We arrived in Tana around 1400, dropped off Katya and then checked into Sakamanga. Kim and I enjoyed the pools for a little while, had a beer, then ordered Pad Thai and Sweet and Sour chicken at Ozone. Good food.
We were up around 7:30 on Friday, the 25th. We had some apples and snacks in room, and headed out to explore the city. We took a taxi to the Queen's palace "Rova" (pronounced roo-va), then walked down the hill halfway before getting another taxi to the market. We did a little shopping, had lunch, bagel sandwiches, then walked back to the hotel. We met Kim's friend Kate, another 'site mate' and Kate's friend Mary, from Maryland, at the Sakamanga Express that evening for dinner.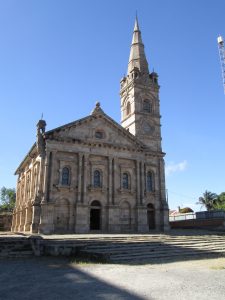 Kim and her friends went back to the local Peace Corps house. I was on my own, without my translator! I spent the rest of the evening by the pool reading and relaxing.
I slept in my last morning, then walked up the street until I found a little place to get a croissant. I gave away most of my local money to kids, I found a couple 10,000 MAR bills tucked away when I got home, about $5, not much to me but I wish I had given it away before leaving.
I spent some time reading by the pool and my room. I had lunch at Ozone again, then spent the afternoon relaxing before catching my prearranged ride to the airport @1800, I had Kim help me with that before leaving. I had an eleven hour flight to Paris, and a 5-hour layover before my flight to Chicago. Despite 5 hours to transfer luggage, my bag still didn't make it on the plane.
Arriving in Chicago, I learned my flight to Bloomington was cancelled because of weather so I was on standby for a later flight. After being up for 30+ hours, I was sitting in O'Hare shaking from fatigue but did make it on the last flight to Bloomington. I passed out as soon as I dragged myself up the stairs. My bag was delivered the next day and I got to spend the day doing laundry and napping and getting back on central standard time. I was supposed to be back at work Monday but called in and took another day of vacation.
Madagascar is an amazing country, beautiful, the country and its people have so much potential, but it was a tough trip and I was glad to be home.
** All photos property of Lisa, not to be copied or reproduced **
This quote from Anthony Bourdain is more true about my trip to Madagascar than any other travel I've taken.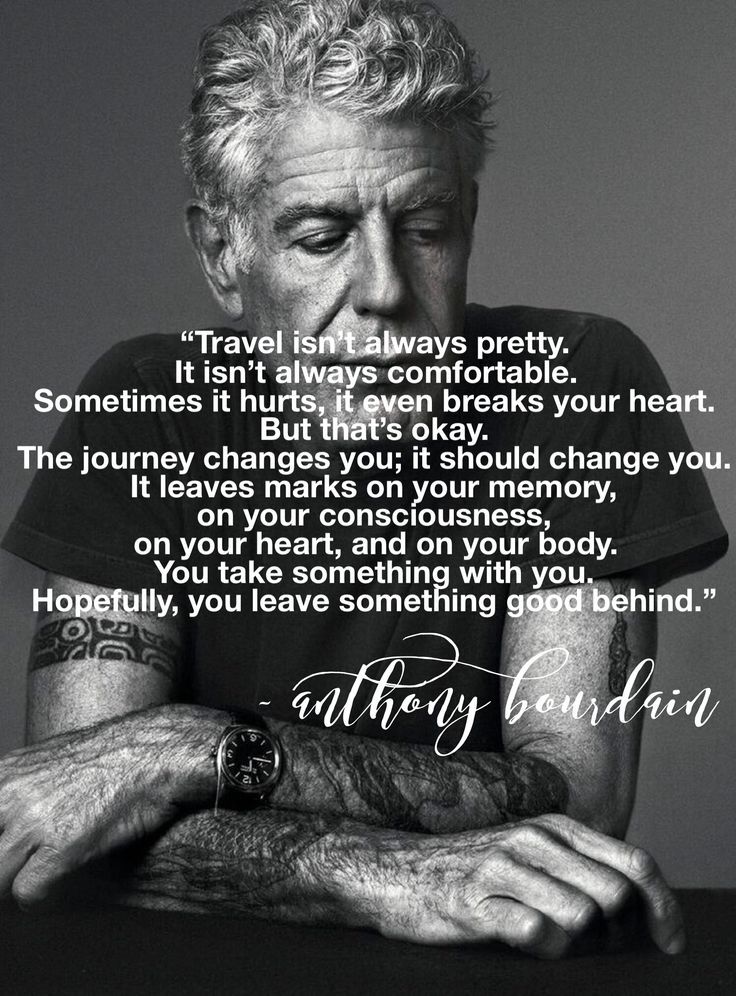 Final notes, I sent this email to my daughter, Alex, my friend Kelly, and my friend Melanie, who's traveled to 130+ countries for IBM after returning home:
My three favorite travelers are really the only people I can think of who would enjoy Madagascar.
To start off with, Madagascar is the poorest country I have ever visited. I searched on GDP when stuck in Chicago. I was bored while waiting for standby and I was curious.
I thought I had been to poor countries, Egypt (119/123 GDP ranking from IMF/World Bank ), Nicaragua (134/138), Cambodia (154/158). Madagascar?176/183. In both cases, since IMF doesn't rate as many, it is the 8th/9th poorest country in the world. The difference from average income of $1100 in Cambodia to $400 in Madagascar is quite noticeable.
No place will take your credit card, at least outside Tana (or Antananarivo, the capital city). We did stay at one hotel in Morondova that would but wanted to add an 8% surcharge. I paid cash. Second, you need cash, a LOT OF IT, since you can't use your card. No ATM will give you more than 400,000 Ariary (or MAR), about $160 dollars and the fees for every ATM transaction were $3.50-5.00. Since I had a private car and driver and I had to fill up the tank (which cost $164 each time, gas was about our cost but the tank was 150 liters) I was getting out a LOT of money … and those extra fees each time were annoying.
And minor IT complaint, I thought at first, it was just specific banks that wouldn't let me have more money, so tried several times to get 800,000 or 700,000 or 600,000 MARs… and each time the damn ATM would spit out my card, "that amount can't be dispensed" instead of just saying, choose a lower amount. Annoying. Really bad programming/no end-user testing!
The country doesn't have many visitors and the white people that do visit are French. Like Vietnam it was a French colony. Italians are increasing and Norwegians have been doing lots of work in the country with schools and charities. So I heard "Bon jour Madam", everywhere. I stupidly would respond, at first, no parlous vouz francais; they heard that and would speak more French. So I started responding simply "I speak english". They took that to mean I AM english which was okay with me. Why are Americans pretty much the only people in the world that don't speak more than one language??
More beggars than I've ever had to deal with, even Egypt. Poor, poor, poor; sad and very depressing. I gave away about $30 in small local currency, the last day, to maybe 6 different people on the street in additional to small amounts the rest of the trip. I wish I had taken out more to give more. It was very little for me but meant a lot to them.
God awful or non-existent infrastructure. The roads! Wow. Mel, you may have seen my facebook album "the road" so you know. And Kelly, I will show you pictures but even supposedly paved roads are full of massive potholes, nothing like the US. You swerve back and forth to avoid the huge holes. Most roads are just dirt tracks. You can't get around easily or quickly. You need a private car otherwise you end up on these 'taxi brousses' or minivans. They fill them with about 26 people packed together. They will LITERALLY sit customers on each others laps. This is the way the Peace Corps volunteers have to travel. It looks awful. They get OTC valium when they have to take a taxi brousse to their sites.
I was traveling with 1 then 2 then 3 Peace Corps volunteers. I paid for the car, driver and gas but they are living on $12/day so I was also living on their budget for hotels and food for the most part. Staying in 30,000 MAR rooms ($12 – split 4 ways, they insisted splitting it) and it was about worth that much. Several of the places only had electricity from 5-10 or 5-9. It's interesting getting ready in the morning by flashlight (me, I always carry one) or light from your phone (them).
I couldn't complain (then) as one of the girls (Katya) lives in Madagascar without electricity. If she can do it for two years, I can damn well shut up and do it for a few days. She lives close to Kim and would ride her bike over to Kim's place to charge her electronics once or twice a week. But the places we stayed are NOTHING like our cheap hostels with shared bathrooms, Kelly! Nothing. The places without electricity were of course very hot so I laid there and sweated for 3 nights straight in Tsingy with little to no sleep. The next night we got delayed because there were bandits on the road! I was too stupid and uninformed (i.e. "really? 'bandits'? come on!") to be frightened but my companions told me later they were. I SHOULD have been. We had to wait for several cars to travel together and a policeman to escort us. We ended up losing all of them though but still made it safe. Thank God. The bandits will lay trees across the road and rob you by gunpoint. You are not supposed to travel some of these roads after dark.
The PCV thought $6 meals were expensive. "I can live for a week on that on site. We had a couple meals where I ate a zebu (beef) steak and vegetables, they had bowls of plain white rice. I kept offering to pay *sigh* but they refused since I paid for transportation and some of the hotels. Mostly I ate like a Peace Corps Volunteer, and we had lots of rice and beans for 3000 MAR (or about $1.20). I do not like plain white rice but that is something the Malagasy eat 2-3 times daily.
Their gas stations don't have bathrooms, so we made a lot of stops along the road. I went through 3 travel toilet paper rolls, sharing with Kim and Katya, two packages of hand wipes, and finished off a half of bottle of hand sanitizer, too. I've had that bottle for several years and carried it on 5-6 vacations. I've never needed it that much before, I could always just wash my hands.
Some of these villages, especially when in Tsingy since it was so early in the season, literally had no food after 1400 (for lunch) or 1800 or whatever. I had plain spaghetti noodles one night with shredded carrots. No kidding. Definitely no Vietnam/Cambodia when it came to food.
And despite my travel book, and my friend Kim saying oh,"Madagascar is a culinary delight", I obviously was NOT eating at the right restaurants. The one or two local dishes I had were very bad. When we had choices, Kim and Katya wanted pizza and American-style food. One day after hiking in Anja Park, we got to the next village for lunch around 1430 and nothing was available in the restaurant … 'all gone' so we bought packages of crackers. Since it's a former French colony, I was hoping for some excellent fusion like in Vietnam.
If they know you're a foreigner, prices go up. The think all foreigners who can come to Madagascar are rich, and compared to them, we are. I know that happens in other countries, too, of course. But I was traveling with 3 white people who could also speak Malagasy and were good at arguing and bargaining after their years of living there. They all got their 'resident' entries too, despite many officials wanting to charge them more. For example, my entry to Tsingy was 25000 MAR, they paid 1000 as residents.
Most places didn't have menus, just little cards with what food they had on them. They gave you paper to write down what you wanted. Hotels were the same, prices were not posted, so a 40,000 room (according to the book) was all of a sudden 125,000 MAR. Kim won that battle, too, and he "found" a cheaper room for us.
Lot of negatives, but what is good? Well, despite hearing vazaha (just pronounced va-za), or "foreigner" everywhere you go, most people were very friendly. Kids especially. I had one adorable boy talking to me while waiting for this 'ferry'. He could repeat everything Kim and I were saying to him. I wanted to bring him home. You could ask to take their picture and, unlike in Egypt, where they wanted money, the Malagasy were happy if you showed them the picture on your camera. If they spoke a little English, they were happy to stop and talk with us and ask about our lives. Often they were curious if we liked rice? I got asked several times, how many times a day do Americans normally eat rice. It's their staple.
It is a beautiful country. Very diverse landscapes. I spent time in five of their national parks and another private island (Lemur Island) and they are amazing and beautiful. I did a day hike and a night hike in a forest preserve, saw 8 or more kinds of lemurs, chameleons, lizards. I had lemurs all over my head, which was fun. I saw the amazing baobab trees and climbed through the unique Tsingy Stone Forest, across hanging bridges, up stone ladders. I can't wait to show you more pictures. Would I go back? Probably, no. But there is plenty more to see.
I am very glad to have visited, though, and seeing it with Peace Corps volunteers was really special. I got to meet lots of their friends, and see how the locals lived. I am so glad to be home but it was a truly unique adventure. Kelly or Mel, if either of you go with your spouses, I know you'll travel in more comfort, i.e. money.
Another good thing, 6 lbs off, because of no food and lots of walking.
*** Update: writing this up 8 years later, I would go back. Probably booking a small, 6-8 people, guided tour, maybe a glamping type experience. I would definitely choose later in the season, allowing them to fix the roads! Don't go in the spring (southern autumn) after all the rains. I know there is much more to see, and I'd like to visit some of their beaches and islands. ***