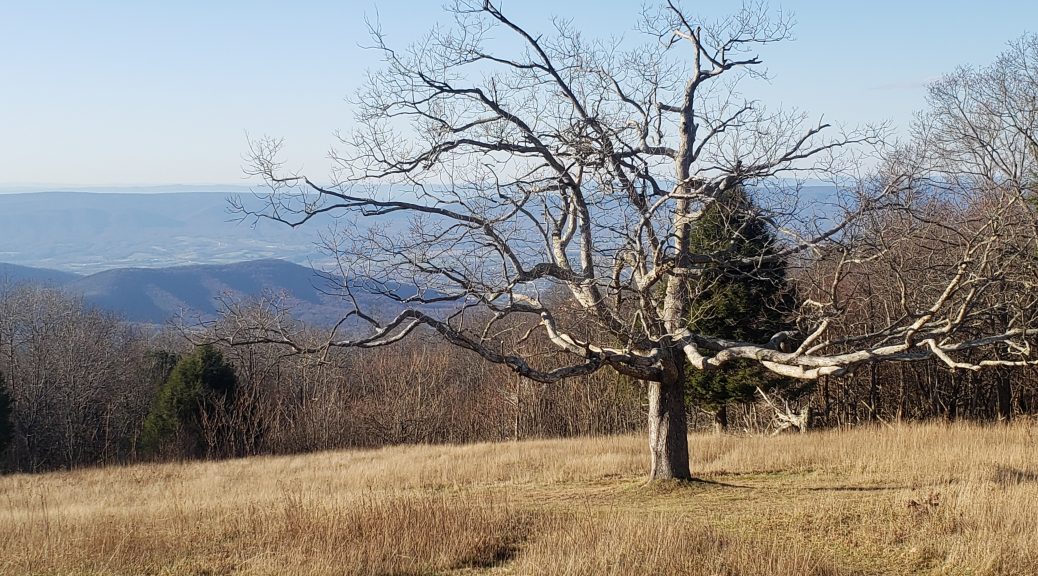 Shenandoah National Park
Shenandoah National Park
My parents took my sisters and me to many of the national parks on our family vacations. I took my daughter to a couple dozen over the years, as well, from Acadia to Zion. She and her husband just took 18 months to visit the 59 parks in the states. I am trying to visit as many as possible as I wander the country; not just the main parks but historical sites, national battlefields, trails, and many of the other wonderful places maintained by the NPS.
Shenandoah was on my way from Gettysburg so I decided to stop in for a week. When I was initially planning my first few months on the road, I thought 3-4 days in Gettysburg and 3-4 days in Shenandoah NP would be enough. Then realized I'm no longer limited to two or three week vacations, so I am going to slow down and enjoy. I am glad I booked a week in both places. This gives me flexibility with closures, limited hours, or bad weather.
I booked a stay in Harrisonburg, as it was approximately in the middle of the park, allowing me to go north or south easily, but stayed only one night. I really hated the place so ended up forfeiting my payment and getting a hotel in Charlottesville.
Shenandoah National Park is a long thin park running along the Blue Ridge Mountains. The highlight is the 105-mile Skyline Drive. There are 75 overlooks and over 500 miles of trails in the park. You can look up all the trails, sorting by location, length, difficulty. Many of the more popular ones don't allow dogs so check before you start the trail.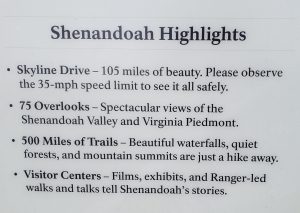 There are only 4 entrances. I entered at Front Royal, the northern entrance. There was a 20 minute line, but I purchased my America the Beautiful annual park pass. There are special passes for seniors and active-duty military, too, and the NPS and VA just recently added a free pass for all veterans. It was announced veteran's day, just 3 days after I purchased my pass. But the NPS needs funding and $80 is a small price for entry to all the parks for a year. I'll try to get the veteran's pass next year when this expires.
I didn't arrive until mid-afternoon, so that first day I just drove from Front Royal to the Swift Run Gap station, leaving the park for Harrisonburg. I made many stops at the overlooks enjoying the views. Unfortunately, due to COVID19, the NPS has decided to close the visitor centers. Big Meadows and Skyline are still worth stopping. They do have rangers available outside the centers passing out trail maps and answering questions for visitors.
Sunday, after packing up and leaving the airBNB in Harrisonburg, I spent an hour in downtown "historic Harrisonburg" before returning to Shenandoah at Swift Run Run and driving north to Thornton Gap. We did the Lower Hawksbill to the summit. I took the Upper Hawksbill trail down, thinking it would come out to the same parking, but was about 2 miles away and had to finish my hike along a horse trail on the opposite side of the road. Fortunately, there were rangers there and they gave me a map; the horse trail was not well marked and there were several trails that split off. We did about 6 miles instead of just 3, but it was a beautiful afternoon. The summit has an incredible panoramic view of the Shenandoah Valley and the Blue Ridge Mountains.
We went to our hotel in Charlottesville, a very nice Homewood Suites by Hilton, after leaving the park. A very comfortable room, full refrigerator and even a stovetop, plus free breakfast. We had a nice stay. Boo was really tired after our hikes and enjoyed a long nap on the comfortable couch.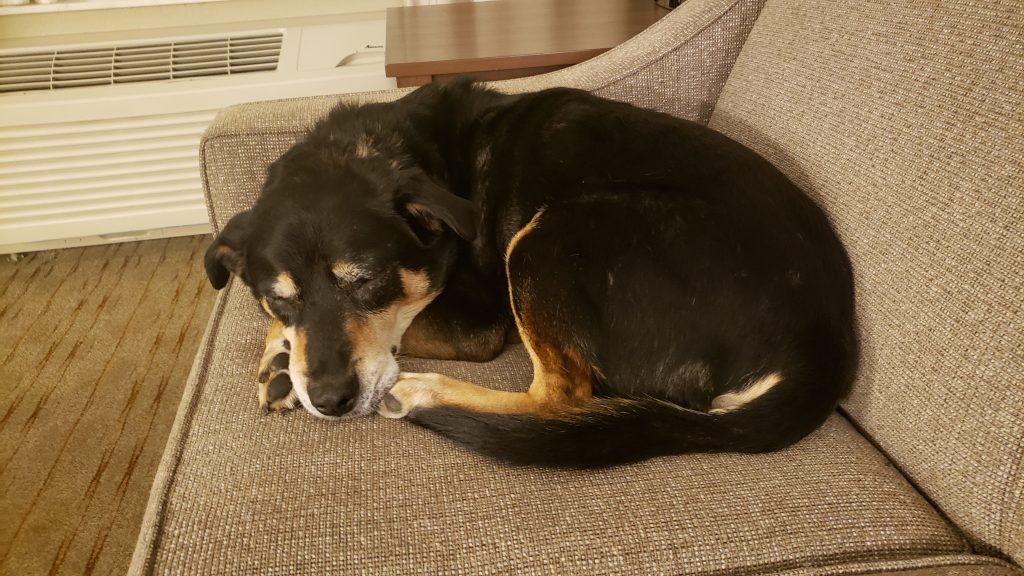 The next day I decided to see the town and also booked tickets to Monticello, Jefferson's home. I thought I'd give myself most of the day downtown and booked a late afternoon ticket at Monticello. I realized later I missed a lot by not giving myself an hour or two more at the site. I started the day at the Downtown Mall, an 8 block pedestrian-only area. Stores, art galleries, restaurants, great old restored buildings. A nice place to visit. Boo and I just window shopped for a while, checked out the "Freedom of Speech" wall, a large chalkboard area, the Sprint Pavillion, and Court Square Park with its statue of General Lee, and walked through other parts of town before driving over to University of Virginia.
This is the only university in the USA, and one of only four in the world, to be designated a UNESCO World Heritage Site. The university was founded in 1819 by Jefferson. I wanted to pick up a tour, but, of course, COVID. I had hoped since it was just outside, they might be running but no, all tours cancelled. So I wandered the grounds.
I walked through and read the history and timeline along the Memorial to Enslaved Laborers. I walked around the Rotunda, down the lawn, where many of the dorms are. Love the layout, these dorm rooms open directly on the open space, but it does feel intrusive walking along their sidewalks so I stayed in the center of the area, and wandered through many areas of this beautiful campus.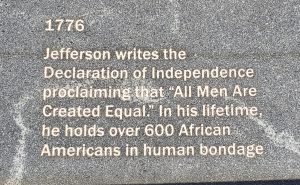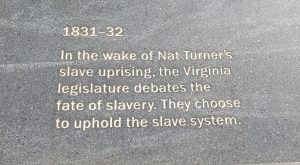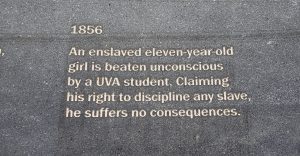 I spent some time walking around other areas outside campus before going back to my car and driving over to Monticello. I walked Boo around the grounds before checking in. I did see a video at the visitor center and briefly went into the museum before catching the shuttle to the house. Advanced tickets are required, purchased online, and the tours are self-guided now but a tour guide does meet you outside when getting off the shuttle, explaining the house and the tour, and how to access the audio information via scanning QR codes on your phone. I had enough time to see all the rooms, listening to the audio, and walked outside all around the building. But there are many outbuildings that I did not give myself enough time to visit. I also wanted to see the cemetery where Jefferson is buried, the shuttle driver pointed it out on the drive down to the visitor center. I could have stopped in if I had allowed more time and walked back down the hill. I did go back to the museum and visitor center and saw the Sally Hemings display before leaving at 5 when they close.
That evening I went over to Ace Biscuit and Barbecue; I wanted to try their brisket, the "Villy" with cheese sauce and peppers sounded great but they had run out of brisket. The employee recommended their burger, with homemade pimento cheese. I had a side of very good slaw. I was just going to get it to go, but they have an outdoor seating area. Probably new due to COVID19, as it's down their stairs, sort of in an garage area. But I enjoyed my burger, slaw and a local beer sitting with Boo. I wanted to get back to try their breakfast biscuits but never did. I stopped in for a flight at Rockfish Brewery on the way to the hotel.
I went back to the park on Tuesday, entering at Rockfish Gap. We did four hikes for about 8-9 miles total, the longest was 4.5 miles. Much of the park includes the Appalachian Trail so you see the AT marker quite a bit. We spent about six hours in the park, leaving at Swift Run; we drove the southern third of the park. It was very different than Saturday and Sunday, there were no crowds. I felt like I was in my own private park, quite nice. There were very few people on the road or the trails.
Wednesday and Thursday were cooler and rainy so we didn't do much. I found a Pet Smart to pick up the Royal Canin canned food I buy for Boo and while there saw a Thai restaurant, Chimm. I picked up a menu and ordered some take-out from them the next day, an excellent Basil Stir-fry. That night I went over to Decipher Brewing for a flight. They have a nice tasting room, pet-friendly. I like places that offer flights as it allows me to try a beer I wouldn't normally order, like their black IPA, IBU 70. It was too hoppy for me but I don't mind leaving a 4 ounce beer.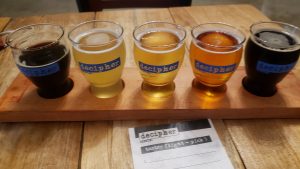 On Friday, I returned to the park, in at Thornton Gap leaving at Swift River Gap again. I did the Little Stony Man trail, the Lewis Falls trail and the Tanner Ridge Trail.
Saturday, I was heading to Asheville but decided to make time to visit James Monroe's Highland in the morning. Monroe and Jefferson were actually neighbors and when Monroe was serving as ambassador to France, Jefferson would send him letters about his property and let him know how it was being managed while he was away. It was a nice visit, we had a short tour of the grounds and lot of information about the farm. Most of the building had burned down after the Monroe's moved back to the Washington area, but the foundation of the original building was there and many of the outbuildings.
COVID19 craziness, but I am glad so many places are taking the necessary precautions.
** All photos property of Lisa, not to be copied or reproduced **