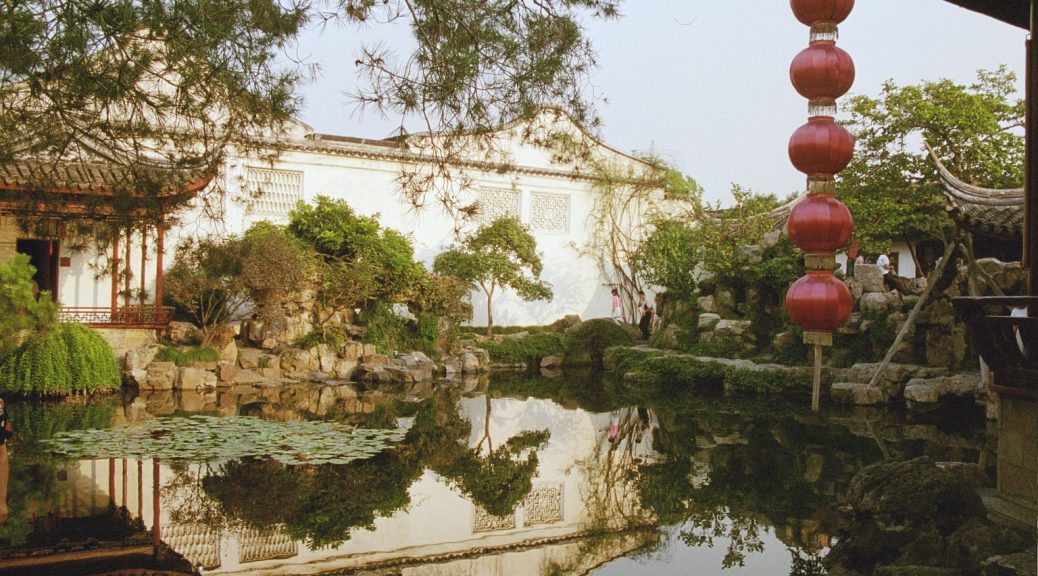 When we started thinking about a trip to China, we were planning doing it all ourselves. We looked at domestic flights and other travel options between the cities we wanted to visit. As much as we don't really like groups tours, after attempting to book our own travel to the various cities, we decided that it would be easier with a tour group because the logistics were going to be complex.
We booked a tour with China Spree as we wanted to travel to quite a few locations around the country, and really liked one of their itineraries. China Spree later became World Spree.
Kelly and I left for Beijing on Friday, September 25. We flew through LA, then had a very early morning flight from LA into China on the 26th.
Crossing the dateline, we arrived in Beijing around 0600 on Sunday, the 27th. Kelly and I planned a free day before the start of our tour. We had arranged an early check-in at Jianguo Beijing. After showers and a short nap, we went out to explore around 11. We walked all the way to Jing Shan Park, north of the Forbidden City. It was a beautiful park and we relaxed for a while having ice cream for lunch. We did lots of walking that day, just exploring. It was a good way to get adjusted to our new time zone. We found a restaurant on the way back to the hotel, choosing it based on the pictures of the menu items in the window, as we hadn't had a lot of luck with finding English speakers. Being the typical monolingual Americans, we were relying on a cheat sheet with a few Mandarin words to help us get around, plus a copy of our hotel address.
We met our guide, Lin, and all the others on the tour Monday, the 28th. Our group was mostly Americans. There were 3 couples that were of Indian heritage, and all were vegetarians. Another couple, that I've stayed friends with, are from New York City, Maurice and Susie. They are from Argentina. They have passports from three countries, I didn't realized that was even possible! Dual, yes, but three? And I just recently found another friend online, Carol. Kelly and I had enjoyed our conversations and meals with both couples; besides the convenience, this is definitely the best part about group tours, the good people you get to meet. 
Many of the meals on the tour were included, all the breakfasts at the hotels, of course, but also several lunches and some special dinners. I don't think Chinese "understand" vegetarians, as they were often served just bowls of vegetables with plain white rice. I like broccoli but it would get pretty boring to eat that, and only that, for every meal. After several meals of nothing but unseasoned steamed vegetables, they complained, and started getting more variety.
Our first day of the tour we visited Tiananmen Square, Mao's Tomb, the Monument to the People's Heroes, and the Great Hall of the People.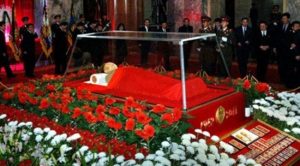 When visiting Mao's Tomb, we were given very strict instructions on how to behave. No talking! Stand up straight. Do not put your hands in your pockets. We were lined up and walked slowly through the room where his body is displayed in a crystal box. No photos were allowed. I found this online. He wanted to be cremated and this is what they did to him? His body has to be occasionally "repaired" according to what we were told. Lin said they have to send his body to experts in Russia.
Our next stop was the Forbidden City. What an incredible place, I'm so glad this has been opened to visitors. The largest imperial palace in the world, it was home for 24 emperors over 492 years.
We had lunch in the Hutongs; we toured the courtyards and narrow lanes, first walking then by rickshaw. We went to the Beijing Zoo to see the Giant Pandas.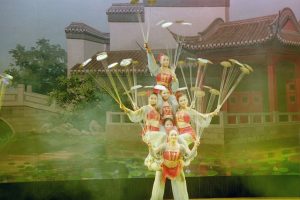 Later, after dinner we all went to a Legend of Kung Fu show at the Red Theater. I was still rather jet lagged and despite the excellent show, I mostly thought about sleep. The acts were pretty amazing, however. After seeing a number of dancers with plates spinning on rods, I remember looking at Kelly, and saying, those dishes have to be attached right? When they stopped, and lowered the dishes to the floor, I turned to her and said, I don't believe it!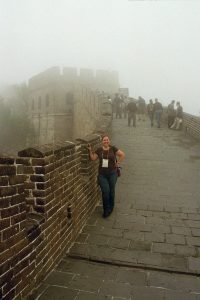 On Tuesday, we drove north to Badaling to see the Great Wall of China. This is the closest section of the Great Wall to Beijing. We were all a bit disappointed with the weather, as it was quite overcast. I was hoping for views with miles of the wall in the distance, like you see in all the photos. Several of our group wondered, as did I, why the company didn't check weather? They could have easily changed the Monday and Tuesday itineraries, since the day before was clear and sunny. We noticed that on the entire tour. Lin, our driver, and the local guides, all were nice, helpful, and very friendly, but didn't seem to have any initiative to make changes or adapt the tour as necessary.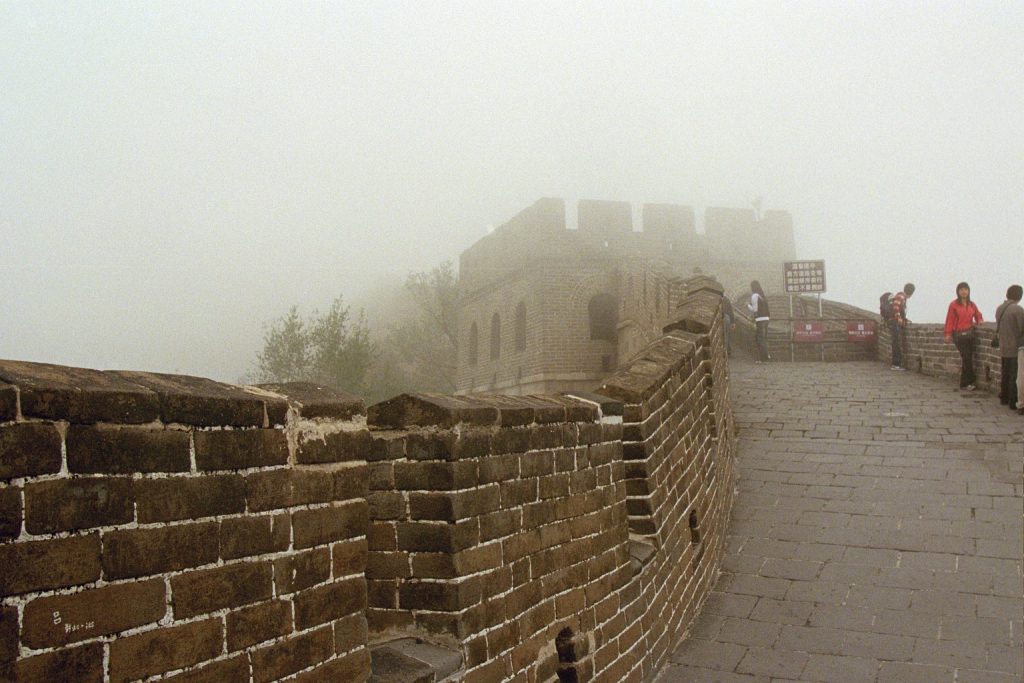 We stopped at the Summer Palace while driving back to Beijing, then took a ride on a dragon boat across Kunming Lake. This is a beautiful area. We had a great dinner that night of Peking Duck, then went to the Olympic Village to see the Bird's Nest and Water Cube.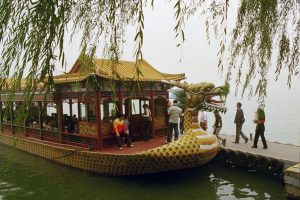 On Wednesday, our last day in Beijing, we toured the Temple of Heaven. Originally this site was where the emperors held the heaven worship ceremony. It was built in the 14th c, during the Ming Dynasty. It only opened to the public in 1988. We saw the circular Hall of Prayer of Good Harvests, located in Heaven Park, where the emperors held ceremonies to pray for good weather and abundant harvests. This is the oldest of the buildings on the complex.
Later that afternoon, we flew to Xi'an. We stayed in the Titan Times hotel.
We visited the amazing Terra Cotta Warriors the next day. Discovered by farmers in 1974, it is estimated there are over 8000 warriors guarding the burial site of the tomb of China's first emperor, Qin. The life sized warriors weigh up to 600 pounds each. We spent several hours here. Each warrior has unique facial features and hair. We visited the large hanger-like, enclosed room and various work buildings on the site involved in continued research. They are still exploring and excavating the area, looking for Qin's tomb.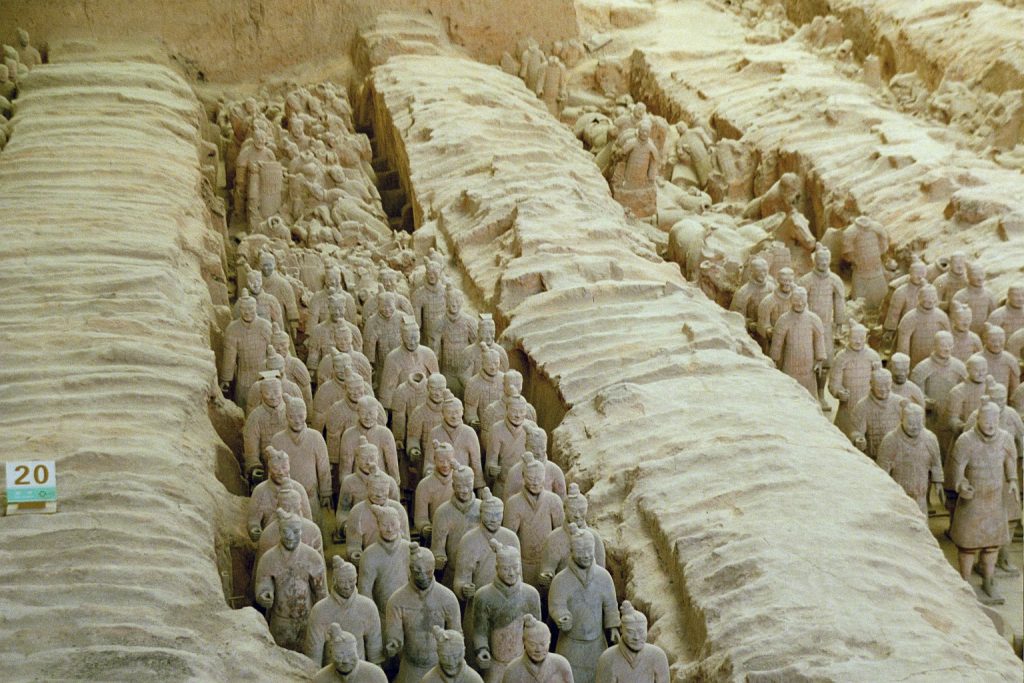 En route, we stopped at a Yao Dong, "house cave", and saw how a family lives with rooms dug into the hillside. We had an excellent dinner, all dumplings: chicken dumplings, pork dumplings, walnut dumplings, both sweet and savory. I wish I could remember the name of the restaurant. When we were first served, I would eat one of each. But they kept coming and while I wanted to try the various flavors, I would take a bite and have to stop. Very filling. We went to the Tang Dynasty Show with singing and dancing.
The next morning we visited the Wild Goose Pagoda, built in 648, in the Da Ci'En, or Great Kindness and Grace Temple. This is a huge Buddhist pagoda, one of the sites along the Silk Road. It is a UNESCO World Heritage Site. There are engraved statues of Buddha lining the interior walls. The pagoda has been damaged and rebuilt several times over the centuries. I had time to climb to the top for a great view of the area.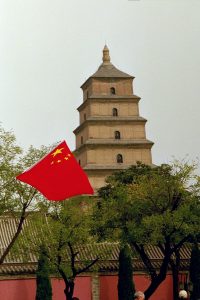 We also visited the Great Mosque, in the Muslim Quarter. This is one of the largest mosques in China, built in 1384 during the Ming Dynasty. I had some time for shopping at the market. I don't enjoy haggling and am not good at it, but I had to bargain hard for my metal dragon. Later that afternoon, we were taken to the airport to fly to Guilin. We stayed overnight in the Guilin Park Hotel.
Saturday morning, October 3rd, we were driven north out of town to visit the rice terraces. We were able to hike through some of the Long Sheng (or Long Ji, which means Dragon Spine) Rice Terraces. I remember one of our group hiring a "sedan chair" for the experience. What a beautiful area. Construction of the terraces began in the Yuan Dynasty and they have been used for over 600 years.
We met ethnic Chinese Huangluo and Yaozhai. The Yao women cut their hair when they are 18 then let it grow, never cutting it again. They wind it up in elaborate hair styles around their heads.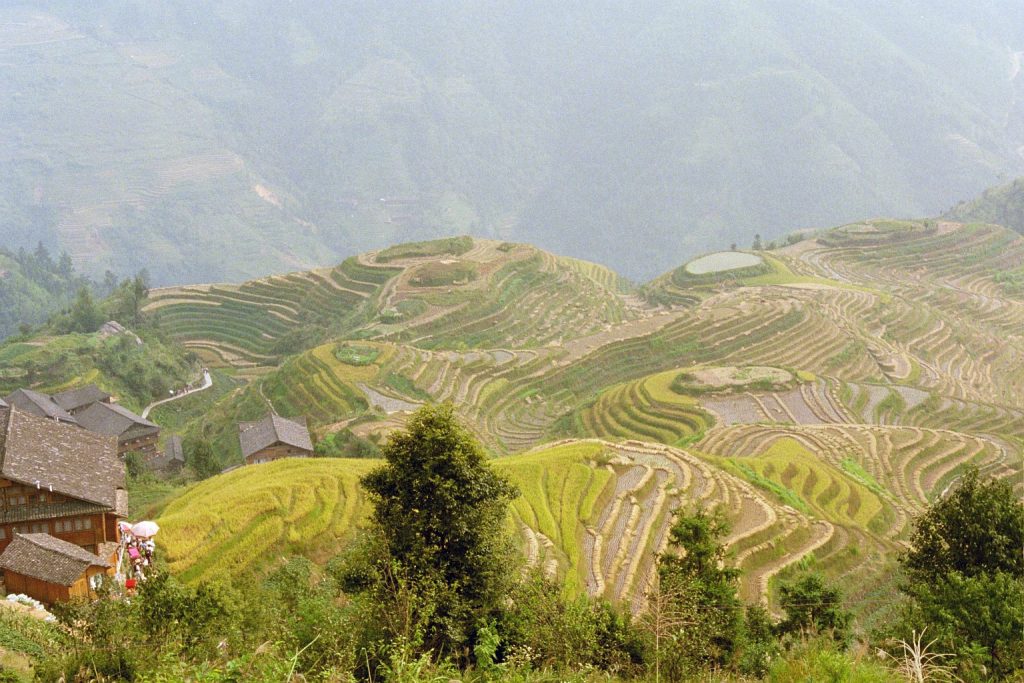 We had lunch here at the village; we really enjoyed the local food, rice steamed inside bamboo. Sticky and delicious, with a nutty flavor, quite delicious. We spent the evening at the Yangshuo Sovereign Hotel. 
We had a beautiful Li River cruise on Sunday morning. What incredible scenery! It was lovely to relax onboard and enjoy the beauty. We had our afternoon free, and Kelly and I went shopping in the market place. In the evening, we went to the show 'Impressions of Liu Sa Jie' which was directed by Zhang Yimou who also choreographed the opening ceremony of 2008 Beijing Olympics. The show takes place on the river and is stunning, one of my favorite memories of the trip. There are 600 locals involved in the show. We were free for dinner, so we found a place for pizza.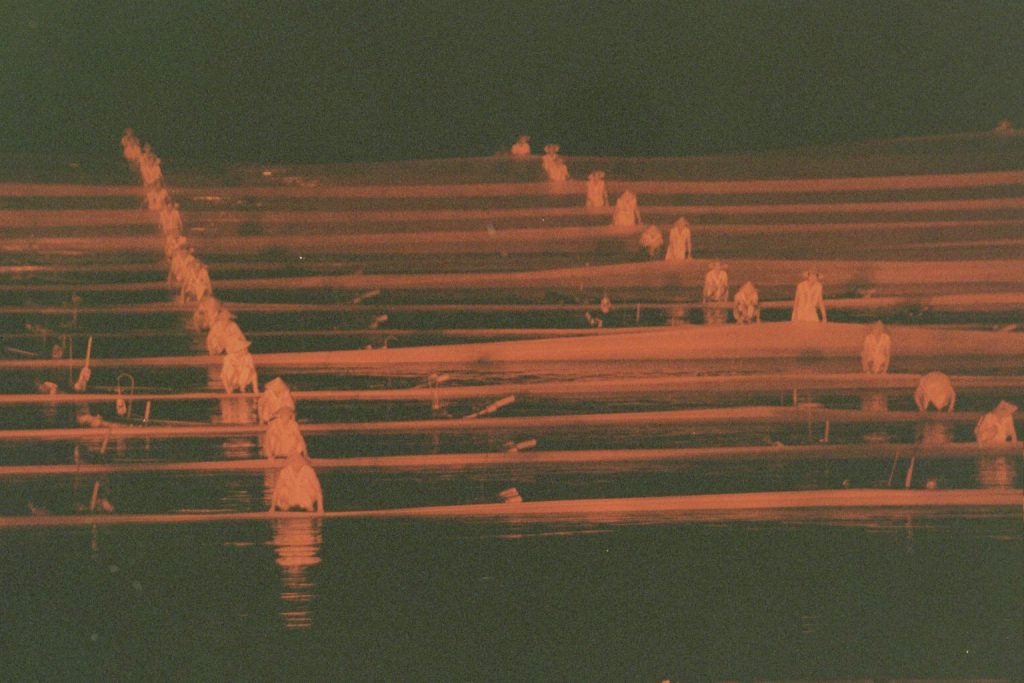 We flew to Shanghai the next morning, October 5th. We were met at the airport and driven to Suzhou. We visited the Garden of the Master of Fishing Nets. This was designed for a government official during the Song Dynasty (1127-1279). We saw local women "fishing" with cormorants. They birds would dive off their boats and return with a fish. If I remember correctly, the birds had a neck band preventing them from swallowing their fish. We spent the evening in Nanlin Hotel Suzhou.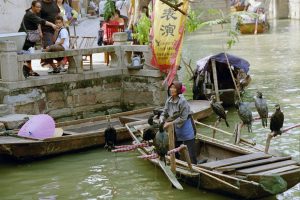 Tuesday, we visited Tongli, known as "Venice of the East". It consists of 7 islands with 49 bridges connecting them. It is one of the "water towns", with a history of more than 1000 years. We took a gondola ride on the canals and visited a beautiful garden. We visited the Suzhou Folk Customs museum. The museum is in an old house, built in the style of the Qing Dynasty. After the museum we visited the Silk Spinning Mill. We were given a tour to see how they create silk thread from the cocoons. We saw them stretching the silk for a variety of products. I bought a silk comforter; they "shrink wrapped" this into a tiny package making it easy to get home. I've used this comforter daily ever since. Perfect in summer and winter.
We took the bus back to Shanghai, and checked in to our hotel, the beautiful Crowne Plaza. We went out and explored our neighborhood, including the waterfront and the Bund. The Bund is full of colonial architecture and considered one of the most expensive areas of town. The area has the city's best dining and shopping establishments.
We had a full day tour of Shanghai on Wednesday. We visited Jinmao Tower, and Pudong and Bund areas. We were told the tower was inspired by traditional tiered pagodas. We visited the observation deck on the 88th floor of Jinmao Tower. The tower has a lot of references to the number 8, considered to bring prosperity in Chinese culture. 88 floors, with an octagon shaped core, 8 exterior columns and 8 interior, it was dedicated on August 28, 1998.
We had a Mongolian BBQ Buffet lunch; so much meat, really sorry for our vegetarians! In the afternoon, we went to the Shanghai Museum, newly designed by I.M. Pei. That evening we had tickets to see the Shanghai Acrobats. This was another amazing show, we were truly given some excellent entertainment on the trip. 
Our last full day in China, Thursday, October 8th, was a free day. We started the day by sleeping in! We went to Yu Gardens and Bazaar and then had tea at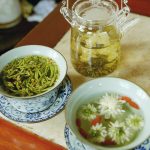 Huxinting Teahouse, located in the gardens. China was where I learned that there was much more to tea than a black tea bag; we had so many flavors and, so many great loose teas. I returned home, especially in love with jasmine tea, and have been drinking it ever since.
We took a cab to Fuxing Park, located in the former "French Concession Area" of Shanghai. This area, "Paris of the East" was administered by the French Government between 1849 to 1946. We had dinner at Hofbrau Shanghai with Carol and Bob.
Friday, October 9th, the end of our trip. We took a bus to the train station. A ticket to the 'maglev' (magnetic levitation) train to the airport (300 kmh) was included with our tour. After a plane to Beijing, plane to San Francisco, plane to Denver, plane to Chicago, a bus to Bloomington airport (our connecting flight cancelled and we wanted to get HOME), then our final car ride from the Bloomington airport, we made it home, over 33+ hours!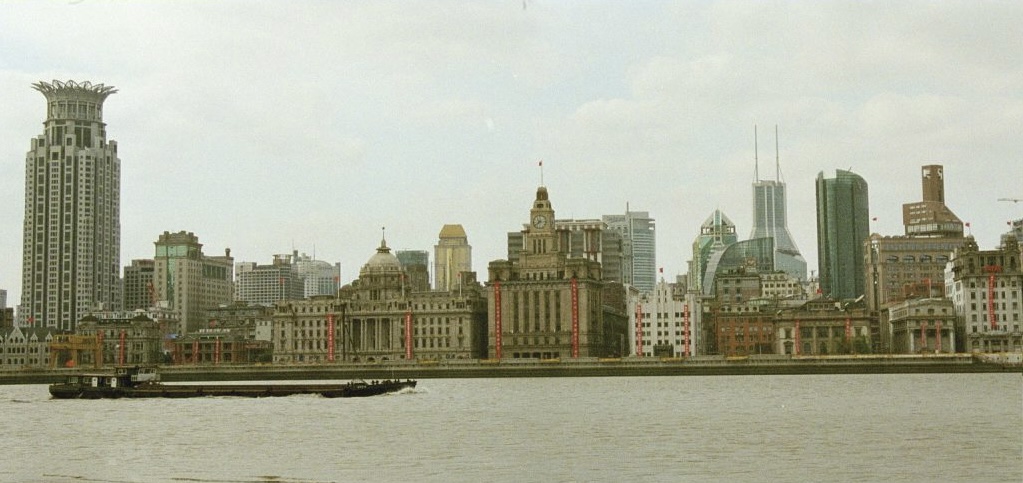 Final thoughts on China:
I read these comments on Frommer's when doing some research prior to our trip:
Driving Rules —

"I'm bigger than you, so get out of my way," sums it up. But you won't be driving anyway. When you cross a road, assume that the drivers are all out to get you. Driving is on the right. 
I was seriously concerned every time we were out walking and needed to cross the street. Especially in the large cities, Beijing and Shanghai, Kelly and I would join groups of locals and cross with them. The drivers would just keep inching forward despite having walk lights.
In mainland China, in casual encounters, non-Chinese are treated as something between a cute pet and a bull in a china shop, and sometimes with pitying condescension because they are too stupid to speak Chinese. At some sights, out-of-town Chinese tourists may ask to have their picture taken with you, which will be fun to show friends in their foreigner-free hometowns. ("Look! Here's me with the Elephant Man!") Unless you are of Chinese descent, your foreignness is constantly thrust in your face with catcalls of "laowai" (or "gweillo" in Cantonese areas), a not particularly courteous term for "foreigner." Mocking, and usually falsetto, calls of "Helloooooo" are not greetings but similar to saying "Pretty Polly!" to a parrot. Whether acknowledged or not (and all this is best just ignored), these calls are usually followed by giggles. But there's little other overt discrimination, other than persistent overcharging wherever it can possibly be arranged. Indeed, in general, foreigners get better treatment from Chinese, both officials and the general public, than the Chinese give each other, once some sort of communication is established. People with darker skin do have a harder time than whites, but those with no Mandarin will probably not notice.
I was surprised by some of the comments of our guide about people of color and Muslims. When visiting Guilin, and the Mosque, I remember Lin saying on the bus, "don't worry, these are good Muslims, not dangerous". I looked over at Kelly and we both just shook our heads. And I know when we were walking on the Great Wall, the Bund, and other crowded areas, we'd have children, teens running up to us wanting pictures.
I know the vegetarians may not have had as much variety but I very much enjoyed most of the meals on the trip, we had some quite unique local dishes, from the bamboo rice to moon cakes.
This was my final vacation with my old beloved film camera. I remember going through rolls and rolls of film on vacation and then having to spend a lot of money for developing them. I scanned all my pre-digital negatives a few years ago so have them all available but the quality is not as good as I would have wished in some cases.
 ** All photos property of Lisa, not to be copied or reproduced **