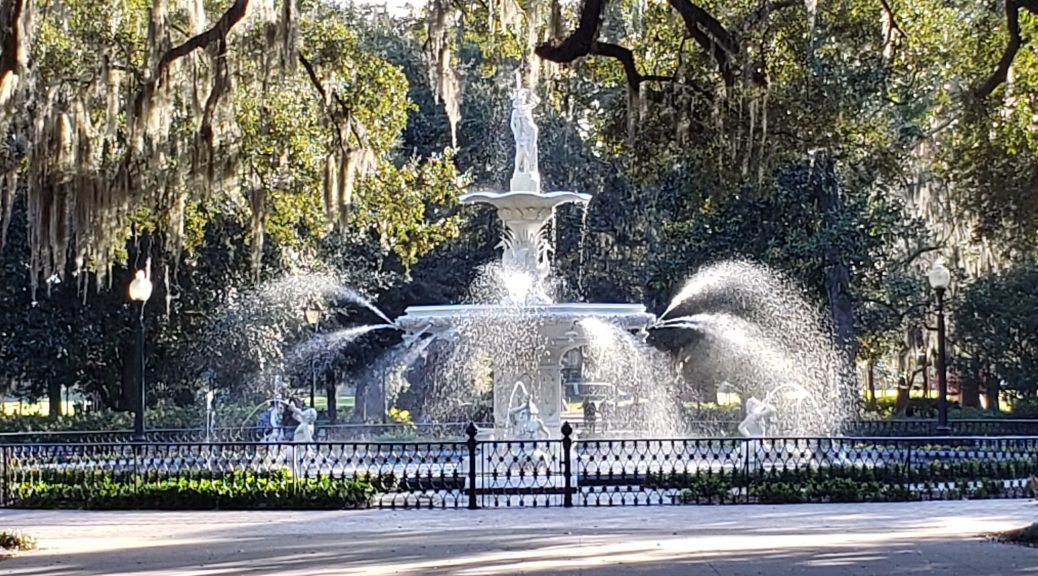 Six Weeks in Savannah
Six Weeks in Savannah
I decided months ago there was no reason for me to stay in Illinois all winter. It's cold, windy and grey for weeks at a time. Quite a depressing place to spend the winter, so I started thinking about a long term stay… somewhere. Somewhere warmer.
I've only spent half a day in Savannah, on a side trip from Hilton Head years ago. I wanted to see more. And staying long term in a city sounded exciting and a great opportunity in retirement. I did think about Austin, Texas or somewhere in New Mexico but Savannah was on top of my list. I found an AirBNB long term rental. It looked pretty good on the app but not quite as nice as it appeared in the photos, unfortunately. It needs a serious remodel but was adequate. It was conveniently located to visit the historic district, close to Bonaventure Cemetery and easy access to Tybee.
I arrived in pouring rain. Savannah was the "wettest spot in the country" when I arrived December 22nd. It cleared off in a couple days and I had a beautiful Christmas Eve and Christmas.
Holidays in Savannah
Being here for the holidays meant I had many special events available.
On Christmas Eve I had booked the Old Town Trolley Holiday Lights tour. We had Jamie for a guide and he led us in a sing-along of Christmas carols while we toured parts of the downtown. We made stops at the Davenport House and at Massie Heritage Center where we met Santa. I was on his "Nice" list and asked for Peace on Earth. It was a very enjoyable and beautiful evening.
I was going to attend the New Year's Eve fireworks on River Street. I went downtown and spent an hour and a half at City Market. I had had a peach sangria at Cafe at City Market the prior week and wanted another so that was my first stop. They had live music outside at the market and there were lots of people enjoying the events. City Market has lot of restaurants, bars, and venues so it's a great place to spend some time while in Savannah.
After my second sangria, I went down to River Street and walked up and down the street and went into the shops since I didn't have Boo with me this time. But it was cold and very crowded with lots of loud, annoying drunks (surprising on New Year's Eve, right?) so I decided to leave about 11:15 and came home and celebrated with Boo. What a party girl!
On New Year's Day I went out Tybee Island to see the Polar Plunge and the "Parade of Goofs". It was lots of fun watching the parade. It was a beautiful day so Boo and I stayed for lunch of tacos at Chamacos and walked along the beach and did some window shopping and revisited the lighthouse (we had seen the week prior) before returning to the city late afternoon.
Visitor Centers and Tours
There is so much to see and do in this beautiful city. Being here for 6 weeks, I could take my time and see different neighborhoods, exploring areas on long walks with Boo. My apartment may not have been the best but it was in a nice neighborhood, the Ardmore – Gould Estates – Olin Heights area, south of Victory Street/80. Boo and I walked a different route every morning for about 2 miles to start our day. Most afternoons we were either down in the historic district or doing some sightseeing in other areas, like at Fort Pulaski, Old Fort Jackson, Tybee Island, Skidaway Island, or Pin Point Heritage Museum outside the city.
I made one of my first stops in the city a visitor center. There is a convenient one on River Street, but there are several more Visitor Centers in the historic district. The one on Martin Luther King, Jr. Blvd, is inside the same building as the Savannah History Museum. There is also one by Ellis Square.
They have great maps that will be very helpful and several different guides. I had ordered the Savannah Visitor Guide online after booking my lodging, and they mailed it to me so I could do some planning in advance. But they also have guides for weekly events and many brochures for tours and sites.
I picked up a couple great walks as introductions to the city. I used Free Savannah Tours and had a 90 minute tour with Chuck. We started in Johnson Square and visited Wright Square, Chippewa Square, Madison Square, Monterey Square and ended up in Forsyth Park. I had already seen all these squares on walks in previous days but learned a lot about the squares and history of the city from Chuck. Savannah and its remaining 22 squares, of the original 24, is the largest historical district in the country and a wonderful city for walking.
A few days later I did a tour of Bonaventure Cemetery with Don. I had seen a truck with a decal for "Bonaventure Don" while walking my dog around the neighborhood. I came back and looked up the site, Bonaventure Don, and booked a tour online. I thought I had been out to Bonaventure my first week, but there are 3 cemetery entrances side by side. When meeting for my tour, I realized I had been in Forest Lawn not Bonaventure.
Don's tour is fantastic! Don is both Vice Chairman of the Bonaventure Historical Society and an active volunteer. He runs tours 6 days a week. I highly recommend his tour; make time for this when in Savannah if possible. We also saw a number of people walking around using their Bonaventure Historical Guide App. Don mentioned many of his photos were part of the app and he did some of the narration, as well.
The Squares of Savannah
One day I spent walking all 22 squares. I had already visited most of them on different days. It's a lot of walking but was interesting to see them all back to back. They are all different but lovely, some are "just" open green spaces, some have monuments, historical markers, or fountains, some have gazebos. I returned to each multiple times throughout my stay. Sit for a while and enjoy or you can visit the historical houses or churches around the square.
On Sundays there are no parking fees, so I would pack a lunch, or pick up something downtown, and go sit in one of the squares and read.
Most people will visit Johnson, Wright, Chippewa, Madison and Monterey. They are considered the main squares and all have large monuments. They are the direct north-south route from the river to Forsyth Park, down Bull Street.
The oldest squares are Johnson, Wright, Telfair, and what is now Ellis, that was rebuilt in 2010.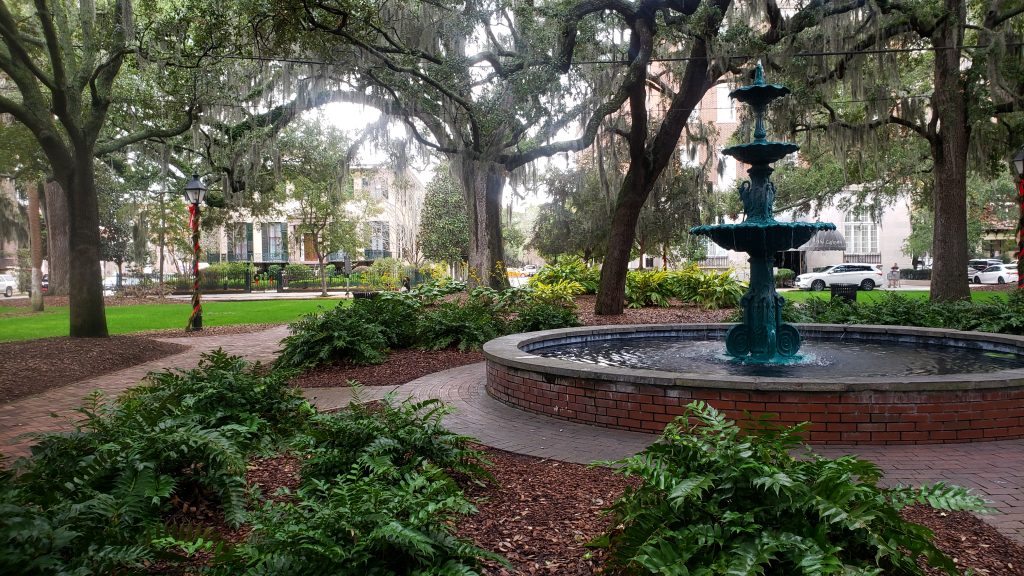 The squares were the center of the "wards" designed by Oglethorpe. The squares were mostly designed for the militias to practice. There were 24. Four had been removed over the years. Franklin, Liberty and Elbert were removed for highway 17 in the 1930's. In the early 1950's the City Market on Ellis square was leveled for a parking garage. Franklin and Ellis have been restored.
Franklin – at the west end of the City Market. Designed in 1790 and named for Benjamin Franklin. Has the Haitian monument to the Chasseurs-Volontaires de Saint-Domingue; they fought for American Independence. The First African Baptist Church is on the northwest corner. This was restored in the 1980s.
Ellis – at the east end of the new City Market, it was originally known as Market Square and home to four of the city markets. The new square has lots of open space for people to meet, and dancing fountains. There is a life size statue of Johnny Mercer, on the west side. Rebuilt after the 50 year lease for the parking garage expired in 2003.
Telfair – surrounded by the Telfair Academy and Jepson Center and Trinity Methodist Church. A beautiful green space with no monuments.
Orleans – has a beautiful fountain from the local German Societies. The Harper Fowlkes House is on the square. This is part of the multi-museum pass of the Coastal Heritage Society (CHS) and I visited using my pass. It is a lovely home.
Pulaski – Named for Casmir Pulaski. No monuments but many lovely homes and gardens.
Chatham – Gordon Row home, no monuments.
Johnson – the largest square and one of the oldest. Many tours start here at the monument to Nathanael Greene, a Revolutionary War General. Christ Church is on the square.
Wright – Gordon Monument, Tomochichi monument. Tomochichi is buried underneath the Gordon monument but they didn't move him, they just put the monument on top of it then added a memorial in the SE corner. The Juliette Gordon Low home and the first Girl Scouts HQ nearby. The Lutheran Church of Ascension is on the square.
Chippawa – statue of James Oglethorpe, founder of the colony of Georgia, First Baptist Church, and Independent Presbyterian church. Lots of scenes from Forrest Gump were filmed here.
Madison – monument to Sergeant William Jasper, Revolutionary War Hero. Sorrel Weed House, supposedly one of the most haunted in the city, is on the square. St. John Episcopal Church. The Green-Meldrim house was home to General Sherman in 1864 when the Union Army took Savannah and you can visit along with St. John's Church.
Monterey – the Mercer-Williams House (Midnight in the Garden of Good and Evil), Armstrong Mansion, Temple Mickve Israel, and a monument to General Casmir Pulaski, Revolutionary War Hero and founder of the cavalry.
Reynolds – John Wesley statue. Originally Lower New Square, renamed for John Reynolds, first Royal Governor of Georgia
Oglethorpe – home to the Owens Thomas House and Slave Quarters. This is part of the Telfair Museum pass and requires a reserved time. So book in advance as it does get full quickly. Originally Upper New Square, renamed for General Oglethorpe.
Lafayette – has a lovely fountain, with Cathedral of St. John the Baptist on the northeast corner and several colonial houses to visit, including Andrew Low House.
Calhoun – named for John Calhoun, a senator from South Carolina and Vice President under John Quincy Adams and Andrew Jackson. The Wesley Methodist church is on the square as well as the historic Massie Common School House.
Warren – named for General Joseph Warren, Revolutionary War hero. No monuments.
Columbia – Wormsloe Fountain and the Davenport House.
Troup – has the Armillary sphere, a marker for Jingle Bells in front of the Unitarian Universalist Church and the Myers drinking fountain, special for our furry friends.
Whitefield – a favorite. One of the last squares to be laid out. Named for Reverend George Whitefield, who established the oldest orphanage in the US. It has a beautiful gazebo. The first Congregational Church is on the square. It once served as a burial ground for enslaved African-Americans.
Washington – open green space with a monument to the Fire Brigade and old cistern. Many beautiful mansions around the square.
Greene – named for General Nathanael Greene, an American Revolutionary War hero. General Greene served as second in command to George Washington. His monument stands in Johnson Square.
Crawford – another one of my favorite squares. Very quiet, always available parking. Nice gazebo, basketball court.
I love the gazebos in Whitefield and Crawford, they are great places for a picnic lunch or to sit and read. Lafayette and Orleans are also some of my favorite squares to sit and relax and enjoy the sound of water from the beautiful fountains.
There are lovely little parks and squares throughout the city, not just the historic district. There were a dozen or more I found on our morning walks.
---
My recommendations below are in no specific order (well, okay, they are alphabetical, because I like things alphabetical). They are just things I did and restaurants I visited, that I enjoyed. You will find multiple lists of things to-do and restaurants to try if you do an internet search. I had tried Lady & Sons (Paula Deen) on my first visit, and wasn't that impressed and didn't need to return. Mrs. Wilkes also makes multiple lists but I really didn't want to try this for $25, the food sounded like things I could easily make at home.
I hadn't read about Leopold Ice Cream until seeing the lines when walking down Broughton. Then I looked them up. It makes many lists but every time I walked down the street the line was ridiculous. Despite being told, "it's worth the wait", I really didn't believe it and have had fantastic gelato in Italy so the ice cream would have to be literally outstanding for that line. I did have a scoop later, finding a small selection of their flavors at the visitor center on MLK, Jr. Blvd. I had the Savannah Socialite, milk and dark chocolate, pecans and caramel. It was good, but $4 for one scoop, tiny carton, so rather expensive. And it wouldn't have been "worth the wait" in my opinion.
Recommended Sights
All 22 squares in the historic district
Battlefield Memorial Park. You can see this on your own but the Liberty and Patriots talk given by the Savannah History Museum visits the site and makes it come alive with the guides dressed like Americans and the French and a musket firing. The tour provides great detail on the battle of 1779.
Bonaventure Cemetery – take the tour with Don!
Bull Street
Cathedral of Saint John the Baptist
City Market – enjoy the many restaurants, bars or music. Franklin and Ellis Squares on both ends of the market make nice places to sit and relax, also.
Colonial Park Cemetery
Davenport House
Emmet Park – along Bay Street, you can see several monuments
Factors Walk/Factors Row
Forsyth Park, the fountain, civil war monument. There is a farmers market here every Saturday from 9-1.
Fort Pulaski National Monument – try to attend a ranger walk, great information and history.
Gingerbread House
Green-Meldrim House – on Madison Square, where Sherman had his HQ during his occupation of Savannah
Harper Fowlkes House
Independent Presbyterian Church
Jones Street – considered one of the most beautiful streets in the country. Walk down the street for the beautiful facades.
Massie Heritage Center
Old Fort Jackson
Pin Point Heritage Museum – highly recommend! Took my friend back out when she visited me in Savannah, too.
Prohibition Museum – loved this museum. Visit their speakeasy and have a Chatham Artillery Punch.
River Street, the many monuments and statues, restaurants and stores.
Saint John's Church
Savannah Belles Ferry – not much to see on Hutchinson Island other than the Convention Center and a hotel but the ferry is free and offers a nice view of the river and city.

 

Get on at River Street near City Hall or at Morrell Park by the Waving Girl monument
Savannah History Museum – save money and purchase a 3-day, 3 museum pass: Discount Combination Ticket. Visit the Frogtown Tenements and make sure to listen to the Patriots & Liberty talk that visits the Battlefield Memorial Park, site of a civil war battle.
Skidaway Island State Park. There are free trails at the Skidaway Institute of Oceanography.
Telfair Museums: Telfair Academy, Owens Thomas House & Slave Quarters, and Jepson Center. The Owens Thomas house is by guided tour only so if you only have a few days make sure you reserve a tour.
Tybee Island Light Station and Museum, Fort Screven. Tybee Island Pier and boardwalk.
Recommended Restaurants and Breweries
Alligator Soul – expensive but what a wonderful evening with my friend. Some alligator tempura, two great entrees, peach martinis and more. Excellent service.
Back in the Day Bakery – amazing biscuits and sandwiches. The Grilled Pimento and Pig sandwich is great as was the Sunny Day breakfast biscuit.
Byrd's cookies, especially the key lime and Georgia peach. There are several locations, one at City Market and one on Water's Street.
Cafe at City Market – never ate here but stopped by several times for their Peach Sangria.
Chamacos Tacos – on Tybee. Lots of varieties for about $3 a taco. Good value and outside seating if you're visiting the island.
Clary's Cafe – all day breakfast. A local favorite.
Collins Quarter – No reservations for brunch, so be prepared to wait. My first visit was on a Friday. I asked for an outside table to sit with Boo and had the great Bubble and Squeak. I returned when a friend visited on a Monday (per recommendation of the wait staff who said weekends had much longer waits) and we both loved our selections, quite a unique menu.
Edgar's Proof and Provision – I had walked by this place many times without noticing the restaurant. Then I read a review that said you need to try this place just for their homemade pimento cheese. I stopped in one afternoon for a beer on their patio and the menu sounded wonderful. So went back for their P&P burger with pimento cheese, pecan bacon, tomato red onion jam, arugula, avocado, fried onions. Too big but delicious! Even leaving most of the bun and the fries, it's a lot of food.
Lulu's Chocolate Bar – stop in for something sweet. The triple chocolate mousse was delicious! My friend loved her key lime coconut pie.
Moon River Brewing – The food is better than the beer but it's a nice beer garden to sit outside. I had the goat cheese and leek cakes and their tacodilla, a cheese quesadilla folded like a taco, filled with smoked beef brisket, pico de gallo & chipotle creama.
Olde Pink House – try the BLT salad. Featured on the Food Network and I understand why after having it. We also had the Blue Crab Beignets, delicious.
The Ordinary Pub – didn't have a chance to try their regular menu but stopped by one evening for Taco Tuesday. $2 chicken, beef and veggie tacos, Had one of each, all were delicious!
Pie Society – they have pasties and sausage rolls that make nice snacks if you're out walking. I had the Beef & Bleu Cheese one day. But their savory pies are outstanding. The Chicken Curry is probably the most popular. Definitely more than a snack, easily two meals.
Savannah Seafood Shack – my friend and I had varieties of their seafood boils.
Service Brewing – good beer and nice location. Pet friendly. Veteran owned and operated. I like to support veteran businesses.
Southbound Brewing – my favorite brewery, I liked all their beer. Nice quiet place to sit with friends and your pup. They do serve food, from available food truck, but your dog is welcome even inside.
Two Tides Brewing – great brewery. The tap room is upstairs and they have a lot of IPAs (not my favorite) but some great sours, too. They welcome your furry family members! You can order pizza for delivery to the taproom.
Vinnie Van Go-go's – considered some of the city's best pizza. You can order by the slice, with custom toppings, and they are quite large. Lots of outside seating or you can take it to go and sit in City Market.
Zunzis – Try the conquistador or bunny chow with Indian curry. Their peach tea is wonderful, too.
80 E Gastropub, on Tybee Island. Convenient after visiting the lighthouse. I had delicious low country shrimp tacos.
Savannah Bee is worth a visit for their wonderful honey or trying their mead.
** All photos property of Lisa, not to be copied or reproduced **
---
Day Trips
I took a day trip to Charleston, South Carolina. I made stops to see the Old Sheldon Church and the Angel Tree on the way to Charleston. When arriving in the city I went to Rodney Scott's BBQ. It was featured on Anthony Bourdain Parts Unknown. If Anthony recommends, you know it's worth trying! I had a whole hog sandwich and it was tender and flavorful with a side of delicious baked beans. It was worth the stop.
After lunch I went down to the historic district. I found some parking, with difficulty, and stopped in at a visitor center for a map, then explored this beautiful city. I stopped at the Circle Congregation Church and graveyard. I visited Washington Square, Rainbow Row, Bay Street, Waterfront Park, Philadelphia Alley, Longitude Lane, Stoll's Alley, Pineapple Fountain, White Point Garden at the Battery, and Saint Philip's Church. I spent about 90 minutes at the Old Slave Market. I highly recommend a visit to this museum. Lots of interesting information, including audio stories of enslaved people gathered in the 1930's and 40's.
I wandered through the City Market, enjoying all the vendor stands. The city's historic district is a compact, easily walkable area. I saw what I wanted to in one day. Although, I would love to spend more time in this beautiful city, as I am sure it deserves. I had perfect weather, 68 and sunny, it was a great day to be outside.
 ** All photos property of Lisa, not to be copied or reproduced **