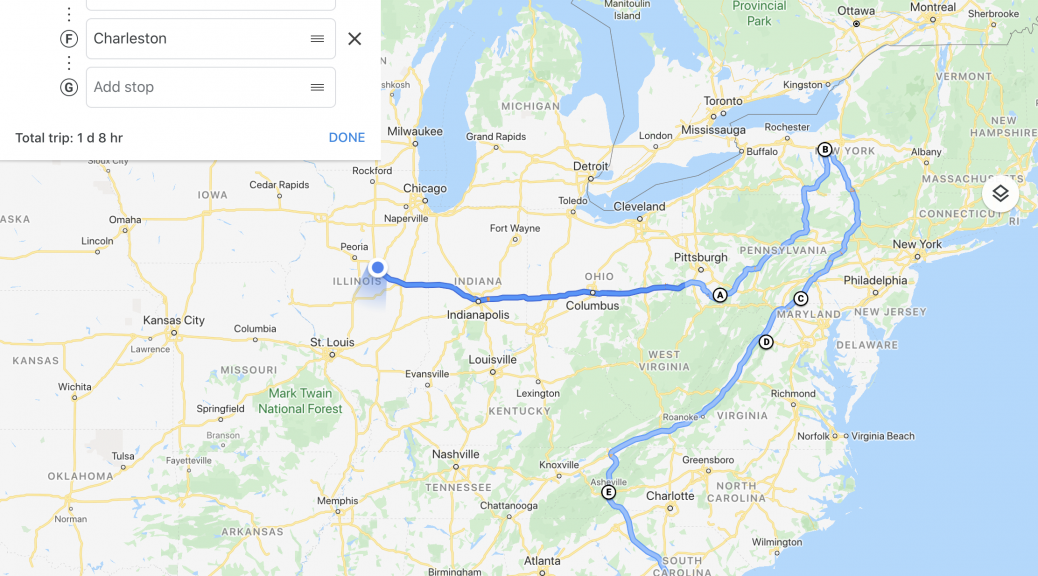 Not All Those Who Wander Are Lost…
Not All Those Who Wander Are Lost…
I may not be lost, but I do have some financial and legal issues, while I "wander".
For several years, I've been planning on selling my house and staying mobile for a while after retirement. I want to just enjoy traveling and exploring new places. I also don't know where I want to end up. Many people I know have plans to retire to a specific place. I don't, not yet. I may decide I don't want to "settle down". For now, it's exciting that I don't have a home or "don't know where I am going" (beyond several months of already booked AirBNB rentals, anyway).
My house is sold, all of my furniture and most of my belongings have been sold or donated, I've put some personal items in storage and I'm on the road. Prior to a global pandemic, that included international travel. In 2020, I had a Caribbean cruise with Sail Windjammer booked for March, a 6 week road trip to the Canadian Maritime provinces all planned for July and August, and this fall I was going to Easter Island, the Atacama desert, and Bolivian salt flats with Kelly. None of that happened, of course. I'm adjusting, and will keep dreaming of the international travel in my future, but I've packed up the car and Boo and I are going to be nomads for a year or so.
Since I have been thinking of long-term travel for quite a while, I've been doing research about some potential problems with not having a fixed address. I had saved some articles about mail services but doing further reading, realized I hadn't thought about a number of issues, like having a domicile for registering my car, replacing my driver's license, car insurance, and just having an address on file for all my financial companies. So many things in our lives require an address.
Mail Services
I found a number of sites for mail. Some just received your mail, some would store it, some would scan the envelopes, some would open and provide digital access. Some would also provide a domicile address. If you are in need of any of these options, review them for their services as they vary quite a bit and the cost varies more.
I posted a comment on a facebook page of my company's retirees; I asked for information on full-time travelers and had both iPostal and Escapees recommended.
I selected Escapees then found a couple of the other sites listed above. I have a year service with Escapees. My mail will go to Livingston, Texas but I also requested an address in Florida to register my car and get a driver's license for next year.
When researching Escapees and looking for reviews, I came across this article that was helpful as well: How to Become a Global Citizen
Domicile Address
You need an address to register your car and get a driver's license. Car insurance varies by state, too. When calling my insurer, then attempting to change insurance, several national companies said they wouldn't insure me if I wasn't living at the same address. And while other companies would accept my "mail drop address" I had to register my car and get a new license within 30 days. I wasn't in the state and wouldn't be for months, so had to use a neighbor's address in my previous city, with the insurance company's approval. While searching for a new auto insurance company, they also told me insurance would be cheaper in Texas so I won't be using my Florida "domicile" address after all.
All my bills have been paperless for years so all I had to do with my credit cards, financial firms, phone company was update my new address.
Voting Information
Voting in 2020 was critical to me. But I was able to vote early in my county before closing on my house at my former address. If I stay on the road I will need to deal with registering to vote depending on where I am in 2022.
More information on voting that I found when searching on "voting without address", it provides interesting reading.
I wonder what else I've missed about not having a home?
I am sure I will find things I didn't do, should have done in advance, or just didn't think about.
I did sign HIPAA docs for sharing my medical and dental records last time I visited my doctors and dentist, just in case, and made copies of Boo's records including his vaccinations.