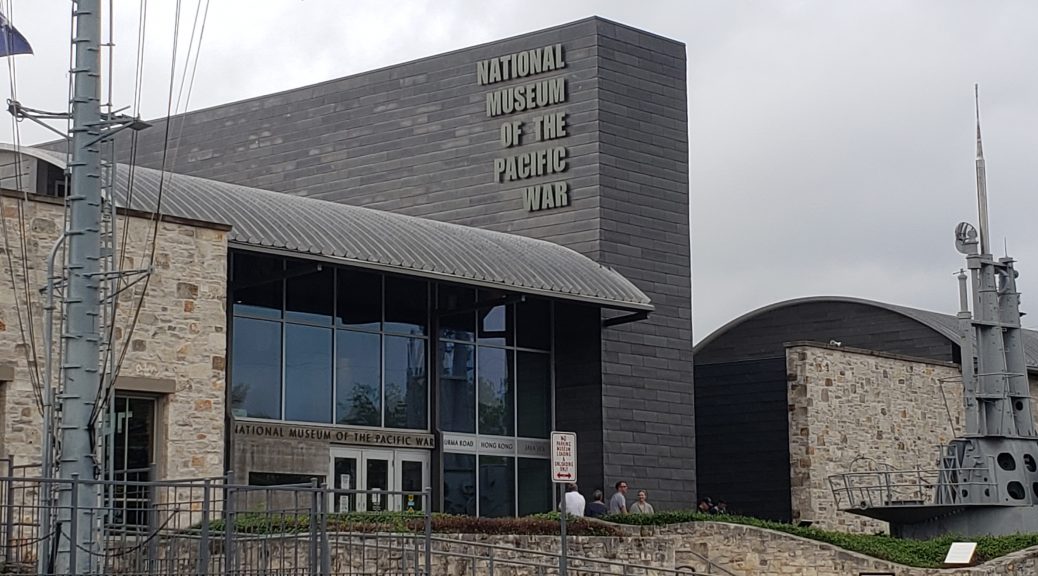 Fredericksburg, Texas
Fredericksburg, Texas
I had a number of people in Austin telling me to visit the "Hill Country" and specifically Fredericksburg. I wasn't that interested until searching on things-to-do and found the National Museum of the Pacific War. Surprised a major museum would be in such a small town and why is the Pacific War history museum in Texas?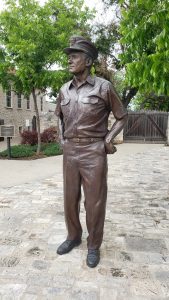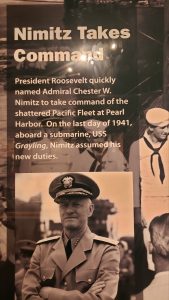 Fleet Admiral Chester Nimitz, CinCPAC or Commander in Chief of the Pacific Theater during WWII, was from Fredericksburg. The initial iteration of the museum was only focused on Nimitz's life. It opened in 1967 in the old Nimitz Hotel that was owned by Nimitz's grandfather and was called the Fleet Admiral Chester W. Nimitz Memorial Naval Museum. From my short visit to the Nimitz Gallery, reading about his background, education, leadership style, and quotes from Admiral Nimitz, he certainly deserves his own museum. But he was also a modest man. Being a great leader, the Admiral, before his death in 1966, requested that the museum honor all those who served in the Pacific.
I spent all day Sunday at the museum. There is a lot to see here, more than you can in one day. If you have the time, they do have two day passes. In addition to the original museum in the Nimitz Hotel, the newer George H.W. Bush Gallery houses the majority of the museum exhibits and artifacts. The information starts with the Chinese-Japanese relationship before WWII, the Second Sino-Japanese War, and the occupation of China by the Japanese then leads into the Japanese relationship with the US prior to the attack on Pearl Harbor.
Pearl Harbor, the Doolittle Raid, Midway, the Philippines and Bataan, Burma, Guadalcanal, Marianas, Iwo Jima, Nagasaki and Hiroshima, the Japanese surrender, and much more are all covered in separate rooms and exhibits. Events in the European Theater are listed in a timeline above the Pacific events. There is a great deal of information presented and many historical artifacts including uniforms, weapons, letters, awards.
I am always interested in the battles my Dad participated in as a Marine in the 4th Division, especially Iwo Jima. It is one of the bloodiest battles in the history of the Corps.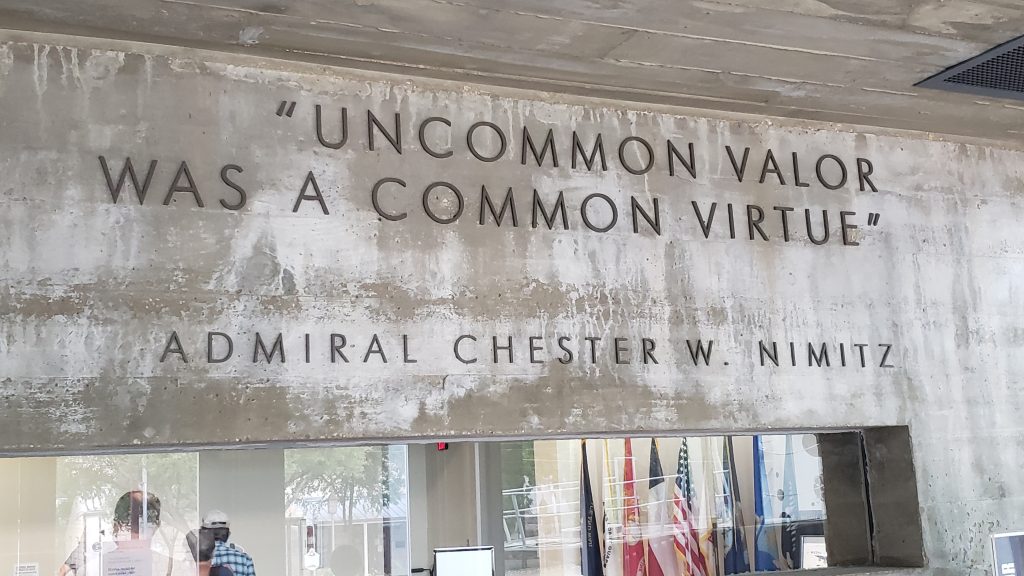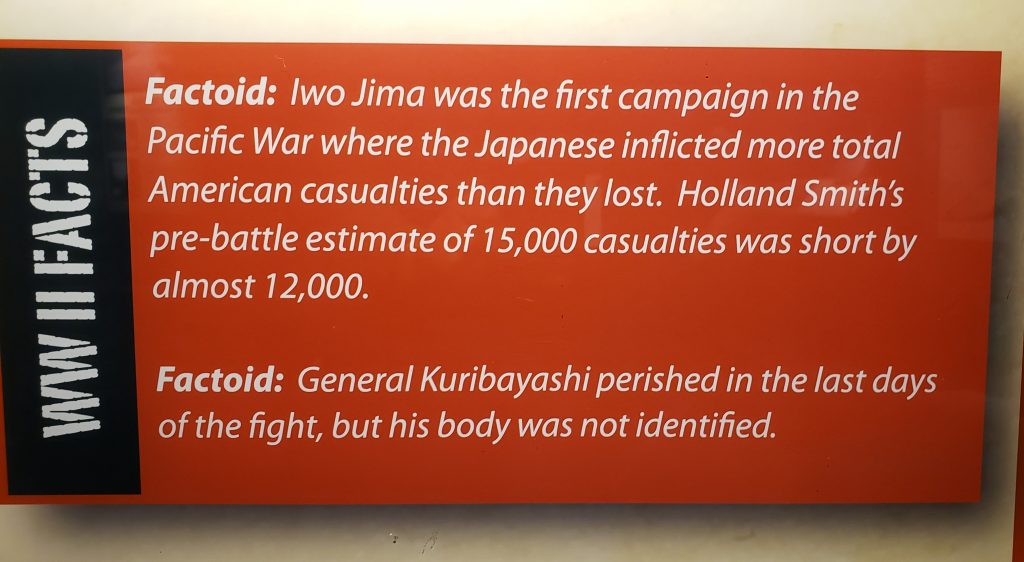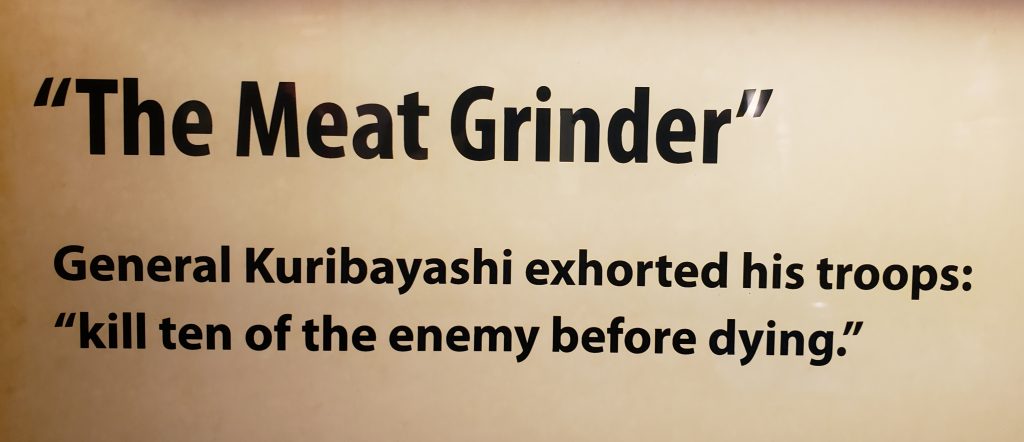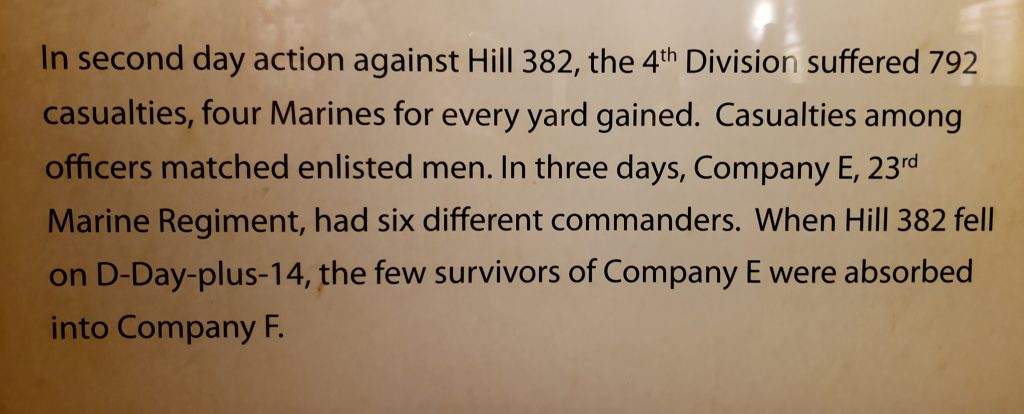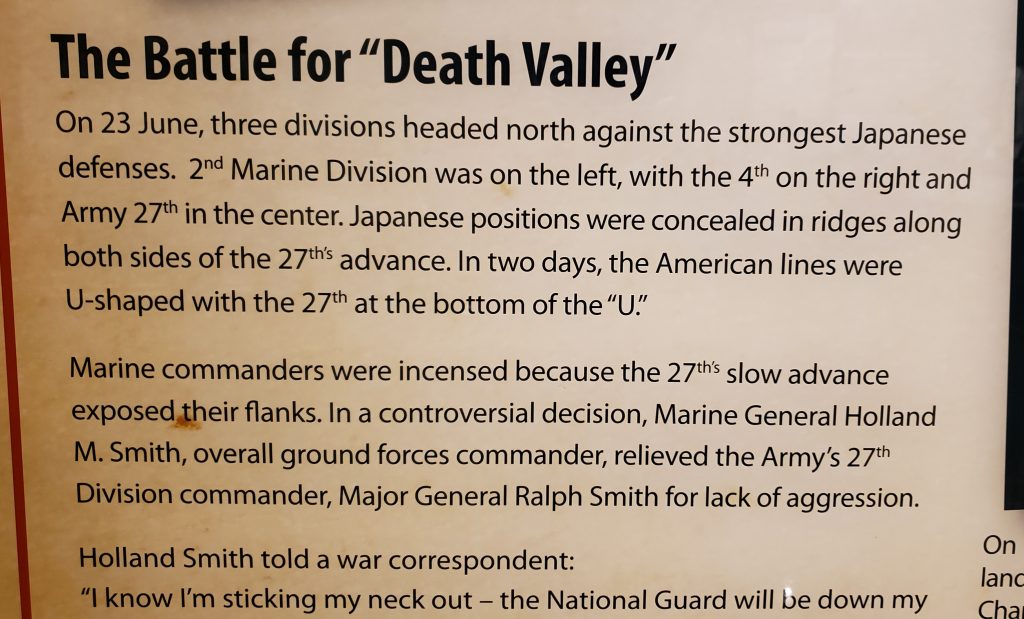 Larger exhibits include a US B25 bomber, Japanese float plane, a Japanese miniature submarine from the attack on Pearl Harbor, and the Admiral's personal "yacht". I spent five hours in this gallery and only read about half of the information. Bush cut the ribbon for the gallery in a ceremony in 1991.
The Pacific Combat Zone (PCZ) is separate from the main museum. Currently, it's only opened on weekends from 10-3. Not part of the museum entrance ticket, it's free to the public. I walked down the street for a short visit before it closed after leaving the main gallery. It has a General Motors TBM Avenger in one building and one of only two remaining PT boats used in the war in the second. There is also a large area designed like a Pacific island battlefield. It has multiple Japanese weapons, tanks, machine gun placements, and a US landing vehicle in a large amphitheater area. I asked the employee up front what happens in this area. He told me that volunteers give demonstrations, called Living History events, several times each year. They've been on hold, of course, because of COVID but he said there are usually around eight scheduled.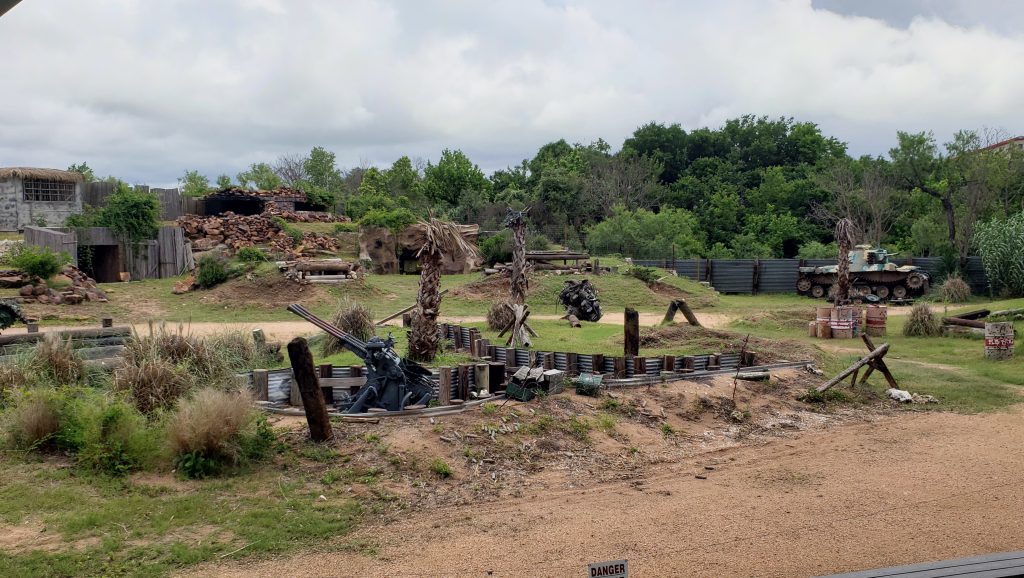 After visiting the PCZ, I visited the Nimitz Gallery for a very short visit. It deserved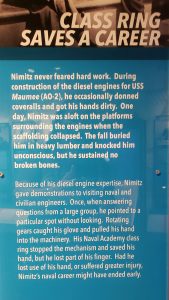 more time but I was tired. It was after 3 and I had been at the museum since 9. I picked up Boo, had some leftovers for late lunch/early dinner, then returned to visit the courtyard and memorial area.
The large courtyard contains the Memorial Wall, the Plaza of the Presidents, and the Japanese Garden of Peace. The presidents are FDR and Truman who served as Commanders-in-Chief through all the remaining presidents who served in World War II: Eisenhower, Kennedy, Johnson, Nixon, Ford, Carter, Reagan, and Bush. In 1976, the Japanese government gifted the museum with the Japanese Garden of Peace. The garden was designed as a replica of the private garden of Admiral Togo to honor the long friendship between Nimitz and Togo.
I thought the museum was great and loved all the information and artifacts but agree with something I saw online about it being poorly laid out. It was hard to follow the rooms without backtracking as there were many side rooms and it was easy to miss something or go out of order. They did have these great signs in almost every room showing you where you were, fortunately, that really helped keep me on the right path through the gallery but they didn't provide campus maps. The National WWII Museum in New Orleans handed out a brochure showing all their buildings and exhibit locations. They should have something printed up with the various buildings, the location of the PCZ, and courtyard. I had to ask at the Nimitz Gallery where the Japanese Gardens were because they were off to the side of the courtyard, more accessible from the sidewalk along the perimeter than the museum grounds.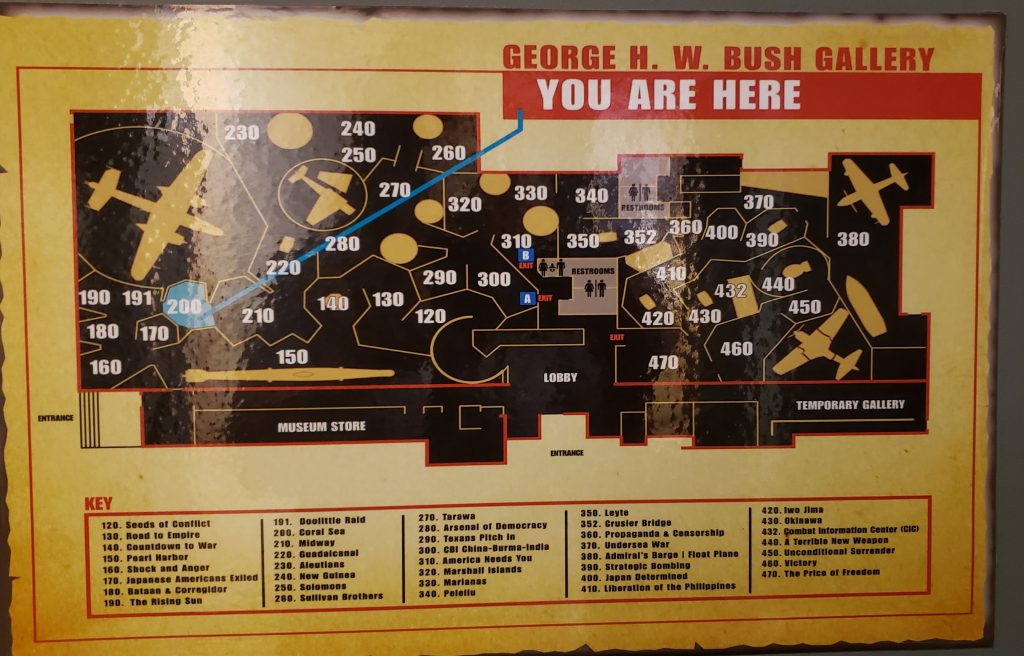 Monday I was going to walk down to Fort Martin Scott. It was less than a mile but Fredericksburg does not have sidewalks everywhere. More towns need to add sidewalks to make the town a good walking town; it just makes it more livable if you can easily take a walk for pleasure or even walk to a store. I started that direction, got about 6 blocks, walking through some lawns and business parking lots, but would have ended up walking on a busy street the majority of the way. So Boo and I finished our morning walk on some side streets then went back to the car and drove. The heritage park is much more interesting than I expected. The website doesn't quite do it justice. I arrived after 10, thinking that was when the grounds opened. But they are open dawn to dusk and the buildings open for visiting at 10. I had a nice talk about history with Marvin, the visitor center employee.
Later that afternoon, I drove out to Enchanted Rock State Park. It's about 20 miles north of town but an easy drive. $8 for entry, dogs allowed on loop trail but not the rocks. I wasn't interested in a climb, anyway, so I made sure I had water for both of us and Boo's bowl as it was warm and we started the 4.6 mile loop trail. I started clockwise and glad I did, because when finishing, I didn't think the last mile that enjoyable or attractive and thinking if I had started that direction, might have decided to only do a mile or so and return. It was warm, but I stopped several times for Boo to have water and he enjoyed laying in a couple cool springs. I was glad I was wearing my Keen sport sandals, too, as I could just splash across all the springs. It felt nice and cool on my dusty feet. We returned to town after we finished the loop.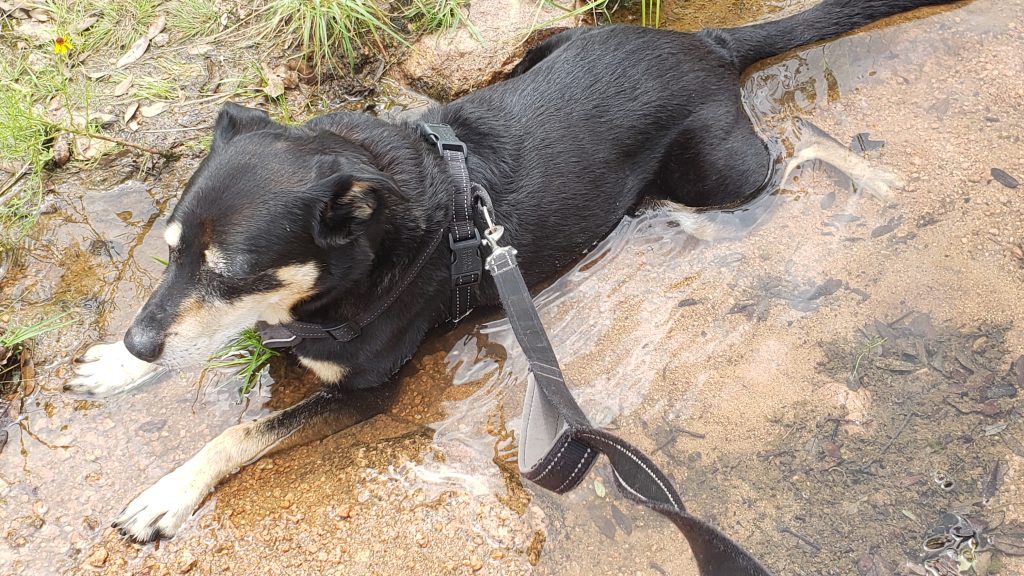 I was only in Fredericksburg for 2 full days, 3 nights, arriving Saturday afternoon and leaving Tuesday morning. It was enough. The town population is only about 10,000 but seems to have a lot of visitors; Saturday afternoon and Sunday were very busy in the "historic district". I am sure the museum is a major draw as are the dozen or so winery tasting rooms on Main Street. They also have a large Oktoberfest celebration because of their German heritage and history.
It is an attractive little town, lots of German signs, a big "Marktplatz" with a decorative Maypole, Willkommen on entering town, Auf Wiedersehn when leaving, many "Biergarten's" and "Wiengarten's", and great old limestone buildings from the initial settlers.
While I really enjoyed the museum, and the fort and park, I would have been okay with skipping the visit, however. Didn't like the Hotel Kitsmiller at all (very good reviews on booking, for some reason, but very uncomfortable place that needs a major remodel) and no sidewalks from the hotel to the downtown made it difficult to walk most places like I enjoy.
Restaurants
Quintessential Chocolate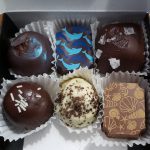 They have a lot of candy with liquid centers but they had plenty of delicious regular chocolates, too. I had walked past this place 3 times before finding it open Monday afternoon. Bought six assorted, all were great!
Pritzer Sweet Shop Picked up a salted caramel and a lemon cookie, had one Saturday night and one the next night. I wanted to buy a few more before leaving but they were closed Monday's.
I arrived Saturday afternoon and went to Fredericksburg Brewery for a few beers and stayed for dinner. Both the German food and beers were just ordinary, nothing great. I had been excited about getting some "authentic German food" and never did find any place that served Hofbrau or Paulaner or Spaten, either, surprisingly.
I picked up some ready made breakfast tacos from Hill County Donuts. I found them on google maps when searching for breakfast to go, and they were walking distance. So Boo and I stopped in Sunday on our walk, even though I had to go back and forth across the street twice to stay on sidewalks in the five block walk. He got a breakfast kolache, with sausage and cheese. But he still wanted my tacos! Greedy guy.
Sunday after the museum, I just finished off my leftovers from Saturday lunch at Best Quality Daughter. But later that evening, after visiting the museum courtyard and gardens, I stopped by Sozial Haus for some good Altstadt local beers. I never made it out to their brewery but did enjoy every one of the the various styles I had. Their beer was much better than from Fredericksburg Brewery.
Monday, I skipped breakfast and just picked up a ready made salad for lunch from HEB when buying some grocery items for my next stop, Big Bend. I stopped in Burger Burger for dinner after returning from Enchanted Rock. A number of places I wanted to try were all closed Monday, so this was just selected by walking by and checking out their menu. For a random selection, the green chile burger was quite good, though.
 ** All photos property of Lisa, not to be copied or reproduced **