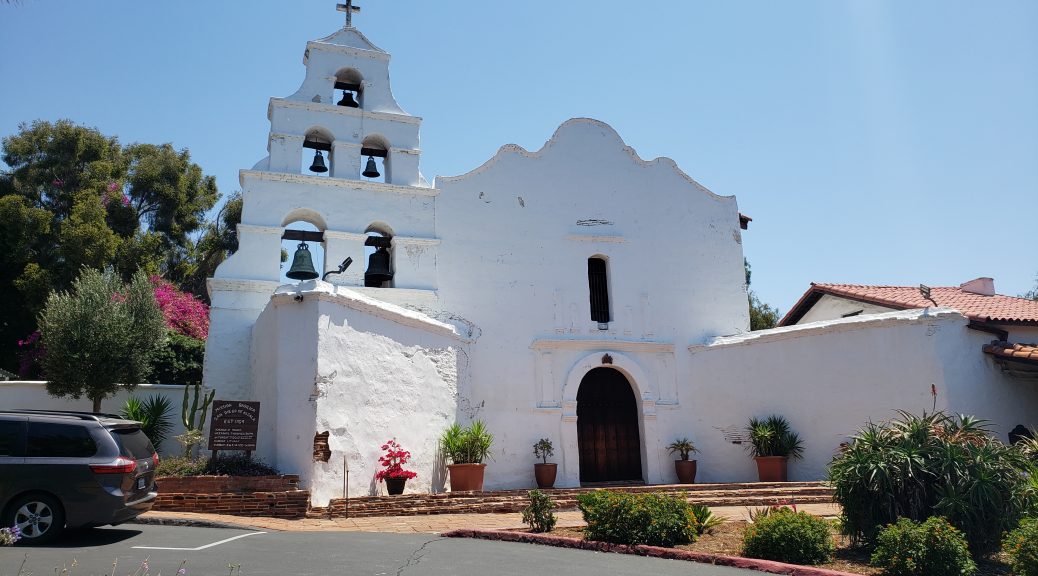 San Diego, California
San Diego, California
After Moab I had stays planned in Caineville, Hatch, and Kanab, Utah to visit Capital Reef, Bryce, and Zion National Parks. Because of the heat and the summer crowds, I decided to cancel all the stays. I had booked 3 days for Joshua Tree NP and still wanted to visit there so found a place on the California coast for 11 nights between those dates.
I stayed in Carlsbad, about 30 miles north of San Diego but with the traffic, it took about an hour, sometimes much longer, to get back and forth. Regardless, I was in a nice area. There was plenty to do north or south.
Recommendations
Old Town Trolley Tour I've taken one of these trolleys in Washington D.C. decades ago with my daughter. I thought it might be a nice overview of the city, so purchased a ticket online (saves 5%) and drove to the "start" at Old Town Market/Old Town Historic Park. There is free parking, surprisingly!
There are 11 stops, I stayed on for a two hour tour of the city then restarted the tour and got off in Seaport Village, walked down along Harbor Drive past the USS Midway, and then cut over to the Historic Gaslamp Quarter. I got back on the trolley here and went to Coronado where I spent several hours. I visited the Hotel del Coronado and did some window shopping. I thought I'd have time to visit Little Italy but by the time I caught the trolley again I would have only had 40 minutes there before the final trolley so just went back to Old Town.
When I returned to Old Town, I walked down to see the El Campo Santo cemetery, San Diego's second oldest, from 1848. I also stopped by the old Whaley House. Considered the most haunted house in the country, by Travel Channel's America's Most Haunted, I would love to go inside but it's still closed due to COVID19.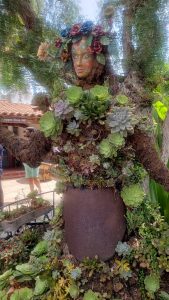 A few days later I returned to Old Town and spent the afternoon at the Old Town Historic State Park. I visited the Casa de Estudillo Museum, the Casa de Machado y Silvas (a family residence, boarding house, then a restaurant), Machado y Steward (home of a Presidio soldier), the Little Adobe Chapel, the Colorado House, Courthouse, schoolhouse, saw a demonstration at the iron smith, and had lunch at Barra Barra. It was a great afternoon. Pet friendly grounds but Boo not allowed in the buildings (mostly); I left him under a shady tree while visiting the Estudillo Museum but took him in the other buildings without any issues. The large Plaza de las Armas and Fiesta de Reyes areas are beautiful and there was live music when I was there July 3rd.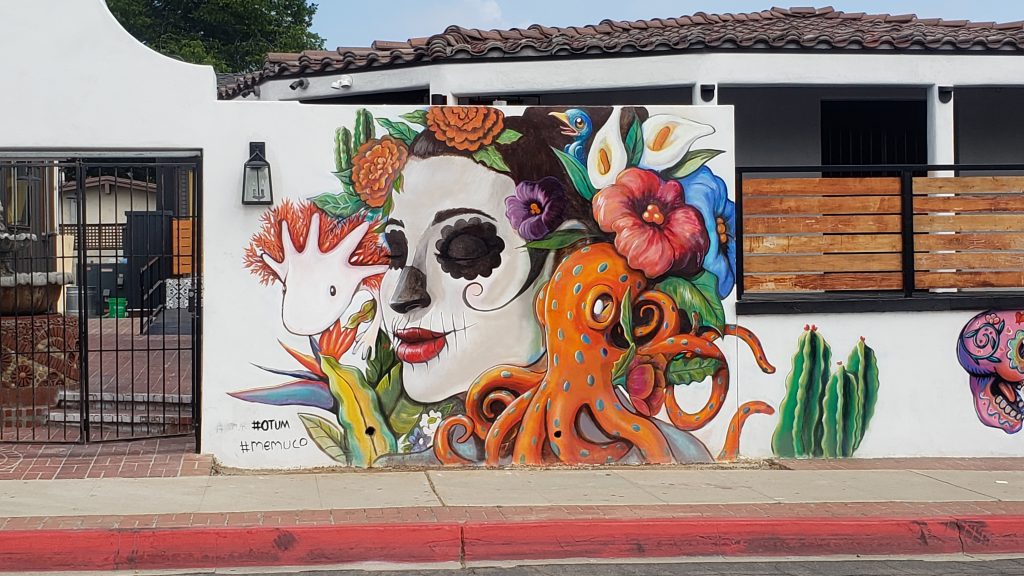 There are 21 missions on the California Mission Trail, I visited 3 while in the area.
Mission San Diego de Alcala This is the first mission in California. Founded July 16, 1769, when Fathers Serra, Palou and Parron dug a hole eight feet into the beachhead near the mouth of the San Diego River and planted a large cross. A bell was suspended from the limb of a nearby tree and the site was dedicated to St. Didacus. The bells still ring before mass on Sundays.
Mission San Luis Rey de Franca Known as the King of the Missions, San Luis Rey de Francia lies just east of Oceanside on State Highway 76. It was named for Louis IX, the crusading King of France, the cross-shaped church was dedicated on the Feast of St. Anthony in 1798 by Father Lasuen. It has been restored according to the original plans and designs. Today the mission gardens include a fruit orchard where California's first pepper tree still grows. The church, which seats 1,000, is adjacent to a six-acre enclosed central square that includes a sunken garden, elaborate stone terrace and octagonal mortuary chapel.
Mission San Juan Capistrano The great stone church took 9 years to build and only stood for 6 years before the 1812 earthquake. The ruins are currently being preserved by archaeologists and engineers. A gilded altarpiece illuminates the Serra Chapel of 1777, the oldest building still in use in California and the only surviving church where Father Serra said mass. Each year on St. Joseph's Day, March 19, the mission celebrates the return of the cliff swallows from Argentina with a traditional Mexican fiesta. The grounds are large and they have a nice map with points of interest and a free audio guide. I visited the new Mission Basilica San Juan Capistrano church and walked through the Los Rios Historic District before leaving town.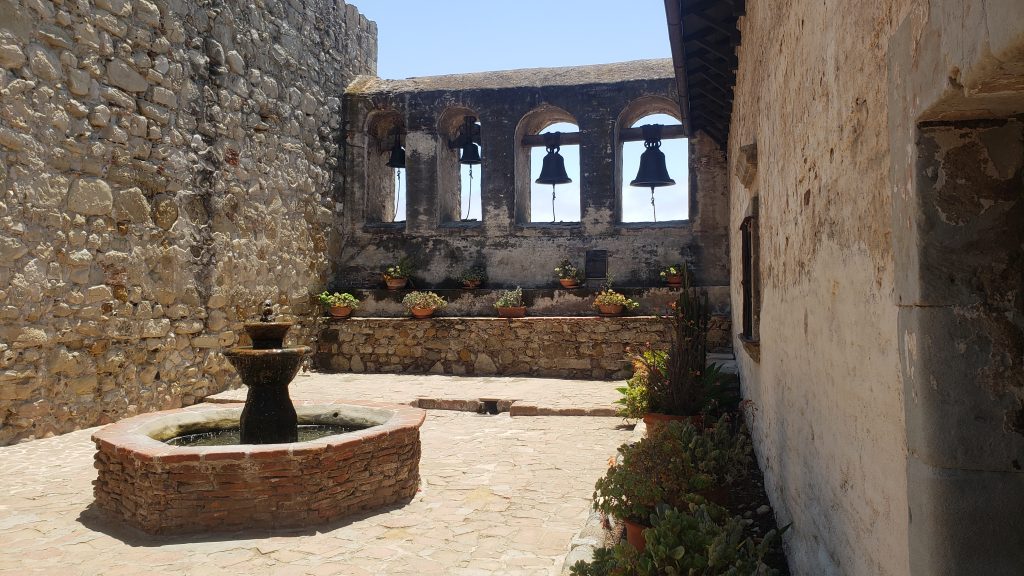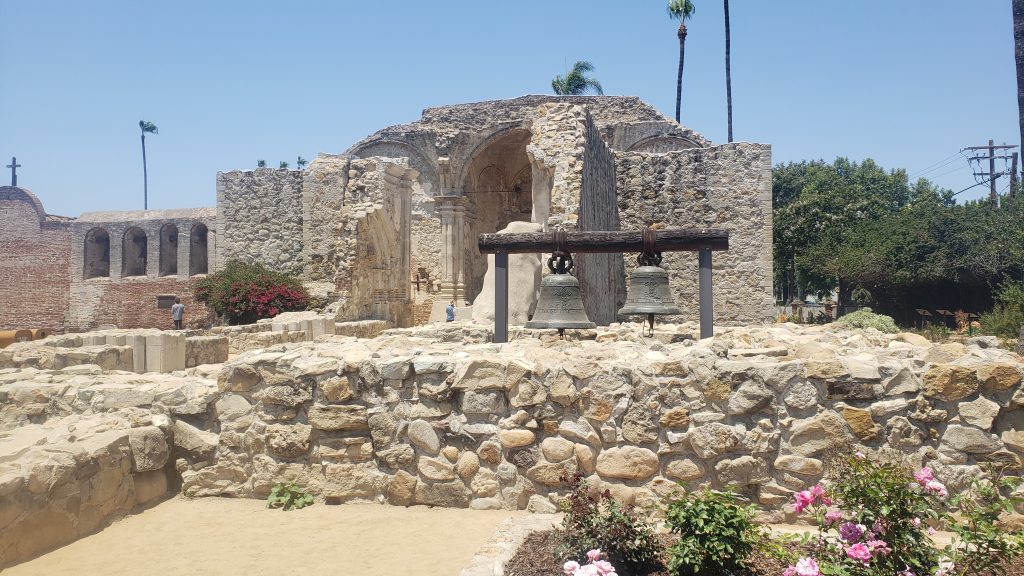 Cabrillo National Monument Absolutely gorgeous. Dogs are allowed on the Coastal Trail (Tidepools). Boo and I did that trail first. I drove up to the visitor center next, stopping to read the history exhibit on Juan Cabrillo. The views behind the visitor center, over San Diego, Coronado, the naval base, and the harbor are beautiful. There is a statue of Juan Rodriguez Cabrillo, the Old Point Loma Lighthouse from 1854 with the Fresnel glass, and a small military exhibit to visit. Point Loma has been a military reserve since 1852 and in 1899 Fort Rosencrans was established here. During WWI and WWII gun batteries, searchlight bunkers, and fire control stations were built for coastal and harbor defense. The Bayside Trail, 2.5 miles roundtrip, looks like a great hike. I passed part of it walking to the lighthouse but dogs are not allowed here.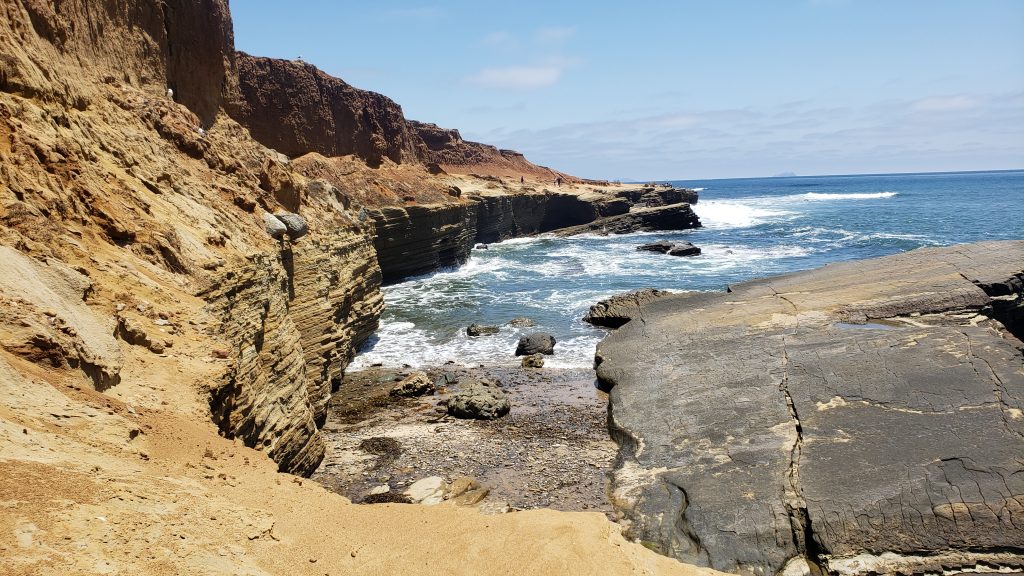 I spent a morning in Balboa Park. There is a lot to see here. Many of the buildings were from the Panama-California exposition in 1915. The California Pacific International Exposition in 1935-1936 expanded the area with the Pan-American Plaza and the UN buildings. It's a lovely area for exploring, both the buildings and grounds are beautiful. I got here by 9 to make sure I could find parking. I didn't visit any of the 16 museums (only 5 were open Monday, July 5th) but really enjoyed the area. We visited the Spanish Village, the Old Globe theater, Casa de Prada, Spreckels Organ Pavillion. I wanted to visit the Japanese Friendship Garden; unfortunately, dogs are not allowed but we did visit the Alcazar Garden, Desert Garden, the Memorial Rose Garden, Zoro Garden, and saw the 105 year old Moreton Bay Fig. I had picked up a brochure from my hotel with a map but stopped by the visitor's center when walking by to ask where dogs were and were not allowed and they had another more detailed map. We walked across the scary high Cabrillo Bridge to check out the views, too.
Boo and I loved the dog friendly beach at Del Mar. We spent a great afternoon here walking the beach, enjoying the waves and sun; highly recommended!
I didn't want to drive to San Diego everyday so found some local activities, including some nice trails, in Carlsbad. Boo and I enjoyed the 3 mile roundtrip Batiquitos Lagoon Trail along the salt marshes, and we followed the trail guide for interesting information on the ecology.
Another great trail was the Lake Calavara Loop Trail. It's a 3 mile loop around the lake although there are various spurs, and you can climb the peak from the north side of the lake for a 5 mile loop.
My last day in the area, I visited Shelter Island and then La Jolla Cove. Both beautiful areas and worth fighting the traffic. I enjoyed long scenic walks in both locations.
Restaurants
Pizza Bella Italian Bistro I visited here after my Old Town Trolley tour, at the recommendation of Scott, the last driver I had for the day. There are a number of restaurants on the Main Street, most seem very touristy, so I asked about a better place to go. It had a nice patio. The food was rather expensive, an $8 side salad, but all very good. I took 2/3rds of the medium "Sigma Chi Pizza" as leftovers for two additional meals.
Coming back from Mission San Luis I stopped for a flight at Legacy Brewing, good service and a nice space, but only okay beer, then stopped for another beer at Stone Brewing tap room in Oceanside. A really nice outdoor space. They had a few good beers I hadn't tried. Stone has a lot of IPAs but they had a wheat and a Belgian wit to try.
Rubio's Coastal Grill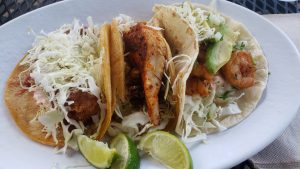 I stopped in after grocery stopping and had some great tacos, their Coastal Trio, fish, shrimp and mahi-mahi. Delicious.
Carlsbad Brewing I visited after coming back from San Diego, they don't have many of their own beers but have a good selection of craft beers. Nice outdoor seating, dog friendly.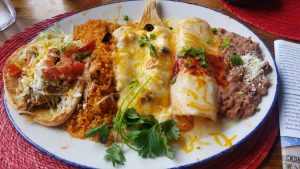 When I was at Old Town, I had some great Mexican food, including a shrimp enchilada and Indian flat bread pollo guisado at Barra Barra Saloon on the Plaza de las Armas.
I also found some excellent chocolates at Nibble Chocolate in the Fiesta de Reyes area. They have single source chocolates from Brazil, Dominican Republic, Madagascar, and Peru and they had a selection of dark chocolate truffles in additional to hot chocolate.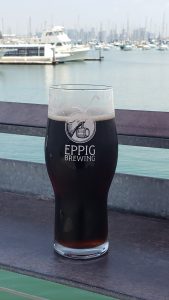 Eureka I had the great Fresno Fig burger with goat cheese. They have a nice selection of craft beers as well, good service, outside seating, pet friendly.
When I was visiting Shelter Island, I was looking for a place for lunch. I didn't find a place for a quick lunch but did come across Eppig Brewing when walking back to my car. Amazing location for a beer. Wasn't going to stop, regardless, but saw they had schwarzbier on tap, my favorite! And look at that view!
One evening in Carlsbad, I walked down the street to Burgeon Beer Company for a few 5 ounce tasters. They were just a block and a half from my hotel on Yarrow and Boo and I enjoyed the walk down, dog friendly even inside.
** all photos property of Lisa, not to be copied or reproduced **