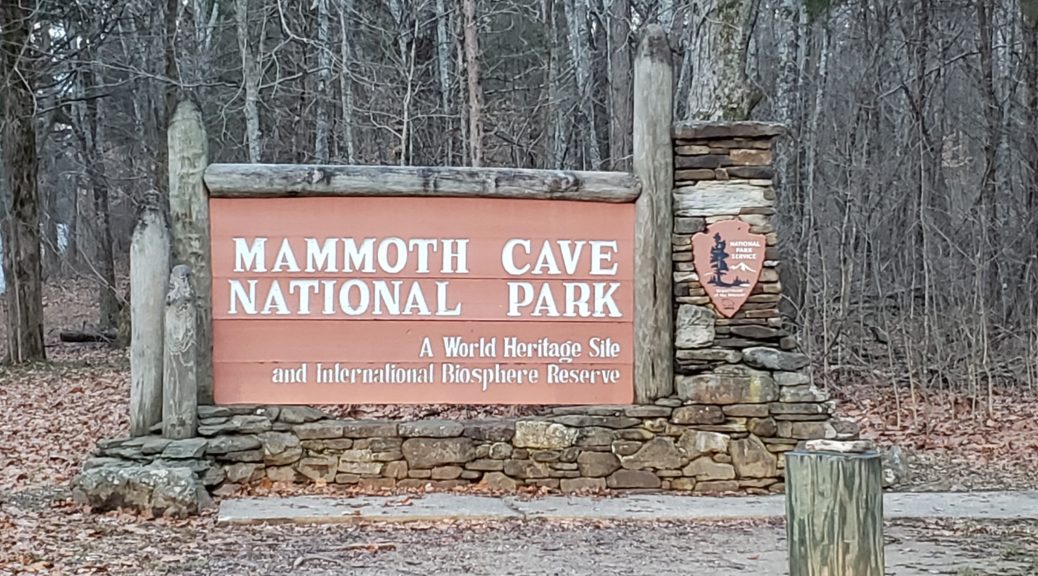 Mammoth Cave National Park
Mammoth Cave National Park
I had a 13+ hour drive to Savannah. I could probably have driven straight through but looked at various options for stops en route. I have an old friend from the Army living in Elizabethtown, Kentucky. I arranged dates and times with her for Saturday night then realized how close she was to Mammoth Cave. I was here as a kid with my family but literally decades ago and I wanted to visit again.
I had planned on stopping for one night to visit Jodie, but I added a second night and booked a couple tours of the caves for Saturday morning. I drove down Friday afternoon. I did meet Jodie for dinner Friday night as well and we had a great time catching up; it's been way too long.
I own the National Geographic National Parks book but it's from the late 1990's. Still a good reference but I wanted up-to-date information. I also reviewed the NPS site for the cave NPS Mammoth Cave and my daughter's blog Not So Junior Ranger Mammoth Cave NP. She and her husband have visited all 59 national parks on their sabbatical (yes, I know there are 61 but they were not planning on American Samoa or US Virgin Islands).
The tours she took and recommends are the same as recommended on the NPS site. I booked the Historic Tour and the Domes and Dripstones Tour. Both are listed at moderately strenuous, but I didn't think either rated more than easy. There are a number of stairs on both, but an average person should be able to complete these very short walks.
The ticket verification email I had received talked about closures on the Green River ferry and several warnings to "not follow your GPS!". But Saturday morning I took 65 directly south to the park exit and I had no issues with the route, it was an easy drive from Elizabethtown.
I arrived way too early. Elizabethtown is eastern time but the park is central. I also thought I had the 9am tour but I had booked the tour at 10. I wanted to arrive around 8, but because of the time change, I arrived at 7am. Boo and I wandered the grounds and did a few short hikes before the visitor center opened at 8:30. I picked up my tickets, went through the exhibit, did another quick hike and attended a short ranger talk at 9:30, on the history of tuberculosis "treatment" at the cave, before the start of my tour. So time well spent!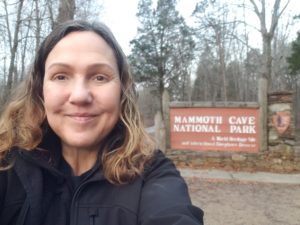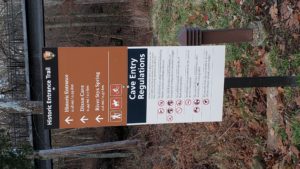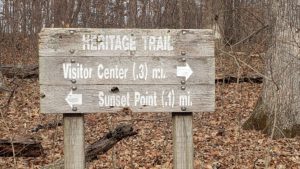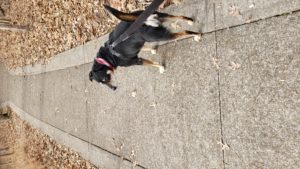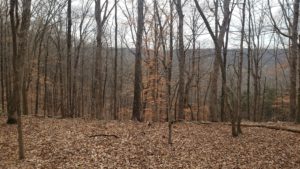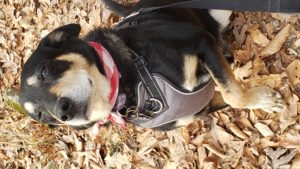 Mammoth Cave is the world's largest known cave system as well as a UN World Heritage site. There are 5 known levels and over 400 mapped miles but new caves are continually being discovered.
Many of the routes were mapped by Stephen Bishop, an enslaved person and one of the early guides. Even after being freed, he stayed on at the park and continued to give tours and explore the caves. His personal history is an important part of the history of the park. The maps he made of the tunnels were used for decades.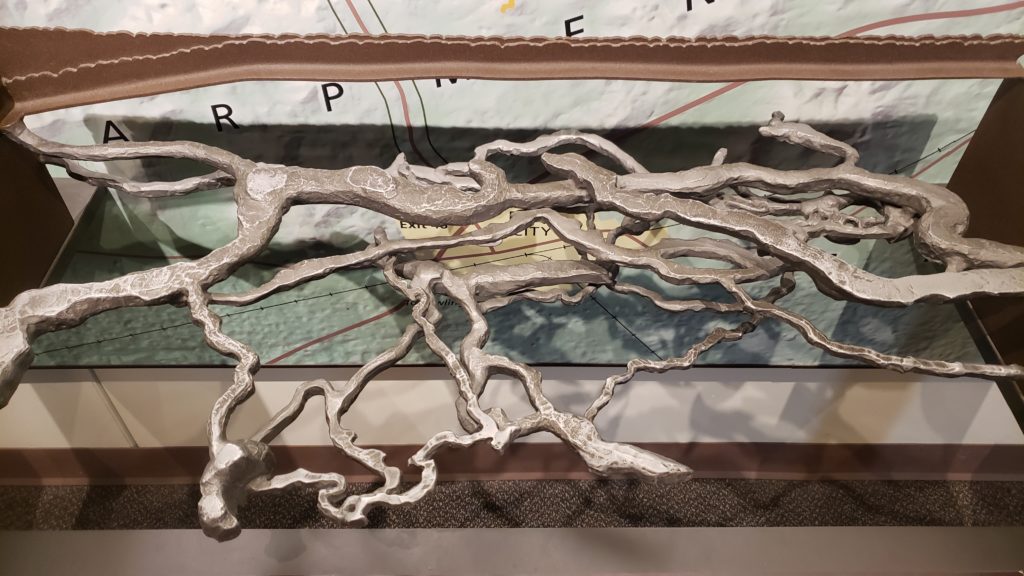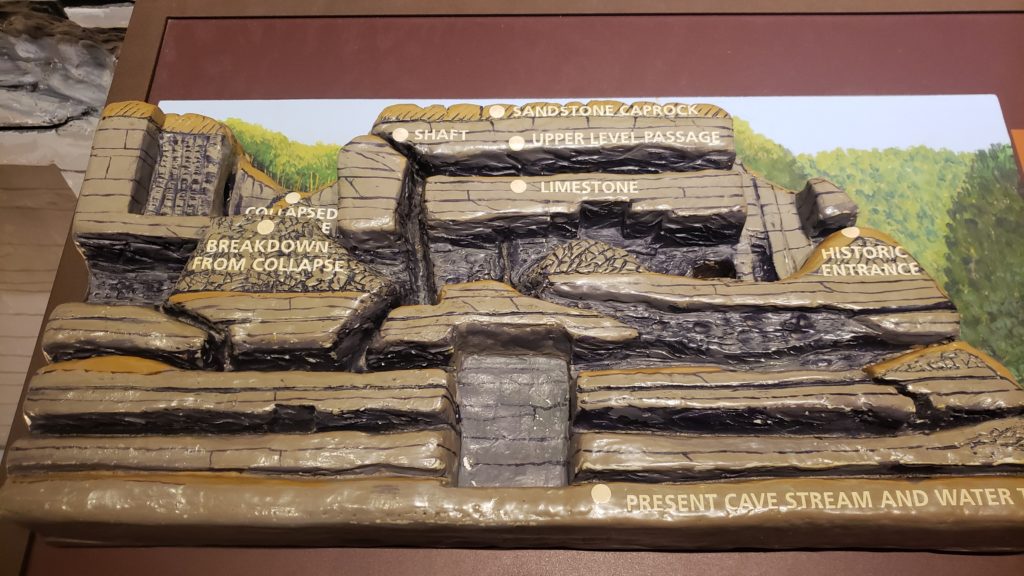 For more information on Stephen read Tour guide Stephen Bishop and Black History at the Park. 
One of the things, one of the MANY things I enjoy about travel, besides seeing new sights, trying new experiences, enjoying local food and drink, is learning history. Being there and hearing stories about the people, events, and locality is so much more interesting than only reading about it in a book. Kentucky "Cave Wars" were referenced in the visitor center exhibits and during both of my tours by the rangers. Prior to the park creation, the land above was owned by a number of different people, and they started competing for visitors. This included blasting open new entrances to the cave. Quite interesting and I did want to read more about it: NPS Kentucky Cave Wars or Kentucky Cave Wars
The historic tour is about 2 miles and lasts two hours. We entered at the historic entrance; this is one of the original entrances, not man-made. This was use by both the Native Americans, for about 2000 years, and when early European settlers "rediscovered" the cave and entrance in the 1790s. We started in the Rotunda. This area was used as a nitrate mine to create gunpowder during the War of 1812. The route continues down Broadway, across the "bottomless pit". Fortunately, we didn't have to cross it like Bishop did, carrying a lantern in his teeth crawling across a wooden ladder. There is a nice sturdy metal bridge, but you can enjoy the view looking directly down through the open mesh. We passed through the Giant's Coffin, Fat Man's Misery and Tall Man's Agony. Ranger Eric turned the lights off in one section. Very very dark… you can't see your hand in front of your face. Don't move! He told us the story or myth about an early Native American hunter discovering the entrance by following a wounded bear into the cave.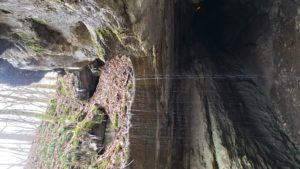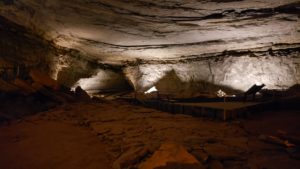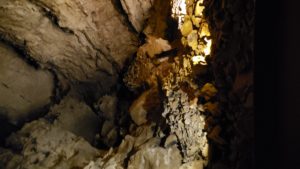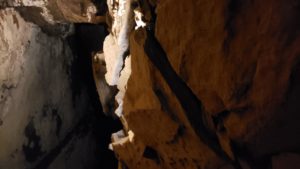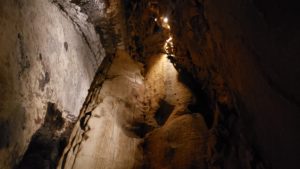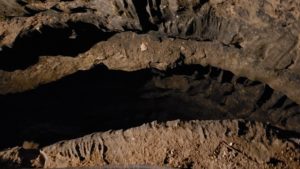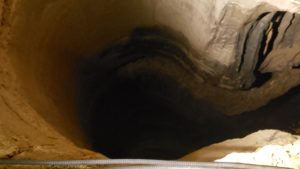 He showed us the bear on the ceiling. We also saw the Grim Reaper. Both of these are from soot from the early oil burning lanterns sticking to the gypsum on the cave walls. He displayed these with his flashlight when the lights were off. Both look more "real" in that lighting but I had to wait to get a photo of them until the lights were back on, so some of the details don't show as well. You could easily see the "bear's" teeth and the face of the Grim Reaper by flashlight. We also saw a lot of "historic graffiti" when early visitors were encouraged to write their names on the walls or ceilings with soot from their lanterns. Anything prior to 1940s is considered historic, however if you try this now, you'll be committing a felony.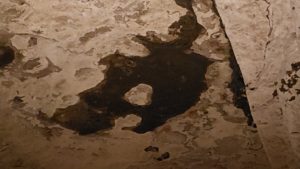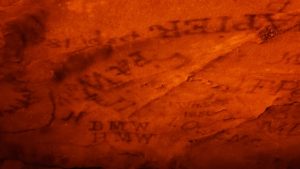 We left the cave by the same entrance at the end of the tour. I went back to the car and had a sandwich I had brought from home, then Boo and I took several short walks before I had to meet at the shelter for my Domes & Dripstones tour at 2.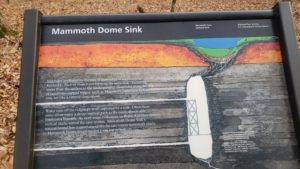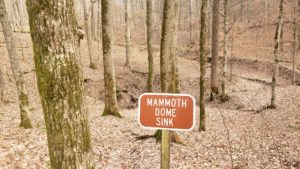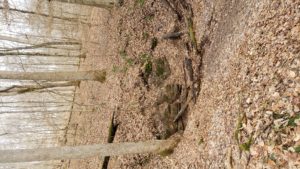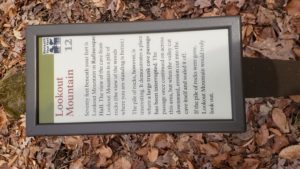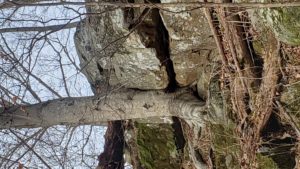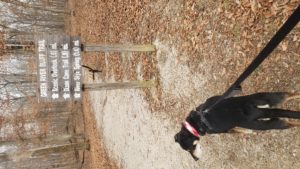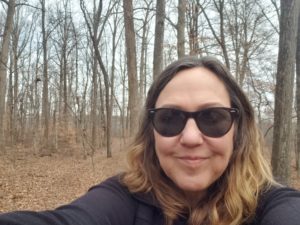 After meeting at the shelter there is a short bus ride to the start of the hike. This entrance was man-made by one of the previous owners of the land during the "Cave Wars". We went down and down a series of narrow steps specially made for this entrance. I thought it was interesting that they had multiple bids and most of the vendors wanted to blast a larger opening to build the stairs. Only one vendor was able to promise he could build the stairs limited to the narrow chamber. Just wide enough for one person, these stairs are quite an engineering feat.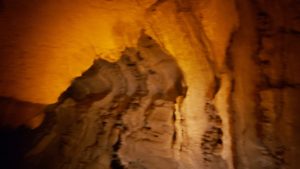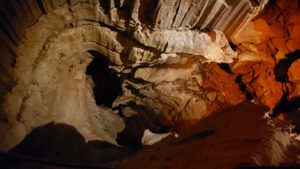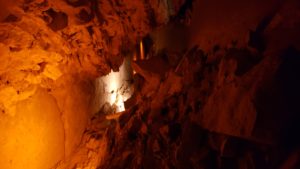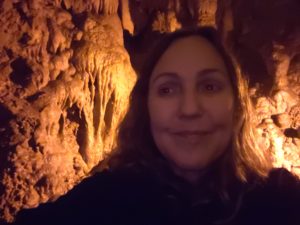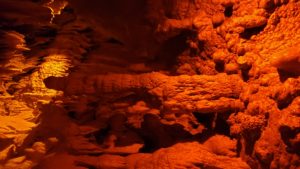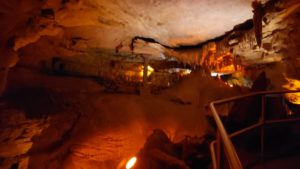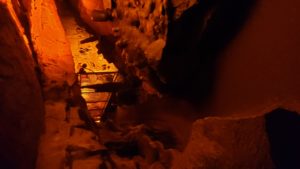 Most of Mammoth Cave is very dry so you don't see stalagmites and stalactites that are typical in other caves. However, on this tour you see more of the familiar formations. The tour visits areas of the cave used for about 100 years. We descended and ascended multiple steps and passed through huge domes ending in the dripstone section known as "Frozen Niagara". This tour includes the entire Frozen Niagara tour and parts of the Grand Avenue Tour. It's less than a mile total. We were returned to the visitor center by bus after leaving the cave by a different entrance. I had planned on meeting my friend again but she had a Christmas party at 6. We had decided that morning to meet at 8:30 so I drove down to Bowling Green to check out the White Squirrel Brewery, also recommended by my daughter, for dinner and a flight of their beers. After dinner I went back to Elizabethtown to meet Jodie at Boombozz for a few more drinks and lots more conversation.
I think spending a few days at Mammoth Cave for additional tours and hikes would be worthwhile. But I very much enjoyed my short visit.
There are a great variety of tours: Mammoth Cave Tour Schedule. The schedule varies with the season. Check times and number of offerings each day. During the high season, tours do fill up so you may want to book in advance.
** All photos property of Lisa, not to be copied or reproduced **