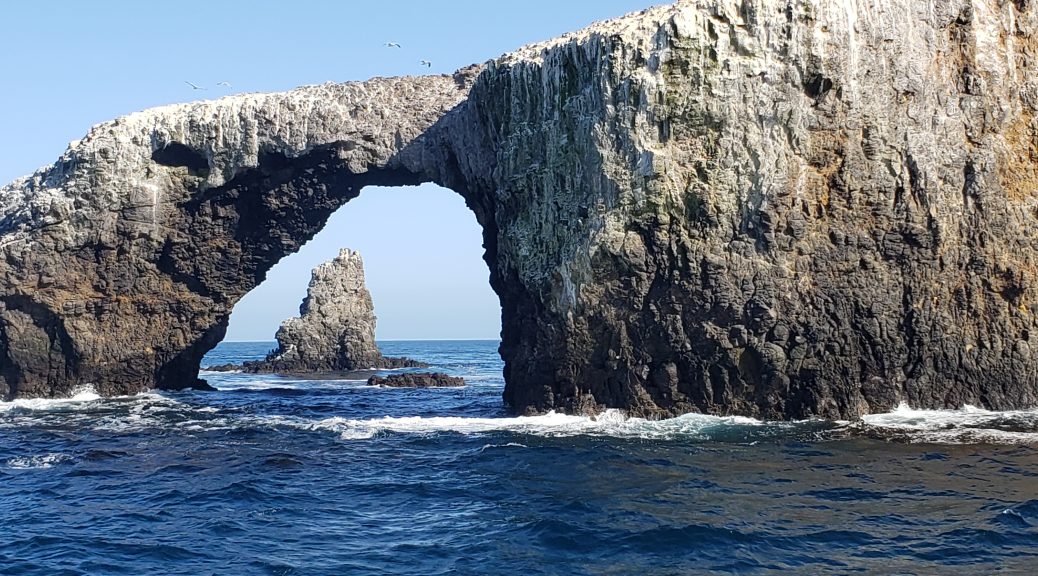 Channel Islands National Park
Channel Islands National Park
I've heard of this park, I've seen pictures, but until reading my daughter's post about her visit it really wasn't on my must-see list. And it should be on everyone's must-see list! So beautiful.
It does take advance planning, as you have to book their vendor, Island Packers, to get to the islands (unless you have your own boat?). Island Packers go to all five islands that are part of the Channel Islands National Park, plus they have wildlife and harbor cruises.
I chose a two-island, full day trip to Santa Cruz and Anacapa. It makes for a long day with travel times but I really enjoyed seeing the different islands. Besides these two islands, the national park consists of Santa Rosa, San Miguel, and Santa Barbara.
Ventura
I had booked my Channel Island tickets about the same time I booked lodging in Joshua Tree but they didn't have the tour I wanted until about 10 days after I left Joshua Tree so I found a place in Val Verde to relax for a week and a half before heading to Ventura for two nights.
I arrived in Ventura fairly early Monday morning; it was just a short drive from Val Verde, as I had some things I wanted to see in the city before my visit to the park the next day. I went to the main visitor center in Ventura first. It is on Spinnaker, down by the harbor (there are some smaller visitor centers on a few islands and one in Santa Barbara).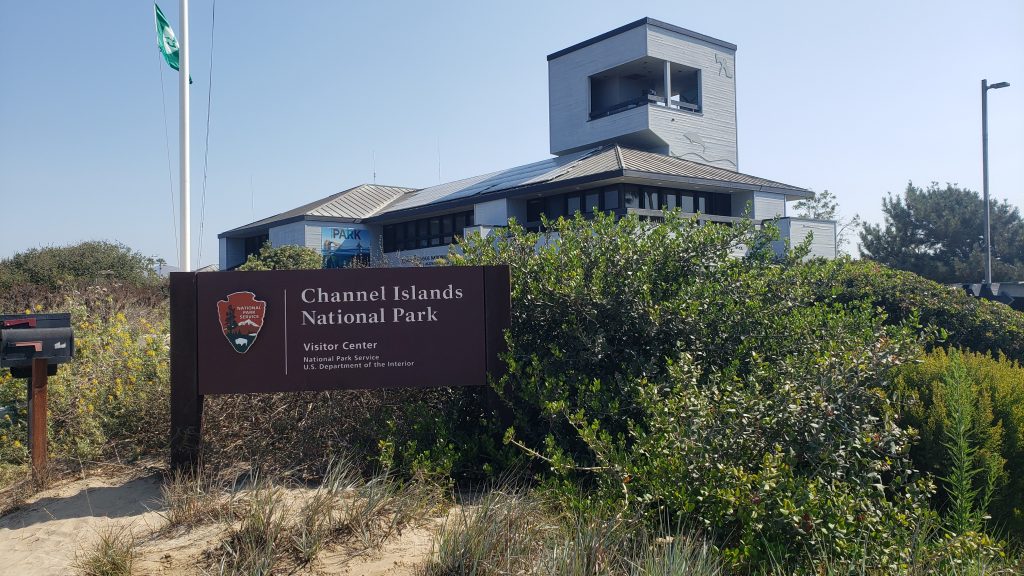 I definitely recommend spending some time here before going to the islands. There is great information on the history of the islands, the Chumash and other native Americans, European exploration, geology, the Pygmy mammoth fossils, bird nesting, endemic species, and much more.
I picked up a junior Ranger booklet again and started working on it. Flipping
through it and looking at the activities, made me repeat some of the displays. For example, I had read that the Chumash Indians used shells for currency when trading with other tribes but quickly forgot the name. I went back to look it up, they are olivella shells. Even if you don't want to "earn" the badge, picking up one of the booklets makes you appreciate the exhibits and you may learn and remember more; besides, they are fun and interesting.
After reviewing the exhibits on the main level, I walked up the steps to the viewing area, there is some great information about the ocean in the stairwell so skip the elevator! There are also a couple garden paths with native plants to walk through, and Boo and I enjoyed these areas together.
Channel Islands
The next morning I was up by 0700 to take Boo for a long walk before heading to Island Packers for my 0930 tour. They offer many tours every day so there were a lot of people already there when I arrived around 0830, checking in for day tours, or unloading camping gear and kayaks.
The cruise to Santa Cruz was about an hour and a half. We saw three pods of dolphins and a pair of orca's. The dolphins were close to the boat and were following our wake, but the whales were fairly far off, we just saw them rise up once and their black and white coloring.
We went to Prisoner's Harbor, instead of the busier Scorpion Beach that has a campground. We should have had three hours on the island, per the original schedule (land at 1100 and leave at 1400) but didn't arrive until almost 1130. They made us all wait onshore to provide an orientation, so we weren't free until about noon and had to be back at the boat by 1330, 1345 at the latest to depart for Anacapa. That really limited the hikes we had time to take.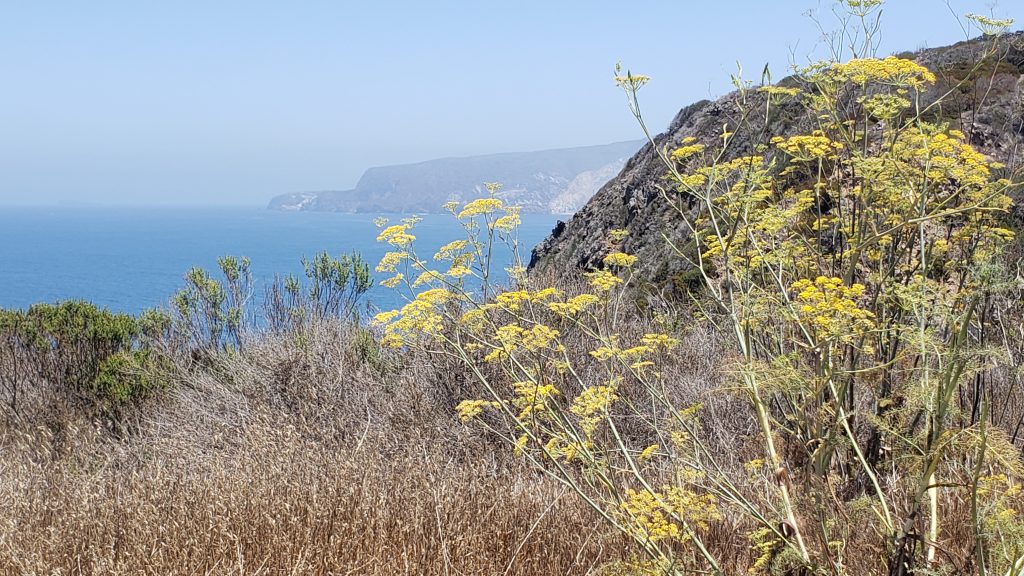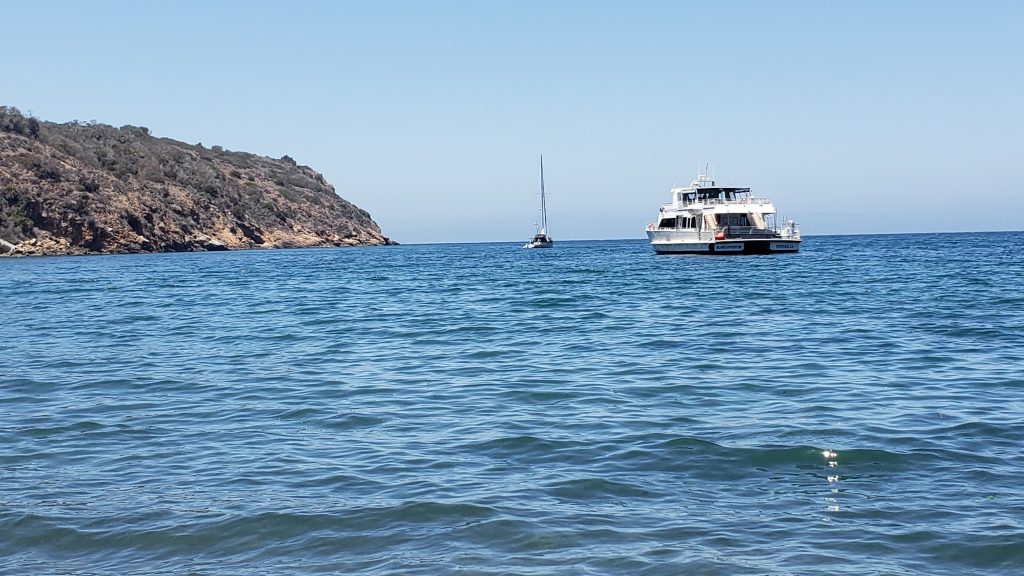 Santa Cruz is partially owned by the Nature Conservancy, and if we wanted to hike their part of the island, we had to sign a waiver. I was planning to do the Pelican Bay hike, which is on the Nature Conservancy half, but everyone seemed to be heading that direction, so I headed up the Navy Road to the Del Norte trailhead. Roundtrip this is 7 miles and I only did about 2.5 miles to a great view of the Chinese Harbor and western half of the island. I left myself about 40 minutes to get back down and visit the beach. However, the beach is composed of large rocks and very difficult to walk on so I enjoyed the harbor and wetlands before boarding the ship.
We sailed around the north side of Santa Cruz, viewing Chinese Harbor, Potato Harbor, Cavern Point and Scorpion Anchorage. It took about 40 minutes to get to the landing cove at Anacapa. Anacapa is technically three islands, west, middle and east. West and middle are conservation areas and don't allow visitors. After docking, we climbed 150 or so steps to the top of the island. There is a figure eight shaped trail around the island from the lighthouse down to Inspiration Point.
I walked up to the lighthouse first then Pinneped Point, to the well named Inspiration Point, across the north side of the island to Cathedral Cove and back to Landing Cove. I missed picking up a trail guide before starting the hike, there are seven stops along the interpretative trail. There is a small visitor center with some exhibits.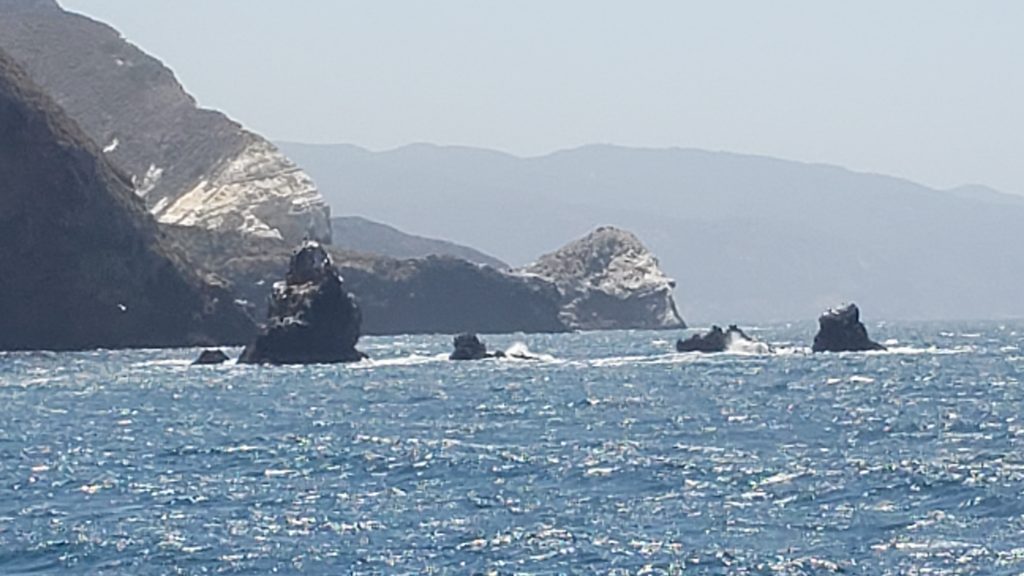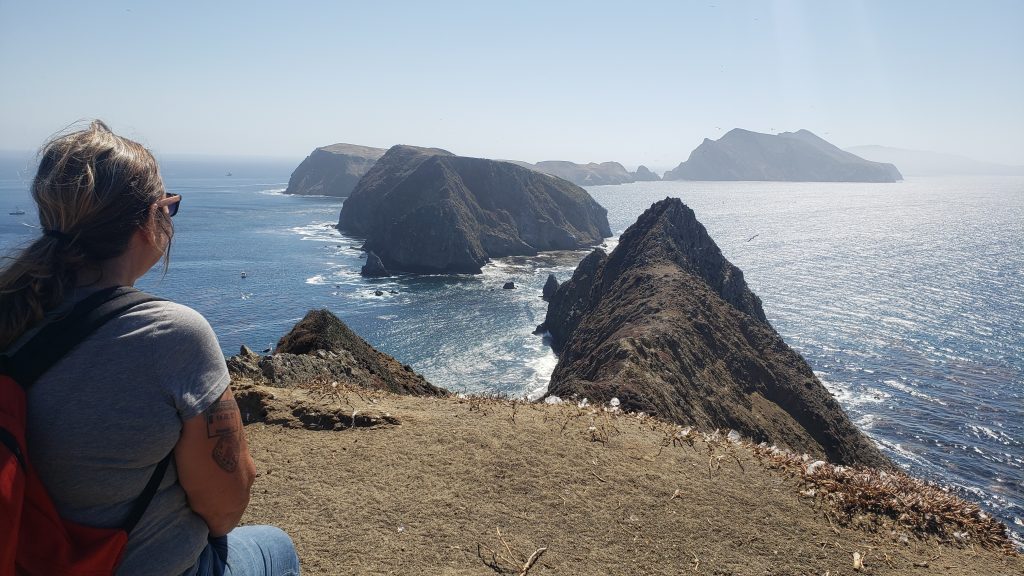 I really enjoyed seeing a huge flock of the brown pelicans take off from their nesting sites soaring over the island. The island is a seabird sanctuary for seven different species: besides the brown pelicans, there are western gulls, three varieties of cormorants, guillemots, and murrelets. Many other birds breed here or use it for migrations. Pinniped Point is a "safe harbor" for sea lions and harbor seals.
We left around 1730 and arrived back in Ventura about 1830. Long day, but absolutely wonderful! I highly recommend a visit to one of more of the islands if you have a chance.
** all photos property of Lisa, not to be copied or reproduced **