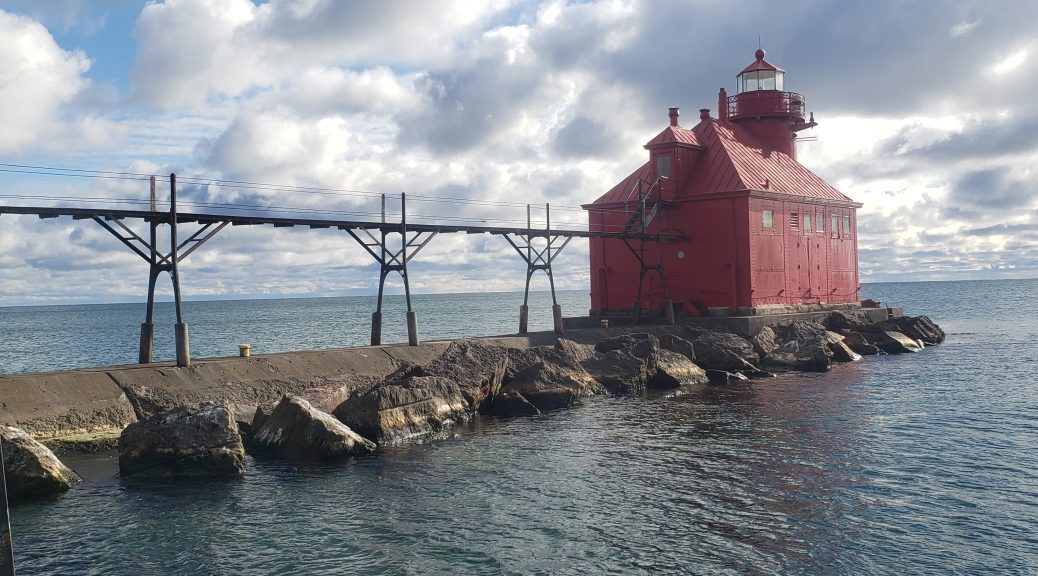 I stayed in the studio cottage at the Beach Harbor Resort in Sturgeon Bay. It was a very nice and comfortable stay, except the couch. That was quite uncomfortable! I was right on the water and a short walk from the southern entrance to Potawatomi State Park.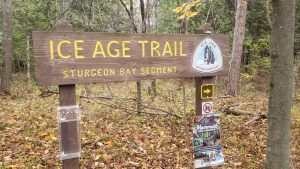 It was just down the street from my hotel/AirBNB and I could walk the trails along Sturgeon Bay, out to Green Bay, without driving around to the main entrance. Boo and I enjoyed this walk multiple mornings during our stay. We hiked the Ice Age Trail along the lake, once walking through the park all the way to the Observation Tower.
I visited several of the lighthouses on the peninsula. The first day we went out to Sturgeon Bay Ship Canal Lighthouse and North Pierhead Lighthouse. We also drove out to Sherwood Point Lighthouse. Not sure why this was listed as a top site since it's private and there are huge NO TRESPASSING signs on the driveway. So I turned around without even a photo.
Another day, we went to Bailey's Harbor and the Ridges to see the Harbor Range Lighthouses. Quite unique, I had never seen lighthouses like this, two lighthouses, one higher than the other, that sailors lined up to determine range to shore. Interesting!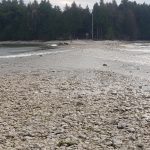 Our final day, we visited the beautiful Cana Island Lighthouse. The lighthouse is closed to visitors at the end of October but we walked across the causeway (through the water!) to the island. There is a nice hike through the woods on the east side of the island and we saw the historical buildings including the lighthouse and hexagonal oil storage building.
Other than just walking in to Potawatomi SP, I didn't visit any other state parks because I thought they were awfully expensive ($13/day for out-of-state visitors). However, I enjoyed many of the lovely county and city parks. We went to George K. Pinney County Park, the interesting little Porte des Morts Park with a walk on the lake, and Cave Point County Park. This is just north of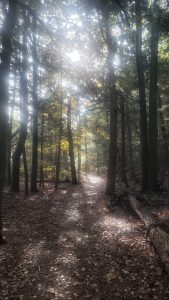 Whitefish Dunes State Park and you can walk in that park on the trails without an vehicle entrance fee. We walked the Red Trail all the way to the Dunes.
We stopped at Sunset Park in Sturgeon Bay one evening, perfectly named for a lovely sunset over the bay. We visited Frank E. Murphy Park in Egg Harbor one afternoon and did the short Storybook Loop Trail with "Lighthouse Mouse" after a walk along the lake.
I really enjoyed my visits to all the lovely little towns on the peninsula like Egg Harbor, Northport, Sister Bay, and Fish Creek; walking through their old downtowns and their city parks.
There were a number of great outdoor activities all over the peninsula. We stopped at the beautiful Garden Door. Even in late fall this small garden was lovely. I went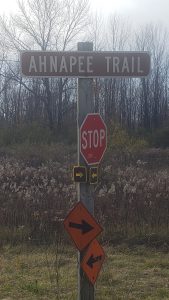 to the Door Bluff Headlands County Park, there were no trails and I didn't find the lookout point but still lovely and a beautiful drive to get there. After stopping at the Porte des Mortes Park, we drove down to Europa Lake and Liberty Grove Park. We continued at Ferdinand Hotz Park on Europa Bay, on the northern border of Newport State Park. Like Whitefish Dunes SP, the trails here went into Newport SP, also. We hiked the Hotz Loop back to Europa Lake. I found this link as I was writing up my post but pleased to see I did most of these "7 best hiking trails" in Door county.
Our final day we walked part of the Ahnapee State Trail, right outside Sturgeon Bay. It was a perfect day for our 5 mile hike on this old railway path. Google maps tried taking me about 7 miles south of town to Algoma but I had seen the sign for the trail off 42 so started there and walked between Lake and Wilson.
I tried visiting the Door County Maritime Museum. It should have been opened according to their website but doors were locked. That is, unfortunately, the down side to visiting off season, many of the activities were closed from November 1 to May.
Regardless of the seasonal closings, we had really good weather. Clear, blue skies, mid 50s most days, and our week was lovely. I enjoyed my first visit to Door County and would definitely return.
Restaurants and Wineries
I had a good burger and some slaw at Cornerstone Pub after hiking and driving back through Bailey's Harbor.
I stopped in for a flight at Door 44 Winery one afternoon, then bought a few bottles for Thanksgiving to share with my daughter and son-in-law.
I visited Door County Brewing on the way back from Bailey's Harbor one day. They have a lot of outside seating and Boo and I enjoyed the nice day. They have a good selection of beer styles.
Another day, after visiting Egg Harbor, I stopped for a flight at Shipwrecked Brewing. I also picked up dinner next door at Mojo Rosa's. There are a number of restaurants inside the one building, including Asian, but I ordered a burrito and brought it back to eat at my cottage.
I had a great Southern Skillet at Scaturo's Bakery and Cafe one day. I went in for a sandwich at lunchtime but their breakfasts sounded great. And it was!
I stopped in at Door County Distillery to pick up some single malt small batch whiskey as a gift to my son-in-law. The Door Peninsula Winery is in the same building. They offer 5 free wine samples but all that I tried were very sweet. I thought the wine at Door 44 much better.
On the way out of Door County, I was driving south on 57 and saw "award winning cheese" so stopped in at Renard's Artisan Cheese and purchased 4 blocks. They have quite a bit to taste for free but much, much more in their coolers. I bought a couple I had tried and two others that sounded great.
** all photos property of Lisa, not to be copied or reproduced **