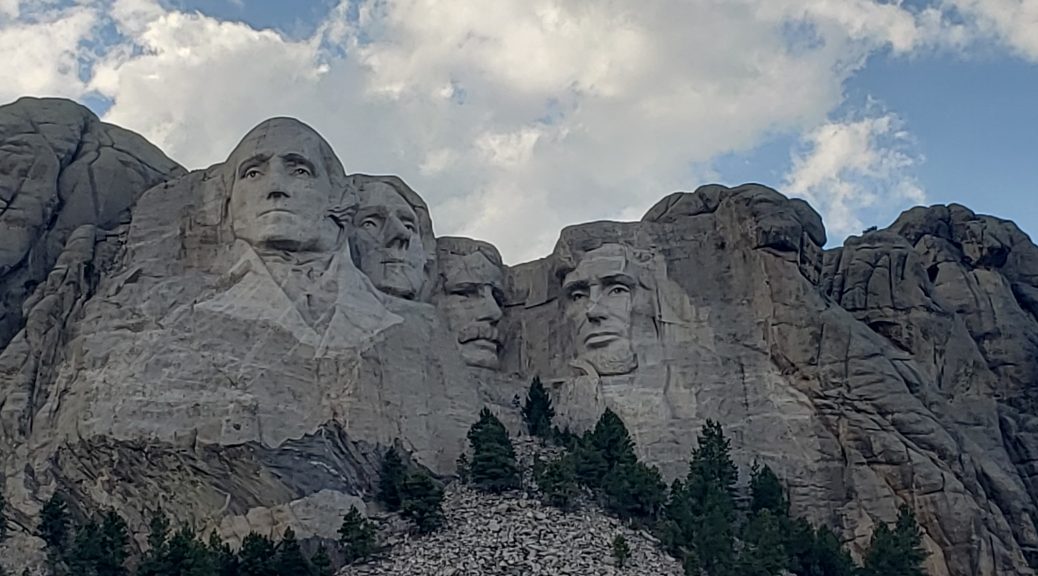 Rapid City and the Black Hills
Rapid City and the Black Hills
I had a long drive, over 600 miles and 9 hours, to Rapid City from Vernal, Utah. We made several stops along the way, once for gas but 3 or 4 times to stretch my legs and take Boo for walks. One of our stops was Independence Rock Historic Site in Wyoming. A short but interesting visit; we learned that this area saw 550,000 settlers who stopped here. Boo and I followed the trail around the rock. Many of the early settlers and especially those who guided them, carved initials in the rock. Don't do that now, or you will face a massive fine.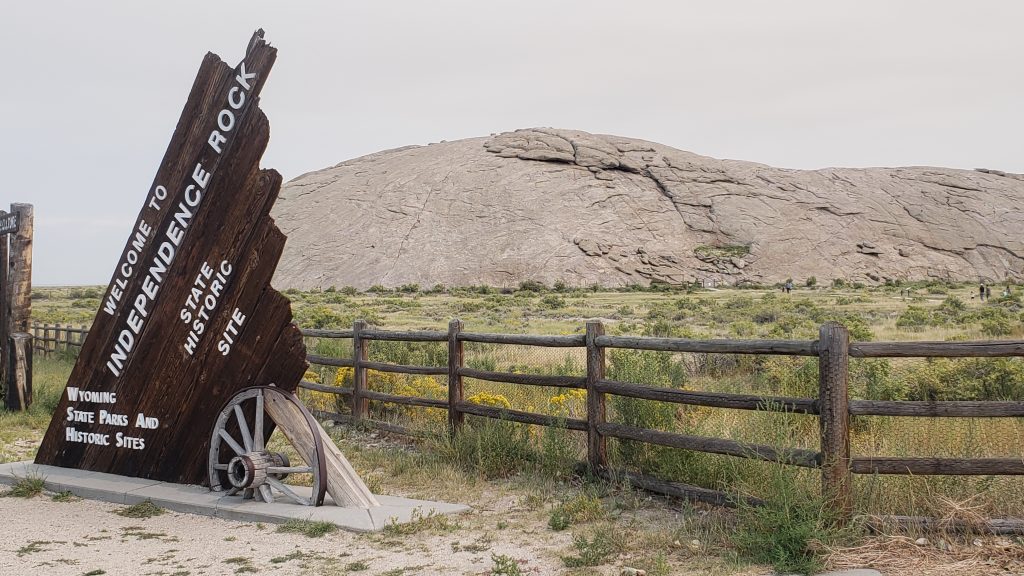 Rapid City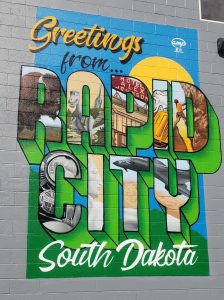 Downtown Rapid City has several interesting sites. Their Art Alley is a quick visit. Unfortunately, there is a lot of unauthorized graffiti marring the actual art. It does change quite often, I walked through it twice a couple weeks apart and saw some new art that covered up ugly graffiti.
At Memorial Park, they have an history exhibit on the Berlin Wall as well as two sections of the wall.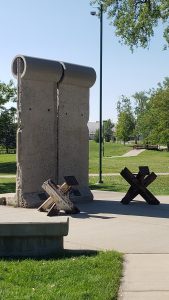 A few weeks later, when returning to Rapid City, Memorial Park also held part of the Pumpkin Festival on Saturday the 25th. Boo and I watched the pumpkin chunking here with five great teams flinging pumpkins 100 yards, 200 yards, and more. Always fun to watch. Most of the vendors and other activities were on Main Street Square and along 6th Street. I bought Boo some treats from Tails n' Training booth that he loved. I had visited them a few weeks prior to use their self-service dog wash.
Main Street Square is a nice open space to relax at any time, along with several restaurants and shops. There is a parking deck next door.
Walking Main and Saint Joseph's streets between 4th and 9th, you can see the first 44 (well, 43 since there is only one statue of Cleveland) presidents along the President's Walk. This is an enjoyable walk and you can see many of the beautiful old facades on the walk, as well.
A visit to Prairie Edge Trading Post is definitely worth a visit while in town. It's a gallery with acrylics, mixed media, stone and ceramic, and more beautiful art. They had two artists working in the shop when I walked through.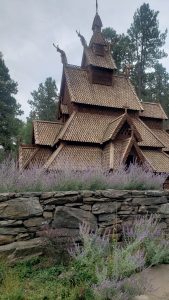 We made a short visit to the beautiful Chapel in the Hills; this is a replica of the Stavkirke of Laerdal, Norway, constructed in the 1100s. Part of the Lutheran Church, services are held here. There is a nice narration about the architecture inside the church, a small museum, and two short trails on the grounds.
Dogs are not allowed here but I brought Boo that day because we stopped at the Rushmore Lions Nature Trail and the Canyon Lake Park for walks. The parking lot for Rushmore Lions Nature Trail is just off Chapel Lane before the bridge. The two parks are on opposite sides of Rapid Creek but there is easy access between them. The nature trail seems more remote, a nice walk in the woods, along the creek. Canyon Lake Park has lawns, gazebos, picnic areas and lots of water. Both are lovely.
I visited the Museum of Geology in downtown Rapid City. It is a great museum and free. Great exhibits on all types of rocks and minerals, you can learn all about the rock types and subtypes. There is also a large section on fossils and paleontology. I spent over two hours reading the exhibits and learning about oxides, sulfosalts, halides, zeolites and much more. Interesting!
We briefly stopped by Dinosaur Park one morning (did a short detour on way to Mount Rushmore). I'm really surprised this makes any lists of attractions in Rapid City. Great views of the city, sure, but just 4-5 large, concrete dinosaurs are the "attraction", there is a visitor center/gift shop by the parking lot that I did not enter. Little kids would probably like climbing on the dinosaurs, though. I doubt most adults would find it worth stopping.
The Black Hills
I visited both of the national parks in the area, the beautiful Wind Cave and, of course, the Badlands.
I took the Spearfish Canyon Scenic Drive one afternoon. So lovely! I stopped by Bridal Veil falls, and was lucky to see 5 mountain goats on the hills by the parking area. I stopped at Devil's Bathtub, I had read there was a mile trail here but couldn't find the trailhead. I continued to the Savoy area and did the Roughlock Falls hike then the Spearfish Falls trail. After the hikes, I had lunch on the patio at Latchstring Inn.
Custer State Park is amazing and pet friendly. Boo and I enjoyed our day here, very much. Some of the wildlife loop was closed (the east side of 87) but I drove the loop counterclockwise from the Visitor Center on the east side, all the way to the Wildlife Visitor Center. We did several stops and walks along the way, including around Legion Lake and the lookout tower. Amazing views. We took some of the gravel roads back to 87 on the west side before heading to Stockade Lake for another walk around the lake, visited the Gordon Stockade and drove through the Sylvan area but didn't stay. I returned a few days later, going to Sylvan Lake for a hike after driving the beautiful Iron Mountain Road and the Needles Highway in the park.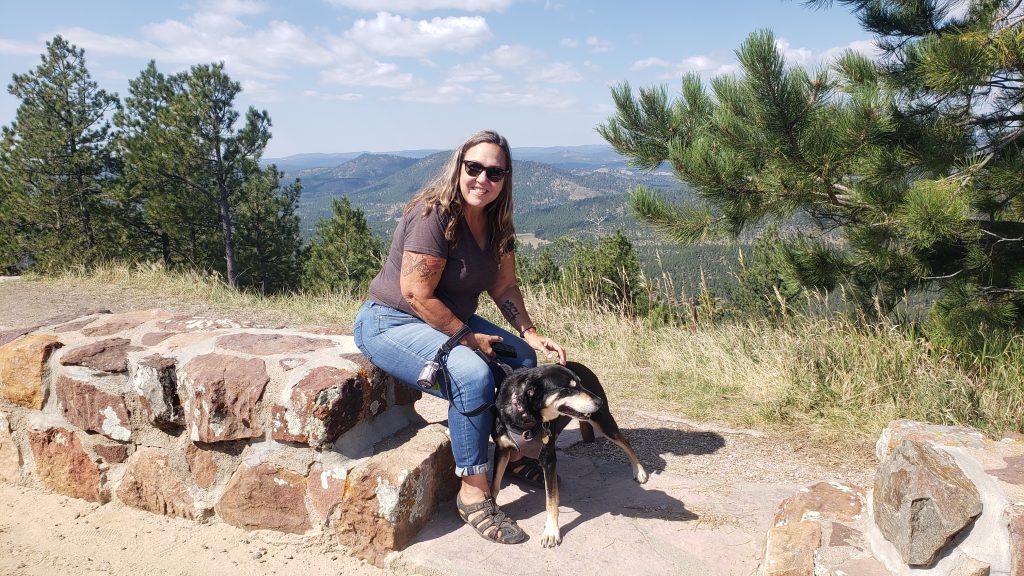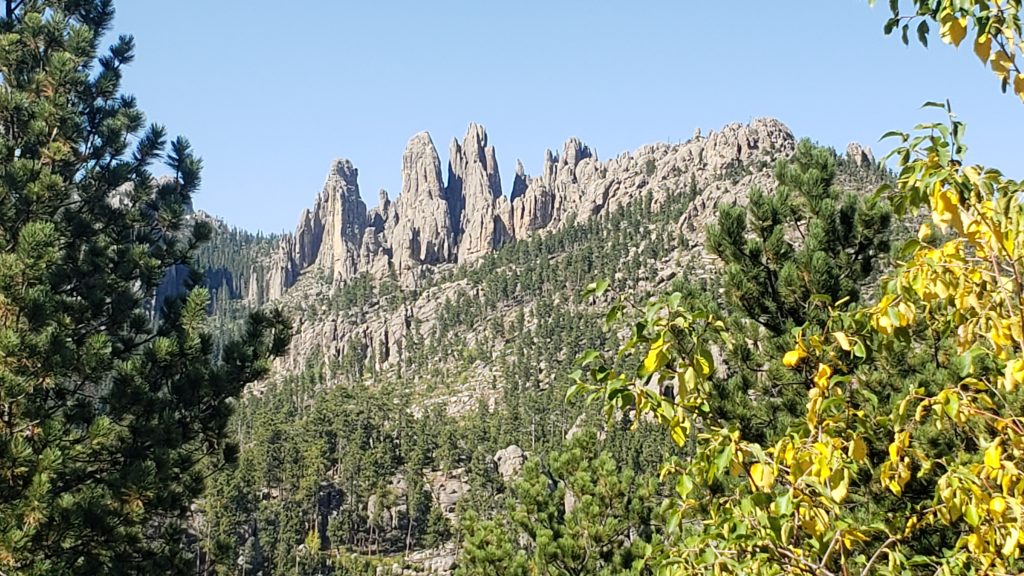 I returned a third time when going to the Buffalo Roundup. I was excited I would be back in town for this event but … it was a lot of waiting for about 10 minutes of seeing the bison run by. Perhaps, if I had planned better and taken some food, I would have stayed to visit the corral. I may have enjoyed that and also would have missed most of the awful traffic leaving the park. As it was, I wouldn't recommend or plan on returning.
I think most people coming to Rapid City will visit Mount Rushmore National Monument. Entry is free but parking is $10; validated paid parking is good for a year. I went out late one afternoon, planning to stay for the evening video and lighting ceremony. The park paper, Granite Journal, and a brochure I had picked up both listed the hours of the Sculptor's Studio as 8am-7pm, but it was closed by 5 when I arrived.
I walked the President's Trail enjoying the views. I spent a couple hours in the great museum and watched the video, "Mount Rushmore: The Shrine". The evening lighting ceremony is nice; it includes the film, "Freedom: America's Lasting Legacy".
I returned two days later, September 11, for several ranger talks, one on 9/11, about 4 "ordinary" heroes, another on Native Americans in the area, and one on the site and scupltures. I rented the audio tour. There is great information on the guide, and I walked the trail again since many of the sites are along the Presidents Trail. I also attended another short ranger talk in the sculptor's studio. There is not a lot here. If it's closed, you're not really missing much. In my opinion, there is a bit too much focus on the sculptor, Borglum, even in the museum.
On the way back from the Black Hills, through Hill City, I stopped at Miner Brewery. I picked up a sandwich next door from the Prairie Berry Winery and had a flight on their patio. I really enjoyed the very different, Vampire Goggles Black Ale. I wish I had tried their rhubarb wine, too.
I went to the visitor center at Minuteman Missile National Historic Site. I saw the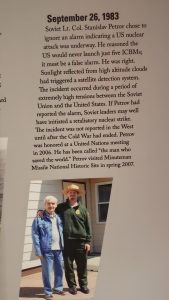 video and exhibits, after leaving the Badlands. A few days later I returned to visit the Delta-01 Launch Control facility. Guided tours were fully booked but I still wanted to see it, and I listened to the audio tour while there. I also visited the Delta-09 Silo. Since I couldn't visit inside, the virtual tours of both the support rooms and launch control capsule were interesting. The audio tours offer great information for both sites.
The visitor center has information on how many times the world came close to the edge, from running training tapes of Soviet attacks to sun spots. I learned about the great hero Stanislav Petrov, an officer in the Russian army who ignored orders and did not launch counterattack or even report the "missiles" (sunspots!).
I went further afield one day, driving over to Devil's Tower National Monument. Dogs are not allowed on trails but I walked Boo around the visitor center, parking lots and we walked down one of the gravel roads to another trailhead later. He stayed in the car while I did the Tower Loop. I had a beautiful day for the hike and really enjoyed returning to this unique site; it's been over 20 years since I visited. We also stopped at the Prairie Dog Town and to see the "Circle of Sacred Smoke", by Junkyu Muto. The sculpture is designed to help raise visitor awareness of the importance of Devils Tower to over twenty affiliated tribes.
On the drive back to Rapid City, we stopped at Deadwood. I had driven through here coming back from Spearfish Canyon. That was a long day so I had planned to return. I thought it was just off I-90 but it's a 7 mile drive from the Sturgis exit. A interesting and attractive little town. We went to Jacob's Brewhouse & Grocer for dinner. I had found this brochure when I stopped by the visitor center, so Boo and I followed the tour around the historic Main Street after dinner reading the historical markers before returning to Rapid City. I wish I had time for the museums and a visit to the Ta'Tanka, Story of the Bison.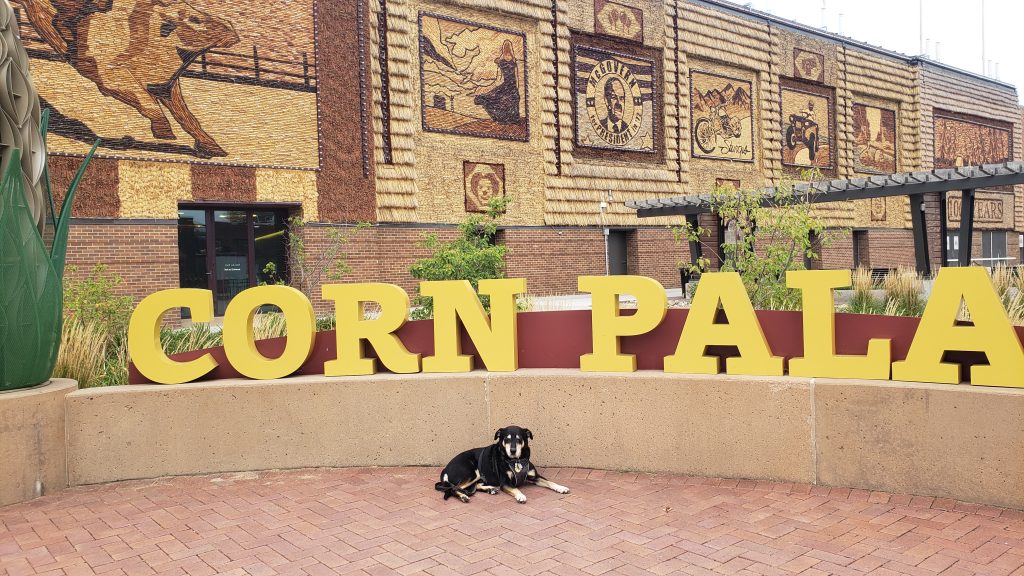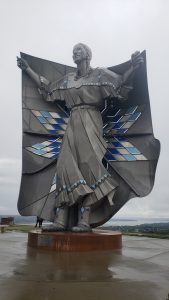 On my last drive back across I-90 I stopped at the Dignity of Earth & Sky Statue for a quick view. It's just off the interstate by Chamberlain. It looks like it would be beautiful to see at night, all lit up. An hour later, Boo and I stopped at Mitchell to see the Corn Palace. This has been around for over 100 years. First started in 1892 as a gathering location and to celebrate the harvest, the current building is the 3rd corn palace and was 100 years old in 2020. I remember visiting as a child with my family and my daughter and I stopped here in 1998 when we were going to Yellowstone.
Sioux Falls
I spent two nights here to get my driver's license. When I left Rapid City the first time, I spent one night here in route to Kansas City. After driving to Bloomington to get my car title, I returned to Sioux Falls. I had a 1pm appointment at the DMV.
That morning, I visited the beautiful Falls Park where Boo and I spent two hours enjoying the gorgeous cascades then walked downtown toward Arc of Dreams. I stopped at Phnom Penh for some take-out. I also picked up a half dozen mini cupcakes from Intoxibakes (trying Chocolate Buttershots, Kailua, Key Lime Pie Martini, Limoncello, Mudslide, and the German Chocolate).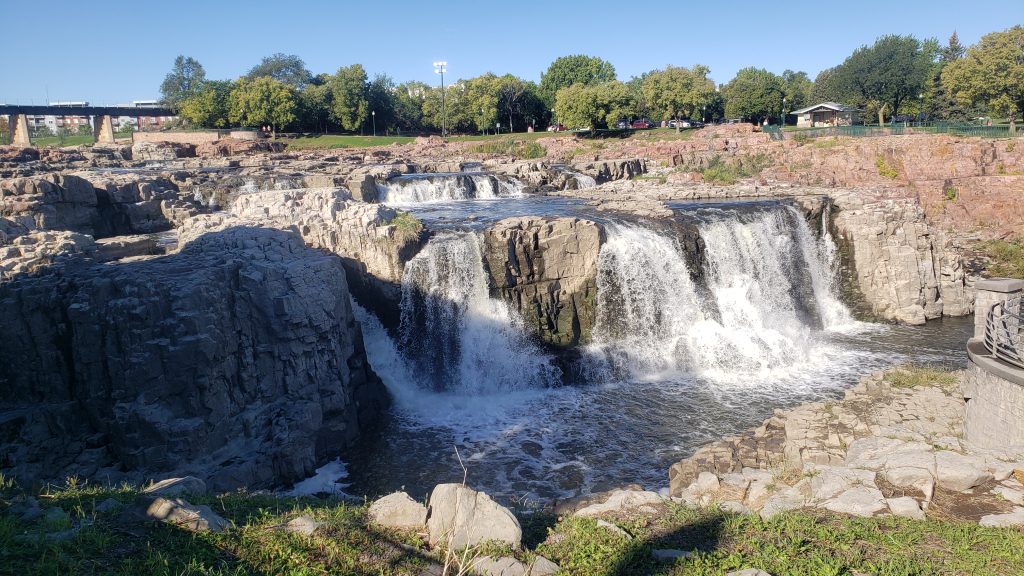 After getting my driver's license, I visited the Old Courthouse Museum. Free, easy parking, lots of interesting exhibits. After picking up Boo, we did the Downtown Sioux Falls Historic District. I had found the brochure and walking map at the DMV. We had a flight at Severance Brewing after finishing our walk. We returned to Falls Park the next morning before driving back to Rapid City. What a lovely town. I should return and spend more time here.
Rapid City Restaurants
I found Sickies Garage Burgers & Brews on Bring Fido for outside seating and tried them for a burger after arriving our first night. Due to staffing limitations, I could sit outside but had to order to-go at the bar. The burger, despite the menu sounding great, was quite average.
I tried going to Firehouse Brewing for dinner after visiting the Badland's but they aren't dog friendly even on the patio. They recommended Murphy's Bar & Grill, just a few blocks down Main. I had a good BBQ sandwich, cole slaw, and a couple beers, and fed Boo. Nice patio. Food was very good, service rather slow. I had a beer flight later at Firehouse before going home. I'm actually glad they didn't allow dogs, not that impressed with any of the four beer tasters. I had a couple locals tell me they didn't think the food was that great either.
Another day, coming back from Mount Rushmore, I stopped at Zymurcracy Beer finding them close to my hotel. They were nice and mostly empty so I felt pretty comfortable inside and had some great tasters of beer. I tried several of their IPAs and all were very good. A few days later I tried Cohort Brewing for a flight. Nice location and good beer. I also had a flight at Lost Cabin Brewing a week later. Lots of outside seating, dog friendly inside and out.
The heirloom tomato pizza at Independent Ale House was delicious. They have 50 beers, including many local ones, on tap. No outside seating despite Yelp saying they do.
I had an excellent chipotle pork flat bread from Ugly Graffiti. I had seen their food truck when I was at Cohort Brewing and their menu sounded good but I wasn't hungry that afternoon. Glad to see them at the Pumpkin Festival so I could try them.
I found the wonderful Himalayan Kitchen my final night in town. So great! Samosas and lamb saag.
** all photos property of Lisa, not to be copied or reproduced **