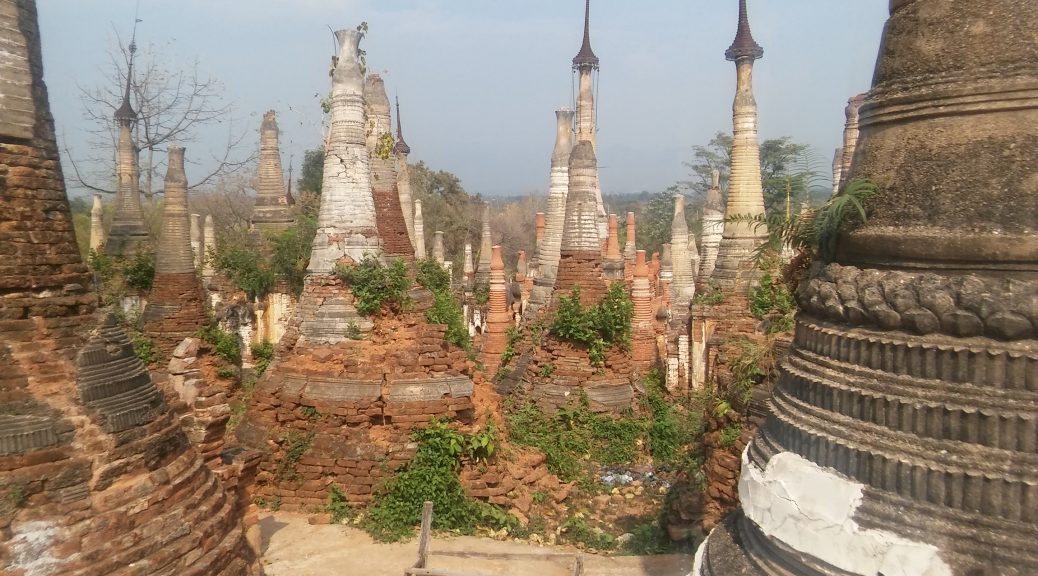 "I'm in Burma."
"Burma?"
"You most likely know it as Myanmar, but it will always be Burma to me."
– Seinfeld, Mr. Peterman to Elaine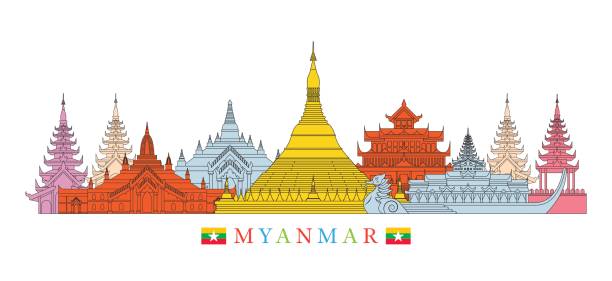 Burma. The Golden Land.
Kelly and I went to Myanmar in late February 2017 for fifteen days. We planned our trip using trip.me, a travel consolidator that works with local travel companies in dozens of countries. As we usually do when planning a trip, Kelly and I did plenty of research on our own, determining what we were interested in and what we wanted to see.
We had read about the Tabaung Festival. It is considered the most significant Festival of Shwedagon because it was on the "Full Moon Day of Tabaung (February-March) that King Ukkalapa and the two brothers enshrined the sacred hair relics in the Shwedagon Pagoda". The festival starts with the nakyake shitsu ceremony that provides offerings for 28 Buddhas, followed by a 10-day nonstop recounting by the Pathana (Buddhist scriptures) about 24 causes of worldly phenomena. We both really wanted to see the chanting monks as well as be part of the large celebration and see all the Buddhists celebrating at the festival.
We also read about the robe weaving contest. We sent this information to the local Myanmar guides we were working with, asking if it was possible to include a day of this in our trip? They said yes and our dates were pushed back from mid-January to late February through March to plan a visit to Shwedagon during this time. We even rearranged our days in Yangon to return there at the end of our trip for the festival instead of flying home from Ngapali Beach. They suggested since we wanted to do a short hike to Inle, we should do the rest of the trip prior to the festival to ensure decent weather and not too hot. It was still too hot. More on that later.
Yangon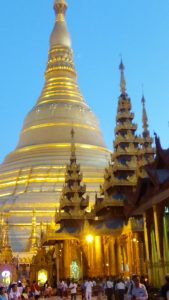 We left for Myanmar on February 26th. We transferred in Hong Kong before arriving fairly late in Yangon. We were picked up and taken directly to our hotel. We stayed at the Rose Garden Hotel for two nights. Driving through the large city at night we saw the impressive Shwedagon Pagoda, lit up and glittering gold. The temple is visible from much of Yangon.
After a long day of travel we took our showers and went right to bed. We had the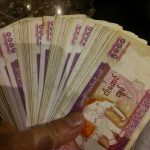 next morning free so spent some time at the lovely pool. We found an ATM close by and got literally piles of kyat. Three hundred dollars got me about 400,000 kyat. I took out the max because we were told most places in the country, restaurants, shops, all preferred or even required cash. I usually like to put most things on my credit card, both because I earn points plus not having to carry so much cash. But when in Rome… I was just pleased with the number of ATMs. I had read they were almost impossible to find until very recently and you needed to carry cash into the country and then go to banks to exchange money.
That afternoon we were picked up by our guide and visited the Sule Pagoda in downtown Yangon. After the pagoda, one of the major sites in Yangon, we went to the old "Rangoon" area, with many old British colonial era buildings including City Hall, Immigration Office, and High Court Building. We walked along Mahabandoola Park and visited Botataung Pagoda. Bo means "leader" and tataung is "1,000"; the Botataung Pagoda was named after the 1,000 military soldiers who escorted relics of the Buddha brought from India over 2,000 years ago. We visited Strand Road and stopped at the harbor.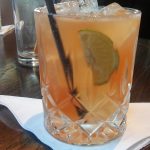 We also stopped by Sarkie's Bar at the century old Strand Hotel for their famous drink, the Strand Sour. Drinks were expensive but we wanted to experience this bar, where Noel Coward, Rudyard Kipling, and Orson Welles have visited. We also went to Chinatown and little Indian Town, two great districts of Yangon.
Bagan
On the 28th we had a very early flight to Bagan. What an amazing city. Bagan, the ancient city on the Irrawaddy River, is home to over 2,000 temples and pagodas. During its height between the 11th and 13th centuries, the Kingdom of Pagan, as it was known, was home to more than 10,000 temples. It is considered Myanmar's greatest wonder and is the largest attraction in the country. It represents the spiritual heritage of ancient Burma.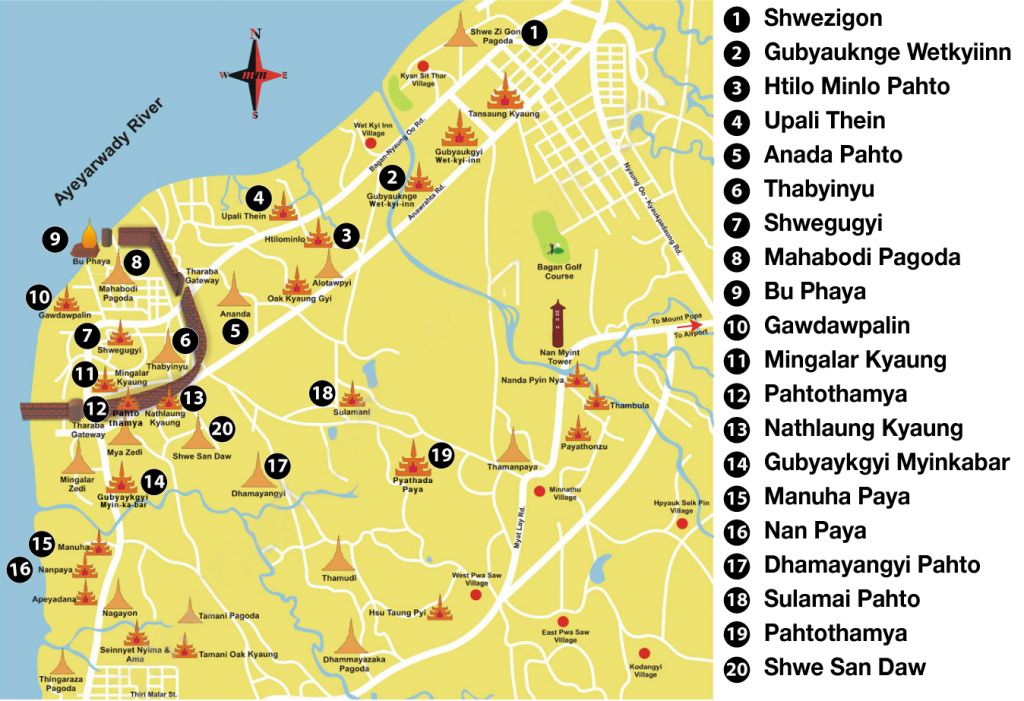 We were met by our local guide and taken to our hotel, Hotel Yadanarbon Bagan. We had a full day tour of Bagan. We visited Shwezigon Pagoda; the stupa is a graceful bell shape which became the prototype for Myanmar's pagodas. We also visited Gu-Byauk-Gyi Temple with frescos showing scenes of Buddha's life. I loved the visit to the Htilo-Minlo Temple, with its old murals, original plaster carvings, and glazed sandstone decorations. We also visited Ananda Temple, one of the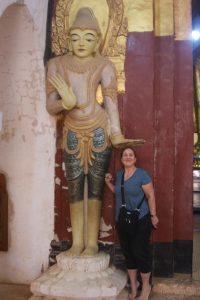 largest and best preserved temples in the complex and Thatbyinnyu Temple, the tallest building in Bagan. There is a large Buddha in the front entrance that you can stand under for a "blessing".
We had lunch and spent some time relaxing in the hotel before our afternoon tour. We continued our tour with a stop at Gawdawpalin Temple, considered the crowning achievement of the late Bagan period, one of the largest and most imposing of the Bagan temples.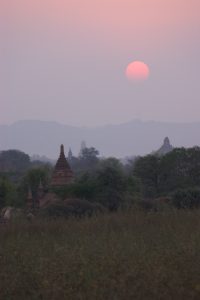 We visited a local lacquerware workshop in Myinkaba Village, one of Bagan's most famous products. We were able to see the craftsmen working. Towards sunset we returned to the Bagan complex to watch the sunset. Beautiful!
Wednesday, March 1st, we spent another day touring the temples and pagodas of Bagan, including Shwesandaw, considered Bagan's most famous "Sunset Pagoda". This is a unique white pyramid style pagoda with steps up five terraces to the circular top. Beautiful and unique! We also visited Nyaung U and some neighboring villages.
The next morning, after breakfast, we were driven to Salay, the ancient religious center of Myanmar. It was about an hour and a half drive south of Bagan. Salay is so beautiful! We visited the 150-year-old wooden monastery with its carved gates, ceilings, and many carved figures. It also has many stupas, including an incredible one with dozens of elephants decorating the roof.
We continued to Popa. Mount Popa, known as the "flower mountain", has 777 steps leading up the 737 meter peak of an ancient volcano vent, Taungkalat. Mount Popa is home to the country's most powerful "nats", or sacred spirits. Like the other Buddhist temples we had visited, we had to remove shoes and socks to climb. I was surprised we had to do this in Bagan as those pagodas are no longer used.
Climbing in and out and up the stairs of those old crumbling temples made my feet hurt (sharp rocks!) but climbing up Mount Popa was brutal. Shards of glass, small rocks, lots of monkey poop from all the monkeys swinging overhead had to be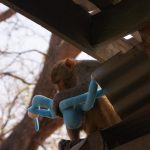 avoided as we climbed. It was a beautiful view, however, once we made it to the top. We went to the temple and spent about a half hour on the mountain. I really enjoyed seeing one of the little monkeys stealing a stuffed monkey from one of the vendors and go running up the metal roof with his toy, so cute. He just wanted a "friend" to play with, I assume. We returned to Bagan.
That evening, we had scheduled a class with Pennywort Cooking School. We made several delicious dishes with May and her assistant. It was a fun evening cooking and we enjoyed a great meal.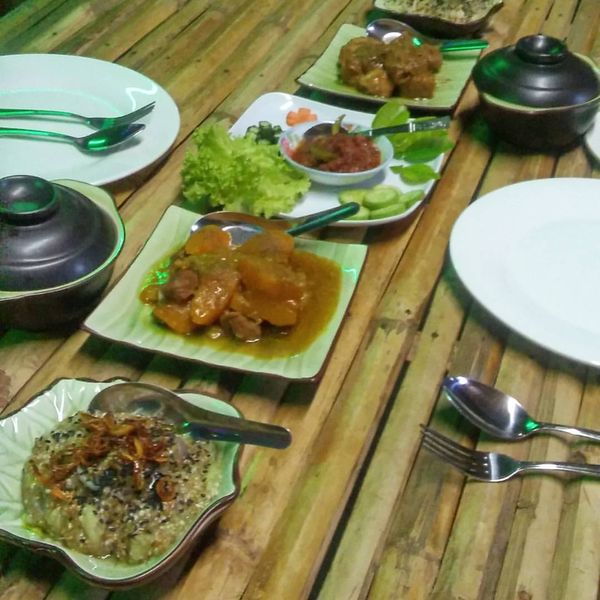 Mandalay
On March 3rd, we flew to Mandalay. We were staying in the Mandalay City Hotel. This is a really gorgeous hotel, centrally located, with a big pool, koi pond and fountains at the entrance, and great rooms. Like Bagan, Mandalay is an ancient city. There are more than 700 golden temples on Mandalay's surrounding hills, which can be seen from the river.
In Mandalay, we visited the old Royal Palace. We saw the miniature palace and then walked through the reconstructed palace with many original artifacts. We visited the 33-meter watchtower with views of the whole compound and the city. We also saw the tomb of King Mindon and the Sabbath Hall.
We went to the Mahamuni Pagoda with a four meter high Buddha cast in bronze. Over the years it has been covered with a thick layer of gold leaf. Buddhist adherents purchase small squares of tissue thin gold to honor Buddha. The Buddha, like others we saw in the country, no longer looked like a Buddha with all the lumps of gold all over it.
In the courtyard of the pagoda there are six bronze Khmer figures that were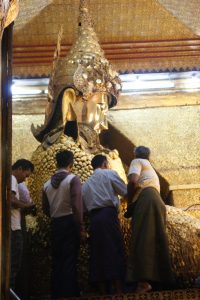 brought back from Mrauk U and have their actual origins in Angkor Wat, Cambodia.
We went to Shwe Inbin Monastery next. The monastery, dating from 1895, has some exquisite wooden carvings along the balustrades and roof cornices.
The Shwe Nandaw, Shwenandaw, Shwe Kyaung Pyi as it's known locally, or "Golden Palace Monastery" is considered one of the most important of Mandalay's historic buildings. It is the only remaining building from the Royal Palace in Amarapura built in 1878 by King Thibaw Min. It was relocated to Mandalay and called Mya Nan San Kyaw. The monastery has some amazing teak carvings showing Buddhist myths on the walls and roofs.
We also visited the weird but wonderful Kuthodaw Pagoda, the "world's biggest book". Surrounding the pagoda are 729 marble slabs. They are inscribed with the entire Tripitaka, or "Three Volumes" of the ancient Buddhist scriptures. The large white slabs with the beautiful Burmese writing were fun to wander through.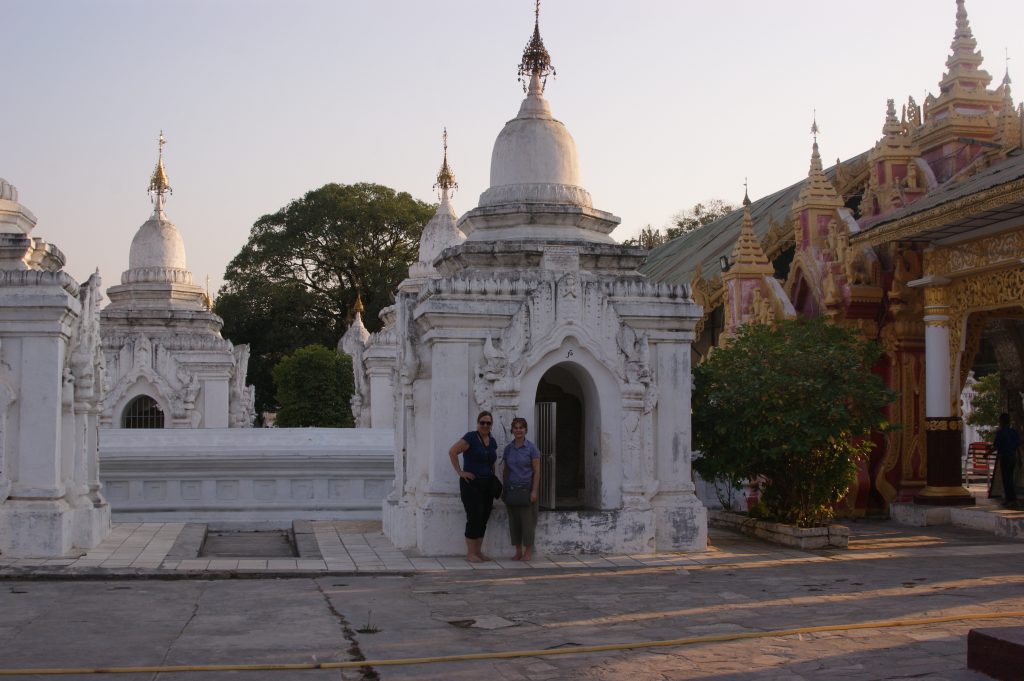 Next we visited the Kyauktaw-Gyi Pagoda, which means Pagoda of the Great Marble Image. It is, of course, famous for that image; its huge seated Buddha is carved from one single block of marble. Until a couple of years ago it was the biggest single carved image in the world. It was built by King Mindon and took from 1863 to 1865. We climbed Mandalay Hill for a view of the city and the pagoda with mirrored hallways.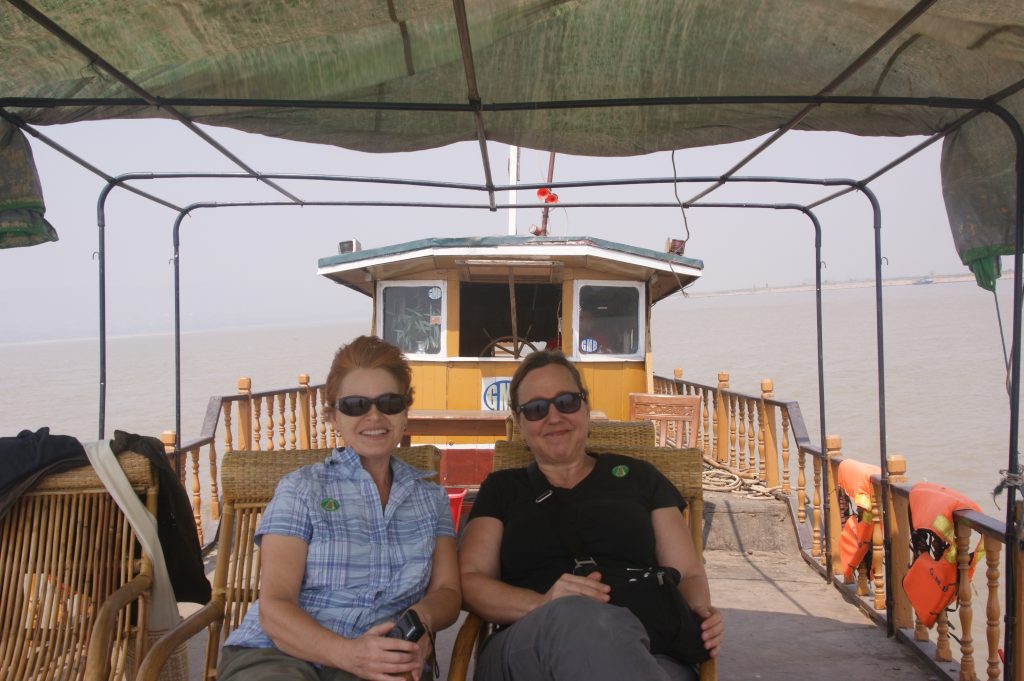 The next day we had a tour of the Irrawaddy River by ferry boat. It's also known as the Ayeyarwady. We visited Mingun, home to one of the largest bells in existence. We toured Ponday Paya, Mingua Paya and Hsinbyume Paya. We had great views of the river all the way to Mandalay. We cruised back to Mandalay stopping at Ava. Ava was the capital from the 14th to 18th c. We got to Ava by horse drawn carriage, very fun! We also visited the Bagaya Monastery and the ruins of the Royal Palace and fort. I almost didn't go through the ruins in Ava as you had to take shoes off again and my feet were sore (what a wimp, I know) but walking along the edge and seeing Kelly and our guide go into certainly buildings, it was beautiful and I had to go… so shoes off.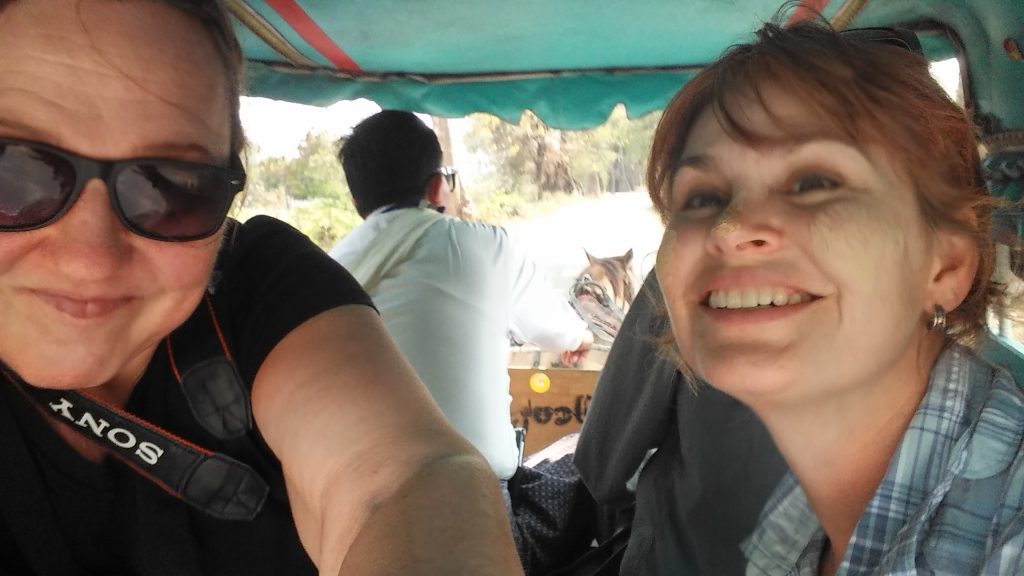 We returned to Mandalay stopping at sunset to visit the the 200-year-old U Bein Bridge, the longest teakwood bridge in the world. It was crazy crowded with tourists, there were a dozen buses there disgorging their passengers. You could barely walk but it was a beautiful bridge and sunset.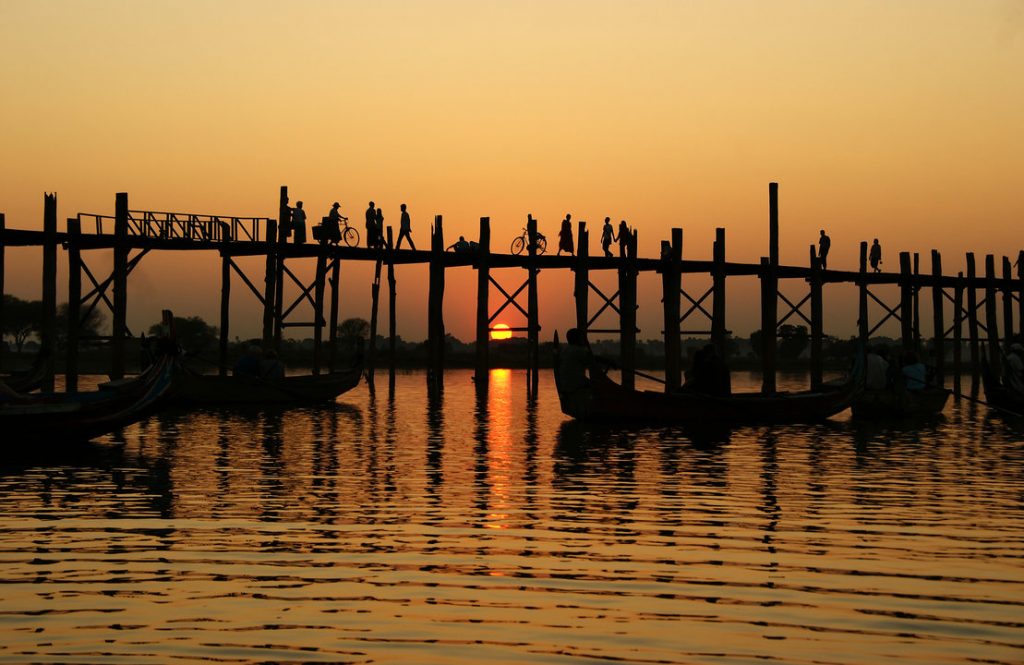 Kalaw to Inle
After breakfast the next day, we went to the airport and flew to Heho then drove to Kalaw for our two day hike in hill country. Kalaw is a former British "hill station", built for members of the British military as a summer refuge from the heat in their colonies. We visited the market at Myo Ma, seeing many tribes and their art. There are Nepali, Indians, Gurkhas, Bamar and Shan selling their handiwork. We walked through the town center then visited the Shwe Oo Min Paya, a natural cave full of Buddha statues. We also visited the Nee Paya Pagoda seeing the gold lacquered bamboo Buddha. We stayed at the Dream Villa Hotel overnight.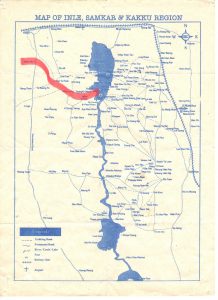 The next morning, March 6th, we started our hike. We were driven to our starting point, Baw Hnin Gone. From here, we started two days trekking from Kalaw to Inle Lake. The hike through the high country was gorgeous; we were in the Shan state, beautiful forests and the Shan Mountain range. Really, really beautiful and really, really HOT.
The route is "unspoiled", i.e. no services or infrastructure, and our guide carried all our food, cooking us lunch and dinner during stops at Kone Hla Village and Pa Du Pauk Village. I was so hot, however, that I ate very little for either meal despite the quality of the meal he put together. I do remember desert for dinner was some sort of banana flambé that I did eat. Delicious.
We probably only walked about 5 hours each day, it seemed longer, however. I much prefer my hikes in New Zealand, when it's about 30 degrees cooler and I'm wearing layers. Overnight at Pa Du Pauk was in a shared room, on a thin mattress on the floor. Our showers were 50 gallon buckets of cold water (which actually felt GREAT!) and outdoor toilets. Definitely NOT glamping like we had in Morocco.
It was interesting seeing all the locals we met on the hike, people in their homes and markets, displaying their baskets and weaving and other handiwork.
Inle Lake
The next day, we continued our hike to Inle Lake. We went through the villages of Hti Thein, Kyauk Su and Nan Yoke. We visited some Palaung hill tribes on our walk. We reached the village of Indein mid-afternoon. I thought we'd be going right to the hotel, but they had lunch planned at a restaurant on the lake. I asked the guide if I could go on to the hotel. The trip was by boat and only one trip was covered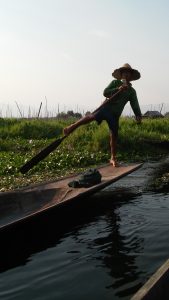 , but, again, I wasn't hungry and paid for a separate boat trip to the Golden Dream Hotel. Our big bags had been transported separately, so that was waiting for me at the hotel. I checked in, took a shower, washed out my hiking clothes, and took a nap before Kelly showed up. Can you tell I do not like heat? I can't function when it's over 85 or so, I get nauseated and a headache.
I was feeling much better after my cold shower and a nap and after Kelly cleaned up and relaxed, too, we went out that evening and found a great place for dinner. We had some banana flower salad and fish wrapped in banana leaves cooked in coconut milk. I am so glad Kelly likes local food. I told her if she only wanted American food when we traveled, we'd be eating separate meals all the time.
After Bagan, Inle Lake and Indein were my favorite places in Myanmar. Just gorgeous. The lake is so beautiful, surrounded by the Shan Mountains, there are villages all around the lake on stilts. We saw a number of the fisherman rowing with one leg to have both hands free to throw their nets.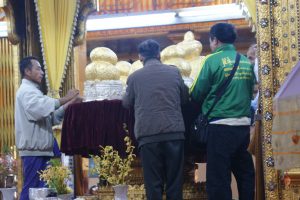 We had a full day tour of the lake and villages and the amazing Indein. There is a large pagoda surrounded by 1094 stupas, many in ruins. Truly magical! We also visited Phaung Daw Oo Pagoda, the holiest religious site in the southern Shan State. It has five gold-leaf-covered statues; like other Buddhas we have seen in Myanmar the gold leaf on the figures has become so thick that the images are almost unrecognizable.
Ngapali Beach
The next morning we flew from Inle to Ngapali Beach for two nights. We stayed at the Jade Marina Resort & Spa. The hotel, rooms and grounds were beautiful. After our primitive camping just a few days prior, this was such a huge change. There were a couple big gorgeous pools and a white sand beach with clear water on the Bay of Bengal. We enjoyed their great breakfasts but went off the grounds for lunch and dinner. Other than those walks, we mostly lounged in the pool and drank!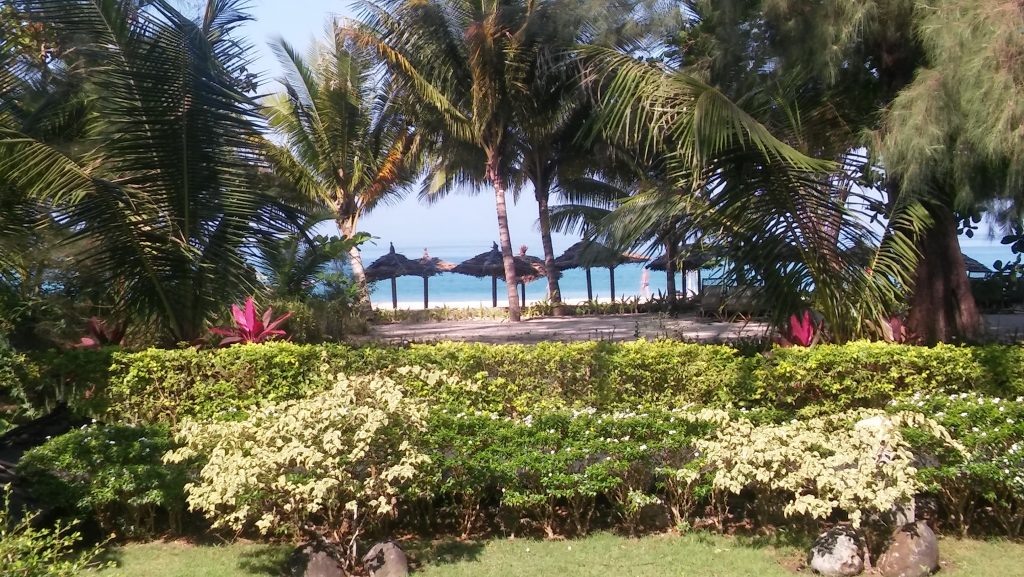 Yangon
March 11th, we flew from Ngapali to Yangon. We were met by our local guide again and visited the Scott market. It's been operating over 70 years and has the largest selection of Burmese handicrafts found under one roof.
We went to visit Shwedagon Pagoda; according to their history this amazing building is over 2600 years old and located in the center of Yangon. We expected to see the festival but our guide told us, no, what you wanted to see is in October. We tried to question him as that is not what we read or were told when planning the trip, it was even listed in our trip guide we received, showing him the printout, "You will see local women weaving the lotus cloth for monk and this competition held on up all night."
He just said, sorry, he didn't know why we weren't told. Kelly and I looked at each other in shock as we had rearranged our whole trip around the festival. Annoyed is putting it mildly. We still enjoyed our visit to this amazing temple and he walked us around the entire complex, we lit candles at special locations for our birth months and really enjoyed our visit, regardless of festival or not. But… we could have had the same visit in January. 🙂
That afternoon we took the Circle Train for a 3 hour tour of the city. We stayed on through all the stops just enjoying the views. This is a lovely ride and we both really enjoyed it; it's a great way to see the city.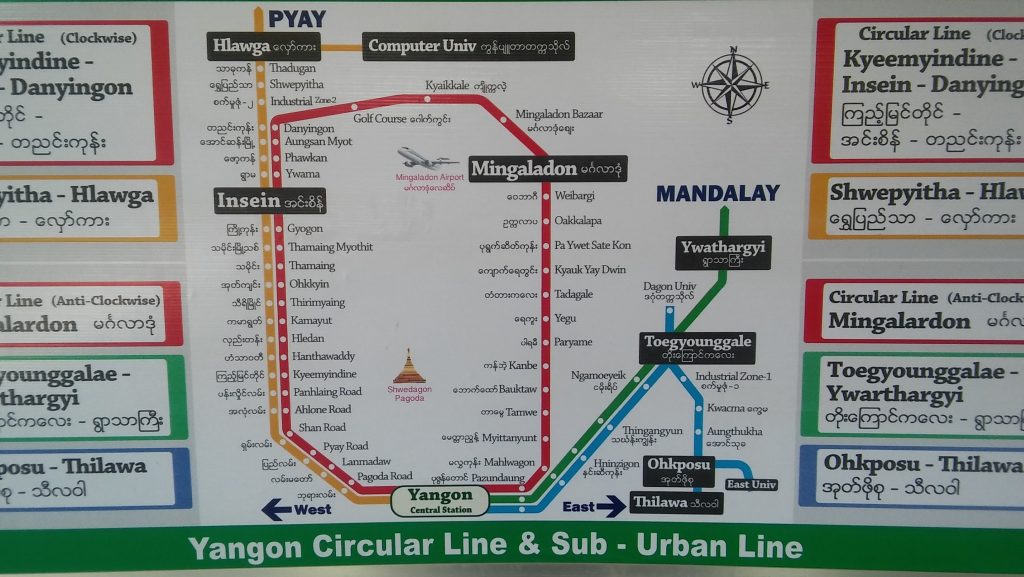 Later in the day we visited Yangon Yangon for a great sunset view over the city. And we did see the lovely full moon. This is a nice lounge on the roof of an expensive hotel, and we enjoyed the time, watching the sunset and full moon and having some cocktails.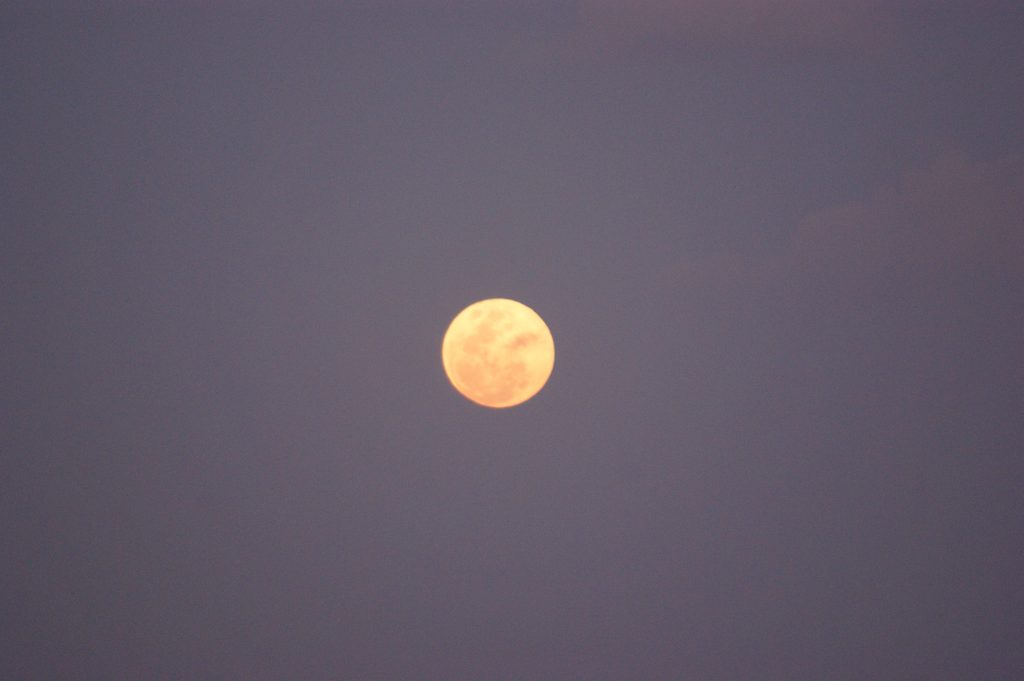 We spent another night at Rose Garden, our room this time wasn't as nice and worse, had a toilet that didn't flush. We called down several times and they sent up a workman; it would work once then stop. They wouldn't move us to another room. So, bad ending to an otherwise beautiful trip. I was quite disappointed with missing the festival, especially as we had originally planned on coming 6 weeks earlier when the weather would have been much better for our hike, and just moved it back for the Tabaung Festival. We offered that feedback to trip.me and the local guides and didn't receive a proper response from the Burmese company. While trip.me did apologize I was concerned with our already booked trip to Morocco, but that was perfect. No concerns, whatsoever, and I would definitely use trip.me again.
Our travel path, as you can see, even after two weeks we didn't see much of the country!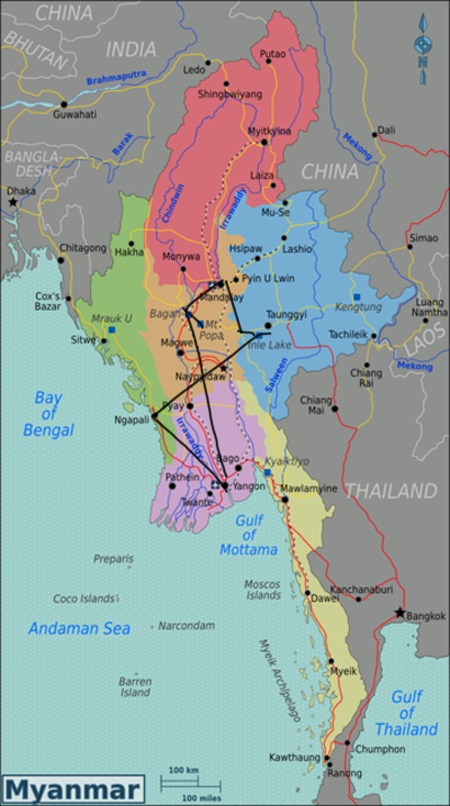 Food
Anthony Bourdain, in his Myanmar episode, said Burmese food was "spicy, salty, sour, savory… delicious… a plethora of textures and tastes." Very much so. Everything was wonderful.
Because I'm doing this write-up over 4 years after I visited, I unfortunately don't have the names of restaurants we visited but the food was amazing! Bowls of noodles for breakfast, fresh fish, wonderful banana flower and papaya salads, spicy curries, lahpet (green tea) thoke (salad) or tea leaf salad. Reading about the ingredients in lahpet thoke (pickled or fermented tea leaves, roasted peanuts and other crunchy beans, sesame seeds, fried garlic, cabbage) I thought it sounded interesting. I looked forward to trying it, but wasn't sure if it was something I'd want repeatedly. We had it for our first lunch in Yangon. And we had multiple, slightly different versions of lahpet thoke many times in our stay. Some had shrimp, some chopped tomatoes. All were delicious. Spicy and sweet and crunchy and great.
We looked forward to seeing it on menus. Like when we visited Poland in 2007, I wanted to try their version of beet soup, barszcz. But I didn't expect to like it, let alone love it. Beet broth? It's actually much more than that, of course. I started hunting for it throughout Warsaw and Krakow, because after my first bowl I was hooked.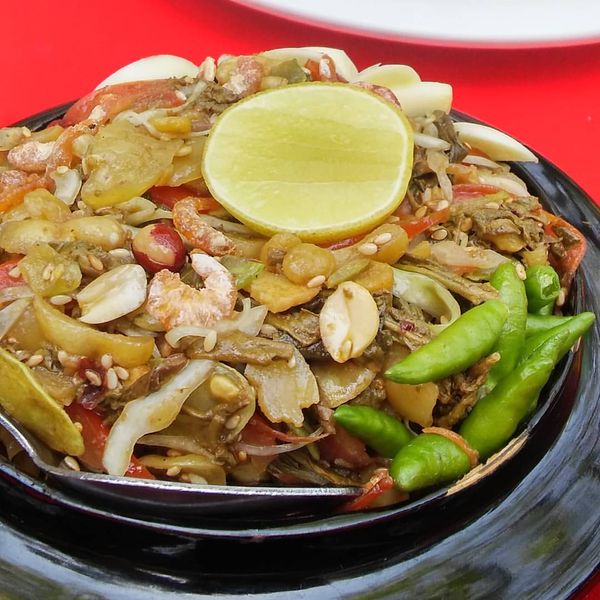 Getting a Myanmar Visa
For more information please go to evisa.moip.gov.mm and information on restricted area go to mip.gov.mm.
You will need the following before you apply:
Your passport validity must have at least (6) months.
You have to upload one

COLOR PHOTO

(4.8 cm X 3.8 cm) taking during last (3) months.
Visa, Master, American Express or JCB credit cards for the payment of USD 50.00.
Tourist Visa processing information :
The validity of eVisa approval letter is 90 days from the issued date

.

If it is expired, entry will be denied.
Length of stay is (28) days from the date of arrival in

Myanmar

.
eVisa service is non refundable.
You will receive an email acknowledgement within 1 hour after successful payment.
The processing time is upto (3) working days.
Notes:
Paya, zedi, stupa, pagoda? What are all these? According to our guide and some reference documents they are really the same thing. Burmese terms, zedi is stupa, paya and stupas are pagoda. Confusing if you hear them described differently.
 ** All photos property of Lisa, not to be copied or reproduced  **