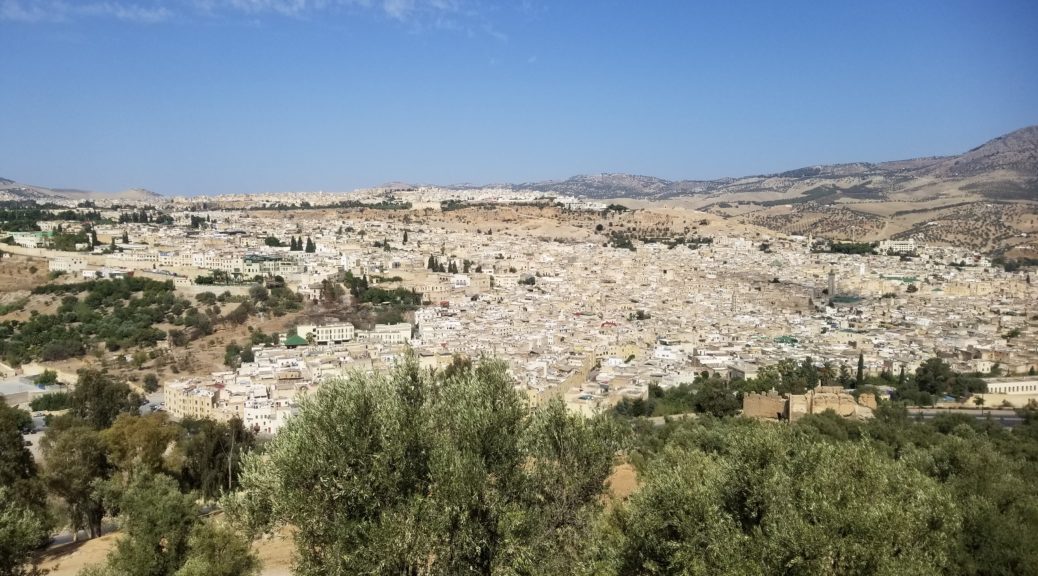 Morocco has been on my must-see list for ages. Kelly and I planned this for a few weeks after my daughter's wedding, September of 2017. It took us a while to finalize our plans. There is so much to see in this gorgeous country. And all the travel sites and blogs I read about Morocco and lists of "top things to see and do" made it difficult as I wanted to see it all.

We both earn a decent amount of vacation but usually limit our trips to around 2 weeks. For Kelly it's because she's leaving her husband to care for her horses. Manny's a wonderful guy and doesn't mind her traveling without him but there is a limit! Kelly's two horses are a lot of work.

After lots of adding and removing sites and changing itineraries, we left for Casablanca from Chicago, via Montreal. We arrived early in the day and had our private driver for the trip, Mohammed, meet us at the airport. We had a very brief tour of Casablanca, visited Hassan II Mosque, then headed out in our van to Chefchaouen. It's about a 6-hour drive to the Blue Pearl. The city was founded by Moorish exiles from Spain around 1471.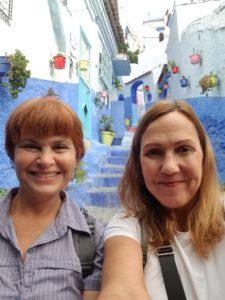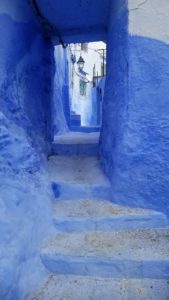 There are no cars allowed in the old city, and no roads, so we were met by a representative from our hotel and walked the rest of the way after being dropped off by Mohammed. We stayed at the lovely Dar Meziana; we had twin beds, with a couch and wardrobe in the entry area, and a huge bath with amazing tile work. We had the evening free so set out to explore the city after being welcomed with mint tea and cookies.

After exploring the small walkways and alleys and marveling at all the shades of blue, a tradition that comes from the former Jewish population, we had a couple drinks at Hotel Paradise. We tried our first tagine, chicken with preserved lemon, and had a Moroccan salad at DarCom restaurant.

The next morning we were up at 8 to meet our local guide, Mustafa by 9. That first morning after traveling is always a bit rough with jet let. But a good night's sleep works wonders. We had some excellent bread with honey and eggs for breakfast.

Mustafa took us to the Kasbah (or Qasaba) built by Moulay Ali Ben Musa, the founder of Chefchaouen, in 1471. We had great views of the city from the roof and visited the prison cells. We returned to the main square, Plaza Uta-Hammam, that Kelly and I had visited the previous night. We drove out of town to see the Cascades d'Akchour and hiked to the Bridge of God. We had a good lunch of kefta, meatball kabobs, and mint tea before the hike.

Mint tea is ubiquitous. I had read they serve it very sweet and I don't like sugar in my tea, or sweet drinks in general. But they almost always asked, sugar or no sugar? And if you get no sugar, it's very refreshing. Lots of mint leaves muddled in the tea.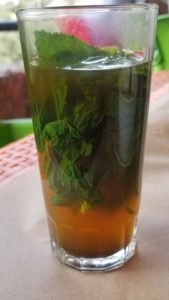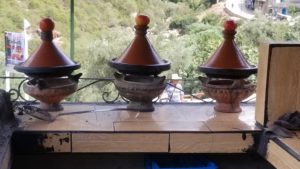 Both sites, the cascades and bridge of god were beautiful. We saw lots of cannabis growing all around us on the hike, several buildings with plants drying on the roof. Mustafa told us it was illegal to use in Morocco but they exported to the Netherlands.
After returning to Chefchaouen, Mustafa helped us find Bab Ssour, a restaurant we wanted to try. Kelly and I have similar tastes in food, fortunately, and like to try new things. We split a few dishes, the lamb, plum, and almond tagine and another Moroccan salad. These are delicious. Almost every restaurant has "Moroccan salad" on their menu but all are different. Mostly cucumber and tomato, but there are a lot of variations.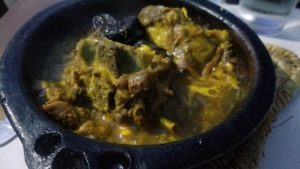 The next day we were heading to Volubilis and Meknes. Kelly and I were up early to pack, have some more of the excellent bread, then walked up to the new town square and garden we had passed the previous day on the way back to town. It was nice to stretch our legs before spending several hours in the car. We had about a 4 ½ hour drive from Chefchaouen to Volubilis. We had a tour of this amazing Roman site with Rashad.

Volubilis is a UNESCO heritage site. We had lunch locally then drove on to Meknes and had an about a 90-minute quick tour with Nortenh. We saw the triumphal arch and gate of Bab Mansour (named for the architect), the Palace El-Hedime (square of ruins) and the medina. Meknes is also a UNESCO world heritage site. We spent the next two nights in Fes.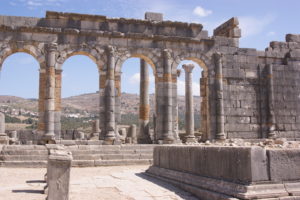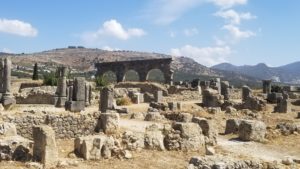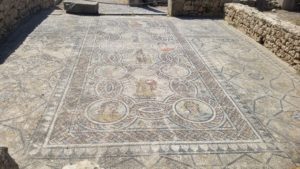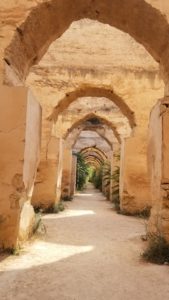 Fes is such a fascinating city. We stayed in the Old Town at the Riad Madina al Kadima. I loved the tile in the lobby of this hotel and the tile on our walls of our room. We had the late afternoon and evening free so went out and wandered for a while. We made it back without getting too lost and had dinner up the street. I don't remember the name unfortunately but they had a guitarist playing some great music during dinner and we had a huge selection of salads, including pureed eggplant, carrots, and stewed tomatoes.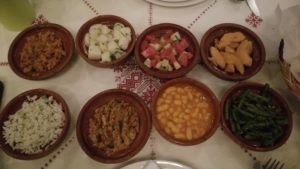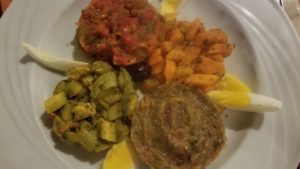 The next day we had our wonderful guide, Azzeddine, show us all over the city. We mostly walked the narrow alleys in Old Town, but Mohammed was there to drive us to some of our locations. Unfortunately, it was Friday, the Muslim holy day, so many things were closed. But we visited the Saadian dynasty fortress first for great panoramic views of the Old City. Returning to the Old City, we walked through the souks and trade quarters. We saw the leather workers, weavers, embroidery workshop, and spice market. We also visited the tanneries, which I had really wanted to see. The pictures of the huge vats of dyes don't do it justice.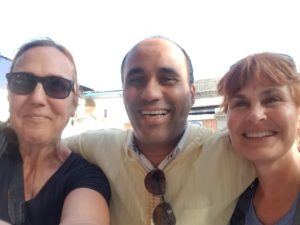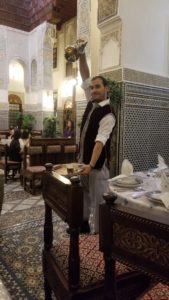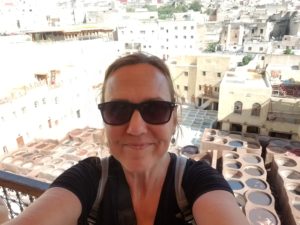 We visited the Koranic college, Foundouk, an old school that had been restored with great woodwork and tiles throughout. We wandered through the Medina, the Jewish Quarter, the Royal palace, then visited a rug dealer. I wanted them all, but even then, two years before retirement, I was planning on getting rid of most of my belongings so just enjoyed watching some of the weaving and all the beautiful patterns and colors. Kelly did buy a stunning blue patterned rug. I MAY have encouraged her a bit, plus let her put it on my card. Even with all her travels, she doesn't have a credit card without foreign transactions fees. We then visited a pottery factory. I did make a purchase here, but had planned on bringing home a tagine. I love to cook and knew I would make good use of it.

We talked Azzeddine into joining us for lunch instead of just dropping us off like guides often do. He was so friendly, knowledgeable and open. We discussed regional and US politics and politicians, Muslim bans, and travel over lots of mint tea.

At the end of the day Kelly and I returned to our hotel to clean up then set out to find the Fez Cafe. We both like to try new food and drink while traveling. I enjoy mostly craft beers, Kelly will experiment more with wine and other liqueurs, too. It's fun trying the local varieties and specialties. I'd been in other Muslim-majority countries previously, like Egypt, Turkey and Bosnia, and it was never a problem finding an alcoholic drink. It was more difficult in Morocco. So we had to do a bit of searching and walking if we wanted to enjoy a beer like we normally do after a day of sightseeing. The Fez Cafe took us a while to find but they had a lovely garden to sit and relax. We were going to try another place nearby for dinner but decided to just stay at Fez Cafe. I do recommend this lovely little garden cafe, either for a drink or dinner. We found our way back to our hotel and only had to backtrack a couple blocks.

We had breakfast on the roof again, which is just a lovely way to start the day. Breads, cheeses, honey, and tea. Then Kelly and I and Mohammed had a long drive over the Middle Atlas mountains to Erfoud and Merzouga. We stopped on the way in Ifrane ("A little corner of Switzerland") for a break and got to see the Barbary apes outside of town. We spent the day winding through forests and Berber villages before reaching our destination of Merzouga.

We stayed at the Riad Madu, a beautiful hotel quite some distance from town. Not a lot to do around the area but we did a walk through the village and enjoyed the lovely pool before dinner at the hotel. The rooms were gorgeous, the food was just adequate. The next morning we had scheduled a quad bike tour in the Sahara. Kelly and I had ridden these bikes when we were in Namibia a few years ago and loved it so wanted to take the opportunity to do it again. So much fun zooming over the dunes. Later that morning, Mohammed took us to Rissani, for market day.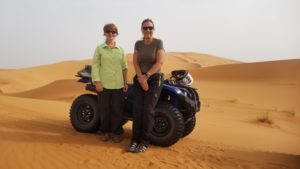 We saw the Mausoleum of Ali Cherif, founder of the Alouite dynasty that still rules Morocco. We spent time wandering the market. It was date season and Mohammed told us about some of the varieties and we bought a kilo to share. For lunch the three of us split a medfouna, or local "pizza", a stuffed bread dish. Late afternoon, we headed out to the desert for our "glamping" experience. We spent about 45 minutes on our camels to the Lux Reve Tent Camp, the Riad Madu Bivouac, at Erg Chebbi. We were met by handsome Berber hosts in their bright white robes with mint tea and cookies.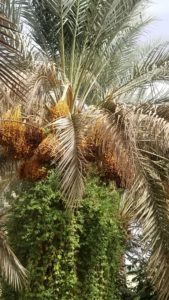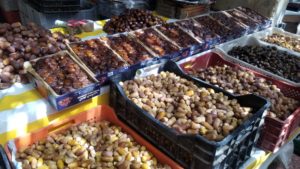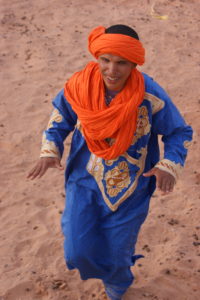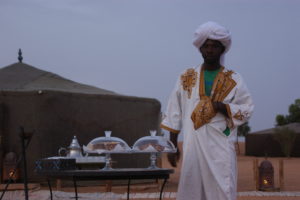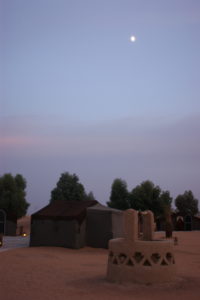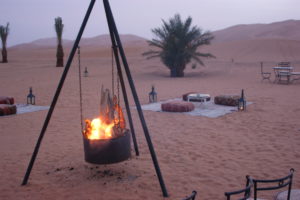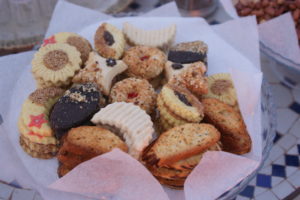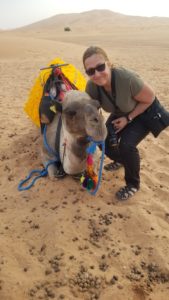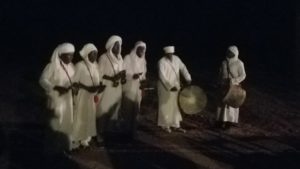 The camp was amazing. Huge rugs spread across the sand, ottomans for sitting around the fire tables. Our tent had running water, hot showers, flush toilets, electricity, comfortable beds. This could ruin me for "real" camping. We were served dinner under the stars, a 4-course meal: salad, rice, tomatoes and eggplant, then egg and potato tagine, a huge platter of kefta (meatballs), chicken, fries, cauliflower and green beans and dessert of a variety of fresh fruit. We were serenaded with great music and dancing after dinner. We had an equally delicious breakfast, egg tagine with tomatoes, onions, cumin, before taking our camels back to our hotel mid-morning.

Mohammed met us and we drove the Road of 1000 Kasbahs, stopping at Tinghir to see the Todra Gorge before arriving at the Oasis of Skoura and our hotel, Chez Talout. As usual, we were greeted with mint tea, cookies and dates. Lovely.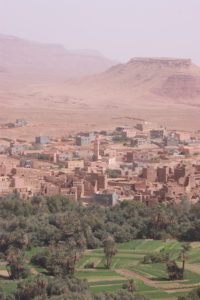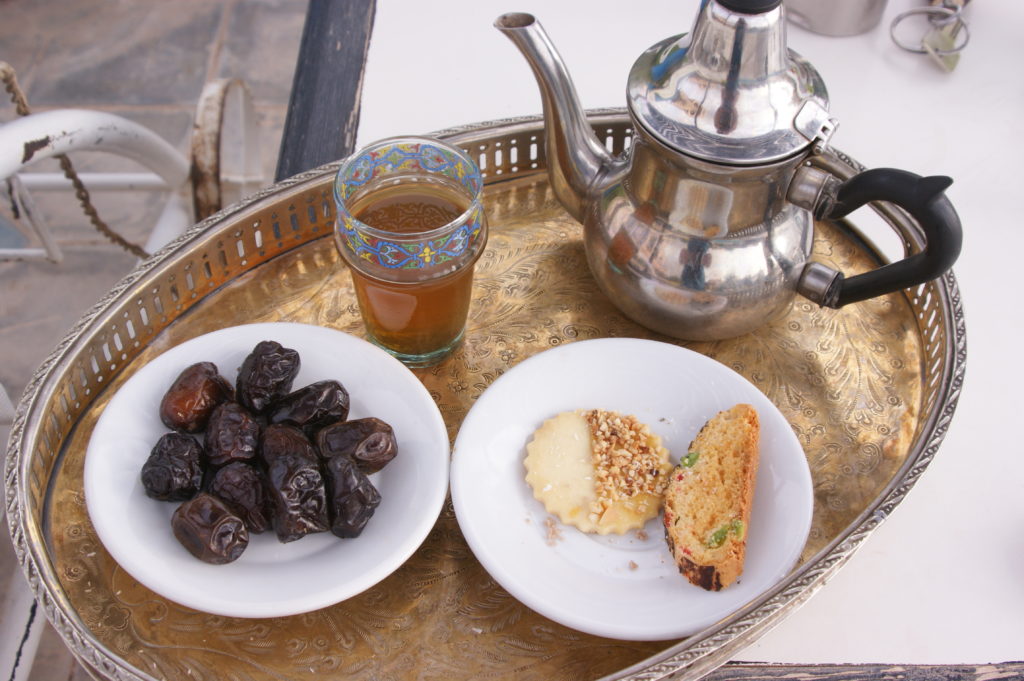 The next day we had a bike tour of the area with our guide, Toufiq. We rode through the palm grove, visited the Amridil Kasbah (stunning!) and many other ruins in the area. We also saw the khettarrat or underground aqueducts used for irrigation. We returned to our hotel around lunch time then spent the afternoon at their great pool. We took a long walk around the area before dinner.

We left at 9 the next morning for Ouarzazate (pronounced whar-za-zet), considered the film capital of Morocco. We toured the Ait Ben Haddou Ksar. They sell interesting art here, putting sugar in the paint then heating the paper to turn the sugar brown. You can watch some of the artists creating these cards and small paintings. We stopped at Taliouine for some great saffron tea and visited a saffron cooperative. We also were very excited to see the tree climbing goats right outside of town. The shepherd was there with his goats and let us both hold one of the babies.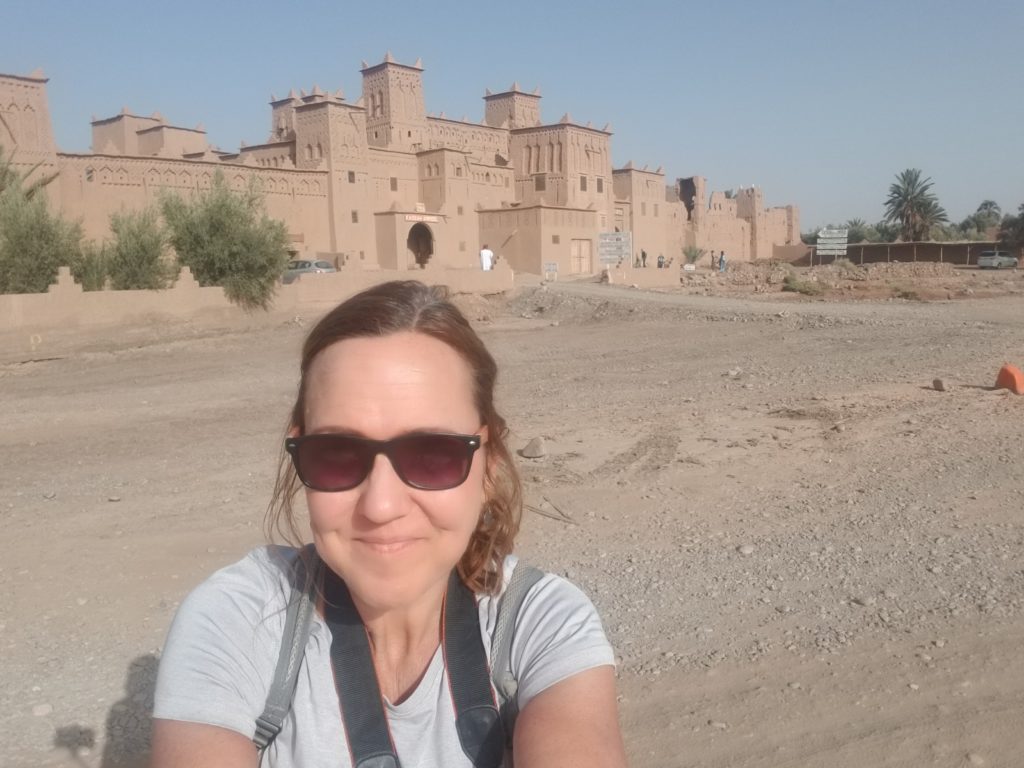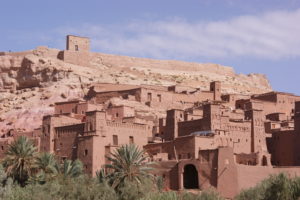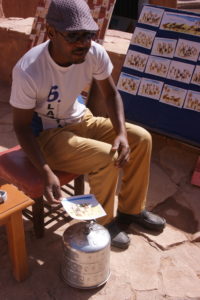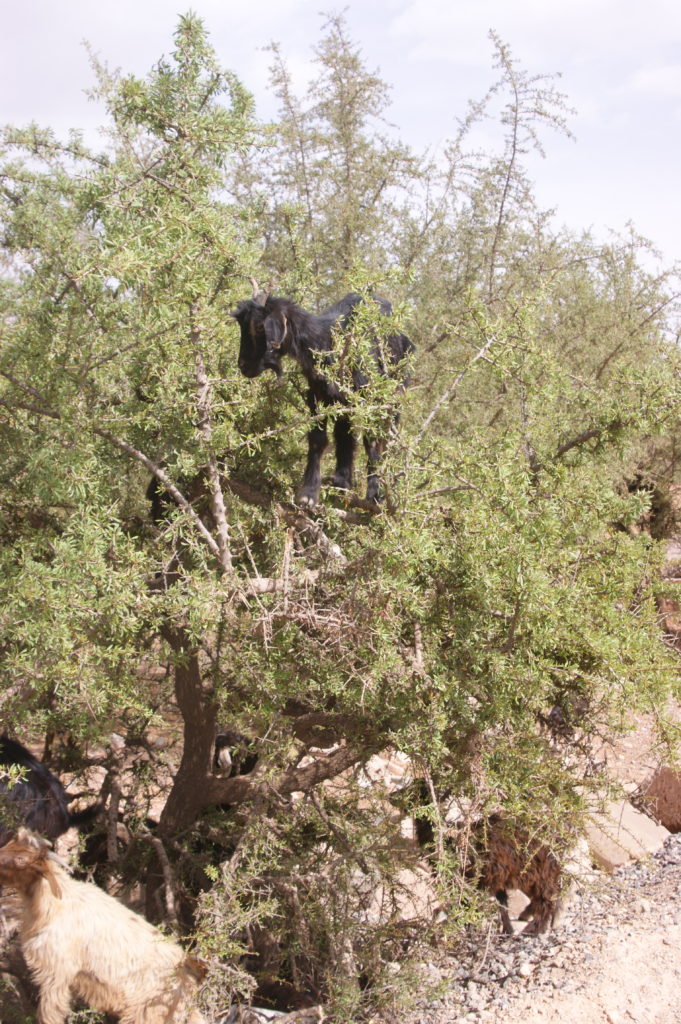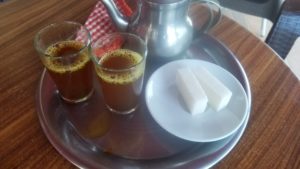 We arrived at Taroudant late afternoon where we were staying at the beautiful Riad Dar Zitoune. They let us spend an hour in the pool despite it closing at 6. We enjoyed cooling off, although the maintenance guys were hovering, wanting to cover the pool, so we didn't stay at long as we wanted. The grounds of the hotel were stunning as well, gorgeous gardens separating multiple small bungalows. We were in "Lemon" bungalow. 
They had fantastic food at the hotel and we savored a multi-course meal for dinner. They deliver breakfast to your room, if desired, and each room had a small porch with table and chairs so we had eggs and bread while sitting outside enjoying the beautiful morning. I felt quite special!

Mohammed picked us up to visit the town. We spent a few hours wandering the souks then asked to be dropped off to walk the walls of town. There is only a short area where you can actually walk on the walls but we completed the 7 km walk around the entire town. Mohammed picked us up to visit an argan cooperative. The argan trees in the area, the trees that the goats climb to eat the small buds, are used for oil. The oil can be used for cooking or cosmetics. We both bought some argan products.

We spent a few hours in the pool before having another great dinner. The next morning we had breakfast brought to the room again, how could we pass up this luxury? Then we were on our way to Marrakech! Mohammed gave us a choice of routes, there was a 3-4 drive via Amskroud on the highway but we chose the 6-hour drive over the High Atlases for the scenery. We also wanted to visit the old mosque of Tinmel. This was built in 1156 to commemorate the founder of the Almohad dynasty. It's no longer used so it is open to non-Muslims and is now a UNESCO heritage site. This was one of my favorite sites in Morocco. We visited late afternoon and had great light, not to mention the entire site to ourselves with a friendly and informative local explaining the building.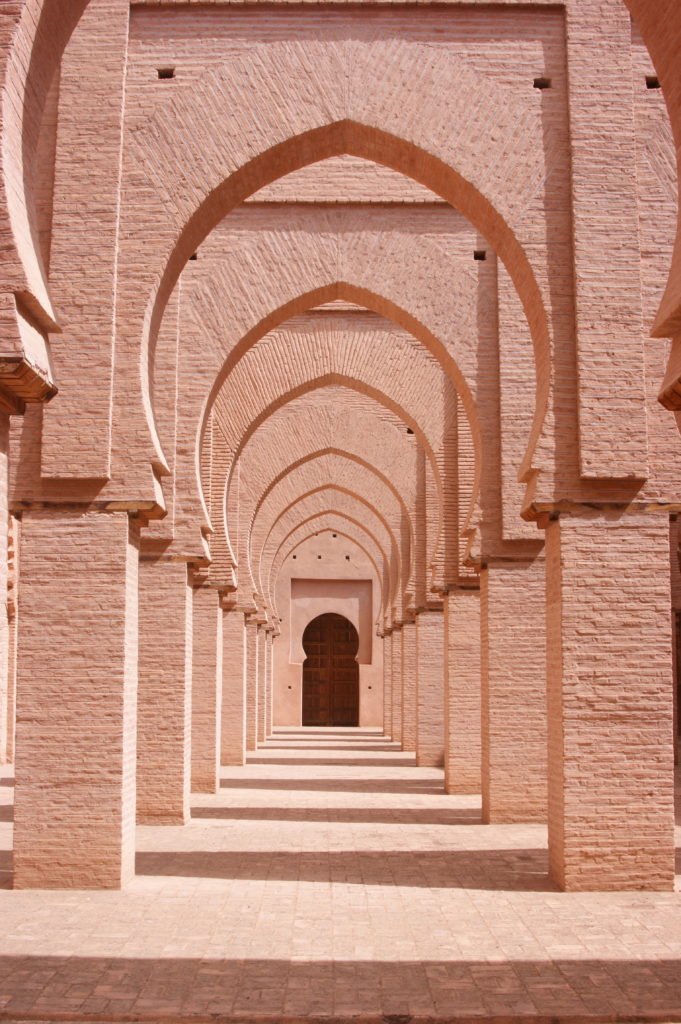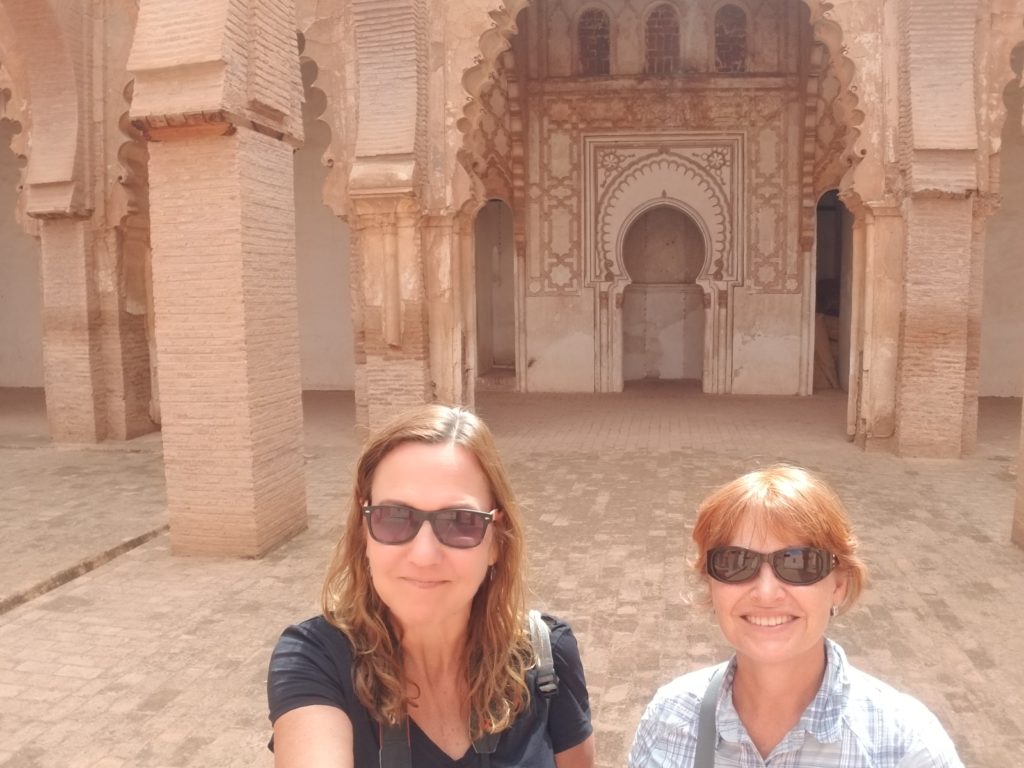 Arriving at Marrakech we checked in to the Riad El Walida. We had a nice room and it was conveniently located by one of the walls, but it was privately owned. The owner would go into our room a lot and was continually unplugging items we were charging. She didn't speak English but the maid/cook did, a very nice young lady, and we asked her to please leave our items charging but it didn't help. We also wanted to leave a small light on because the light switch was across the room, and it helped us find our bearings when coming in after dark, and our only windows faced the inner courtyard. But she turned that off every night too.

Breakfast was just bread, and we had been spoiled with lots of breads, goat cheese, honey, yogurts or eggs at all the other locations. We spent three nights here and it was our least favorite hotel. Kelly and I walked down to the main square, Djemma el Fna (also Jemaa el-Fna), enjoying the sites, people watching and had dinner at one of the pop-up restaurants on the square.

We were picked up after breakfast for a tour of the city. We walked down to the El Bahia Palace then got into the van for a visit to the Majorelle Gardens, formerly owned by Yves Saint Laurent, the Saadian Tombs, spice markets, then went to a late lunch at the Amal Women's Cooperative. I highly recommend a visit if you are in Marrakech. They are a non-profit that help woman with culinary skills training to work in restaurants or open their own. We had a delicious lunch. Get the goat cheese pastry with spicy slaw! We both started with that then had a lamb burger and some chicken kabobs to share.

After lunch we visited the medina, the trade quarters and returned to Djemma el Fna. On our drive back across town we saw some of the Dead Tree Sculptures in the Gueliz area. We wandered around and found another good place for dinner. We were both really enjoying Moroccan food!
The next day was our final full day in Morocco. We had a free day on our own. We visited the Jewish Cemetery, Dar si Said Museum, then wandered the square and trade quarters again looking for a specific restaurant we wanted to try, Nomad. We walked down to the Koutoubia mosque to see the minaret then walked through the gardens and back to the square, where I had a henna tattoo from Ayesha. We spent an hour relaxing on the roof of the hotel and had a few beers we had stored in the fridge before going out to dinner at a restaurant up the street overlooking the Bahia palace.

We were up early the next day for a 2-hour drive to Casablanca to catch our flight home. What a fantastic country and memorable trip.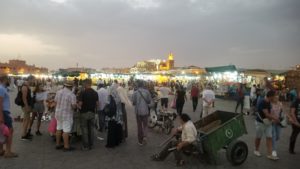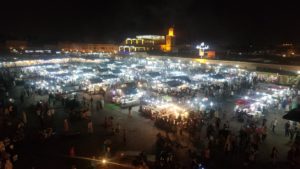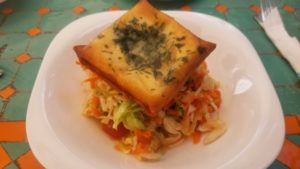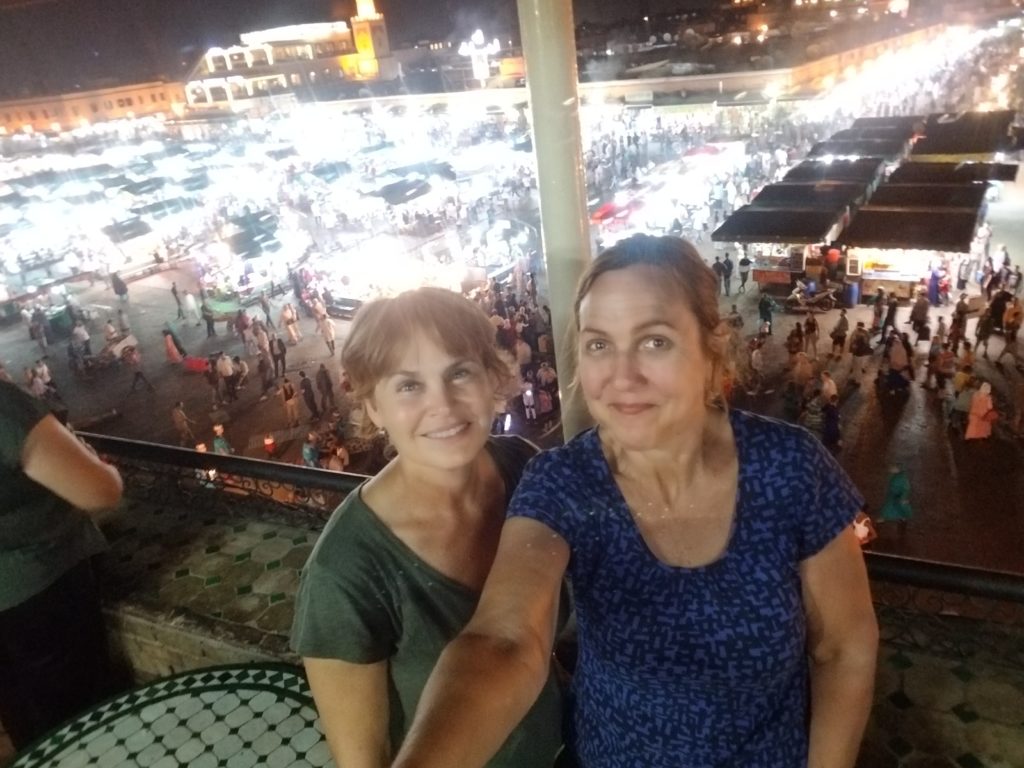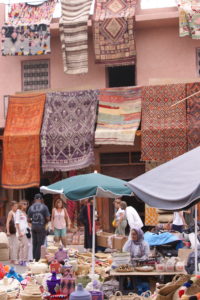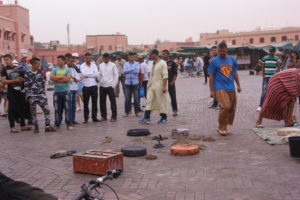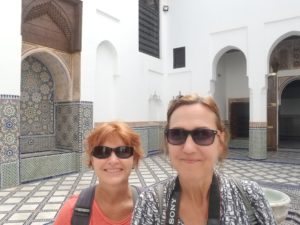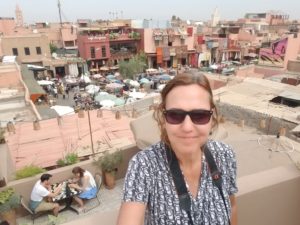 ** All photos property of Lisa, not to be copied or reproduced **