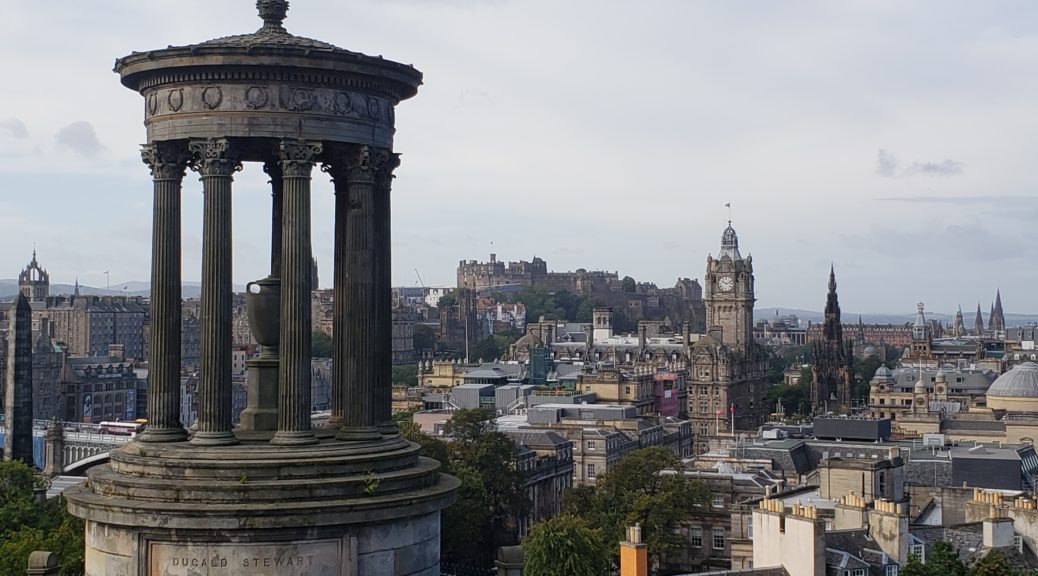 Now that my daughter is married, it's harder to drag her away for a trip. My friend Kelly can only plan one trip a year with me as she goes to lots of horse clinics (she's quite the equestrian) plus feels like she has to save SOME vacation time for her husband. So, I travel solo sometimes. I've been to Canada on my own, visiting Montana and North Dakota on the way home from Banff and Jasper. And I've been out to Colorado a couple times by myself. But Scotland, in August and September 2018, was my first big overseas trip solo.
I have wanted to see the Edinburgh Military Tattoo for years, so planned my trip around that schedule. That meant I had to visit in August. August is a crazy busy time in Edinburgh. Besides the Tattoo, the huge Fringe Festival is going on, plus the Edinburgh Art Festival, Edinburgh International Festival, and the Edinburgh International Book Festival. Lodging is more expensive and harder to find. I booked my tickets for the final night, August 25th, to see the closing night ceremonies and fireworks. I bought them online in December as soon as they went on sale and planned the rest of my trip around those dates.
I flew in a couple days prior to make sure I wouldn't miss it, as tickets were expensive. My first day in Edinburgh, I did walk the Royal Mile. It was packed, literally packed, because of the festivals, so I didn't do much but just enjoyed the sights. I had lunch at the food truck, Tupiniquim. I read about this on another website, and it's worth searching for. It's a small van that makes wonderful Brazilian Crepes. I recommend the "release the goat"; chicken, goat cheese, spinach and a spicy sauce. You'll probably have to wait as they only have two grills, but you can order and come back. I crossed the street to a pub and had a beer while waiting 15 or 20 minutes.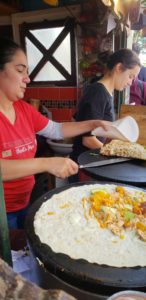 I took a free walking tour @ 1, from Edinburgh Free Tour as a great overview of the city and to see the highlights. We saw the old Parliament building, St. Giles (I returned later for a tour of the roof), Greyfriars Kirkyard, Victoria Street and a few of the Closes off the Royal Mile. Greyfriars is a must-see for Harry Potter fans, and I went in search of the graves of Moodie, McGonagall, and Thomas Riddell. I took the Edinburgh Free Tour Ghost Tour a few weeks later when returning to Edinburgh.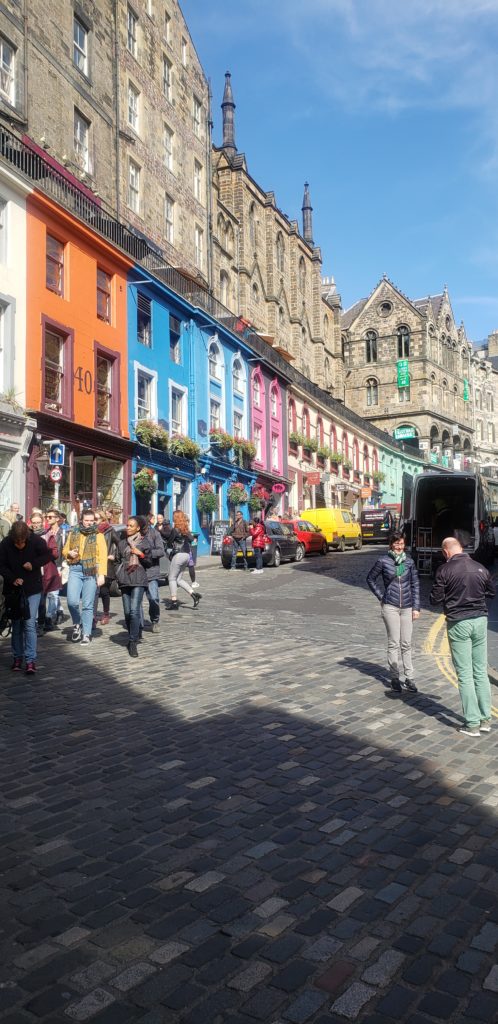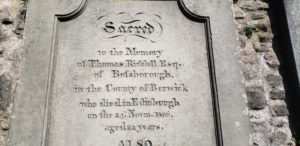 The next day I had booked a tour of the new parliament. This is a great building and the tour went into detail of all the wonderful architectural designs. They have a general Scottish Parliament Tour which I had booked in advance. Right after, they started the Architectural Tour: Democracy by Design. There was an opening so I joined them for this second tour. There is some redundant info but the second tour goes into greater detail on all the design details. If you have time, I recommend one of the tours.
I attended the Tattoo that evening. If you've not heard of this, it is military bands performing in the esplanade of Edinburgh Castle. For more information see their website: Edinburgh Military Tattoo. It was an amazing night. I especially loved the Swiss drummers, but there are dozens of different countries and bands participating, dancers, uniforms, great costumes, special lights on the façade of the castle. Put it on your must-see list, it was wonderful.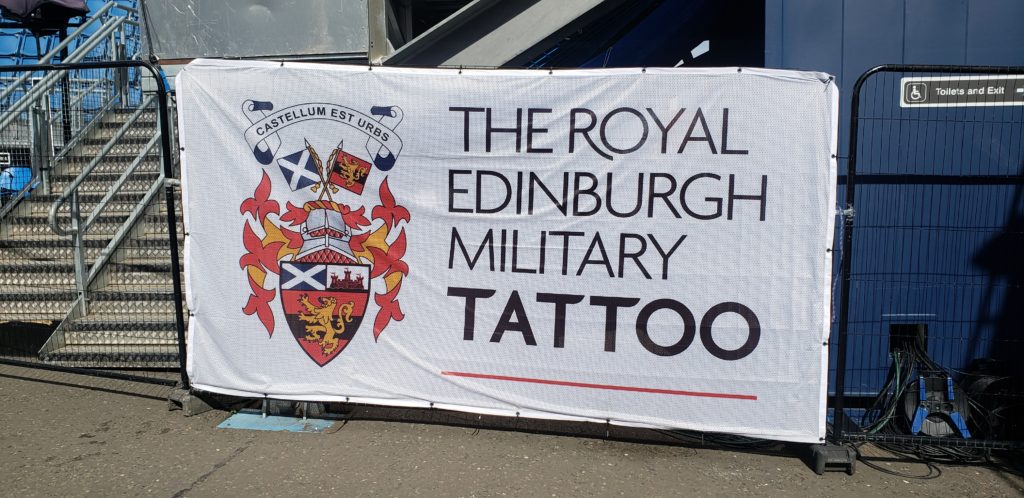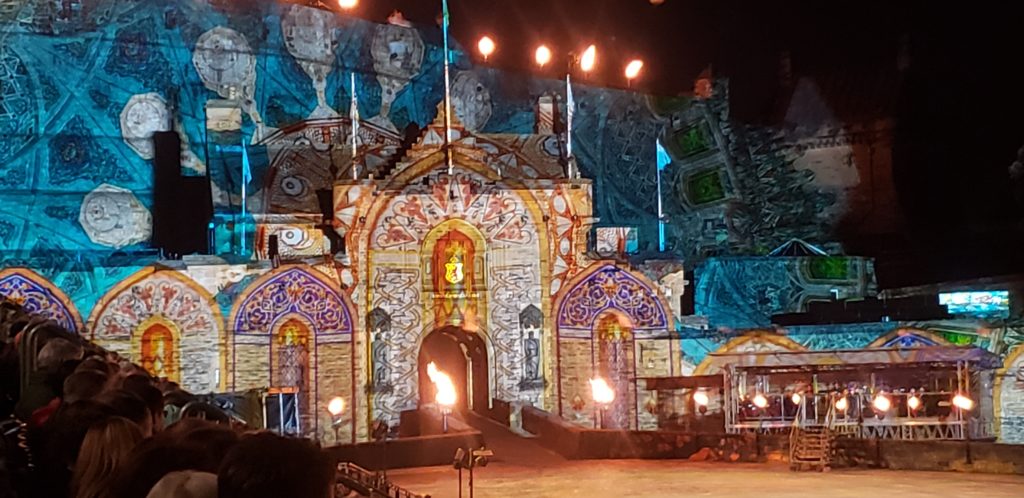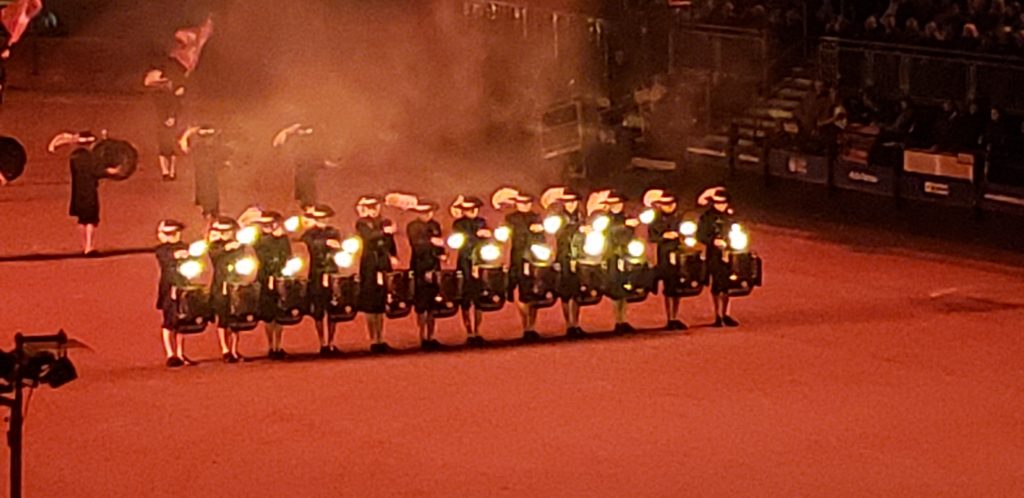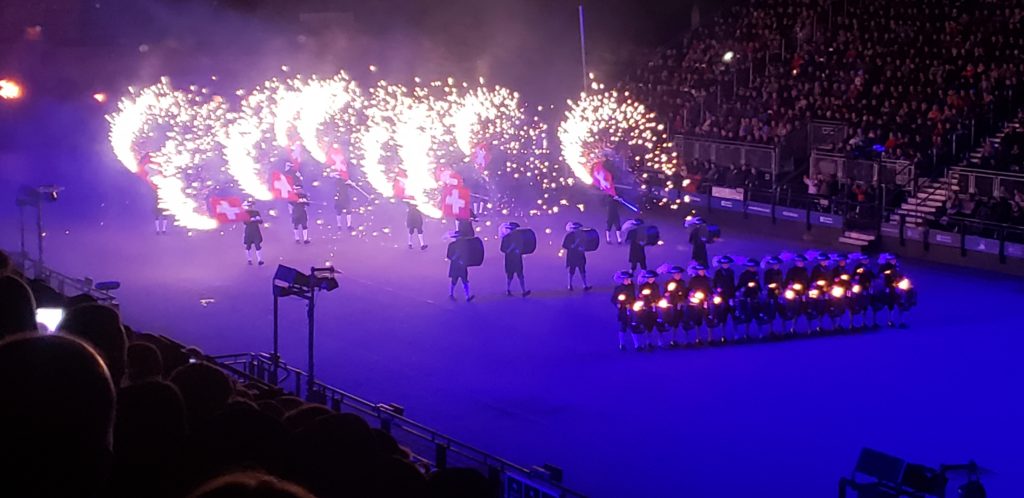 The next day I had another free day in Edinburgh before renting my car to visit the rest of Scotland. I attended a few free Fringe Shows, several not worth mentioning. But I saw Tim Motley in "2 Ruby Knockers and 1 Jaded Dick", which was great. I think it would be worth spending a week or so in the city to see more of the shows, but you should reserve shows in advance. The free shows are first-come, first-served, they do take donations at the end of the show. I spent most of the day just walking, logging over 13 miles. I walked out to Leith Waterfront, and through Dean's Village and Stockton. Definitely leave the Royal Mile as there is much more to see in this city.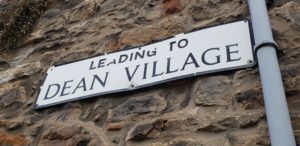 I returned to the airport Monday to pick up my rental car and head out to central Scotland. I've driven on the left before, a couple times in New Zealand, but it's intimidating regardless and you have to keep focus.
I had planned to stay at Durness but got an email cancelling my reservation the day before because of a broken water main, so went online quickly and found a B&B in Killin, the lovely Dall Lodge Country House. Great hosts, a couple from Switzerland, comfortable rooms and a full Scottish breakfast, where I had my first taste of haggis! Monica was able to recommend places to visit, including seeing JK Rowling's country home and a beautiful local walk.
On the way to Killin, I stopped to see Stirling and Doune. Stirling Castle makes every list of "Castles to see in Scotland" and is a must-see! Most of the buildings are from the 15th or 16th century, although the castle has been there since the 12th century. The location, on Castle Hill, is magnificent as well as all the buildings. It is considered one of the most important castles in Scotland, both historically and architecturally. It was the principal royal residence of the Stewart kings, James IV, James V and James VI.
Doune is the "Monty Python & the Holy Grail" castle. It appeared multiple times in the movie as Camelot, the Castle of Guy de Lombard, with the Trojan rabbit, Swamp Castle, and Castle Anthrax. The audio tour is by Terry Jones. What fun! I had a few minutes alone in the large dining room so did sing a bit of Spamalot! If you're an Outlander fan, I understand they also used Doune for filming, but I've never seen that show. There were extra entries on the audio tour with Outlander information.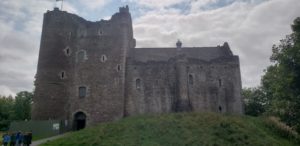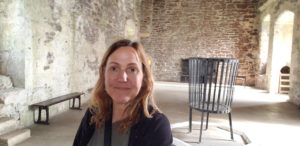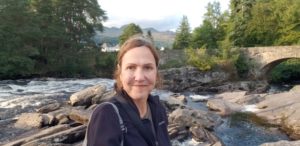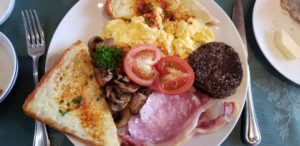 I spent a few nights in Killian. I hiked to Ben Lawers, did the Edramucky Trail, drove to Glen Lyon and saw Fortingall Village with a 5000-year-old yew tree, and some old celtic stone circles. I also drove to Kenmore to see the Falls of Archarn. Within walking distance of the hotel are the ruins of Finlarig castle and a great trail around the lake. Most of these roads are single-track so require lots of patience and care. I am so glad I had the opportunity to visit this part of Scotland. If my other hotel, in Crianlarich, to the southwest, hadn't cancelled, I wouldn't have come to this area.
The next day, I headed to Fort William. I stopped and saw Kilchurn Castle on the drive; these are great ruins from the 15th c. Oddly enough, despite making the top 10 on my Castles of Scotland map, it was hard to find. The entrance only had a couple of plastic poles by it and when you pulled into the parking area there were lots of construction vans but little else. I wandered around for a few minutes before seeing a pretty small "this way to castle" sign. There is a nice path out to the castle and great views of the lake. It's worth the trouble to find.
I also stopped at Inveraray Castle the ancestral home of the Duke of Argyll, Chief of the Clan Campbell. I climbed the bell tower in town for view of the lake and castle before my tour. The castle is on the shores of Loch Fyne, the original castle is from the 14th c. and was added to after a fire in 1877. Before going to my hotel, I also stopped by for pictures of Castle Stalker, or the "Castle of Aaaaaarrrrrggghhh", from the final scene in Monty Python's Holy Grail, but hadn't booked the boat ride or tour to the castle. It would have been fun to go to the island but I wasn't sure of the date or time to book in advance.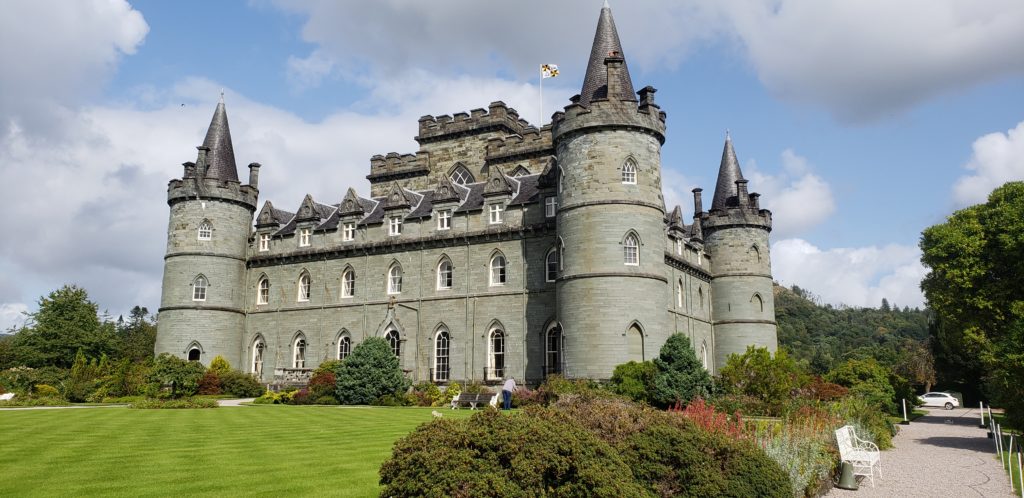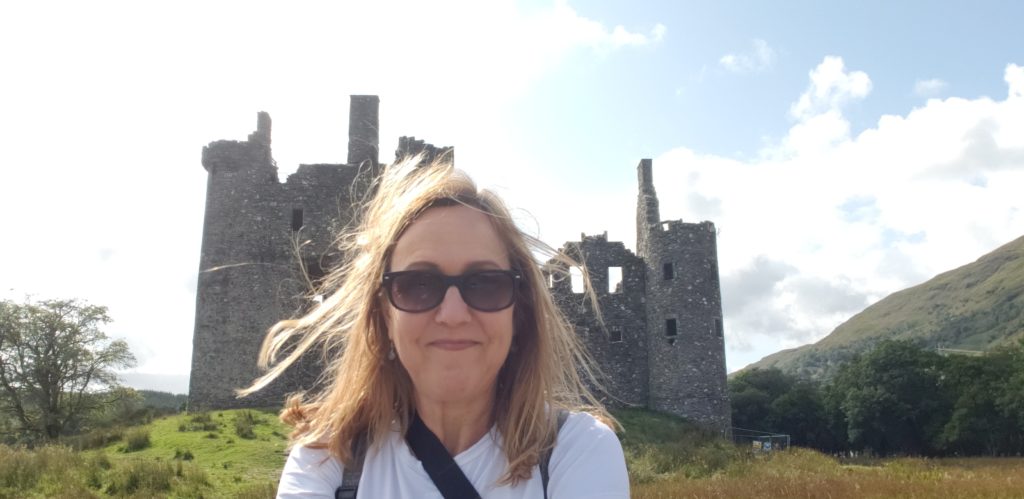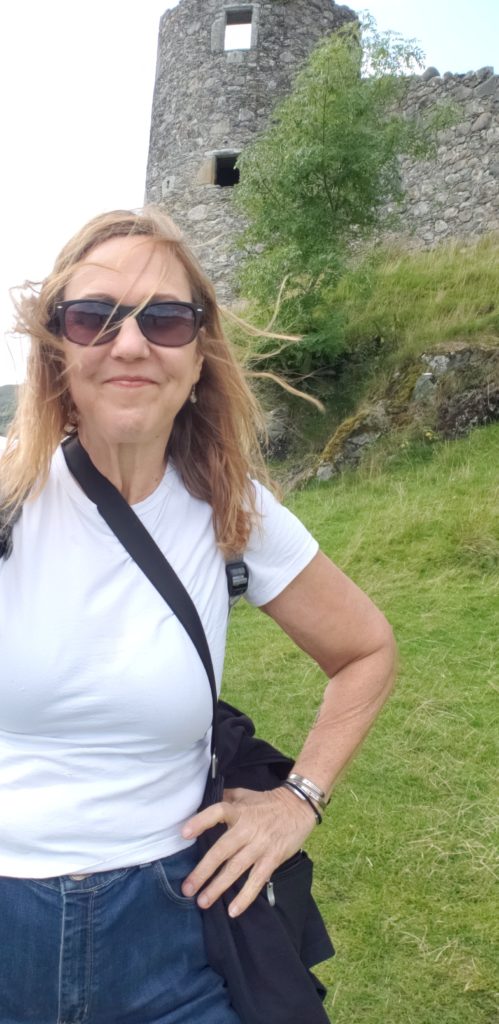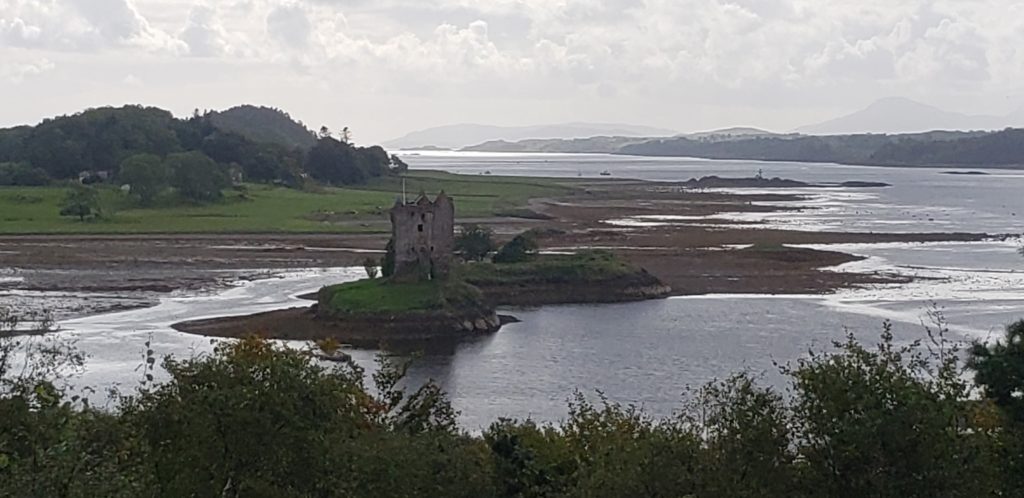 I stayed at the Lothlorien B&B outside Fort William. This place caught my eye because of the name. In case you haven't picked up the fact from my Harry Potter and Monty Python references, I'm kind of a nerd. My favorite movie is the Lord of the Rings trilogy, so I HAD to stay at the home of Celeborn and Galadriel. Unfortunately, they weren't in residence but the hosts were wonderful, and they served fresh eggs from their chickens for breakfast.
While in Fort William, I drove over to see the Glenfinnan Aqueduct, AKA "The Hogwarts Express". I would have liked to take the train from Fort William to Mallaig but didn't have an extra day for the round trip. Next time! There were dozens of people all around the hill waiting to see the train at 10 am. The aqueduct is worth seeing even if you're not a Harry Potter fan.
One of the main reasons I came to this area of Scotland was to visit Trossachs National Park. After seeing the aqueduct, I spent the rest of the day in the Glen Coe area, hiking the Three Sisters, An Torr, Signal Rock, Nevis Gorge, and Hill of the Sun, or Tom a' Ghrianain. I went on to Glen Coe Lochlan where I did multiple walks on the lochlan, mountain and woodland trails. Glen Coe is considered a must-see part of Scotland from all the references I've read and after visiting, I definitely agree. Mountains, valleys, lochs, forests, just stunning.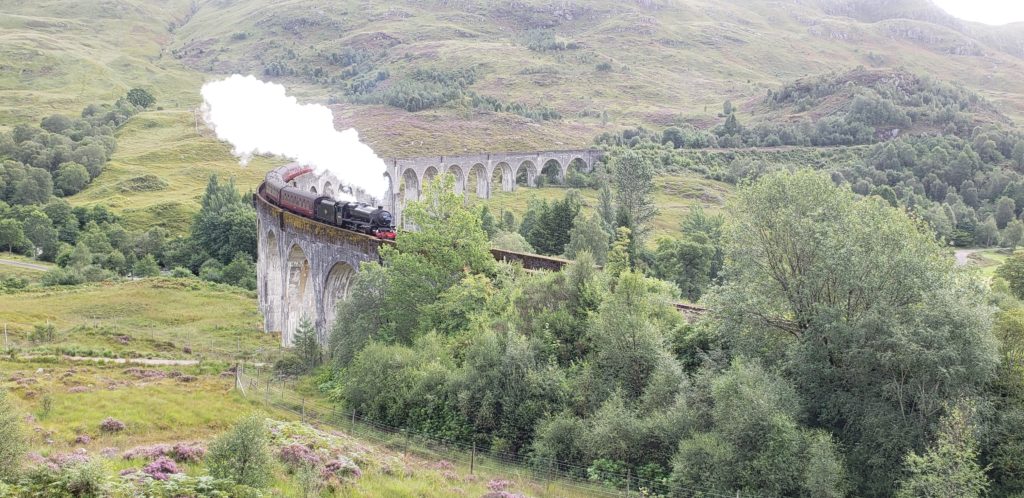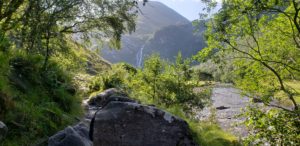 The next morning I did a hike in Glen Coe at Steall Falls. For the Harry Potter fan, this is where the dragon chased Harry during the Triwizard Tournament. Movie only of course, since it didn't happen in the book. Beautiful area.
I stopped at Inverlochy Castle ruins on my way to Skye. You won't need a lot of time, as it's mostly just a shell, built about 1280 by John Comyn, Lord of Badenoch. You will need more time at the amazing Eilean Donan Castle. Built on 3 sea lochs, it was part of the Jacobite uprising during the 17th and 18th c. Blown up by government troops it was left in ruins for 200 years until it was purchased in 1911 and rebuilt over the next 20 years. "You haven't seen Scotland if you haven't seen Eilean Donan".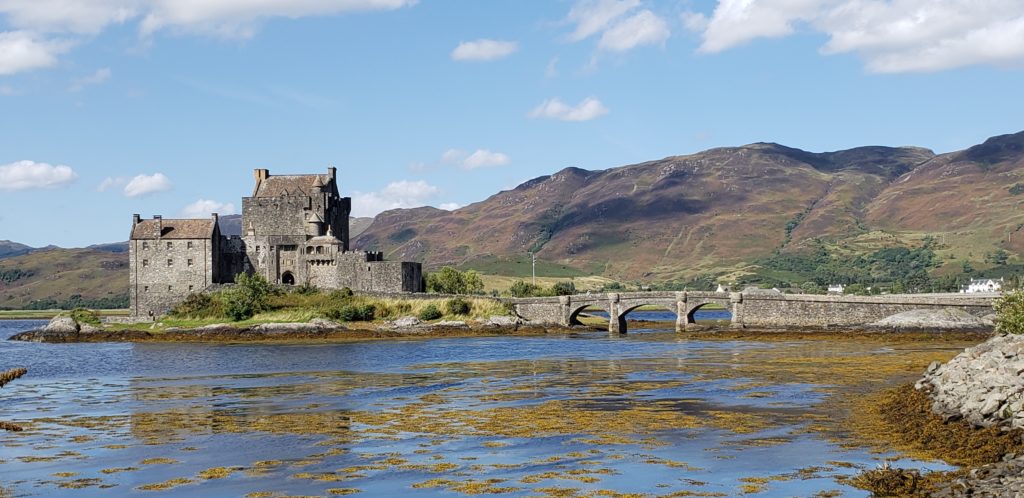 The drive from Fort William to Skye was beautiful. I visited Trotternish Peninsula, north of Portree, to see Kilt Rock, and did a short hike in the Quiraing, before going to my lodging, the Lighthouse B&B. Centrally located, and a decent room but you never saw the hosts. Breakfast was self-serve, left on a tray in the refrigerator. It was a little odd, I felt like an intruder coming into the house.
I ate dinner that night at the Caledonian Cafe in Portree, the full Haggis dinner with Neeps & Tatties (turnips and potatoes) in whisky sauce. I also had my first taste of Skye Beer, I had both the Black Skye and Red Skye. The Black was an excellent scotch ale, roasted barley and brewed with oats and heather honey. Probably one of my favorites from the trip.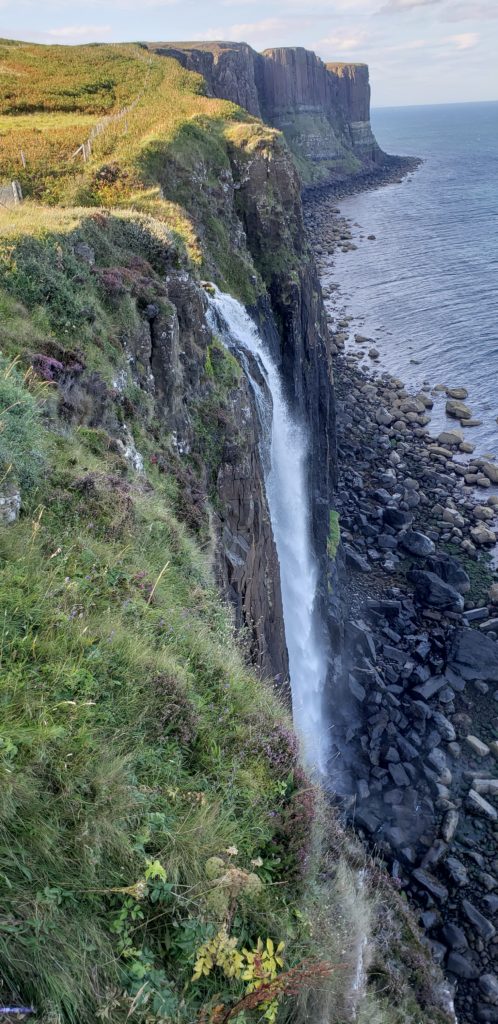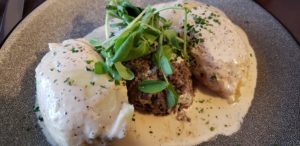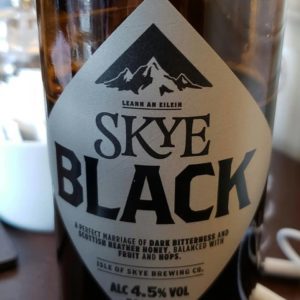 My next day was very full as there was a lot to see and do on Skye. I started out early after breakfast. I started at Dunvegan Castle, owned and lived in by the Clan MacLeod for 30 generations. Make sure you leave time for the gorgeous gardens!
There are lots of great hikes on Skye. I visited Neist Point and did the Lighthouse Trail, which is the westernmost point on Skye. It's a great hike, very steep paths but amazing views. I visited the Talisker Distillery, did the tour and tried some of their scotch, then went on to the Fairy Pools. These are quite a tourist attraction and had lots of visitors but still definitely worth the walk out to see them. I returned to the Trotternish Peninsula to hike to the Old Man of Storr. So glad I quit smoking as this was a hell of a hike. Damp, windy, steep but I made it to the top! Most of the people I saw turned back before the top, and I didn't see anyone else at the top. To get to the stone, the last 20 yards or so are on wet grass and very steep and slippery, but I had come all that way, I wanted to get to the TOP and touch the stone. I conquered the Old Man! It was a long busy day and I only had a sandwich for lunch I had made with leftovers from breakfast so was starving. Even mid-September, technically shoulder season, it was still very busy on Skye and all the restaurants I tried to get into in Portree were full and had long waits, so I went back to the Caledonian and had a good burger and a couple of Skye Blacks.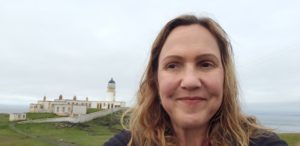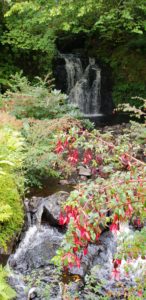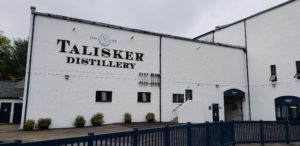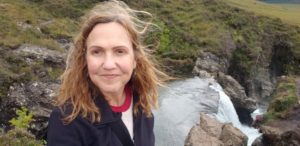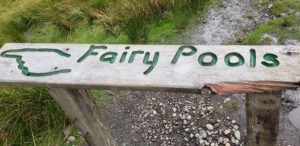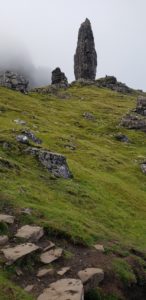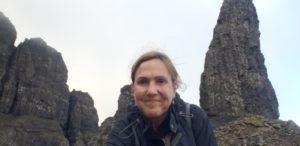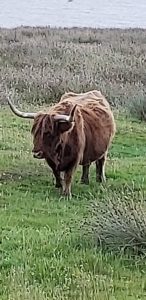 I had a long drive on Sunday, the longest of my trip. I drove straight from Skye to John O'Groats, on the northeast coast. Fortunately, once I got off Skye, it was all great roads and it was an easy trip. It took me about 5-6 hours. I stayed at the Alba Sunrise just south of town. A small single room, private bath, great friendly hosts, Ann and Marco, and fresh eggs from their chickens for breakfast. If you're in the area, I recommend this very comfortable B&B.
I came to John O'Groats to visit the Orkney Islands. I had booked the full day tour with the John O'Groats ferry as I wanted to see Skara Brae. I do NOT recommend this tour, however. It wasted way too much time in the towns of Kirkwall and Stromness, with nothing to do, while we were only given an hour at Skara Brae. Despite what the bus driver said when dropping us off, an hour is NOT enough. We had spent 1 ½ hours in Kirkwall when first arriving on the island, then drove to Stromness where we wasted another hour. Basically, it was lunch time for the driver, as all the other passengers had either eaten in Kirkwall or picked up take-away food and ate on the bus.
We didn't get to Skara Brae until 2. You definitely need more than an hour to visit the ruins, and Skaill House, the museum with most of the items found on the site, and the exhibit in the main visitor center. I spent the entire hour just drinking in the incredible ruins of Skara Brae, these 5000-year-old Viking ruins are amazing!! I didn't have time to go to Skaill House but looked longingly over at the museum as I went back to the visitor center. I hope I have the opportunity to get back to the Orkney's on my own.
We visited the Ring of Brodgar for about 15 minutes on the way back to the ferry. The 6-mile ferry ride is quite enjoyable. I had dinner in town before spending another night at Alba Sunrise. If you are planning on a visit to the Orkney Islands, book the ferry, rent a car and stay a couple nights to see much more than you can on this day tour.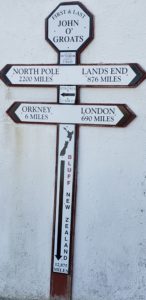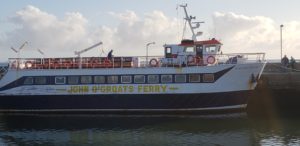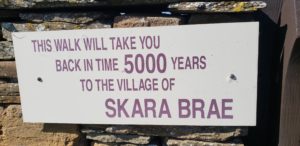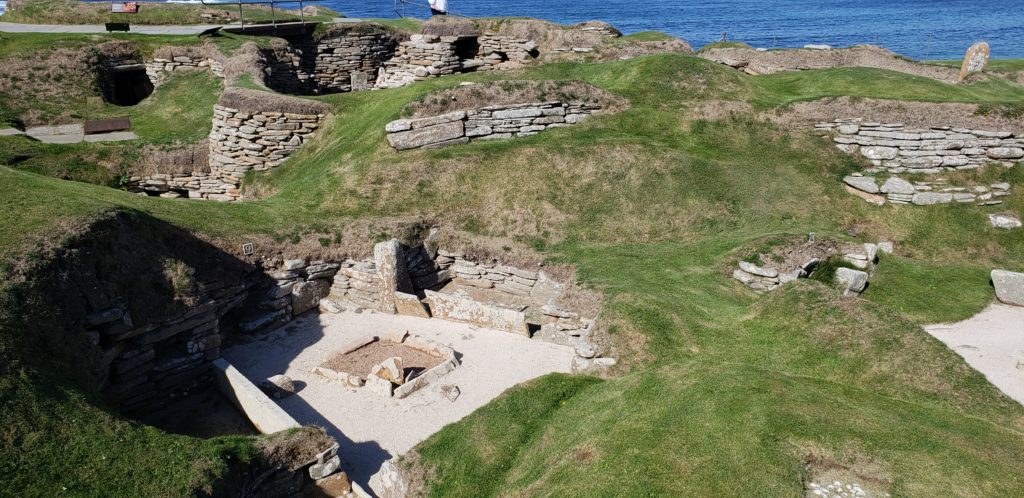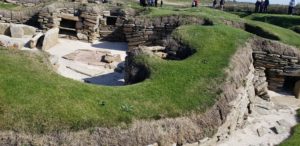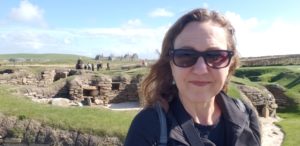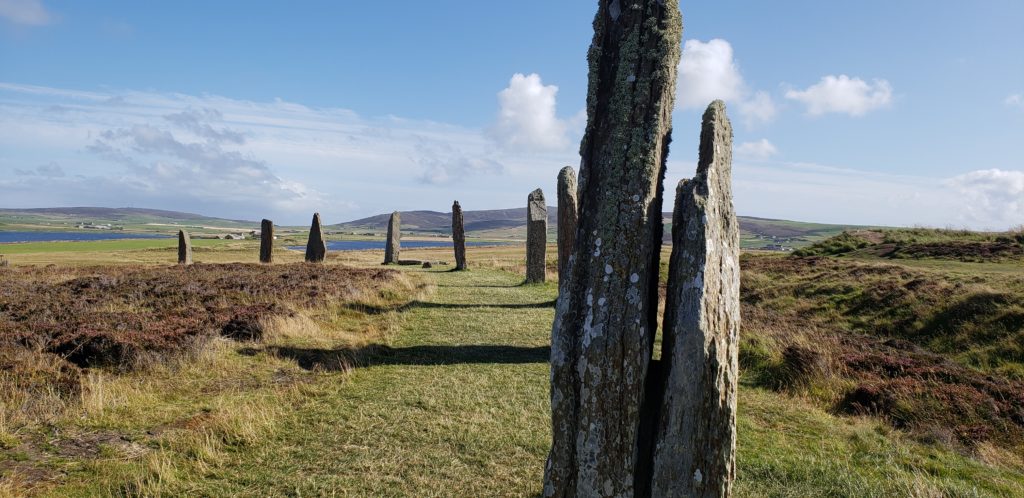 The next two days I drove slowly down the east coast. This is part of the North Coast 500. There is also an app you can download for your phone. I hope to return to Scotland to do this entire drive. They recommend 2 full weeks for the drive because of all there is to see, and I understand why, just spending a couple days driving from John O'Groats to Inverness.
I spent one night in Golspie, at Burnwood, just 90 minutes south of John O'Groats but it was a full day. Burnwood was a lovely private home, I had a huge room, very comfortable and an amazing bathroom. I wish I had this room at home! Conveniently located, I was able to walk to several restaurants and had some good fish and chips and Black Isle Brewery beer at the Trawler Inn.
My first stop after leaving John O'Groats was Sinclair Girnigoe at Caithness, then the Castle of Old Wick and the Buchoille castle ruins. The Wick Heritage Museum is worth a few hours if you have the time. I found it very interesting and definitely worth a stop. I hiked down the Whaligoe Steps and visited the Cairns of Get, the Grey Cairns of Camster (bring a headlamp to get into the cairns) and the Hill o' Many Stanes.
My next day was just as busy, driving from Golspie to Inverness. I visited the huge, beautiful Dunrobin Castle. As amazing at the castle rooms and the gardens are, you have to stay for the Falconry show with Andy. He gave an amazing demonstration of his birds of prey, trained owl, hawk and falcon. I got a selfie with Cedar the Owl! Very cool. I stopped that afternoon at Black Isle Brewery. Unlike breweries in the states, it didn't have a tap room but you can sit and try a few beers. I had a few tastes and then bought several bottles to take away. I found their restaurant in Inverness, close to my hotel, and had a great pizza and more variety of their beer for dinner that evening.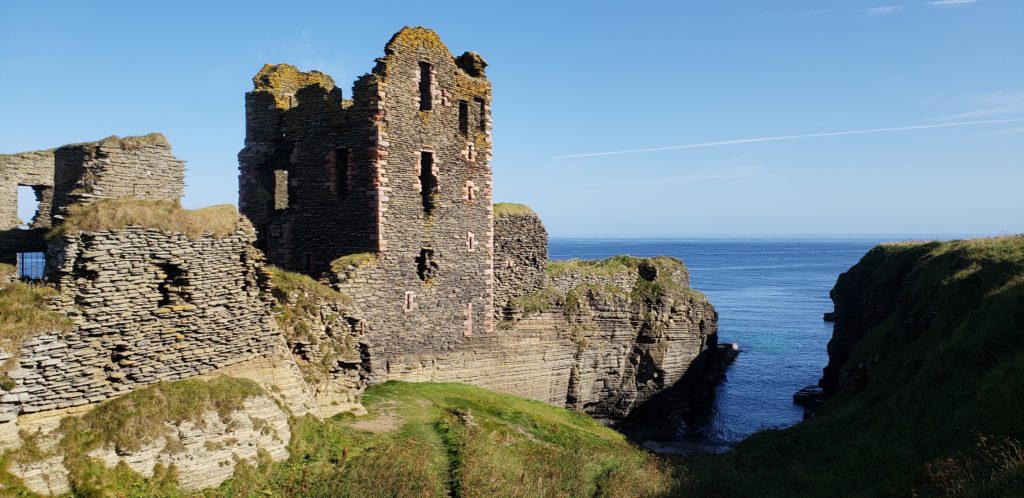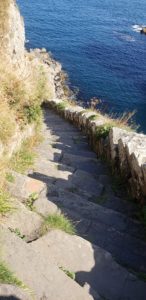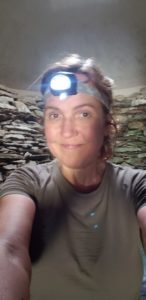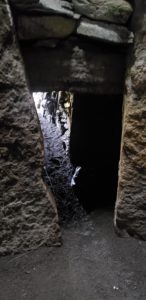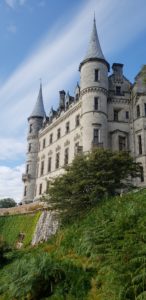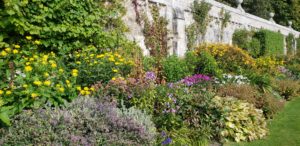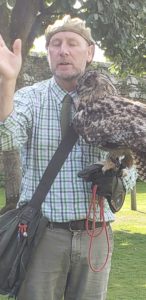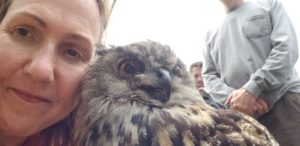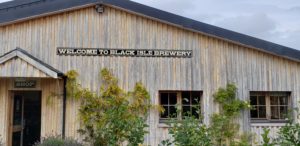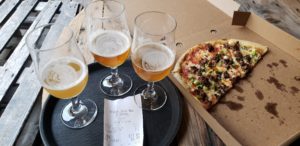 The next day, Thursday, I did a 4-hour tour of Loch Ness, starting in the Caledonian Canal with Loch Ness by Jacobite. There are several companies providing tours. It was a touristy morning but I loved it. We spent an hour traveling south through the canal and the lake to Urquhart Castle, where we had two hours to visit. This was a good amount of time to visit this castle. I read varying opinions of this castle, from not worth seeing to a highlight of Inverness. I liked it. I walked all over the ruins, had time to read the exhibits at the visitor center, including a video history from the 6th to 17th c. I saw the dungeon, the tower house, the great hall, chapel and had time for a short talk with a local guide. I had spent the hour to the castle outside on the boat deck to enjoy the views, despite it being cold and windy, but on the way back stayed inside the cabin. Besides trying a beer, Nessie's Monster Ale, it was interesting watching the sonar displayed on two big TV screens. The loch is very deep and maybe it IS possible that Nessie and her relatives are still hiding deep in the loch.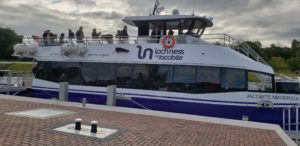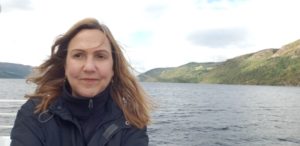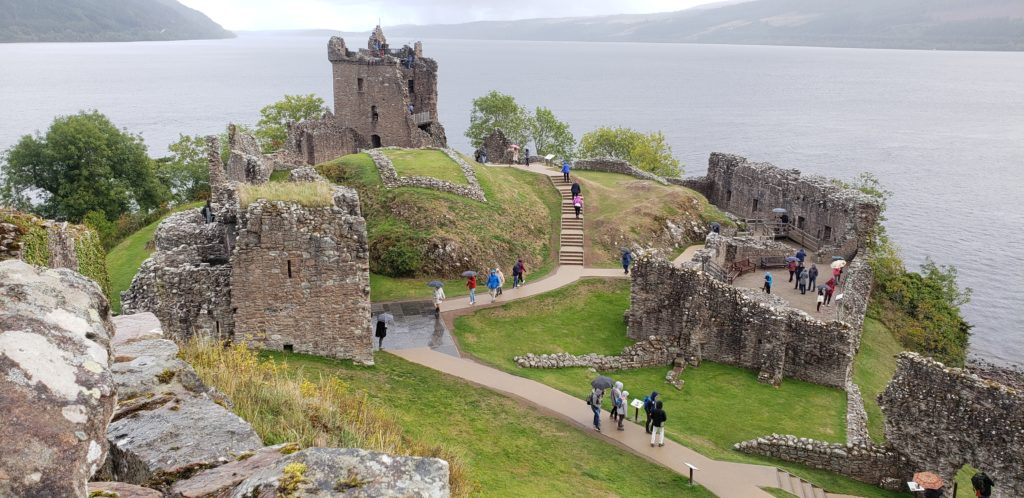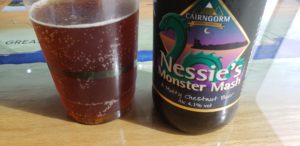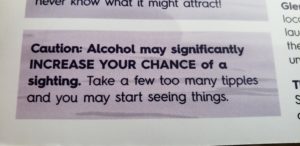 After Inverness, I had several days in the Cairngorms National Park, staying at Aviemore at the Rowan Tree Country Hotel. This was the only full-service hotel I had booked on the trip. It had a nice bar and restaurant onsite, I had another single room with private bath, very comfortable, and they had a great staff. Lots of parking and conveniently located for visiting Cairngorms park.
On the drive to the park I stopped to visit Fortrose Cathedral and the Beauly Priory; both are beautiful ruins, from the 13c. It was early afternoon when I arrived in town, so I had time to hike the Craigellachie trail before dinner in town at the Innis and Gunn Brewery. I spent the next day in the park. I wanted to take the railway to the top but it was, unfortunately, closed. I did a short hike at the visitor center before returning to Rothiemurchus and the Glenmore Forest Preserve for longer walks. I also visited the Reindeer Center and bought tickets to visit the herd. I got to feed some of the reindeer! They are a semi-domesticated herd that mostly eat lichens but their food is supplemented with a cereal based feed. More information for the hill tour: Cairngorm Reindeer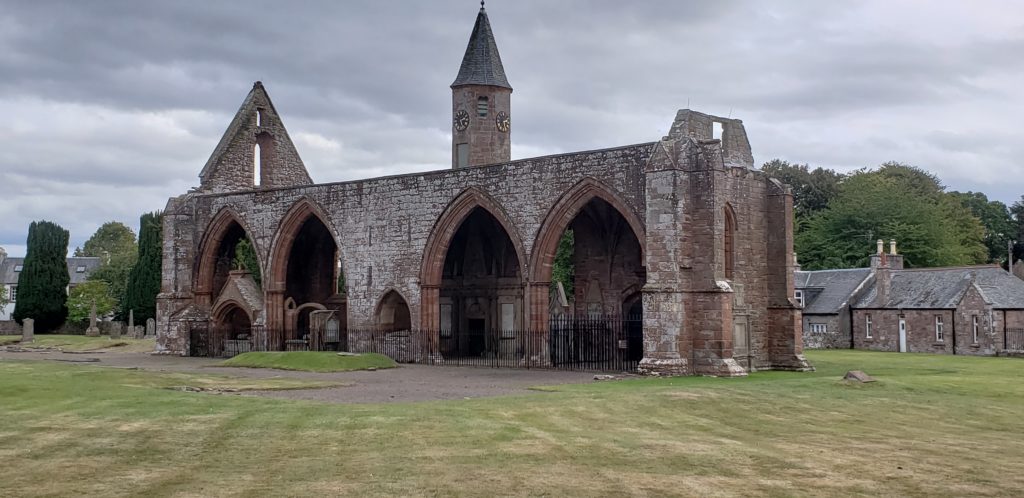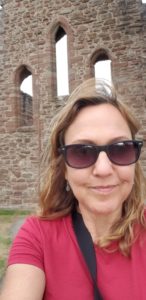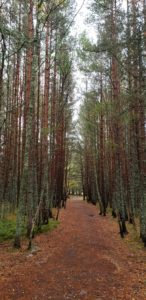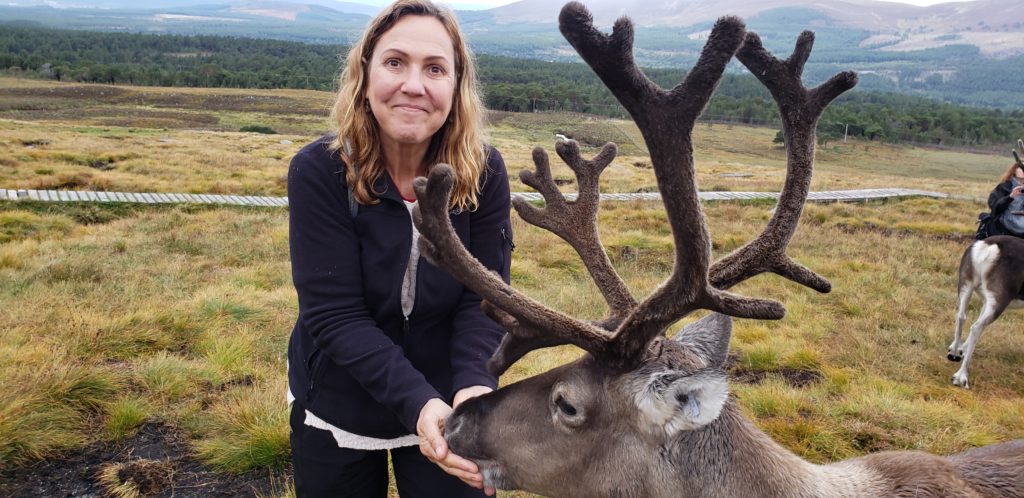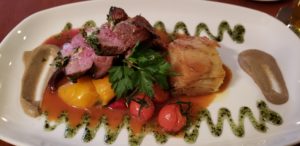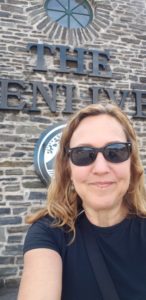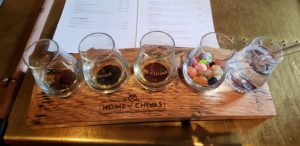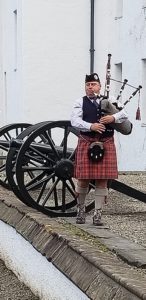 While in the area, I HAD to visit some of the distilleries along the Malt Whisky Trail in Speyside, alternating Glenlivet & Strathisla tours with hiking part of Speyside, an 80-mile trail. If you have more time here, you can visit all nine of the distilleries on the Malt Whisky Trail. I spent the night at Chapelhill Croft in Keith. A lovely home and room, friendly hosts, if a bit far from town.
I was almost at the end of my tour. I thought I'd have time on the drive to Edinburgh to stop and see St. Andrews. It is open to the public for walking the course on Sundays. However, after stopping at Braemar and Blair Castle, I barely made it to Edinburgh in time to meet some friends. My friend Teri and her wife, Renee, were bringing Teri's daughter to school where she was starting the University of Edinburgh. I was excited that our visits overlapped as I hadn't seen Teri since she quit our former employer and moved to Florida. I met them at the Queen's Arms that night. It was great meeting Renee and catching up with Teri.
I had turned my car in at the airport on the way back to town, but they had one and invited me to join them the next day to see Rosslyn Chapel. I appreciated the offer as it was an hour by bus. Rosslyn is worth seeing for anyone who likes old churches and history but made more famous by the Da Vinci Code movie. We listened to the guide then wandered the building and grounds for about an hour.
We stopped at Craigmillar Castle on the way back to town, a lovely ruin to wander through. They dropped me off in town where I visited Edinburgh Castle. The crowds during August kept me away until now. I spent several hours visiting St. Margaret's Chapel, the Crown Jewels, Stone of Destiny, the Royal Palace, the Royal Apartments, Great Hall, Long Stairs, Mons Meg cannon, and the pet cemetery. I returned the following day to see the military museums. I had bought the castle pass so it didn't cost me more to return a second time, otherwise it's quite an expensive ticket.
I met Renee and Teri for dinner at Wildfire, Scottish Steak and Seafood Bistro. They had excellent steaks. Later that night, I had a tour of Real Mary King's Close. I was expecting something more like the catacombs in Paris or Rome but this was a bit more touristy, although the guide did provide some interesting information. My final day in Edinburgh, I visited Arthur's Seat and Calton Hill after my visit to the castle. Even after 3 weeks in Scotland I feel like I was rushed through this beautiful country and want to return.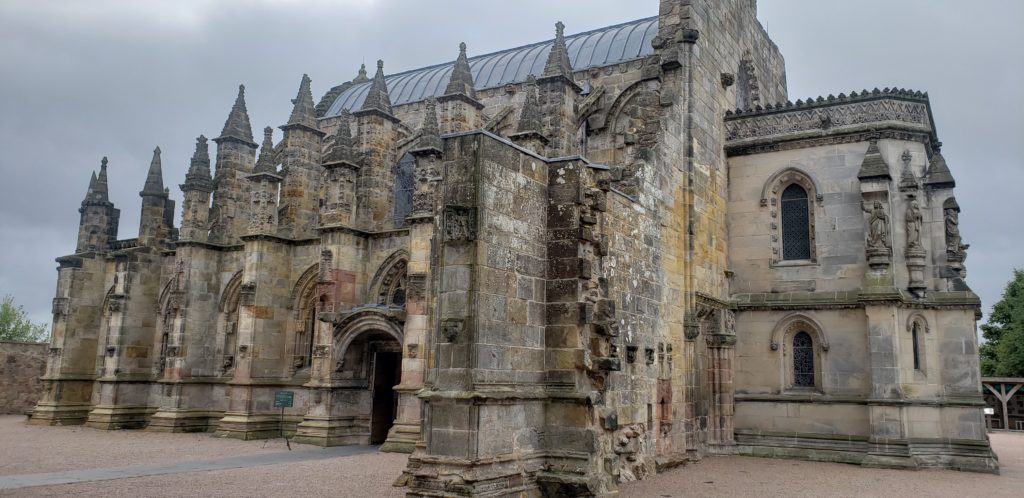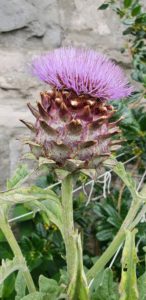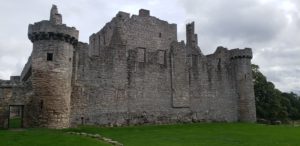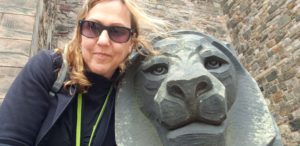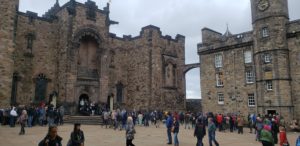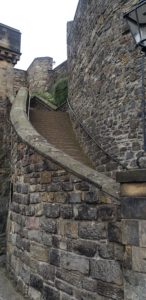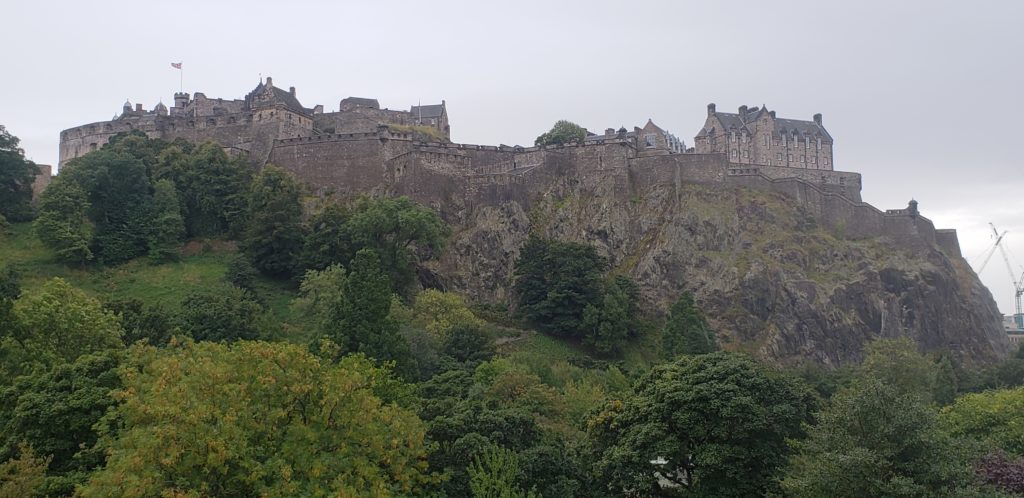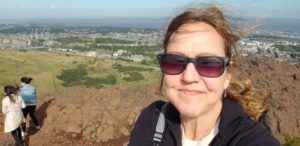 For those curious about solo travel, I highly recommend it. You spend more time interacting with others instead of just your travel companions, you stretch your own capabilities and comfort zone. There are several other blogs giving advice for those traveling solo, I've been reading this for several years: Solo Traveler World. They are also on Facebook.
** All photos property of Lisa, not to be copied or reproduced **