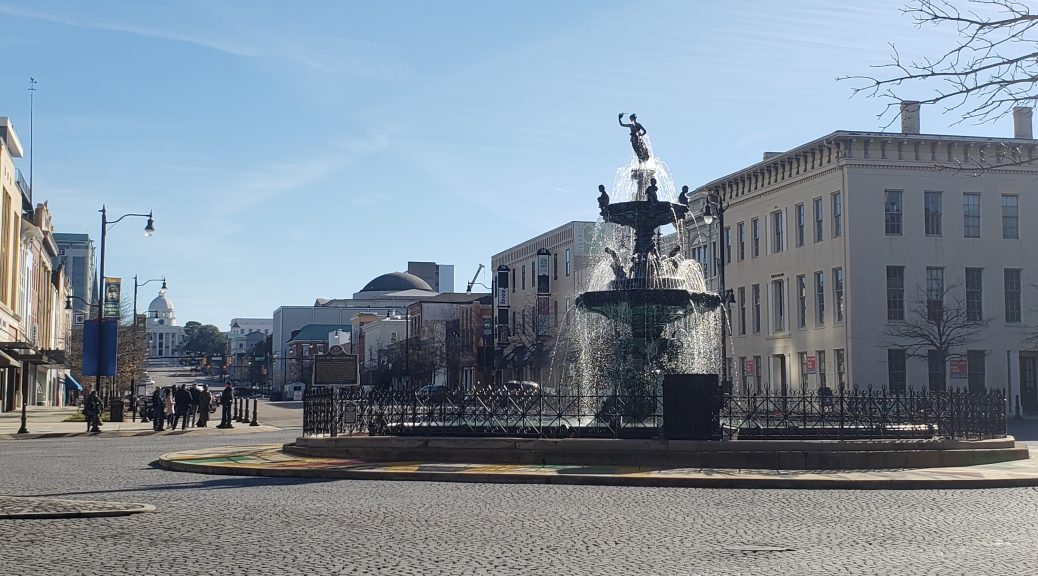 Selma to Montgomery, On the Civil Rights Heritage Trail
Selma to Montgomery, On the Civil Rights Heritage Trail
I read an article about the Legacy Museum when it open in 2018 and thought, if I'm ever in Montgomery, I will have to visit this. Sounds amazing. I had actually forgotten where exactly the museum was and what it was called, just remembered "equal justice". So with time between bookings I searched on equal justice museum and found the correct information for the Legacy Museum and Memorial in Montgomery. I was just going to plan a day or two but when when searching on other things to see in Montgomery, decided to stay 6 days/nights. I did check times and opening hours for the museum and monument, in order to purchase tickets in advance, but didn't do that for the other activities. Unfortunately, many things I'd like to see are closed due to COVID so really didn't need all this time.
The museum and memorial are closed Mondays and Tuesdays so I purchased tickets (well, they are free right now, so scheduled tickets. Timed entry required) for Friday the day after I arrived.
Equal Justice Initiative Museum and Memorial
The Legacy Museum "From Enslavement to Mass Incarceration". The museum is situated on a site in Montgomery where enslaved people were warehoused and a block from one of the most prominent slave auction spaces in America.

I spent four hours in this museum. I know I am fairly unique (weird?) in that I love history museums. I read all of the exhibits and looked at every interactive display, watched the multiple videos. This was a fascinating, sad, heartbreaking museum. I cried, like I did while touring Dachau in Munich or Auschwitz in Krakow. Seeing photos of whites proudly posing with lynching victims was sad, learning they turned them into "events" with postcards and food vendors was sickening.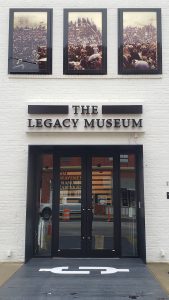 "Slavery Didn't End in 1865. It Evolved". I had to reread the 13th amendment to remember that it didn't end ALL slavery: "Neither slavery nor involuntary servitude, except as a punishment for crime whereof the party shall have been duly convicted, shall exist within the United States, or any place subject to their jurisdiction."
Southerners used this clause to arrest blacks on misdemeanors and use them as free labor with their "convict leasing". In the 1970s the mass incarcerations started under Nixon and continued through the war on drugs and fear of "super predators" all through the 90s to lock up children as young as 11 and sentence people to life terms for minor crimes (3 strikes law). 
The National Memorial for Peace and Justice Between 1877 and 1950, there were 4075 verifiable lynchings in over 800 counties across 32 states. One in Mississippi was announced in the paper and 10,000 people showed up in a town of 1500. John Hartfield was hung for having a white girlfriend. After he was hung, his fingers were cut off and passed out as souvenirs. He was then shot over 2000 times. When one bullet finally severed the rope he was hanging from, his body was burned where it fell. There were postcards made up as commemorative souvenirs.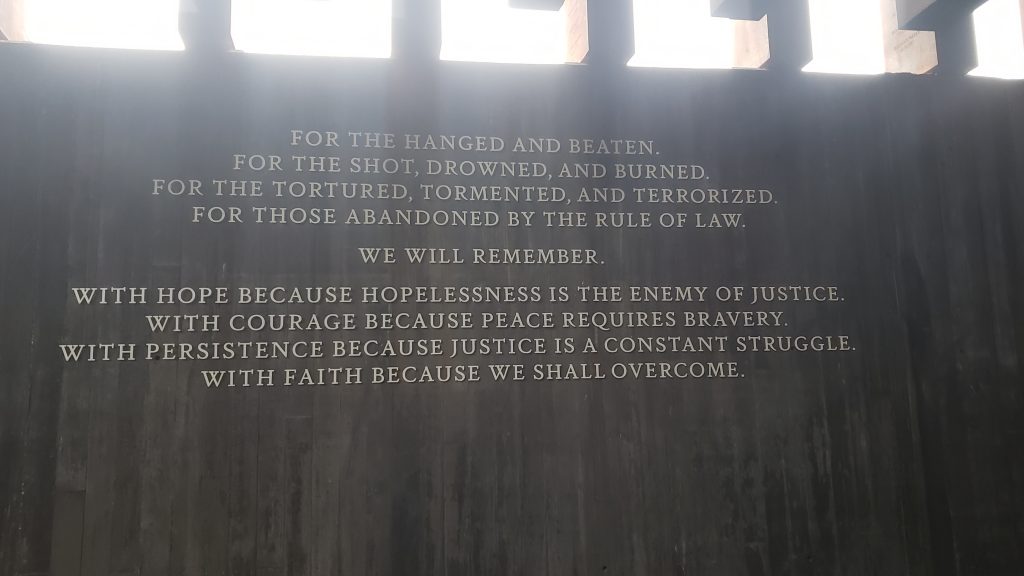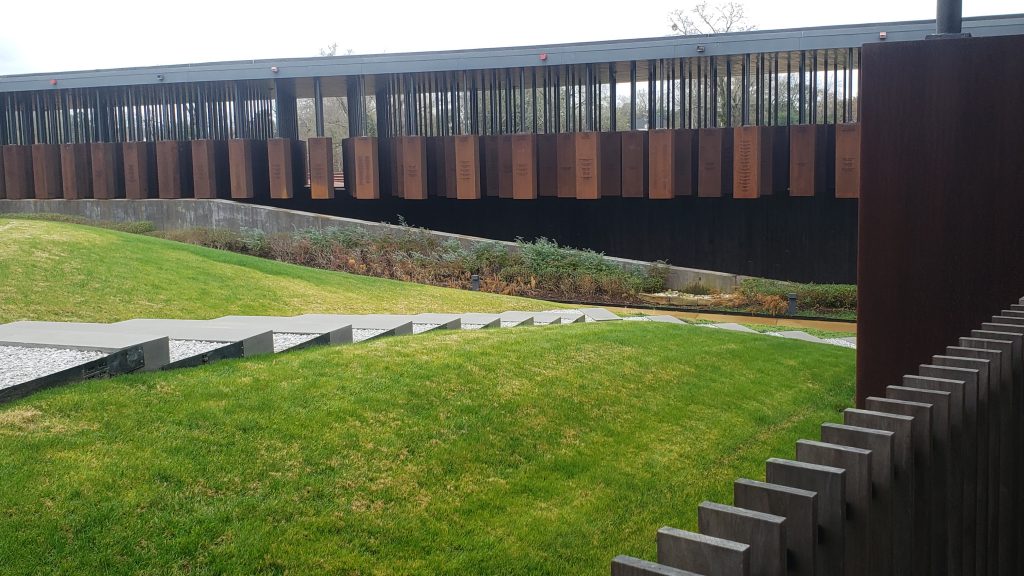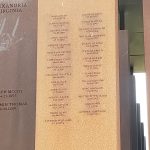 There are 805 steel rectangles representing the counties (some just states) where documented lynchings took place. The monuments contain names and dates of each victim.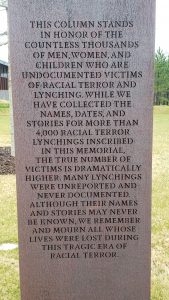 This powerful and well designed memorial starts with the monuments on the floor at eye level, then the ground starts sloping down and you're walking under the hanging monuments like bodies hanging over you. Every monument has a duplicate in the monument garden to give to each county to establish their own memorial. Walking through the monuments laying flat in rows you realize they are the size and shape of coffins. Many of the monuments have 1 or 2 names while some have 20 or 30. There were many more lynchings, these are the ones documented and researched.
Alabama Civil Rights Trail Sites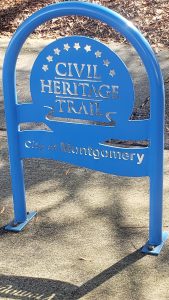 There are several maps about the US Civil Rights Trail across Alabama, Arkansas, Washington DC, Georgia, Kansas, Kentucky, Louisiana, Missouri, North Carolina, South Carolina, Tennessee, Virginia and West Virginia. In Alabama, there are sites in Aniston, Birmingham, Monroeville, Montgomery, Scottsboro, Selma, Tuscaloosa and Tuskegee. I saw all the sites in Montgomery (at least from the outside) and most in Selma.
The Dexter Avenue King Memorial Church and Dexter Parsonage Museum were both closed. The church was where Martin Luther King, Jr. served as senior pastor from 1954 until 1960. He and his family lived in the Parsonage. The house was bombed with Coretta Scott King and their daughter, Yolanda, at home, a month after the bus boycott started in 1956.
I did visit the Freedom Rides Museum in the old Montgomery Greyhound Station. In 1961, groups of black and white activists set out to test enforcement of the Bolton v. Virginia Supreme Court decision of 1960, ruling that racial segregation in public transportation was illegal and violated the Interstate Commerce Act. A very interesting museum, it only takes about an hour to read the exhibits. All these young people, mostly college students, brought amazing changes to our country.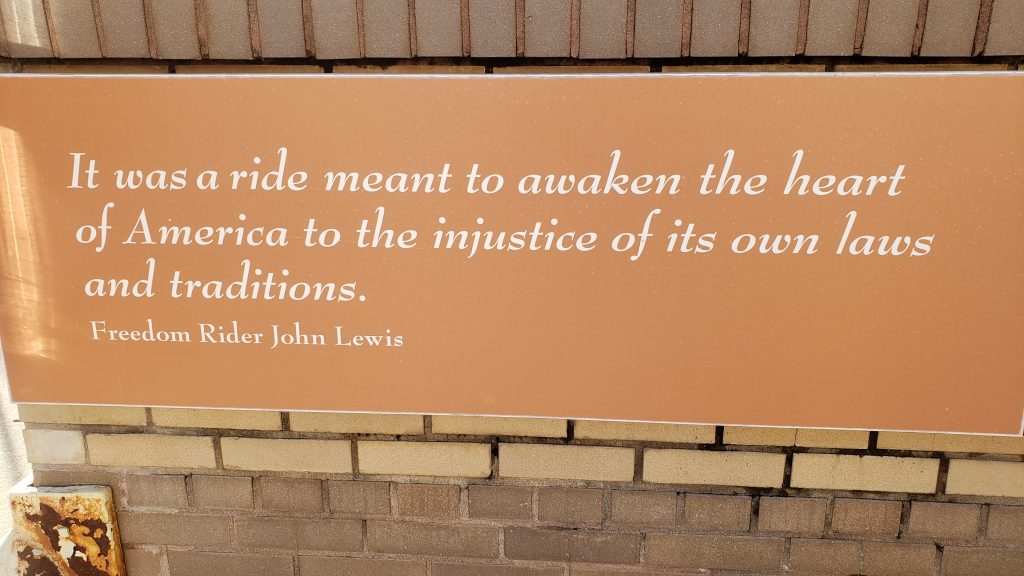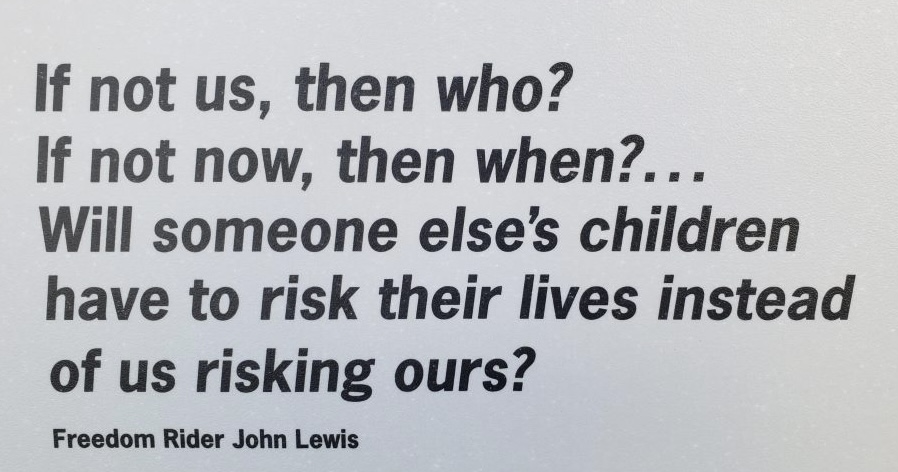 The Civil Right Memorial Center was also closed but the memorial by Maya Lin (of the Vietnam Wall Memorial) is outside and can be viewed.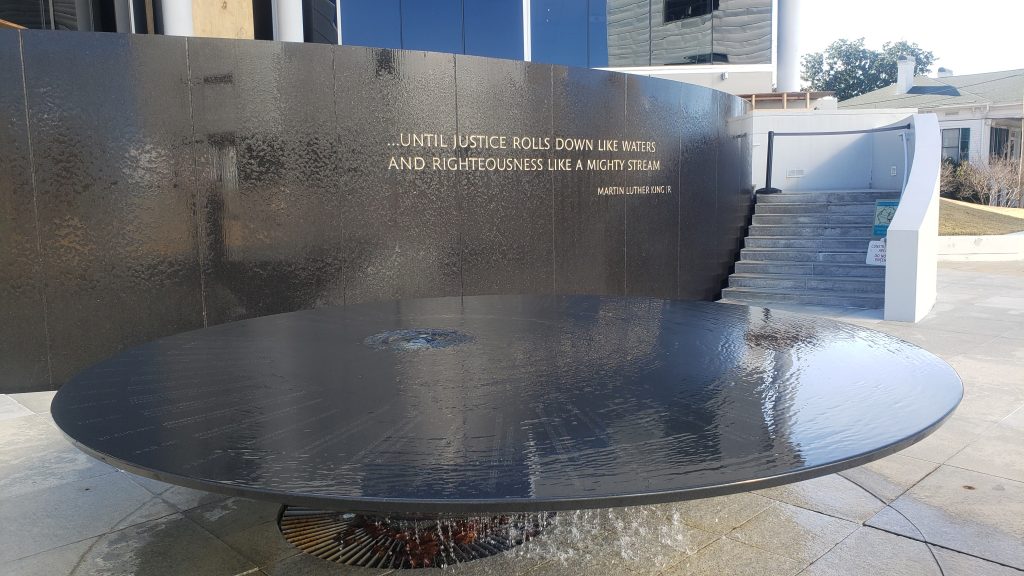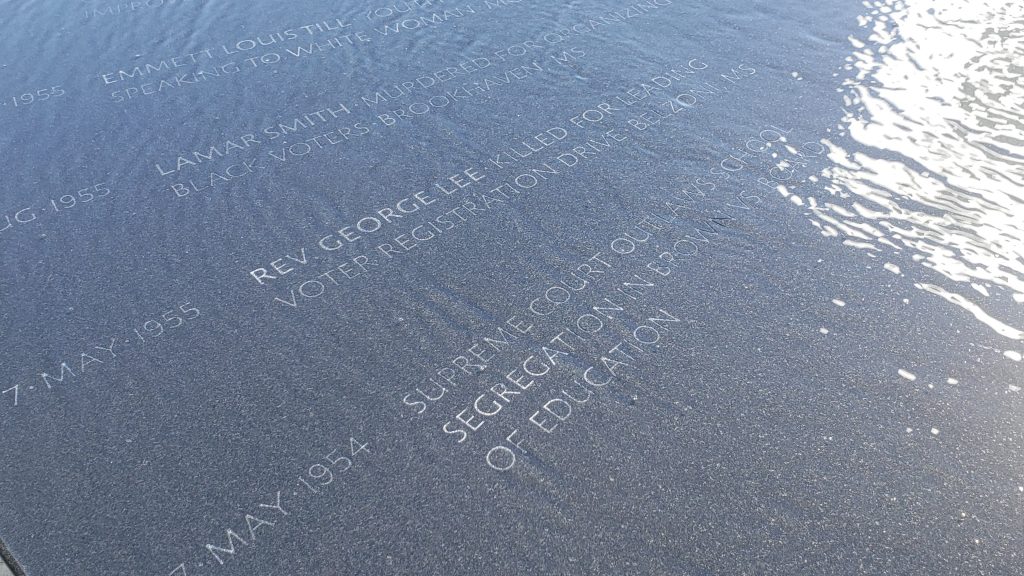 The Alabama Capitol Building, where the Selma to Montgomery march ended, is closed to the public. I walked through the newly dedicated Bicentennial Park, opened December 14, 2019, with monuments highlighting 200 years of Alabama history.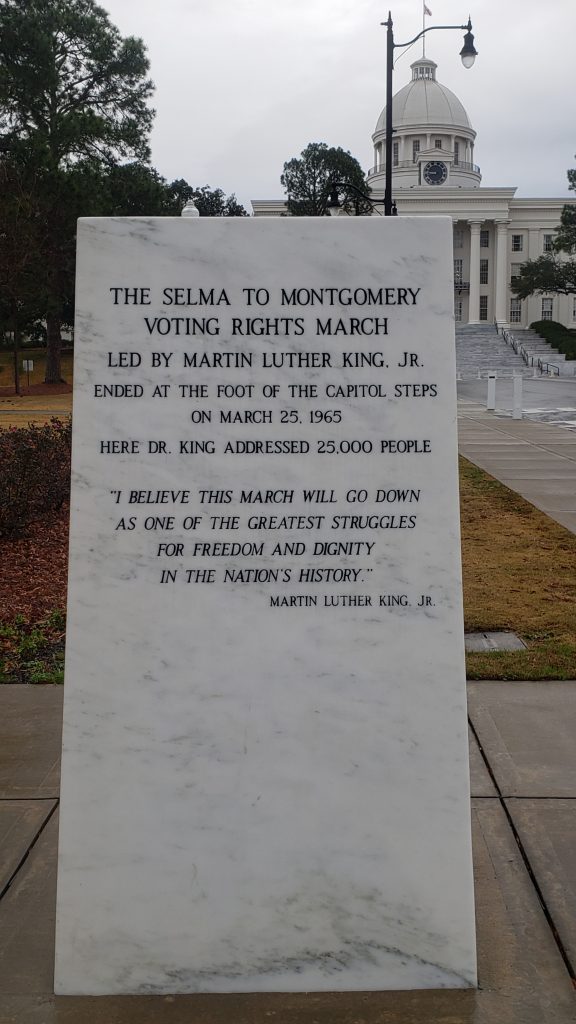 The Rosa Park Library and Museum at Troy University are open. Unfortunately, while a well-laid out museum with great information, videos, and interactive displays about the Montgomery Bus Boycott they aren't taking COVID protocols seriously. Their website states masks are required and there are "Masks required" signs on every door, but only one of their employees was wearing a mask.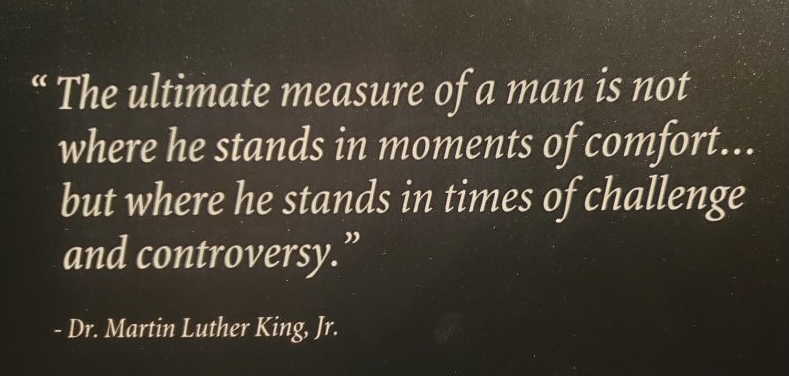 Close by is First Baptist Church on Riley Street where Reverend Ralph Abernathy was pastor from 1951 to 1962. There is a First Baptist Church Montgomery on Perry Street, as well, which can be confusing. My Google Maps took me to Perry first. I thought this doesn't look like the church in all the photos. From further reading, the church on Perry (photo on right) was where the congregation used to worship but the services were segregated and they were only allowed on the balcony. In 1867, they started their own church, "First Baptist Church (Colored)", the first "free negro" institution in the city. It has a long history with Civil Rights during the bus boycotts, mass meetings, John Lewis, MLK, and more.
Another day I drove out to City of St. Jude, site of Campsite 4, on the Selma to Montgomery Trail. Campsites 1 to 3 are on route 80, the Selma to Montgomery National Historic Trail. There are several markers.
Other Sites
I would have liked to seen the First White House of the Confederacy, but it was also closed due to COVID. The building was only used by Jefferson Davis and his family from February to May, 1861, before the capital moved to Richmond. The Winter Building is where the telegram was sent by the Confederate Secretary of War to General PGT Beauregard to fire on Fort Sumter. Both buildings are part of the National Register of Historic Places.
I didn't make an appointment to visit inside but did walk around the area of Old Alabama Town to enjoy the old, restored homes.
Food and Drink
The hotel didn't offer breakfast so I picked up some groceries and ate most meals in the hotel, bagels, a few microwaveable meals, soup or sandwiches, some pre-made salads. Saves a lot of money but I did have a couple good meals while in town.
Chris' Hot Dogs – since 1907, four presidents, a governor, Martin Luther King Jr., Hank Williams, and Elvis all ate at Chris'. I had to stop by for some of his dogs with the secret chili sauce. Picked up takeout and carried it up the street and ate by the Capitol. Under $10!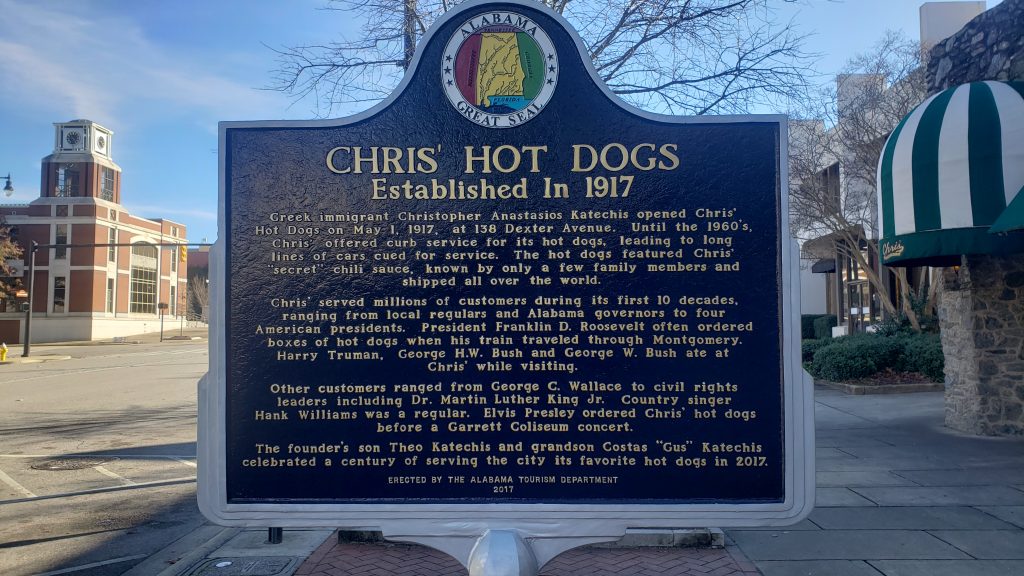 Common Bond Brewery – a nice selection of beer, outside seating shared with Bibb Pizza. Dog friendly.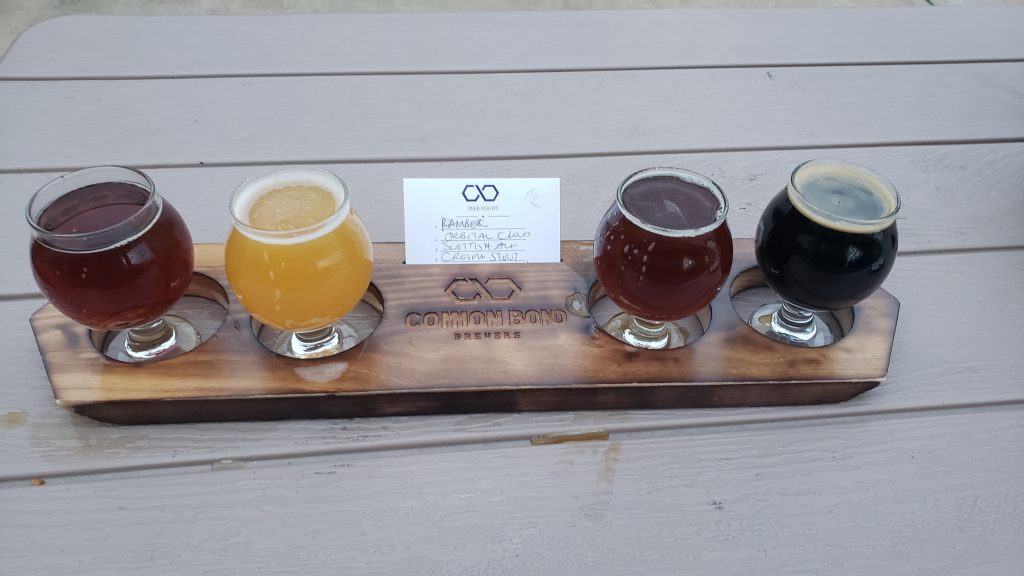 Cork and Cleaver – outside seating, a nice patio. Dog friendly. Good food and a nice drink selection, craft beers, tap and cans and lots of cocktails.
Selma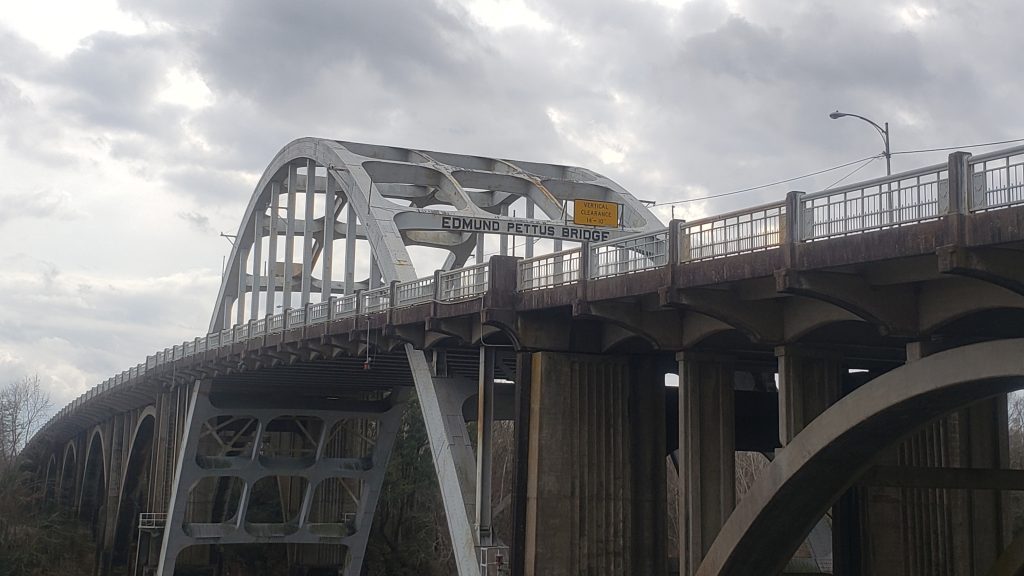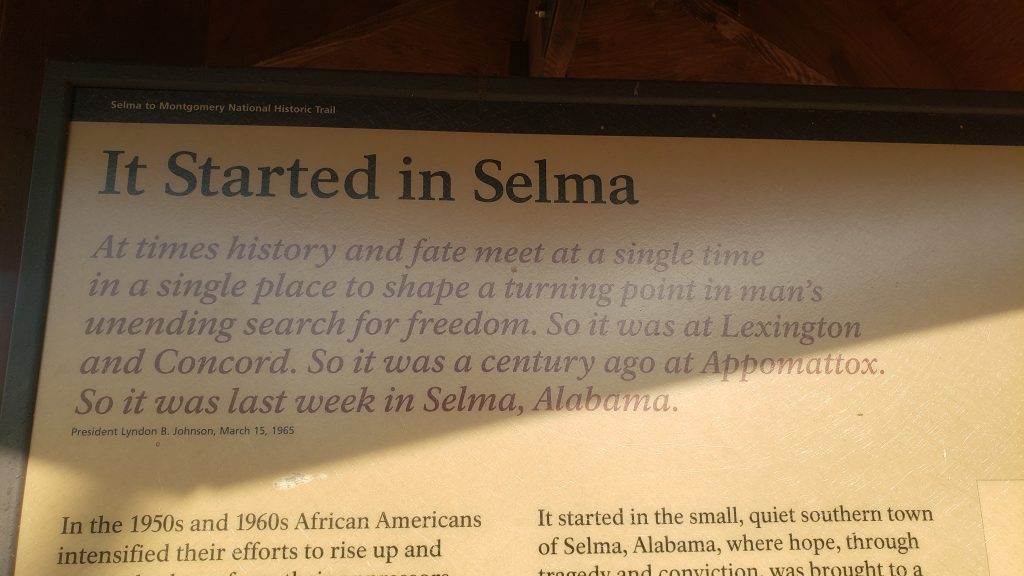 I drove over to Selma one day. Like in Montgomery, many things are closed. Fortunately, despite showing closed online, the Selma Interpretative Center was open. I was able to view one of the exhibits on the march and talk with the NPS employee, who gave me some great pamphlets and information.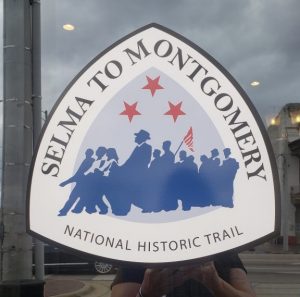 I walked across Edmund Pettus Bridge to the Civil Rights Memorial Park then back to the Interpretative Center. I walked down historic Water Street and Broad Street. There are so many beautiful old buildings but most are abandoned, boarded up and show decades of neglect. I visited Brown Chapel AME Church where the March started. I picked up a great pork sandwich and some baked beans from Lannie's BBQ Spot for lunch. After lunch and my other walks around town, I headed back to Montgomery, stopping, at the recommendation of the NPS employee, at the Lowndes Interpretation Center. It was also closed but you can walk the grounds and read the plaques about the Tent City, where many families lived after being evicted by their white landowners just for registering to vote.
I stopped at the Viola Luizzo and Elmore Bolling memorials on the way back to Montgomery. Bolling is also represented at the Peace and Justice Memorial.
 ** All photos property of Lisa, not to be copied or reproduced **