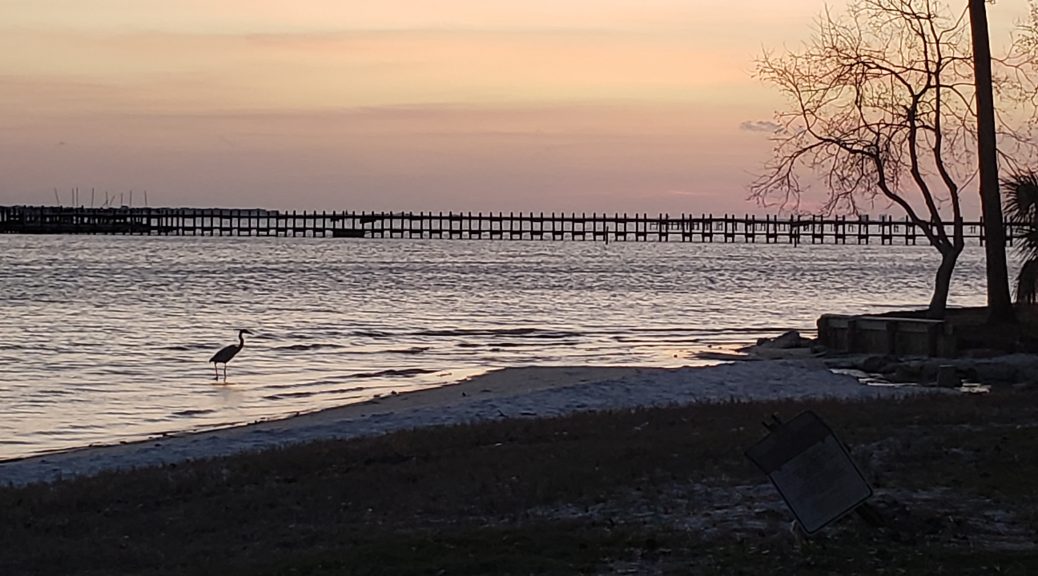 Emerald Coast, Florida
Emerald Coast, Florida
I was trying to find a place on the south gulf coast, originally looking between Sarasota to Captiva/Sanibel, even as far south as Naples and Marco Island, but everything was outrageously expensive. I'm not paying $10K for a month rental or $2000 for a simple private room in a home. So I kept moving my search north up the coast until I found someplace that looked clean and was a bit more affordable.
I originally just wanted a place to relax for the winter out of the cold. My daughter and son-in-law were living in Florida when I booked. Unfortunately, before I was due in Florida my daughter accepted a job in Michigan and left a week before I traveled there so I didn't get to visit several times like I had hoped. I don't blame them, of course. Neither were happy living in Florida but it was just bad timing from my perspective. I wish they could have left a couple months later; it would have been nice to have them just a few hours away.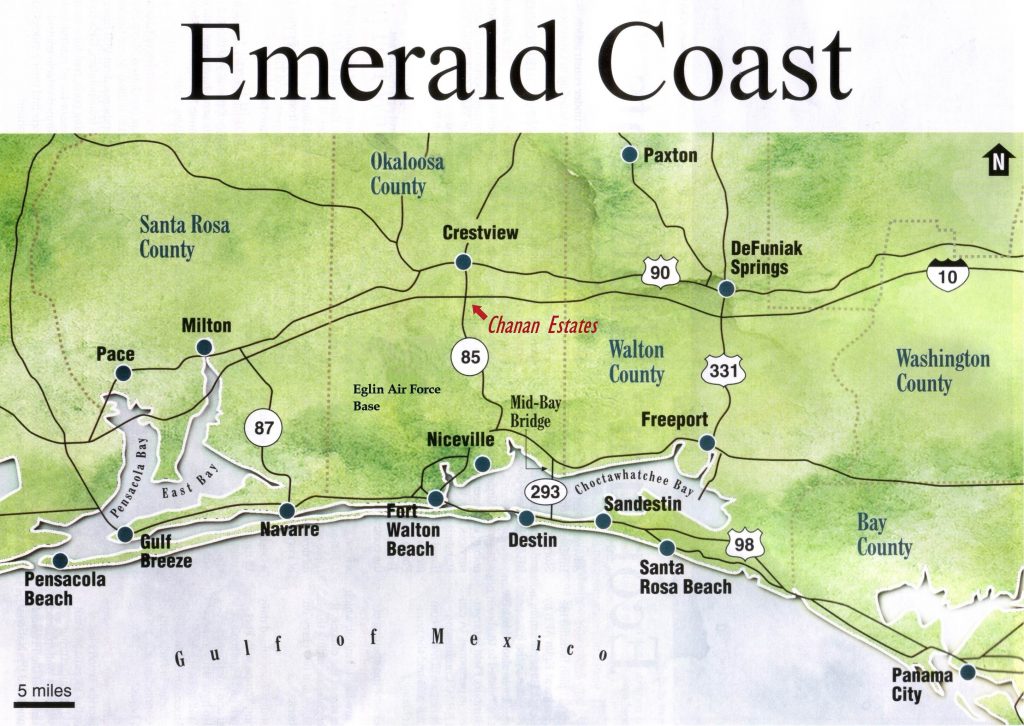 The Emerald Coast runs about 100 miles from Pensacola Beach to Panama City.
I was staying on highway US-98, technically Mary Esther but about 7 miles west of the city limits, between Navarre and Fort Walton. It looked close to the beach/shore but it was all private property. US-98 is also very loud and very busy, and definitely not a good place for walking . The locals are fighting to get an Alternate 98 built and I can definitely understand why, there is lots of traffic all day.
There was very little to do without driving an hour or more and it was probably the most unfriendly place for dogs I've ever visited. "No dogs allowed", "No pets", "No animals on beach or trails" signs everywhere.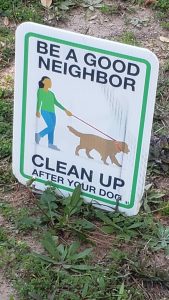 Dogs were not allowed on most of the beaches, the state parks I wanted to visit, or even many of the city parks. I would stop to talk to other dog owners, asking about best places to visit with your dog or trails to take, and most agreed that keeping dogs off the beaches wasn't just about nesting turtles or birds but because of lazy dog owners who won't pick up after them. It would be so much easier for dogs to travel if their people behaved better.
Emerald Coast – East
Gulf Islands National Seashore From the Florida panhandle through Alabama to Mississippi, there are some beautiful islands, parks, and historical sites to visit. The drive along FL-399 from Navarre Beach west to the tip of Santa Rosa Island to visit Fort Pickens is beautiful and peaceful. There are a number of areas to visit between Fort Walton and Destin, too. You can drive to Fort Morgan in Alabama but most other areas of the park require ferries and boats to visit. There were a few areas that did not have "no dogs" signs so Boo and I enjoyed walking those areas.
Oak Tree Nature Trail Easily one of my favorite places in the area, so glad I found it. A nice little wooded area in the middle of town, next to the Mary Esther post office. Despite hearing traffic when on the trails, it seems wonderfully secluded. Dog friendly, good parking. Boo and I would walk 2 or 3 laps around the roughly 1/2 mile trail at least a dozen times over our stay.
Fort Walton Heritage Park and Culture Center The site consists of the Temple Mound Museum, Fort Walton Temple Mound, Camp Walton Schoolhouse, Garner Post Office Museum, and Civil War Exhibit. The museum has a number of interesting objects from the mound. The schoolhouse, old post office, and a building housing civil war memorabilia are worth visiting as well. All included for a very reasonable entry, $5, that is good for repeat visits.
Liza Jackson Park I visited here with Boo quite a lot, just 8 miles or so from my cottage, straight east on 98. There is a boat launch, short trail, a dog park, and access to a small dog friendly beach area. Sometimes I'd take a book and sit and read while enjoying the view on the sound. There is a nice playground and a several pavilions with plenty of picnic tables, plus ample parking.
Destin Boardwalk The Harborwalk is, like much of the Destin area, very touristy, with many restaurants and places to buy fudge and t-shirts. Boo and I visited twice when coming back from errands in Destin our first month in the area. A lovely area for a walk, enjoying the view, and dog friendly; many short cruises start from the docks, there are jet ski rentals and many activities. When I stopped earlier in my stay, parking was easy and free, but there were very few people and many of the attractions were closed. I pulled in late March on the way back from another errand in Destin and they wanted $10 for parking unless staying at one of the condos; all I wanted was a walk so I turned around and left. I stopped for a late lunch a few days later at Brotula's Seafood and after lunch on their deck walked over to the Boardwalk. It was much more crowded with spring break college kids and families. Everything was open so it was certainly a more interesting visit. Besides using one of the restaurant parking lots there are a variety of parking options across the street if you don't want to pay to visit.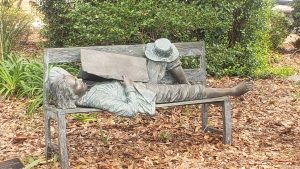 Fort Walton Landing Beach Park Another nice park on the water. Good parking, dog friendly but quite a bit of damage from the hurricane last fall just like at Liza Jackson and many other waterfront properties. Close to the Heritage Park (above) and a great number of restaurants and bars in downtown Fort Walton. They have a farmers market here the 2nd and 4th Saturdays of each month. 3 Dogs and a Chick is just across the street and I visited several times to buy Boo some treats.
Air Force Armament Museum Foundation Free entry. There are several dozen types of aircraft from WWII to the present and hundreds of armaments, bombs, and missiles. There is also a short film on the history of Eglin Air Force Base. I enjoyed walking the grounds and seeing the aircraft; F11, F15, and F16 fighters, the B25 used for the Doolittle raids over Tokyo, B52 bombers, and many more. I hurried through the inside, both because there were a number of people wearing their masks over their chins, but also, after two mass shootings the same week, I just had a hard time being interested in all the ways humans invent to kill one another. "War brings innovations"; yes, we've certainly improved the amount of people we can kill at once.
Ferry Park and Patriots Trail Ferry Park has a variety of activities; there are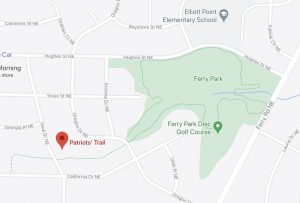 multiple basketball and tennis courts, soccer and baseball fields, a very large disk golf course and nice walking trails. Walking the trails one day, off to the south west corner I found the Patriots' Trail dedicated to Colonel George "Bud" Day and his wife, Dorie. It is a nice short trail with a number of historical markers about the Medal of Honor winner.
Seaside A beautiful planned village. It looks like a film set, so it is very fitting that it was used to film the Truman Show movie. About an hour drive, I went over one day to enjoy the picturesque little town. I spent several hours just wandering through town, enjoying the houses and trails then had a great lunch of a shrimp taco and a mahi-mahi taco at Bud & Alley's. I stopped at the Grayton Brewpub for a flight and a huge order of pulled pork nachos (enough for two meals) on the way home. I wanted to visit Grayton Beach SP but dogs are not allowed on the beach or most trails.
Okaloosa Beach and Pier and Okaloosa Boardwalk No dogs on the beach or pier but some pavilions to sit and enjoy the view or just read and relax. Boo could join me on the pavilions. The pier cost $2 to enter.
Marler Park and Clement Taylor Park Both in the Destin area and both recommended in an Emerald Coast visitor magazine. I thought I'd check them out. Neither said anything about pets and I checked online, too, no info. But both had large NO ANIMALS IN PARK signs at the entrance… so just kept driving. I did talk with a couple ladies with dogs at Clement Taylor who were just walking by and they recommended a little park just north of there, told me to keep driving straight until I get to the boat launch and take a left. I found Mattie Kelly. Both these parks looked beautiful and I am sure I would have enjoyed them if I didn't have Boo.
Mattie Kelly Park and Nature Walk There is a nice pier, some beach front, a boardwalk, along with the boat launch. Nice area and dog friendly! Boo walked on the beach and played in the water. Beautiful little area.
Recommended Restaurants/Bars
Emerald Coast – West
I wish I had found a place closer to Pensacola, or better, right downtown. I would have enjoyed my stay more. It was about an hour drive from my cottage in Mary Esther. There was a lot to see and do here and I drove over multiple times. It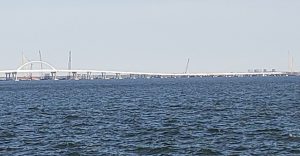 would have been a shorter drive except the Pensacola Bay Bridge (US-98) had been severely damaged during Hurricane Sally in September 2020. The bridge has been closed since then, it was supposedly due to open late March but still closed when I left March 31st.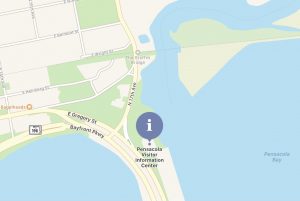 I stopped by the visitor center to pick up a map and guide book. The visitor center is right on 98 by the bridge but because of all the construction, the road to it is blocked with a "road closed" sign. My google maps kept leading me astray and I had to stop and ask how to get to the visitor center. I was told to just circle around the sign to pull into the visitor center.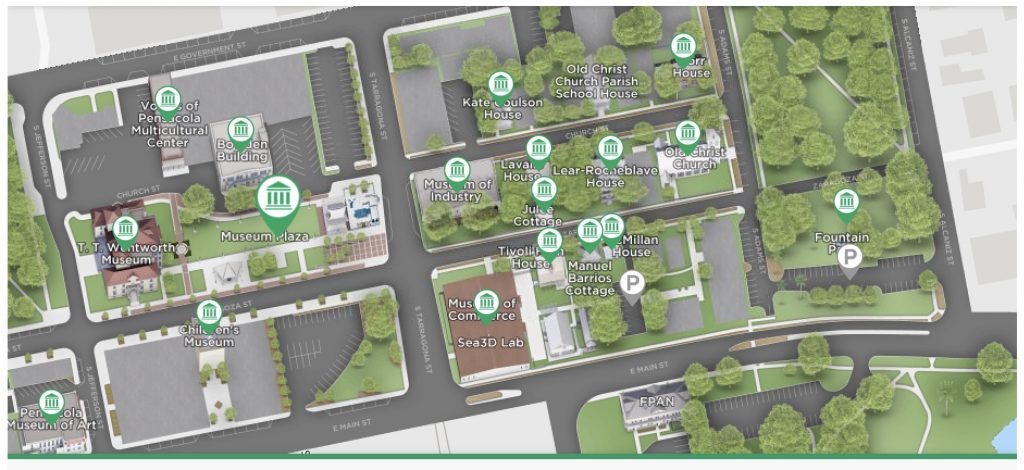 Historic Pensacola There are a number of great museums and historical buildings to see here, the Museum of Industry, Museum of Commerce, TT Wentworth Museum, Voices of Pensacola, Lear/Rocheblave House, Julee Cottage. There are more museums and properties but most are closed due to COVID. The entry ticket is good for a week but the hours were currently limited to Tuesday, Thursday, and Saturday, also because of COVID.
Christ Church is included in admission to Historic Pensacola. A lovely old church, it sits facing Seville Square. They give tours at 1400 daily. It is one of the oldest church buildings in Florida. Some photos of the stained glass and inside are included above.
Colonial Archeological Trail Close to the Historic Pensacola area. There are easy to follow and informative signs about the Spanish, British, and early American history of these outdoor sites. Just follow the map.
Fountain Park and Seville Square Just east of Historical Pensacola. A beautiful area, there are several restaurants close by including Lucy's on the Square and Pensacola Bay Brewing. Both have outdoor seating and are pet friendly.
Palafox Street Shopping, restaurants, statues and art, the "heart of Pensacola", Palafox is a great street to walk down and enjoy the sites and sights, including Fort George, Christ Episcopal Church, Plaza Ferdinand, Palafox Pier, Plaza de Luna, and beautiful facades.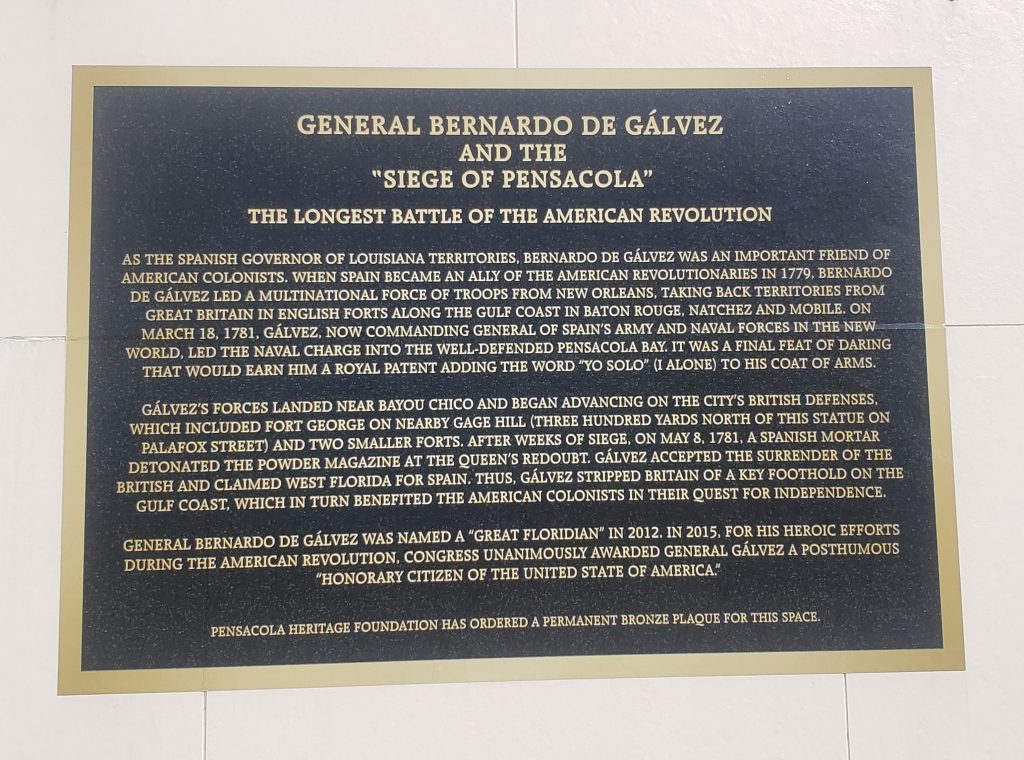 Fort George A small area in the middle of Pensacola; it was built in 1778 to protect the city from Spanish attack.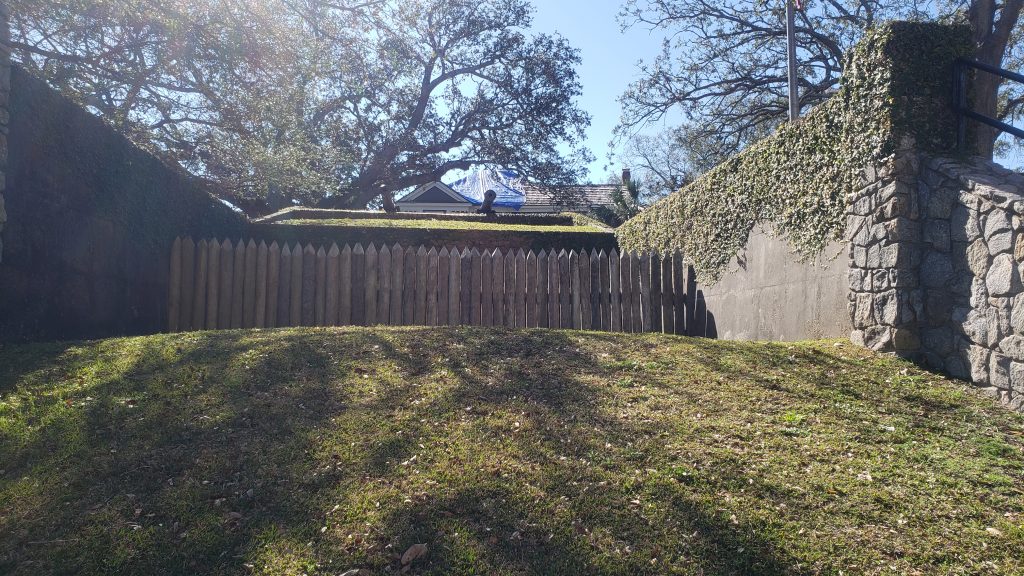 Plaza Ferdinand VII Listed on the National Register of Historical Places, the plaza is named for King Ferdinand VII of Spain. The land was originally given by the Spanish throne, it was also used as a parade ground for the British, and where Spain ceded Florida to the US on July 17, 1821. Andrew Jackson was sworn in as first Territorial Governor in the Plaza.
A bust of Jackson now stands at the spot where he was inaugurated, an obelisk stands at the center of the Plaza and a beautiful fountain, thought to be a replica of one in Seville, Spain, was placed on the site in 1909. Boo jumped up and decided to drink from the fountain one warm day we were there when I didn't stop for water breaks often enough for him. Sorry, buddy.
Plaza de Luna and Palafox Pier At the southern end of Palafox Street, the Pier leads out to the bay, and includes a number of restaurants, a historical marker, fountain, fishing pier, and a nice walking path ending at the Plaza.
Admiral Mason Park and Veteran Memorial Park Another beautiful Pensacola park. It includes trails around a lake, views of the bay, and is adjacent to the veteran memorial park with monuments for WWI, WWII, Korea, Vietnam, Afghanistan/Iraq, and a replica of the Vietnam Wall.
Bayview Park A large beautiful park with two dog parks, children's playground, picnic tables. There are several walking trails available.
Fort Barrancas I wanted to visit the old fort but it is on Pensacola Naval Air Station and the base has been closed to the public since the shooting in 2019. The Naval Aviation Museum was also recommended to me multiple times, many telling me it was one of the best military museums they've visited. However, it is also on base and has been closed to anyone without a military ID. I was told it was open to everyone with several people insisting it wasn't closed; yes it is. I am a veteran but do not have a DOD ID.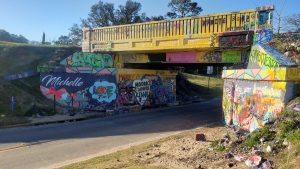 Graffiti Bridge I stopped by this on the way to the visitor center. The art changes almost daily; "artists" have been allowed to paint the old railroad bridge since 1935 although the other areas are supposedly illegal.
Bellmont – Devilliers Area During segregation, the home of the Pensacola black community and the neighborhood has been named as part of the Mississippi Blues Trail. It is also the home of several great restaurants, including Five Sisters Blue's Cafe, Blue Dot BBQ, and Dwarf Chicken Stand. I was over in Pensacola one day thinking I'd try Dwarf, "the best chicken in the panhandle" (according to some reviews), and despite supposedly being open, the door was locked. I went down the block to Blue Dot for a really great burger. I had an excellent Bacon, Lettuce and Fried Green Tomato sandwich at Five Sister's on an earlier visit to Pensacola.
North Hill Historic District and Alabama Square On my fourth or fifth visit to Pensacola I tried to have lunch at Dwarf, again, and it was closed, again. I really wanted to try their chicken but instead I returned to Five Sisters to have their fried chicken. Both are supposedly "the best" in Pensacola.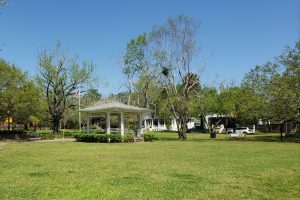 I was going to return to Palafox Street and the Seville Historic District but decided to visit North Hill, close to Belmont-Devilliers. Although Fort George and Christ Episcopal Church are officially part of the district, and I had visited them previously, they are further south on Palafox and I hadn't seen most of this area. I started at Alabama Square and walked much of the 30 or so square blocks north of Cervantes, from Devilliers to Lee to Palafox. The district is about 50 square blocks and part of a national historic district; there are beautiful homes with quite varied styles. A really lovely area. It would be a great place to stay, close to everything, nice for walks. I also stopped by Joe Patty's fish market on the way to the community maritime park.
Vince J. Whibbs Community Maritime Park I could see the park and the amphitheater when at Palafox Pier but made it over for a visit on my last trip to Pensacola. Home to the large Blue Wahoo's Stadium, an amphitheater, and trails. Beautiful location on the waterfront. Dog friendly.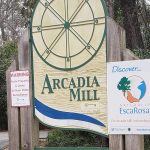 Arcadia Mill Archeological Site An old lumber mill, rock quarry, and later a cotton mill. There have been several archeological digs in Pond Creek and the grounds. There is some great info and exhibits in the small museum, a nice boardwalk and other trails. The old homestead of one of the owners is also open for visiting.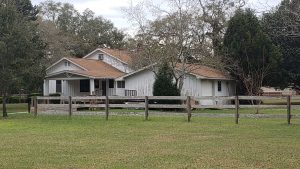 Bagdad A small town between Pensacola and Fort Walton, just north of I-10. They have the old Bagdad Lumber Mill Site, Bagdad Cemetery, and an interesting little downtown Main Street to wander. I was greeted by two adorable goats while visiting the old post office.
Milton I visited the same day as I visited Bagdad. I visited the downtown, the Veteran Memorial, and the Blackwater Heritage Trail.
Fort Pickens The fort is at the far western end of Santa Rosa Island, a lovely drive through the Gulf Islands National Seashore. It was built by the US Army between 1829 and 1834 using enslaved craftsmen to protect Pensacola Bay. It was named for Andrew Pickens, a Revolutionary War general. There are multiple batteries along the coast as well. I picked up a NPS brochure from the open bookstore and followed the numbered tour of the fort and the batteries.
Navarre Beach Just across the Santa Rosa Sound and a short drive across the causeway. For the first month I was here, FL-399 was closed due to hurricane damage; right at the start of the Gulf Islands National Seashore there were barricades blocking access further west. I drove over, parked at the end, and walked the road several times. There were many others biking, running, and walking dogs on the deserted road. It opened back up late February. It did make it easier to get from one end of the island to another but I liked the empty road for pedestrians and cyclists. Despite the speed limit of 25, it is still a great alternative to the bumper to bumper traffic on US-98 if returning from Fort Pickens or Gulf Breeze.
Gulf Shores and Foley, Alabama A high school friend from Illinois and her husband were staying in Foley for about a month to get out of the midwest winter. We met in Pensacola for lunch one day at the Fish House. A few weeks later, I drove over to Foley to attend the Foley BBQ and Blues Festival with them. We visited Gulf State Park in Gulf Shores the next day hiking several trails after having lunch at Woodside Restaurant. We saw a lot of eagles in the park, including a family feeding their young.
Recommended Restaurants
 ** All photos property of Lisa, not to be copied or reproduced **