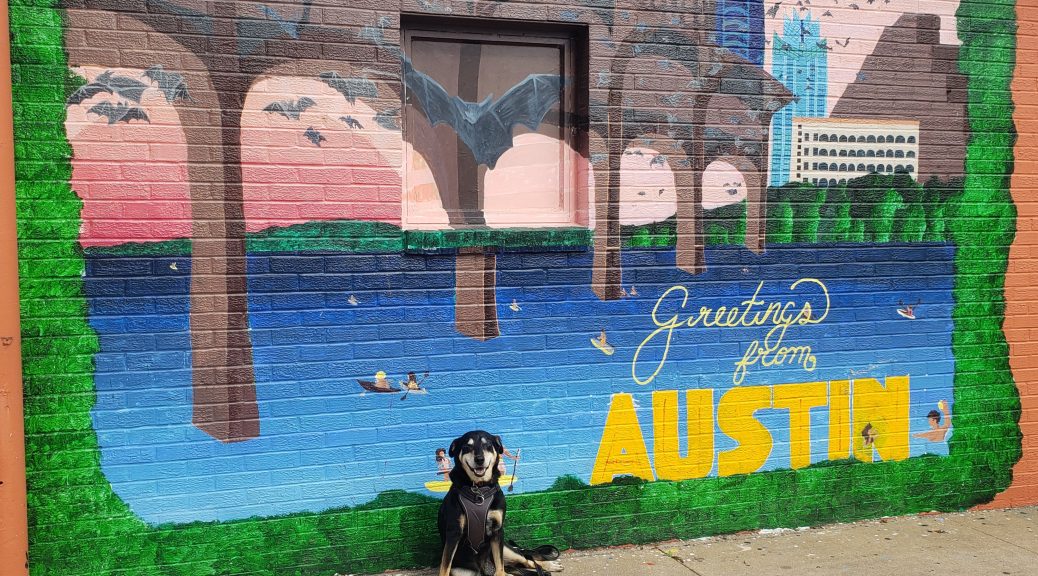 "Welcome to Austin, Please Don't Move Here"
"Welcome to Austin, Please Don't Move Here"
The title for this post is from a t-shirt I was told being sold in town. I never did see one or I probably would have purchased it. I can understand why the locals would feel this way, however, seeing the number of cranes in the skyline, construction sites,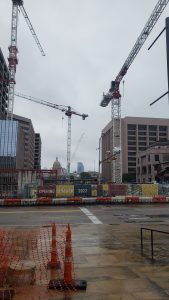 detours, road and sidewalk closures, and the startling increase in housing costs. Austin makes the top ten for fastest growing cities in the US in 2020-2021.
I selected an efficiency apartment on Nueces Street, north of 15th, walkable to many areas of downtown. I was just south of the UT Austin campus and less than a mile from the Capitol complex. I was close to a number of restaurants, museums, and shops. It can be hard to chose an area online without knowing anything about a city but I selected a place "downtown" because I didn't want to have to drive everywhere; I was very happy with my neighborhood but after visiting many districts in the city, there were a number of nice neighborhoods I would have enjoyed.
I really liked my place, it was quiet but I felt very comfortable walking Boo around the neighborhood at night. I walked to the Capitol grounds many times. I liked walking through the UT campus with beautiful old buildings, fountains, and monuments. The Bullock, Blanton, and Texas Memorial museums were all less than a mile. I was only a mile and a half from the river and walked to the riverfront a couple times for some breakfast tacos; the walk and the tacos made for a great start to the day. It was just a mile to the market on Republic Square.
Much of Austin is mixed residential and commercial. Even the central business district has many apartments and condos so it doesn't empty out in the evenings or weekends. My neighborhood had homes, apartments, some houses turned into small offices, plenty of restaurants, and a variety of stores all within walking distance.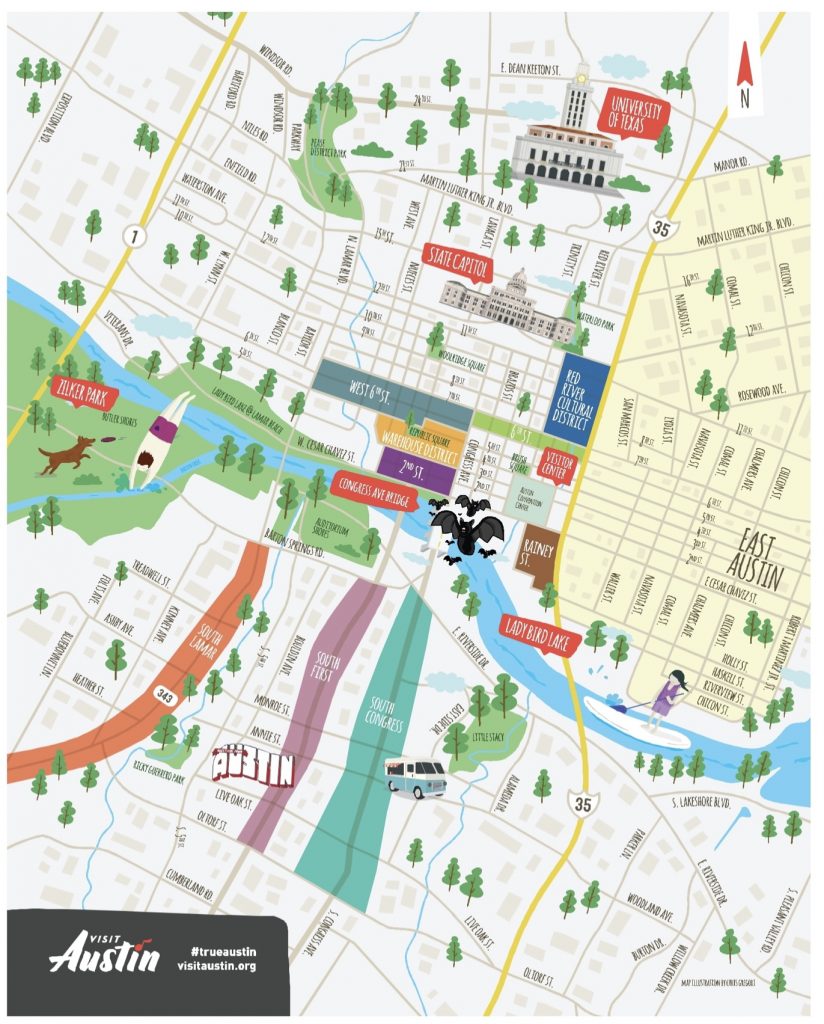 I stopped by the Austin Visitor Center for some guide books and maps. The first day in town I talked with Harrison and got his advice on the best things in Austin. I returned a week later to ask about music venues and spoke with a young lady who told me her favorite places in town for music. She told me about the Twilight Tuesday events at Lady Bird Johnson Wildflower Center. They are friendly and helpful. I picked up the free Austin Chronicle for current events every week.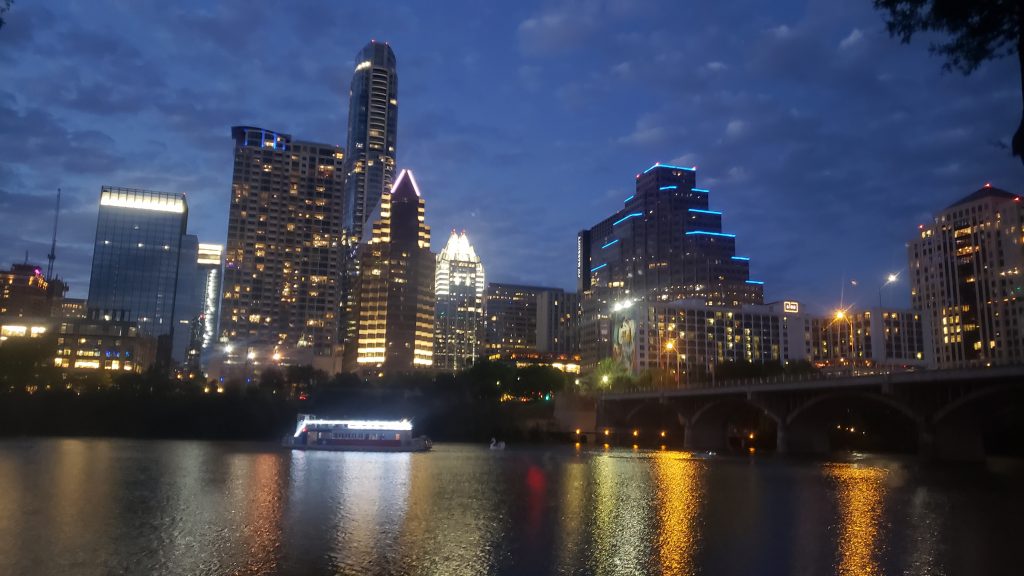 Recommendations
There is certainly plenty to see in this wonderful town. Some attractions are even free, including the Texas State Capitol and Capitol Grounds Tour. Their guided tours were suspended due to COVID, but they were still allowing self-guided tours. The Capitol and grounds have tour maps that are available at both the Austin visitor center and Capitol visitor center. The grounds are attractive and it's worth walking the tour route to see all the monuments.
Austin is a great walking town and I enjoyed experiencing different parts of town including East Austin, Rainey Street, and the SoCo District. All of Congress Avenue from the Capitol to the river is a great walking experience, there is much to see and do. Sixth Street also has a number of historical and other attractions, unfortunately, it is quite crowded with a large number of the homeless that are all over Austin. Many laying or standing on the street can make it difficult to get around; someone in the visitor center told me she would never walk down the street alone and that I should be careful. "They can be quite confrontational", and I did find that out when several followed me after I ignored their requests for money.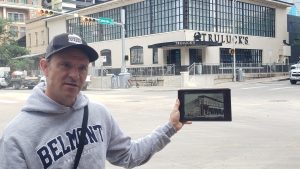 The visitor center has a brochure on downtown walking tours but they are all "suspended" until further notice. However, when I was out walking one day, I noticed a sign for a ghost tour in Austin and checked out their web site. I signed up for a morning walking tour then the Murder Walk Austin tour a few nights later. Did the Servant Girl Annihilator, the US's first serial murder, move to London and murder more women in Whitechapel? Was Jack the Ripper from Austin? Some research believes so. Jim Miles, a former history teacher, leads the walks. They are very enjoyable, I highly recommend. We visited the lovely, (supposedly) haunted Driskill Hotel on both walks. The murder walk should have had time for a drink at the bar but it was Friday night and quite busy so I went back another time to visit.
Austin also has a number of unique fun things to do like visiting the "bat bridge", Congress Avenue Bridge. It is famous for the approximately one million bats that make the bridge home during the summer and fly out every night at sunset. There is a bat observation area just southeast of the bridge.
You can view from the bat observation area (above), a kayak or cruise on the river, or just stand on the bridge (below) for different viewpoints.
Chicken shit bingo! What? Yes, this is a thing. You win prizes based on the squares where the chickens do THEIR thing. It is every Sunday at the Little Longhorn Saloon. I "donated" $20 for 10 tickets over the first two rounds, but no winners for me. "Keep Austin weird"!
There were many great options for enjoying the outdoors. Besides walking around town to see the historic buildings and facades I got out and walked the beautiful Ann and Roy Butler Hike and Bike Trail many times. This is part of the Trail Foundation, a network of trails all over the area with plenty of places to explore. The Boardwalk at Lady Bird Lake is another lovely part of the trail that I really enjoyed. There are several pedestrian bridges across the river to walk the entire trail around the lake. The Shoal Creek Trail runs from the riverfront all the way north to 38th Street and I picked this up several times to walk to or from downtown. See notes at the bottom of the post on some trail tips.
I also loved the Zilker Botanical Gardens and Zilker Park. Both are dog friendly. The park has easy access to the river and hiking and bike trails. I purchased tickets for the botanical garden online and loved wandering through this beautiful space with different areas for succulents, and Japanese, herb, rose, prehistoric, and butterfly gardens. I stopped to read the "Spirit of the Garden" in the Japanese tea house and learned about the creator, Isamu Taniguchi. I visited the botanical gardens a second time before leaving because I enjoyed it so much. A really beautiful place to spend a few hours.
The Lady Bird Johnson Wildflower Center is another great place to enjoy the flowers and they had live music for several months, with their Twilight Tuesdays event. Mount Bonnell, the highest point in town, is a short drive and a short walk to the summit for beautiful views of Austin and the Colorado River. Mayfield Park is just down the street, so after visiting Mount Bonnell, I stopped at this lovely little park. I got slightly turned around on the looping trails but found my way back then visited the gardens and the peacocks.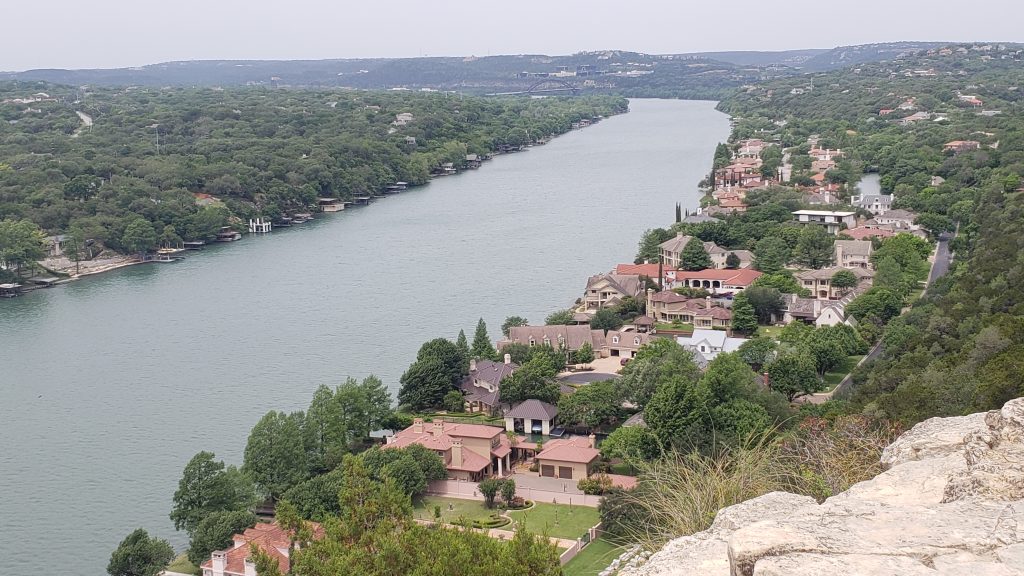 I drove out to McKinney Falls State Park one day, it's not far from Austin and a beautiful place for a hike. Boo and I loved the trails here, $6 entry. We did the Onion Creek, Little Rocky, saw Old Baldy, the 500-year-old cyprus, and Upper and Lower Falls. Lovely day.
There is a farmers market every Saturday at Republic Square from 900 to 1300 on Saturday mornings. This is a great space to visit any day of the week. I also went out to Mueller Park and their farmers market one Sunday, open from 1000-1400. This neighborhood is a few miles from downtown Austin; besides the park, it's quite a lovely neighborhood to walk and this planned community would be a great place to live.
Austin is also home to a variety of different museums. The Bullock State Museum is the state history museum, "The Story of Texas". I didn't visit the museum but did purchase tickets to a couple of their IMAX shows. It was in walking distance as was the Blanton Museum of Art on the UT Austin campus. They had some great exhibits. The Ellsworth Kelly Austin work, a permanent installation and part of the museum, is interesting and beautiful. Blanton offered free entry on Thursdays. Another art museum I loved was the Umlauf Sculpture Garden and Museum. The indoor gallery is still closed. No dogs were allowed. The Texas Memorial Museum was an enjoyable visit with natural history exhibits including fossils, prehistoric life, gems, wildlife, and much more. I stopped by Saint Mary's Cathedral one afternoon right before they opened for mass to see the windows and nave. I also visited the Neill-Cochran House Museum. This is a beautiful old house from 1856 with the only existing enslaved quarters left in Austin. They had a number of interesting exhibits on the history of the home and Austin.
There are many options to enjoy free art; there are great sculptures and monuments and murals all over town. Many of the sculptures and monuments had plaques about the subject and artists.
I would have liked to visit the Harry Ransom Center on campus but it remained closed. I would have also visited the LBJ Library and the George Washington Carver Museum, but both were closed. I was expected more closures last fall but surprised that so much is still closed or closing again. Cases had been rising recently, however.
Known as the Live Museum Capital of the World, I knew I had to find some venues to enjoy music. My first weekend I stopped at the Austin Beer Garden Brewery (ABGB) to try a flight. The live music that started at 1700 was a nice surprise. I also attended a concert with Scott Collins at 3Ten, the small venue beneath the Austin City Live auditorium. It is a nice size room and Scott gave a great show. I really enjoyed my evening at the Lady Bird Johnson Wildflower Center watching Susanna Choffel and listening to the Austin Symphony. A truly lovely location to enjoy being outside with live music. I also saw (mostly heard as I was sitting outside) music from Weldon Hensen at Little Longhorn Saloon when I was there for Chicken shit bingo.
I also had recommendations to try the Elephant Room, the Continental Club, Stubbs, and Antones. The Elephant Room and Continental Club were both temporarily closed, Stubbs BBQ had no shows until late May, Antones had a number of shows but they were expensive tickets and none of the performers really interested me.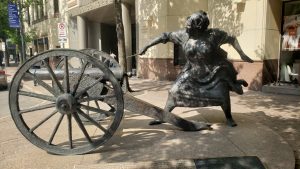 I learned some fun interesting history while walking down Congress one day. I saw this statue and stopped to read the plaque about Angelina Eberly. She was instrumental in preventing Sam Houston from moving the archives out of Austin; Houston, as president of the Republic of Texas, didn't want the capitol in Austin. I read more about the "Archives War" later, then saw this quote from Houston in one of the museums. He really didn't like Austin, I guess?

Restaurants
Austin is considered a great food destination. While famous for breakfast tacos and lots of barbecue, it has a wide variety of restaurants. Upscale to food trucks, anything you want is available. Just search on 'best restaurants Austin' and you'll get a number of hits, each website offers their favorites.
I love breakfast food, especially eggs any way, but usually just eat at home; it's easy to scramble eggs with chopped vegetables or bake a frittata and I make a great shakshuka, Moroccan poached eggs. But hearing everyone talking about breakfast tacos I knew I had to have some while in town. Maybe more than just some. I walked to Taco Deli one morning and had a migas and vaquero. Both were delicious as was the dona, their creamy jalapeño salsa. They have several locations in town, the one on Congress has outside seating, I bought Boo some scrambled eggs so he could enjoy breakfast with me. I also tried their papas, with mashed potatoes, and a bacon, egg, and cheese taco a few weeks later. Neither is on the menu online but available ready-made at the farmer's market.
I walked over to Arturo's Underground Cafe, a restaurant in my neighborhood, one morning. I had one of their breakfast scrambles, the Arturo. It was okay but not nearly as good as the food at Taco Deli. Another morning, before my scheduled walk with Tour ATX, I walked downtown an hour early to have breakfast at Veracruz All Natural. The migas poblanas and el tradicional were delicious! And again, I got a side of eggs for Boo. Be careful of their salsa roja, made with chile de arbol. Very spicy! I also stopped at the Veracruz food truck on Manchaca on the way to the Wildflower Center. Their fish tacos, with grilled tilapia, cabbage, mango salsa, were delicious.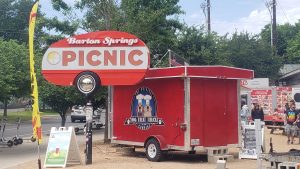 Austin is also known for its huge selection of food trucks. I went out to Barton Springs to try The Picnic the first weekend I was in town. It has a large selection of food trucks with a wide variety of food available. They even have a truck for dog treats. Boo loved his doggie waffles and froyo. However, I'm not quite sure why this one location was highlighted on an Austin site when there are dozens of groupings of food trucks on campus and many corner lots all over town. I saw them every time I walked out the door, from Brazilian to Indian to chicken and waffles, you can find it.
There are food trucks at the breweries, too. I usually like having that option even better than a full restaurant. Spicy Boys Chicken, the food truck at Zilker Brewing served a really great, spicy, Thai Chicken sandwich, the "OG". People sitting around me at the brewery were all raving about their fried chicken in general.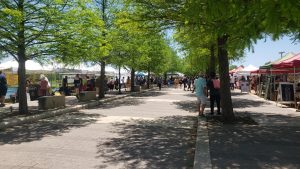 The downtown Saturday farmer's market was a great spot for different food options. The first time I went I was just looking for some vegetables but wish I hadn't eaten breakfast before walking down. I went back right before closing that day to have lunch and had THE.BEST.TAMALE I have EVER had. I like tamales but am usually disappointed when I order them. They are often dry and bland, like the kind you purchase in the frozen food section of the grocery store. But the pork tomatillo tamale from Tamale Addiction was absolutely delicious. I went to the market the next two Saturdays as well, and made sure I went hungry. Taco Deli was there with breakfast tacos, there was a stand with some great looking empanadas, a number of bakeries with pastries, and much, much more. "We dare you to eat our tamales and not get addicted from the first bite. You will become part of our beloved community of addicts." Yes. I even looked for them when I was at the farmer's market at Mueller one Sunday and picked up several frozen varieties for later meals, very easy to heat up in the microwave.
When you're in Texas you have to eat BBQ, right? I tried Black's BBQ my first week. I wasn't really that impressed with the brisket; it was okay but the cole slaw and Mexican street corn sides were good. Outside seating, dog friendly. I also tried Terry Black's BBQ and should have had them first. Skip Black's and go to Terry Black's. The brisket is fantastic. The slaw was better at Black's but you don't go to a BBQ place for the cole slaw. You can order online but only family size/pounds of meat not sandwiches. A few days later I was told about Iron Works BBQ, the "best" in the city. There is a lot of best, depending on who you speak with. I stopped there after visiting Rainey Street and had their sliced beef plate. I liked Terry Black's better. I went to La Barbecue on Cesar Chavez one night, after a few beers down the street at Blue Owl, I had their sliced brisket and beans. Both were excellent.
I visited Banger's Sausage House on a second visit to Rainey Street. It wasn't nearly as good as Biker Jim's Gourmet Dogs in Denver and didn't have as good of a selection. It was also rather expensive, $9 for a drunken chicken sausage, with no sides. They had a good choice of drafts but so did Craft Pride down the street and it was a nicer place to just sit with a beer and my dog.
I had a huge number of choices within walking distance, probably because of the university. Kesos Tacos had a great selection of breakfast and other tacos. The Clay Pit had delicious Indian food. I noticed this the first day when out walking and checked out the menu online. I ordered the khuroos-e-tursh and samosas for pick-up one evening. Bao'd Up offers fantastic dumplings, try the Texas Trio.
The farmer's markets had several great bakery tents, with a selection of breads and sweets, including from Julie Myrtille and Beautiful Bees Bakery with many vegan options. Tiff's Treats was just a block away and had delicious cookies. If you're walking downtown on 2nd, stop in Yummi's Joy for one of their truffles. Expensive but huge and very good.
Breweries
There are a lot of breweries if you look in "Austin" but many are fairly far out of town and would be hard to visit without a car. Jester King and Live Oak were both recommended but also about half an hour drive out of town, so I never made it out to either. I did have a couple of Live Oak selections offered around town.
Zilker Brewery is right downtown. I loved their beer, nice location and dog friendly. The schwarzbier, Future You, and the Rainbow Ripples Sour are both delicious! Lazarus Brewing has some excellent beers, even if it's hard to find parking. Very friendly staff, outside seating, dog friendly. No flights but the bartender was great with recommendations. Central District is also right in the middle of downtown, friendly staff, outside seating, easy access. I like their wit, Rhythm is a Dancer sour, and hazy IPA Concentric Circles the best out of my flight.
If you like sours, you'll love Blue Owl Brewing. Great selection, great beer. Just down the street from La Barbecue, I walked there for a sandwich before going home.
Austin Beer Garden Brewery (ABGB) served flights, had a full menu, and live music. Austin Beerworks didn't offer flights, no tastes. I had a couple beers based on styles I like but neither were outstanding. It's about 10 miles north of downtown and was hard to get to.
Notes:
Some areas around the trail require parking fees but there are many places to find free parking. Also, be aware that Google maps does not seem to work well with various trail locations. The first week in town, I entered "Ann & Roy Butler Hike & Bike". I didn't realize at the time this is actually about 20+ miles of trails. But Google took me to a private lot with expensive parking just off South Congress. The lot used a different park app, too, than the ParkATX. When following maps for the "Boardwalk at Lady Bird Lake", it kept telling me to turn left off Riverside Drive. Turn left, TURN LEFT … there was NO LEFT!! However, continuing straight and taking a left at the next major intersection, I found some parking on Lakeshore, by Town Creek Drive. It was free and I was able to walk the beautiful boardwalk area west to Congress Bridge and beyond to Butler Park. I returned to this same area to walk east to the far end of the lake another time.
There is also parking by:
Stratford Lane by Zilker Park, under the MoPac Expressway
Under the overpass on I35 on the north side of Austin
Off South 1st street, at 676W W Riverside Drive is easy parking for the trail, walking to Congress Bridge for the bats, or just a mile west to Barton Springs Pool
Old, closed, hostel at 2200 S. Lakeshore Blvd has a parking lot right on the trail
There is plenty of parking on Lakeshore further east by Oracle and along Pleasant Valley Road by Longhorn dam and Krieg Fields. Not as nice part of the trail IMO but quiet and peaceful
Free street parking Sundays!
I am sure there are plenty of additional places to park for free around the trails, it just takes some exploring.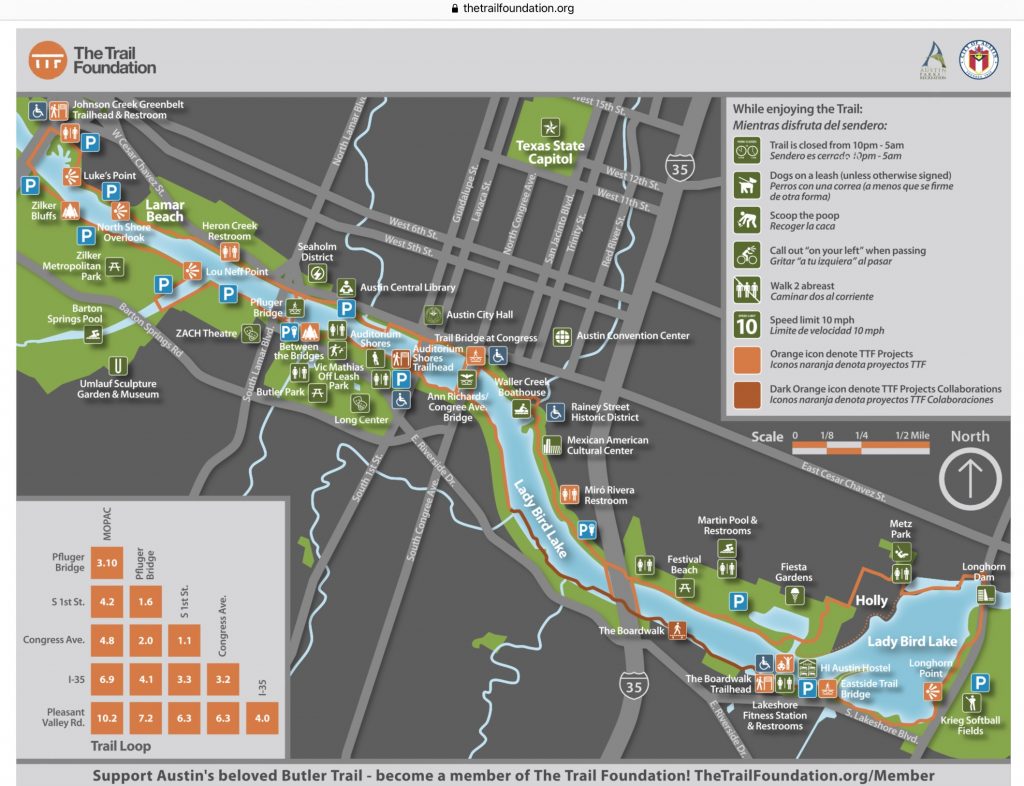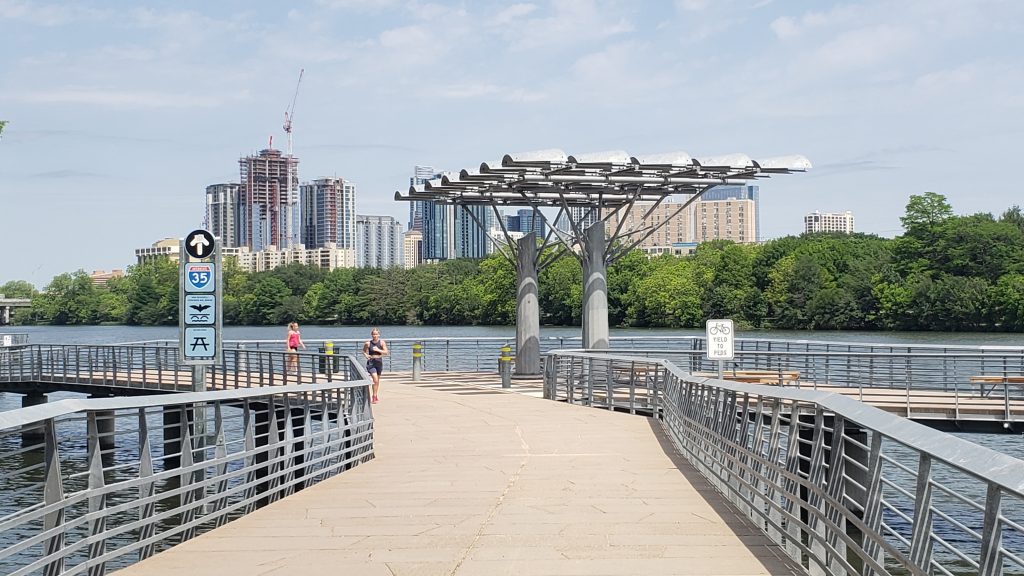 ** All photos property of Lisa, not to be copied or reproduced **