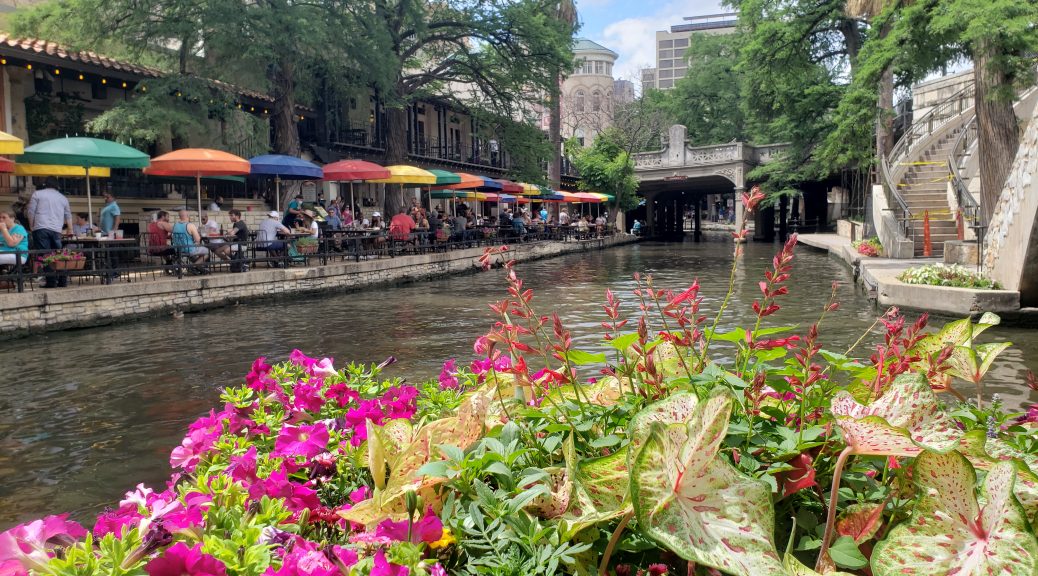 Remembering San Antonio
Remembering San Antonio
Anyone coming to San Antonio is going to visit the Riverwalk. It's the highlight of the city. This is a beautiful path along the San Antonio River, with stores, restaurants, hotels, plenty to see and do. I walked many miles along the river on multiple days at different parts of the trail. Some areas, near downtown, are busy and crowded with restaurants and stores. But head north to the Pearl district or south to the King William and there are many quiet, empty areas to enjoy.
La Villita, with shops and restaurants, is accessible off the riverwalk. The signs on the gates and the brochures say open 7 days but it's closed on Tuesdays and Wednesdays now. Their website did have the correct new hours but I didn't see that before visiting on Wednesday. I am still surprised the entire village, all restaurants and shops, would close two days a week. I'm wondering if it helped with costs when there weren't many visitors.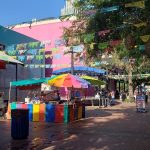 The Historic Market Square was only a few blocks from my hotel so I walked past it or through it whenever I walked downtown. With many restaurants, small food trucks, lots of shopping, it's a busy area with many people at all hours of the day and evening. I picked up some good mini tacos from one of the food trucks for dinner my first evening when walking back to my hotel.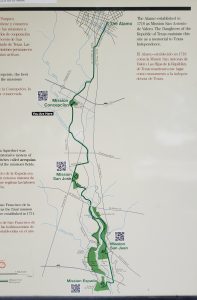 I spent most of one day visiting the five San Antonio Missions; starting at Mission Concepcion, Mission San Jose the "Queen of the Missions", Mission San Juan, Mission Espada, and, finally, returning to town to visit the Mission San Antonio de Valero, the Alamo. The grounds and churches are all worth visiting. There is an 8 mile trail for biking or hiking connecting them. Dogs are allowed on the grounds but none of the buildings, of course. I left Boo in the room as I didn't want him left in the car while I was in the churches, although none of the churches required more than a few minutes so I probably should have taken him to enjoy the grounds. They are all different and less crowded than the Alamo.
The Alamo grounds are free to enter. The church is also free but currently requires a timed ticket entry. I purchased the audio guide for $7, and I thought it was a great value. They provide a brochure with the stops listed, making it easy to follow the tour. There are other tours offered but the history talk was booked and I didn't think a one-hour guided tour was worth $40. The exhibit hall was only open to those with the audio guides. Unlike the other missions, no dogs are allowed on the grounds.
There are a number of signs about the history of the old mission and the battle but it seemed very one-sided. I looked up some background on Santa Ana and his overturning the Mexican Constitution, to help me understand what led up to the battle. This was Mexican land, and while Mexico invited settlers in, some were considered "illegal". Sound familiar?
Most of the land of the mission and where the battles were fought has been sold and has been built over. The church, part of the Long Barracks, and some of the walls are most of what remains of the Spanish mission complex. There are some restored buildings on the site, as well.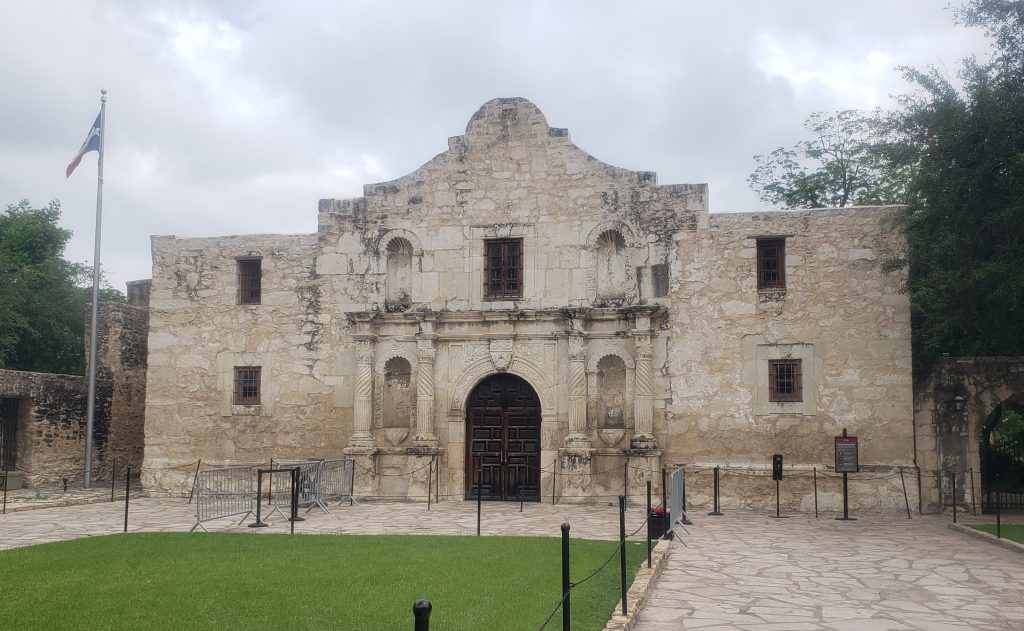 Hemisfair Park is the site of the 1968 World's Fair. It contains large gardens, play areas, the Tower of the America's, the Convention center, apartments and restaurants. Boo and I enjoyed walking through the area.
The Spanish Governor's Palace is the ruins of the Presido San Antonio de Bejar. Originally built in 1722, it was a one-room house used as the Captain's quarters and office. Three rooms were added in 1749 for more office space, there were additional alterations late in the 1700s, when it was used as private residence and various businesses. It was restored and heavily altered by the architect in charge of the restoration; rooms and doors were added, as well as a courtyard and patio. This was in 1930 prior to the modern restoration standards that kept to a more historical record. An interesting visit and there are lot of signs indicating what is original and was was added or changed in 1930.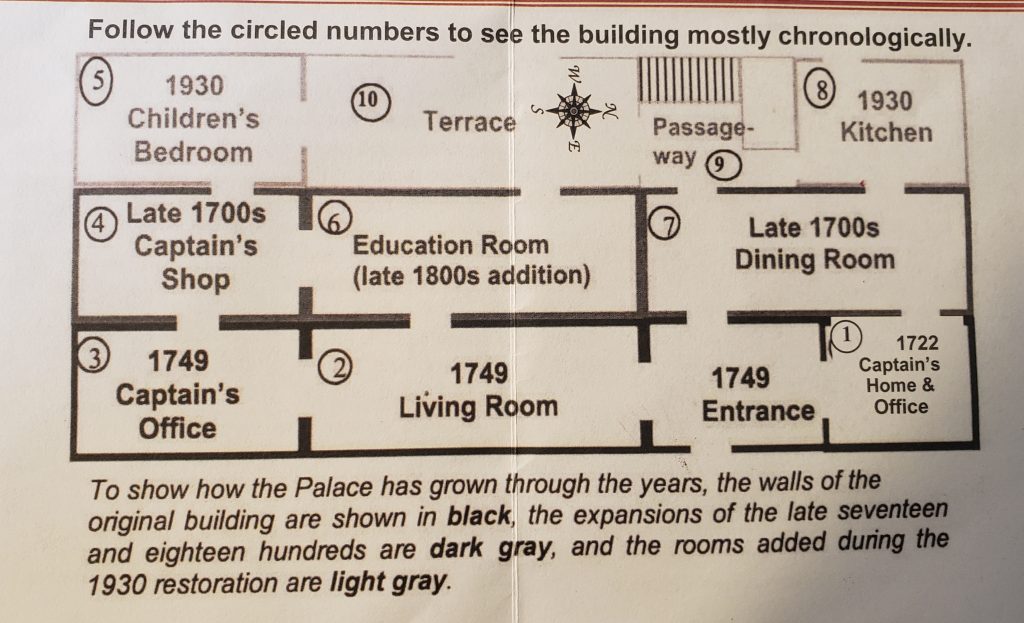 The San Fernando Cathedral, besides being a beautiful church to visit and the center of the original Spanish town, has the remains of Crockett, Bowie, and Travis. Formerly buried in the old San Fernando Church, they were exhumed and moved here in 1938.
Plaza de las Islas or Main Plaza, the open square in front of the cathedral, is a beautiful space with fountains, restaurants, and other activities, including San Antonio | The Saga. Designed by French artist, Xavier de Richemont, his video art is projected onto the facade of the cathedral several nights each week. I saw a few minutes of it when we visited the plaza during my ghost walk but returned Friday for the entire presentation. I stayed for two back to back shows. Amazing!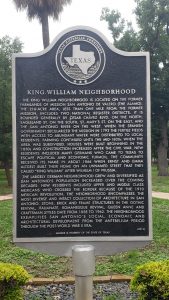 I went over to King William District for breakfast at Guenther House but there was a long wait so I picked another place then walked around enjoying the architecture. I walked down Guenther Street, Alamo Street, King William Street to King William Park and back along the Riverwalk. Blue Star Arts Complex was mostly closed, early that day. I returned another day to visit some of the art studios and shops. Ruby City is temporarily closed.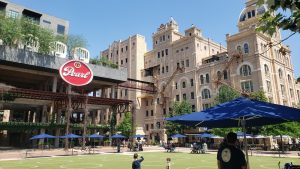 The Pearl District is the site of the former Pearl Brewery, now the Emma Hotel and many great restaurants and shops. It's a beautiful area.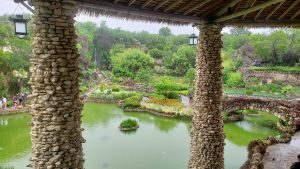 I visited the Japanese Tea Garden my second visit to the Pearl area when I went back out for lunch. What a beautiful garden. Even rainy it was a pleasure to see and dog friendly, too, so take your fur baby and enjoy.
I always like to find walking tours of towns, they are a great way to learn about a city from locals. I didn't find a general walking tour of town but took a great ghost tour with Sister's Grimm, taking their Haunted History Walk. I had a fun and interesting tour with Mae, learning about the Menger Hotel, the ghosts of the Alamo, the Governor's Palace, burials on the Main Plaza, and the site of the old jail that had many hangings, including that of Clemente Apolinar who murdered a young boy. His hanging sounds like a scene from the Green Mile. He refused the hood and the rope nearly decapitated him, covering the witnesses in his blood. It's now the Holiday Inn Express. We visited a number of other locations, too. Several people on the tour expressed great excitement about staying in these hotels. I'm a "skeptic" but still, no, thanks.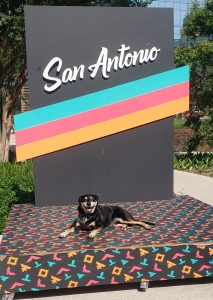 My hotel was on the west side, by the highway. Only a mile or so to the start of the riverwalk down Nueva but then we did many miles around the rest of town each day, averaging about 8 miles a day. I didn't want to deal with finding parking, not to mention, it was expensive. When coming back from the missions, I parked downtown to visit the Alamo and it was $15 for 3 hours. I only drove one other time, the night of the ghost walk as I wasn't sure it would be safe to walk back at 2200 or 2230.
Boo kept up but I think it tired my sweet boy out, too, as he would get back to the hotel and plop on his bed… or my bed! He's such a great travel buddy, so lucky to have him along.
Restaurants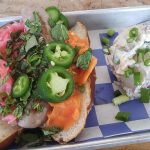 Kunstler Brewing Good beer, good food, dog friendly. Great service from a friendly waiter, when I ordered the Banh Mi bratwurst we got into a conversation about Vietnam and their fantastic food since she had visited, too.
La Panaderia On Houston Street, convenient to the Alamo for a quick lunch. The La Clasica was very good and I enjoyed it sitting at the Alamo prior to my visit.
Guadalajara Grill Outside seating, dog friendly. Tex-Mex food, enchiladas, etc. Had some great reviews but I thought it was pretty standard fare.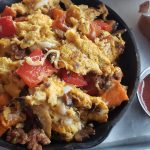 Guenther House was recommended by a local waiter and a friend but when I went around 9 on a Wednesday they said 1/2 hour wait, despite most of the patio being empty. I guess they are, like many restaurants, having problems with hiring employees. I wonder if more restaurants will have to just go with counter service? I went across the street to Halcyon Coffee Bar for a good breakfast scramble.
I was going to check out Blue Star Brewery for dinner one evening but found a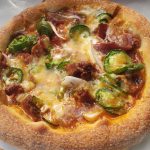 review for them on Yelp that said warm beer and bad food and recommended a couple other breweries. I hadn't heard about Back Unturned until I read that review. About a mile and a half from my hotel but I walked to get more steps in and not have to worry about parking or having a couple beers. I had a salad, with their house cilantro vinaigrette, and their Spicy Hawaiian pizza. The food and beer were both excellent. Not great outside seating, just a few tables sitting on uneven sidewalk but still available, fortunately, so I could have Boo.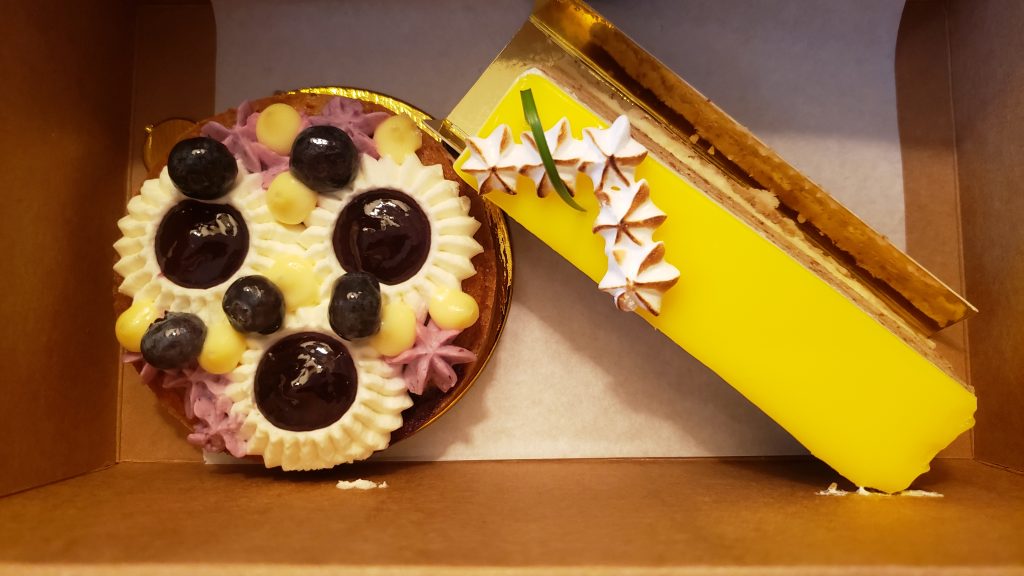 When at Pearl, I stopped in the Bakery Lorraine. They allow dogs inside so Boo and I could view all their amazing treats before ordering. I purchased the lemon cake and a blueberry lemon frangipane tart for later. Delicious!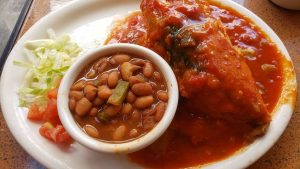 I had a very late lunch/early dinner one afternoon at Casa Rio, the oldest restaurant on the Riverwalk. Their menu sounded great and it was hard to choose, but I got their Chile Rellano with chicken and rice and their borracho (drunk) beans. Huge portions so glad I skipped lunch.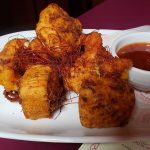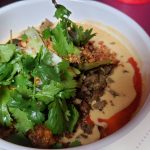 I was also going to pick up some to-go food from Best Quality Daughter when at Pearl on Thursday but they have a lovely outdoor patio and I decided to make a reservation for Saturday before leaving for Fredericksburg. Unfortunately, Saturday was raining all day, from thunderstorms to drizzling, so I ate inside. First time in months! Expensive for lunch but delicious and quite a unique menu. I ordered the mochi (a type of sticky rice) cheddar hush puppies with Thai Chili Jam and the excellent panang curry dan dan noodles with salted pork chili, peanuts, mustard greens, cilantro. Both were fantastic. I had enough for leftovers the next day.
 ** All photos property of Lisa, not to be copied or reproduced **