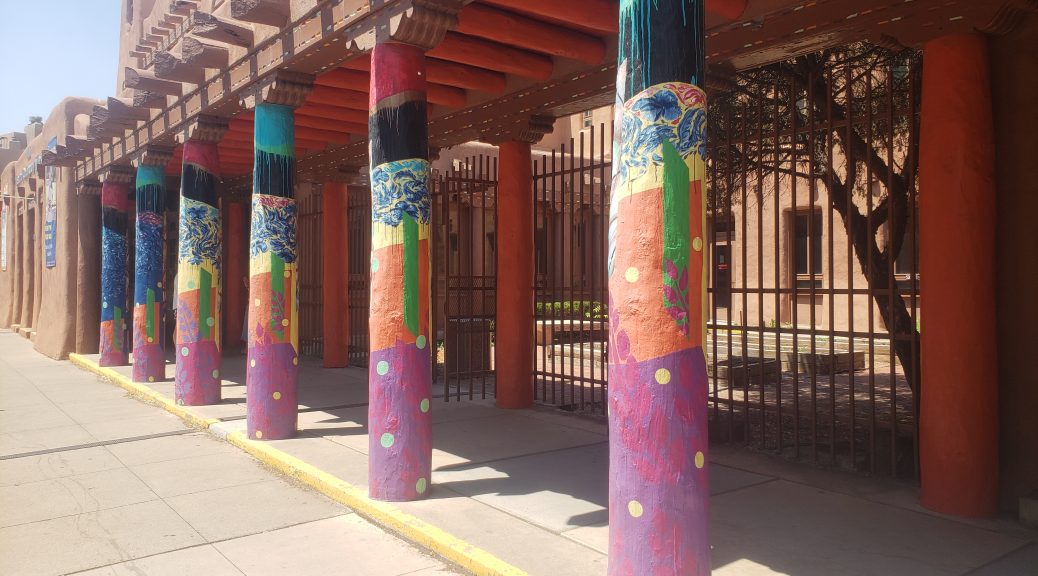 Santa Fe: "The City Different"
Santa Fe: "The City Different"
I haven't been to Santa Fe since 1998, so decided to stay for two weeks to do all the museums and historical parks and sites in the area. I found a B&B, close to downtown on Paseo de Peralta which encircles the historic center. I could walk almost everywhere and not have to deal with parking. The room was very small and I didn't have much space for "stuff" (I was quite spread out and messy!) but they had several nice sitting rooms inside, a patio downstairs, and a second story deck so I spent a lot of time outside when I just wanted to read or be on the internet. They also provided an excellent breakfast every day, different egg dishes (several with this great creamy avocado sauce!), sometimes waffles with berries, and always fresh fruit or smoothies. Despite the smaller rooms, without the "usual" amenities of a refrigerator and microwave, I would definitely recommend the Inn on the Paseo for a stay in Santa Fe.
I was just four blocks from the Plaza and the downtown museums and a 1/2 mile walk from Canyon Road. As usual, I searched out the visitor center to pick up a map and guide my first day in town. The one I found is just off the plaza, on San Francisco Street, in the Plaza Galleria. When walking around later in the week, I passed the convention center on Marcy Street and saw a sign for the main visitor center. However, it is temporarily closed.
There is so much to see and do in town, I was plenty busy but with two weeks, I also had time to sit and enjoy a long lunch, evening walks to the main plaza, or sunsets at Fort Marcy.
Museums
Santa Fe, for a "small town", has some wonderful world class museums. I purchased the New Mexico Culture Pass. It included museums all over the state, Albuquerque, Alamogordo, but there was enough in Santa Fe or close by that made it a good value, only $30. I visited the New Mexico History Museum, Museum of International Folk Art, Museum of Indian Arts & Culture, New Mexico Museum of Art all in town, and the historic site of Los Luceros.
There were several exhibits at each of the museums that were memorable. I liked learning about the Harvey Girls and listening to the interviews. I had never heard about these woman working for Fred Harvey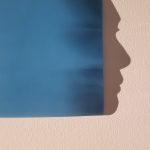 in his restaurants and train stations from the 1870s well into the 20th century. Both the wall of square resin pieces that show faces with shadow by Kumi Yamashita at the history museum and the Breath Taking exhibit at the Museum of Art were unique.
And, of course, anyone coming to Santa Fe is going to visit the Georgia O'Keeffe Museum. They were requiring advance tickets with timed entry. Another couple staying at my B&B said they wanted tickets but couldn't get them. I ordered the day after I arrived, Sunday, and the first available was Friday.
One of my favorites in town was the IAIA Museum of Contemporary Indian Arts. It's a fantastic museum, highly recommended. They are exhibiting the work of the students, former students, and some of the professors of the Institute of American Indian Arts. And it's free to veterans!
Other Recommendations
I visited Pecos National Historical Park twice. The first day I did the Ranger walk on the Ruins trail. Ranger Byron provided excellent information and historical context but Boo and I walked it a second time with the trail guide and stopped to read the markers. I went into both available kivas; one is on the grounds of the Spanish Catholic Church and they aren't sure why, since most of the colonizers tried to forcibly convert the Native Americans and prevent them from practicing their own religion. They've hypothesized it was a way to merge the two religions and let the priest come and preach to the Native Americans in the kiva, but they aren't sure.
The exhibits in the Visitor Center are well worth 1/2 hour to an hour reading about the excavations of Alfred Kidder and the history of the site. I returned on Saturday for the battlefield hike and the story of the battle of Glorietta Pass. We didn't do the entire 2.25 mile trail, the guide thought it too hot to continue. I probably would have finished the trail if I had visited the first Saturday like planned instead of when I was en route to Moab. It was hot but there was quite a bit of shade and it was a gorgeous area, wouldn't want to fight here but a truly lovely walk.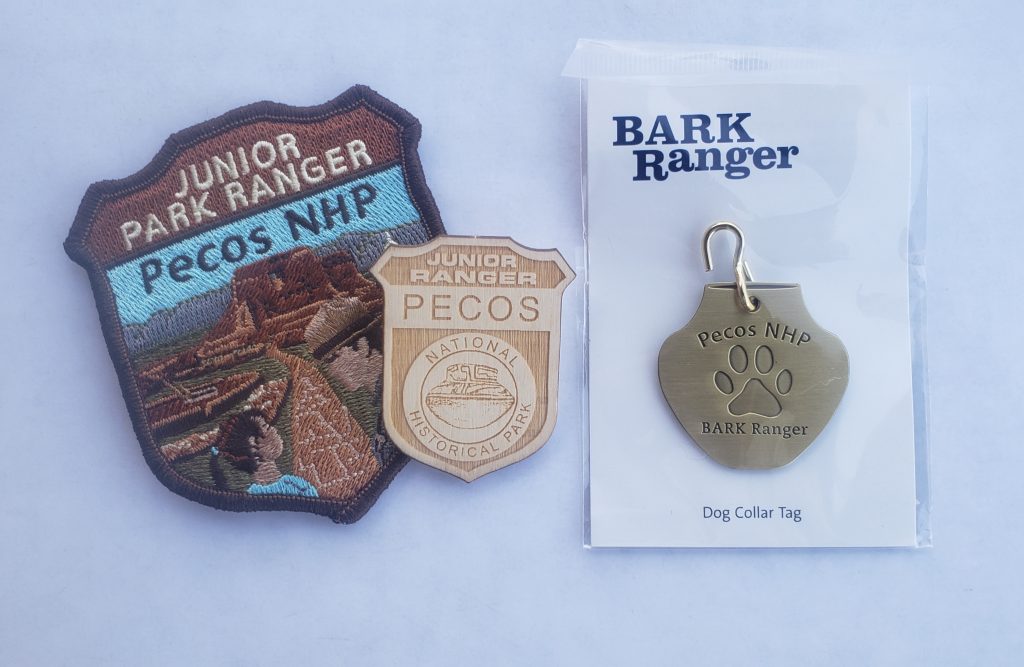 The battle has been referred to as "Gettysburg of the West" but the only similarity that I can find is the "battle" lasted 3 days and the location was an accident. There were about 400 soldiers on each side, although more soldiers arrived the second day, compared to about 150,000 or more at Gettysburg. Two colonels were in charge as opposed to over 100 generals fighting in Gettysburg. The confederates were moving north to capture Fort Union; they wanted the gold fields of Colorado to fund the war and to eventually capture ports in Southern California to bypass the blockades on the Atlantic. The union soldiers, when attempting to get over the Glorietta mesa to come in behind the confederate forces, came upon the train with supplies, mules, horses and wagons and destroyed all the supplies forcing the confederate forces to withdraw.
I was right across the street from Fort Marcy and the hill with Martyrs of the Cross. I walked up many times, there are historical markers documenting the area from 500AD to present day. Boo and I enjoyed the hill for our morning walk and would come down the north side back to our B&B. We also went up a couple times to enjoy the sunset.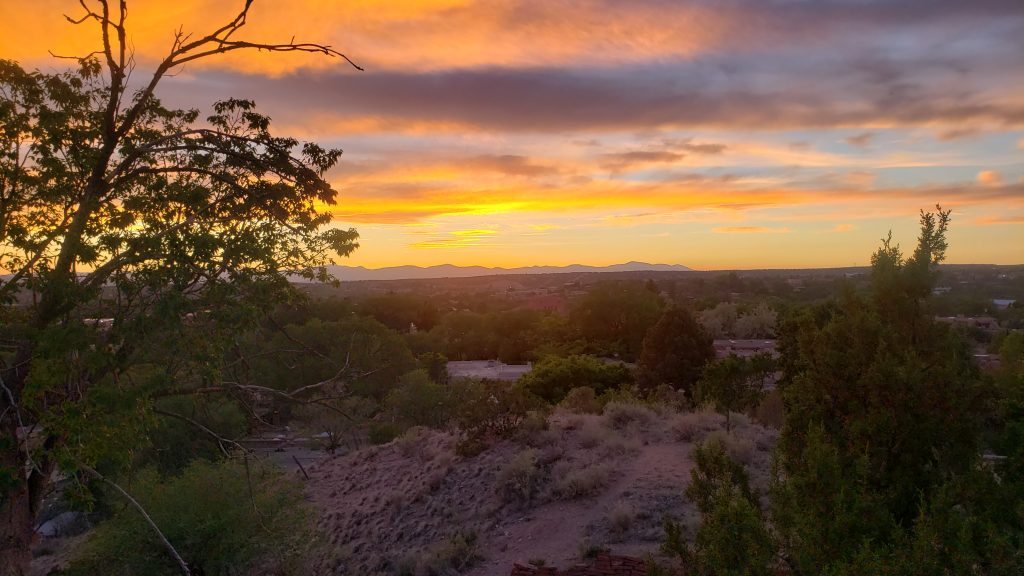 The marker for 1680 talks about the Pueblo Revolt, 46 pueblos united under Po'Pay to push out the Spanish because of "extreme demands" placed on the indigenous peoples. Then the marker went on to talk about the 21 Franciscan priests who were killed and that the cross was for these "martyrs". If invaders come into a land, make the local people learn a foreign language, force them to practice a foreign religion, and place "extreme demands" on them, when the locals fight back, it doesn't make the invaders martyrs! #Europeanhistory
I visited the Cathedral Basilica of St. Francis of Assisi, the Loretta Chapel, and San Miguel Chapel.
The Basilica contains a 400 year old statue of Mary, that has been in the church since before the Pueblo uprising, and has beautiful hand painted ceilings and columns. The Loretta Chapel is home to the "miraculous staircase". It is $5 for entry, it's a small, but beautiful chapel. San Miguel is the oldest church structure in the country. The altar screen is the oldest in New Mexico, painted in 1798. The Oldest House in the country is right across the street; it rests on the foundation of an ancient Indian Pueblo from around 1200 CE, the house is believed to be from 1608.
The Plaza is literally and figuratively the center of town. It's a great open space, plenty of benches to sit and people watch. Surrounded by shops, restaurants, museums, and the Palace of Governors, it's a nice place to relax. On the weekends, there are many artisans with their wares around the perimeter of the plaza and along the Palace of Governors portico. The palace is part of the New Mexico Museum of History, but currently undergoing restoration and not accessible. It will be reopening in 2022. It is considered the oldest public building in the US.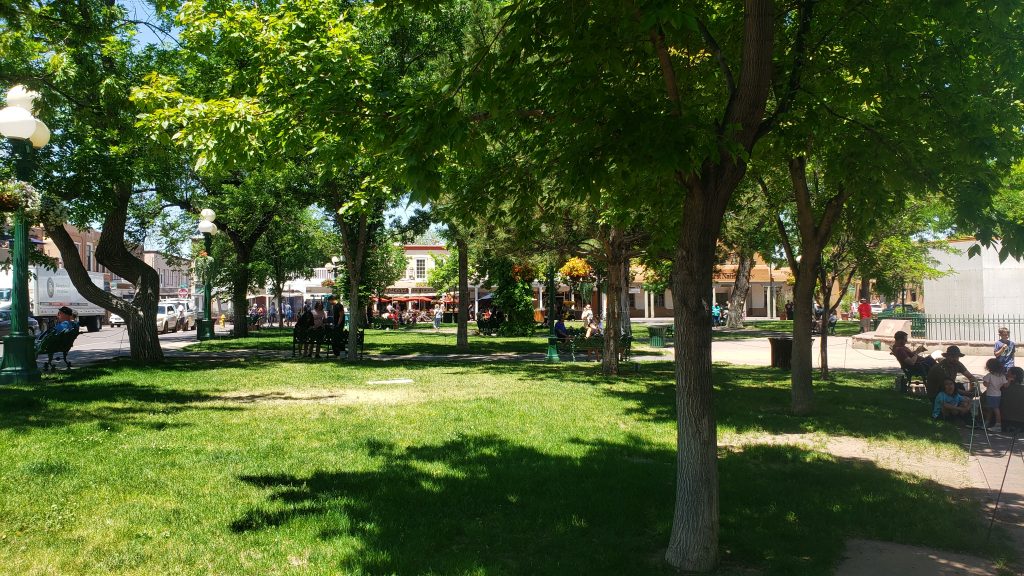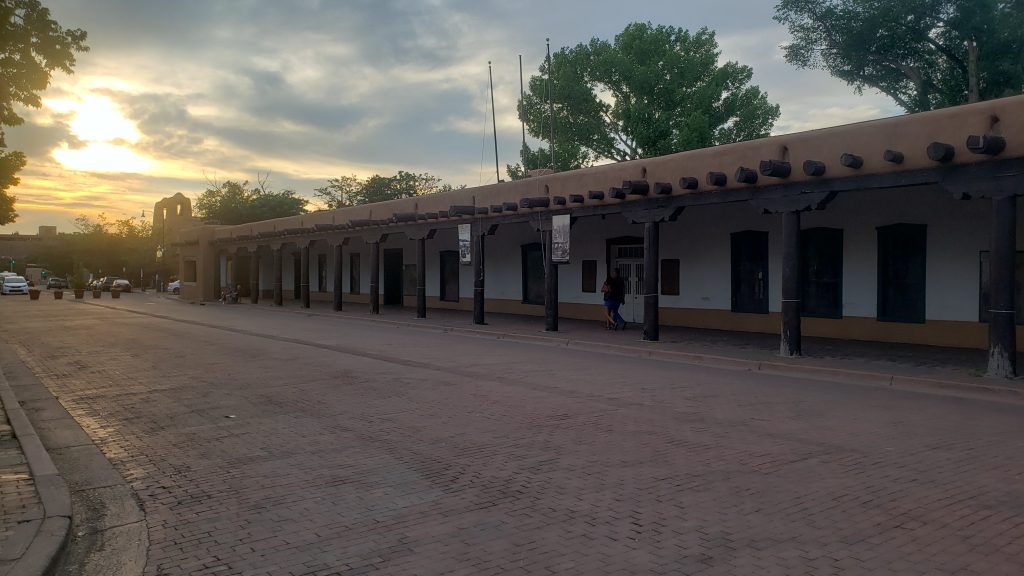 There used to be a large "Soldiers Monument" in the plaza, an obelisk in the center but it was pulled down October, 2020 on Indigenous People's Day (AKA Columbus Day). The photo below shows one of the inscriptions that used to say "savage indians". More biased history. The word savage had been chiseled out years ago.
It was time; although it would have been so much better for everyone, IMO, for the city to have removed it promptly as the mayor had promised months prior to it being pulled down. I hope they can either completely clear the area (currently boarded up) or find a much better memorial. Ironically, an employee at my B&B told me the mayor is now being sued by some Hispanic groups who object to the monument being torn down. They have a point that the other 3 panels on the base of the monument paid tribute to the Union soldiers who fought the confederates. I didn't hear about this information in the other article. There is always more to the story!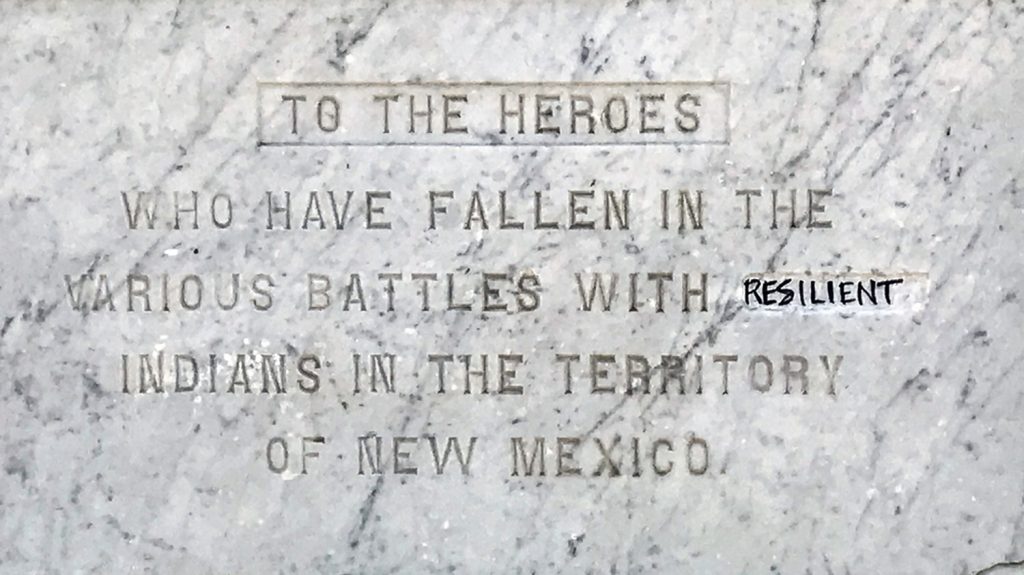 I took the tamale cooking class at Santa Fe School of Cooking. They have some demonstration classes as well as hands-on. I wanted hands-on. We made three different types, red chile and pork, Southern Mexican chicken in banana leaf, and blue corn calabacita. As with other classes I've taken, they had some things pre-measured, a large bowl of garlic chopped up, and ingredients on a tray for each of the sauces or masas but we made two different sauces, cut up all the fresh veggies for the calabacita filling and mixed the masa harina and blue cornmeal. Like always, the best part of a cooking class is eating your work! So good! There was a huge batch of all three tamales and as Michelle and Noe, our chefs, recommended, many of us took some to go.
I walked up to Canyon Road Arts District a couple times. The first time I had Boo and we just "window shopped". There is a lot of art that was in the courtyards and along the street. I went back without Boo one afternoon so I could visit the galleries without worrying about his knocking over expensive art I couldn't afford to purchase. Another great art area is Railyard Arts District. But there are galleries literally everywhere, every street, artisans with their wares in front of the Governor's Palace or on the Plaza, the entire city is full of art wherever you look.
Restaurants
Cowgirl BBQ Grill I had a great burger with strips of roasted green chile. Got the burger platter and added the chile. Dog friendly, I had a booth outside, good service.
I walked over to Casa Chimaya after visiting Georgia O'Keeffe. I had a chicken sopaipilla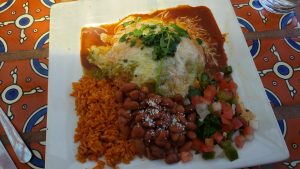 . Their rice and beans were great, too. So many so-called 'Mexican places' have dry tasteless rice and runny refried beans. Not in Santa Fe, both were usually great!
Chile Line Brewery Just okay beer, nothing outstanding. I ordered a pizza from Lino's next door. Not impressed with either business or their service. I had decent service from my waiter but the guy at the front of Lino's and the woman behind the bar at Chile Line when I walked in were rude and basically telling me dogs not welcome despite the websites saying dogs welcome AND some dogs already in their back patio. Go elsewhere.
The Shed Great service, great food. Dog friendly on their patio. Had their carne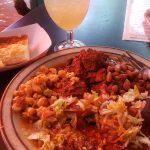 adovada. Spicy, tender pork. And I made it a long lunch with two of their great margaritas. It is one of the many, many stops on the Santa Fe Margarita Trail. Sadly, they were the only margaritas I had in town. Cortney, one of the employees at Inn on Paseo, told me The Shed still considered "touristy" but I loved it.
Tres Colores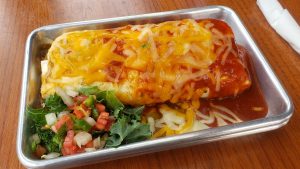 Great smothered chicken burrito. I read about Tia Sophia a couple places, but every time I went by when just out walking, there seemed to be a group of people waiting to go in (it's right off plaza, so walked by most days). But I had walked by Tres Colores on Marcy many times, too, and stopped in for lunch one day. The burrito was huge and flavorful. It was so big I had to leave about a third of it, despite WANTING to finish. I asked the people next to me at a table, who were locals, about why Tia Sophia's was so crowded, he said "over-hyped tourist place".
Chocolate en la Plaza is very expensive. I tried the Santa Fe bark, dark chocolate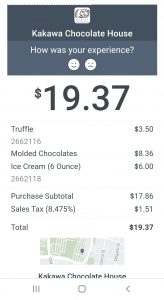 with sea salt, pistachios, almonds, cranberries. Just tasted salt.. and it was a very small piece for $10! Not recommended IMO.
I walked past Kakawa Chocolates many times and finally stopped in one day. Fantastic! They offer a lot of liquid chocolate, and tasting flights, but I just got some of their solid chocolates, dark mint, dark orange, dark coffee, dark with almonds… yes, I LOVE dark chocolate. And I tried one of their signature flavors of truffles, the goat cheese and sage. That was great! Bought it all to go, then I saw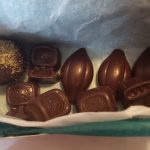 someone getting ice cream. Didn't notice their sign until then, but got a cup of salted caramel. The chocolates were very reasonably priced, the truffle was $3.50/each (the truffles at Chocolate en la Plaza were $5/each!) and the cup of ice cream was $6 so a pricy but delicious stop. Still a better value than Chocolate en la Plaza, though. I shared the last few spoonfuls with Boo; yes he's a lucky boy!
Desert Dogs Brewery The beer was okay, not great, but okay. There is a small, VERY small, patio but the entire place is dog friendly. Service is quite spotty as the bartenders want to talk with their friends, and, like so many places, music is too loud. Background music is great, but don't you want to talk with your friends and not have to yell at them? Yes, I know, old person comment!
Bosque Brewery I walked out to the farmers market Saturday, right before close. I didn't buy anything but enjoyed the walk and the area and seeing all the vendors. Then I saw Bosque and thought I'd have lunch and a couple beers. They don't have food at this location (I was on their Albuquerque location site) but one of the waiters recommended Boxcar for a good green chile burger.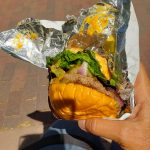 Meanwhile, I sat for an hour and enjoyed their lager and southbound train. Both excellent beers. I picked up a burger and slaw to go at Boxcar and ate at the plaza on my walk back. Delicious!
La Fogata Grill Recommended on a dog-friendly site. They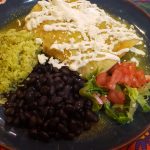 let me sit on the patio with Boo despite the fact they really didn't have it "open". Very nice of them, and a lovely quiet patio leading to a small gallery of stores off Water Street. I had some really good chicken enchilada suizas. Great flavor even if not very hot (temperature not spicy). Black beans were just black beans and I think it was cilantro rice. Both were very easy to leave on the plate.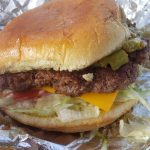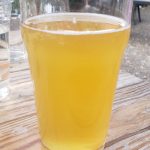 Santa Fe Brewing Walked over my last night in town for a few beers. They had a nice outdoor patio and lots of seating. They weren't currently offering flights but did offer half pours so I had 4 different 5 ounce beers. Bang Bite Filling Station food truck was there so I had a green chile burger, it was delicious!
I had three green chile cheeseburgers while in town, who knew roasted green chile SO GOOD on a burger! Well, Santa Feans do. They have a "Green Chile Cheeseburger Smackdown" every year. They are delicious! This would be a fun festival.
Other
I had some car problems while here so didn't get to do or visit some things I had planned. I was going to use my culture pass to also visit the historic sites of Coronado and Jemez after visiting Los Luceros. But my car had other ideas. Two years old, about 25K and the clutch went out? Really? So didn't use the two weeks like I had hoped but it allowed my car to be in the shop the second week to get repaired. Fortunately, as mentioned, my B&B was in a great location and I could walk almost everywhere I wanted.
** all photos property of Lisa, not to be copied or reproduced **