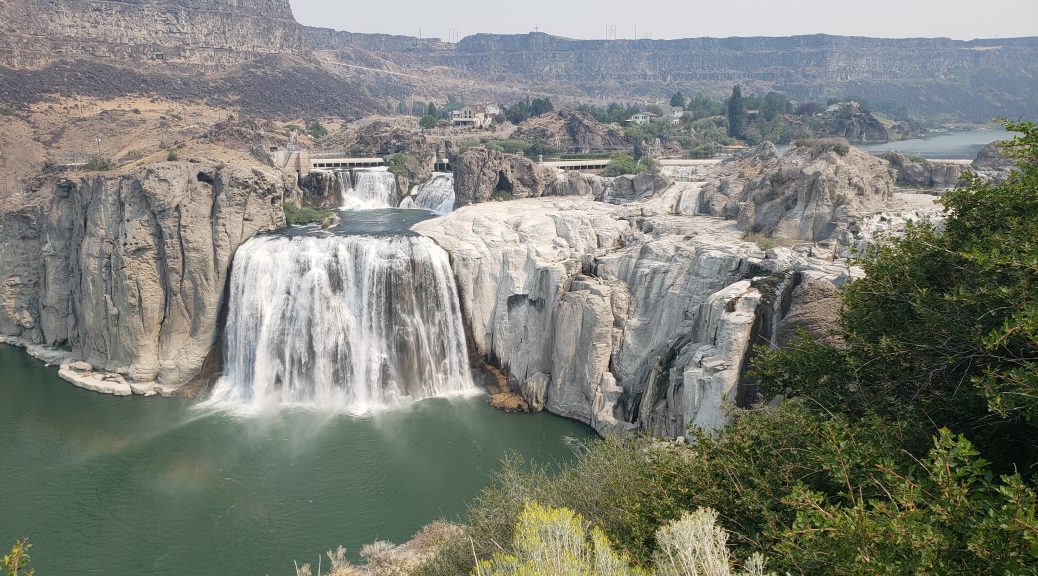 Southern Idaho
Southern Idaho
Coeur d'Alene
After Bend I went to Coeur d'Alene. I had booked a lake cruise. I should have checked active fires around here, too, before booking, like I did with the Lassen Volcanic park area and Bend. The skies were filled with smoke from Canadian fires. I really didn't see anything on the cruise.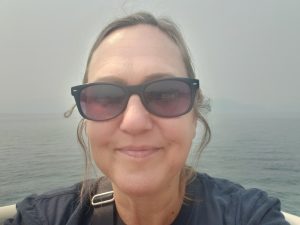 I did visit the Museum of Northern Idaho ($5 entry/$2.50 for veterans), walked the floating boardwalk and around the lake front park. I saw a few of the moose statues around town on the Mudgy Moose Trail, from books by a local author. I visited Bardic Brewing in Spokane, where my hotel was, but just stayed for one beer as their styles weren't my favorites, not to mention all their ABV was about 10% or higher. Friendly service, however. The owner came outside and pulled down one of their stacked tables and chairs for me, when he saw Boo. I felt bad about not staying longer. I went over for a flight from YaYa Brewing Company.
There seems to be a lot to see and do in the area from Spokane to Coeur d'Alene. However, all the lodging, both AirBNB and hotels, was quite expensive, so I only stayed 2 nights. It was a 7-hour drive from Bend so basically I had a full day. The day after I drove to Twin Lakes, Idaho, an 8-hour drive. It would have only been a 7-hour drive from Bend to Twin Falls. I should have skipped that very long "detour". Oh, well.
Twin Falls
I stayed in an old winery building on a working ranch outside Hagerman, about 20 miles west of Twin Falls on US30. This is part of the beautiful Thousand Springs Scenic Byway.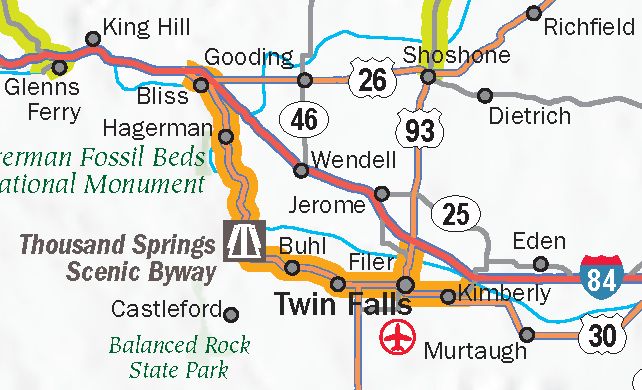 I had a ton of space, two-bed, two-bath, full kitchen, huge living room and a dining room I never used. We had "hairy coos" and two donkeys, Chickadee and her daughter, Zelda, as neighbors. I bought a bag of apples to feed the donkeys.
There were also two friendly dogs on the premises. They were very nice but Boo does not like unleashed dogs, whether he is on a leash or not. He had been attacked in a dog park years ago, before I adopted him. It's how he lost his right eye. I knew he does not like being approached by unleashed dogs when he's walking on a leash but I left him off here to run around the fenced and gated property, and it didn't help when the dogs were out. Shaq, the Newfoundland, was very friendly and I enjoyed playing with her. She liked apples, too, and would follow me when I was feeding Zelda and Chickadee.
Recommendations
My first stop was Twin Falls Visitor Center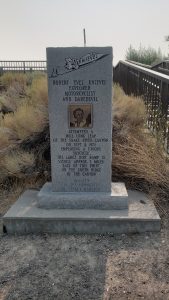 for a southern Idaho guide book, city map and more information. It's right next to the I.B. Perrine Bridge. After walking across the bridge, and feeling a bit of acrophobia, I walked east along the Rim Trails of the Snake River. We also watched several base jumpers from the bridge.
I briefly stopped at the Evel Knievel jump site on another visit to town. When I was in town another day, I started the Rim Trails again, going west for a couple miles. I saw two beautiful water falls and a park on the river from the canyon rim.
I drove down to Centennial Waterfront Park for a short visit, then stopped at Perrine Coulee Falls, one of the falls we had seen from the rim trail. Boo and I walked the short trail to go behind the falls. I enjoyed that, Boo did NOT.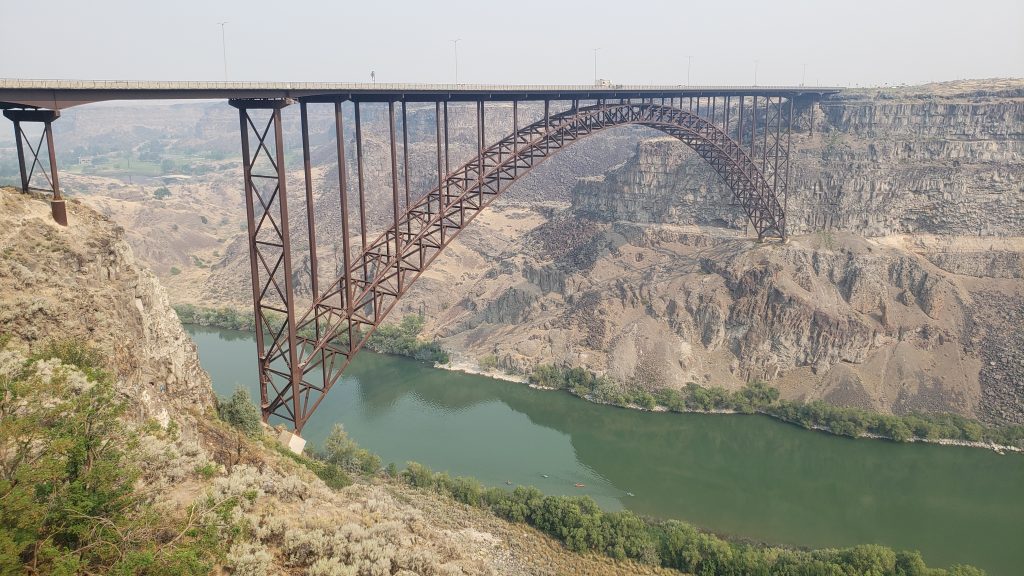 While it's easy to pick up I84 from Hagerman, I drove Thousand Springs Scenic Byway several times to and from Twin Falls. It is a beautiful drive. There are so many waterfalls along the Snake River.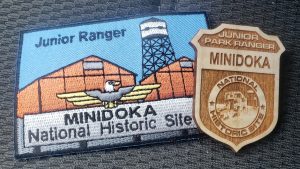 Minidoka National Historic Site is a short drive from Twin Falls. What an interesting visit. The visitor center has a great deal of information and shows the video, "Minidoka: An American Concentration Camp", narrated by George Takei. He and his family were some of the 120,000 Japanese-Americans interred during WWII but they were at the Rohwer camp in Arkansas. There are only a few original buildings left but there is a marked trail and information signs about the layout of the camp.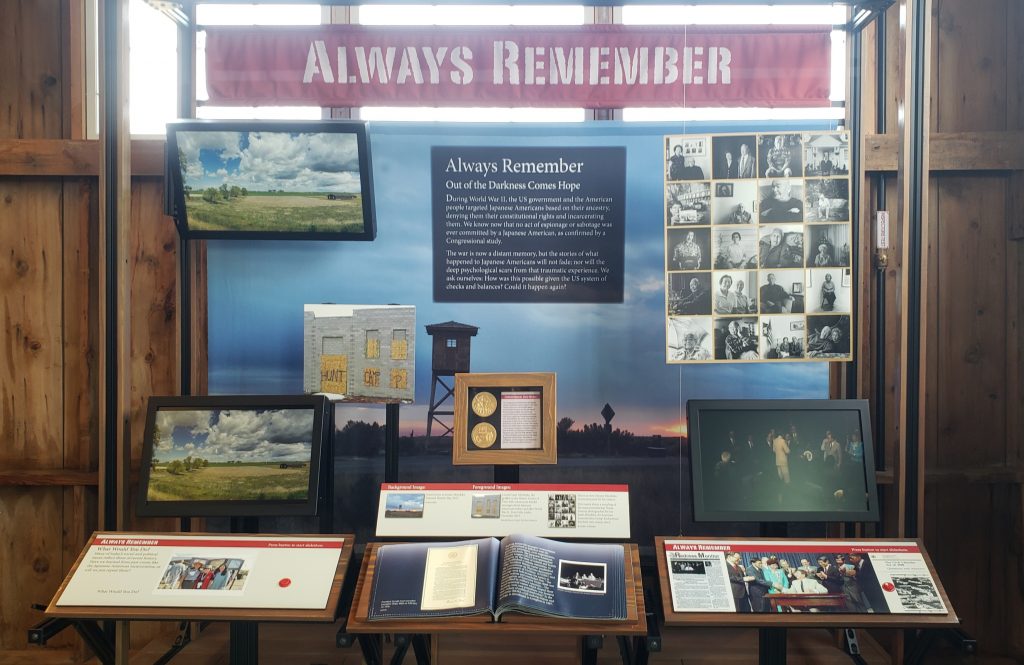 The Craters of the Moon National Monument was a long drive from where I was staying but worth the trip. I booked this area of Idaho to see the Snake River, Minidoka Concentration Camp, and Craters of the Moon, but almost talked myself out of going. A 2-hour, 100-mile drive and about an hour into the drive I thought 'why'? I've just visited Pinnacles, Lassen Volcanic Park, and Newberry Volcanic Monument, it's going to be the same …
It wasn't. Certainly, there are similarities among all the parks, but each is unique. I had a great time hiking in this beautiful park. I did the short but steep Inferno Cone to see all the cinder volcanoes along the 52-mile Great Rift then stopped by the Spatter Cones parking lot for two short walks. I drove to the Lava Cascades area and did the 2-mile Tree Molds trail to see the imprints of lava-charred trees. The 2-mile Broken Top Loop trail starts here, too. Broken Top "provides an opportunity to hike over, around and through the freshest lava on the Snake River Plain." Lots of weird formations, like lava bombs, both "bread crust" and "spindle" bombs, plus "lava toes", cooling lava forced out from the crust of a lava flow. There is a short spur trail with great views of the "Blue Dragon" obsidian flow, named by early explorers because the spiny surfaces look like dragon skin.
Finally, I continued my drive to the cave area and went down to the small Dewdrop Cave, then Beauty Cave, and Indian Tunnel. All "wild caves" and they had difficult rocky paths down. I came out of the Indian Tunnel through one of the collapsed openings.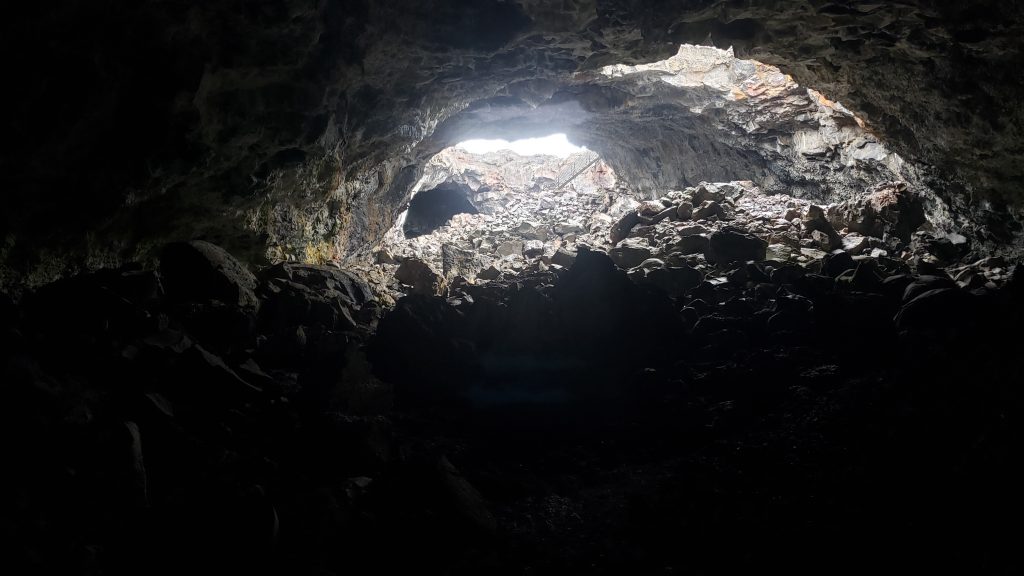 I visited Shoshone Falls State Park my first day, after stopping at the visitor center. $5 entry. The falls are beautiful, there are some interesting historical markers and photos and you can access the Canyon Rim trails here back to the visitor center.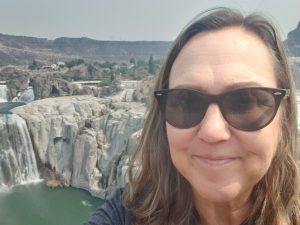 Balanced Rock State Park Despite being listed as one of Southern Idaho's "Amazing 9" in the visitor guide, I wasn't that impressed. The rock is off to the side of the road and I walked up to it (steep path, but much more difficult to get down without sliding!) and thought that was it, the "park". But after continuing towards Buhl, I saw a sign for Balanced Rock State Park/Campground about a mile east. We stopped in for a short walk along the creek.
The visitor center for Hagerman Fossil Beds National Monument is closed, not due to COVID as I thought, because they are opening a new one at Thousand Springs State Park and are moving the fossils and exhibits. I stopped by several of the overlooks on the way to Hagerman, the Snake River Overlook and Oregon Trail Overlook, and did a short trail along the Oregon Trail.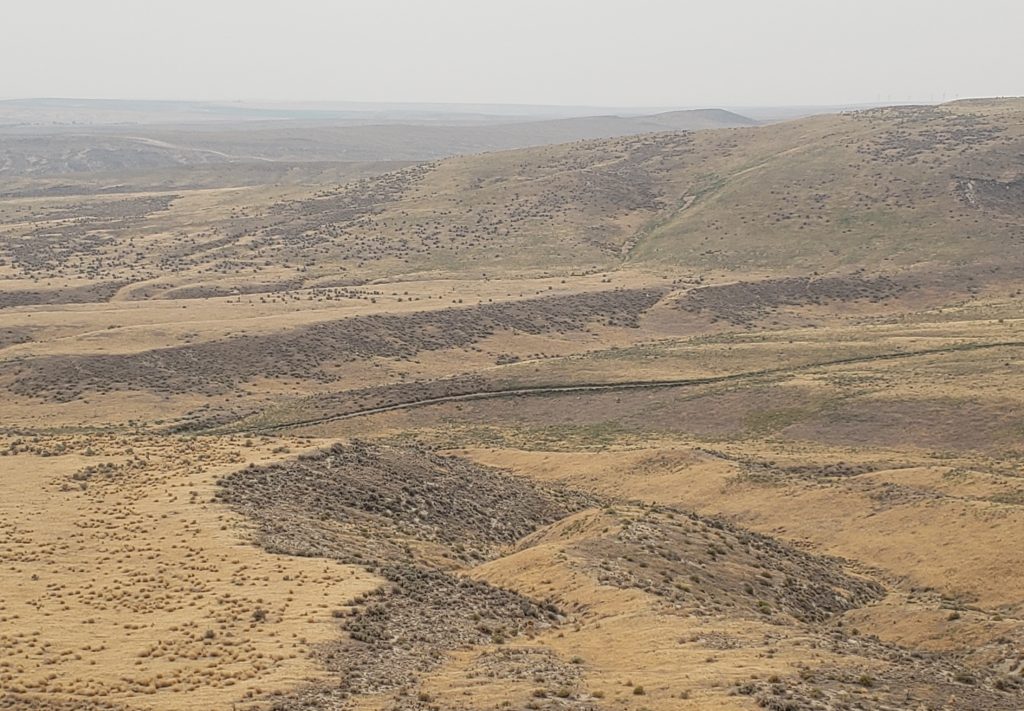 I visited the Hagerman Farmer's Market one Sunday when I was there. I hoped to pick up some great vegetables, after all this area is called the Magic Valley because of the variety of crops they grow. But it was just booths selling jewelry, pet clothes, CBD. I did get a chance to try one of their famous melons, buying a cantaloupe at the flea market/bakery further in town.
I went to Thousand Springs State Park; there are five separate areas between Bliss and Buhl. It is $7 entry and you can visit one or more of the park areas for that fee but only good for one day. I found this good article about the park that helped me plan my visit. I visited Ritter Island, then Box Canyon, and finally did the tour at Malad Gorge. All unique, all beautiful. There is quite a bit of driving from one area to another.
I didn't book in advance so couldn't find a white water raft trip like I had hoped but went kayaking a couple days, renting a kayak at Centennial Waterfront Park from AWOL Rentals; very reasonable fees, $15/two hours or $25/four hours. A peaceful beautiful trip. Loved my time on the river. Went back a second day and renting four hours so I could go further down river. So peaceful being on a kayak.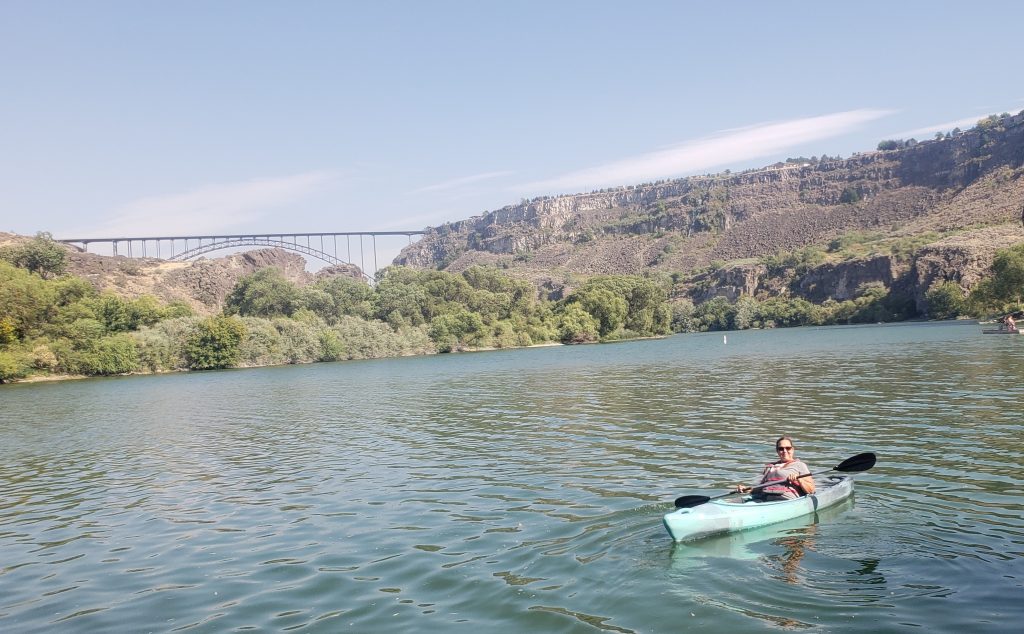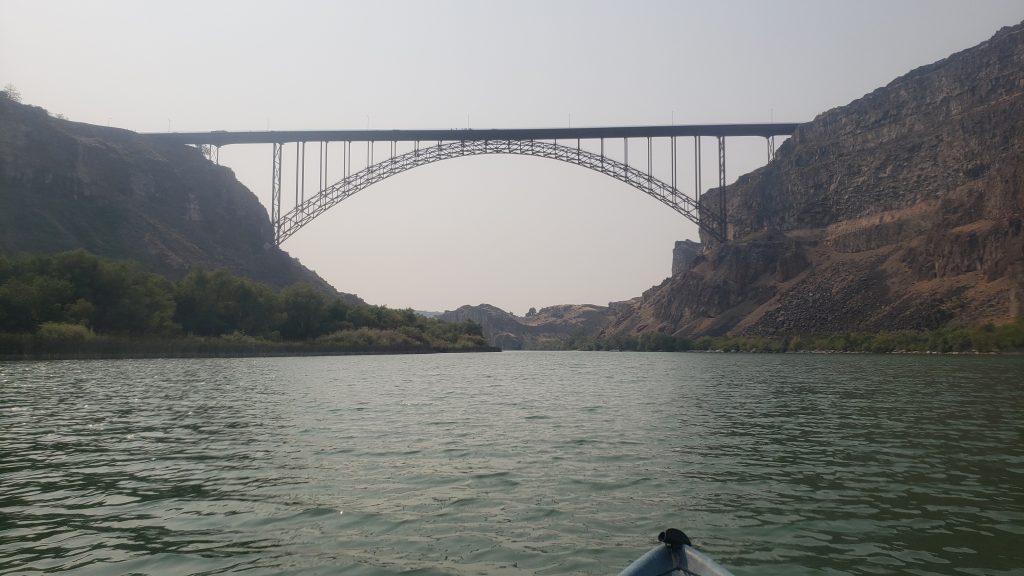 Restaurants
I had a full kitchen in my AirBNB and did grocery shopping in Twin Falls for my two weeks. I didn't eat out much.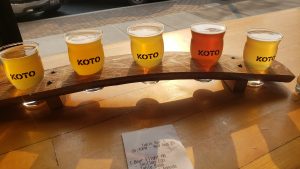 Koto Brewing Nice location on Main Street in Twin Falls. I stopped in for a flight after kayaking at Centennial Waterfront Park one evening and sat in their open area facing the street. I was just going to have a flight but after seeing the menu ordered the Katsu chicken sandwich and side salad. Delicious sandwich. Dog friendly.
Cloverleaf Creamery On Broadway in Buhl. I had a great lemon custard cone when Boo and I were visiting.
Magic Valley Brewery I stopped in one evening for dinner and a couple beers on their patio. Boo was allowed on their back patio with me. I had their pulled pork sandwich and the very good baked potato salad.
Milner's Gate Brewing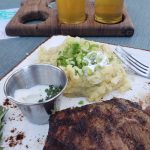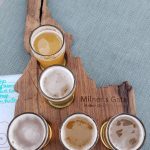 I finally had that steak I've been craving for several months, some really excellent mashed potatoes, and a good flight of 5. They had a good selection of beer. Nice patio and dog friendly.
I had a wine tasting at Holesinsky Winery in Buhl. I thought this was Holes-in-Sky, like "Big Sky" country in Montana, perhaps in reference to Craters of the Moon, volcanoes, etc. But I learned it's the owners names so hole-zin-ski. They offer a number of different tasting flights. I had two extras for $2 each then bought several bottles. Wine flights are much smaller tastes than a beer flight!
I picked up some great local Ballard Family Dairy & Cheese, very sharp cheddar and cheese curds from Cloverleaf Creamery. I don't know why I buy cheese curds since I really don't like them, but tried them then "shared" with Boo, one a day. HE liked them a lot!
I also bought a wedge of Caerphilly Style cheese from Evans Family Farmstead at the farmers market. And I found some of the Magic Valley "famous" melons, a cantaloupe, that was juicy and delicious.
** all photos property of Lisa, not to be copied or reproduced **