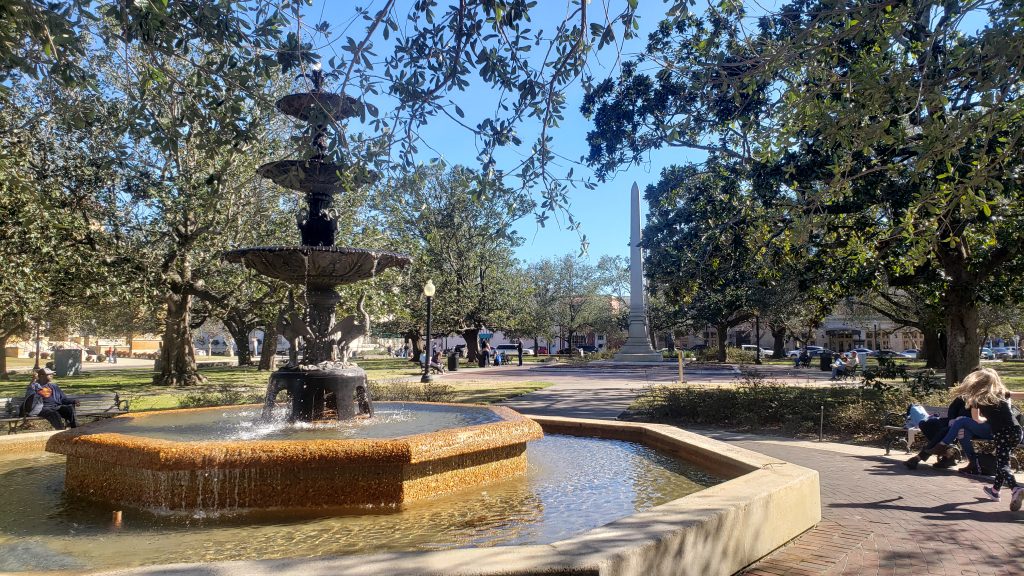 Pensacola: "Florida's First & Future"
Pensacola: "Florida's First & Future"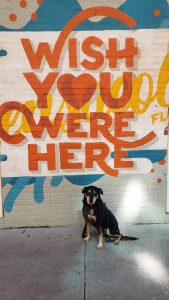 After Nashville, I had 6 weeks booked in Savannah but they cancelled my reservation in November not long after I booked. I tried for several weeks to find another place. I wanted to stay close to downtown so I could walk to the squares and historic center of town easily. But nothing was reasonable, Savannah is a very expensive town! The cheapest place I found was over $2000 more than the other place and I also would have had to pay for on-street parking 6 days a week. Plan B.
I loved visiting Pensacola for several days last year when staying further east in the Emerald Coast and decided to spend more time here. I found a great AirBNB in East Hill, available for 5 weeks. A few weeks after I arrived, I decided to stay longer and found another AirBNB about 6 blocks away for another month. With the bridge open again (it had been damaged during Hurricane Sally in September 2020), I was able to visit Gulf Breeze and Fort Pickens and other parts of the NPS Gulf Islands National Seashore without hours of extra driving like last year. I am glad my booking in Savannah was cancelled so I could spend so much time in this gorgeous, lovely city.
Recommendations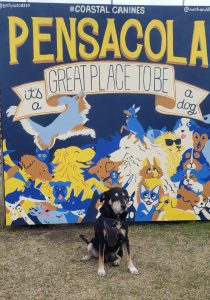 The heart of Pensacola is Palafox Street. Great shopping, restaurants, statues and art with many historic sites, plazas, great facades. Every Saturday, at Martin Luther King, Jr. Plaza, the Palafox Market runs from 0900 to 1400 with a lot of great offerings; farm fresh produce, meat, eggs, plus baked goods, and ready made food to art and more.
It is also the site of the Mardi Gras Parade, and I was here for that celebration. It was fun seeing all the floats and costumes and I collected a ridiculous amount of beads. I dropped them all off at one of the recycle bins they had set up a few days later.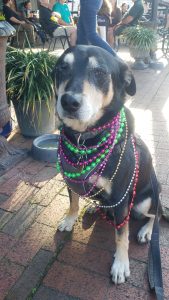 Plaza de Luna and Palafox Pier are at the south end of Palafox Street. The Pier leads out to the bay, and includes a number of restaurants, a life size statue of Don Tristan de Luna, who established the first settlement here in 1559, historical markers, a fountain, fishing pier, and a nice walking path ending at the Plaza.
Just up the street is the beautiful Plaza Ferdinand VII, named for King Ferdinand VII of Spain. Listed on the National Register of Historical Places, the land was originally given by the Spanish throne, it was also used as a parade ground for the British, and is where Spain ceded Florida to the US on July 17, 1821. Andrew Jackson was sworn in as first Territorial Governor in the Plaza.
A bust of Jackson now stands at the spot where he was inaugurated, an obelisk stands at the center of the Plaza and a beautiful fountain, thought to be a replica of one in Seville, Spain, was placed on the site in 1909.
Across the street on Palafox is the Artel Gallery, a non-profit art gallery, that has some local art and rotating exhibits and worth a stop. I visited the beautiful Saenger Theater when attending a show of the Pensacola Opera. There is a lot of art and cultural opportunities in Pensacola for a small city.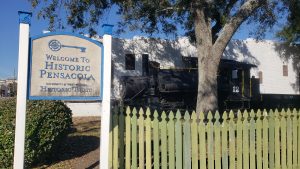 I thought Historic Pensacola was very interesting last year. Many of the buildings and museums were still closed at that time due to COVID. The ticket is only $10 (several discounts and coupons are available). It's good for a week so easy and cheap enough to return often.
Last year I had seen the Museum of Industry, Museum of Commerce, the Pensacola Museum of History, Voices of Pensacola, Lear/Rocheblave House, and Julee Cottage. I returned for a tour of the beautiful Christ Church, a guided tour is included with a ticket to Historic Pensacola. I saw all those again plus the small but interesting Museum of Art, the Lavalle House, and the Barkley House, which I missed last year.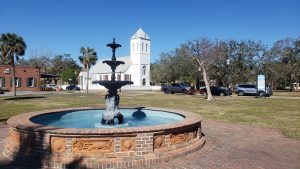 Voices of Pensacola had a new exhibit as did the Museum of History. Last year this was the T.T. Wentworth, Florida State Museum. Many of the items were from the collection of Wentworth, but his family donated more documents and letters and they discovered he was the founding member of the KKK in Pensacola. The museum was renamed and there is an exhibit on the 3rd floor about him, the KKK, and voting rights. I took Kelly back when she was here, and enjoyed my third visit to all the sites just as much as the first.
Fountain Park and Seville Square are east of Historical Pensacola. A beautiful area, there are several restaurants close by including Lucy's on the Square and Pensacola Bay Brewing. Both have outdoor seating and are pet friendly.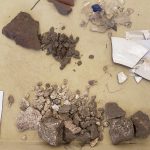 Like Historical Pensacola, the Florida Public Archeology Network is managed by University of West Florida. It has exhibits in a small building on Main, about each of the regions across Florida and all their archeology sites; it has free entry. I saw on their website they have volunteer days so spent several Wednesdays volunteering and helping sort artifacts. One of the days, I sorted dirt, twigs, rocks from various digs, picking out mortar, brick pieces, glass, pottery and more and bagging and documenting it. Another day, they had me trying to piece together pottery shards.
The Colonial Archeological Trail, a free walking tour, is also managed by the University of Western Florida and part of Historic Pensacola. Most sites are right downtown by the historic center, except for Fort George and St. Michael's Cemetery. Fort George is a small area in the middle of Pensacola; built in 1778 to protect the city from Spanish attack, it's on Palafox and La Rua. St. Michael's Cemetery, just a few blocks north on Alcaniz, is an easy walk from Seville Square. The trail has informational signs about the Spanish, British, French, and early American history of the area.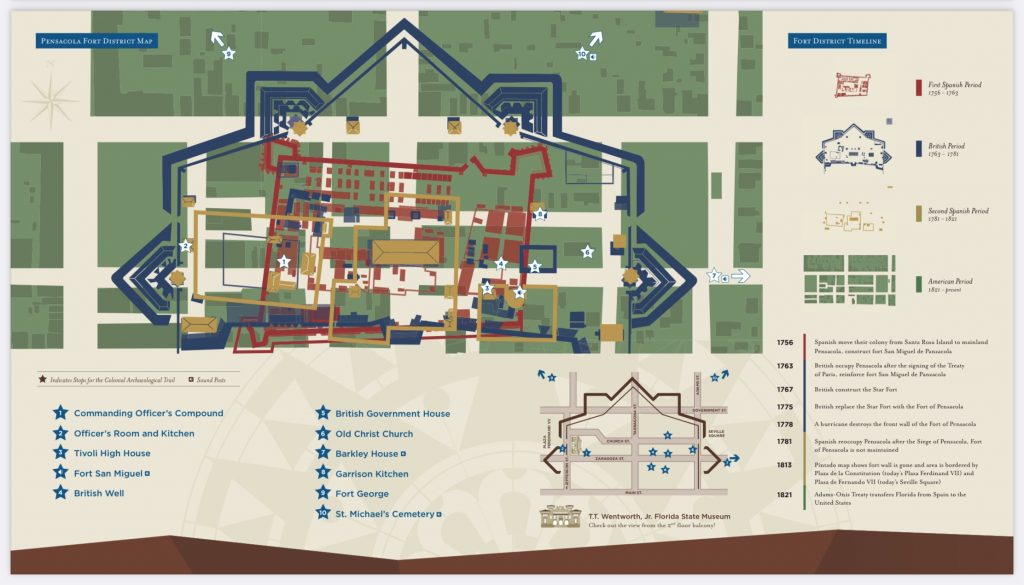 Another beautiful Pensacola park is Admiral Mason Park / Veteran Memorial Park. It includes trails around a lake, views of the bay, and monuments for the Revolutionary War, WWI, WWII, Korea, Afghanistan/Iraq, with a replica of the Vietnam Wall.
My second AirBNB was just a few blocks away from Bayview Park, so Boo and I walked down here frequently. A large beautiful park with two dog parks (one on the beach), children's playground, and picnic tables, there are several walking trails available along the Bayou Texar.
During segregation, Bellmont–Devilliers Area was the home of the Pensacola black community and the neighborhood has been named as part of the Mississippi Blues Trail. It is also the home of several great restaurants, including Five Sisters Blue's Cafe, Blue Dot BBQ, and Dwarf Chicken Stand. I took Kelly over to the area for lunch on Five Sister's porch after visiting the beautiful North Hill Historic District and Alabama Square. We parked at Alabama Square and walked much of the district north of Cervantes, from Devilliers to Lee to Palafox. The district is about 50 square blocks and part of a national historic district; there are beautiful homes with quite varied styles. A really lovely area.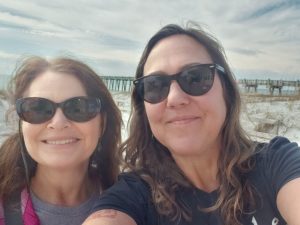 I made repeated visits to the Gulf Islands National Seashore. There are many things to do in this protected area, from great trails, including the Andrew Jackson and Brackenridge trails at Naval Live Oak Preserve to historical sites like Fort Pickens. The fort is at the far western end of Santa Rosa Island, a lovely drive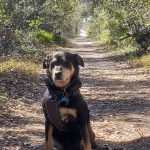 through the Gulf Islands National Seashore. It was built by the US Army between 1829 and 1834 using enslaved craftsmen to protect Pensacola Bay. It was named for Andrew Pickens, a Revolutionary War general. There are multiple batteries along the coast as well. I picked up a NPS brochure from the open bookstore last year to follow a tour of the fort; this year I used the new NPS App. I've been using this more and more the past year since it became available.
In Pensacola Beach, the Pier, $2.25, is definitely worth a stop for the walk out over the gulf and great views.
I drove out to Perdido Key; we visited the beach and did some nice trails here, then stopped at Gary's Brewery and Biergarten on the drive back.
A drive on the bluffs, along the Pensacola Scenic Highway is a must for beautiful views of Escambia Bay. There are nice trails (boardwalk) at Bay Bluffs Park and I made a stop at Chimney Park to read a little about the history of Pensacola during the Civil War.
Tours
I booked the Walking Historic Pub Tour with Emerald Coast Tours. We started at Perfect Plain Brewing then went to the End of the Alley in Seville Quarter, Pensacola Bay Brewing, with a stop at Intermission and finally the Badlands. I was going to do the free walking tour, too, but when scheduling that prior to taking the pub tour, was told the tour was really the same but without the beer stops. Kelly and both enjoyed the tour, Nic provided great local history along with the beer.
We also did the Palafox-Trot, with Seville Savories Food Tour, during Kelly's visit. We had a great guide, Duel, and visited Polonza for a burger with bacon jam, goat cheese, caramelized onions, and roasted peppers. Delicious! We had fried mullet and hush puppies at Dog House then a wonderful egg roll with beef, Napa cabbage and a spicy mustard dip at 86 Forks. We were supposed to visit Nomadic Eats for a taco but they ended up closing because of a sick cook. We also visited Bubba's Sweet Spot (owned by Bubba Watson, the golfer) for a bag of treats at the end of our tour. Kelly and I bought a coconut treat and split a dark chocolate toffee, for later. We returned to both Polonza and 86 Forks and a couple other restaurants that Duel recommended.
We had a perfect day for a bay cruise with Jolly Sailing. We took their dolphin cruise; because it's off-season, their large boats were undergoing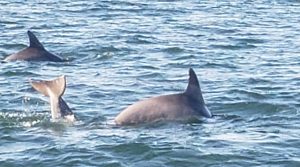 maintenance but we had an almost-private sailing on one of their 6-person boats for just $55. We went along the Naval Air Station, saw the lighthouse, a little bit of Fort Barancas through the trees but better views of Fort McRee and Fort Pickens and got lucky and saw 4 different pods of dolphins. We had a beautiful day on the bay!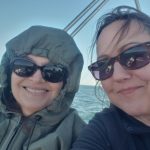 The National Naval Aviation Museum on Pensacola NAS was recommended last year. I check the site for hours, but the base was closed to visitors despite many people I spoke with insisting, no, the museum is still open. It wasn't due to COVID but the shooting on base in 2019.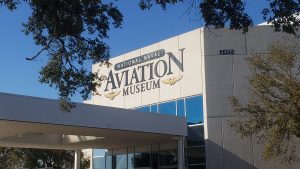 I later learned that a tour company, Go Retro, did offer a tour of the Lighthouse and Museum on base. I originally wish I had heard about this company sooner, as Kelly was interested in the museum, too. Background checks are required, despite me having a VA card and even global entry/trusted traveler number. The museum was great, but we were only given two hours to visit. It was definitely not worth the cost of the ticket. I basically paid $60 for a van ride on base to visit a free museum. The "guide" just had a DOD card allowing him access. Not recommended.
Recommended Restaurants
East Hill Pizza has a great selection of pizzas, and, in my first rental, it was literally around the corner. I had their Yonge; it had a balsamic glaze and I find it hard to resist anything with balsamic vinegar.
The Magnolia Pensacola was also right around the corner on 12th, next to East Hill Pizza. I went over for lunch one day. They have a few outside tables to sit with Boo. I had their lunch special, a dipped Italian beef with their homemade giardiniera. Despite so many recommending it (my host and Duel on our food tour), I thought the beef really dry but the place is always busy so perhaps worth trying for other menu items.
We had lunch at Water Pig BBQ before our bay cruise. I had wanted to try it and it was a perfect location to stop before meeting at the dock. Kelly had a great pulled pork sandwich and I ordered their Mac and cheese with pork and corn pico. It was fantastic and huge and I had half for dinner.
The Palafox Market has a large selection of vendors. They have baked goods like breads, scones, cookies, fresh organic eggs, and dog treats, too. I also had excellent selections of tamales from It's Tamale Time, crepes from Mimi's French Crepes (loved their savory caprese crepe!), ready made jars of soup from OMG, empanada's and much more. Delicious. Great to wander through for breakfast or lunch.
After a long morning at Fort Pickens, we went back to Pensacola for a late lunch on the patio at Jaco's Bayfront Bar & Grill. I had great mahi-mahi tacos. Dog friendly!
We visited 86 Forks Bar + Table on our food tour but returned a few days later during happy hour and had two each of their amazing house cocktails: Zen Blossom, Hulu Dancer, Fennel Destination, and Limes Up, then ordered a couple of their bao buns, the chashu pork and Chinese sausage to share. The pork were okay but the sausage were great. Before 1800 the drinks were only $6 and the buns were $7.
Duel recommended Taqueria El Asador, so we went out there after visiting Perdido Key. We got 6 tacos, 2 each of Pastor, Pollo and Chorizo. They included 4 different sauces/salsas. All delicious. $15 for all 6. Like so many places, they have specials for Taco Tuesday and I took the opportunity to celebrate the special day of 22/02/2022 with some tacos. Second time I went, however, all the meats were quite dry, not nearly as good as my first visit.
Duel also recommended Mr. Pollo. We went twice. We had their tostones for lunch one day and went back for a Combo for 2. A whole chicken, multiple sauces and 2 sides. We selected cole slaw and their fried plantains. Everything was absolutely wonderful.
We went to The Garden at Palafox + Main one night. While the food trucks sounded good, we'd had similar items recently. A menu at one of the kiosks sounded great but they were closing as we arrived so we went over to Pearl & Horn. We both had the coastal roll sandwich; it sounded great on the menu, but very little shrimp or crab, just lots of bread for $18. Very overpriced for what you get. I ate the filling out of the sandwich and left the bread and fries. I went back, though, to try Boca Latin Kitchen, which had been closed the previous time I visited. Owned by the same people as Mr. Pollo, they have delicious food! I was downtown and wanted to stop by Boca Latin a second time, but again, they were closed when all the other trucks and kiosks open. Like many restaurants, they're having issues with staffing. I had some buffalo chicken fries at Melt, which were nothing special. But I really wanted to try patacon. I had a Palafox bowl, rice and beans and chicken from Calavera Tacos when having lunch prior to the Mardi Gras parade, it was quite good.
We were supposed to visit Nomadic Eats on the Seville Savories tour, but they were closed for several days due to a COVID diagnosis of their cook. Duel recommended a visit if we could. Kelly looked at their menu and really wanted to try it before leaving but, unfortunately, they didn't open before she left. I walked over for lunch one Saturday morning after visiting the Palafox Market as they are just off Gregory by Palafox; I had their hot chicken rice bowl and a mojo chicken egg roll with poblano lime verde. Too much food but all delicious!
Stopped by Brown Bagger Food Truck my last few days in town. I had driven past this location on 12th dozens of times and finally decided to try it. Excellent burgers! Had a great wagyu burger, their Jumpin' Jack Burger. Should have ordered the Asian slaw as a side, the fries were just skinny fries, nothing special.
Craft Bakery was recommended by my first host. Their welcome book said, "despite J's Bakery being right around the corner, you won't be disappointed by going to Craft". I went out once and the sign on their door said open but they were locked up. I was driving by after an errand and decided to stop in, if they were open. I was thinking I'd get a late lunch but they had stopped serving at 2, so I picked up a piece of cheesecake and this wonderful, huge chocolate cookie with a cream filling for later. Both were big enough for two servings, so I had a lot of treats that week. Delicious.
I thought McGuire's Irish Pub was a tourist place but had many locals tell me, no, definitely not, EVERYONE goes there. There is another McGuire's in Destin. I met a local friend there one night, didn't seem like a good solo spot. I had their shepherd's pie (huge! 3 meals) and added a small bowl of their bean soup for 18 cents. Brought half that home too. Lots of food and it was well made but compared to some of the unique spots around town, like Polonza, Nomadic Eats, Mr. Pollo, 86 Forks, not a place I would frequent.
I had several people telling me to try Sky Pizza Pie before I left. I ordered a "small" 16, 1/2 Queen B, 1/2 Bianca, and a dinner salad. It was enough for 3 meals. The pizza was okay but I thought East Hill much better.
Breweries
My favorites were:
Odd Colony Brewing Some great sours and wild ales! Dog friendly inside. On Palafox and they have a lovely location.
Emerald Republic Brewing has a great patio and is dog friendly inside and out. A good selection of beer and a beautiful location. But they usually have heavy metal playing; we were told Mondays were "Metal Mondays" but they seem to have that awful noise playing most days. Sit outside, far away from their speakers. Or, better, pick up some beer to go.
Others worth trying:
I returned to some favorites from my visits last year, too. I wanted Kelly to try Lucy's and Five Sister's especially.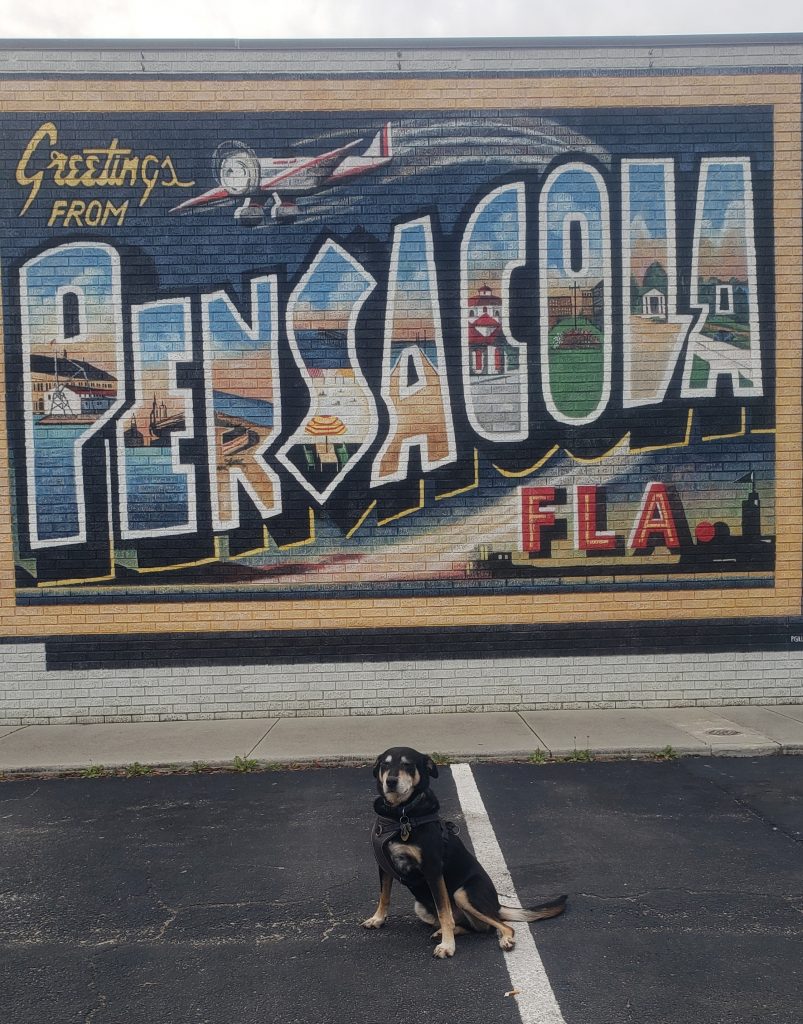 Other
Montgomery, Alabama
Not exactly an easy day trip from Pensacola. But I loved my visit to the Legacy Museum in Montgomery last January. I had told my friend Kelly about it and she saw the photos on Facebook. Like me, she likes learning history and enjoys visits to history museums. We had discussed a visit when she was in Nashville, either when she came to Pensacola or after. We decided to drive up and spend the day during her stay. It's about 2 and 1/2 hours from Pensacola so we left early on a Sunday to arrive soon after the museum opened. I didn't realize until checking their website that the museum had moved to a new larger space and had their grand opening of the new space in October of 2021. We scheduled our tickets (timed tickets required) for 1000 and spent about 3 hours there before leaving to have lunch and visit the memorial. Unfortunately, Chris' Hot Dogs was closed, as was almost everything downtown, so we just skipped lunch. After stopping at the Civil Rights Museum to see Maya Lin's Memorial we spent about an hour at the National Memorial for Peace and Justice then returned to the museum until after 4. I still felt we rushed through the last section despite spending over 5 hours in the museum.
There is so much new, including art from Ghanaian Artist Kwame Akoto-Bamfo. The sculpture at the memorial is his but there is a new exhibit at the museum that is amazing. Soon after the entrance, after an introductory exhibit about the trans-Atlantic slave trade and the middle passage, there are dozens of heads, displayed so it looks like they are rising from the ocean. I really, really wanted a photo but respected their no photos, no video rule.
This is a wonderful museum with so much information on the economics of the slave trade, the growth of industries based on enslaved labor, the Civil War, Reconstruction, Segregation, Jim Crow laws, mass incarceration, and more.
Mobile, Alabama
Just an hour west on I-10, I found a number of interesting things to see and do in Mobile. The History Museum and Fort Conde had a Free Sunday so I drove over March 6th, to see those two sites. Unfortunately, the Fort wasn't open when I stopped by; at the museum they said they didn't have enough employees for the day. I also visited the USS Alabama Battleship Museum. I enjoyed touring the battleship and walking through the USS Drum. I had a nice lunch at Squid Ink on Dauphin Street and Boo and I walked through Cathedral Square and stopped for a flight at Braided River.
Century, Florida
I drove up to Century one day to see the museums.  Alger Sullivan Historical Society runs 3 museums as part of James Houston Jones Historic Park: Leach House Museum, Post Office Museum, and the Boxcar Museum. They are only open Saturdays. Unfortunately, the restaurants recommended in the Pensacola guide about Century and the museums, were all closed Saturdays. It was a nice drive, and the museums are interesting. The volunteers clearly enjoy their work and offer a lot of information, but not sure it's worth the 50 minute drive from Pensacola.
Milton, Florida
I also returned to Arcadia Mill Archeological Site, managed by University of West Florida. If you're in downtown Pensacola, I recommend driving along the Scenic Highway to head north. The site has some good trails and a nice boardwalk around the ruins of the mill, a small but interesting little museum. The ticket is also good for the Arcadia Homestead.
** All photos property of Lisa, not to be copied or reproduced **