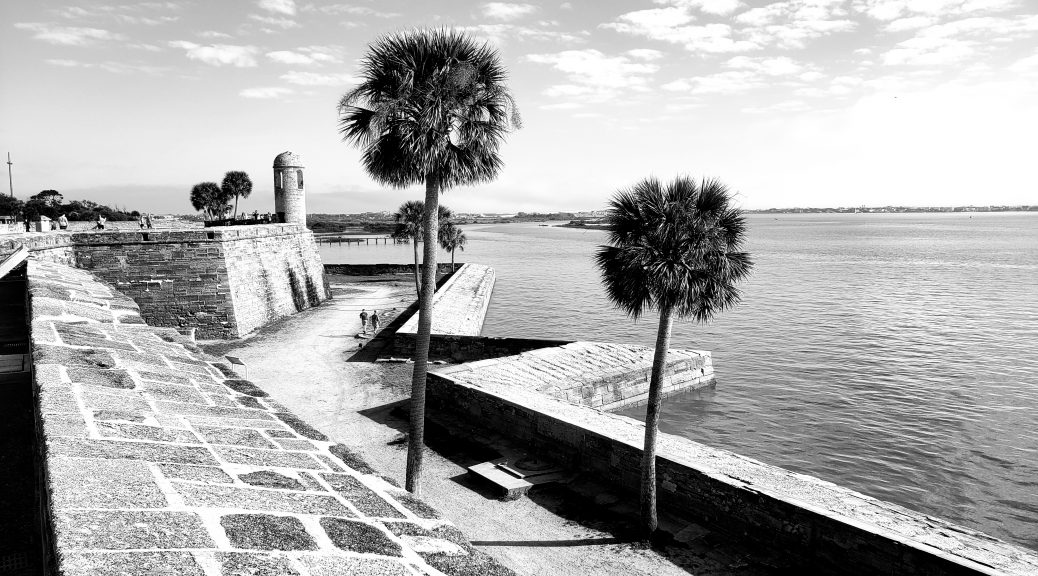 Saint Augustine, Florida
Saint Augustine, Florida
Pensacola is very adamant about being the FIRST colony in the current US. Tristan de Luna y Arellano came to Pensacola in 1559 with 1400 people on 11 ships to settle the area. Unfortunately, a hurricane came and destroyed a number of their ships and most of their supplies and they abandoned the colony within a few years. Even the French Fort Caroline, by present day Jacksonville, was founded in 1564, a year before St. Augustine.
St. Augustine was founded on September 8, 1565, by Spanish admiral Pedro Menendez de Aviles. He named the settlement San Agustin, because they sighted the land on August 28, the feast day of St. Augustine. It was the capital of Spanish Florida for 200 years, and later the capital of British East Florida in 1763. St. Augustine is the oldest permanent colony but not the first.
Now that we have that out of the way, St. Augustine does have a great deal of history to see, obviously. It is around spring break for most schools, but I expect college students to hit the beach towns further south and parents with kids to go to Orlando, so I was surprised by the crowds.
Recommendations
I arrived around 1800, so just walked around the town the first evening. I explored the grounds of Castillo de San Marcos, wandered down to the Lion Bridge, and through St. George Street, a lovely pedestrian only area. I stopped at Auggie's Draft Room on the walk back to my hotel and had a great Black & Blue burger. I didn't try any of their taps but they had a large selection. A few days later I did stop in for a few tastes, I like that you can pour as little as an ounce or more to try different beers, paying by the ounce.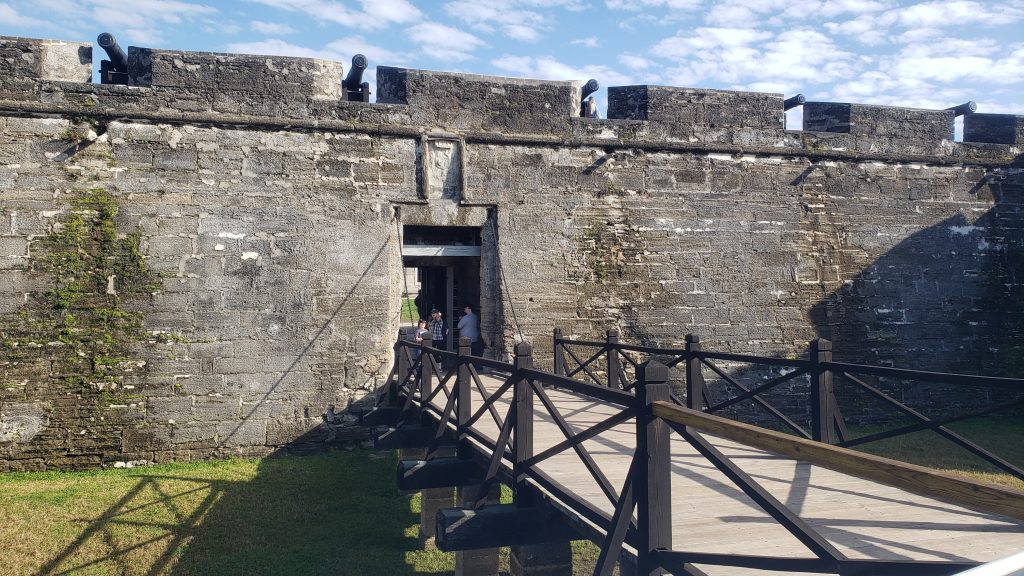 The next day I visited the Fountain of Youth. Touristy but interesting, nonetheless. They do offer historical perspectives about the Timucuan Native Americans (the Seloy village), weapons demonstrations, a working blacksmith and more. Boo and I both drank from the fountain, I don't look any younger but hoping this means my dog lives forever! I saw a show at the Discovery Globe but missed the show at the planetarium because of the line.
Friday, I returned to Castillo de San Marcos to visit the fort, spending about 90 minutes inside. The oldest masonry fort in the US, it was built between 1672 and 1695 using local "coquina". Spanish for cockleshell, coquina is a soft porous limestone, composed of fragments of shells and coral. It is easy to cut but can withstand cannon shells. After walking around the gun deck upstairs I visited all the open rooms downstairs around the wall. I didn't realize there were different kinds of "cannons", cannons, mortars, and howitzers, for different types of defense. The original Spanish coat of arms is displayed in one of the exhibit rooms. There is a great deal of information in the fort on timelines, influential people, and history of the area. So grateful for the NPS protecting our history, our lands, and teaching us so much!
After the fort, I visited Ximenez-Fatio House Museum, built in 1798 by Don Ximenez as a home for his family. It also included a grocery store, tavern and billiard hall with attached warehouses. It was sold and from 1830 to 1875, through multiple owners, was run as a boarding house. Unused and in disrepair, it was purchased and refurbished in 1939-1940 to become a museum.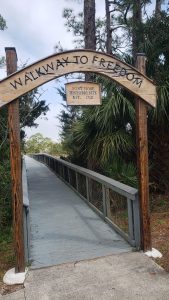 That afternoon I went out to Fort Mose State Historic Park. It is definitely worth a visit while in town. Pronounced Moh-say, it was named Gracia real de Santa de Mose. This was a first line of defense for St. Augustine, where free blacks and Native Americans lived. The first fugitives arrived in 1687, escaping slavery from the British Carolinas. There are several boardwalks, one leading out to a view of where the fort(s) were; they are now underwater. The first fort was destroyed in 1740 by the British, the second was rebuilt in 1752. Most of the families were settled in St. Augustine by then but the new Spanish Governor was concerned and "uncomfortable" with the growing numbers of free blacks and Native Americans in town and made them rebuild the fort. There is a very informative visitor center, with some artifacts from the site, a video about the excavation of the fort and a longer video in the small theater about the history of the fort.
That evening I booked Ghost Tours of St. Augustine with the Tour St. Augustine company. There are a great number of ghost tours in town. I think I chose poorly, was truly not that impressed. We visited Flagler College, Tolomato Cemetery, the Huguenot Cemetery, and the City Gates, erected in 1808. We heard about ghosts and paranormal activity in each location. Before the tour, I visited Bantam Chef for a fish dinner. Their fish sandwich is "famous" but I preferred hush puppies over a bun so ordered their fish plate with some really great cole slaw, too. All was delicious! Lots of food, and I shared with Boo. I also had time for a flight at Dog Rose Brewery before the tour. Conveniently, all were on the same block of Granada.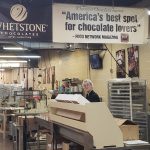 Saturday, I went downtown without specific plans but thinking I'd see the medieval torture museum and pirate treasure museum. I picked up the chocolate tasting tour at Whetstone Chocolate, informative and delicious. I used my coupon later that day, before returning to my hotel, and picked up some great dark chocolates. Walking around the historic center, I went to the Tolomato and Huguenot Cemeteries, both open for their 3rd Saturday events.
I wandered enjoying the architecture and old Spanish and Colonial houses. I walked down St. George from the City Gates to the Plaza de la Constitución. This is a lovely area, the center of the historic city. It's surrounded by the Cathedral Basilica of St. Augustine, Trinity Episcopal, Government House, and just across from the Bridge of Lions. It has a central pavilion that was the public market, established in 1598 by the Spanish Governor Mendez de Canzo. It gets its name from the obelisk that was erected to celebrate the Spanish Constitution of 1812. There is a single war monument for WWII, Korean War, Vietnam War, and Iraq/Afghanistan with plaques on the four sides for locals killed in each conflict and also a Civil Rights memorial.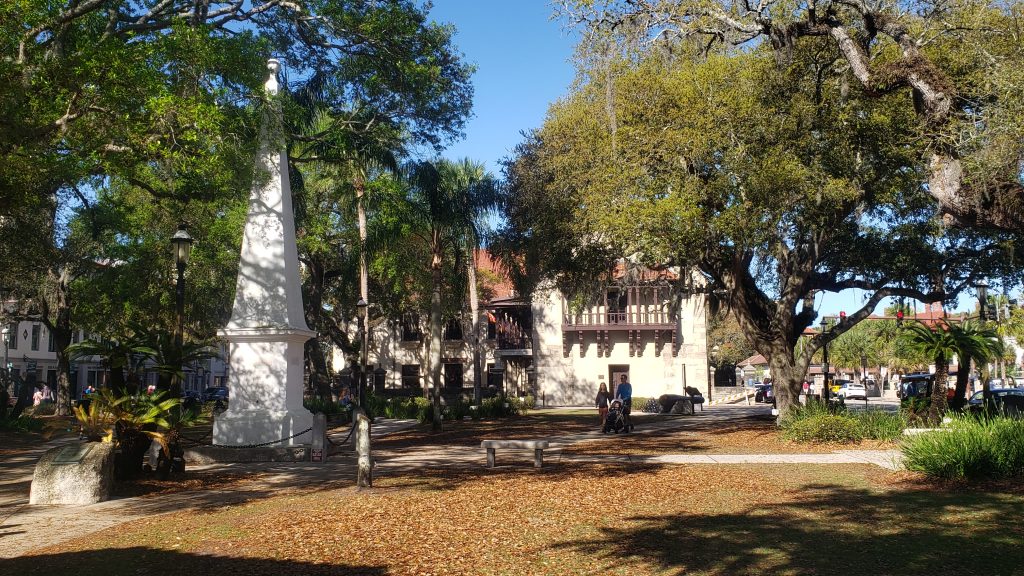 I stopped for a great Cuban Sandwich at Spanish Bakery and Cafe, eating outside in their lovely courtyard. Later that afternoon, I stopped for a flight at Ancient City Brewery. They had an interesting Key Lime Kolsch. Twice, while walking up and down St. George, I stopped for gourmet ice pops at Hyppo. I had their watermelon-hibiscus and a pink grapefruit my second visit. Both were quite refreshing on warm days. They have many flavors that sound delicious.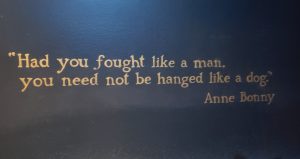 Sunday, I went back downtown to visit the Government House Museum, Medieval Torture Museum and Pirate & Treasury Museum. The Government House just took down its main exhibit, "First Colony" so there was very little to see. I went to the Pirate & Treasury Museum next. They have signs up about social distancing, asking families to stay together and keep 6 feet apart from other guests. Rather foolish as it is a small space and they let a lot of people in. There are some interesting exhibits, some computer displays with information about famous pirates and videos about various pirate locations from Port Royal to Tortuga. It is so crowded and loud with lots of kids running around following the treasure map (looking for exhibits) it was hard to hear the videos. Don't go on a weekend, but was interesting and I know all the kids had a great time looking for the hidden exhibits. Definitely a fun place for the family. I skipped the torture museum.
I picked up a great lunch from Smokin' D's BBQ. I ordered the 2 meat/2 side for lunch and it was more than enough for dinner. Boo enjoyed his share of meat, too. Delicious tender meats (pork and brisket) and a great selection of sauces. Both the beans and slaw were very good.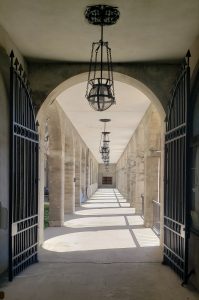 I really enjoyed my visit to the Lightner Museum. They had several great exhibits, one of Lightner Museum's Stained Glass Rediscovered, America's Castles, a huge glass exhibit, Picturing a Nation, Faces of the Alcazar. The museum is in the gorgeous old Alcazar Hotel so it's a lovely place to visit with great architectural details.
I visited the St. Augustine Lighthouse and Maritime Museum. A truly beautiful lighthouse. I had booked the Lighthouse Keeper's Tour; it was a behind the scenes tour with our lighthouse keeper telling us about the lighthouse history. We visited all the buildings, climbed the lighthouse and visited the fresnel lens. The lens is closed off without the tour. The tour is definitely worth the small extra cost. There are a lot of buildings on site to visit, the keeper's house, the maritime museum, WWII Coast Guard Quarters, artifact conservation lab, and beautiful grounds. I saw a lot of historical information about the keepers and also learned about the underwater archeology in the area. I loved the views from the lighthouse.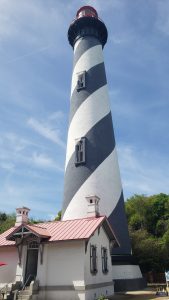 After visiting the lighthouse, I continued my drive down A1A to Fort Matanzas. I should have planned that better. I had picked up the NPS brochure from the visitor center and visited the NPS site; checked hours, dog friendly but neglected to read that the Fort is on an island and the ferry doesn't run Monday's or Tuesday's. I could have gone any other day. There is a nice boardwalk that Boo and I enjoyed for a short hike. Before returning to town, I stopped at the other side of the bridge, on Anastasia Island, to see those lions and then walked across the bridge for the views.
My last night in town, I went over to Bog Brewery for a flight and had some good tacos from Tacos My Blessing food truck. We enjoyed the nice evening with another walk around Castillo de San Marcos and down St. George and Aviles again.
** all photos property of Lisa, not to be copied or reproduced **